We had only planned to stay a couple nights in Candeleros. So it shouldn't come as any surprise that we stayed for an entire week.   We recently heard a cruiser on the VHF radio say "I plan to…wait, no, I'm trying never to use the word "plan" again….my INTENTION is to…". I like that and will try to use "intention" instead of "plan" from now on.   Forget about that whole "Failing to plan is planning to fail" saying. That only works for goal oriented people who drink a lot of coffee and have bosses. [Luckily you can always find a saying or a meme to fit whatever it is you want to believe… (for example: "out of sight, out of mind vs. absence makes the heart grow fonder. Choose your own adventure)].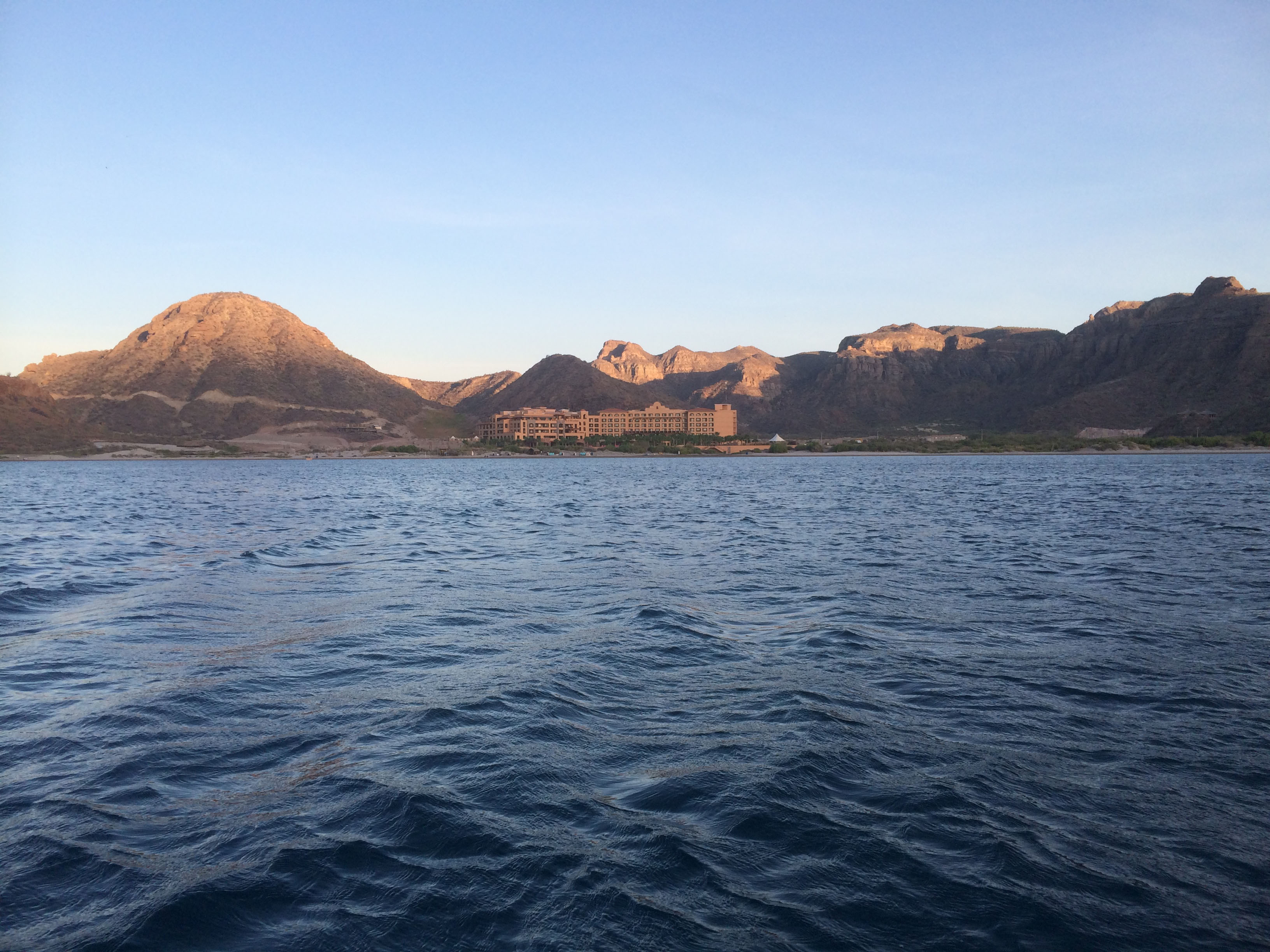 Right. Candeleros or Villa Del Palmar or whatever that monstrosity of a resort was called. We were told that the resort gladly allowed cruisers to take their free shuttle into Loreto. What nice folks! We put off doing it for a few days – content to mooch their wifi and visit with our friends. We all spent quite a bit of time holed up in our boats, voraciously consuming wifi. Meagan and Megan each said things I was thinking though – "I hate trying to post blog entries when there's internet. I keep getting distracted with "Oh I should look this or that up" and it takes FOREVER. When there's no wifi I can just focus on WRITING." and "I'm kind of looking forward to getting out of here and not having internet again, it's so all consuming!". Yes, it's a blessing and a curse.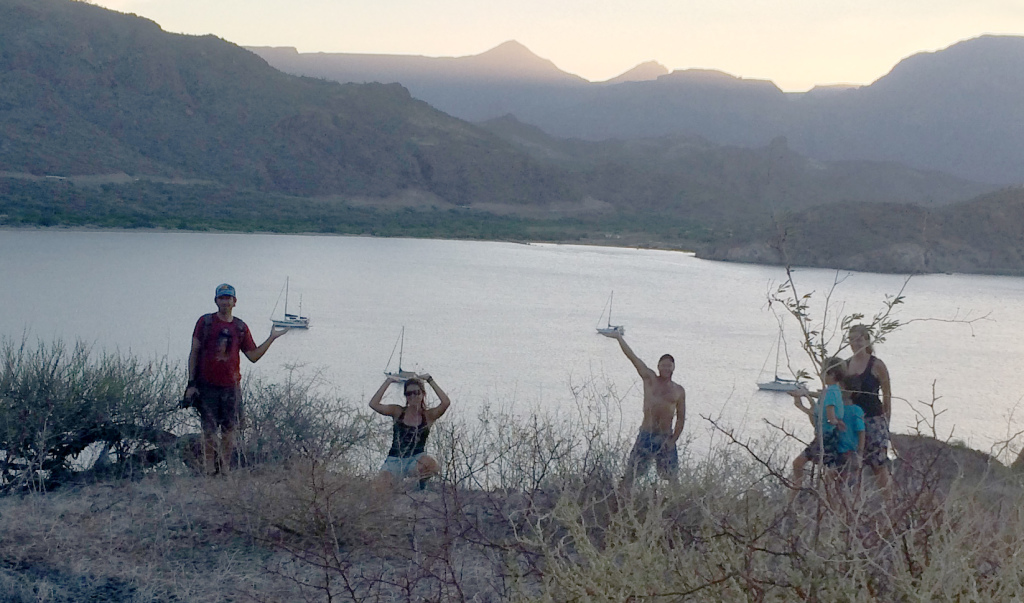 We finally did take the shuttle to Loreto when our grocery situation got a little more dire. We went with Megan and Jonah and we were the only ones in the shuttle.   The driver was great, stopping to show us views and talking about the area. When he dropped us off, he said we could come back on the 3pm or 5pm shuttle, it was our choice and we could just let them know. What a great service! We meandered through town, checking out all the grocery places, deciding we would have lunch and then go back to get our groceries at the end. We scoped out the waterfront area to see if there was a dinghy landing and what anchoring looked like for future supply runs. Loreto is not considered a safe anchorage, but you can stop for a few hours to run ashore for shopping. There is a panga harbor and a little stony area you could leave a dinghy.
We had a great lunch at a restaurant I remembered from one of our previous stopovers when we used to drive through Baja. It was around 2pm and we realized we'd never get our groceries and make the 3pm shuttle. Jonah called and said we wanted to take the 5pm and it all seemed just fine. We headed out and loaded up on all the essentials we could carry.   There was a great little shop that sold all kind of bulk, organic goods that the owner drove down from California on a regular basis when he went back and forth to visit family.   It put me a little over budget for that shopping run, but I got an awful lot of good stuff for making granola bars!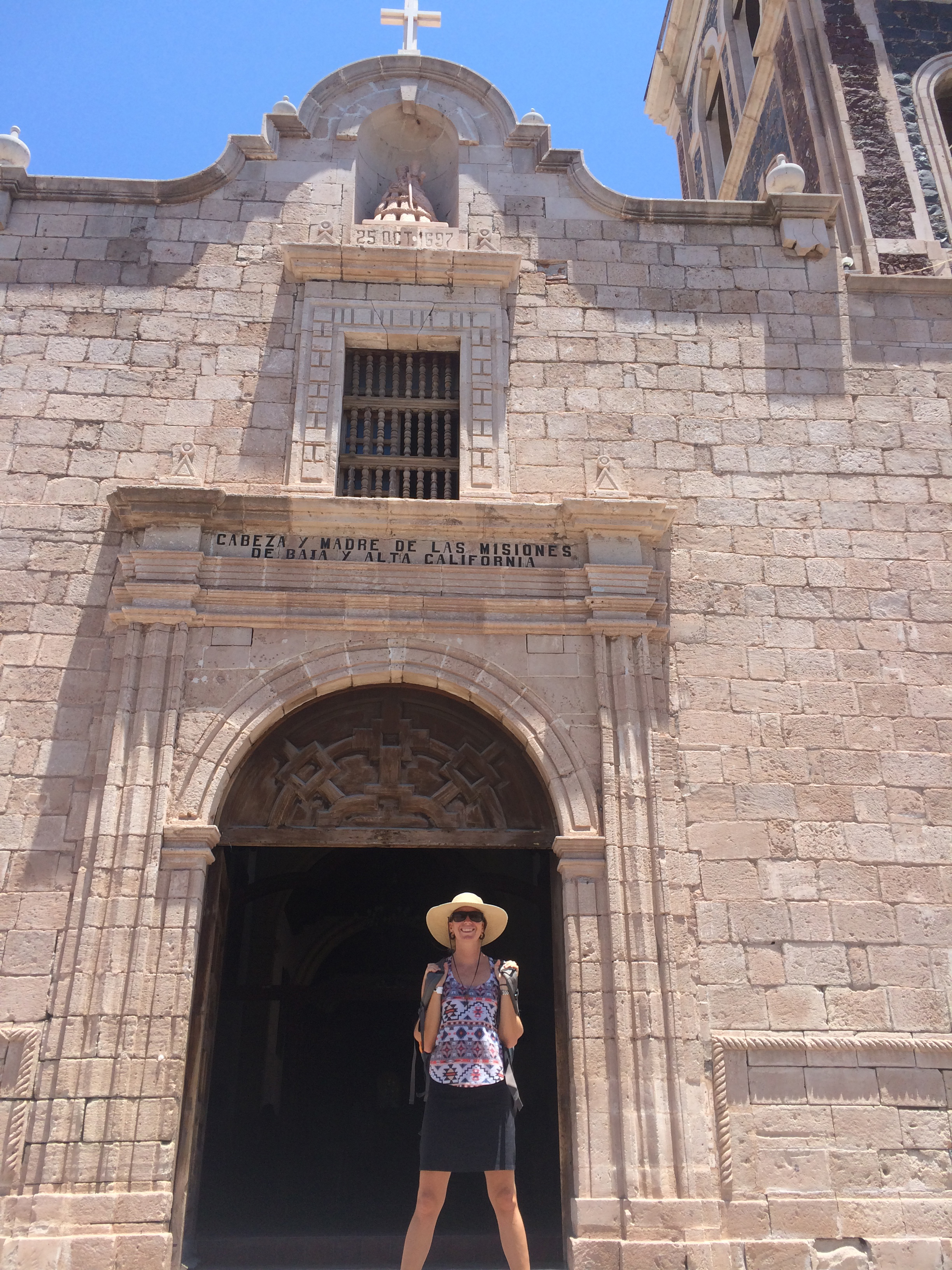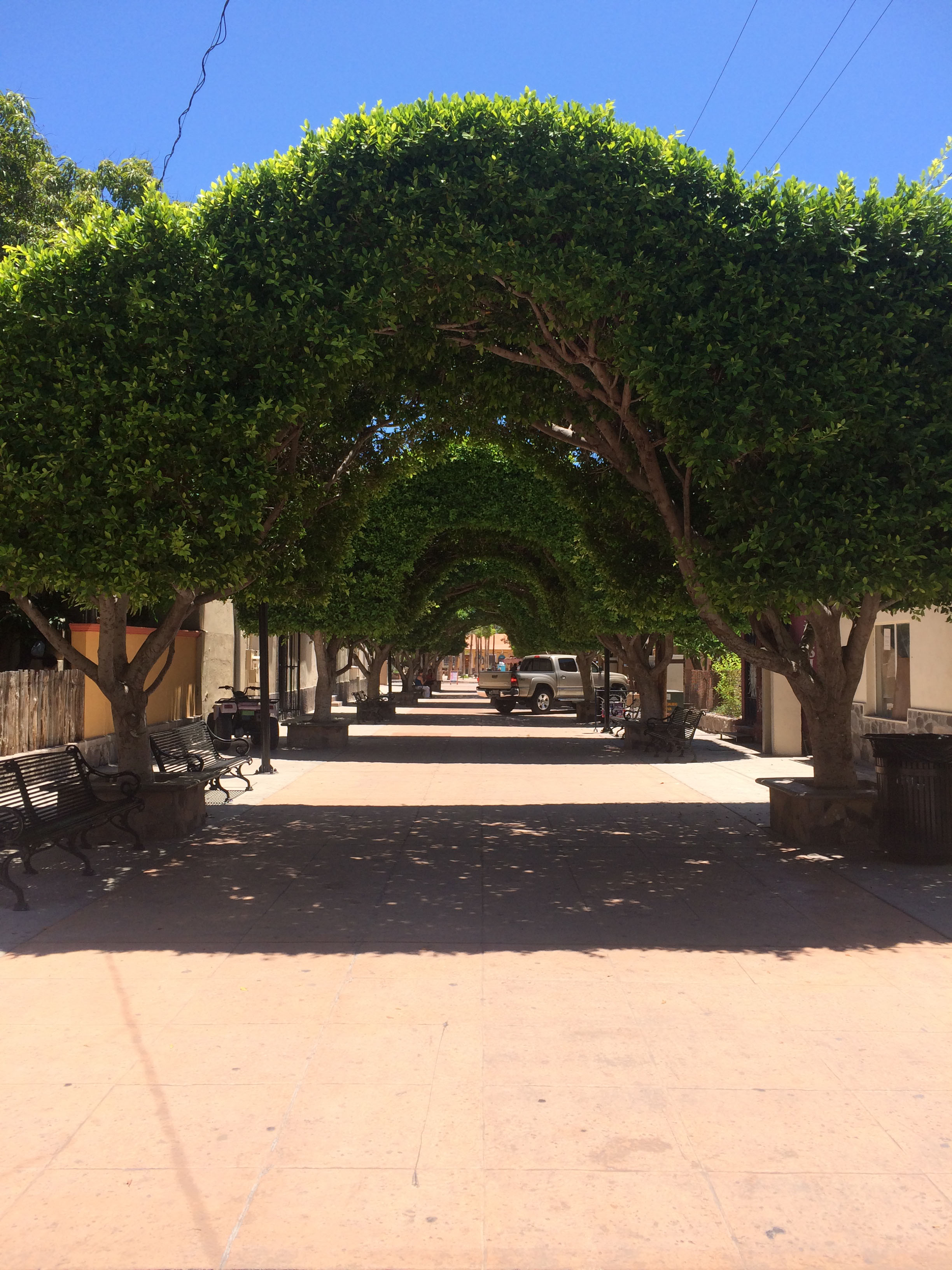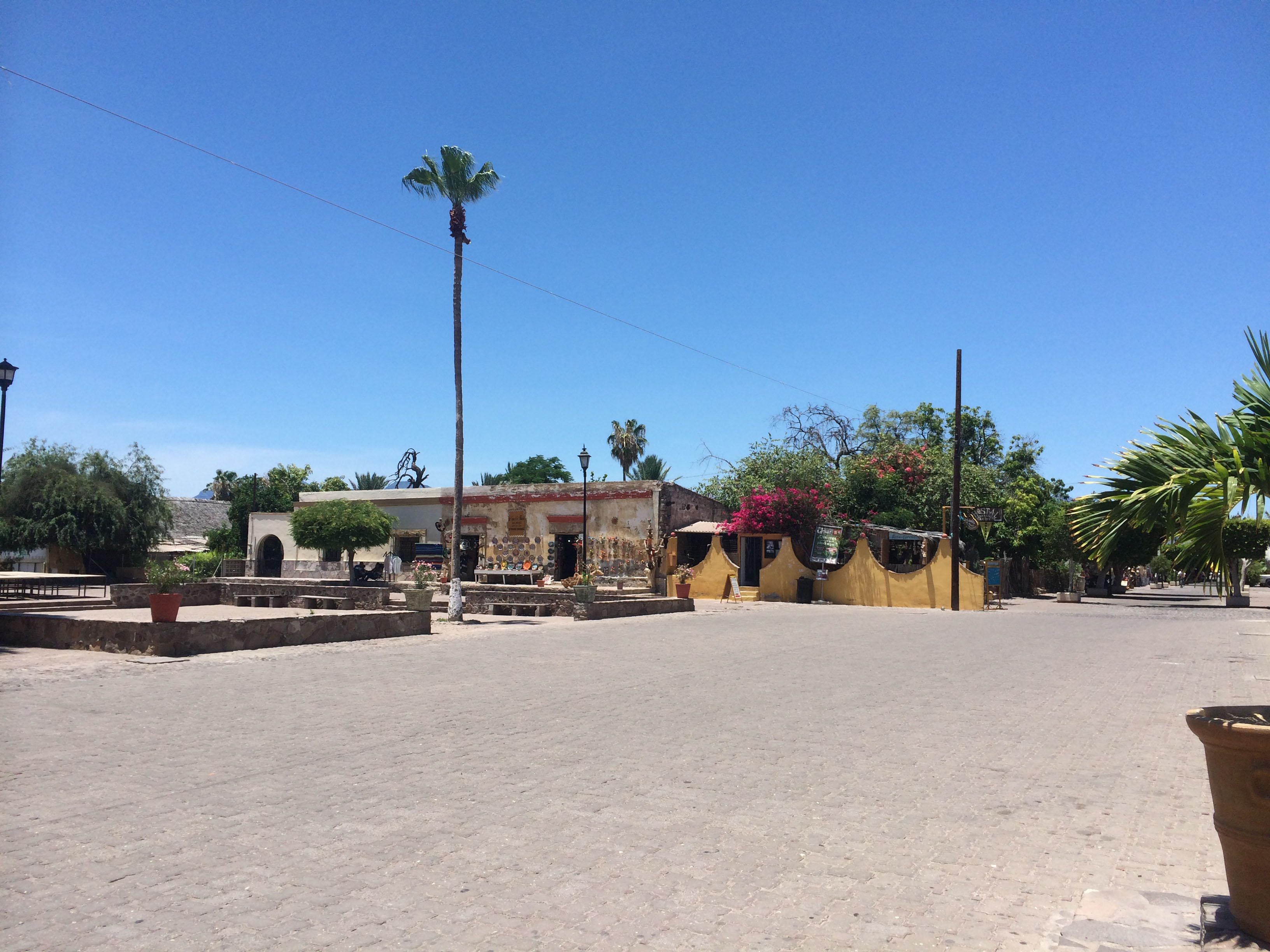 We got to the sister hotel in time to have a rest before the shuttle came. We sat and chatted happily, until we realized how much time had passed. There was no shuttle. Megan went to the front desk and came back some time later and said they weren't coming for us. Jonah took a crack at calling them, too, but still, no dice. Apparently they decided that they didn't want to come back for us since there were no other paying guests signed up for the service.   That, and we may have called a little too late, because apparently someone was there for us at 3pm and left empty. They had made it sound like no big deal which shuttle we took, but apparently it was a big deal. We weighed our options – should we try to get out to the main road and hitchhike back the 40 minute drive? We were all really overloaded with bags and backpacks and it was hot and we were pretty tired already. If we didn't get a ride, I didn't think my feet would hold out for any amount of extensive walking while carrying a heavy pack and bags. A taxi was supposed to cost 650 pesos (over $50) which none of us had budgeted for (and we were all out of cash). In the end, the hotel clerk negotiated a taxi for 500 pesos and we bit the bullet (and went to an ATM) and got back. At the resort, we were told that the resort policy on transporting non-paying guests had changed between the time we left and the time we came back. Lovely.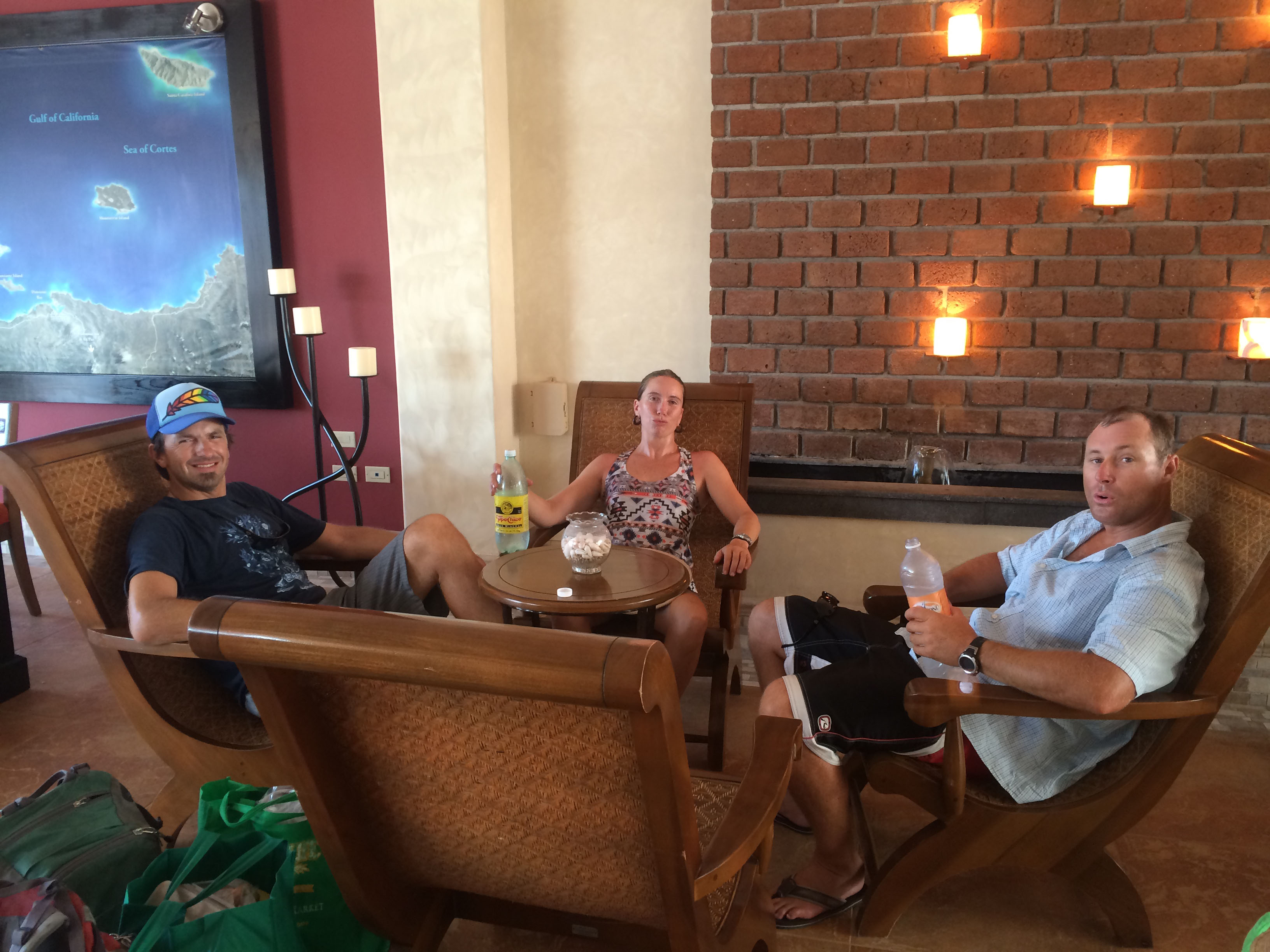 It was good to be home and loaded up with food again, at any rate. We started to get back into our groove and focusing on where we were intending to go next. We enjoyed fish and potlucks and hikes with our friends. We enjoyed going ashore after dark to take showers with soap and shampoo at the open air showers on the beach made for resort guests to rinse off. We were always a little worried about getting caught and "in trouble", but it sure was nice to have fresh water just pouring down on us and using plenty of soap and all. We even rinsed some clothes. Simply washing the salt out of things is what now passes for "clean".
I did so some boat laundry with soap and about 7 gallons of water. The water never rinsed totally clear, and I'm not entirely sure I got all the soap out, but again, it's "The New Clean". It sure smelled good!
Chores can make you awful sweaty down here. In fact, just standing still can make you awful sweaty. I spent some time floating with Pierre in the shade to cool off.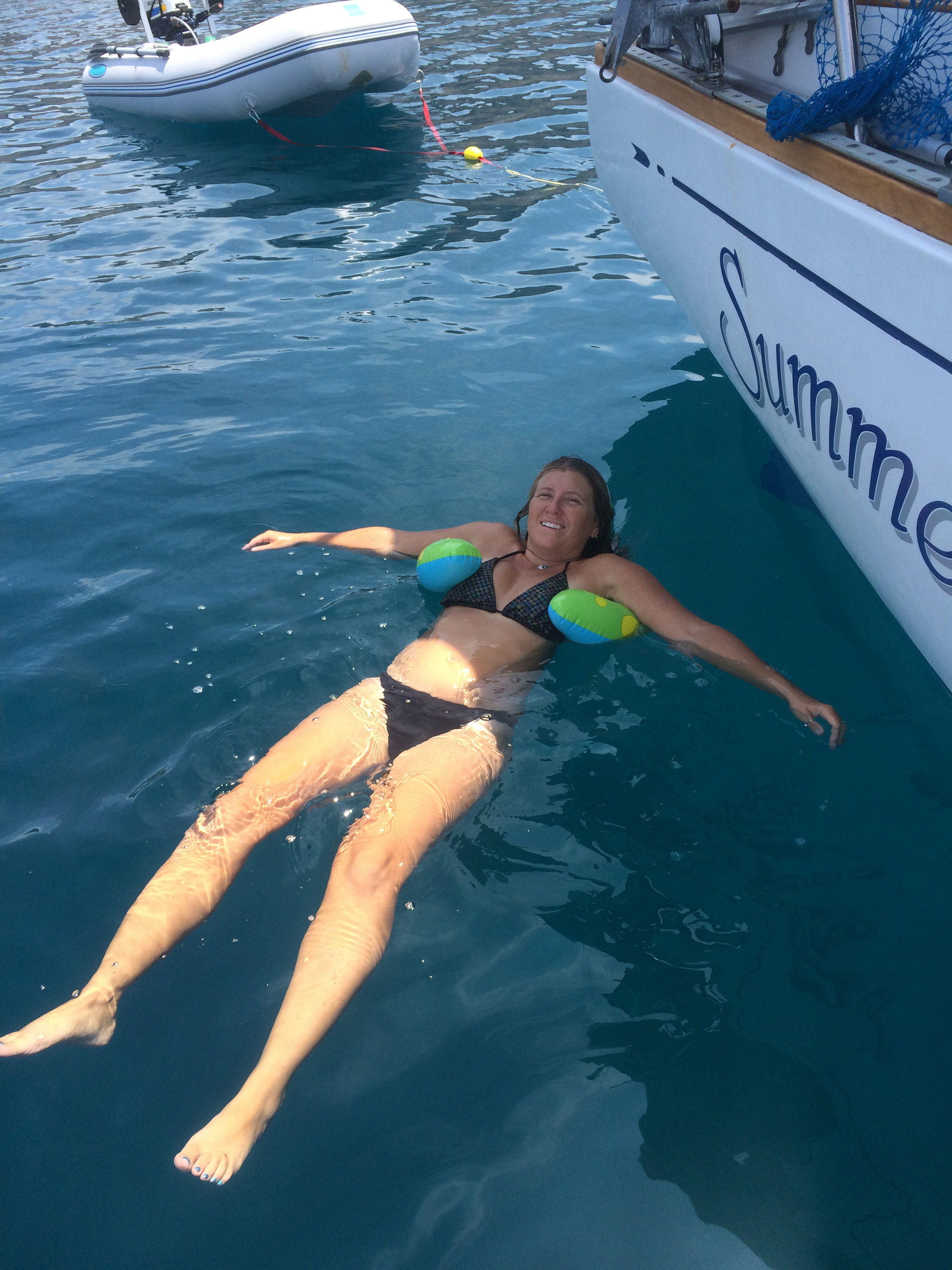 One morning I decided to make the rounds rowing the dinghy. I stopped at Sang Vind to deliver some dorado (mahi mahi) Jonny had promised and next on to Resolute with a little more fish. There wasn't enough for Orion as well, but we figured they had some of the marlin we'd brought and besides, Jonah is such a great fisherman (yeah, it felt a little weird & awkward…) but I stopped at Orion to bring some pesos for the cab ride home they covered. I went aboard to chat with Megan and it wasn't long before Meagan showed up on her paddle board. We had some good girl time chatting. We realized the wind was really coming up and the bay was very choppy. Meagan didn't think she could paddle back to Resolute and I surely wasn't going to row. Luckily I had the motor. This was a good exercise for me to start the motor while the dinghy was pitching around and then maneuver it so I could pick up Meagan and tow her paddle board back to Resolute. I could not for the life of me make the dinghy turn to starboard – up into the wind and waves and back towards Orion. I ended up making a few loops to port until I got in position. I thought something was wrong with the motor, but Jonny later told me that it had to do with my weight being on the port side. In those rough conditions, it was important to stay centered or to the side you want to turn. I had not known this! I don't get much dinghy driving time. I managed to get Meagan home and I only rammed Resolute a little bit (bumper dinghy!). It was good experience for me – it was a little bit outside my comfort zone, but I was doing it in inside the circle of all our boats, so I felt very safe – any number of people would come to rescue us if need be! Now I feel a bit more confident with the dinghy.
We did finally get our act together to take a trip out to one of the smaller islands and do some snorkeling. The water was amazingly clear and we spent quite a while kicking around the islands. So. Many. Fish! Jonny took out the spear gun that our friends Sharleen and Jon had given us. He attempted his first shot (and miss). I had the realization that I will not enjoy spearfishing. There I was, floating in womblike bliss, watching beautiful fish living their peaceful lives. I waved to Jonny and pointed out a huge, colorful parrotfish to share its beauty. He started after it with his speargun and I realized in horror that he thought I was pointing it out so he could try to kill it! I screamed "Nooooooooo" through my snorkel. I am definitely not cut out for this "hunter" role. I realize that animals eat other animals, and human beings are simply animals, and I do love eating me some animals on a regular basis. But the thrill of the chase? The excitement fighting with a reel and pole? The adrenaline that comes with aiming and firing of a weapon? No. No thank you. I even have to look away, while pitifully crying "thank you, poor fish, sorry for ruining your day" whenever I'm present for the catching and clubbing portion of fishing. I think I am much happier gathering nuts and berries from a bulk store and cooking up whatever the hunter brings home. I'm very thankful we don't ever have to reel in a cow.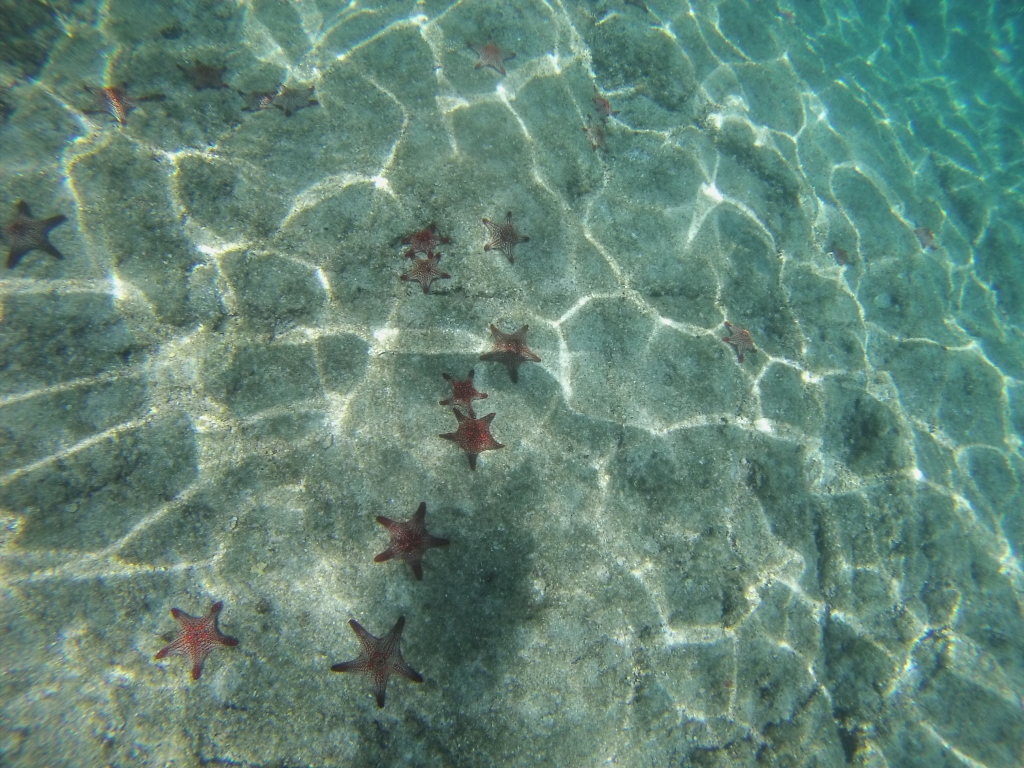 As will often happen with us gatherer types, I finally had to admit it was time for a haircut. Typically, I get a haircut once per year, whether I need it or not.   Having long hair is not a lot of work, as some people may think. I have long hair mainly because I neglect it and short, stylish cuts require maintenance and frequent cutting, to keep them short and stylish. I rarely even brush my hair, which wasn't so much of a problem when I had a shower and water came down from above and kept it all going in the same direction. When trying to be a professional, I would spend maybe 5 minutes blowdrying before I lost interest, and on many occasions I would realize in horror when driving to a client, that I had forgotten to brush it. I would frantically claw my hands through it in the car, and more than once I even cranked up the blower fan in an attempt to get it dry. I think you get the idea. I have little patience for primping.   Having been mostly ignored and devoid of harsh chemicals or styling products, my hair is ridiculously thick and healthy. Sort of like weeds getting out of control, you can ignore them until they start choking out more important things. When my hair is long enough to start choking ME out, that's when I know it's time for a cut. It starts wrapping around my neck when I sleep, getting caught under my armpits when I swim. Generally making itself a nuisance. With this extreme heat, I rarely will have it down, it's just too heavy and suffocating. But given how long it was getting, putting it in a bun was like having a grapefruit on top of my head. Made it very hard to wear hats. I finally got a hat with a hole in the back for hair to stick through – best thing ever, and I promptly lost it. I'm heartbroken. Anyway. Meagan on Resolute was mentioning how she bought a very nice set of hair cutting shears with thinning shears (she has thick hair, too). I was very excited about the idea of her cutting my hair. She, not so much. She said she'd watched a YouTube video and cut her own hair. Erik told her she looked like she'd given herself a mullet. She was very hesitant to take on my locks. I had to work very hard to convince her that I truly didn't care how badly it turned out. I started to tell her the story about the time I almost killed my cousin with a pair of scissors, but look of horror on her face quickly told me that was not going to win me a haircut. I really just wanted it gone and thinner and didn't care if it looked terrible for a while (it always grows back). I knew that if I tried to do it myself and messed it up, I'd forever beat myself up about it, but if someone else messed it up I wouldn't mind a bit. I'm not sure she believed, me but I finally got her to agree anyway. I picked her (and Nikka) up in the dinghy (my first time with a dog passenger) and we went out to the shady side of a rocky beach. She worked diligently and nervously for nearly two hours. She was surprised to find my hair was even thicker than hers. About six inches and ten pounds later, I felt GREAT! I was so grateful to Megan and she was still worried I wasn't going to like it. I didn't need to see it; I already loved it! In the end, she did a great job. Now I can go on ignoring it until it starts strangling me again. Even though it feels so much lighter, there's still WAY too much.
On our last day there, we did a 'girls-only' paddle. Resolute had a spare SUP I could borrow and Sylvia borrowed one from Orion. I have never been on a stand up paddle board before. It doesn't look difficult, but it's not something I've ever been that interested to try. Standing up isn't one of my favorite passtimes. Given my back and hips, I do much better biking, swimming or napping. But I was excited to give it a try and see what all the fuss was about, and looking forward to more girl time before we said our goodbyes the next day. Meagan kindly gave me the more stable of their boards, while she persevered on the wobblier inflatable. It wasn't as stable as I imagined, but I managed not to fall over. The paddling part was fun, giving me flashbacks to my 400+ mile paddle through the Amazon rainforest in a dugout canoe. I really liked the paddling part. Not so much the stand up part. I paddled on my knees for a bit and that was nice, too. We saw rays and fish and ended up on one of the rocky islands just outside the bay. We snorkeled and hung out in the water and had some nice chill time. We paddled back as the sun was setting. Meagan said she'd come back for the board later with their dinghy – or we would bring it to them when we went ashore for our last shower. Well, the wind started piping up and it got awfully rough out. Neither of us ended up going ashore, so we secured the board for the night to return in the morning. No last shower for us, but I wasn't too upset – it would have been no fun to get a shower and then get soaked with salt water on the ride back in the dark.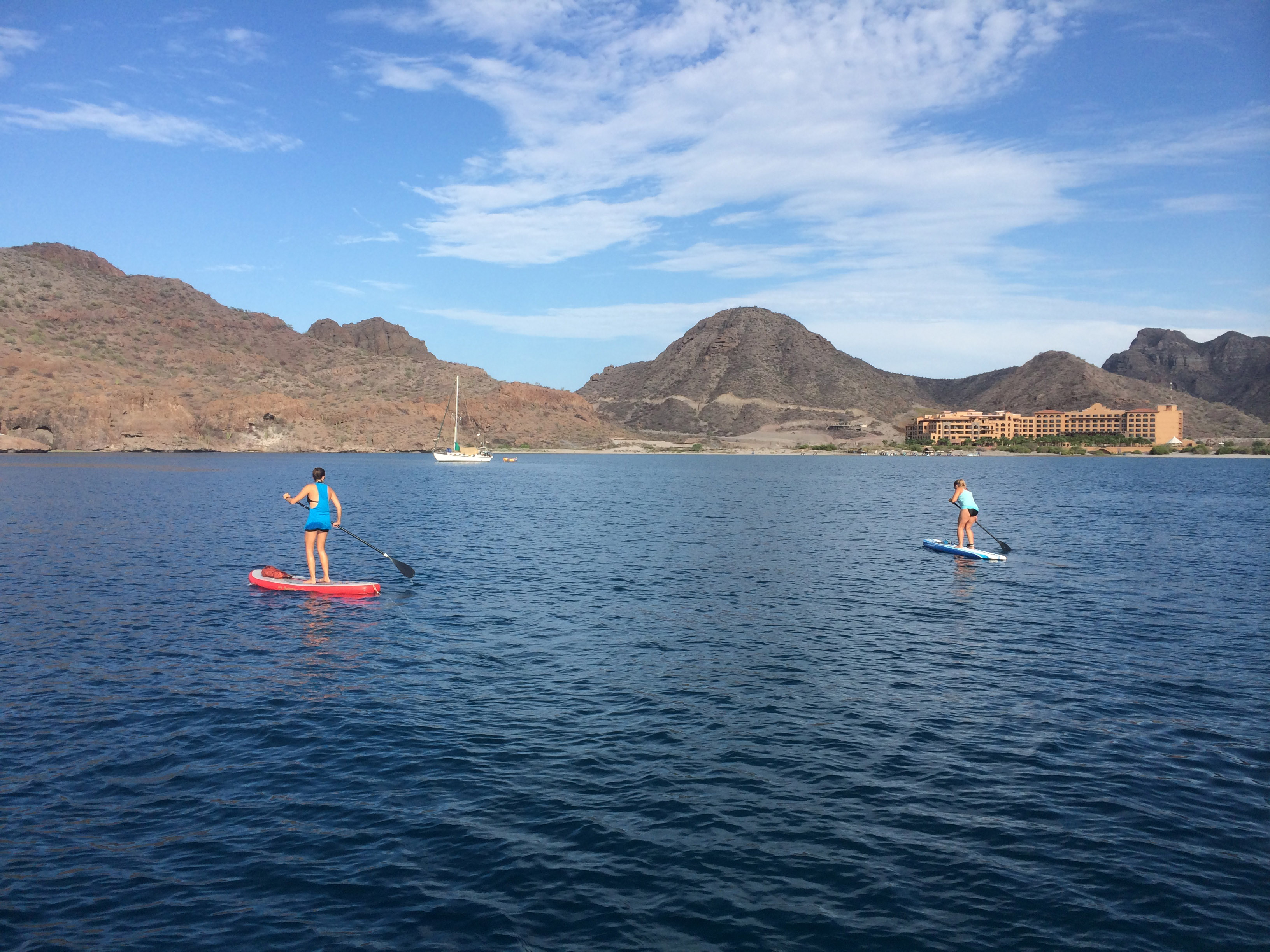 We got up early, as intended and prepared to set off for Puerto Escondido for fuel and water, and then maybe on to one of the anchorages on Isla Danzante or Carmen.   Puerto Escondido is considered to be one of the safe hurricane holes – although several boats sunk there in Hurricane Odile last year. A lot of cruisers spend a lot of time there, though. There is no town, and we heard it's a pretty expensive cab ride into Loreto for supplies, we did not intend to stay in there unless we had to run in for bad weather protection.
I rowed Resolute's board back and said "adios" to our friends. We were off for a new adventure! It was a hot but gorgeous day. As we approached Puerto Escondido, we could also see Honeymoon Cove just across the way. We decided to just go there and check it out and then maybe dinghy the few miles across to Escondido to scope that out for a later stop. We had enough water to last a few more days at least. We went to 3 different coves at Honeymoon before we found one that was just right. It was just big enough for Summer to fit comfortably and the water was gorgeous. We settled in and then dinghied over to Escondido to scope out the entrance and fuel dock situation, and to see of the rumors of a market there were true. When we passed the anchorage known as The Waiting Room, I counted over 20 boats in there. There was a market, but no fresh food – which is all we were hoping for. The owner said she could take a list and pick up whatever we wanted from town and deliver it next day. What a great service – we thought we might take advantage at some point?   Fuel dock looked easy enough. As we were getting ready to leave, we spotted Resolute coming in.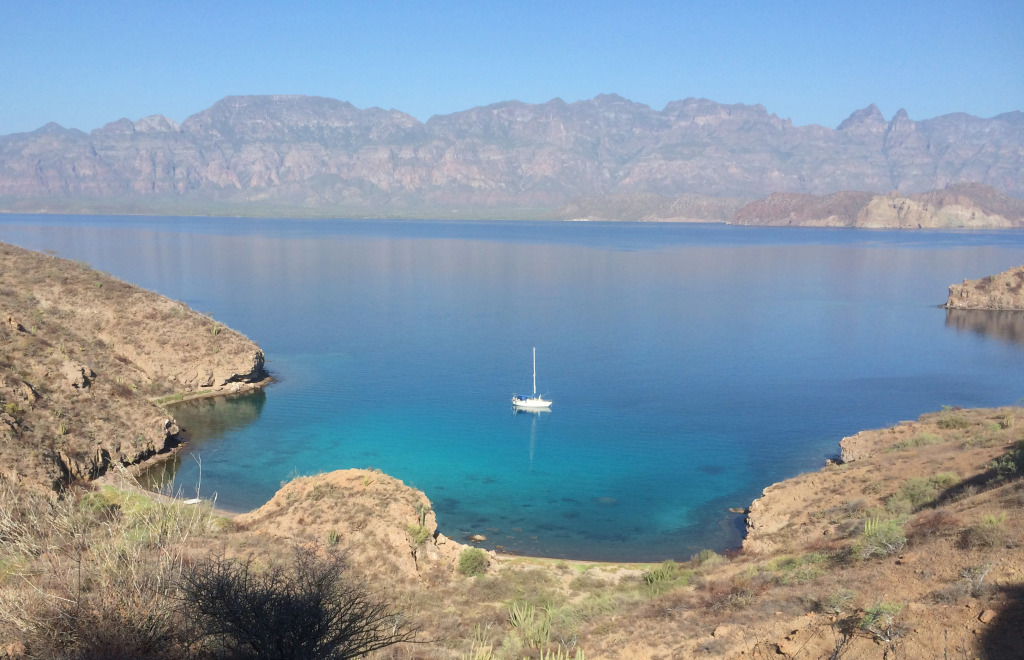 We had a couple blissful days in Honeymoon Cove on Isla Danzante. It felt very remote and private (aside from a powerboat or 2 hanging out in the tiny cove 2 up from us). We did a couple hikes and a lot of snorkeling. When we were up on a peak we spotted Sang Vind coming in, towing their whole fleet (sailing dinghy, inflatable, SUP…). They checked out the coves and ended up in 2 down from where we were. They stopped to say Hi the next day.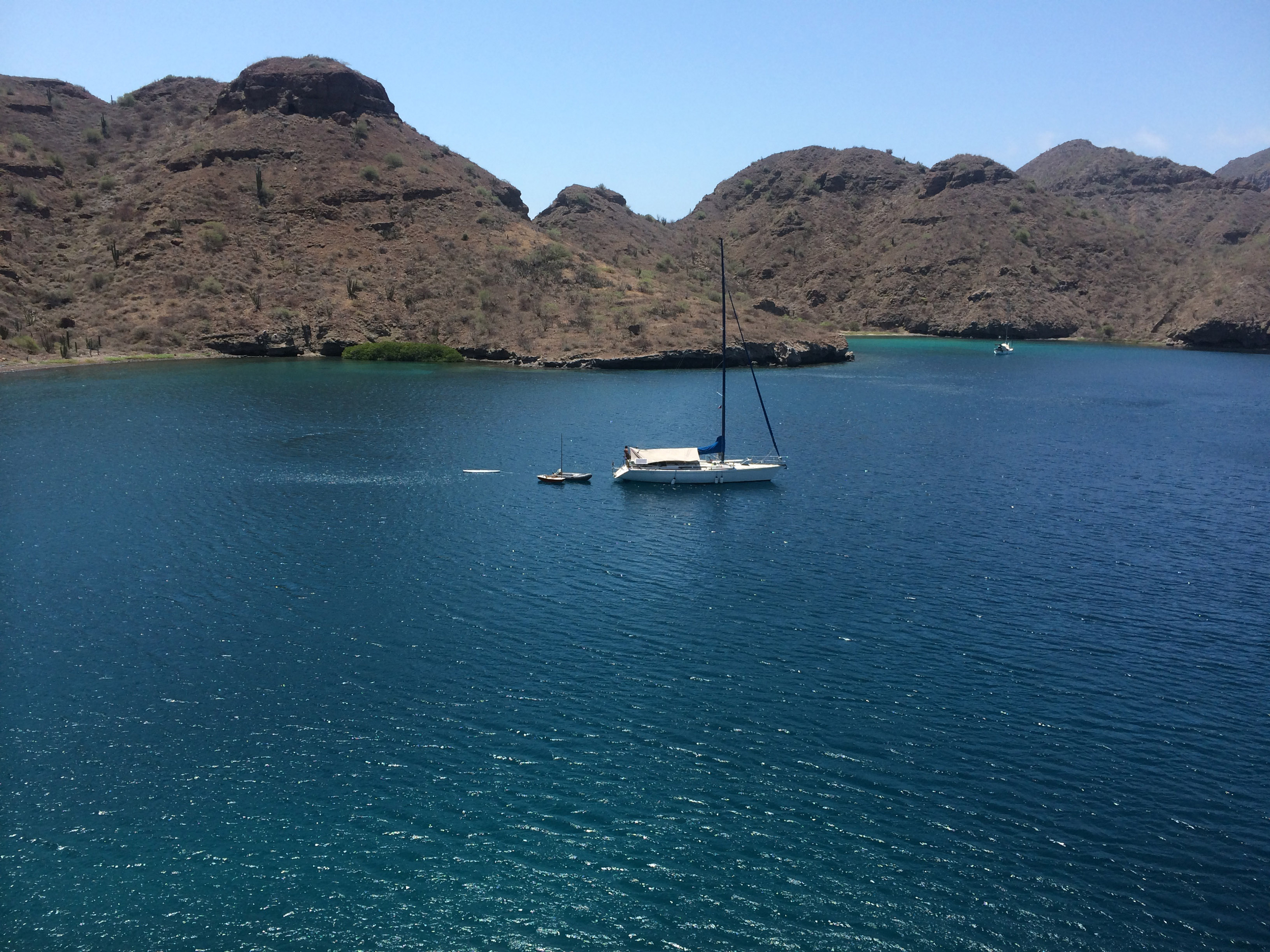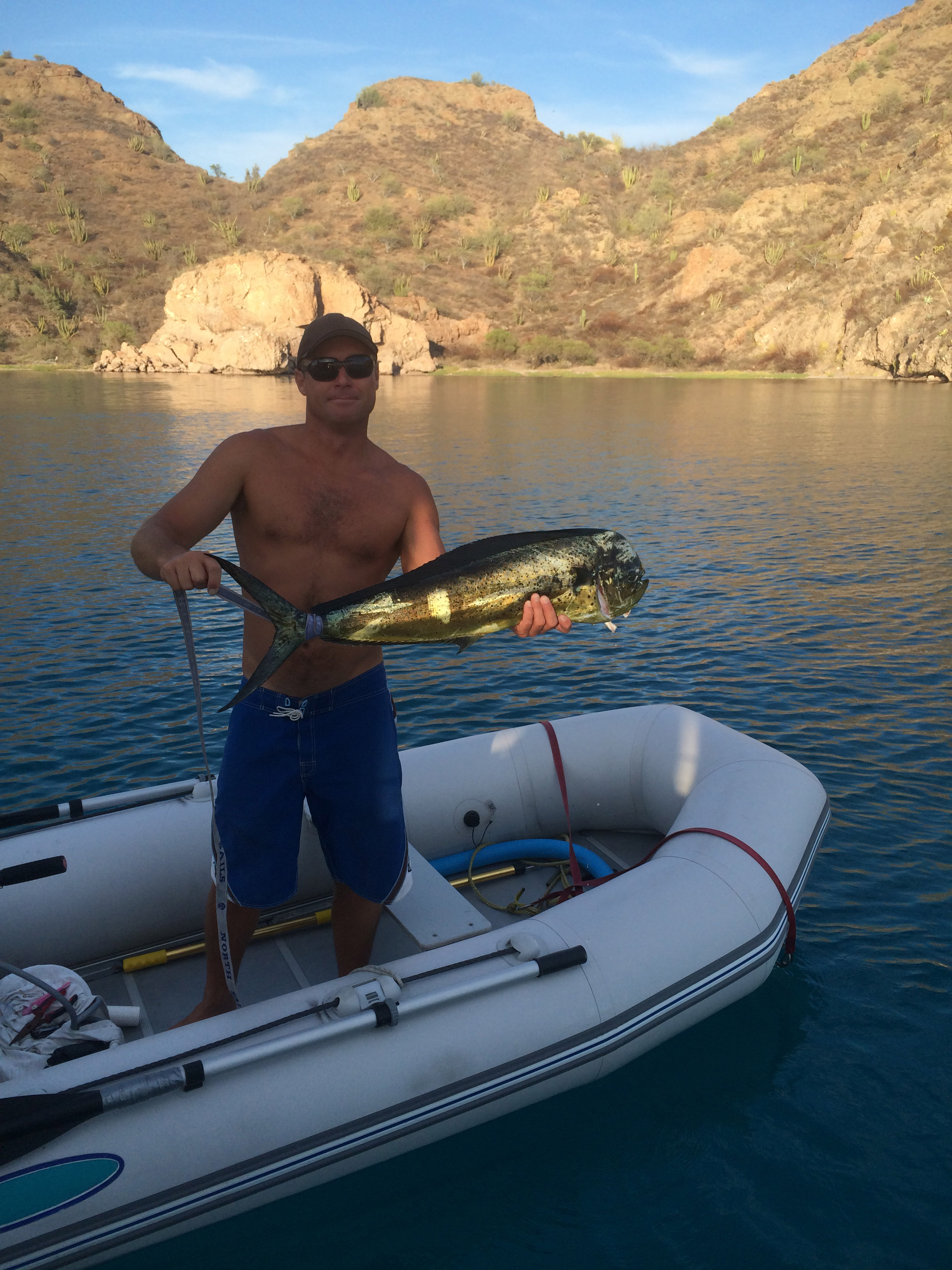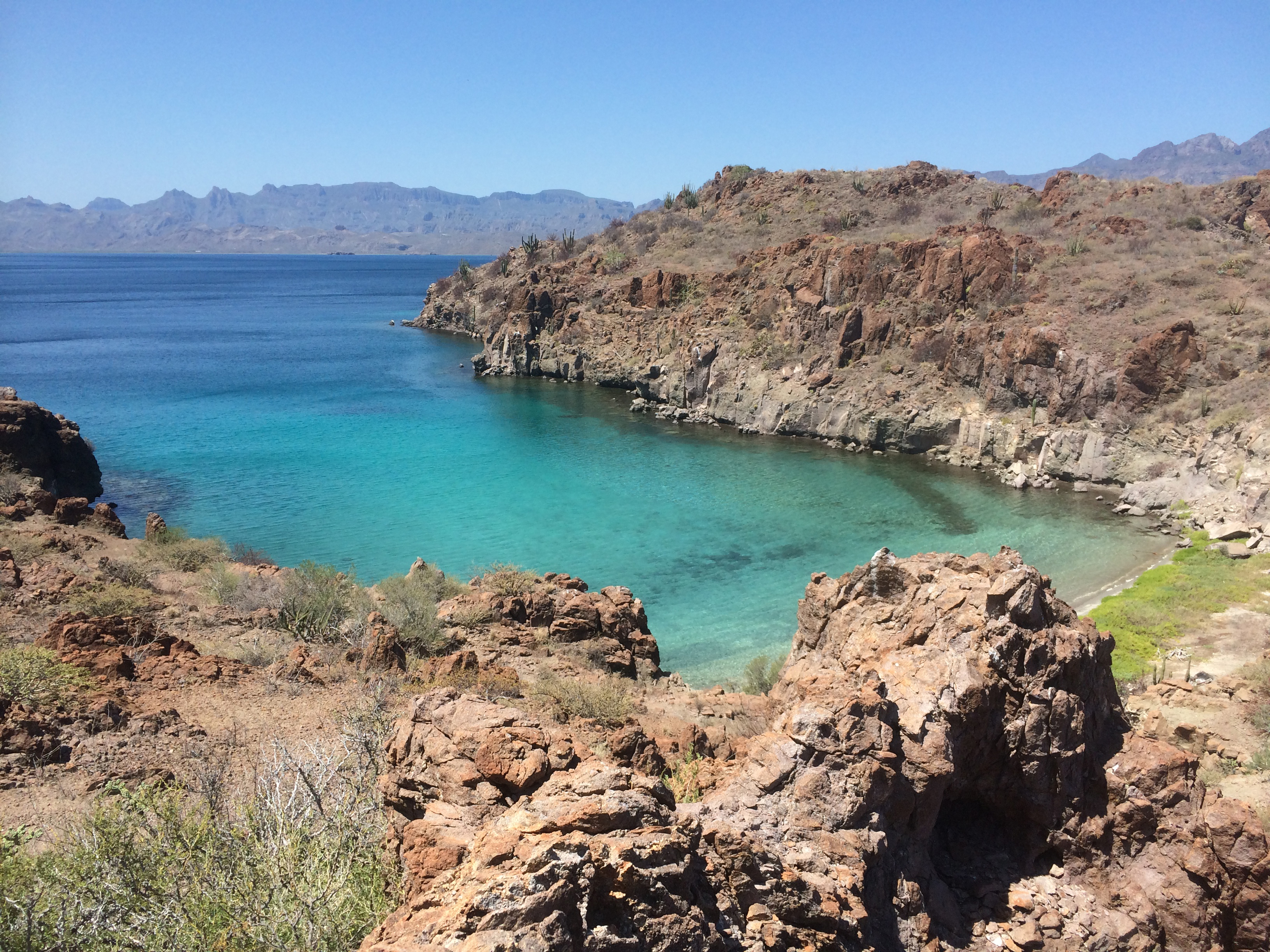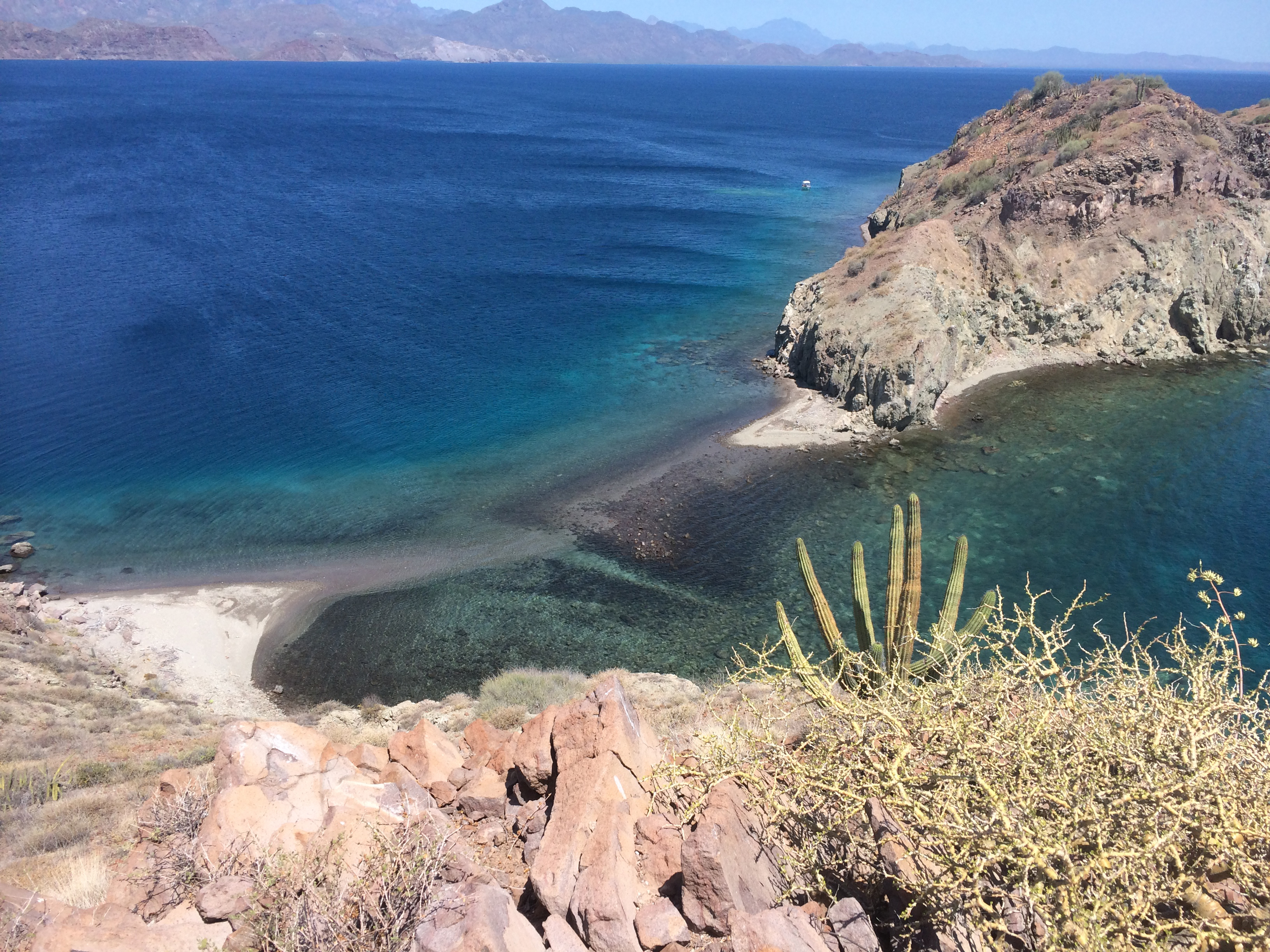 We finally went over to Escondido to fill up with water and fuel. The fuel dock was full (Resolute was there!) so we went to a different dock to get water. The Fonatur there charges for the water, so they came and read the meter and told us it was ten cents per liter (cents being 1/10 of a peso, not dollar – which ends up being roughly 6 cents US for 2.5 gallons). We went to town – we gave Summer a good rinse, we got out a bin and washed some clothes and towels, we topped off our tanks and every container we had. We used about 147 gallons of water -which came to 56 pesos (less than $4USD). Such a deal! Meagan and Erik came over with Nikka to say Hi. They were planning to stay in The Waiting Room (the anchorage inside Puerto Escondido area) for a bit.  We went over to the fuel dock and topped off our gas cans and diesel tank (which came to around $44USD). Full up, clean and ready! We headed out to find Balandra Bay, on the northern part of Isla Carmen.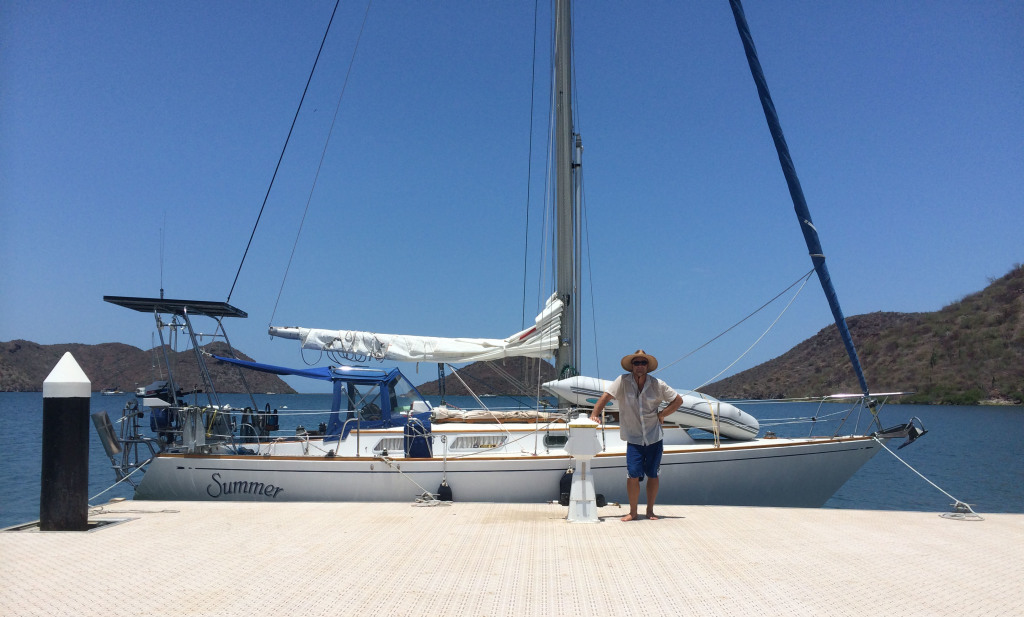 We had the most wind and roughest seas we've seen in the Sea of Cortez. It was great fun! We sailed SO fast – I saw our knotmeter pegged at 8 a few times (our hull speed is around 6). As we were racing along we saw a boat coming the other way, about to pass close by to us. We realized it was Mike and Nia aboard Azul. We all waved enthusiastically at each other as we flew past. They are hard workers that help a lot of other cruisers (Nia made our great mid-boat shade)– so they were probably headed back to Escondido.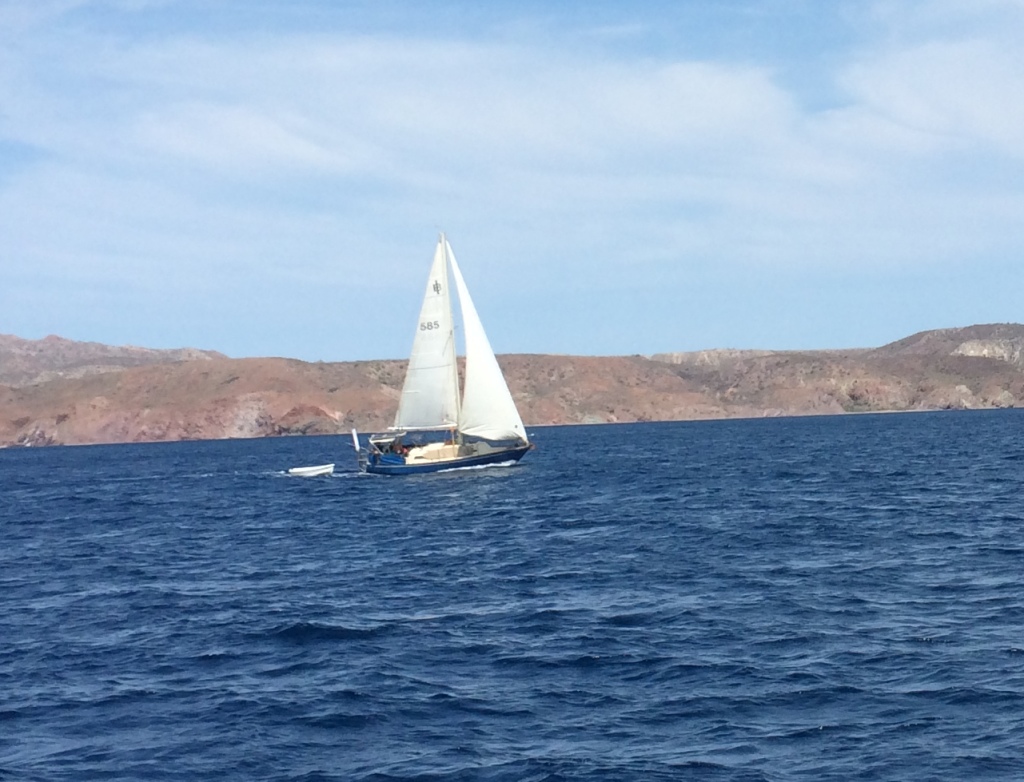 We made it into the very protected cove of Balandra. It immediately did nothing for me. Maybe I've been spoiled, but I couldn't help thinking "Meh!". My feet were killing me from all the hiking and feet related activities of the past week, so I was happy to just hang out and swim and snorkel for a few days. We had a nice dorado to eat for three days and eeked out what we could with our remaining veggies. Sang Vind came in the day before we left and it was nice to visit with them for a bit.  There was also a lovely sunset and a refreshing rainstorm – so all in all a nice little interlude.
We got up at the crack of dawn and motored across the 8 miles to Loreto. Getting in early meant anchoring and getting out before it got too crazy. Loreto is called a "road stead anchorage" which doesn't make any sense to me in the wording, but I guess it somehow means "not a safe place to spend the night". There is no protection or bay, you just anchor right there in the open and hope for the best. There was a tiny beach to land the dinghy and off we went to get our supplies. It was nice knowing exactly where we were going. We hit the two major stores and came in under budget enough to stop at an El Segundo on the way back (that's second hand store). I wanted to get a swim skirt or something of material to make one – I need to cover my big ol' butt when snorkeling so it doesn't burn. I found just the thing, and a tank top and a very nice button down shirt for Jonny (Wearing light shirts is the most comfortable in this heat – haven't seen the guy in a t-shirt in months!). Stuff was just piled on tables and I had to dig through for the treasures. Turns out they were 3 items for 100 pesos ($7.50) not bad!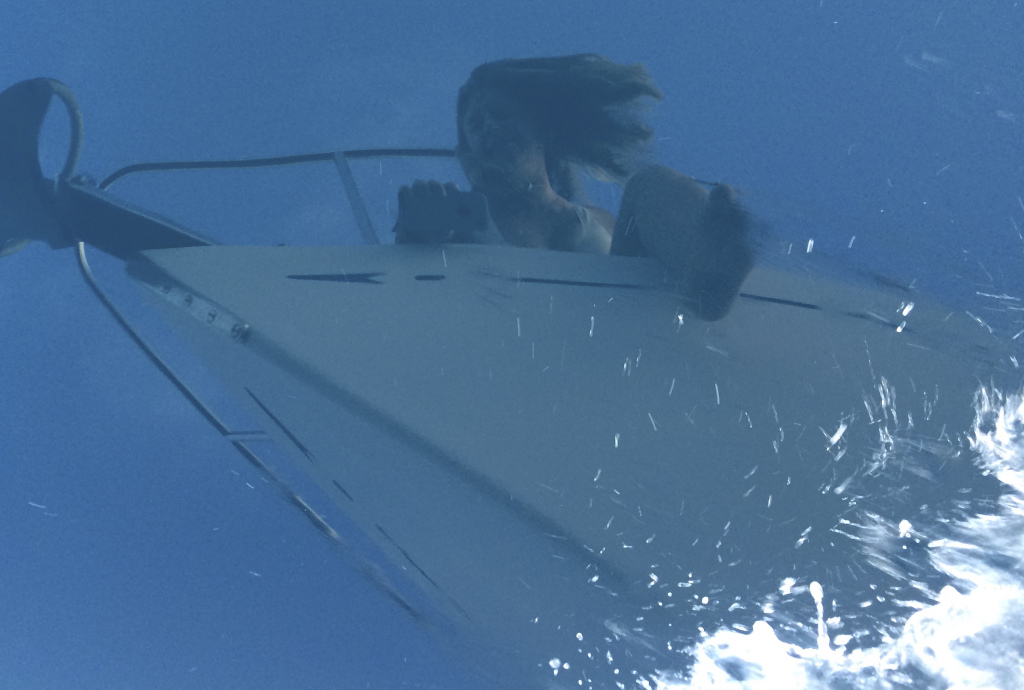 We even stopped for an ice cream on the way back and had a nice chat with some people who were Mexicans living in California but were visiting Loreto. It's a very popular destination for tourists of all kinds.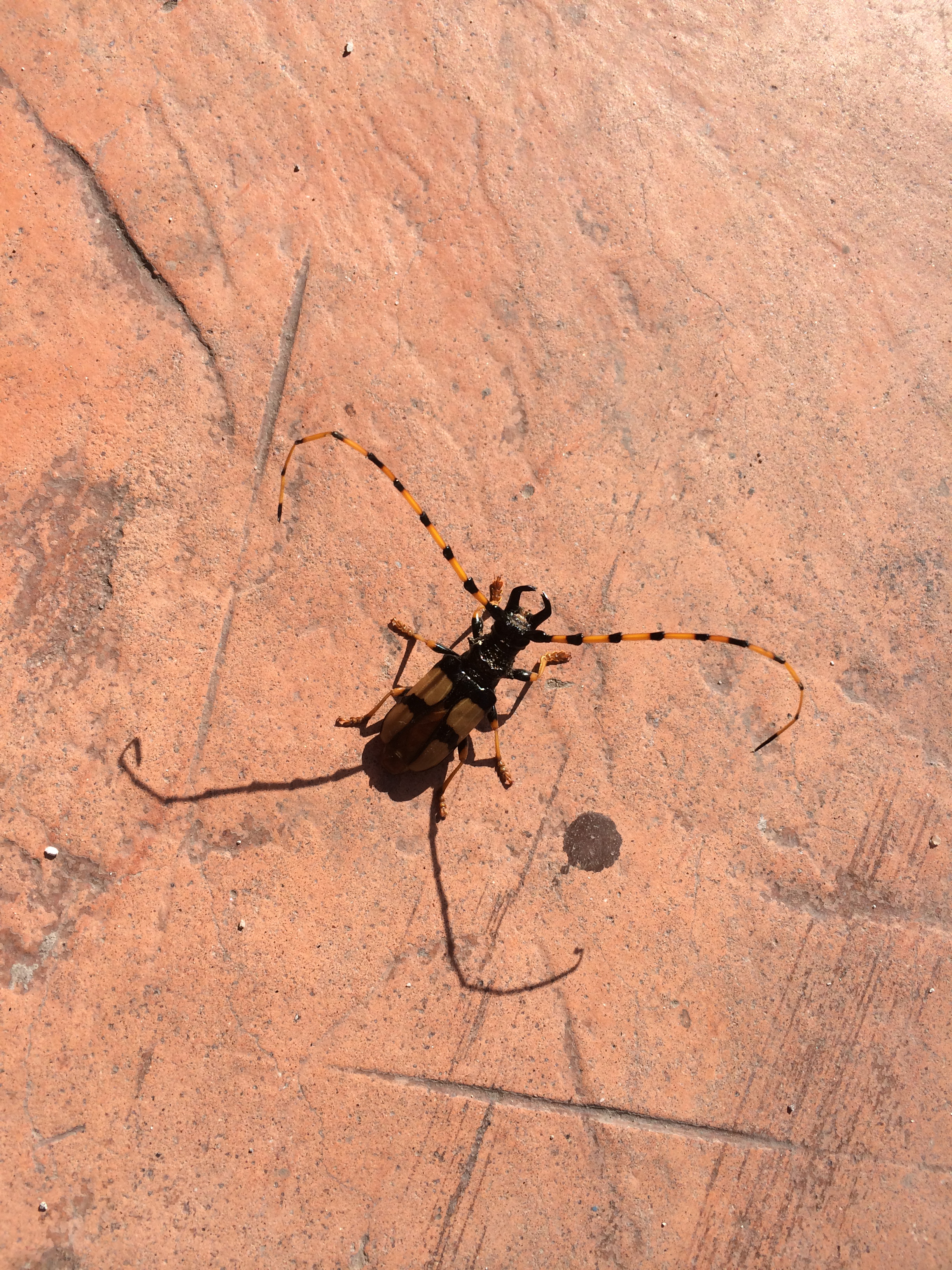 It was of course blazing hot and we got back to the boat and had some lunch (yes, the ice cream was actually breakfast for me…) before heading off to our next adventure. We got out of there just as the winds were starting and the boat was starting to roll. Perfect timing.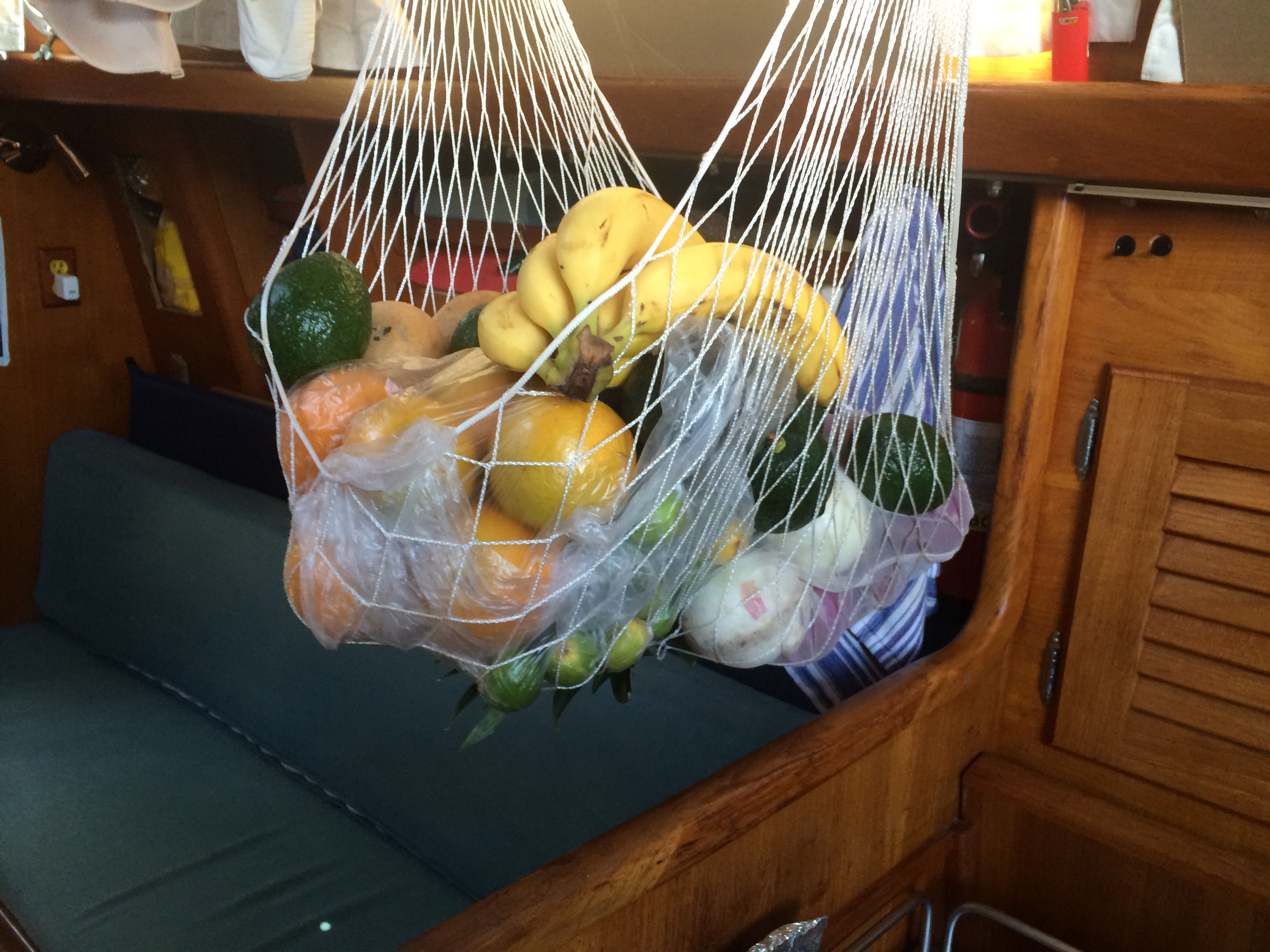 It was a quick sail, and then motor (the wind died) out to Isla Coronados. Beautiful spot, several white sand beaches and gorgeous aqua water.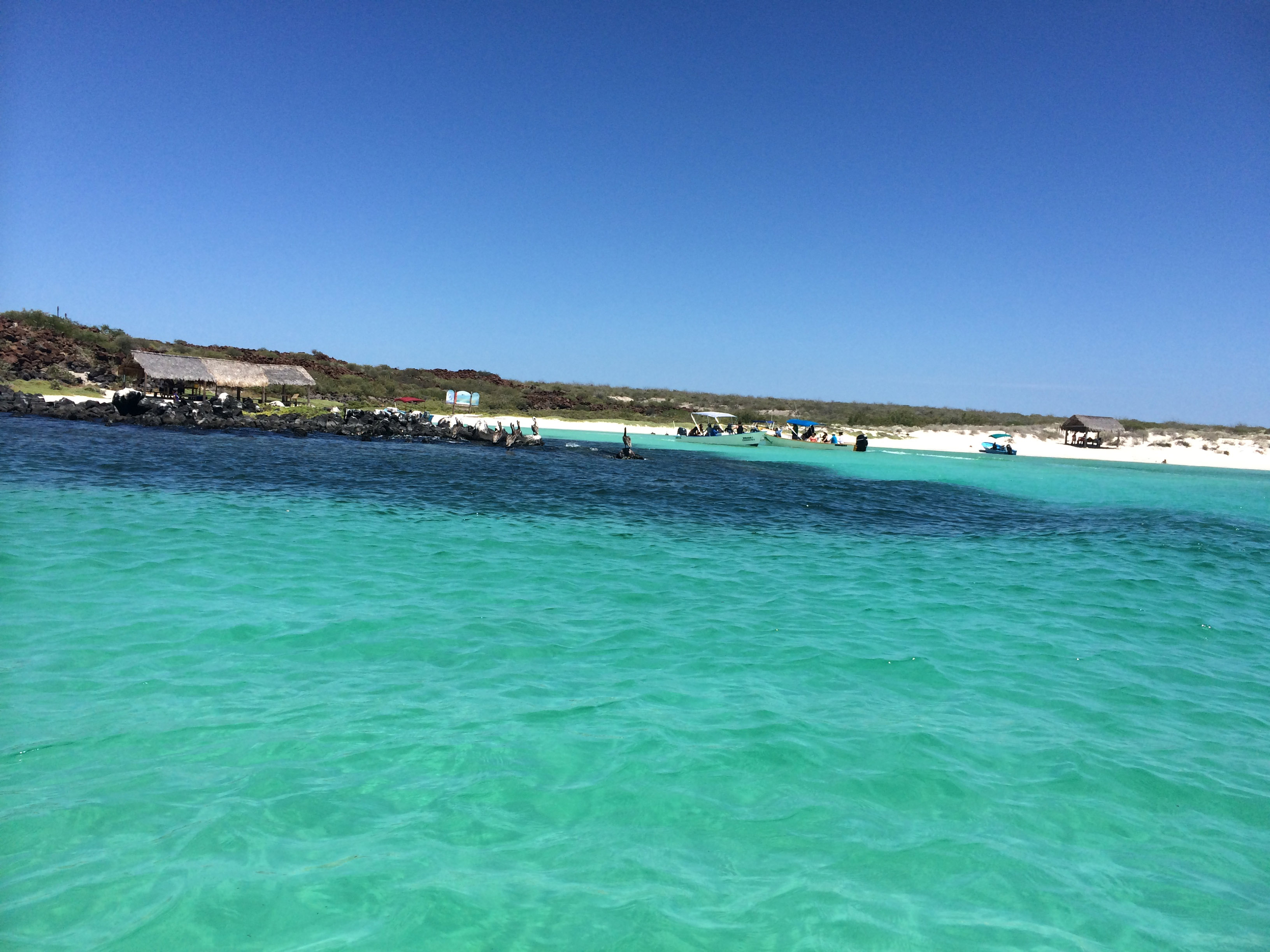 It was populated by 4 large mega yachts when we arrived. We found our place over on the other side of the tracks and dropped the hook. One of the biggest yachts had a giant inflatable slide, 3 stories high, coming off the side of it. I was really hoping they'd invite us over to try it out. We even tried to wave when we dinghied past to the beach, but they ignored us. I guess it's like people in mansions not wanting to wave at the folks living in the trailer park… One of them did anchor a very cool inflatable pyramid with a slide out at one of the beaches. It was very far from all the boats and no one was ever playing on it…so we decided to keep it company for a little bit.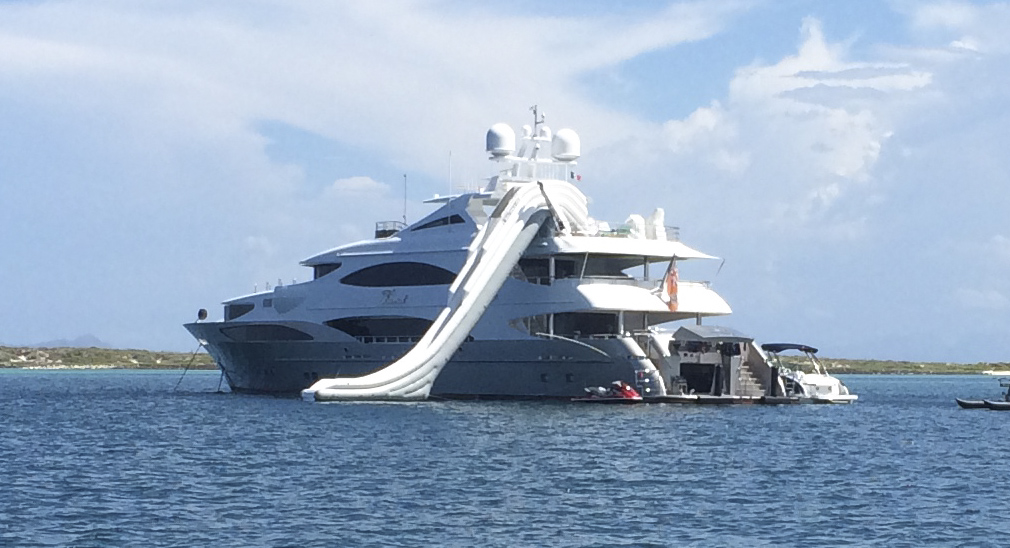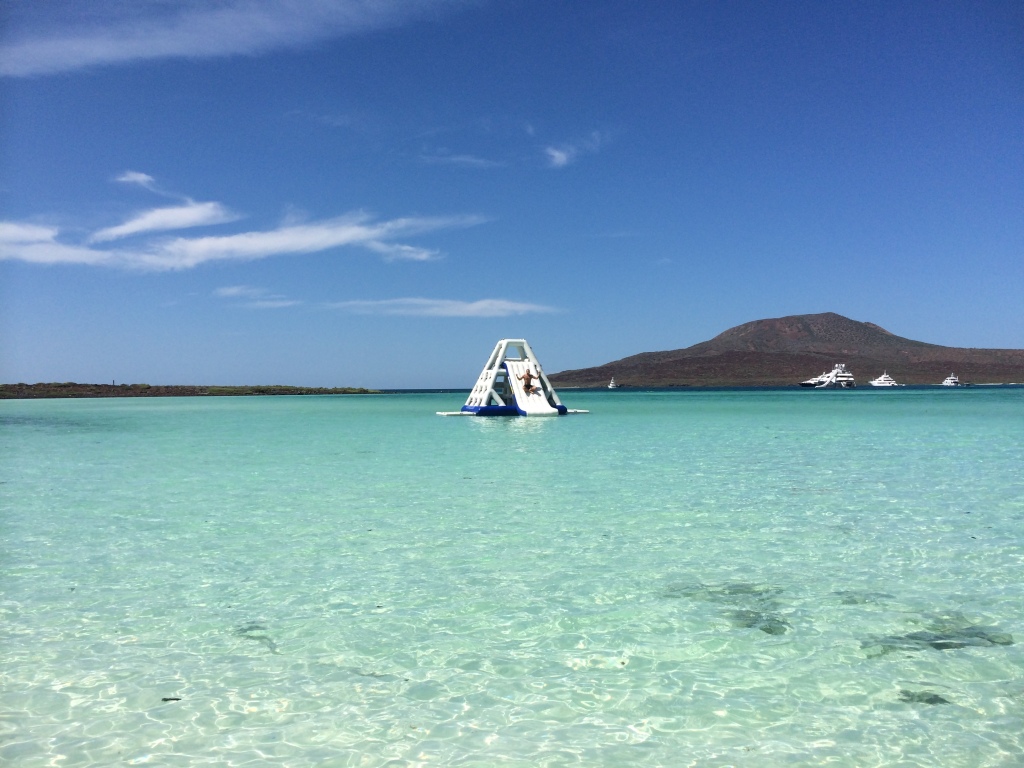 We had a very exciting thunder and lightning storm on our first afternoon.  I think I've become obsessed with trying to capture lightning bolts on video:
We enjoyed a dinghy ride around the island to see really neat rock formations, which we decided to name. They may have already had names, but I'm partial to mine. We caught a bonito tuna on our tour as well, so that was a nice couple nights of dinner.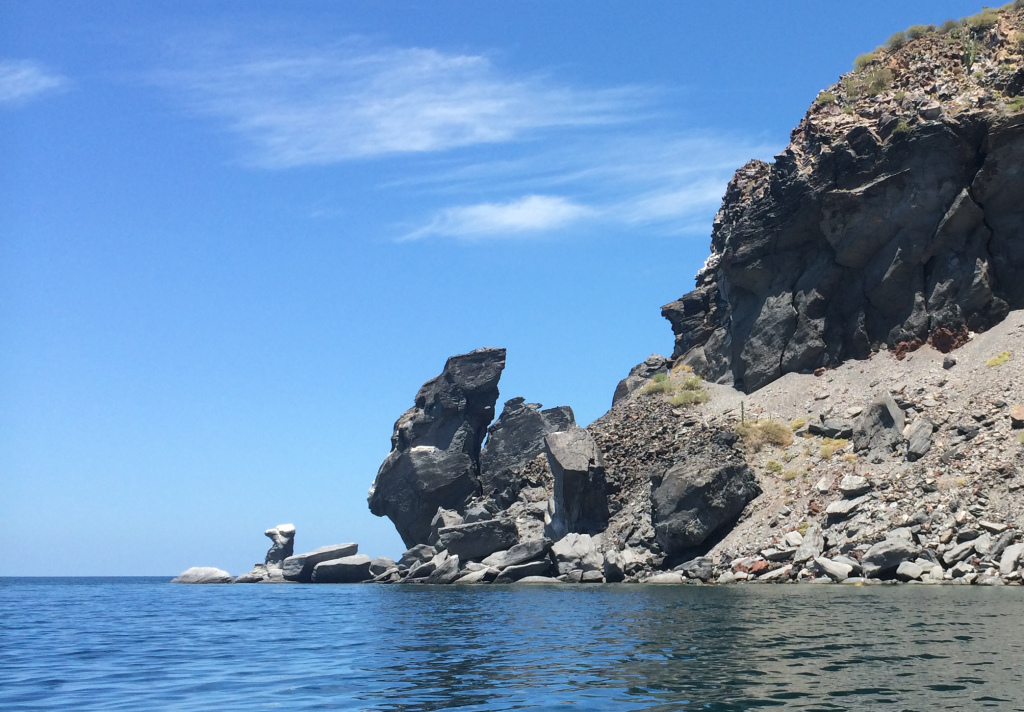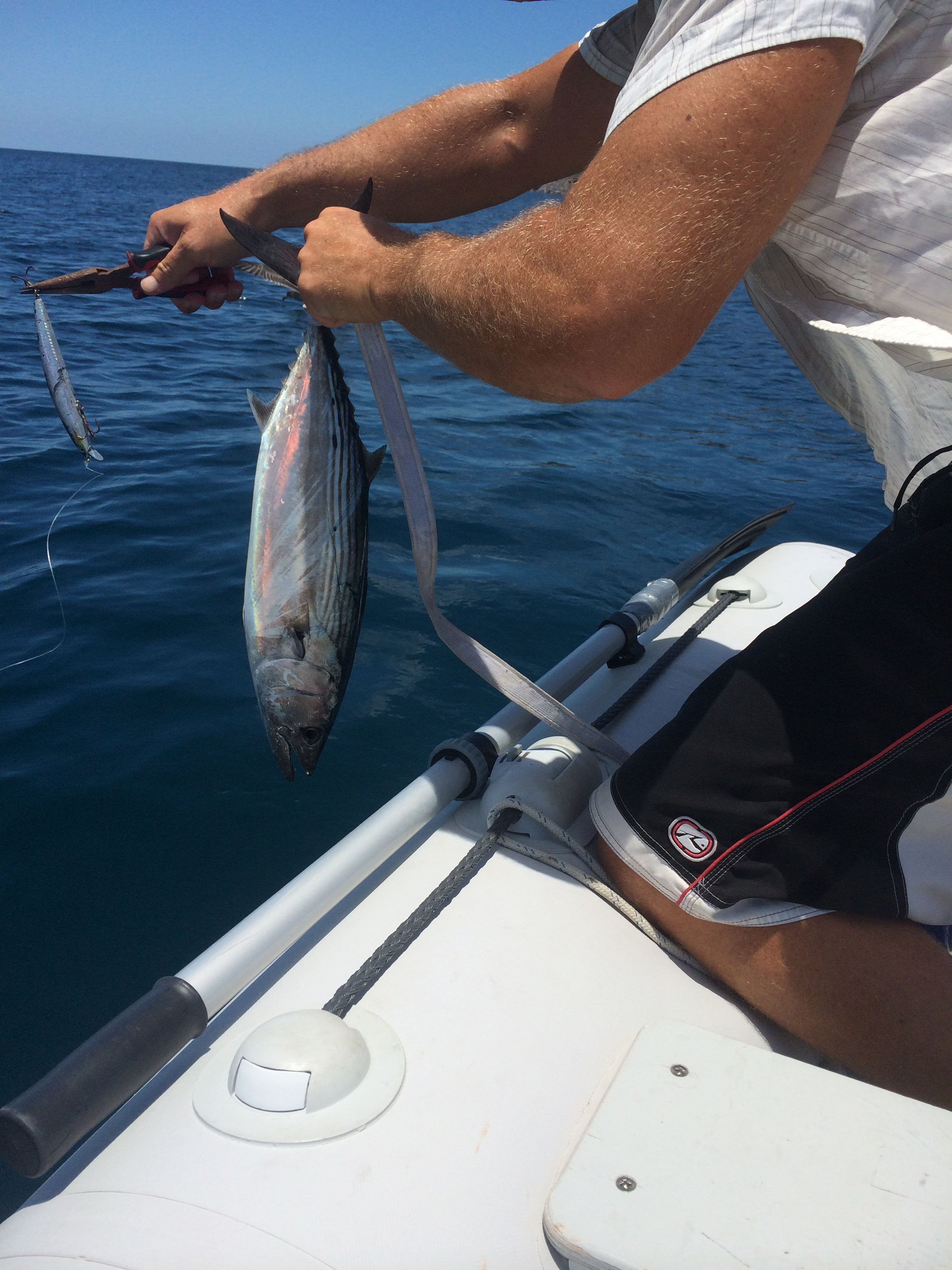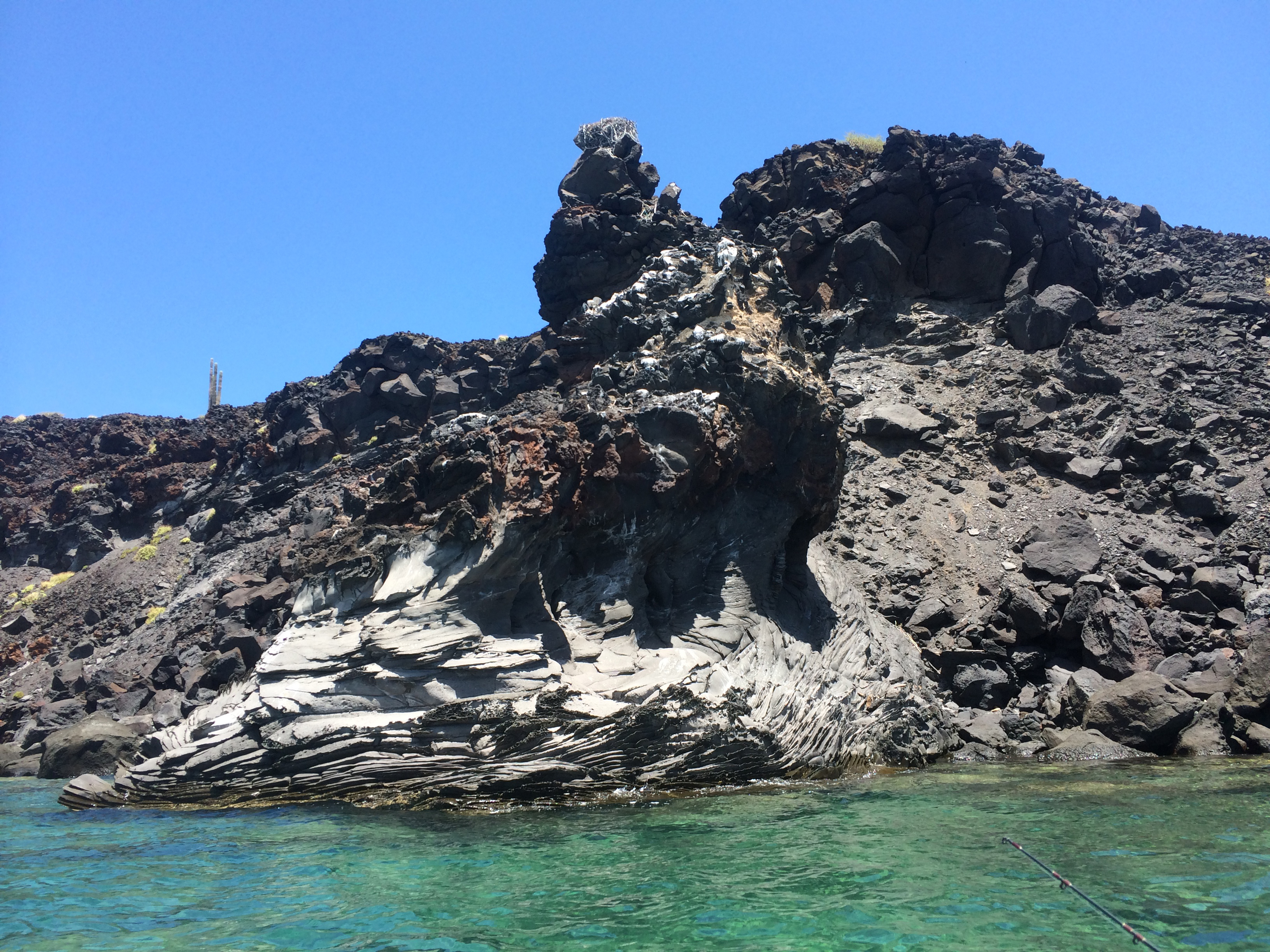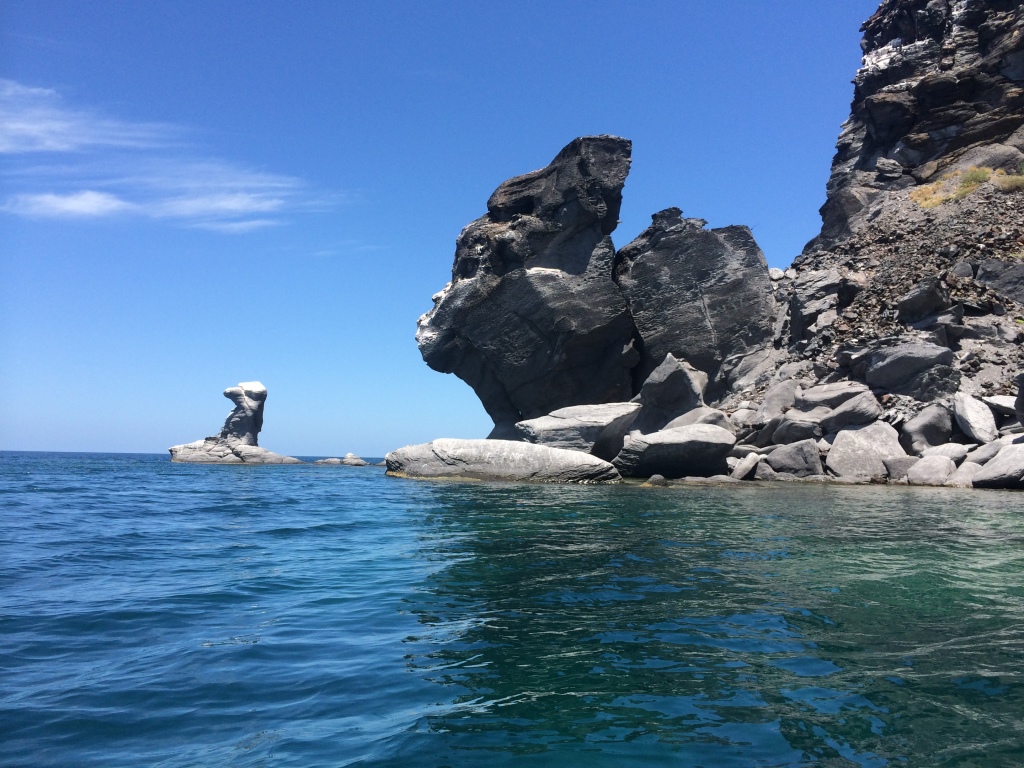 On our third day, we heard that the wind was going to switch from south to north for a day or so, so we hopped over to the other side of the island for a protected anchorage from that wind. It was beautiful and "wilder" on that side and it was nice to be all by ourselves. The water was incredibly clear – we could easily see details of the bottom 20 feet down.  Later in the afternoon, the winds blew as predicted, and along came the fleet of mega yachts to descend upon our peaceful paradise. Apparently no matter how big your boat and how many toys you have, you are not immune to the effects of the weather and it got too uncomfortable for them to stay in the other anchorage. They must have all been together as they zipped around between each other's boats constantly. Each boat had jet skis, dinghies and smaller boats, a larger fishing boat and a cigarette boat were all part of the entourage (any one of which easily cost 2x what Summer cost).   Speaking of cost, I was doing some figuring based on the smaller mega yacht I got info about, and estimated that it cost a minimum of $50,000 just to fill the fuel tank on the largest mega yacht there. Jonny and I could live in luxury and take good care of Summer for two years with that much money!! You might be guessing I am a little bit biased to our lifestyle.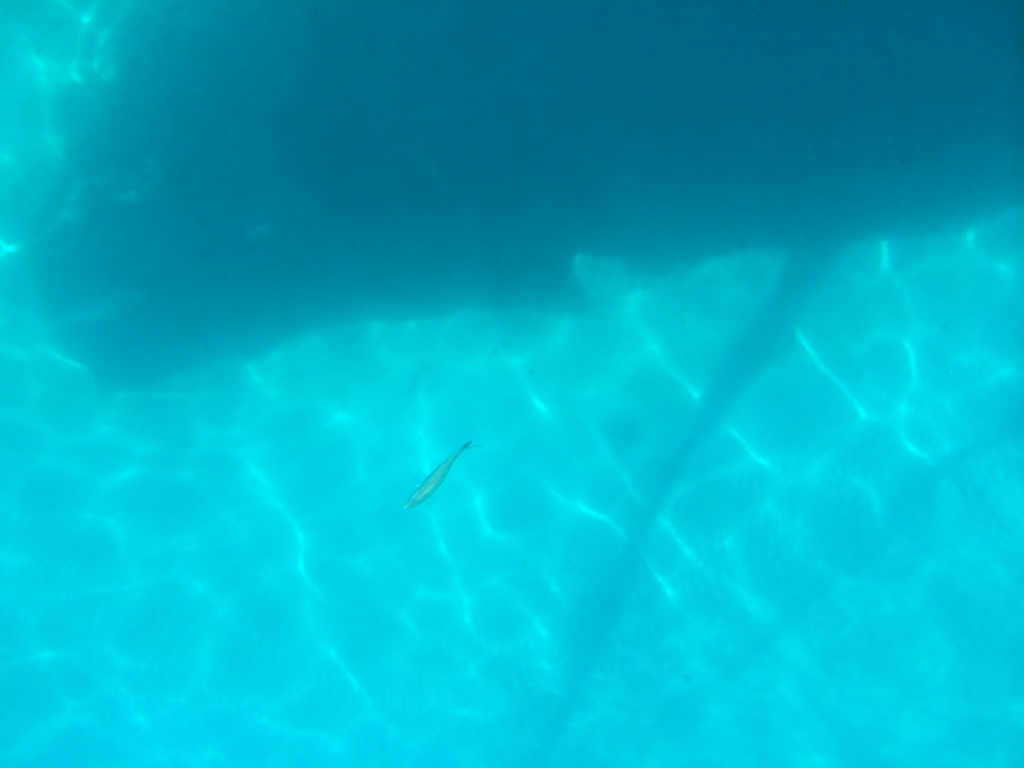 The wind settled down the next day, which also happened to be my 45th birthday. There had been talk of Sang Vind and Resolute meeting up with us to celebrate. They called on the radio and everyone sang Happy Birthday to me – which was pretty sweet. They were all in Balandra and enjoying it very much. They were trying to get us to come back up there to hang out with them that night. The last thing I wanted to do on my birthday was sail for a few hours in the wrong direction back to a place I didn't like as much as the place I was in… so we all agreed to get together the next day. That was perfect – Jonny and I had a very nice day. I baked a chocolate cake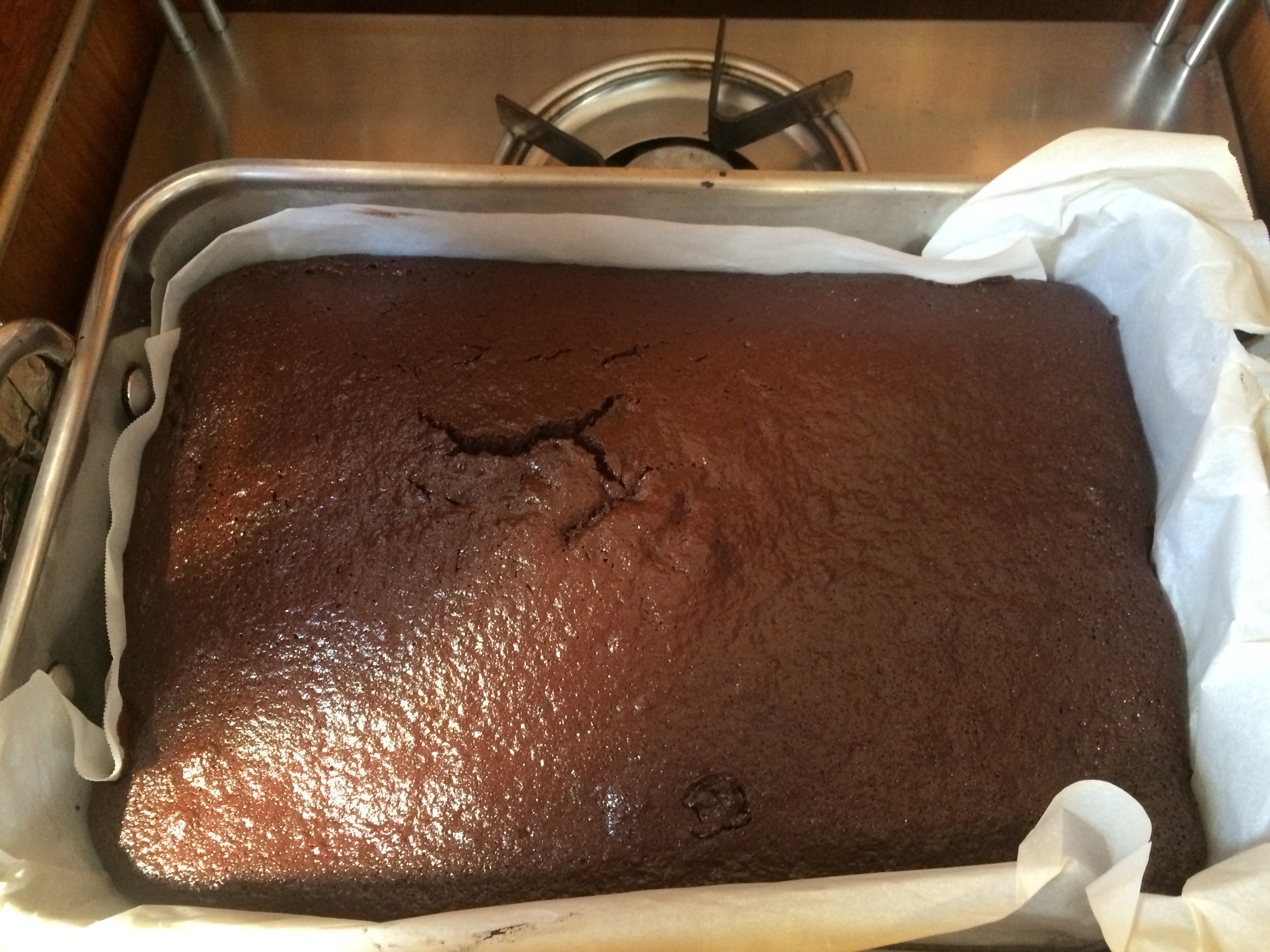 and marinated a steak to have for dinner.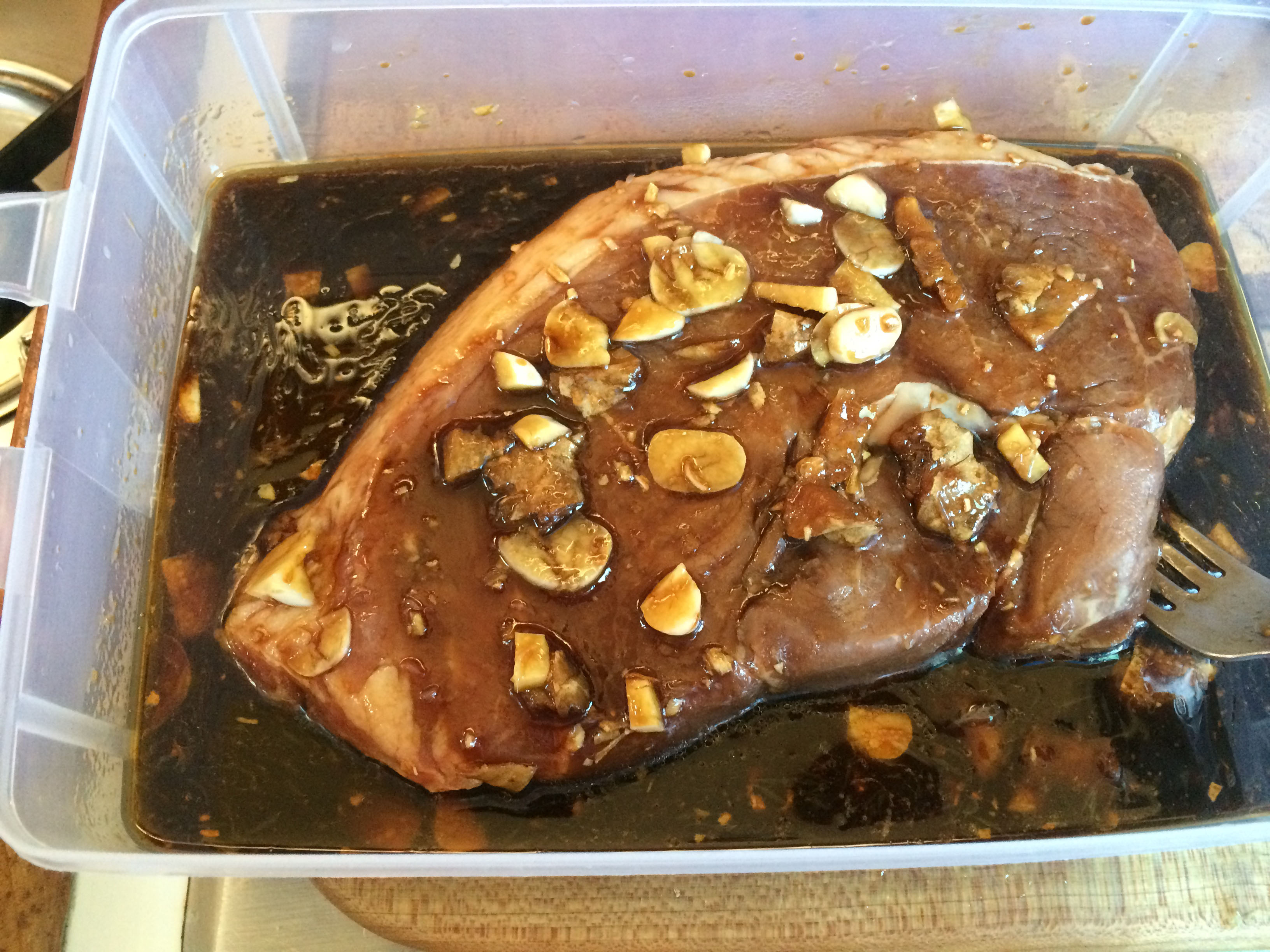 Jonny gave me the best present ever- a comprehensive foot massage! Normally I couldn't pay him to devote that much attention, but on my birthday he always goes over and above in giving me what I want.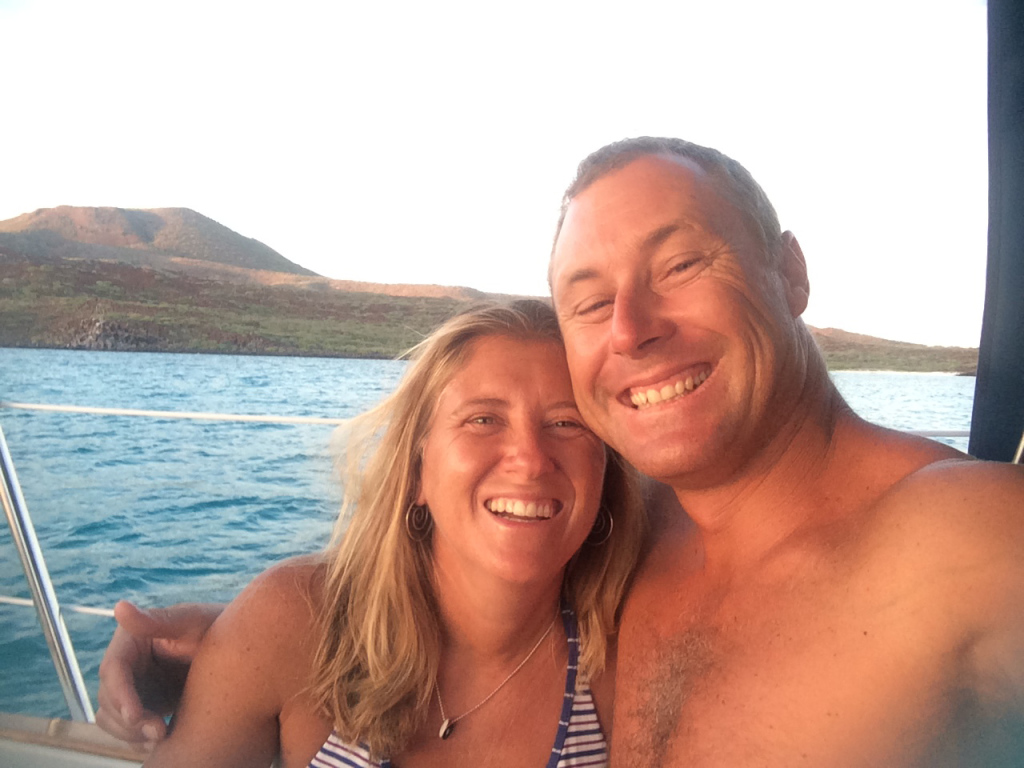 It must be exhausting for him (or so I can assume; as he had to spend most of the next day away from me – he went on a hike to the top of the island peak and then came back and went out fishing for hours).
Resolute and Sang Vind showed up the next afternoon and we all planned to meet on the beach in the evening for dinner and cake (Dillon had made a chocolate peanut butter brownie cake!). The white sand beach and the palapas with tables and benches were the perfect spot for us all to hang out. Erik had caught a dorado on the way over and we had a snapper that day, so we BBQ'd fish on Resolute's portable BBQ and everyone brought other goodies. Meagan had made a banana bread and I had some of my chocolate cake left, so it was a real dessert-fest! Everyone who had beers had to watch out for the alcoholic wasps that kept getting inside the cans. At the end of the night there were quite a few dead wasps inside beer cans – but luckily no one got stung!
We had a nice last night in Coronados and prepared to take off the next morning, if conditions looked good. Little did we know this was to be the end of cooler, more comfortable evenings… (that's foreshadowing, people!).