North to South…from La Ticla to Lazaro Cardenas.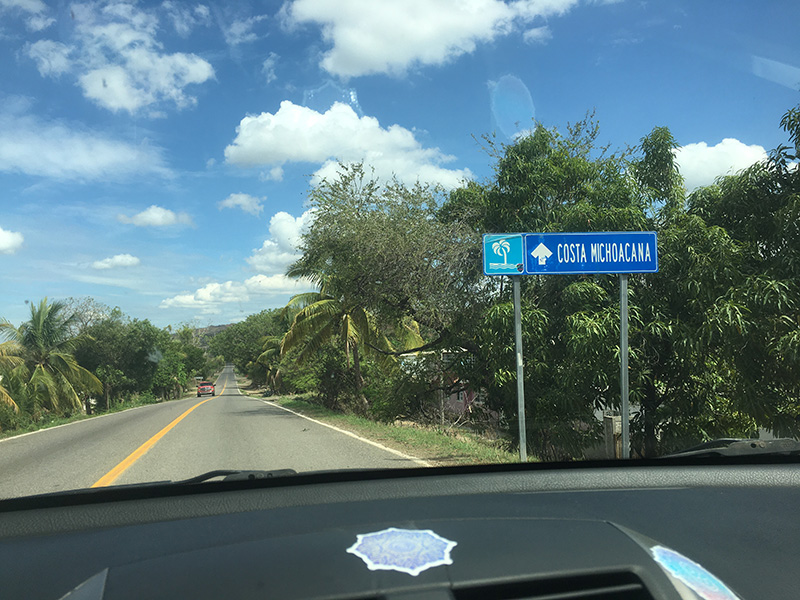 La Ticla is gorgeous and very chill.  Just surfers mostly!  Huge, long beach.  Has cabins, camping and dorm beds.  Cabin w/ bathroom is $600. No kitchen.  There's a restaurant and several others in town.  Very limited on the groceries.  Robert – nice guy who lives full time upstairs in one cabin (he'll recommend you read the bible tho, but he's not sober).   If you walk waaaaay down the beach, you'll come to a cliff that has palapa and tables…very small – but it's a restaurant with amazing food if you climb up the cliff and ask them… ceviche/seafood.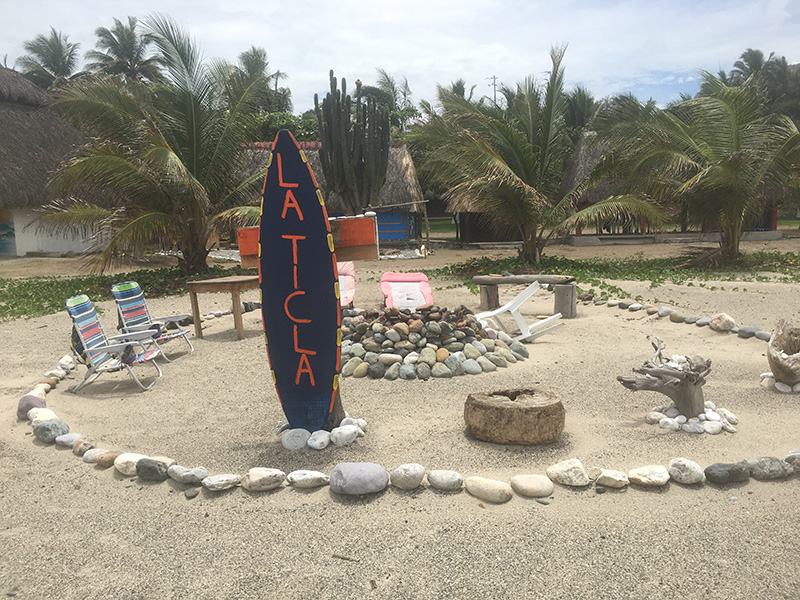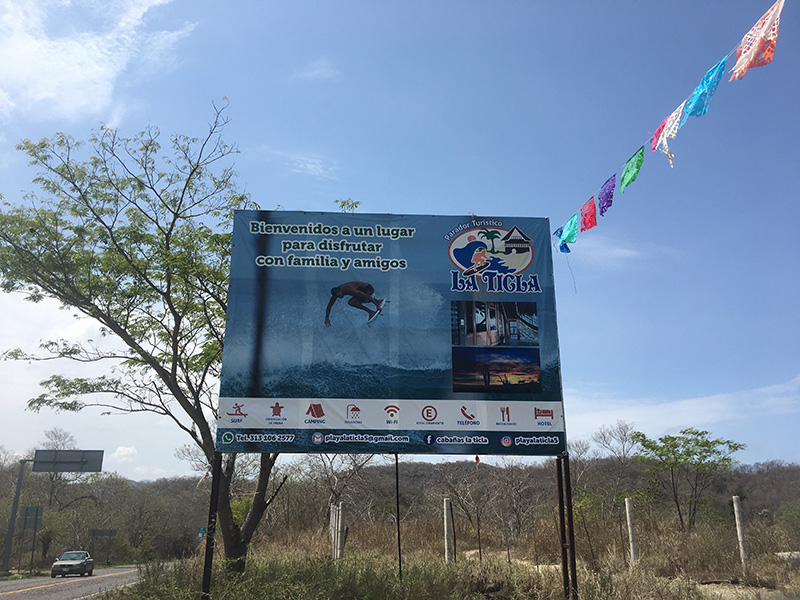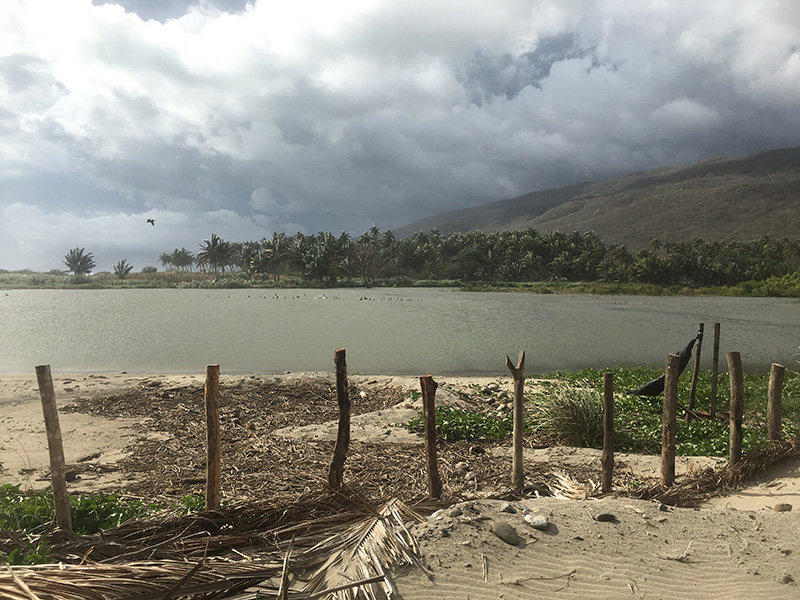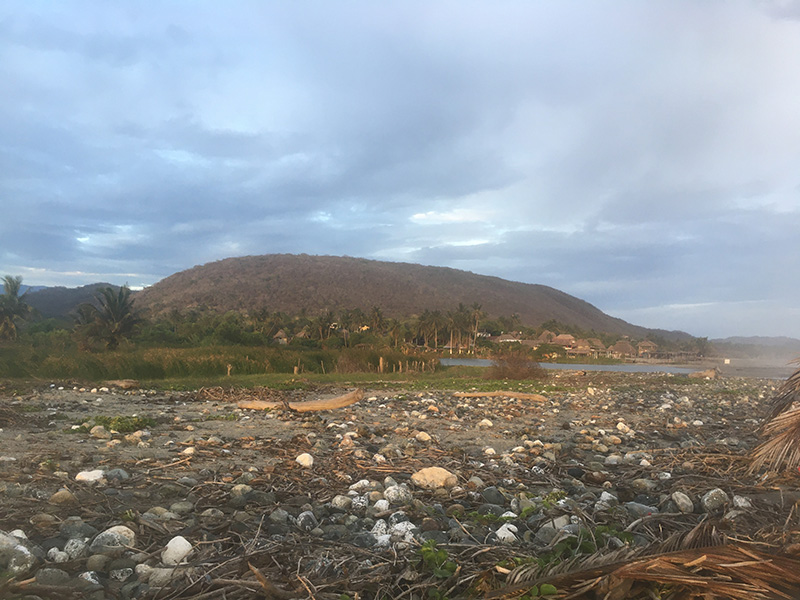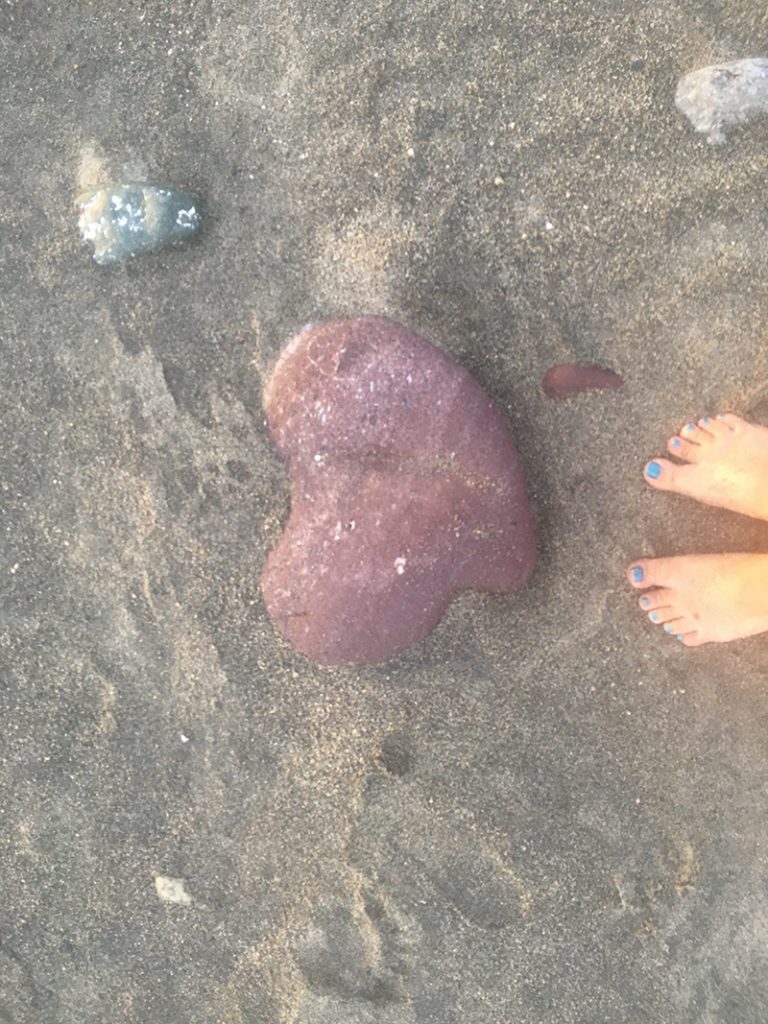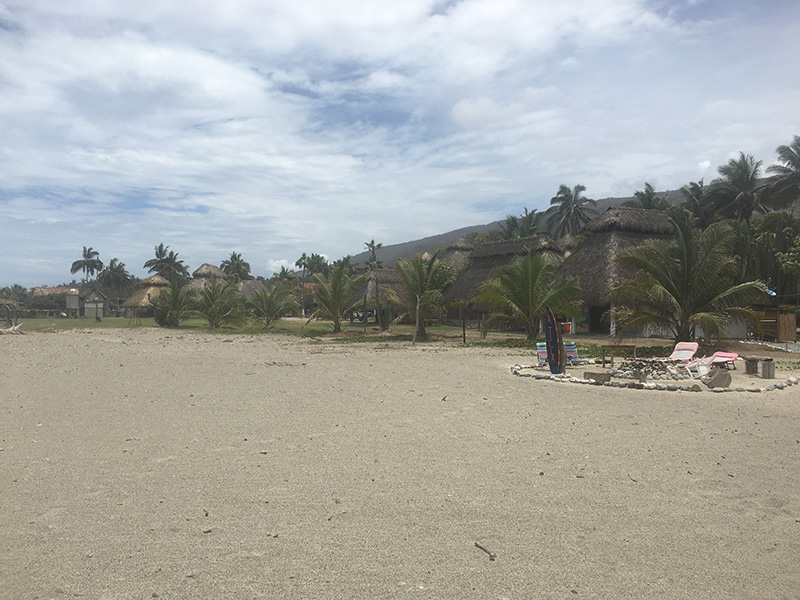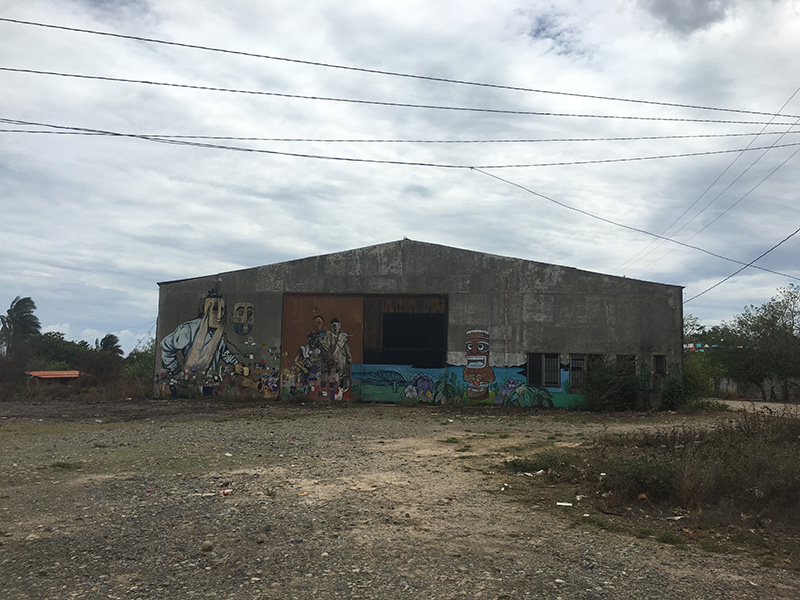 Palma Sola – smaller gorgeous, white sand, swimming beach – looked like it has a fancier -ish restaurant/cabins? SPOILER ALERT: THERE'S MORE THAN 1 PALM
Manzanillera  similar to Palma Sola – probably camping / cabins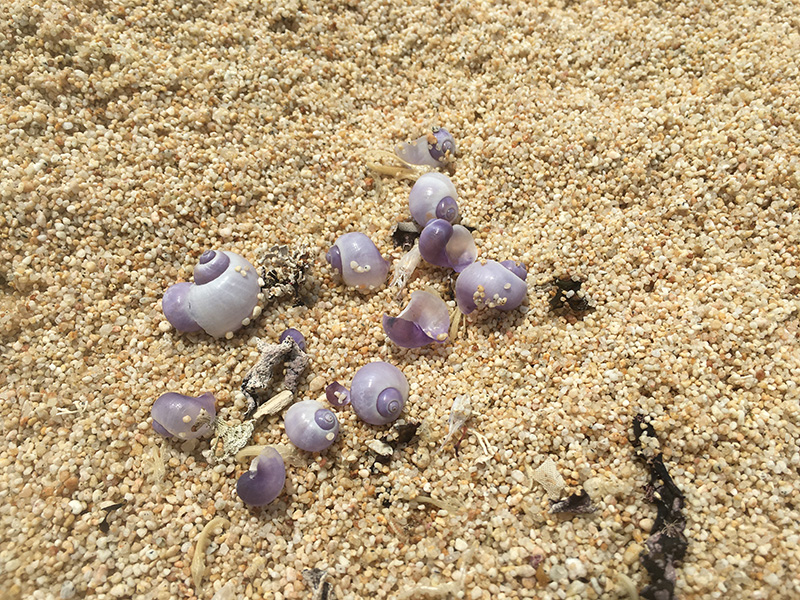 El Zapote de Madero – several beaches down that way, all gorgeous. Didn't swim.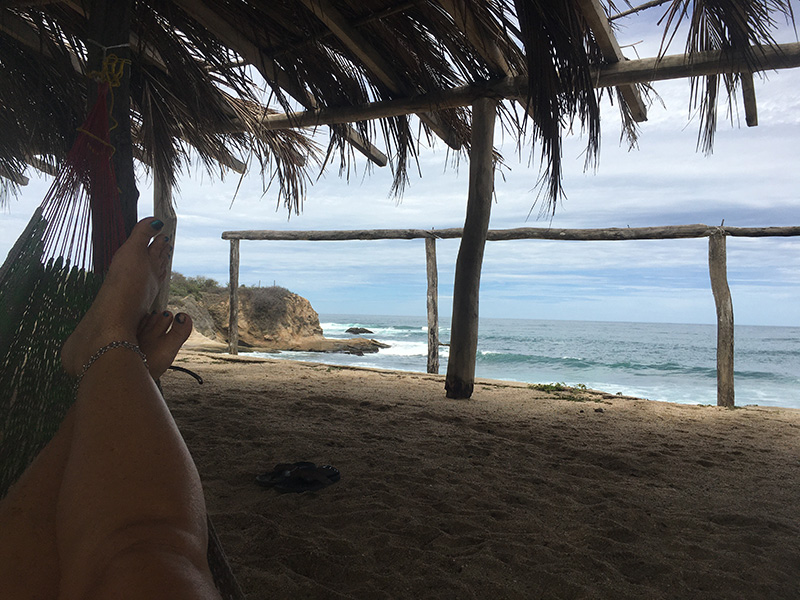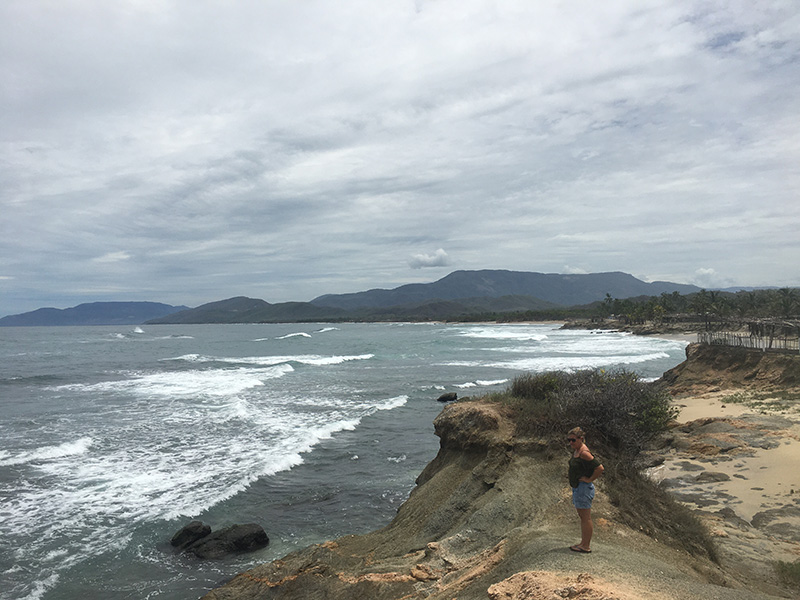 Big rock painted with Chichiltlan – and La Colorada – beaches down this road.  Look beautiful, can camp and some cabins – didn't stay or swim.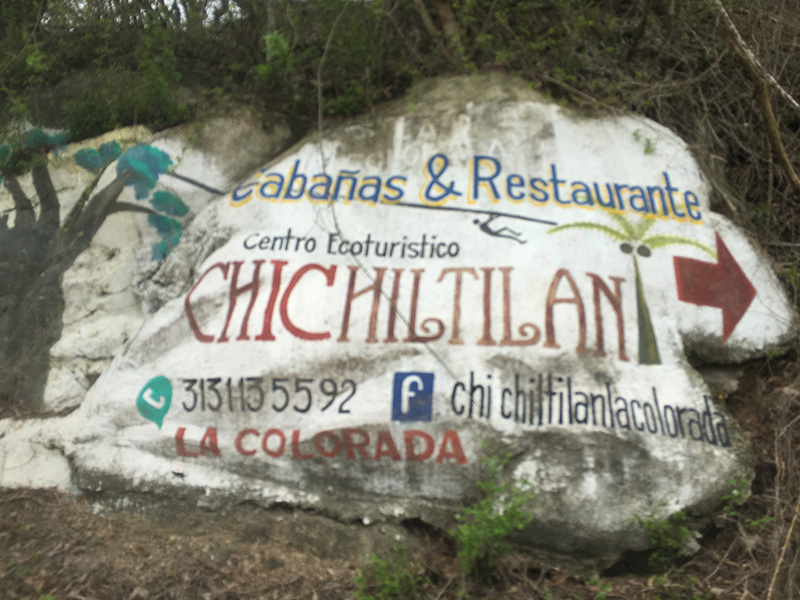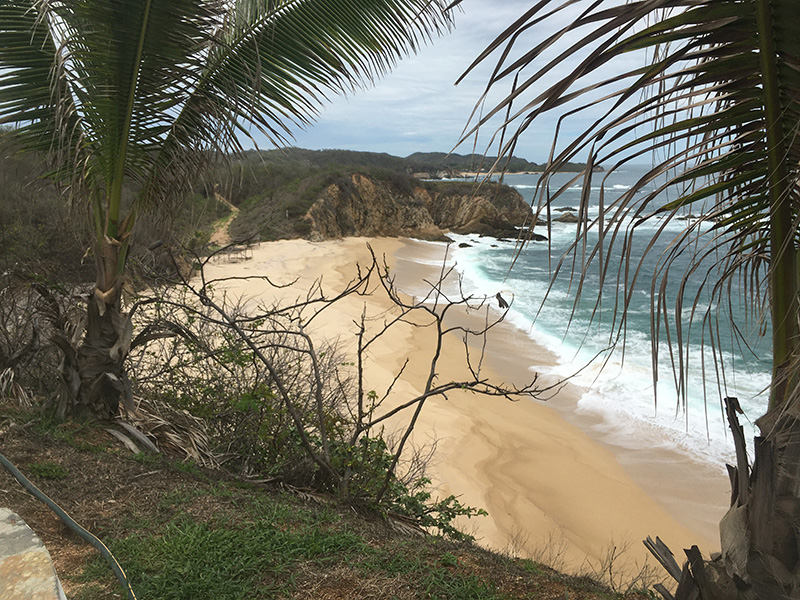 El Faro de Bucerias – gorgeous, deep and calm, very turquoise/white sand, good food.  $50 to park. Great swimming.  Drive up to the lighthouse to get a killer view!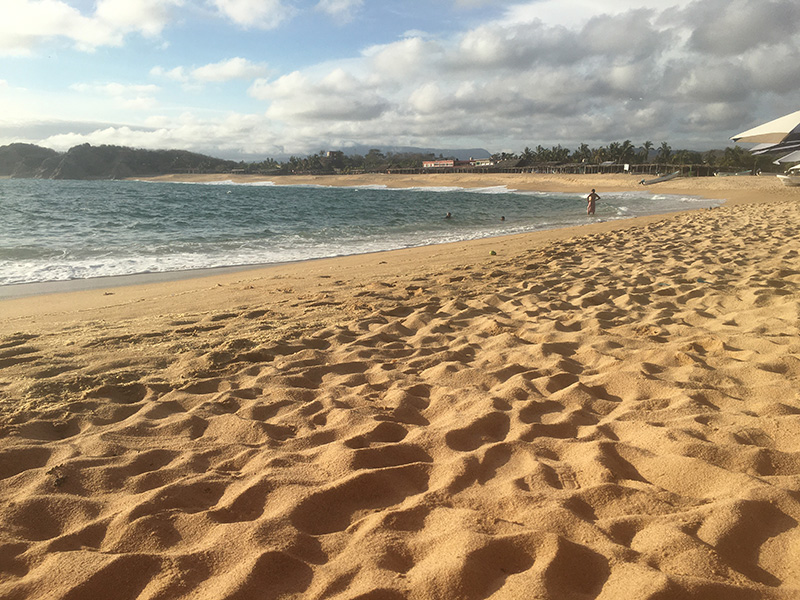 La Llorona – halfway to the beach in Bucerias – there's a hand painted sign to La Llorona off to the left (as you're heading towards the beach).  Drive out the dirt road and toward the end there are bungalows.  Estrella is the last one, it's so-so, not suuuuper friendly,  3rd to last one was the best – room not so great but family was awesome and let me use the kitchen, just paid a little extra at the end for using the gas.  Karyna and Toño. Dog Simba is a sweetie. Across from the big green papaya field/hillsite – not sure the place has a name??  camping and cabins- not super nice inside at all and terrible bed…but I'd go there again. No place has toilet seats… (middle place was much nicer cabins and more expensive I think tho, but no kitchen usage).  This is a big huge long beach, very very remote and totally gorgeous. Worth a few days.  Possibly surf sometimes?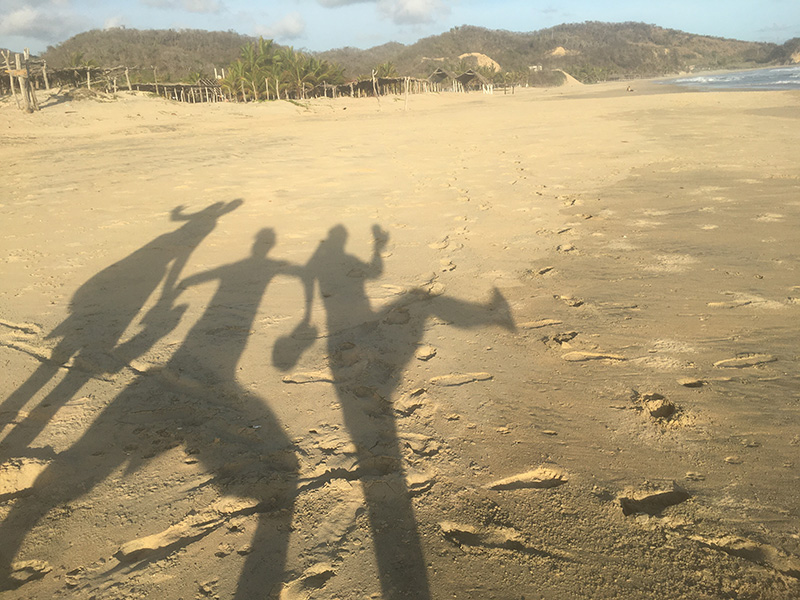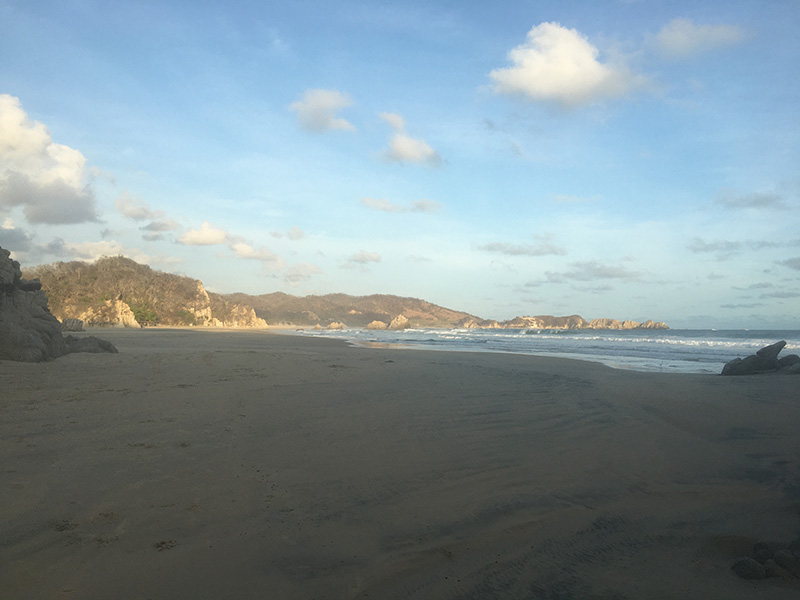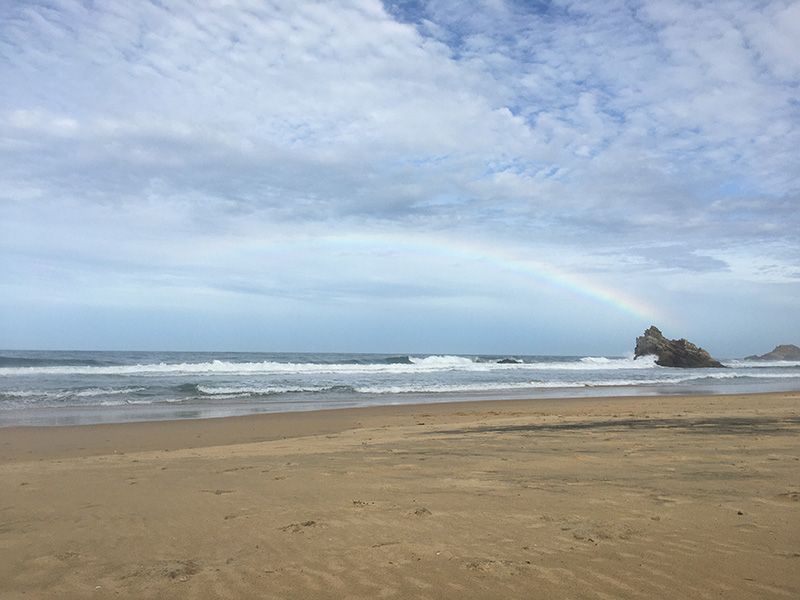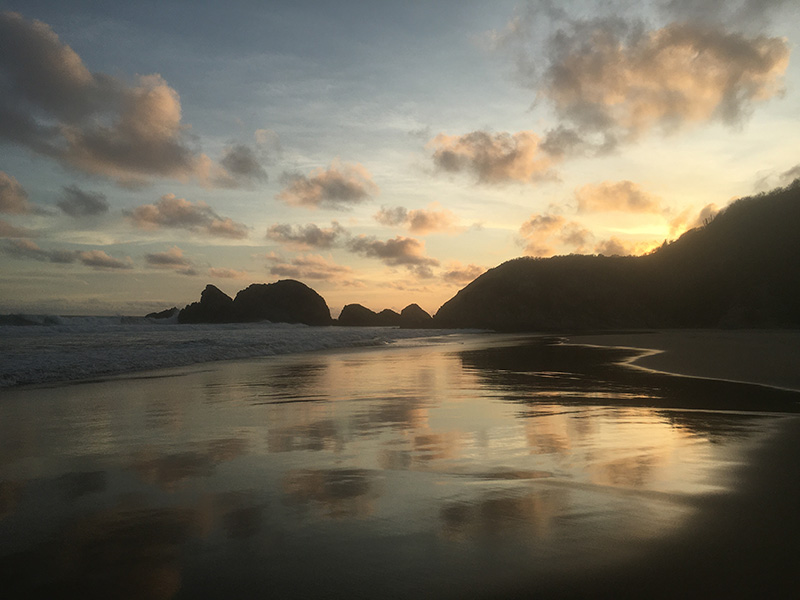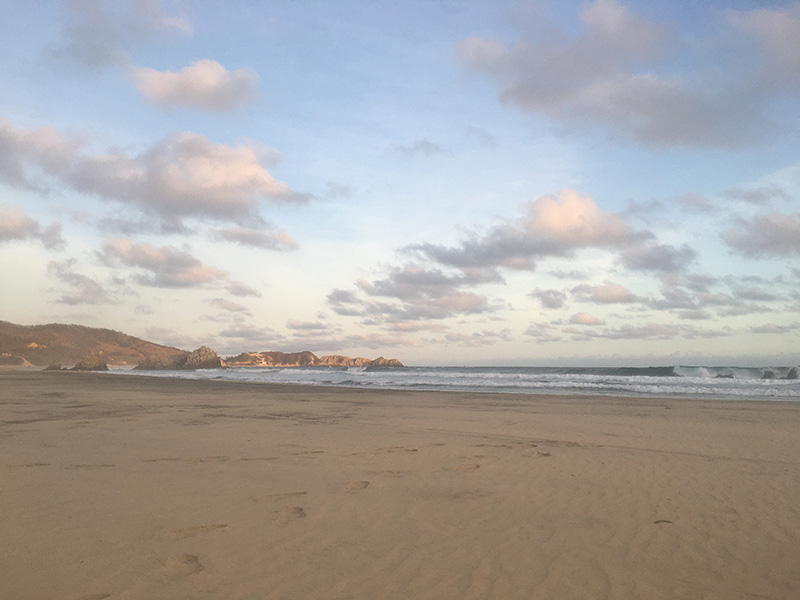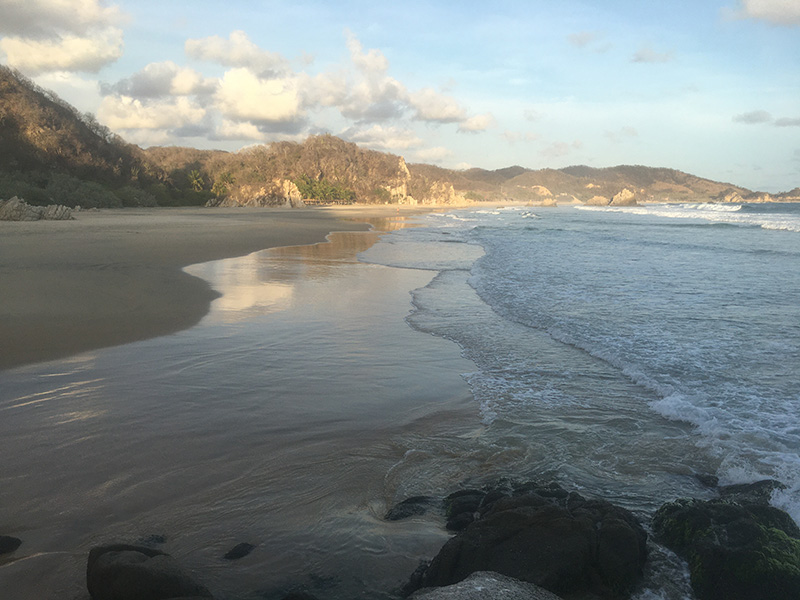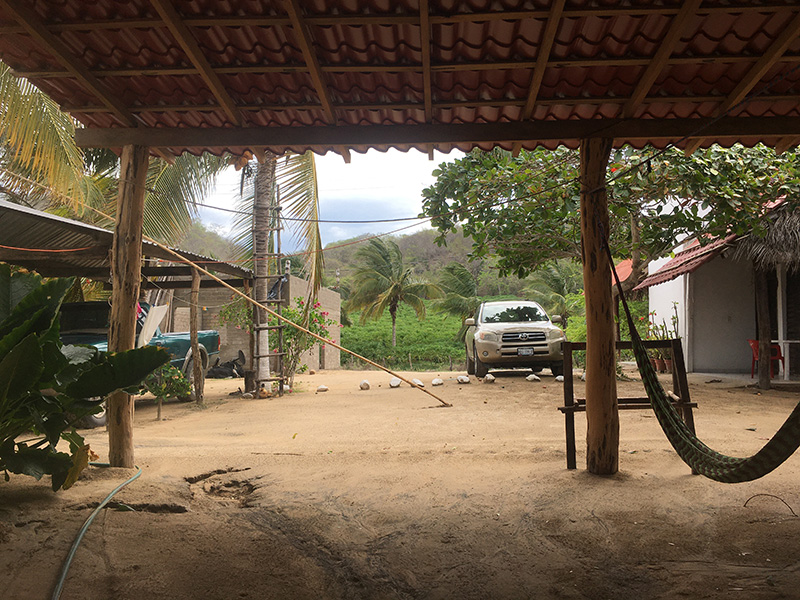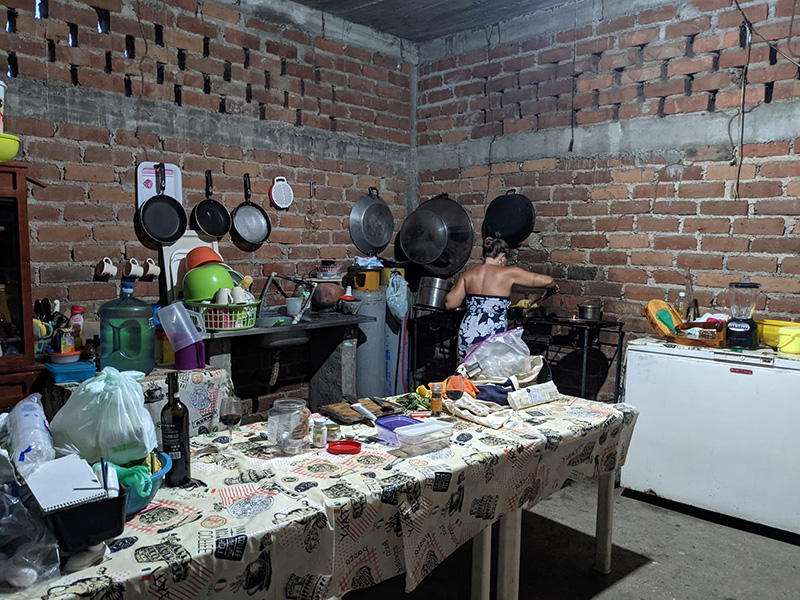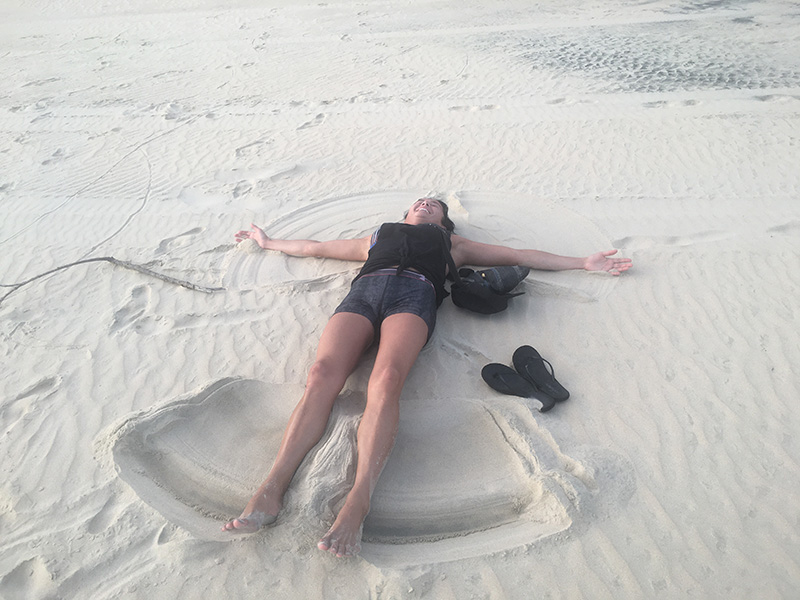 Playa La Negra…didn't go!! ¿?
Colola…give it a miss!  Huuuuuge beach. Maybe dangerous water. Uninteresting town.
Playa Carizitas (Careyitos) – look for the painted Virgin Mary sign park up there– there's a pathyway all the way to the far right – to hike down.  Gorgeous swimming beach, with some palapas for shade.  I also encountered 2 liters of newborn puppies and their moms…bring a bag of dog food if you go! I was so sorry I had none.
Maruata Vara and Susy's place – didn't stay there but would next time -super nice and chill people.  With a giant weed plant…. I camped farther down, was fine and she let us use the kitchen.  Walk down to the end of the beach and see the mangler and walk up the steps to the top of the hill/great view.  There's also another side to the north, over the rocks -that's much smaller, not much there but a restaurant at the top of many steps also. I think it's called Maruata Vieja.  Also, on entrance to Maruata, there's a nice, new looking hospital…just in case…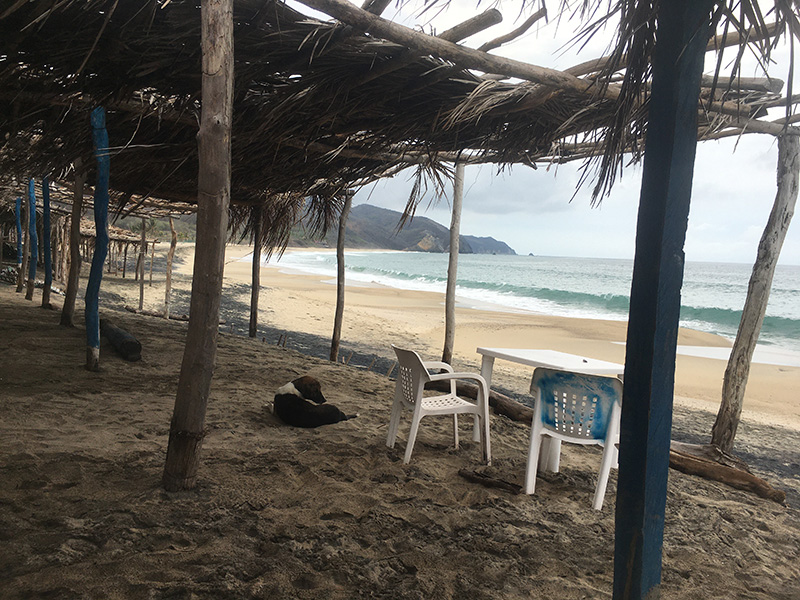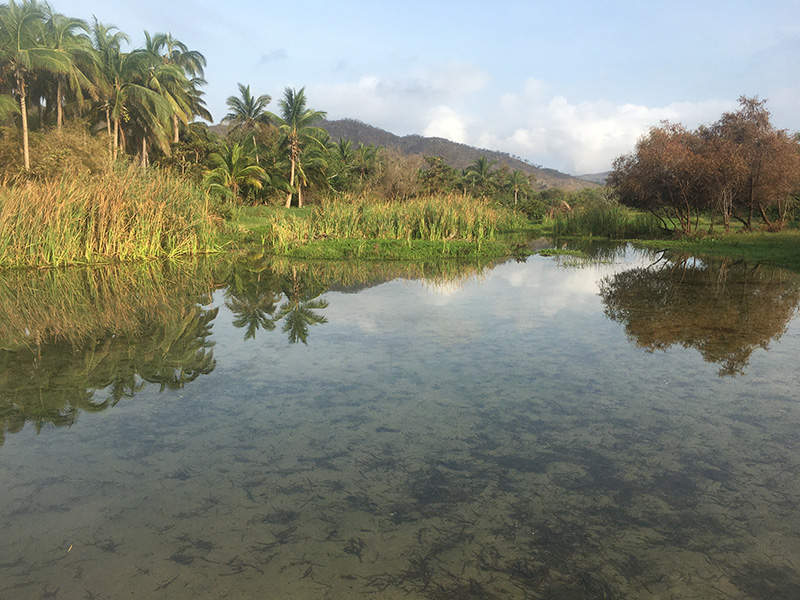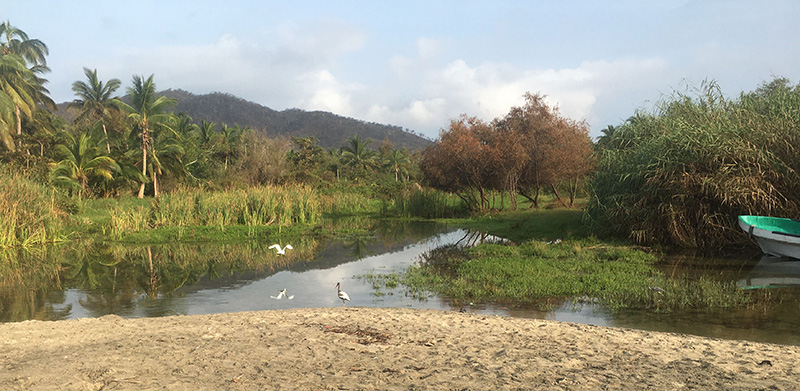 Maruata Viejo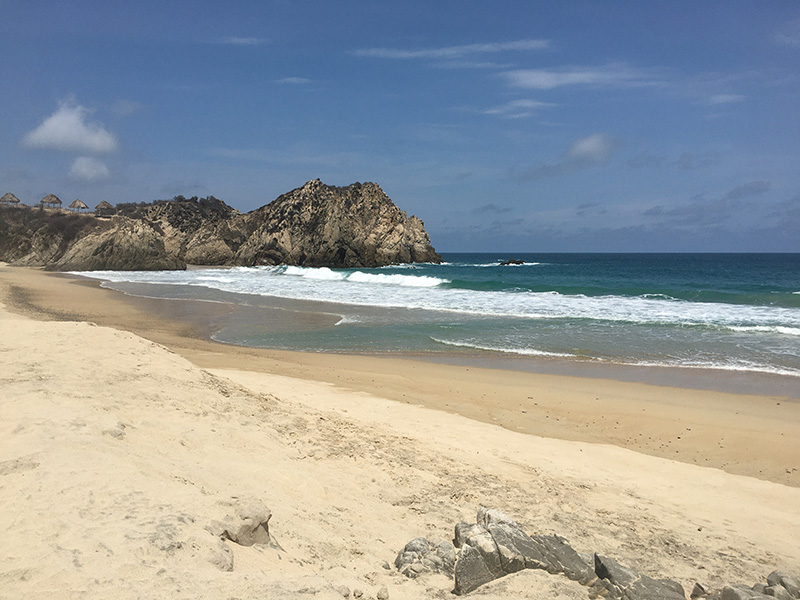 Viejo looking toward Maruata on the other side of the trees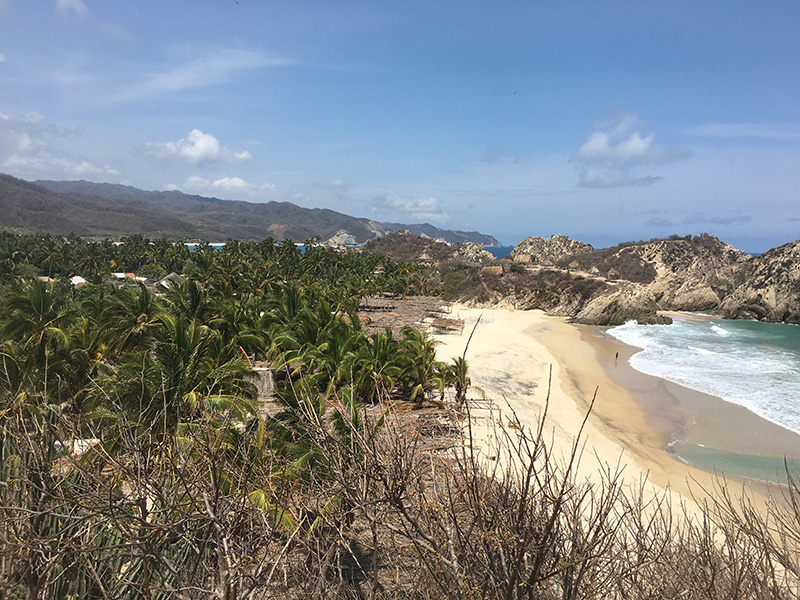 Road after Maruata is very windy /beautiful and there's not really any places to stop until Tizupan. (maybe 50 km?? not sure, long but not super long…seemed long when the gas light comes on…).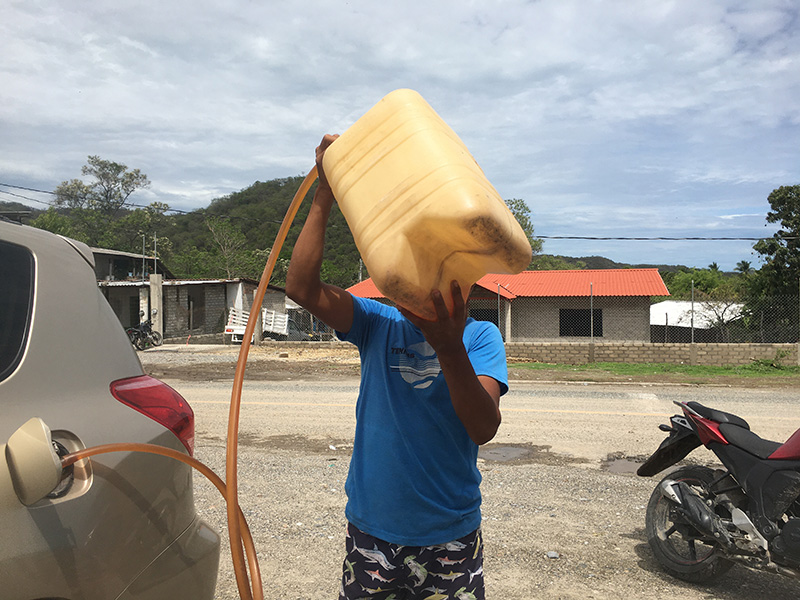 Tizupan (didn't go to playa zapote de tizupan!) – stopped for gasoline – $25/liter -get from guy up the hill by the tienda – not on the street.  This is where the nice woman who lives part time in seattle bought us a 6 pack 😛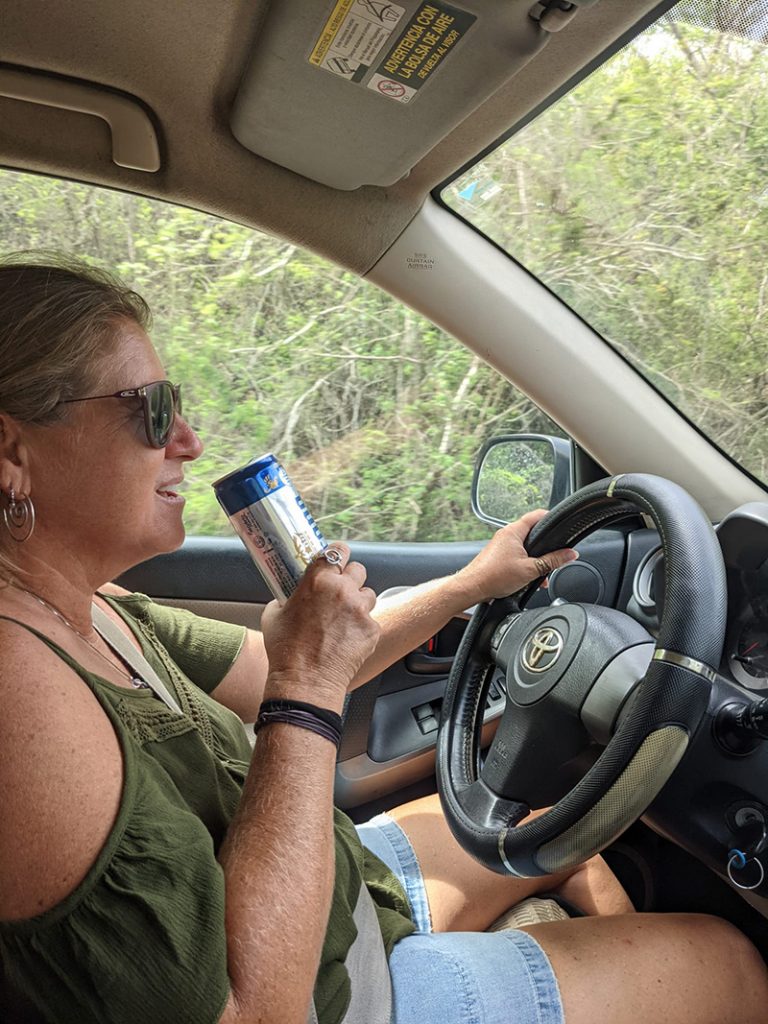 Pichilinguillo – veeeery tiny, kind of gross, but it was just after the storm, so maybe it's usually prettier? Is kind of a enclosed bay with small opening to sea – felt kind of claustrophobic to me. Not worth stopping IMO.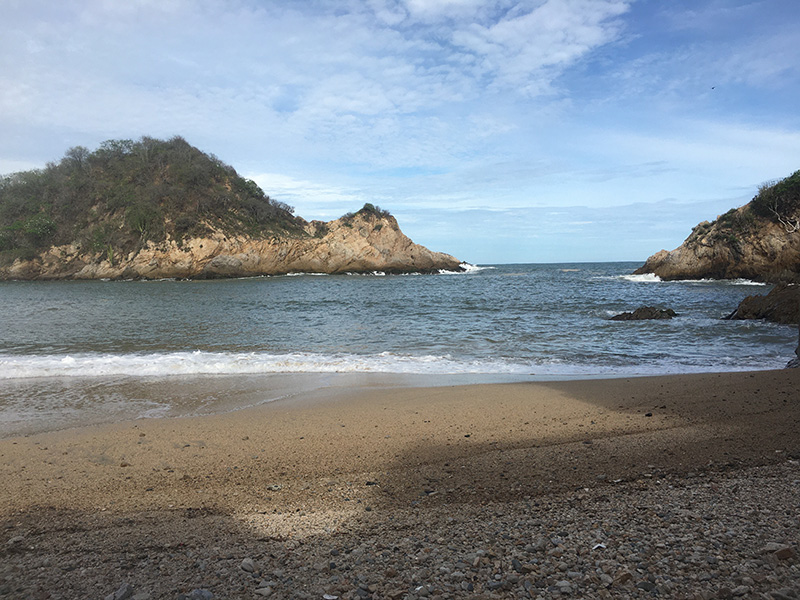 Arenas Blancas – gorgeous, big, nothing on it…cool rock walls.  Not sure if it's good for surfing and def not really for swimming. Very steep.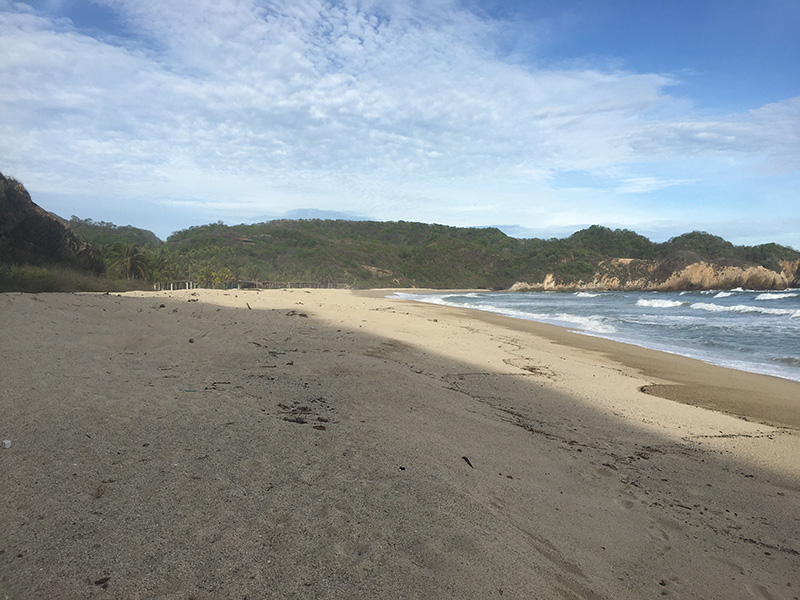 Hua Hua – didn't go onto beach, looked super rocky and rough, but I think it's a surf spot. Looked like maybe a cool little stop off tho, some tiendas, maybe cabins?
15 km north at the bus hut labeled El Atronkon – down that paved road to the tiny town – at the end of it to the right – a stream – walk up and path through what seems like people's house you can get down to the river and hike up it to the waterfalls – there's like 3 different  places great for swimming, somehow turquoise water and full of butterflies and flowers that smell amazing, it's magical!
Across from the road to Atrankon is a dirt road out to Playa Mexiquillo – huge long beach with only a few fisherman palapas on it.  Found the only sandollars on the whole trip here! Some cool shells/rocks.  Decent swim beach probably (was still looking dirty from the storms, but probably usually gorgeous – shallow/flat didn't seem to have a big drop off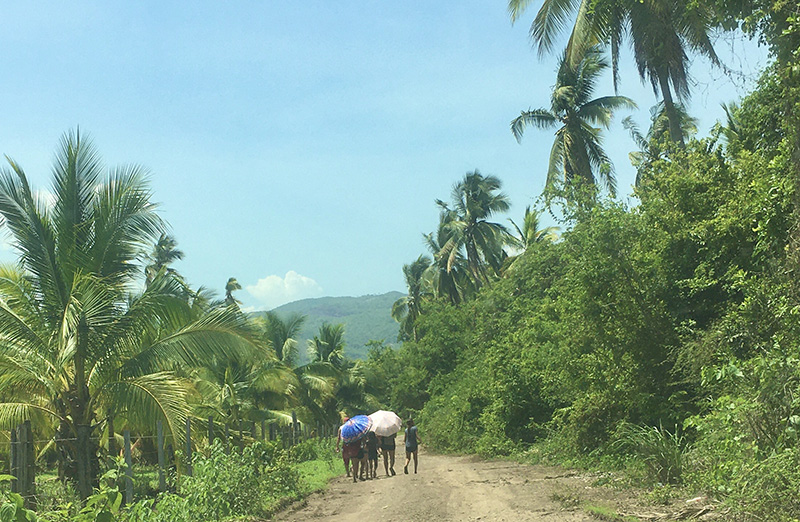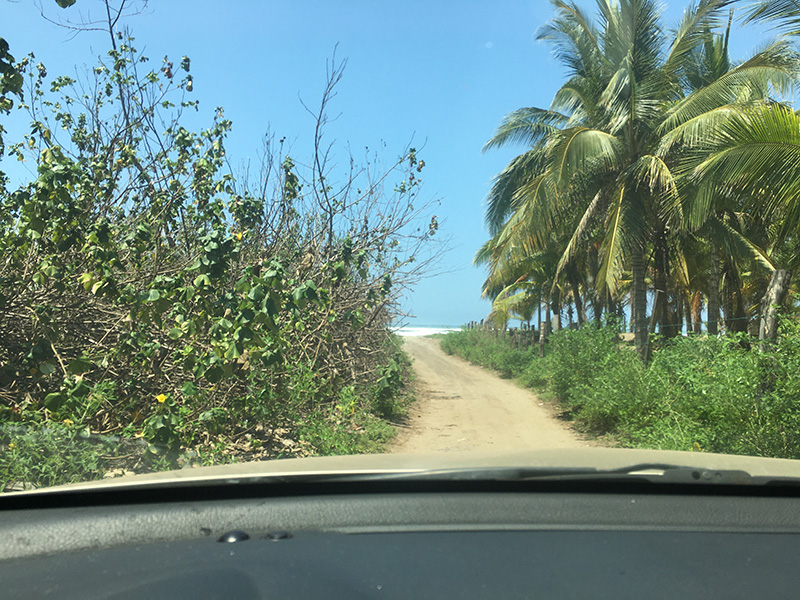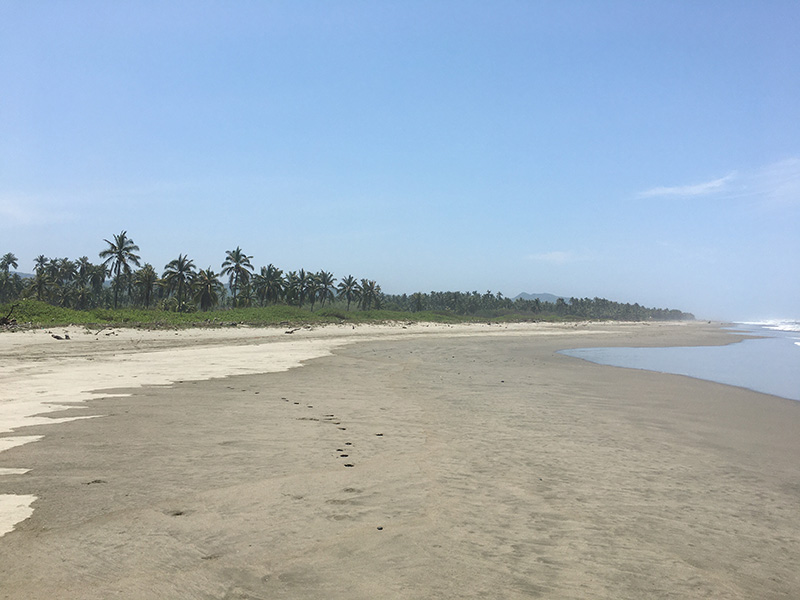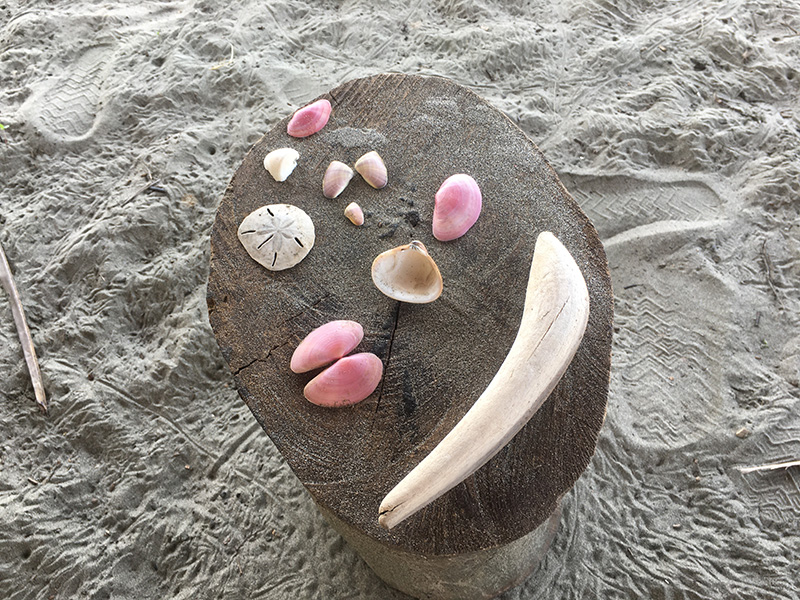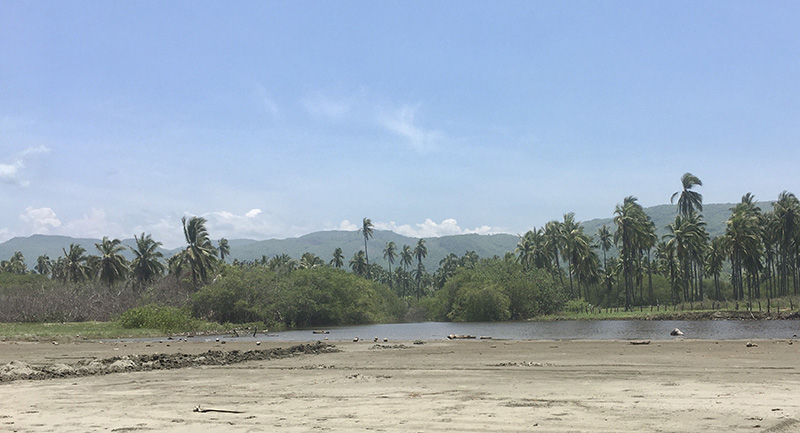 Nexpa – Mecca…cheap cabins right on the sand w/ well equipped kitchens hammocks and toilet seats (whoo hooo!), huge beach, endless surf…3 tiny grocery places, and a couple restaurants, (never ate at any).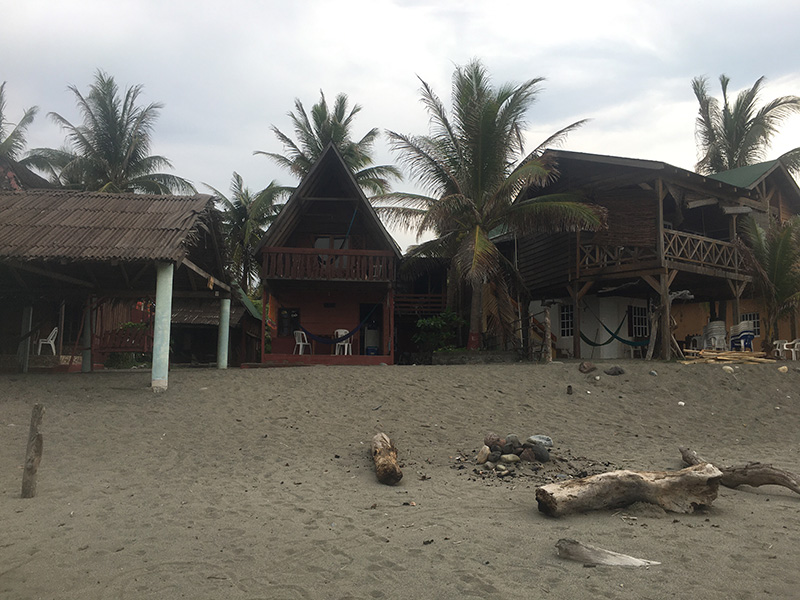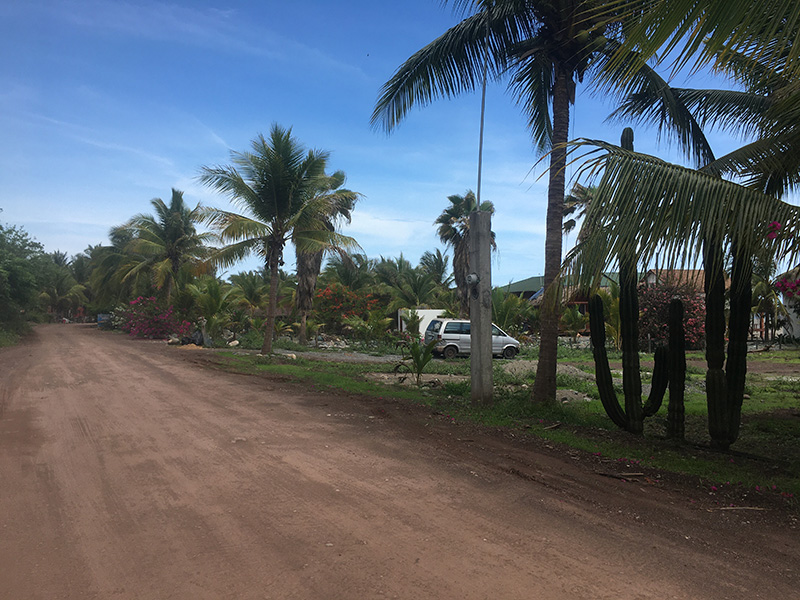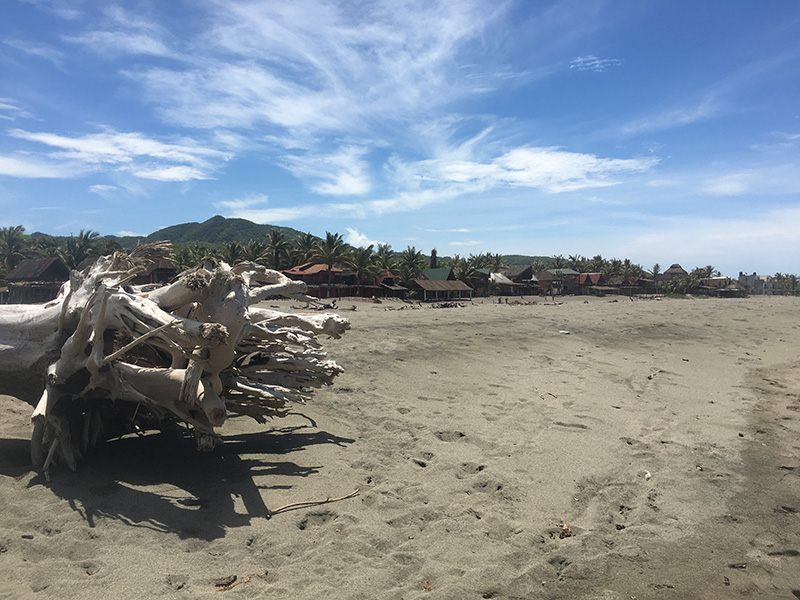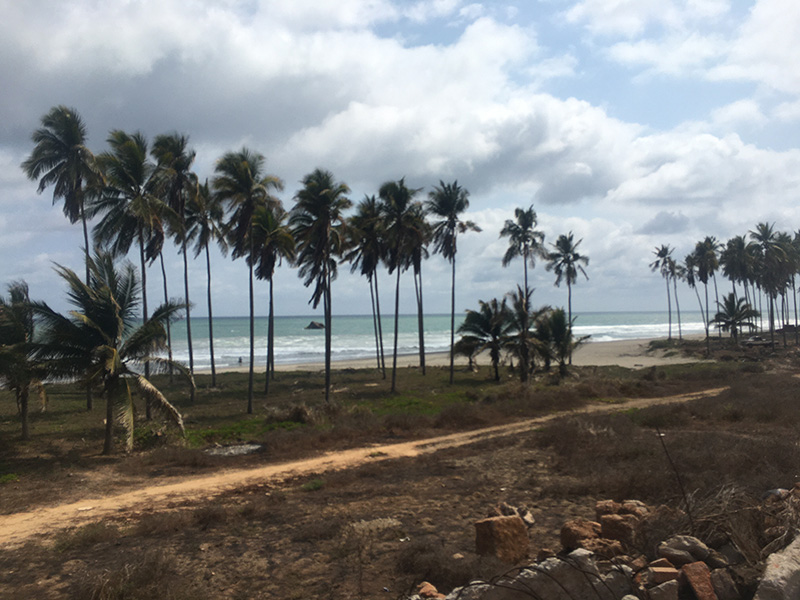 Caleta de Campos – beach is farther south past the town…didn't actually go!! There's an actual gas station just south of main town as well, and you can get cash money there – no ATMS or anything anywhere else!! Decent tiendas. Get paletas/ice cream at the Michoacana place, not the local no name place, they're gross.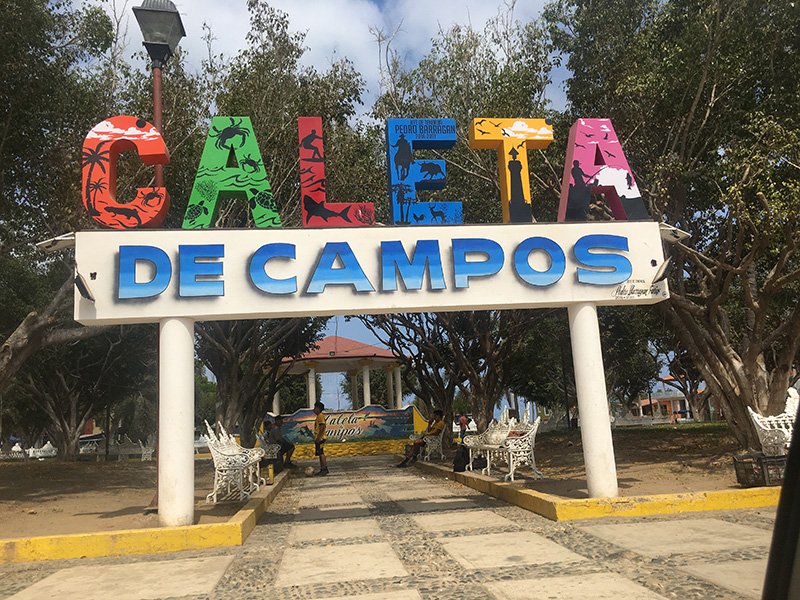 Playa La Soledad – a bit further south- very cute, shallow, good swimming, fun locals.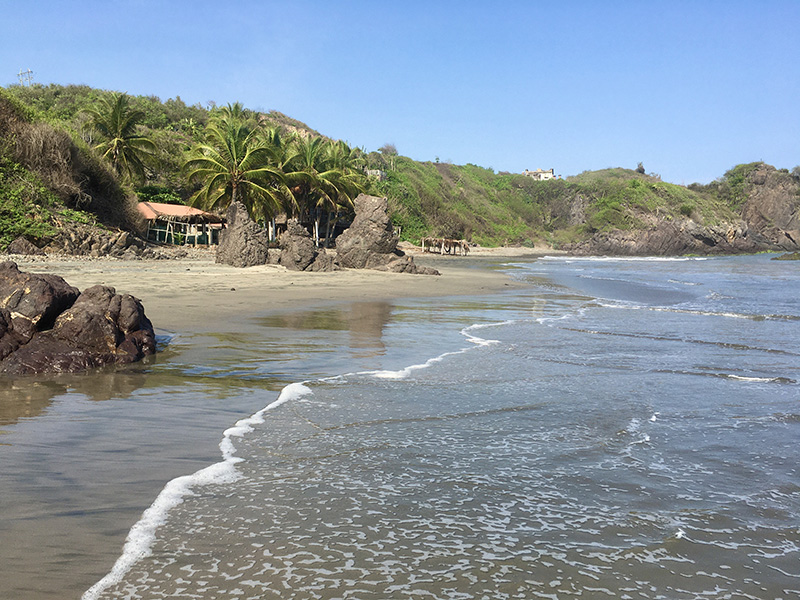 Playa Chuquiapan – pretty – go right at the end of the entry road and can park on the beach – just seems to have houses, weird ish.
Playa Azul – pretty water, good swimming, but packed full of enramadas and hawkers – the main beach for people of Lazaro Cardenas, I think.  Good food and nice folks, though.  Guy across from beach has a ton of driftwood and makes really cool stuff…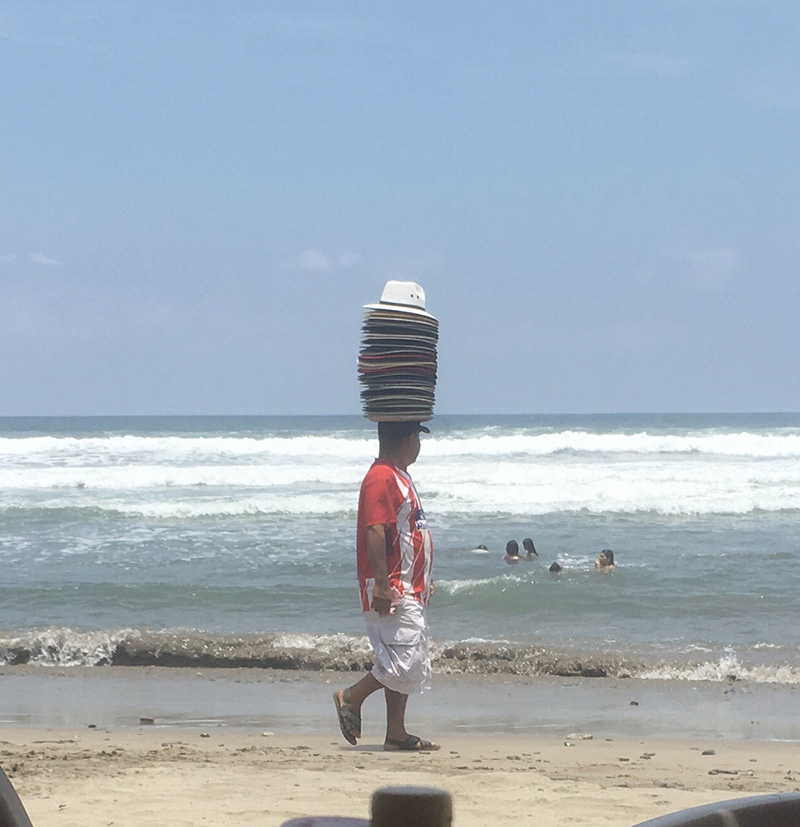 Beaches stretching south from there all the way to Lazaro – very beautiful, didn't really stop…there is a fancy place on the beach 'club' you can go for food and pool/comfy 'beds' right on the beach, it's free to go, just buy food. Could be a cool cush day with good food and showers and pool…. Found the banana bread stand down that way a bit past the Playa Azul photo op letters.