I think I last left you languishing in Punta de Mita. Somehow we spent a week there – although not entirely by choice.
After Naoma left us (sniff, sniff) we moved over to the other side of the anchorage where it was (we thought) going to be a little less rolly and it was closer to Lunasea (friends we met in San Blas) and we were looking forward to hanging out with them and Mike and Nia from Azul (who we'd just met in Yelapa – and are also friends with Naomi and Alex on Lunasea! It's a small ocean). We had an early dinner and headed over to Lunasea for a fun night of socializing and Cards Against Humanity.
Our plan was to head out to the Marietas in the afternoon and spend the night on one of the moorings, so that we'd have the place to ourselves before the tour boats showed up in the morning. Seemed like a brilliant plan and I was looking forward to finally swimming under the rock arch into the cave-beach. It was only about an hour to get out there. Unfortunately there was a weird current or something going on – because when we attached to the mooring (which was a giant metal tank) we did not spin into the wind. Normally the boat will always spin nose first into the wind when at anchor or a mooring. At a mooring this is critical so that you are always pulling back from the mooring ball. In this case we were smacking up into the mooring ball (which, as I said, was a giant metal tank…smacking the boat into a giant metal tank is no bueno). There was nothing we could really do but abandon the plan and head back to Punta Mita. Very disappointing on many levels.
Neither the town, nor the anchorage is at all appealing to me there. It's always rough and rolly, so swimming is no fun. We scoured the town for chicken or meat and had no luck at that, either. We stocked up on a few things and were doing OK for food. Since we had a whole day to kill before we could leave again, we decided to check on what that bothersome squeak was in the steering wheel. There are 2 metal cables that go from the wheel down to pulleys and back to the rudder – to control steering in either direction. As it turns out, the metal pin through one of the pulleys was missing cotter pins and was hanging half out! Had this pin fallen out we would've lost the ability to turn to port and underway this could've been disastrous. Sticking some cotter pins in the ends seemed a simple enough thing to do, right? We tried to brush off the nagging question of "where did they go in the first place?!" and even more troublesome "what if they were never there in the first place?". The two pulleys are set in a sort of V shape to each other right on top of the metal fuel tank, with the wide part of the V being aft – meaning to get to the inside of the pin you have to reach above the fuel tank, around to the back of the pulleys and turn your hand back 180 degrees (while laying down in the quarter berth with your head stuck inside the little opening of the engine compartment, careful not to rip out any hoses and hoping the headlamp doesn't fall down. This task was a complete impossibility for Jonny, with his giant hands. So I crawled in there and gave it a go. I got very close, but the angle was very hard. I almost had it by using pliers to hold the pin – in fact I'm pretty sure I could've done it. But Jonny got impatient and said we just needed to loosen the wire to release the pulley and do it that way. So he went into the aft lazarette to loosen the cable. When he was taking the pulley down, he accidentally dropped it. It rolled back along the top of the fuel tank and fell down behind it. Loud and angry swearing ensued. There was no way we could initially find to retrieve the pulley. Emptying the starboard lazarette (which is large and contains many, many items, including our 70 lb. life raft) and removing the wall panels to see if we could get behind the fuel tank somehow seemed to be our only option. It was getting dark, so we had to call it a night to return our garage back into our home so we could have some dinner and resume this fun and exciting project in the morning. We did pull up old pictures of Summer and were able to see the possibility of getting under the fuel tank (there were 3 baffles to go over and it was too long of a distance for my arm and possible too small of a distance for Jonny's arm. It was a fretful night.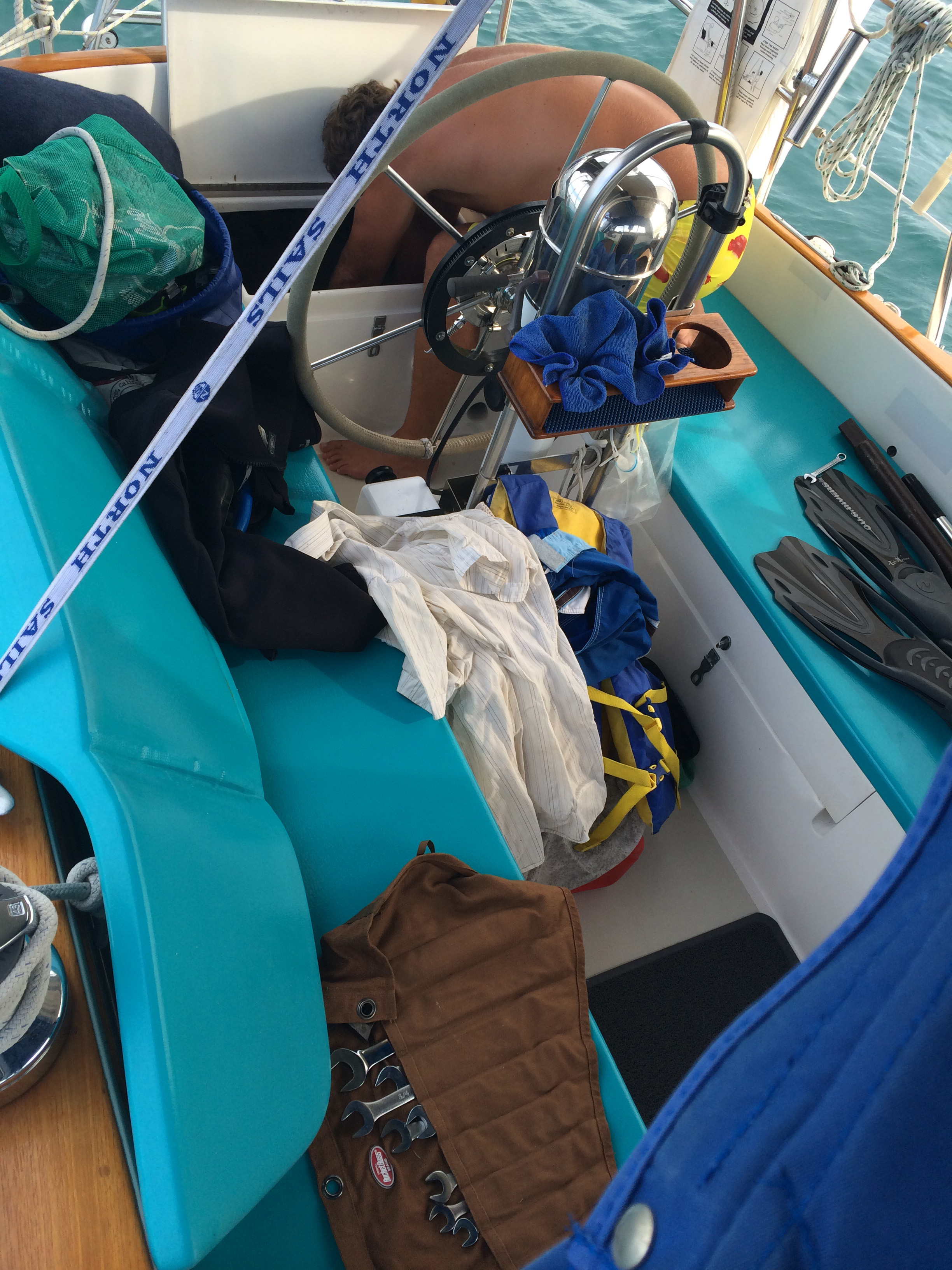 I thought perhaps I could squeeze myself into the aft lazarette (which was already emptied) and try to reach through a circular hole in the wall that separated the lazarette from the fuel tank area. There was simply no way for me to squeeze in there without potentially destroying the disks and cables of the back of the steering system. So empty the starboard lazarette we did. When Jonny removed the vertical wood panels he discovered that there was just enough room to reach around the backside of the fuel tank (not having to go under) and he retrieved that pesky pulley.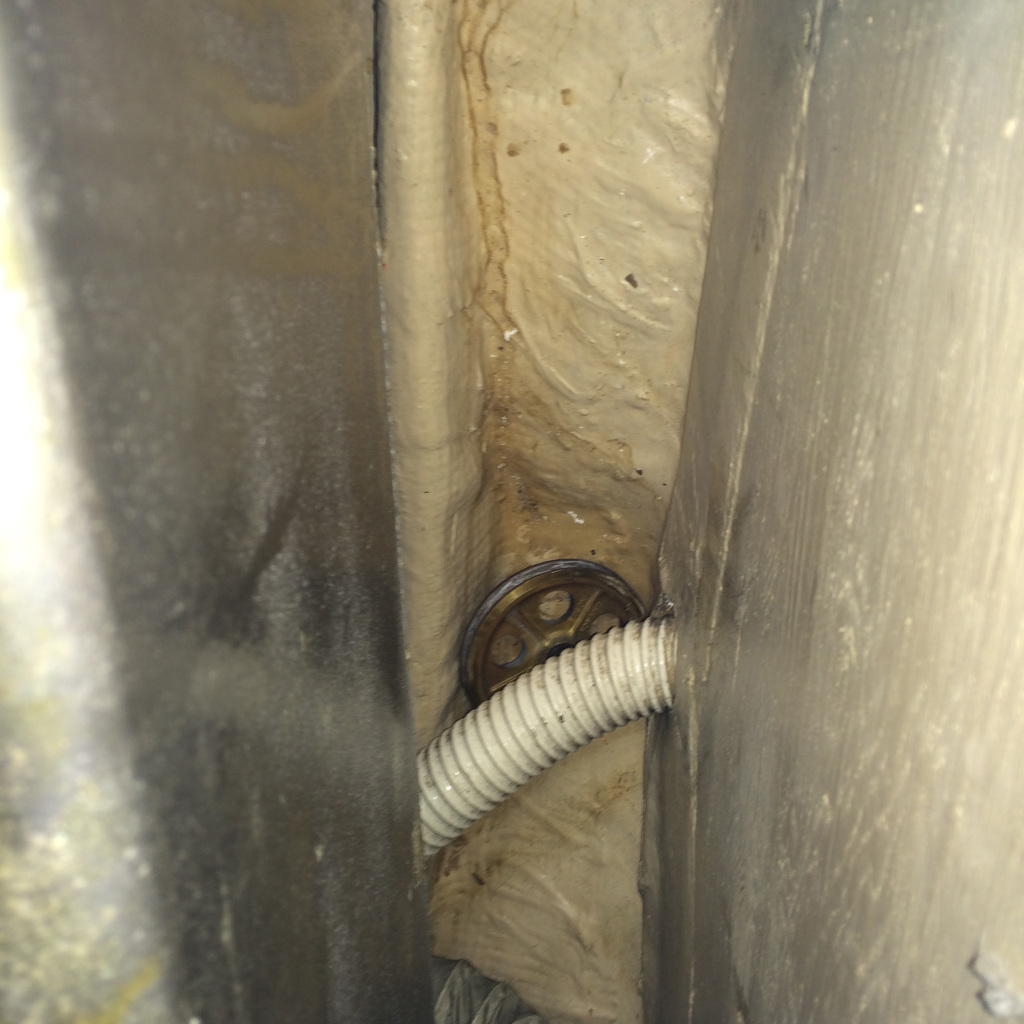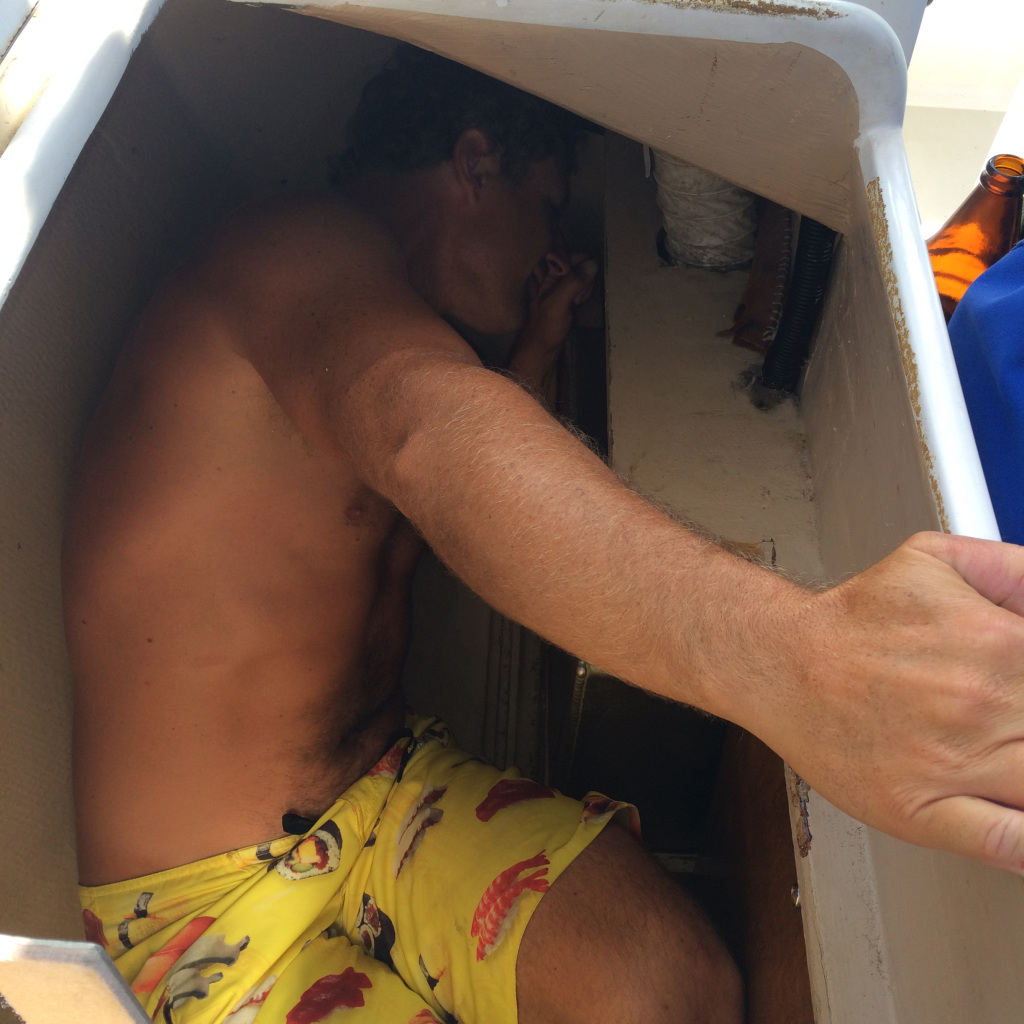 We spent the rest of the day putting the boat back together and preparing to make our escape from Banderas Bay once and for all. I gave up on the swimming through the cave fantasy – the Curse of the Marietas won. Maybe next season??
It felt good to get moving back out to the open ocean again. We'd made plenty of tracks all around Banderas Bay and were ready for something new. It was a calm and slow sail north. So calm that I was able to bake a chocolate almond bread and defrost the ice box. I was feeling motivated! Our destination was Jaltemba – a big beach destination for local tourists. It was Semana Santa, "Holy Week" for Mexico – which as we later discovered should've been called Dos Semanas Santa (it went on for 2 holy weeks!). There were islands and 2 different anchorage spots near shore, we weren't sure where we were going to end up. As we got closer we saw that the beaches on shore were simply packed with people and umbrellas. We decided to do a 'drive by' and check out the entire shoreline. Banana boats zipped around us and the festive vibe emanated from the shores.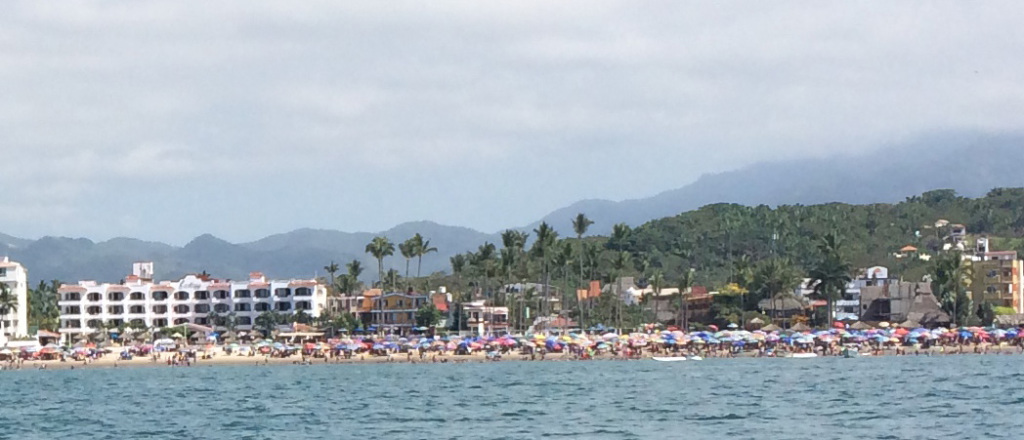 People were having a blast. Thousands of them. It was fun to see, but we decided that maybe heading out to Isla La Peña, just off shore, might be more our style. The water at the island was gorgeous and there was a small beach filled with holiday cheer. We knew everyone would be taking pangas back to mainland at dark, so we enjoyed the loud music and the people watching on the beautiful island for the afternoon.
The swimming was excellent and I couldn't wait to go snorkeling near shore in the morning. We had a beautiful night and next morning. I took the dinghy out by myself and snorkeled off of it (holding the line so as not to lose it – Peugeot followed me around like a giant loyal dog). Jonny joined me and we covered quite a lot of ground. Lots of fishes and I even saw a small-ish sea turtle! The shore started filling up with vacationers and the music started in earnest. We've discovered that loud music is acceptable at any time, day or night and starting to blast it at 7 or 8 in the morning is the norm in many places.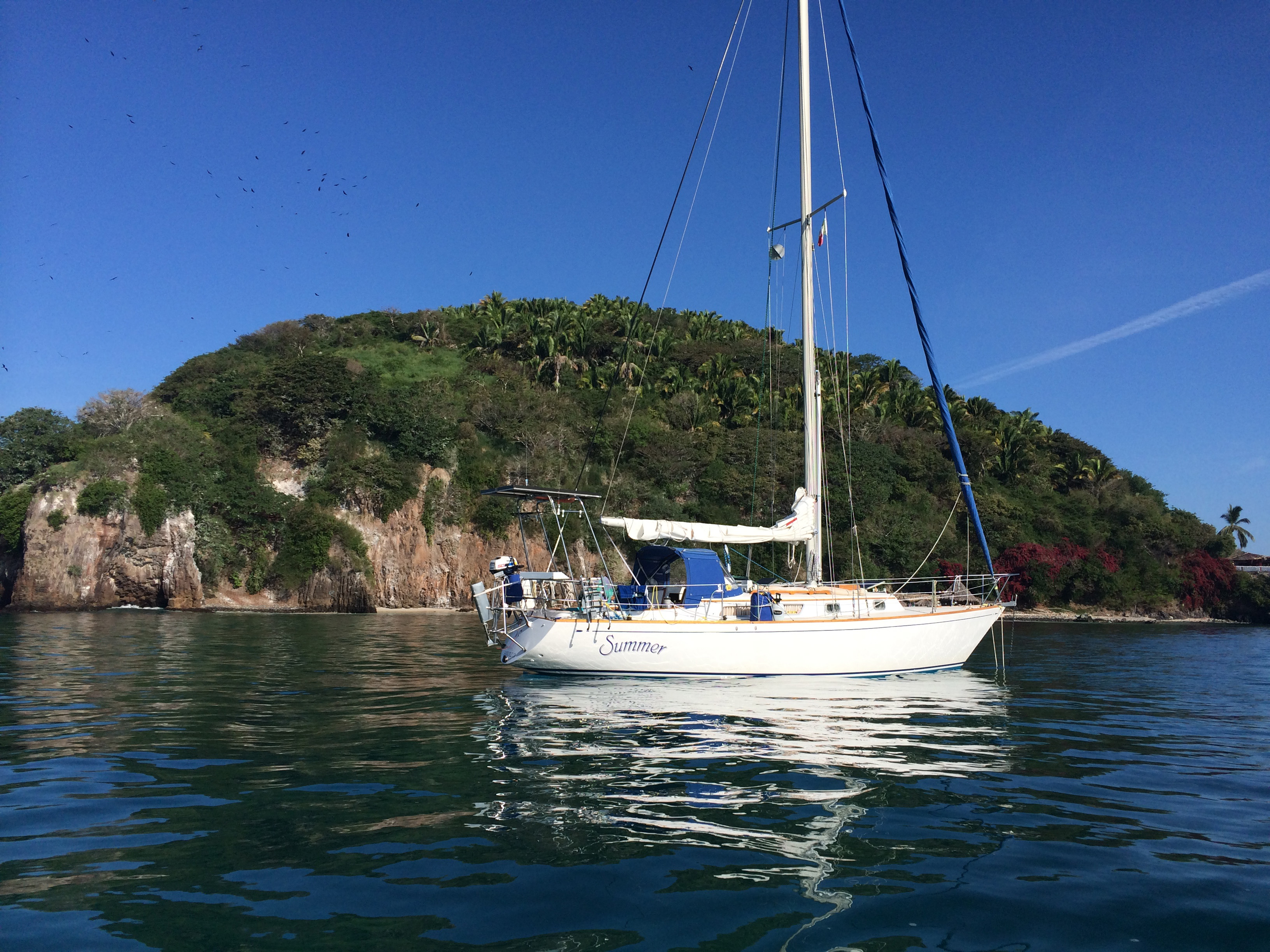 We were ready to move on the short distance up to Chacala – not new, but well loved. We realized it might be crowded there, too, but we didn't fully comprehend just how crowded it could possibly be until we pulled in to the bay. The umbrellas and people packed on the beach and in the water was mind-boggling. It was a pretty tiny beach – maybe ½ mile long? There was not a single sailboat in the anchorage, though, so we took our pick of spots. I estimated there were at least 1500 people on the beach when we arrived. We figured we wouldn't be staying long – just to re-provision and wait for a good weather window to head out to Isla Isabella.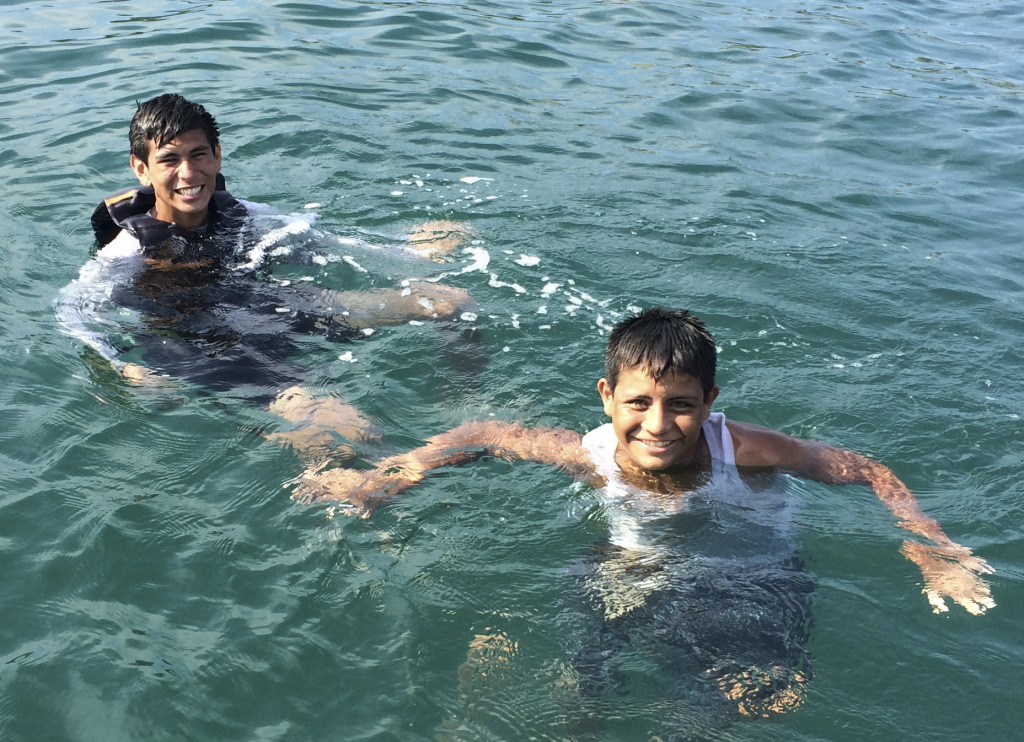 Well, you know how that goes. Another week in Chacala! After a few days we had to swim ashore and throw ourselves into the fray, just to see what was really going on there. The crowds were cheerful and everyone was having a great time. We were only 2 of about 6 gringos I saw the whole time. People here are not afraid of sand. People were rolling, sitting, burying themselves, walking around completely covered in sand. It was almost universal. Some people didn't even bring chairs, but sculpted comfy sand holes to sit in.   We walked the length of the beach just taking in the scene. There were at least 3 bands playing at all time. When on the beach, as you walked you heard one band at a time. Some were really great! Out in the anchorage we were lucky enough to be able to hear all three of them AT ONCE. Grateful for my large jar of earplugs!
There were so many people everywhere that we didn't feel it would be safe to leave the dinghy ashore. We were not afraid of theft so much, but more just how attractive our little Peugeot is to children. Such a temptation for climbing, bouncing and jumping…and the teeny beach at the dinghy landing area was always packed with kids. So Jonny dropped me off and I made a solo trip to Las Varas for re-provisioning. It was Saturday and I was afraid everything might be shut down for the holidays. But it was business as usual, and I was able to load up on chicken, meat and veggies (and TelCel). Everyone in Las Varas is so friendly and I kind of like that no one speaks any English. I went to the same carniceria we went to last time and the same woman selling chickens was also there. I got the feeling she remembered me. She was very sweet and helped me remember the correct Spanish for all the chicken parts. I told her I didn't want the feet and she was quite certain I would like to make a delicious soup with them. I explained I lived on a small boat and cooking soup in this heat was not going to happen. That was much easier for me to say in Spanish than "chicken feet soup sounds totally gross to this gringa".   It was hot and carrying all the stuff myself was hard, but it was overall quite an enjoyable outing. I managed to catch a collectivo that was just about to leave. It was full up but they managed to squeeze me and all my bags onto the corner of a seat.
More boats started showing up in the anchorage and we met some really great folks. One afternoon I dropped Jonny off on shore and rowed around in the dinghy to wait for him. That's when I met Lynne and Rob on Aldebaran. They invited me aboard to hang out while I waited for Jonny. They are retired and have been out for 2 seasons already – they have things figured out and are enjoying livin' the dream. I saw them again on shore when I was using internet at Chac Mool (the uber gringo restaurant that has bad food, loud music and high prices…but they don't care if I sit there for hours and have just one drink). They were with another couple from one of the other boats. This is when I met Rob and Becky from Manatee- who are just a little bit older than us (always fun to find people our age to play with!). We had a great chat and they invited us over for drinks with Rob and Lynne that evening. (yeah I know, 2 Robs). Rob and Becky had never set foot on a sailboat until January of this year – when they took Manatee out for a sea trial!! To buy a sailboat and take off with no experience is pretty brave and ballsy. And a little bit crazy. Rob and Becky are all of the above. We had so much fun hanging out with them! A dinghy went by as we were all hanging out in their cockpit and Becky called to them and insisted they stop by. They came up for a short visit – and we got to meet three Polish people who live in Germany. I wish I could guess at how to spell their names – a man named Machek (? )And two women – one was Machek's (?) wife and the other was named Maria. They were wonderful and I even got to learn a little Polish. We kept them from getting their dinner long enough to have a drink with us and then they went on their way.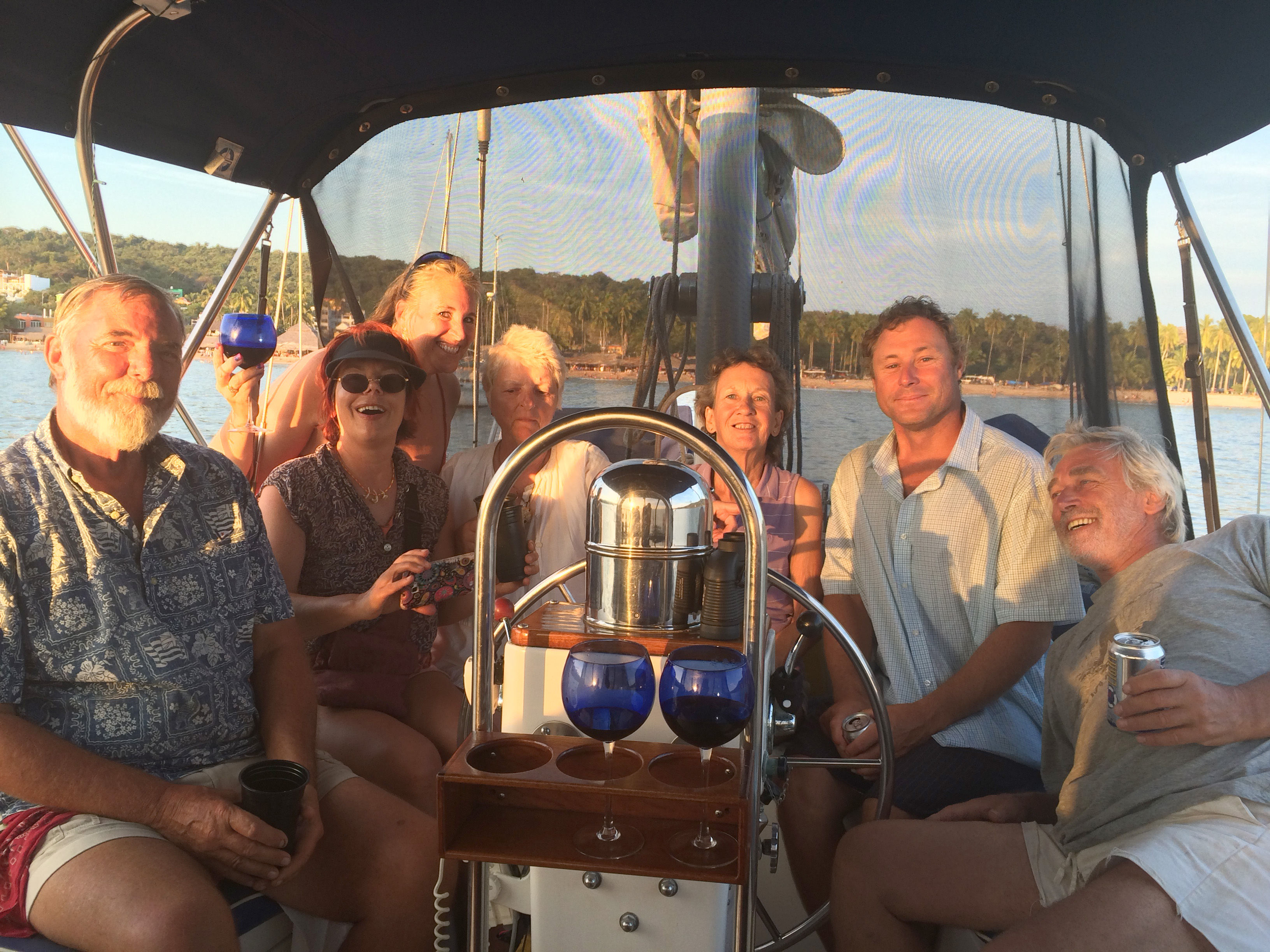 Rob and Becky have exactly the right attitude to make this life work. They sold their house and all their stuff, made sure their 19 year old son was ok on his own (a little bewildered, but ok) and they bailed! Rob retired from the military, which was a huge part of both their lives. Quite a different set of stories than we're used to hearing–fascinating.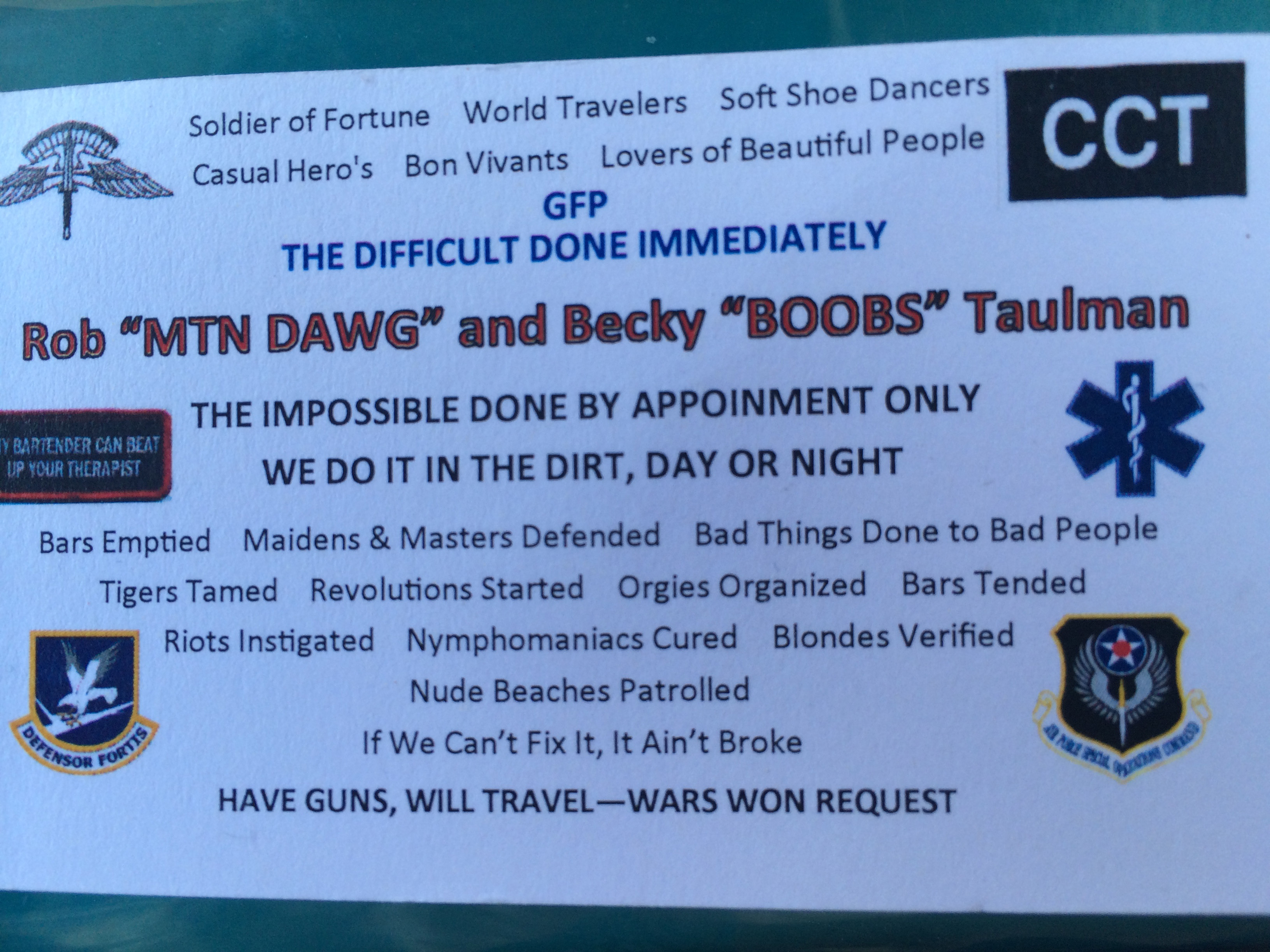 They had been planning to boogie down the coast, go through the Panama Canal and head out to the Caribbean. We kind of convinced them to scrap that plan. They realized they were in no hurry, why rush and miss so much good stuff? They decided to continue down to Banderas Bay and take care of some projects, and then head up to spend the summer in the Sea of Cortez. Then work their way down to Panama next season, at a more leisurely pace. We are looking forward to catching up with them again somewhere in the Sea- they are good people and a whole lot of fun!
While online I learned that we got yet another donation!!!! THANKS goes out to Peggy in Aptos – a wonderful woman that both Jonny and I have worked with. We are so grateful that the people we know and love haven't forgotten about us and are supportive of this out-of-the-ordinary life we've chosen.
We finally got our weather window to head out to Isla Isabela. Or so we thought. It's a tricky island to anchor at and unless conditions are just so, it's not really safe or comfortable. We headed out at night, so to arrive in the morning. In the event it wasn't favorable we'd just continue on to Mazatlan. We had an epic sail that night. Summer was pushing beyond her top speeds and it was comfortable and warm. Fun and fast! It was a little gloomy and the wind was still too south when we arrived at Isabela. It looked gorgeous and we very much wanted to stay and explore. But there was not another boat in sight, the south swell was no good for the south facing anchorage and the winds seemed to be favoring "keep going".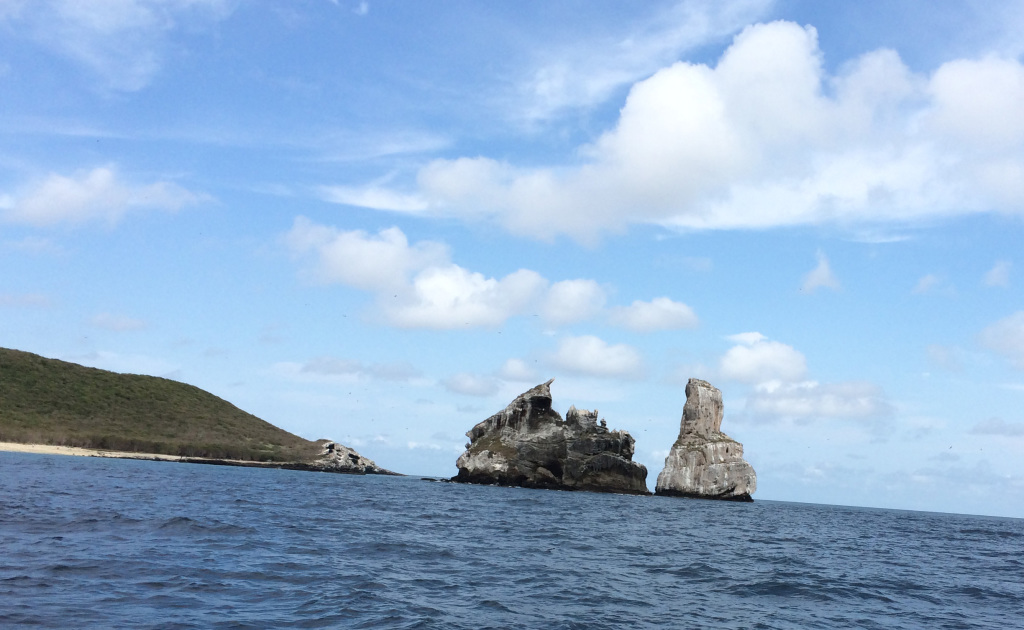 We had a good long look as we sailed around the island and sadly tacked away towards Mazatlan. Not far away, the wind died. It was so hot, rolly and slow that we decided to heave-to and go for a swim. I threw a line over for us to hold on to so that Summer couldn't get away from us. There's nothing like swimming in 500 feet of the most gorgeous color blue water without a bit of land in sight. The swell was pretty crazy though, so we had to be careful when trying to catch the swim ladder –which bobbed 4-5 feet up and down over our heads.

Refreshed, we motor-sailed along for the next 24 hours. In the afternoon, a bird landed on the foredeck. It was a pigeon. It looked very tired and maybe a little bit lost. It was at least 50 miles from land. He walked around cautiously, watching us and looking for a place to relax. He ended up in our cockpit. I gave him some. He would not drink on his own when I left it out for him, but everytime I held it up, he'd thirstily swallow it down.   He had bands on both legs and we guessed he was some sort of carrier pigeon. He ended up roosting on top of our solar panels and was gone by morning. Not sure where he went, but assuming he's OK and where he belongs now!
I was not seasick, but the night watches and disjointed and lack of sleep kind of kicked my butt. I was SO tired during this 2 day trip. I was bleary-eyed as we approached Mazatlan at dawn. We entered the old harbor and anchored in the crowded, protected anchorage. It was SO calm. We hadn't felt that calm since being at the dock in La Cruz. We slept most of the first day. We noticed Aldebaran nearby and were looking forward to catching up with Lynne and Rob again.   We also anchored near Tacman – a catamaran we remembered seeing way back in San Simeon – our first 'new' anchorage. I remembered the name and boat, as that was when I thought it would be clever to keep track of all the boats we saw and where they were from. I still think it's a great idea. Maybe someday I'll start doing that. 😉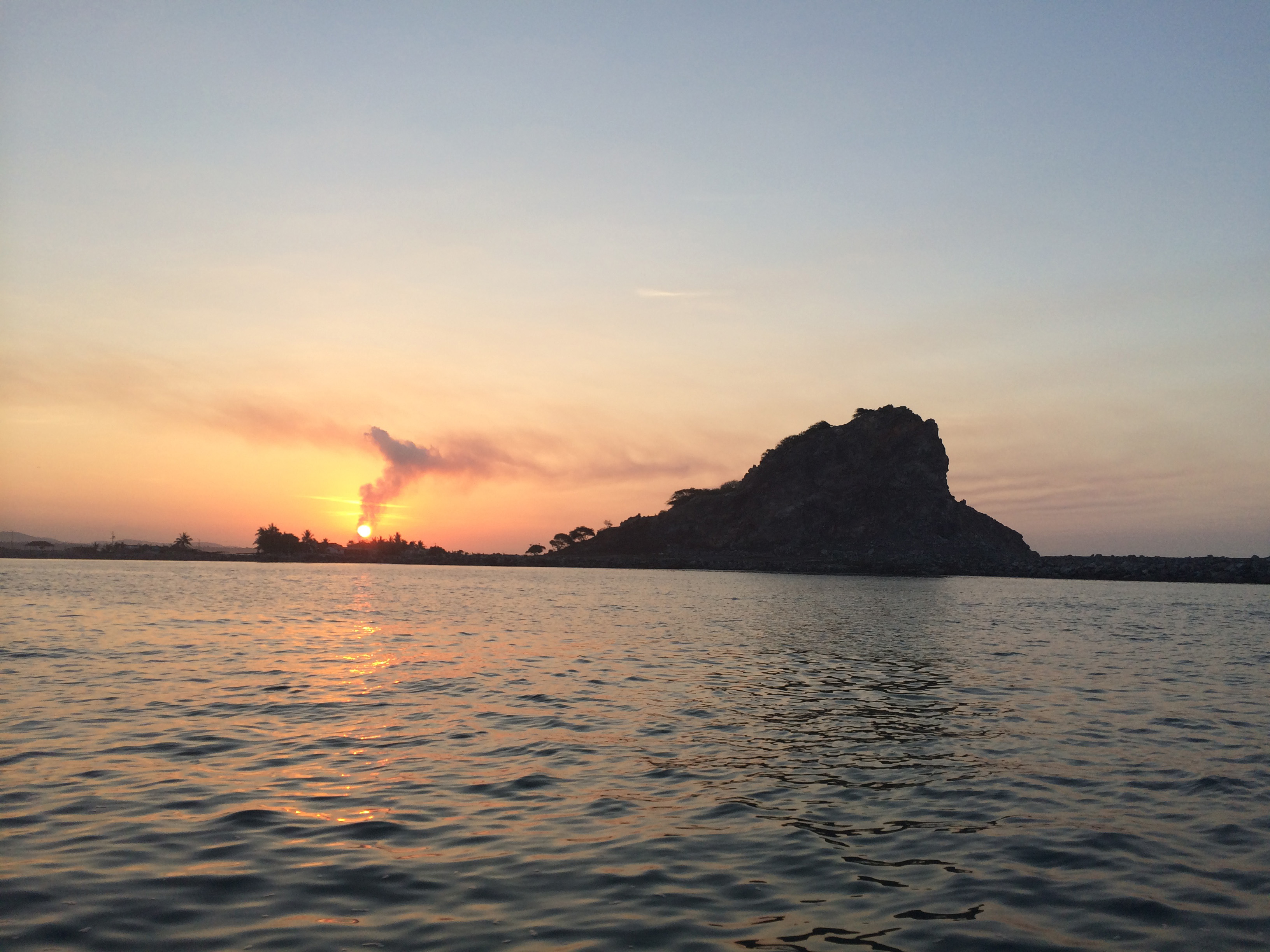 The old harbor and only anchorage in Mazatlan is near the ferry and cruise ship port, and on shore is "Club Nautico", a place that was at one time very nice and happening, so I've been told. Now it's run down and neglected – but there is wifi and showers and a floating dock to tie the dinghy to – as well as 24 hour security and a gate. It's directly across from the sewage treatment plant for all 500,000 people in Mazatlan. Most days, the wind was often just right to afford us the luxury of enjoying the fragrances wafting from the plant.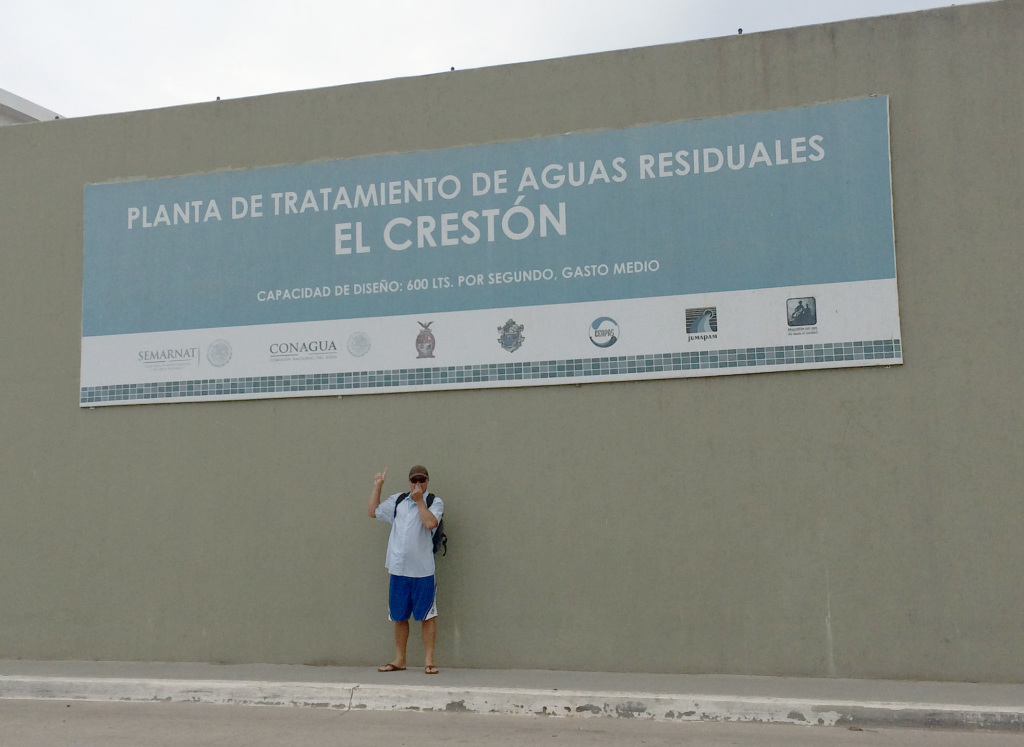 One night it was so awful it actually woke me up. I ended up spraying a handkerchief with jasmine water and tying it around my face. I woke up looking like a disheveled bandito.   But other than that one thing, we had a lovely week in the free anchorage!
We visited with Rob and Lynne a few times, I chatted with John on Tacman and got his story and we met Alain on Blue Lagoon whose wife had just returned to their home in Tucson, Arizona.
Our first day exploring we decided to walk into Old Town Mazatlan. We went up over the rock hill and down into the Malecon and off into the town.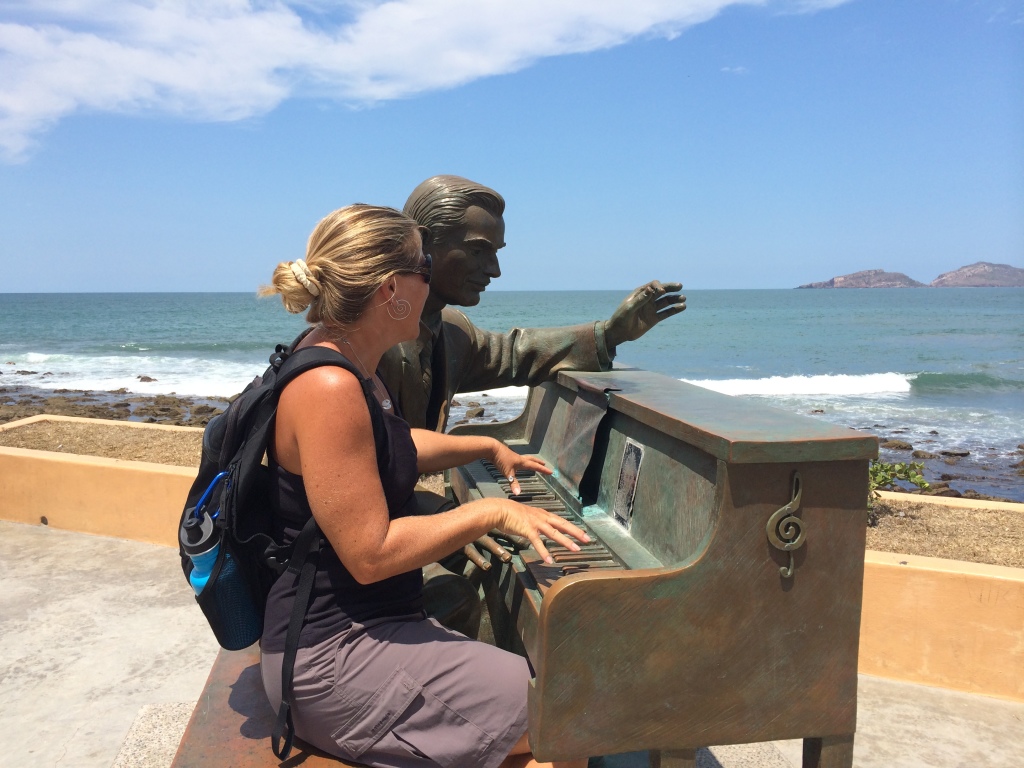 We saw the old church and Machado Square.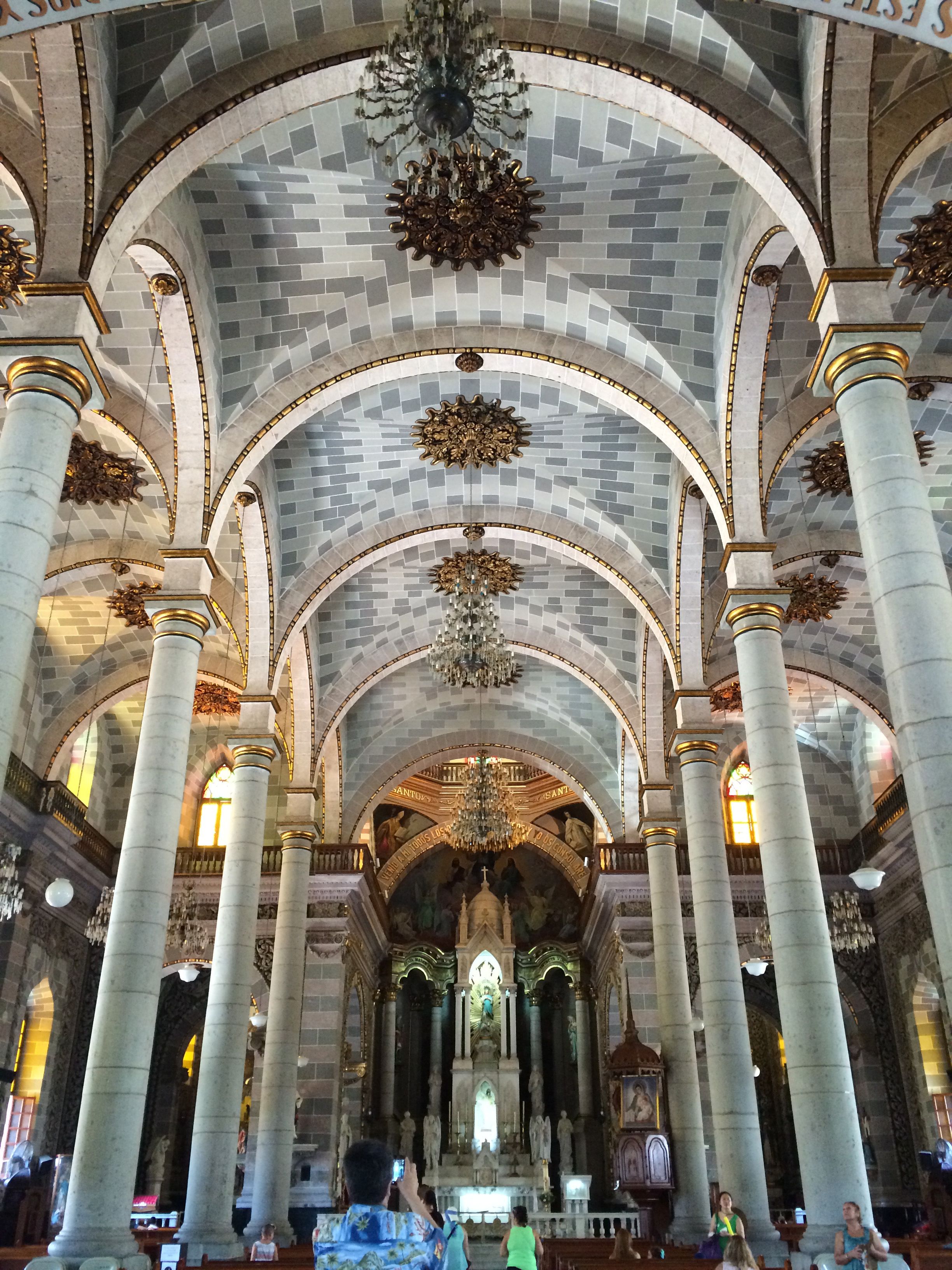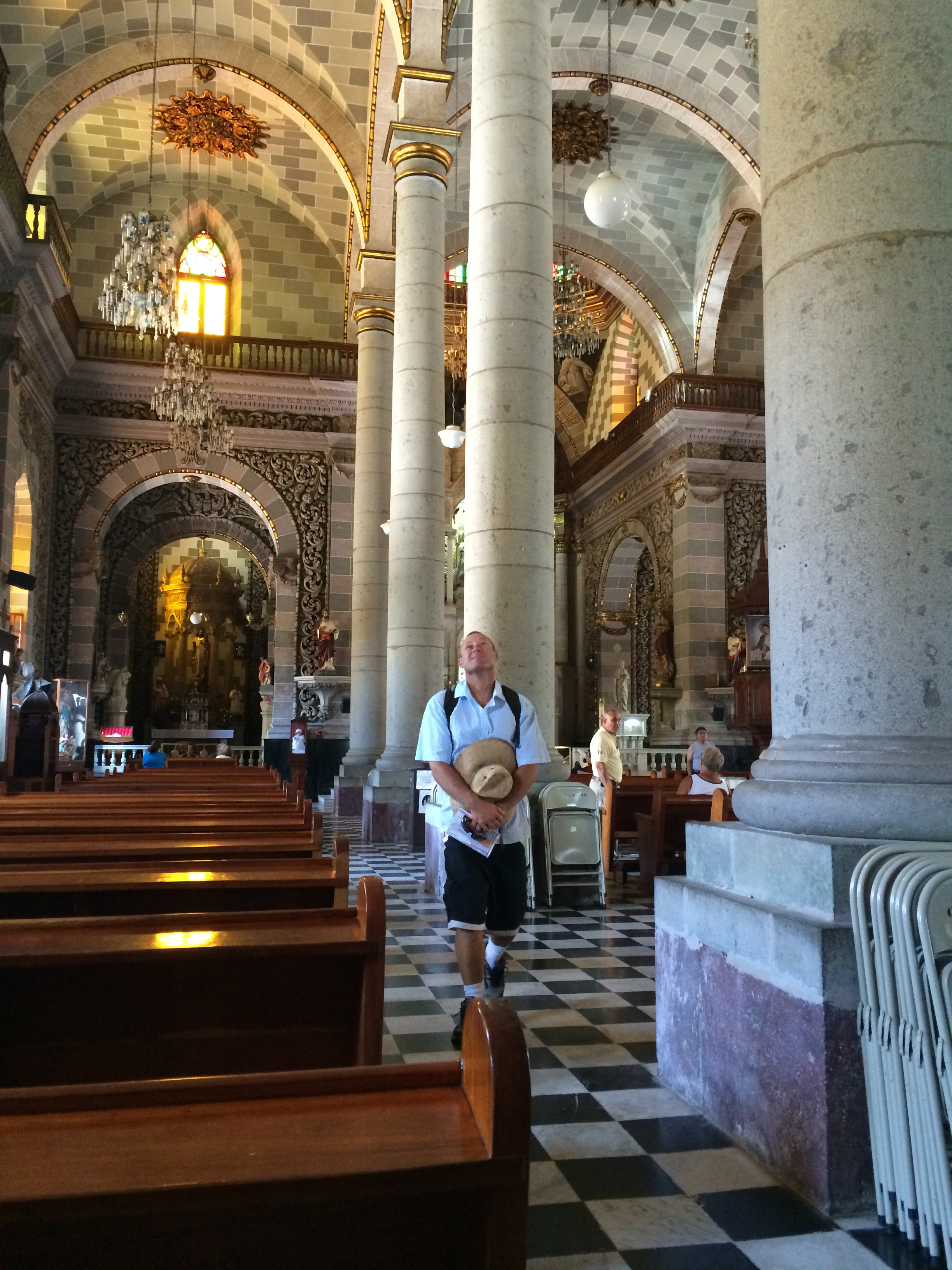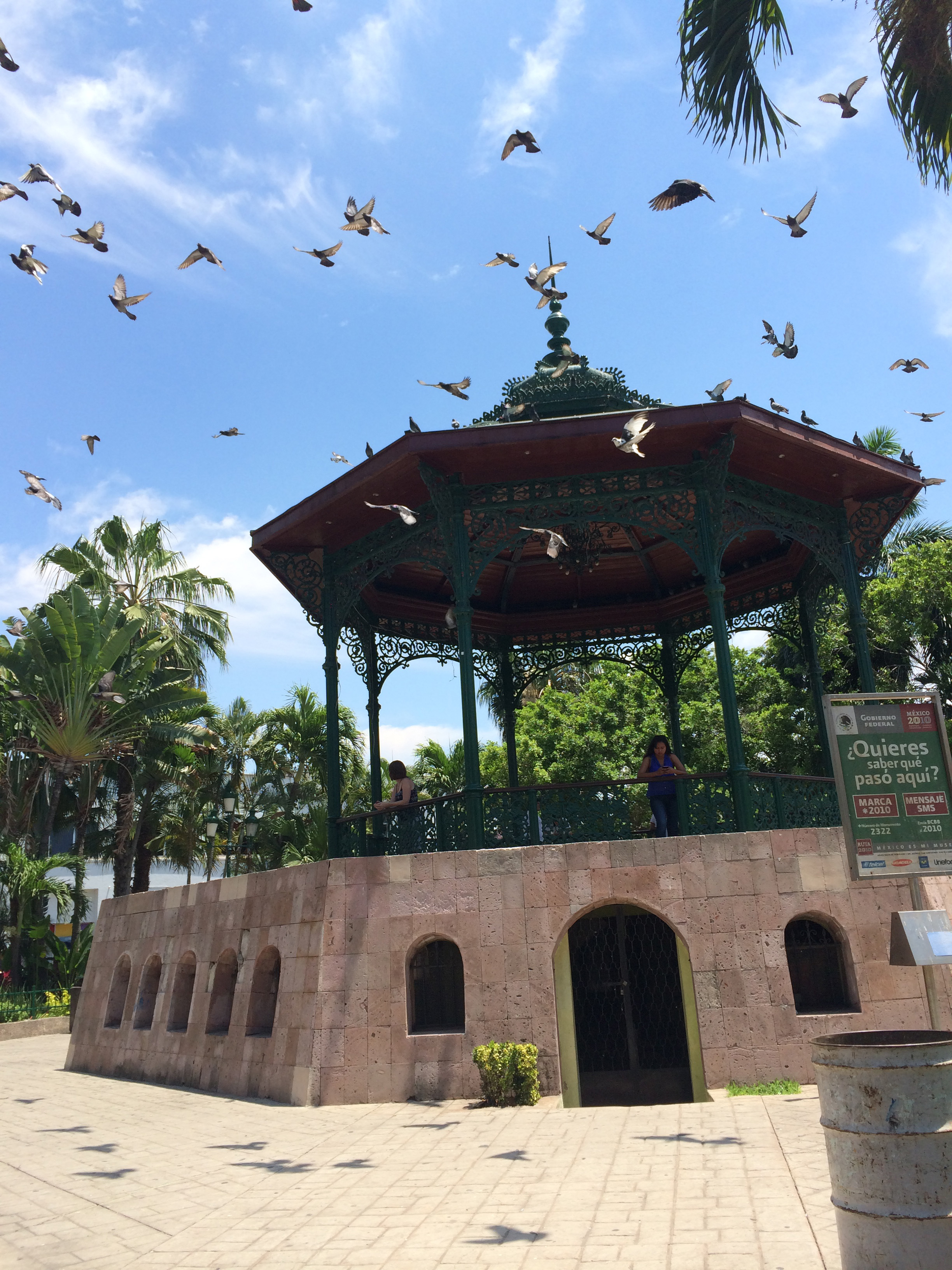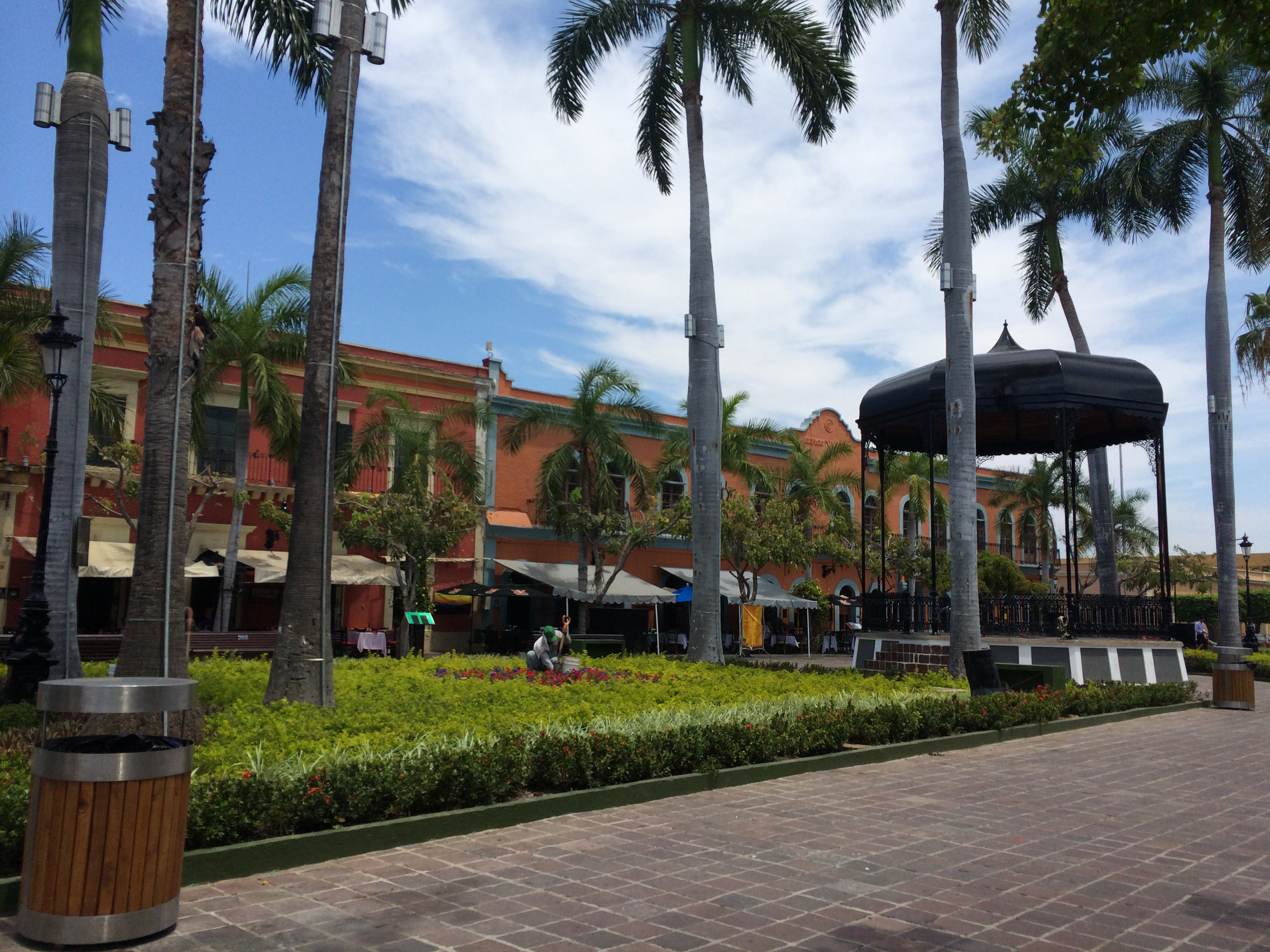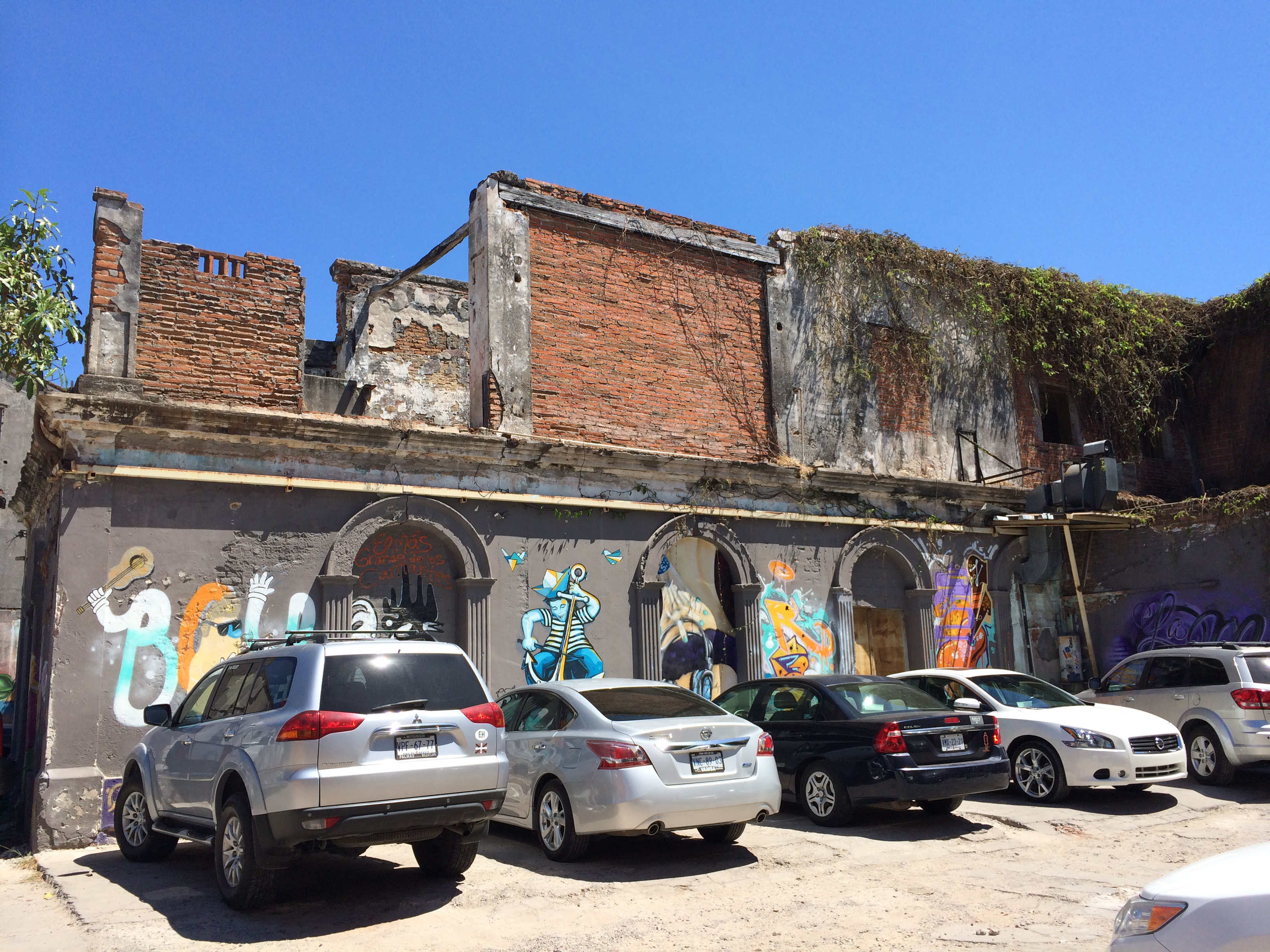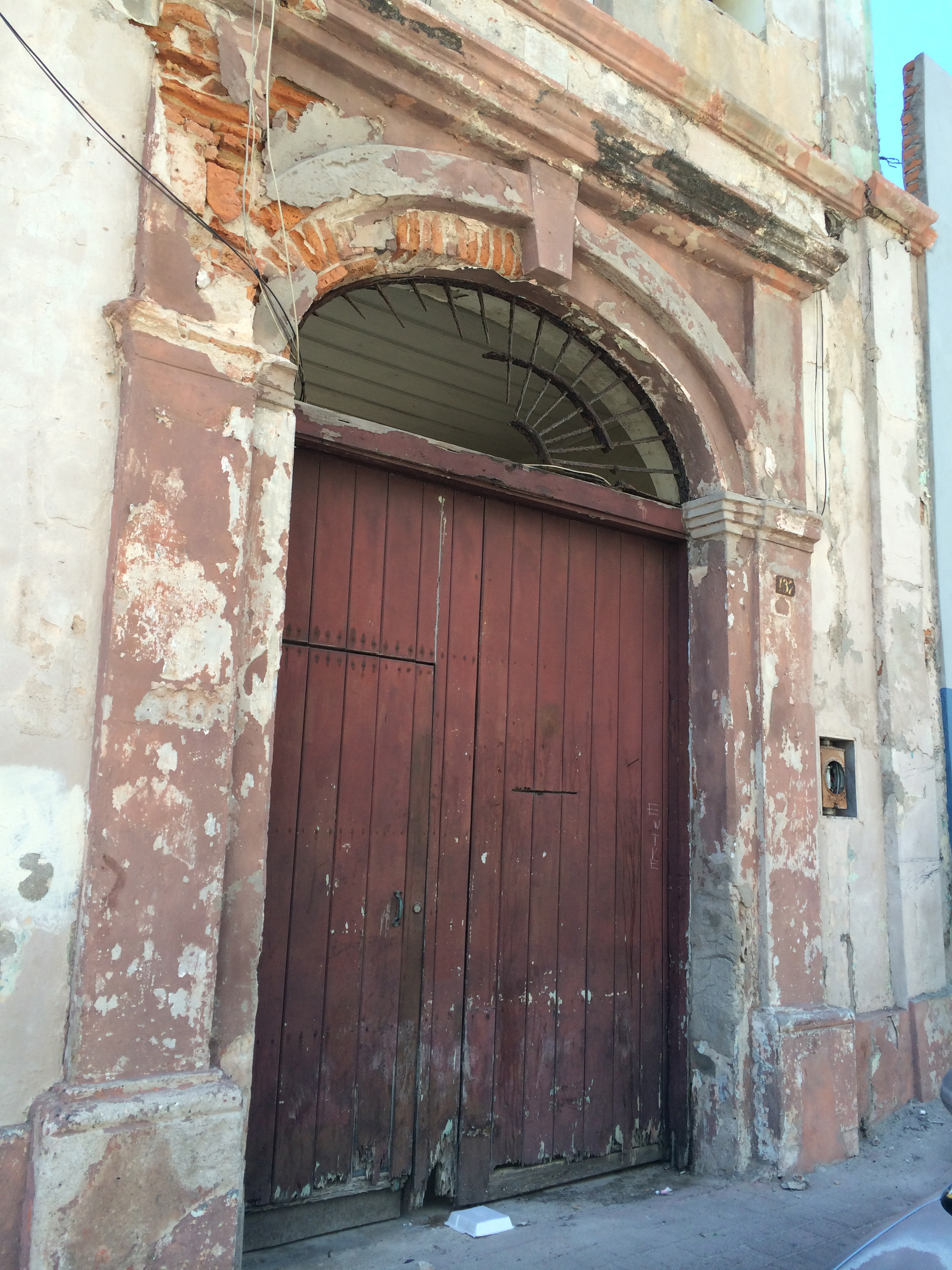 There's a lot of history there – and cultural arts abound. There's even an opera house/theater. It is a very clean and friendly city. We went into the Central Mercado – a huge market that sells anything and everything in individual stalls. We scoped everything out for a future food shopping trip (and no, I would not be buying an entire pig head – not that I couldn't if I wanted to). We walked back home around the backside of the hill. It was a LOT of walking on hard city streets. We vowed to take the bus, and maybe even splurge on a pulmonia in the future. The pulmonias are 'open air' taxis (actual translation is pneumonia) that were invented by a guy here in the 60's when he transformed a golf cart. They are everywhere now –cheaper than a taxi, more expensive than a bus and a fun and exciting way to take your life in your hands.
Jonny decided to figure out what was wrong with our motor mount – he had noticed that one of them looked a little loose when we arrived and he wanted to get in there and figure out what needed to be done. I went ashore for a bit while he tore about the boat and got into it. When I went back to the boat he said it looked ok, it had just come loose and he wanted to put another lock washer on it to tighten it down really well. We went ashore and asked at the office if there was a ferreteria nearby (hardware store). We got directions to walk to one not too far away. So we were set for a little adventure. We ran into Alain as we were coming in and got talking to him about what we needed – he said he thought he might have one. He also introduced us to Jesus (aka Chuy) who was very helpful and said he'd look, too. We decided to hang out for a bit on the cement benches under the dilapidated palapa and see what was going to happen. We learned a bit more Spanish with Chuy and then he went off to look for a lock washer. As we were sitting there, a small power boat came in and tied up at the dinghy dock. A few tourists came off and 2 guys hauled a big cooler up to the palapa. We got to chatting with them – they spoke excellent English and run the little tour boat. They offered us beer leftover in their cooler. They told us about Moto Week – which we just missed (darnit!) the week earlier – thousands of motorcycles descend upon Mazatlan. He said he rode a bike down from Arizona to La Paz and then took the ferry over with the bike. Sounds like a good time, but really, not sorry to have missed it. We enjoyed our beers and Alain came back with a lock washer just the right size for us. Chuy came back and said unfortunately he couldn't find one. But we were all set. Jonny went back to put the boat back together and I stayed ashore to nurse the rest of my beer and have a shower. Not the adventure out we had expected, but all in all a pretty great afternoon.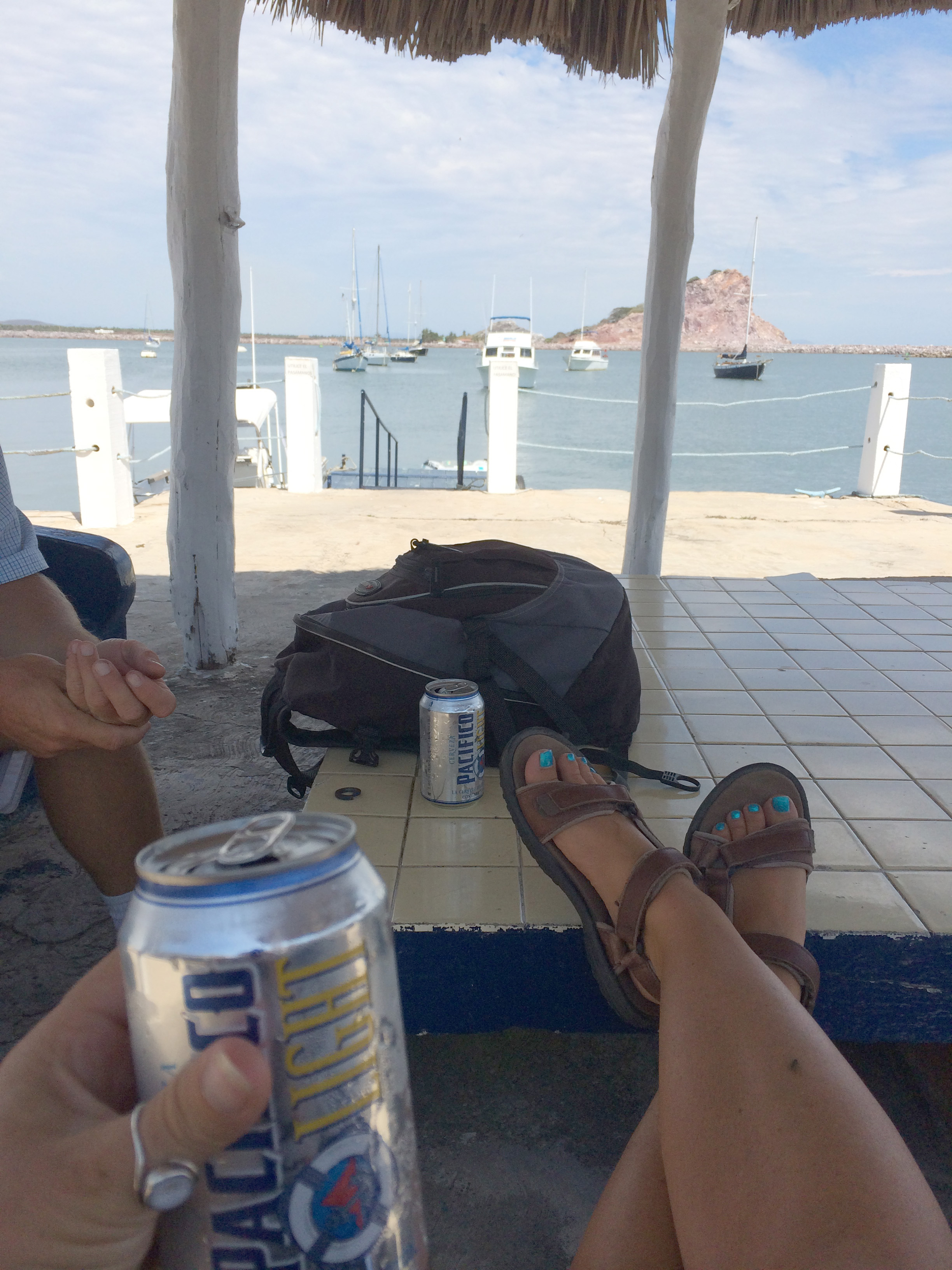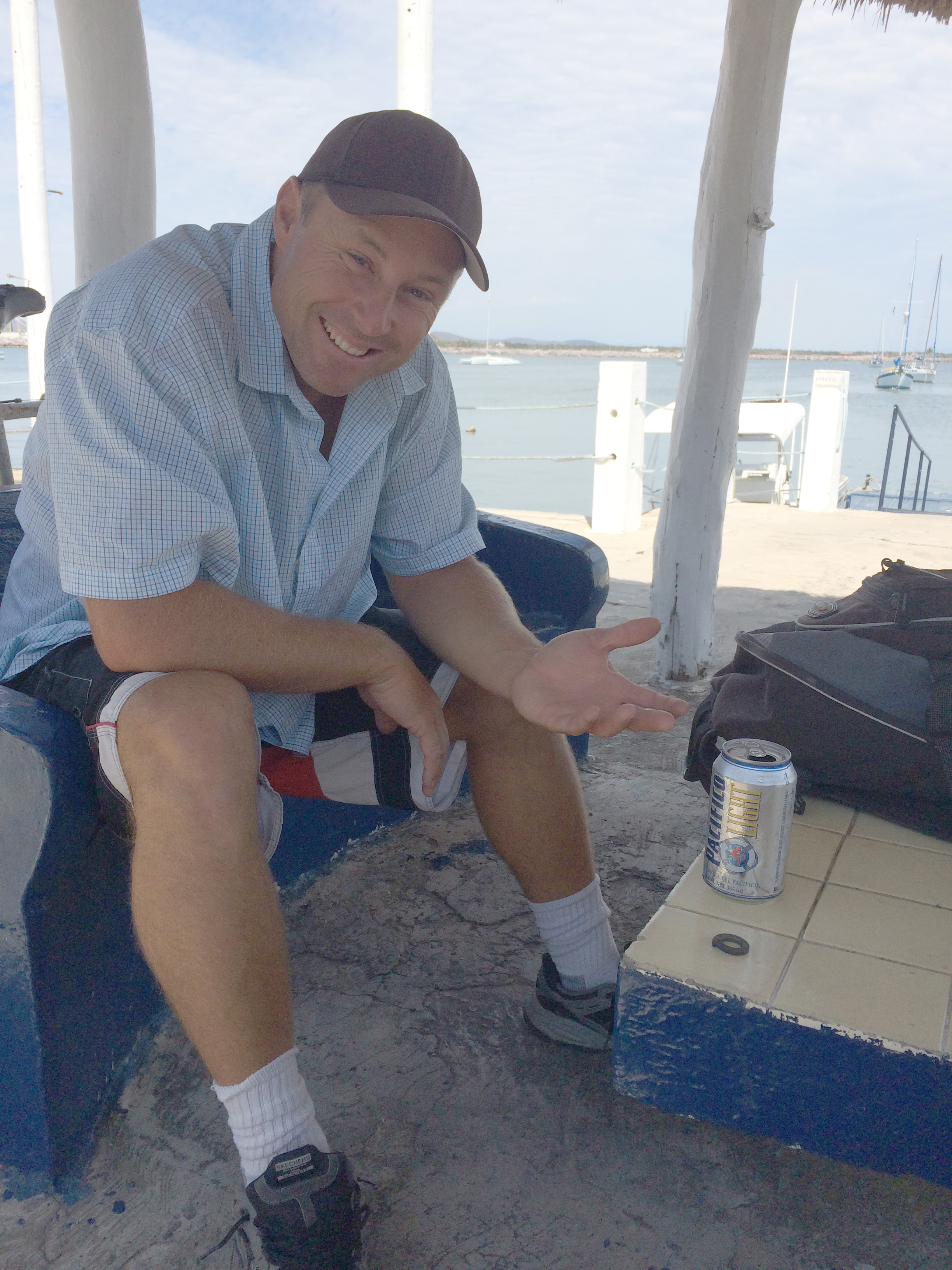 Rob and Lynne raved about La Tramoya – a restaurant on the square. We decided that this would be the place we finally got to enjoy our fancy night out on Van and Susan. We were not disappointed! I had a delicious fresh mango margarita (Jonny had a regular one). The queso fundido appetizer was so huge that I could've stopped there and been fine. What's not to love about a huge skillet of broiled cheese and peppers? I had a chicken with Oaxacan mole, stuffed with these delicate black mushrooms that apparently grow on corn, and a little whipped mountain of squash. Jonny had a delicious mahi-mahi covered in a bunch of shrimp and other sea treasures. I was enjoying it all so much that it was too late when I realized I was way too full to consider dessert. I even had to take a small bit of my chicken home with me (it was too good to leave it!).
We had considered leaving from the anchorage, or perhaps one of the islands just to the west of the city. We figured we really didn't need to go into a marina. But after a while we changed our minds. We decided to take the bus up to the Zona Dorada (Gold Zone) about 7 miles from old town – where all the hotels, marinas and touristy crap is – and have a look-see. Armed with a lot of inside info from Rob and Lynne we set off. We somehow managed to get on a bus that went right up the Malecon – along the ocean the entire way. We got to pass right through all the hotels and stuff – and seeing it quickly on a comfortable, air conditioned bus was exactly the way I wanted to see that. I had no need to wander on food through all that garbage! The marinas are kind of up and away from everything. We got off the bus and hoofed it back down and over a bridge to the Fonatur marina – the one we hoped would be cheapest. Fonatur is the Mexican tourism board, and they build a number if identical marinas through out Mexico. We stayed in one in San Blas – it was super inexpensive and good enough for our needs. The Fonatur in Mazatlan was a tiny bit more expensive than San Blas – but it was far superior in most every way. It was cleaner, the showers actually had hot water, and the walls separating the shower stalls were actually bolted down, so there was no danger of collapsing the entire shower area if you accidentally bumped one. The laundry room had working washers AND dryers. There was also a lounge area with desks, couch and books and a decent wifi signal. The docks were made of some plastic squares that appear to snap together – solid enough, but the dock fingers were extremely narrow. It ended up not being as terrifying as I thought it would be though, to jump off the boat onto them. We were going to reserve one night, but then we ended up reserving 2. It just made more sense for all the work we had to do before an early morning jump across back to Baja.

We enjoyed our visits in and around Mazatlan, but even with the buses and pulmonias, we still did a lot more walking than my crooked old back likes. My feet were pretty much throbbing the whole time. We had a few days of overcast/cooler weather, which was not unwelcome. But when the sun finally came out it was really beautiful. On Saturday I insisted on hunting down the organic farmer's market. At the bus stop we ran into Alain, who was also heading to the market and knew just where to go. It was great to have a guide – he even brought us to a great shop near the market that makes home-made yogurt. The market itself was a bit of a disappointment – it was only about a dozen tables barely filling the square. But I got some great scores – basil, honey, kale, arugula, steak, tapioca and yucca, yucca chips, green beans, eggplant and more. Not bad. Alain took us to another part of town where there was a great bakery and Jonny loaded up on some great bolillos (and I found another organic market in the same building and got a few more goodies).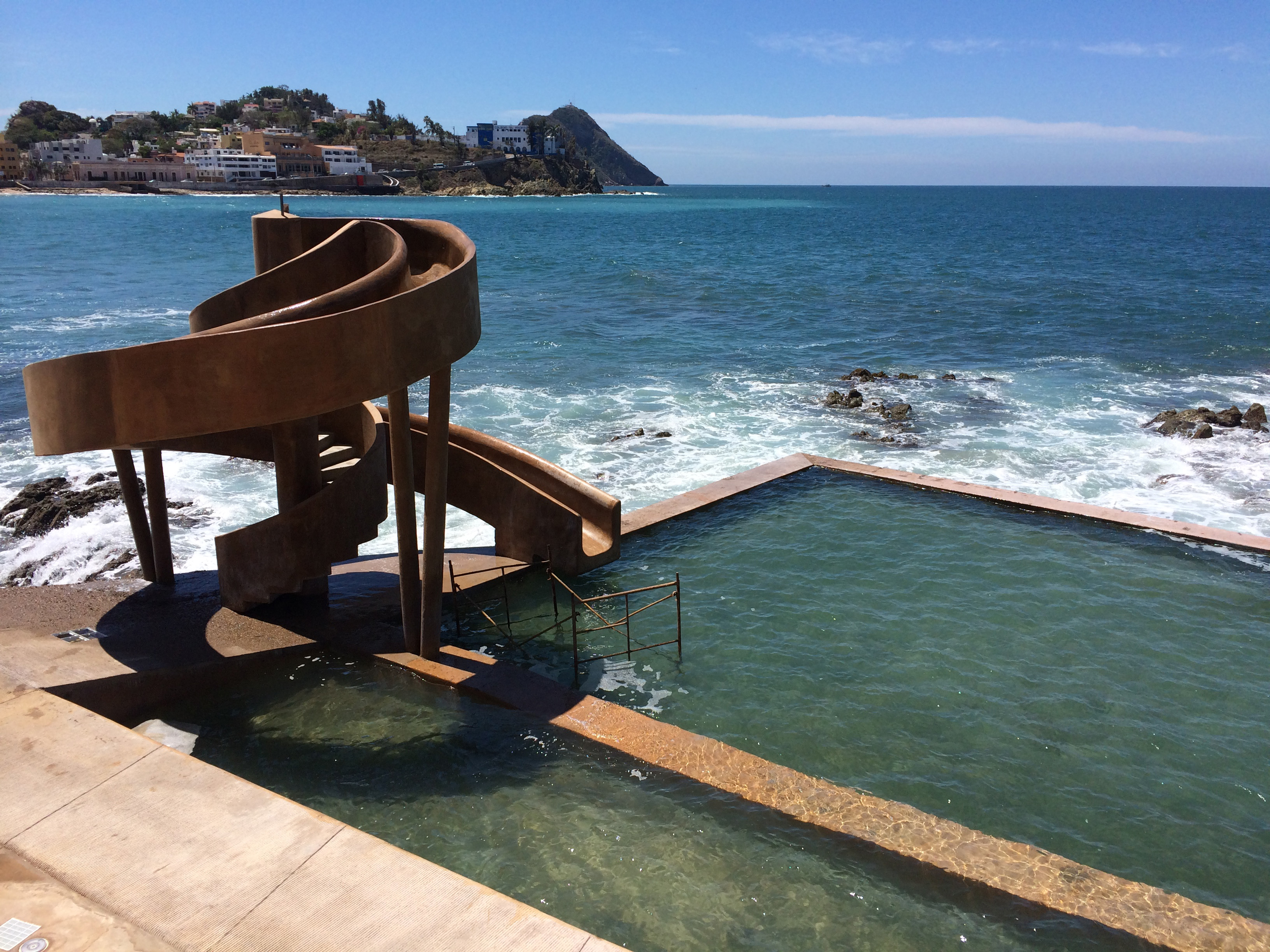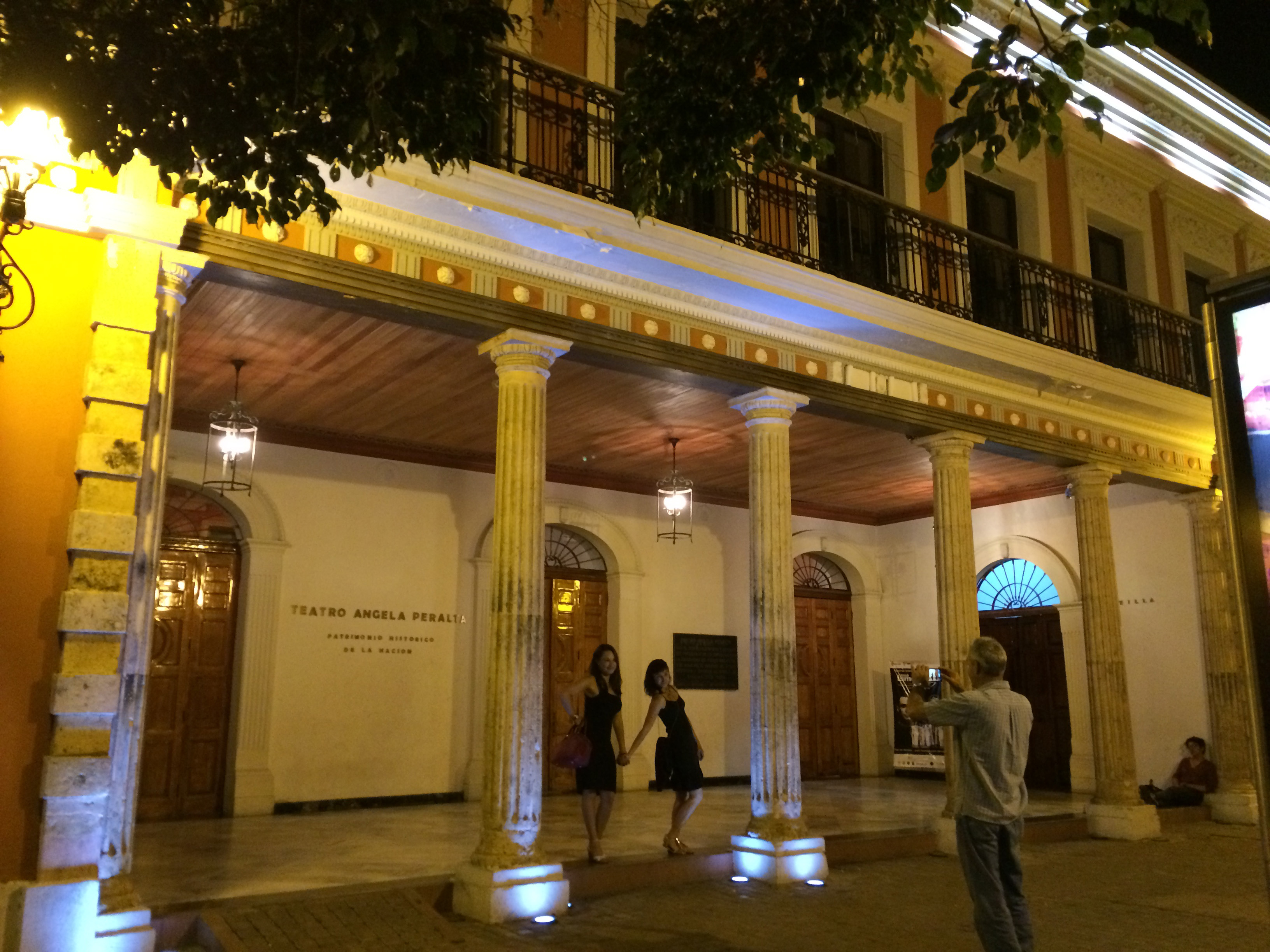 After one last stinky night at the free anchorage and said good bye to Lynne and Rob (maybe we'll see them in La Paz?).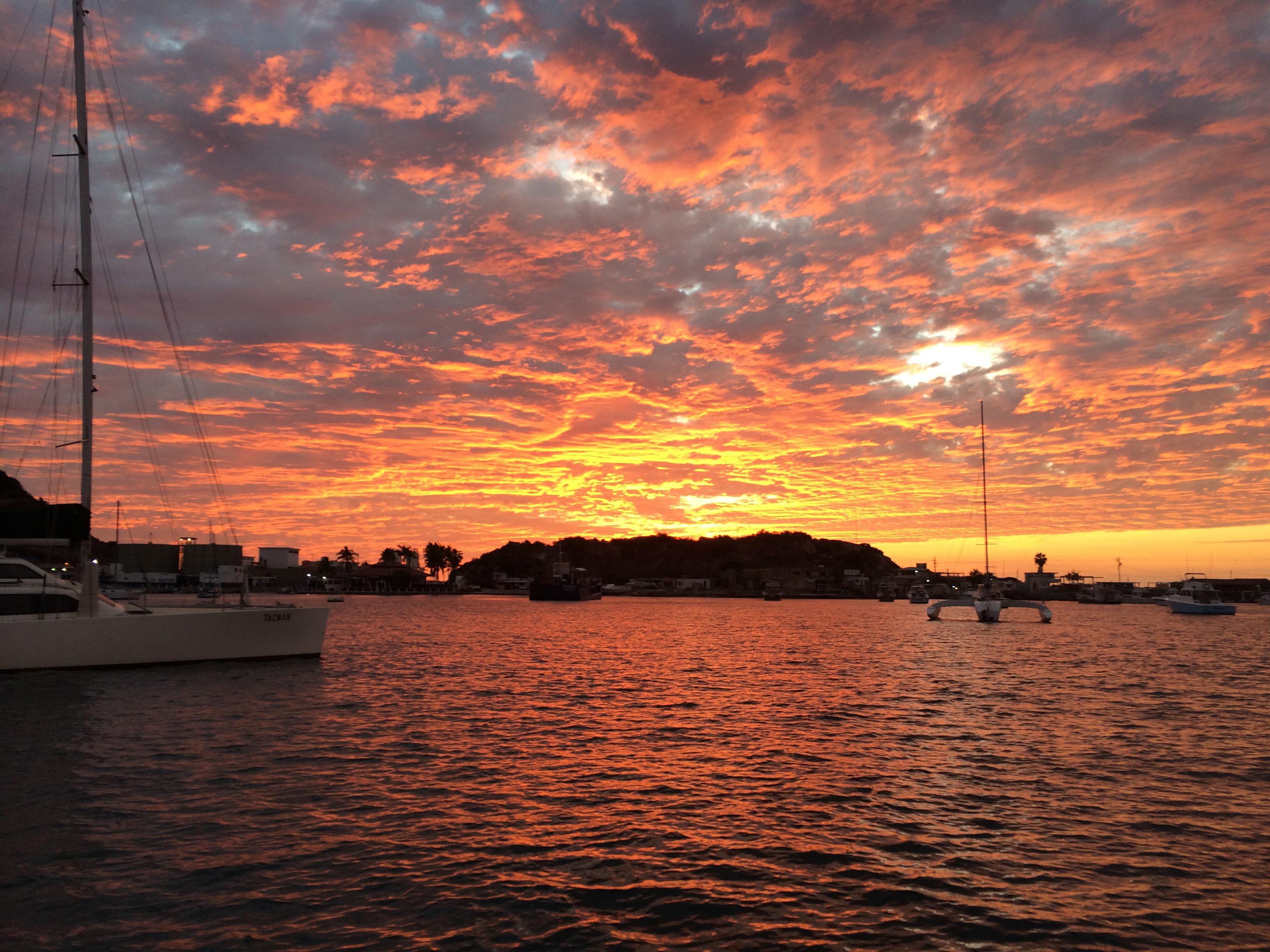 It was an easy motor up around the islands and into the marina – just a couple of hours. It was fun to see Mazatlan from the boat and recognize all the buildings and places we'd visited by land. We were a bit far out when we passed the Valentino – the night club that used to be a church. Now that's what I call progress!
Fonatur only had 30 foot slips available, so we squeezed Summer in and immediately got to work. She was a pretty filthy girl, so it was good to give her a nice bath. Basically, everything on the entire boat – including us and all our clothes and bedding got a thorough washing. Jonny got the dinghy washed and broken down/deflated – we did not want it strapped to the deck for our 200 mile crossing and we certainly wouldn't tow it all that way. Jonny went up the mast and fixed the spreader boots and untangled the lazy jacks (the lines that keep the sail in place when we drop it). I did four loads of laundry and used the wait time in between to utilize the couch and wifi in the breezy lounge room. It had been over 3 weeks since I had a real shower, too (yes, there were showers at the anchorage, but they were the kind where you don't let yourself or any of your belongings touch anything – I hung my soap and shampoo in a bag over the water handle and there was no place to hang or set anything else. Not the most pleasant experience, but you come out feeling pretty clean. These showers were nice tile, clean wooden benches, privacy door, hooks and lots of pressurized hot water. I was in heaven.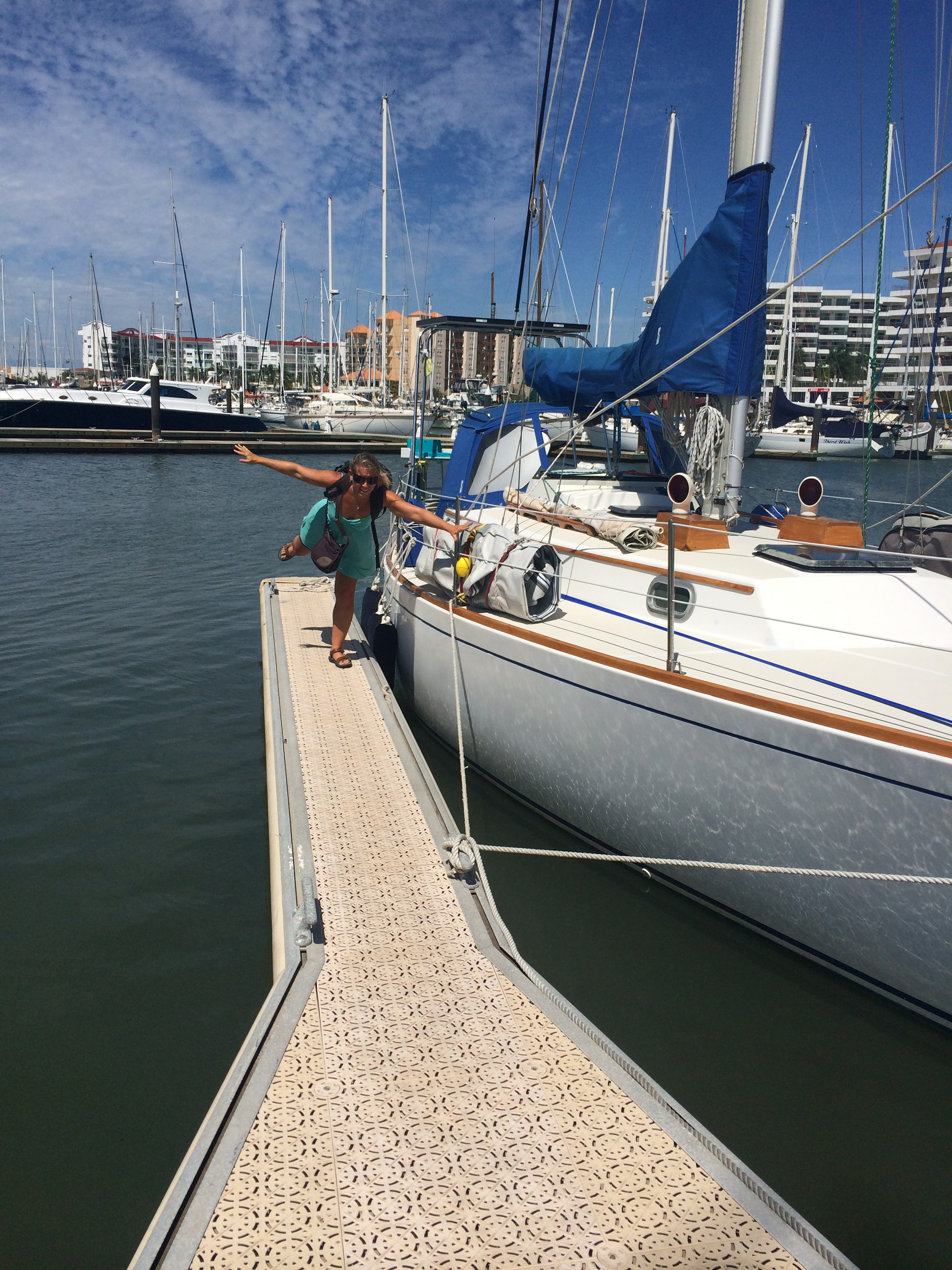 I prepped a bunch of food for our crossing so I wouldn't have to cook as much. I pre-cooked some chicken breasts, made pesto with basil from the organic farmer's market, cooked a whole pot of black beans, chopped up pineapple, kale, cabbage, etc. Our fridge was packed to the gills. It's a great feeling to be fully provisioned, but it is a pain in the ass to get anything in and out of the top-down fridge set up – you have to take 10 things out to get to one and then put it all back, then you remember something else and have to take 9 things out…but it's a price I'm willing to pay for the security of abundant eats! I also know where everything is – Jonny doesn't ever dare go deep in there and I always make sure his coffee creamer is right on top.
We got everything done in enough time to take a field trip to Mega. We didn't need that much, but we saw one on shore behind the big white church/disco –so we knew it was there and there were a few things we wanted (ok, it was pretty much just granola and pinguinos – chocolate cupcakes that look like hostess cupcakes, only "bakery fresh"). We caught the right bus – along with 5,000 other people…it was packed. We barely got on. Jonny had to stand in the doorway and I was right next to the driver. I squatted down as that seemed safer than standing right in front of the windshield. Although I'm sure the driver was plenty skilled to send all the texts he was sending and fussing with the coin tray while also driving the bus, I was a bit nervous. [Side note about busses: It finally occurred to me that a huge difference in the busses here compared to the states – you always have to have exact change for US busses (right?) here, they have a big open tray full of coins in rows and will give you change, no problem. I realized I always had a bit of anxiety when boarding a bus, not being sure exactly how much it cost and always trying to have a handful of coins to be able to pay the exact amount. It finally hit me, it didn't matter – they make change! What a concept. They are trusted, as well as everyone on the bus, with a big, open tray of money just sitting right there].
It kept getting more and more packed and we ended up standing in the middle, unsure of where we were or when to get off. Luckily I spotted the Valentino and we turned left at it and next thing we knew we were at Mega.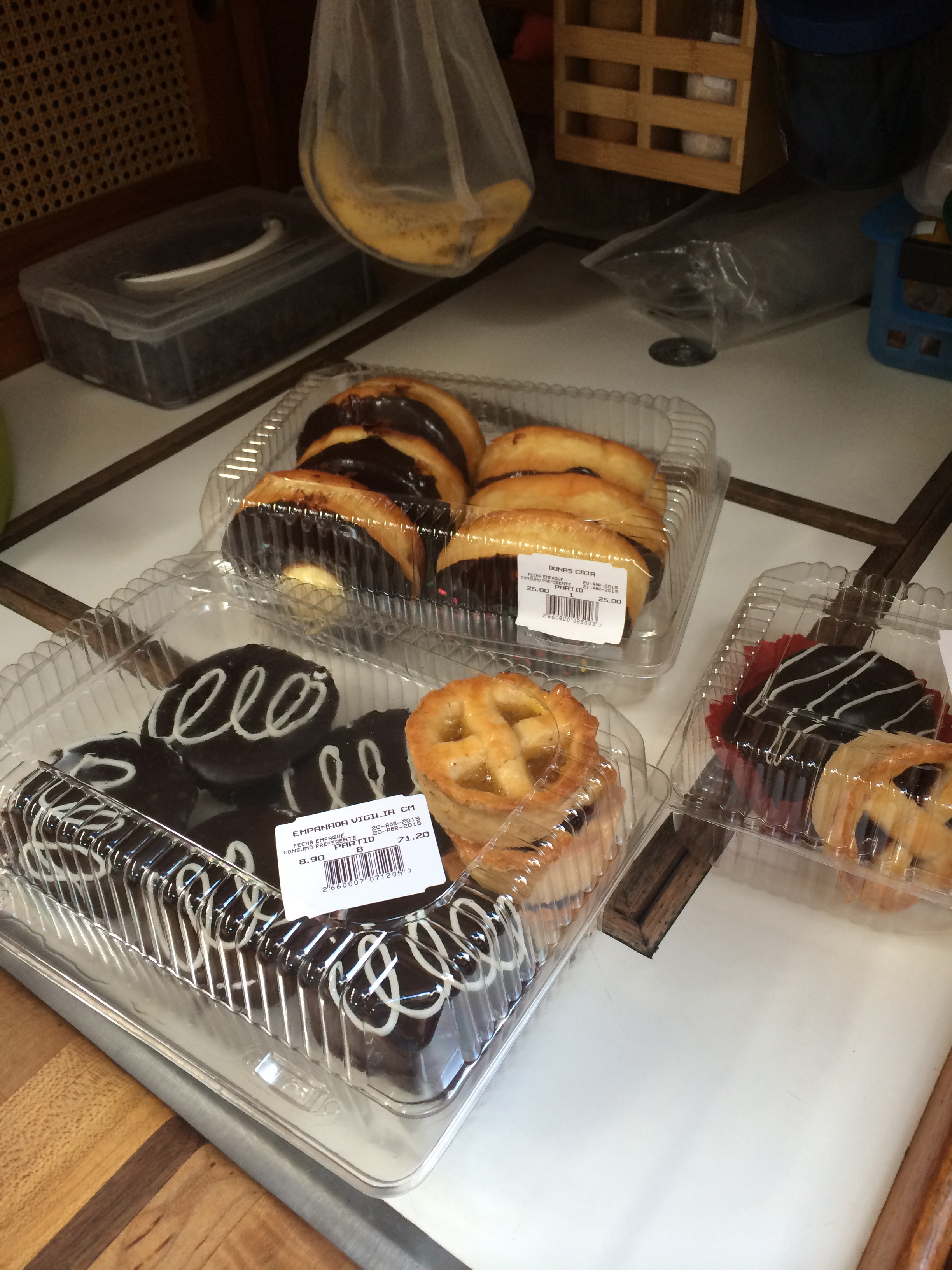 Somehow our basket started filling up, but not too bad! OK maybe we overdid it a little on the pastries (they aren't always as good as they look, but boy are they cheap. Many ended up as offerings to Neptune). When we were almost finished we ran into John from Synergy. He is from Moss Landing and had his boat just up from us for years – but we never actually met him until San Blas. We got to chatting with him. He had hurt his back and was stuck as Isla Isabela for a while, but finally managed to get himself to a marina the same day we came to Mazatlan. His back was still recovering, so he had rented a car to easily get around. He offered to give us a lift back to the marina. What a guy! He was done before us and even waited while we checked out. We were beyond grateful with the door to door service. He is planning to bash back home to his worried wife as soon as his back will oblige – we wished him well and hope to hear news that he made it (Larry and Amber – keep an eye out for him, will you?).
It was a beautiful sunny morning when we said 'adios' to mainland. Palm trees, lush greenery, bountiful fruits and vegetables. I really liked it there and was feeling a little sad about the goodbye. But I knew we'd be back next season, so it wasn't too bad. We made our way out of the narrow channel, past the marinas that cost twice as much as Fonatur and into the open ocean. I was actually really looking forward to not walking for a couple of days. My feet needed a rest from that big, hard city!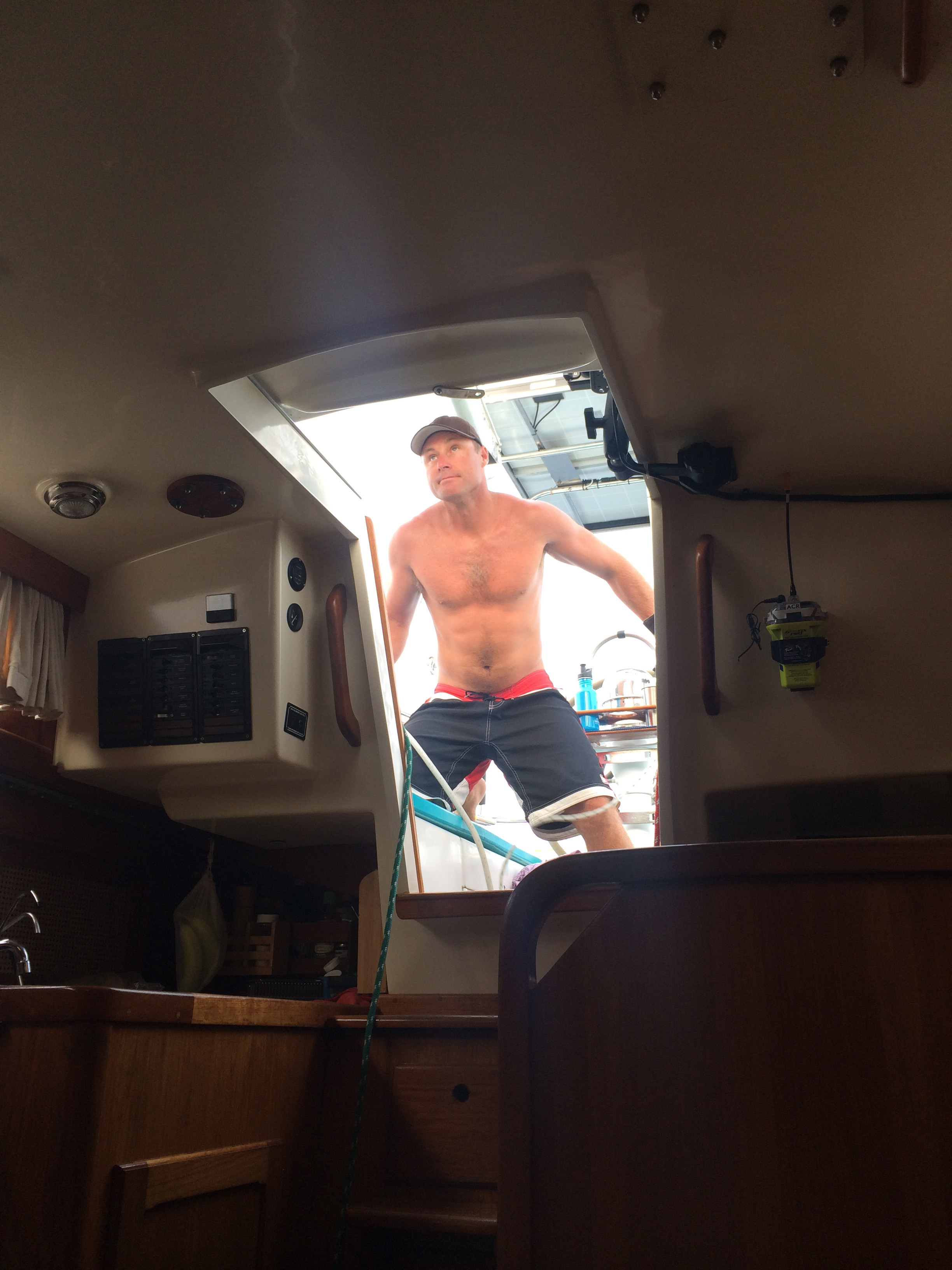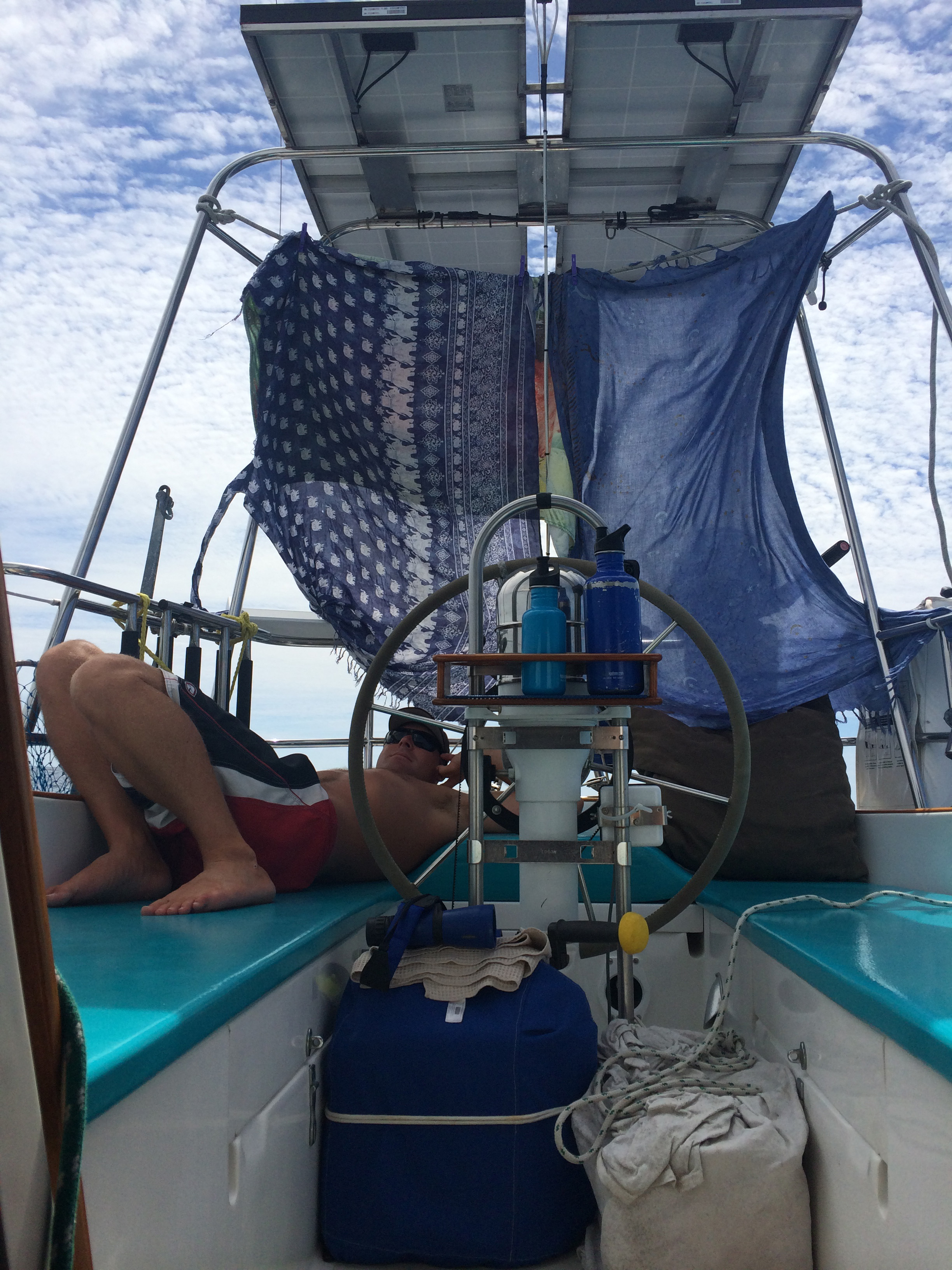 The wind did exactly as it was predicted to do – which was turn Southwest by the evening of our first night. Seas were flat and calm and we had a great passage. It did start to get chillier in the evenings. Unfortunately the first night I was feeling pretty gross – sort of on the verge of seasick-ish. I was bummed not to be able to enjoy the chicken pesto gnocci and the kale blue cheese salad I'd made It was not long after I had to put on sweatpants and a fleece. This was the first time I had to put on long pants since ?? Mag Bay? Our last 2 day passage was warm day and night and I felt just fine. So I've come to the conclusion that seasickness is directly proportional to the amount of clothing I'm wearing. Foul weather gear is guaranteed to make me barf. Sweatpants? I felt just a little gross. After a few hours nap I was fine.
We took turns sleeping in 3-4 hour shifts and had to motor in the night when the wind died.   I plowed through a few books on watch. A good book will really keep me awake. I had to give up on Flaubert – puts me right to sleep. David Sedaris on the other hand, got me through a 12-4am watch like it was nothing (as did the leftover pesto gnocchi I was finally starving for). I think this was our best passage so far – we ate well, we slept well, got some good sailing and motored when we had to.
We arrived at Bahia de los Muertos (Bay of the Dead) as the sun was rising. We chose to anchor in front of the white sand dunes. I immediately noticed the lack of palm trees and the abundance of cactus. Being in Baja is kind of like "coming home" but after all the time on mainland I definitely know what I'm missing now.   The trade off with Baja/Sea of Cortez to Mainland is the water vs. land/food We will enjoy gorgeous, crystal clear waters, abundant fishing and very few people during our summer here, but we will miss out on lush landscapes and vegetable variety. Mainland doesn't have the greatest of waters (from what we've seen so far) but land scenery is spectacular and the abundance of food to buy is great. Given how hot it's going to be all summer, I'm looking forward to being someplace where we will be happy to spend most of every day in the water!
It's windy and grey as I write this from the anchorage. We've spent most of the day napping after a big breakfast of French toast with blueberries, strawberries and pineapple. There are several other boats here. We can see, even in the gloomy weather, that the water here is amazing. Gorgeous green color all the way to the white sand beach. Our anchor chain is visible all the way to the bottom. This blustery north wind was also what was predicted – we arrived just in time and hopefully this will blow out soon and another south will come along to blow us up to La Paz.