Preparing to leave La Paz felt like we were preparing to go to the moon. Not in the sense of learning to live with weightlessness or anything like that, but rather feeling like we were heading off into oblivion of nothingness and we had to bring EVERYTHING we could ever want with us. We kept hearing so much about how there's pretty much NOTHING north of La Paz in terms of food variety and supplies. I know there's Loreto and Santa Rosalia to look forward to for food basics, but we had no idea how long it would take to get there – not because we don't have charts, but there's no way to chart how long we are going to stay in any given place. We've given up trying to predict that sort of thing. So, the best we can do is pack Summer with as much as she'll carry and head off into the wild blue yonder–parts of which actually do look like the moon.
We had to put Summer back in order after her hurricane preparations – putting the windvane back on top of the mast, putting the radar reflector and flag back up, unwrapping the jib, and of course washing the new found dirt repositories we kept discovering.
We did some provisioning while still in the marina. "Running to the store for groceries" is quite a different project when you have no car and much of the day is well over 90 degrees. We were getting pretty used to walking out to the 4 lane road and crossing over to catch the #4 colectivo to most anywhere we needed to go. There isn't really a "one stop shop" – even the big grocery stores vary in what you can get, so it becomes necessary to visit ALL the stores to get the most comprehensive collection of supplies. For example, a huge store with good prices –Chedraui, has most of an entire aisle devoted to mayonnaise, mostly one brand, and then all the apparently less popular brands (none of which are without soy or canola, but that's a different story)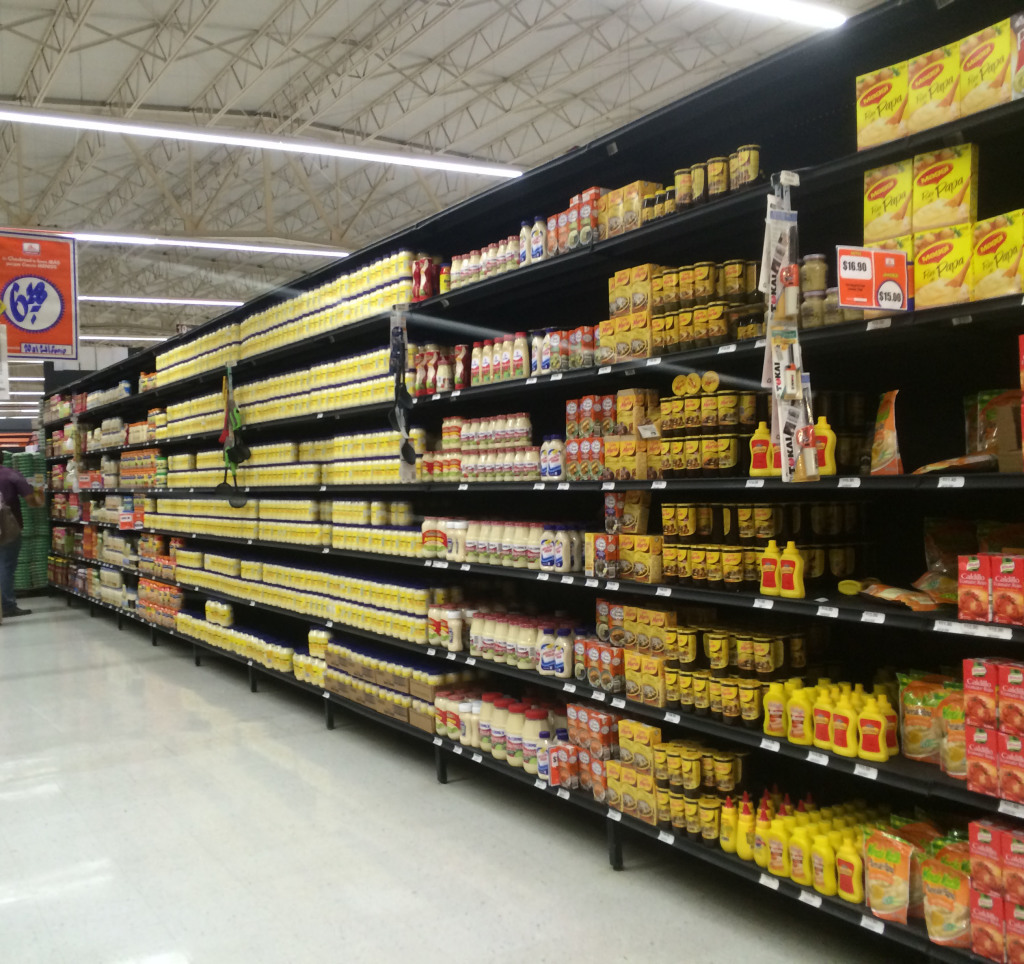 . There are also three separate locations in which you can find mustard in this one store. The very small Aramburo grocery store had an entire aisle devoted to deodorant.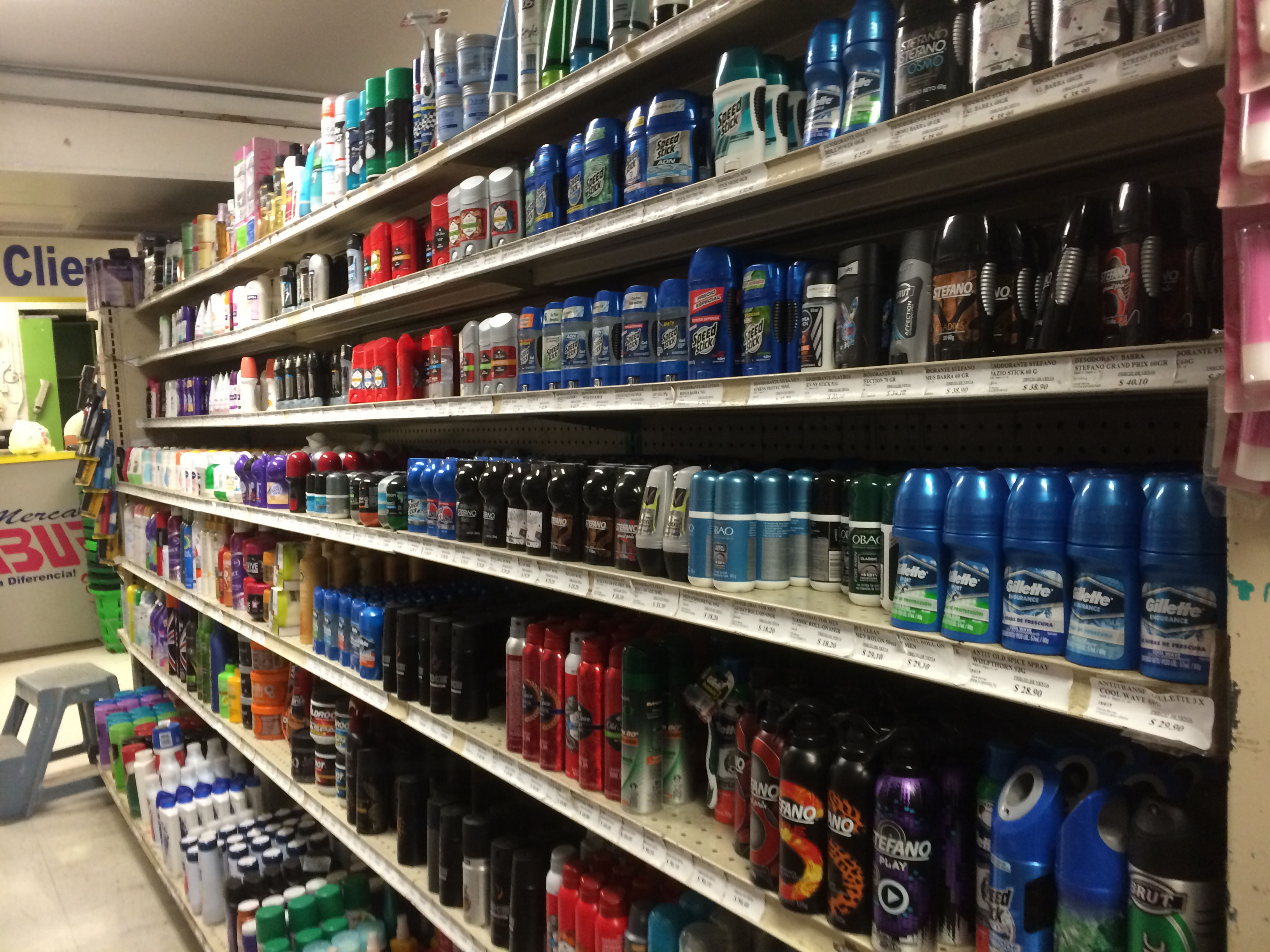 You just never know what you're going to find, but when you find what you want, you best get all there is, because next time it may not be there.
The heat was so extreme during the day that it was difficult to get much done, but we persevered (my slave driver kept me from wandering off to the pool before I accomplished my task list for the day, but I could usually drag the slavedriver to the pool by 5pm when it was the most sweltering). We ended up at the grocery store late in the evening (lugging heavy groceries in the hot daytime sounded like a bad idea). We ran into Nia and Mike from Azul and it was fun to catch up with them and compare cart contents. We also got to talking about our need for a middle shade over the boom of Summer. We have a cockpit shade and a bow shade, but the middle is left exposed. We discovered that shading the boat makes a huge difference in comfort level down below. Azul had a random supply of canvas, and a sewing machine – so we decided to meet up with them when we got out to the anchorage and see what we could do. It's amazing how much time and effort we now spend avoiding the sun, after spending so much time and effort to get to this sunny place in life!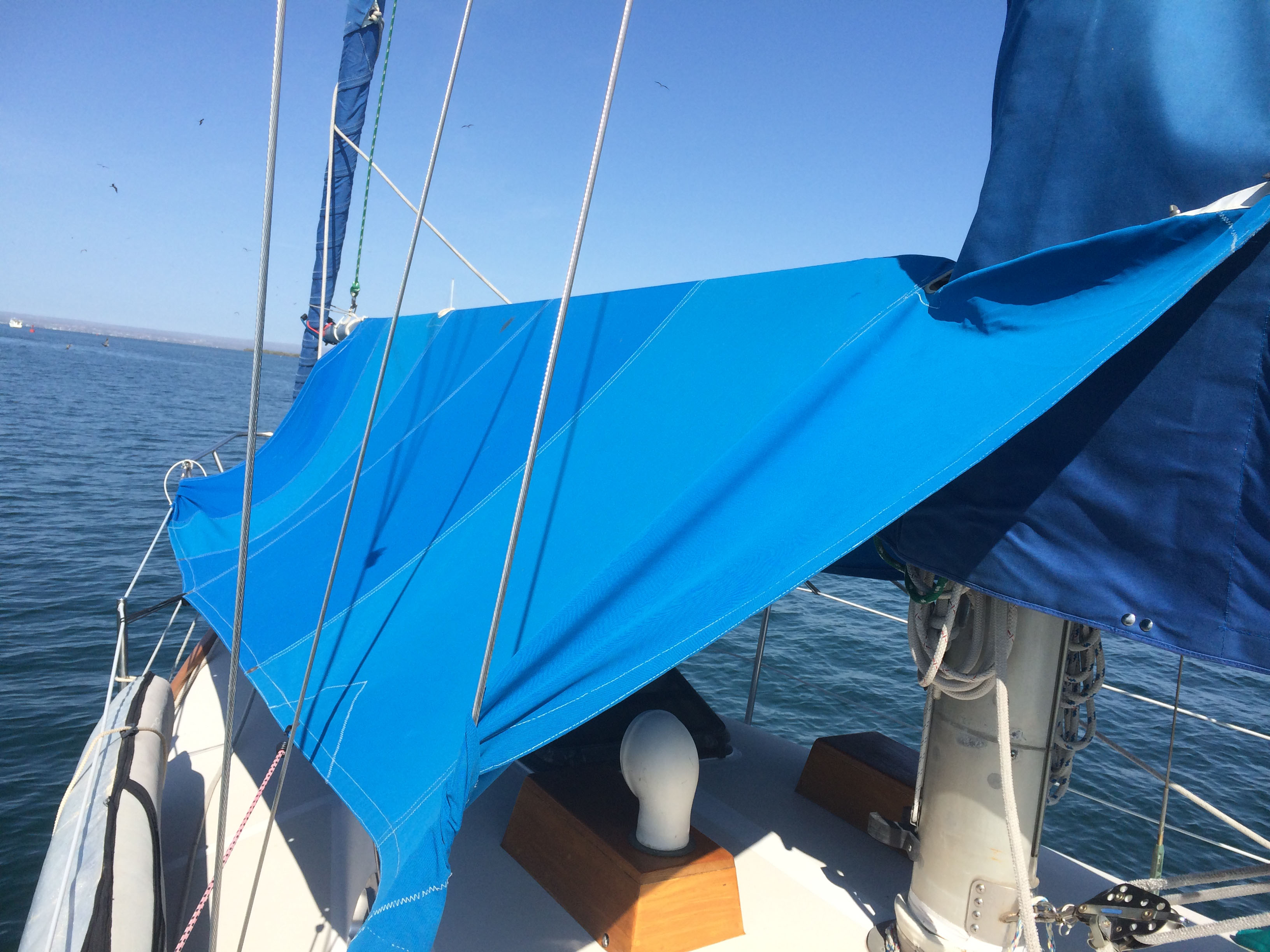 We methodically checked off tasks from our "Get out of La Paz" list. I got Peugeot inflated and ready to use. Jonny brought our propane tank on the bus out to Marina de La Paz for the fill service, stocked up on boat and fishing supplies, found places to stow every new load of provisions and we finally paid our marina water and electricity bill and threw off the dock lines to escape land life. Our neighbor Ted was there to cast off our bowline and wave goodbye. Ted was a good pal at the marina, afternoon pool buddy and saved my butt at least once when Jonny was away (and the bilge pump wouldn't shut off…). Hopefully we'll see him out there aboard Forté one of these days.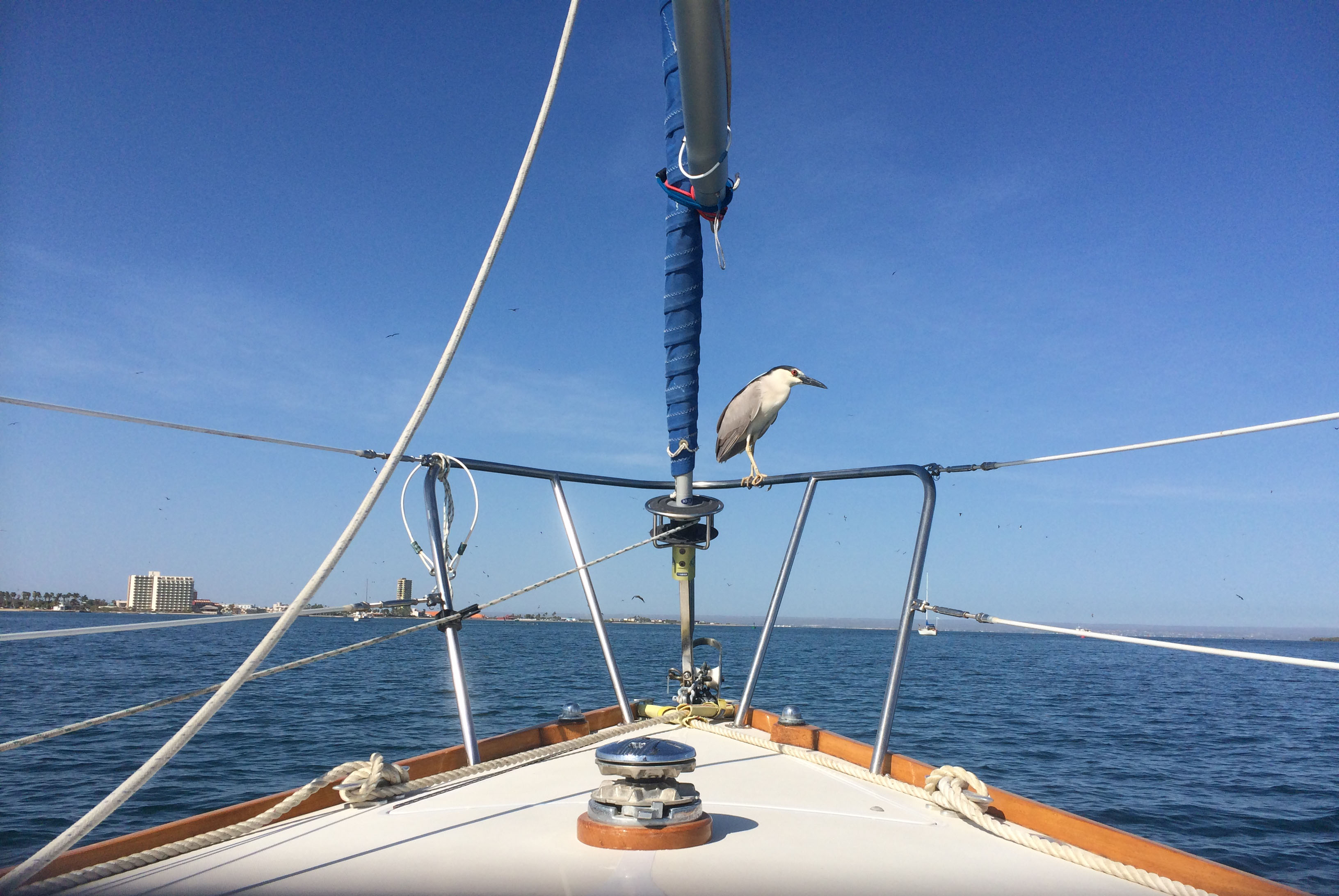 Once we made the short trip and anchored out near the Magote, we breathed half a sigh of relief. So nice to be out on the water again!! But all the discomforts of land were still just a dinghy ride away. We did a LOT of walking with heavy packs on hard pavement. My dogs were barking! I developed painful plantar faciitis just in time to leave the city.
We had one last "Twofer" pizza night, I couldn't even eat a whole pie and I wasn't in the mood for a beer. We took our leftovers and hiked up the for a late night shopping trip to the Aramburo – another supermarket that is small but has a great selection of things you can't find anywhere else (like real butter that has nothing but butter in it, parchment paper, snapware containers, a large selection of ground coffee, etc).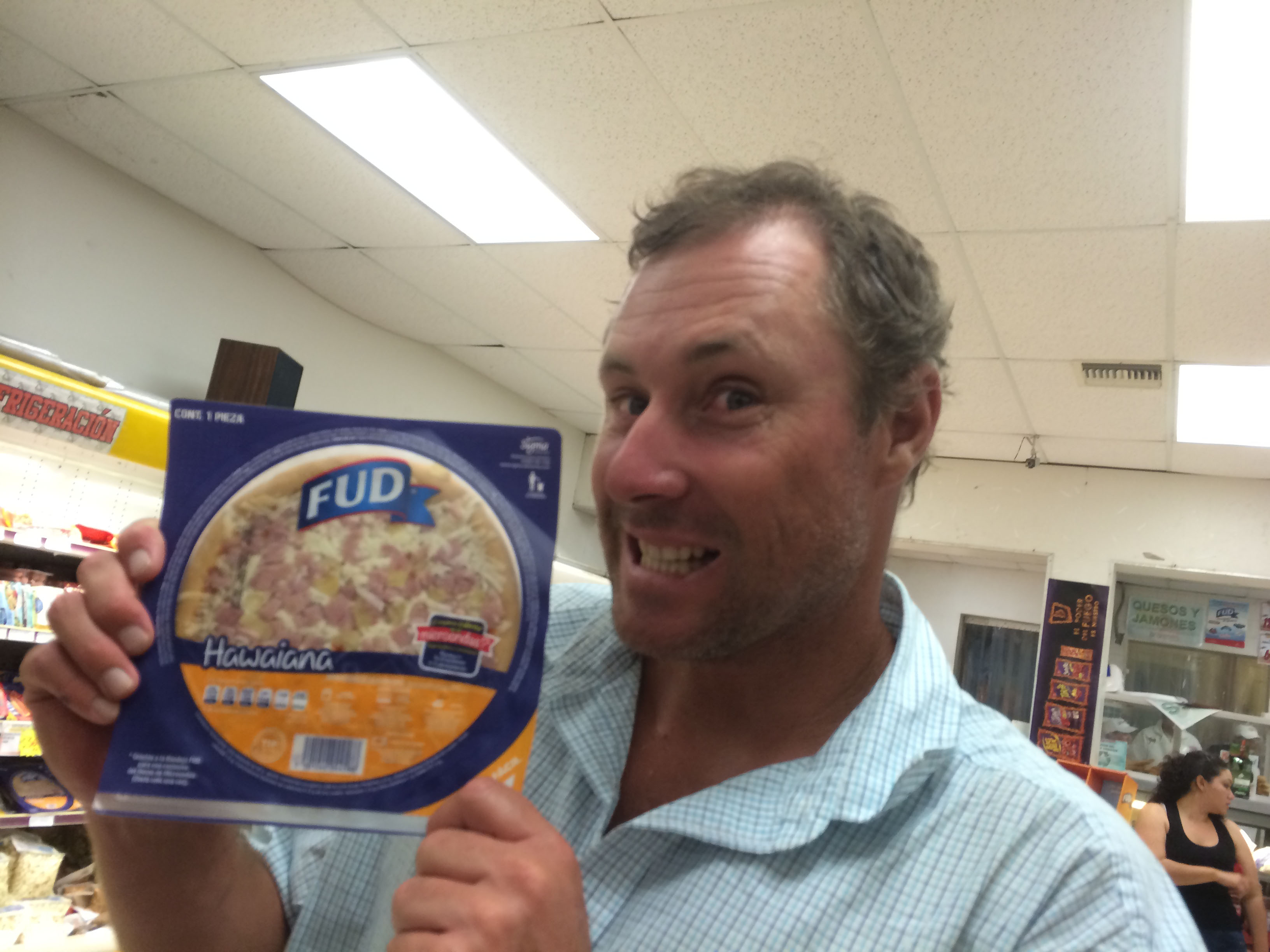 Luckily we didn't have to hoof it all over the city scoping out canvas shade options. The canvas pieces Nia and Mike had were not quite the sizes we needed, but Nia offered to sew it up to exactly what we wanted. We were so happy to be able to give them some business and have it happen all right there in the anchorage. Nia did an amazing job in no time flat and brought us our new shade canvas the night before we were ready to head out. All we needed to do was put some grommets in it with our special grommet tool and it's ready to go. We are hoping to catch up with those guys again up in the Sea – and be able to hang out when we aren't in "Get Stuff Done" mode – they are really fun people who have been making the cruising life work for the past four years.
On our last run to the central market – the one where they have stalls for every category of food – I was at the butcher trying to get a few steaks and ground beef. I never know what cuts of meat are what and my Spanish isn't good enough yet to find out, so I just try to get them to cut me something from a chunk that looks fresh and tasty. As I was awkwardly negotiating, a woman behind me says "You don't want that, it'll be too tough" and she starts speaking to the butcher in perfect Spanish. She gets him to make a few cuts to the center of a huge piece of cow and then I say how thick I want the steaks.   Turns out the woman is Italian, is a master chef and ran a restaurant in La Paz for eighteen years. Simply meeting a master chef was very exciting for me – but then it got even better! She no longer has her restaurant, but she does have a kitchen and makes her own Italian sausages and often makes meals for cruisers. AND her kitchen was just a couple blocks away and she'd was happy to take us there and sell us some of her sausages!! Anything else we might have needed could wait till our last Mega trip. I was on my way to get some real Italian sausages, made by a real Italian master chef. I felt like the luckiest person on earth! Silvia is just wonderful – I wish I could have spent a day (or more) talking with her. She speaks perfect English, Italian, Spanish and I think French and maybe some other languages. She also had sailed on a 24 foot sailboat and even wrote an cookbook for cooking on a small boat. It's in Italian, but maybe my Mom can get her Italian class to translate for me? (here's her blog, but it's all in Spanish – I really need to get fluent! http://silvia-bernardini.blogspot.mx/ ). We got a few packs of sausage from her freezer and went away with a promise to reconnect when we pass through La Paz again. Why couldn't I have met her two weeks earlier? Probably for the best or I might have spent too much of our cruising kitty on guided food shopping expeditions with Silvia.
We were finally ready beyond ready to head up into the Sea of Cortez. We were later than we wanted and therefore felt the need to hurry up to the North to avoid getting caught in hurricanes. At the time there was nothing even brewing in the hurricane pot, so we felt like we could make a few stops along the way and not have very long passage days (and no overnights).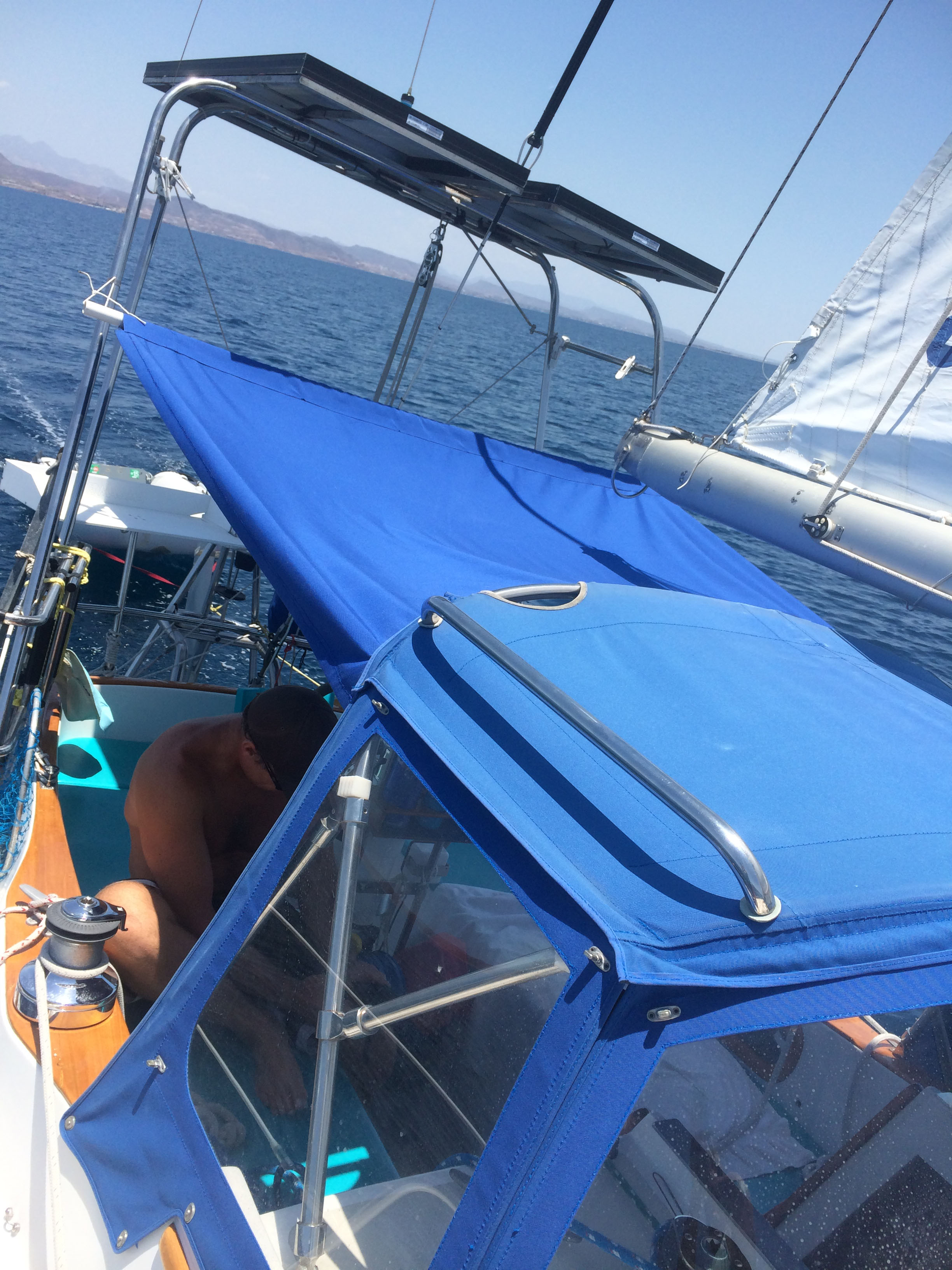 Our first stop was Caleta Partida – the spot between Isla Espiritu Santo and Isla Partida. There are so many anchorages in this area but we had to just pick one, otherwise a month would go by before we knew it. The water was gorgeous and the surrounding islands were par for the course – desert-y moonscapes with cactus. It was nice but felt a little "meh". But we were glad to be at anchor far from 'stuff' and we had a nice evening swimming and eating dinner. The next morning we set off in the dinghy to traverse the narrow, shallow waterway between the islands and see if we could find ourselves some sea caves to explore.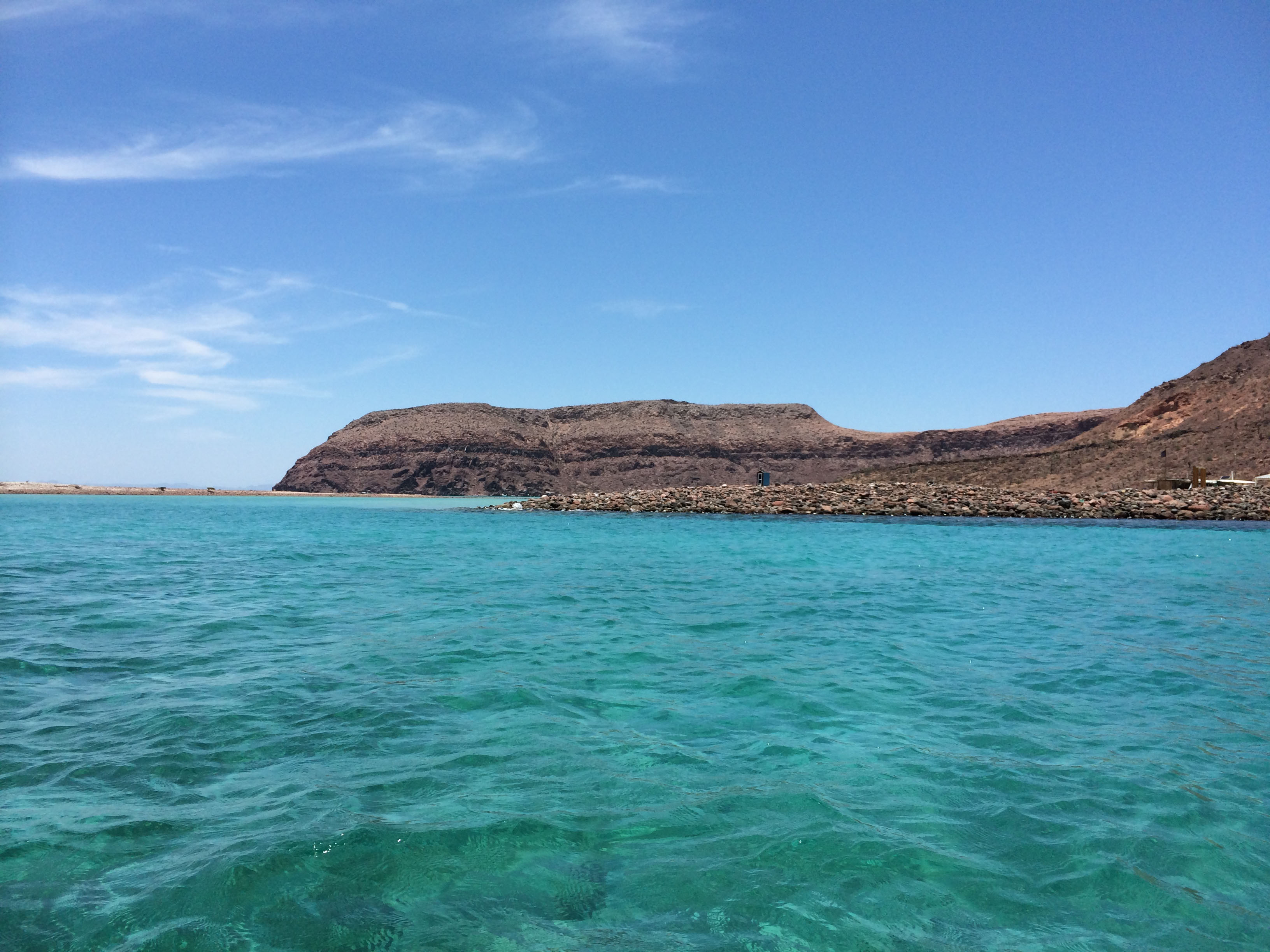 The geologic wonders were awesome and oh did we find caves! All of it gorgeous and breathtaking. The best part was when we anchored the dinghy and set off to snorkel in and around and through some caves. I was a little scared at first, swimming the tight channel between 2 cave walls into what I knew not. Jonny chose to swim in through another opening and we met in the middle of the cave. The underwater views were amazing – looking out through cave openings into the clear turquoise waters. And the fish and coral! Much of the same we've seen all over, but it never gets old.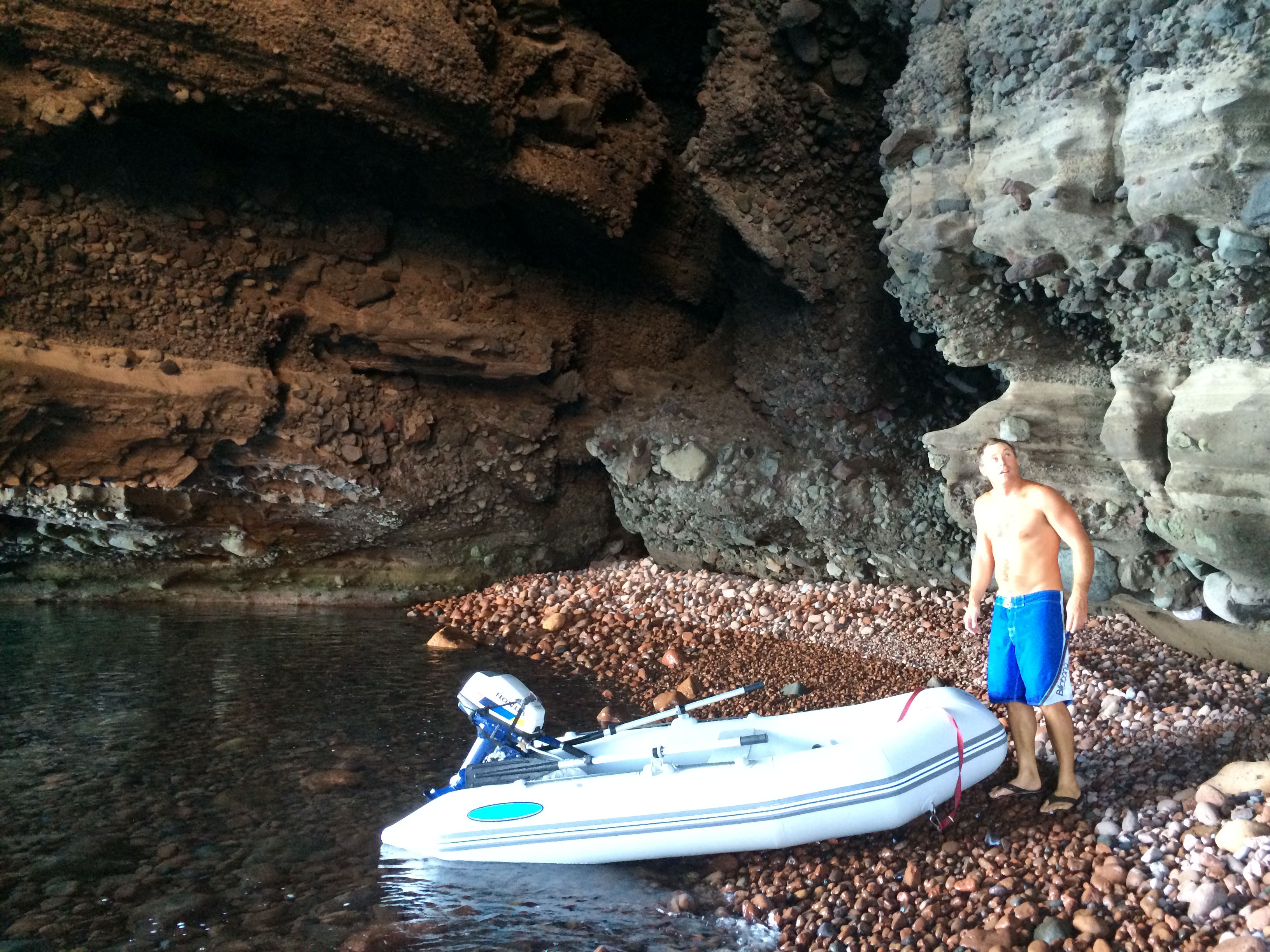 We spent the afternoon back at Summer and exploring the nearby beach where we anchored. It was kind of gross, the water was full of plant growth parts floating here and there and the beach was not all that picturesque. But the wildlife was the draw there. I saw this bird take off as we landed, and soon after I spotted a large rabbit scampering away. I wandered through the desert wilderness and spotted a chipmunk, all kinds of lizards and after diligently searching, I finally spotted another rabbit – and even got some video proof.
That night I cooked up some of Silvia's sausages with some of my homemade spaghetti sauce (my Italian grandma's recipe) – it was delicious! I was transported to Italy for sure – it really tasted like something you'd get at one of those amazing hole in the wall restaurants in Rome. Very glad we have 2 more meals worth of these babies packed up against our freezer plate.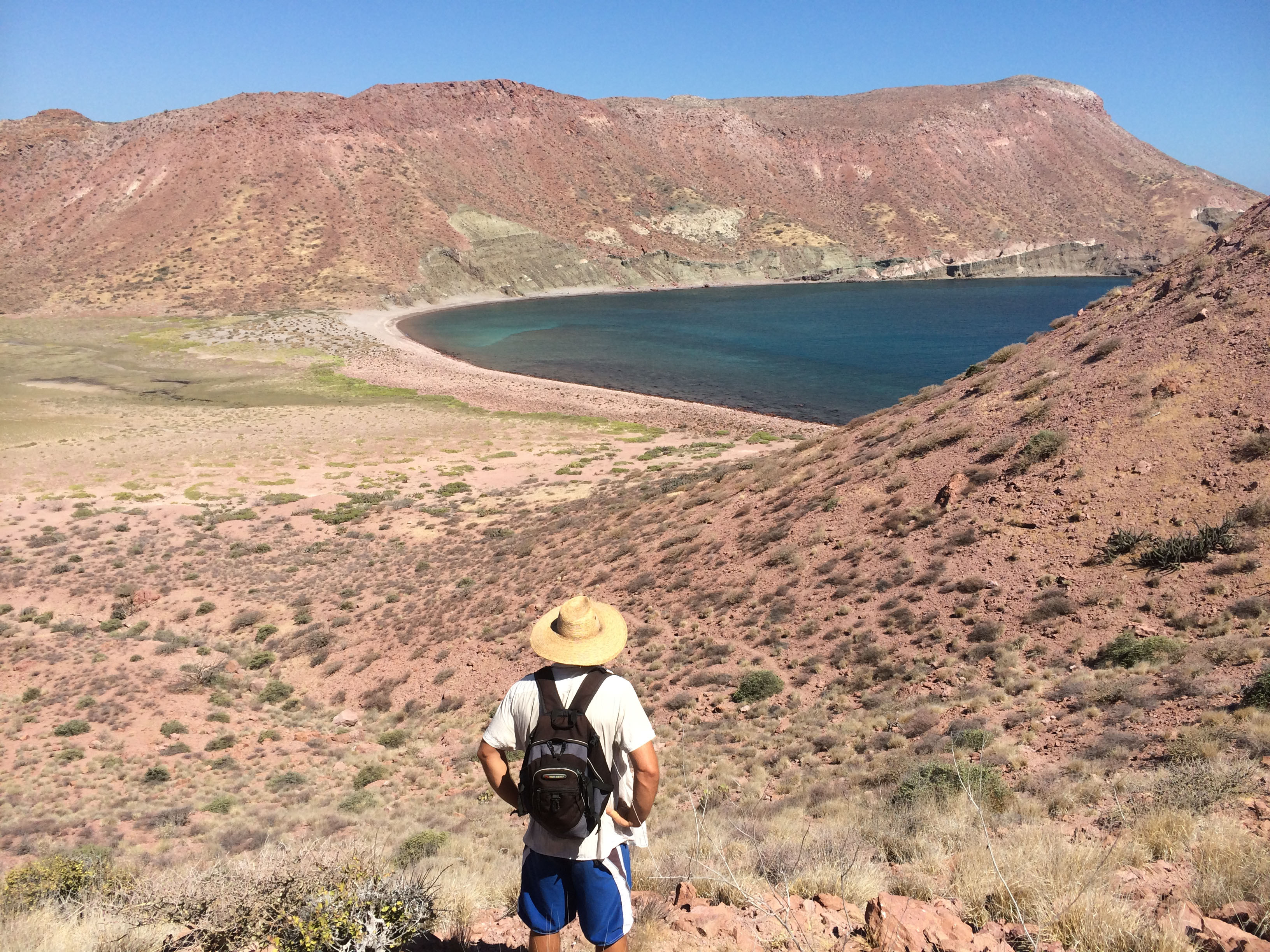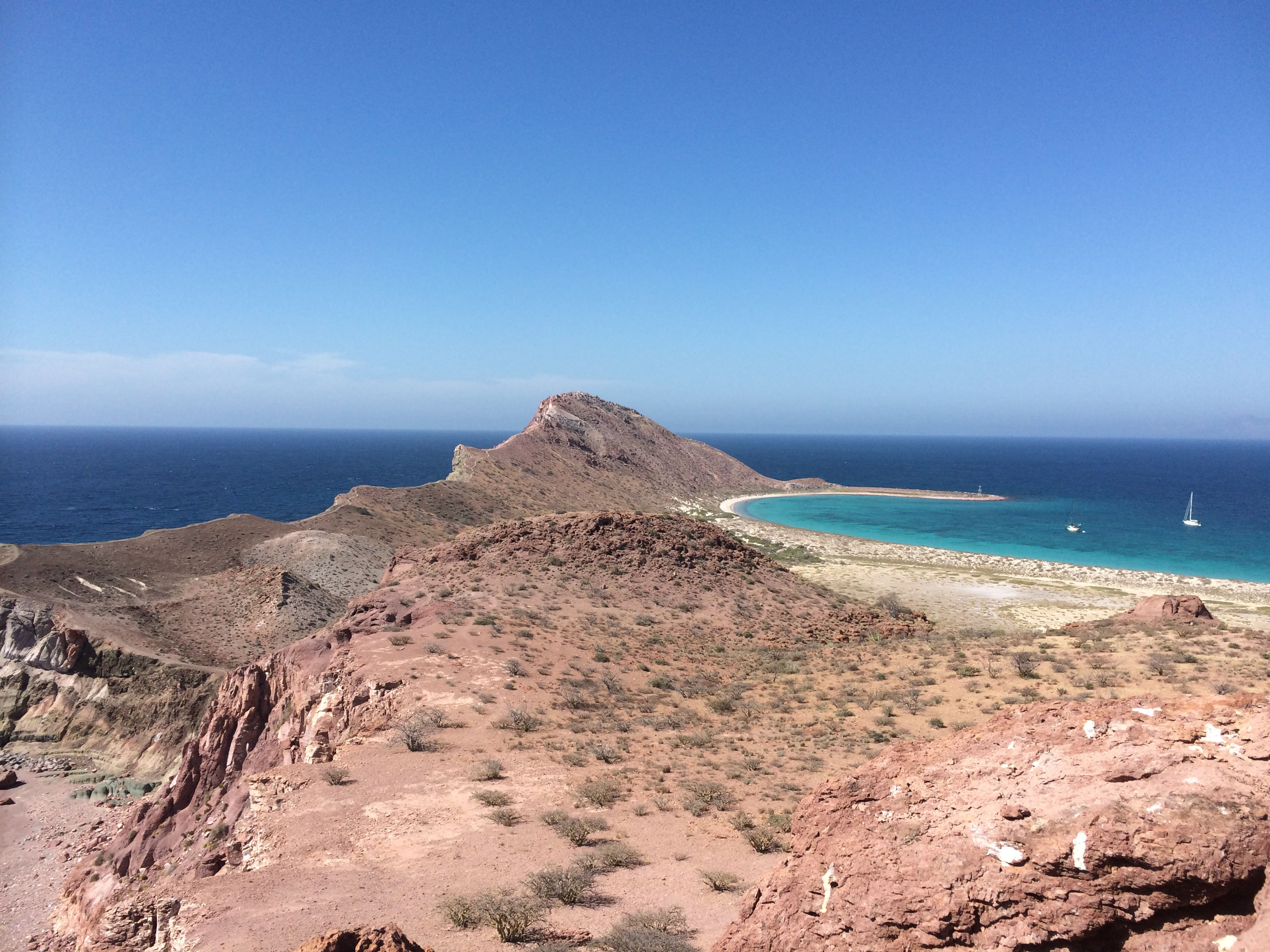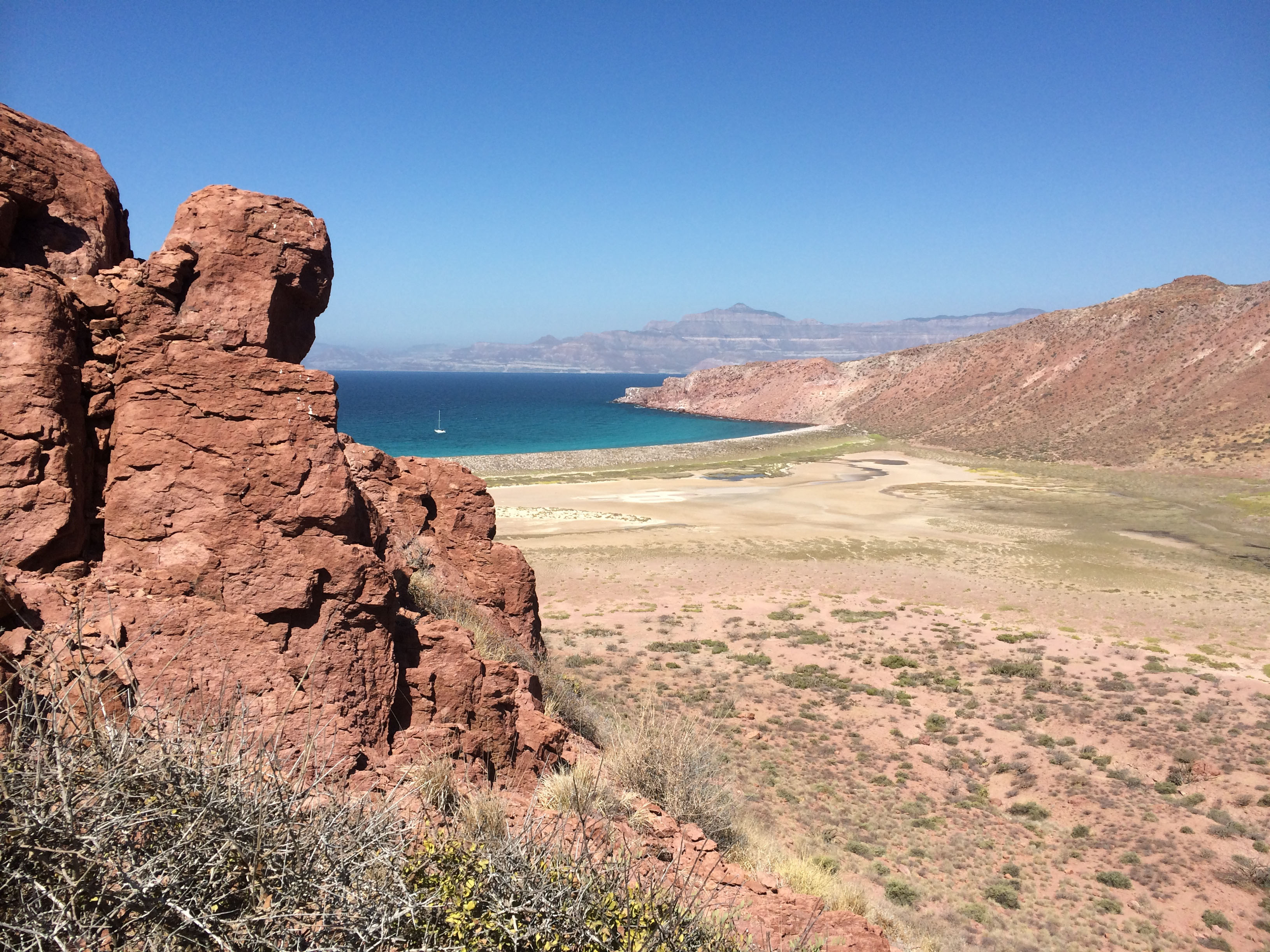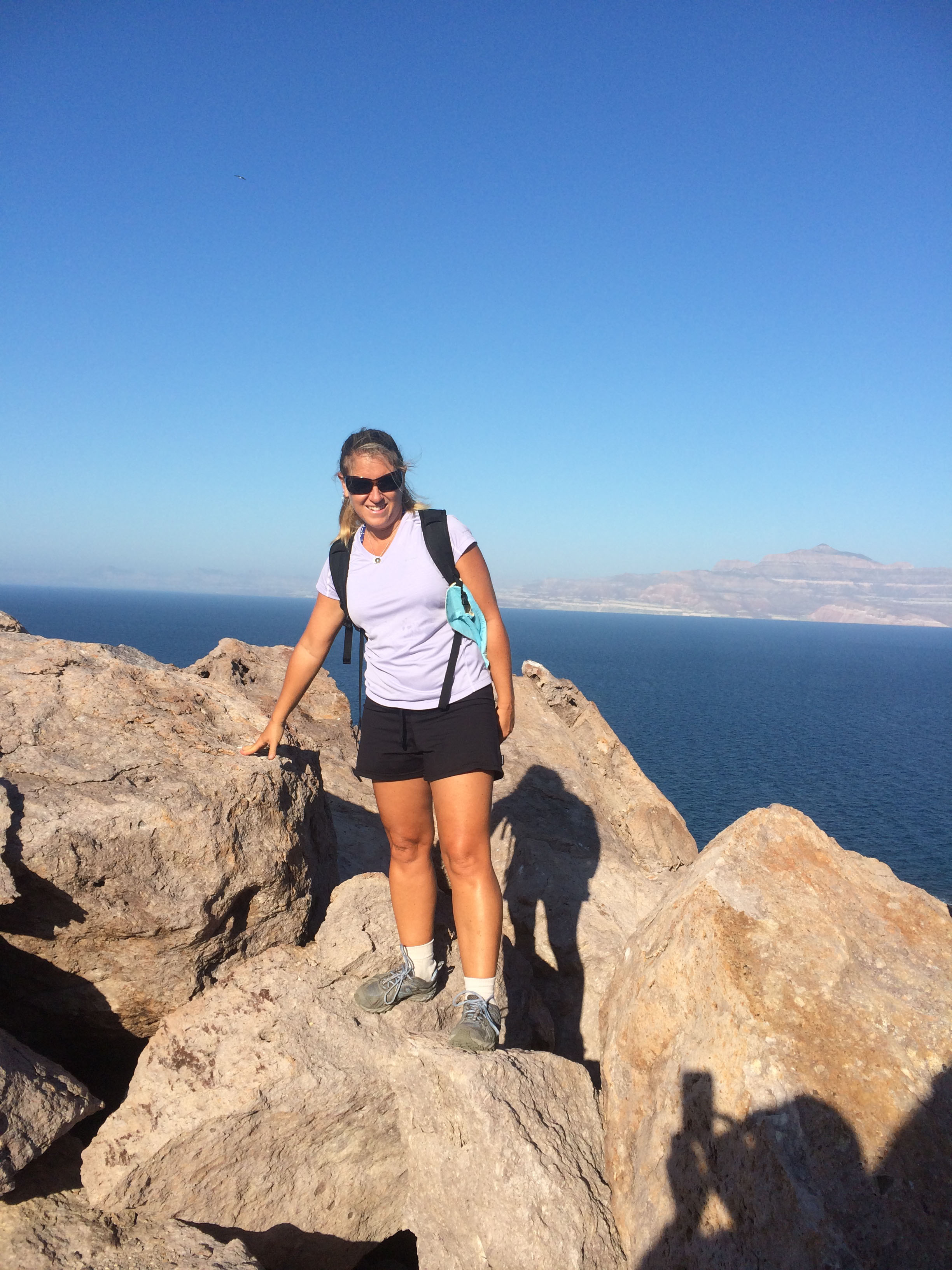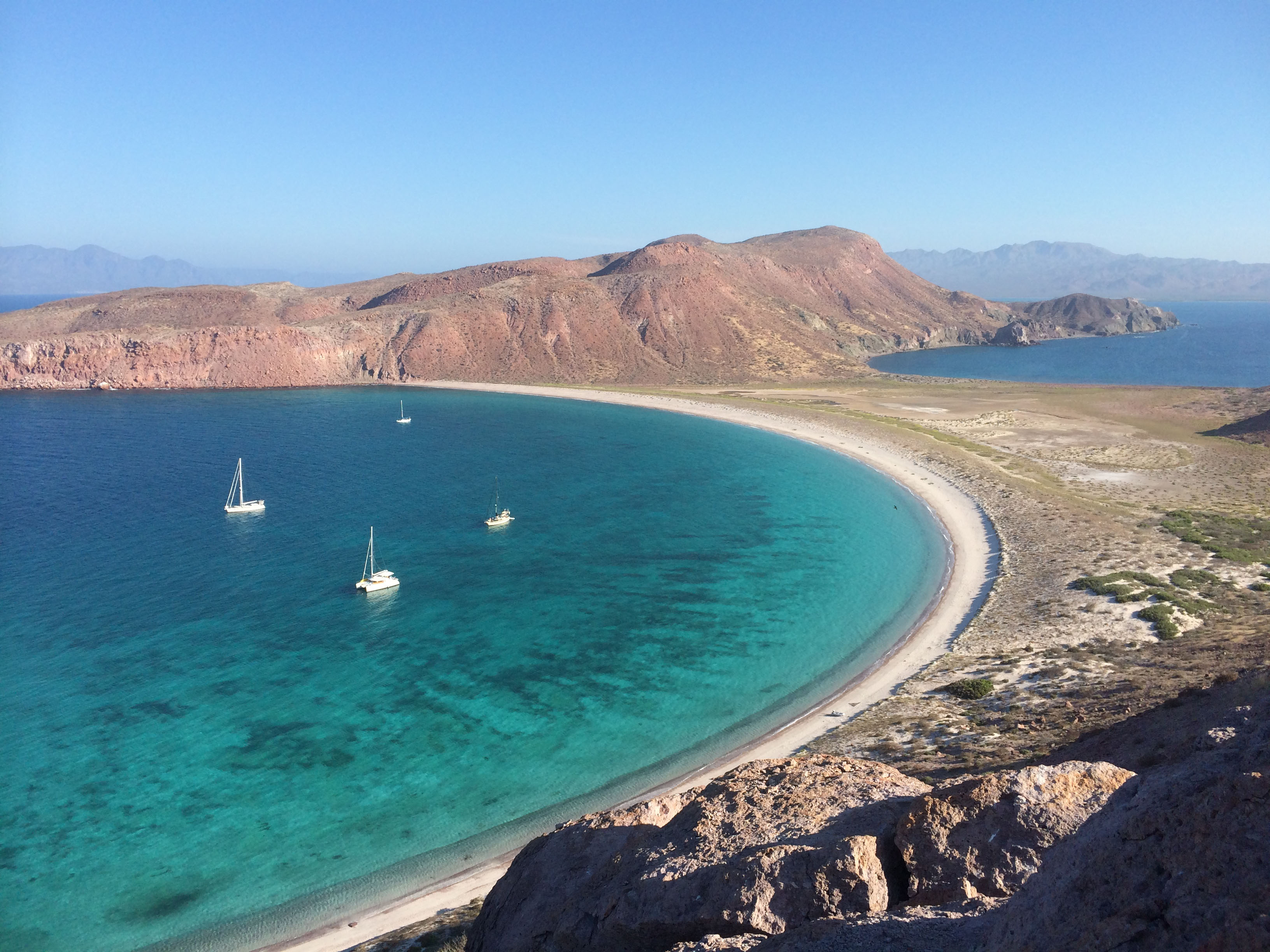 The next morning we headed out for our next destination – Isla San Francisco. Supposedly gorgeous and so picturesque that it's photo graces the cover of our main guidebook.   We had some wind and then not so much. We motored past these 2 small islands which are a breeding ground for sea lions. Tourists come out from La Paz on boat trips to see and swim with the sea lions. Seemed like a very strange concept to us – given that sea lions were more of a scourge and often aggressive on the docks in Moss Landing. But there were baby ones, very cute and all making the signature sea lion barking noises. It was hard not to hear the barking and not feel a little bit annoyed, as was the old habit. The islands were really unique looking and we ended up doing a lap around to check them all out. Then we were on our way again for a rather slow sail out to Isla San Francisco. We picked a spot to anchor well behind the other boats there – then 2 left which put us really far away from the remaining boats. That's kind of how we roll, I guess. We had a bit of a rolly night and decided there would not be another. Perhaps we'd anchor on the north side of the island or move on? At any rate we saw hiking trails and the potential for the guide book cover shot views. We landed on the beach before 8:30 am when there was shade. We made our way along the beach to the trail head and up along the ridge. Very rocky and much loose shale, but it wasn't long before we had some lovely views. As often happens to us, we decided to "just go up to that next peak". It was mostly a moderate hike, except for the part at the tippy top where I found myself belly down on top of a boulder that dropped off into oblivion on either side, inching my way across in hopes of finding a way to get to more trail on the other side. Luckily I didn't panic and freeze up as occasionally will happen in elevated situations.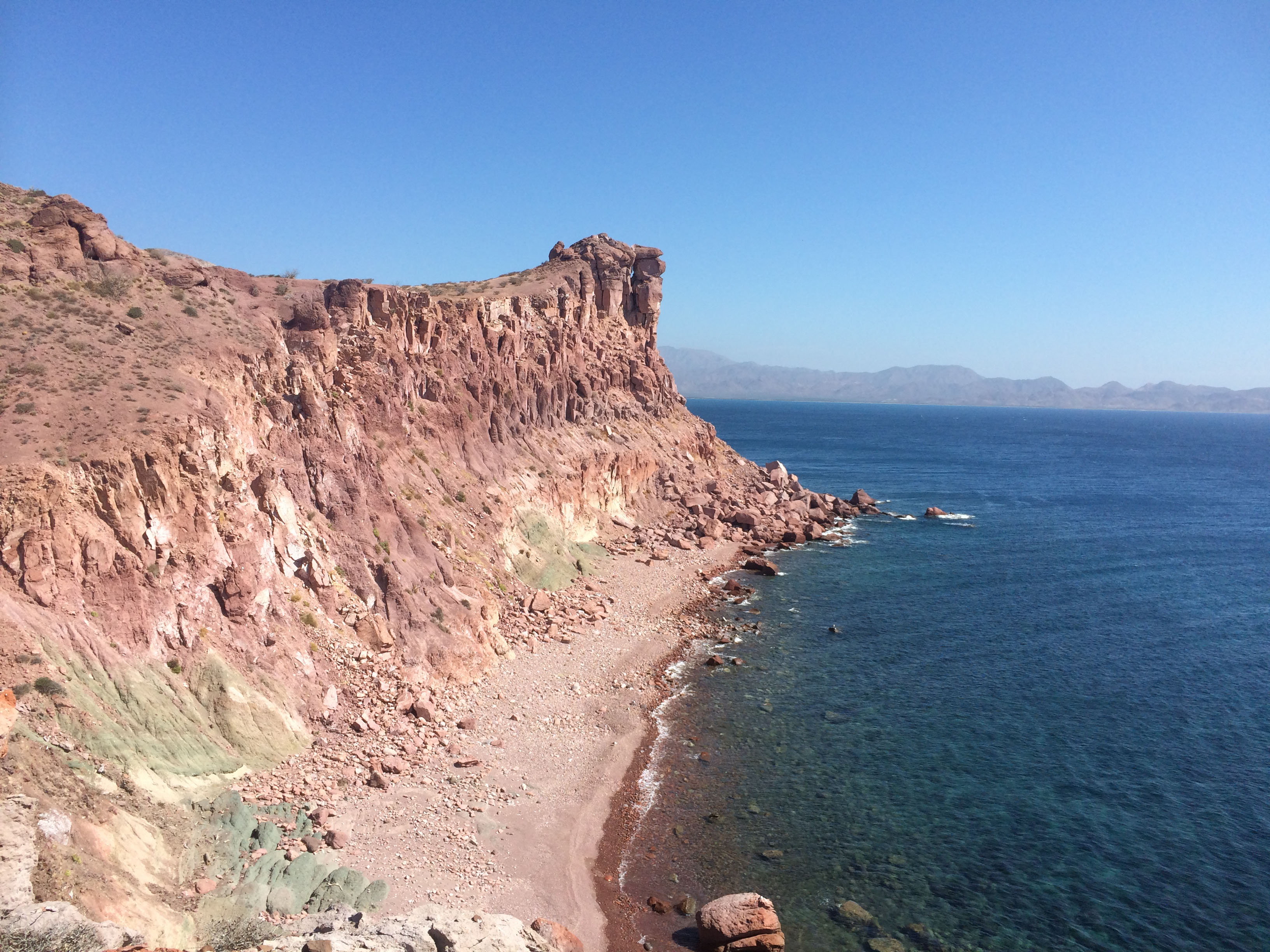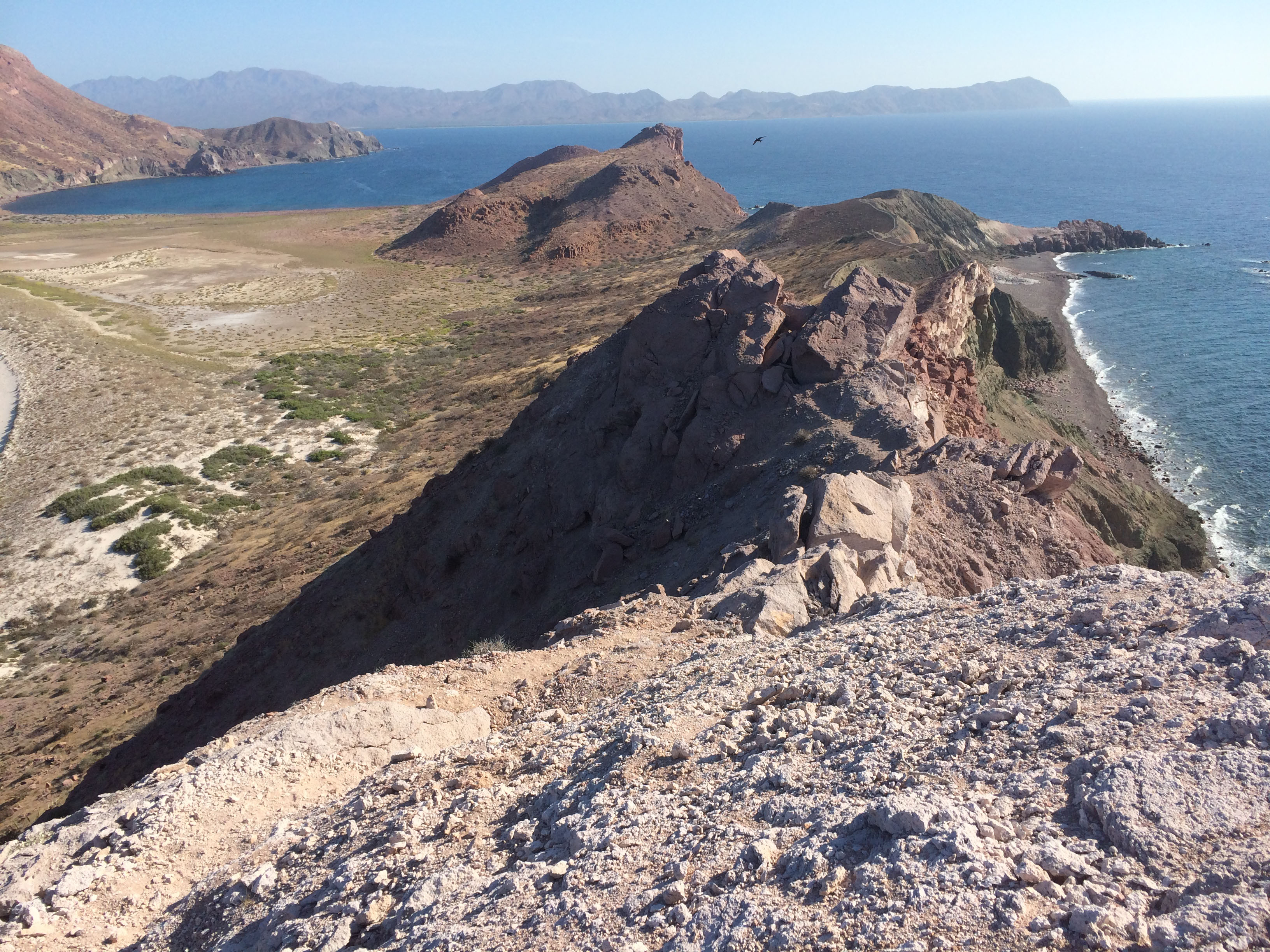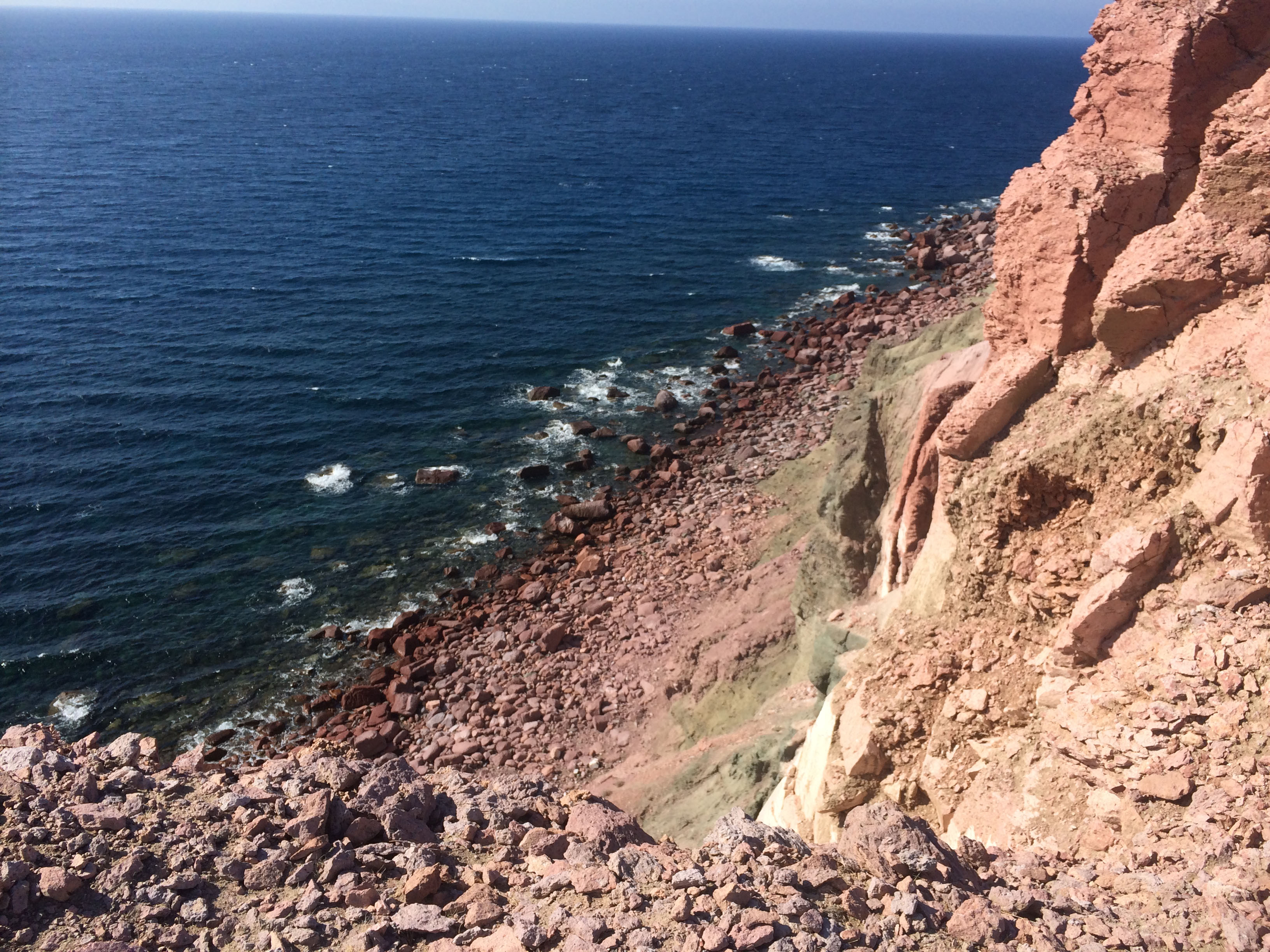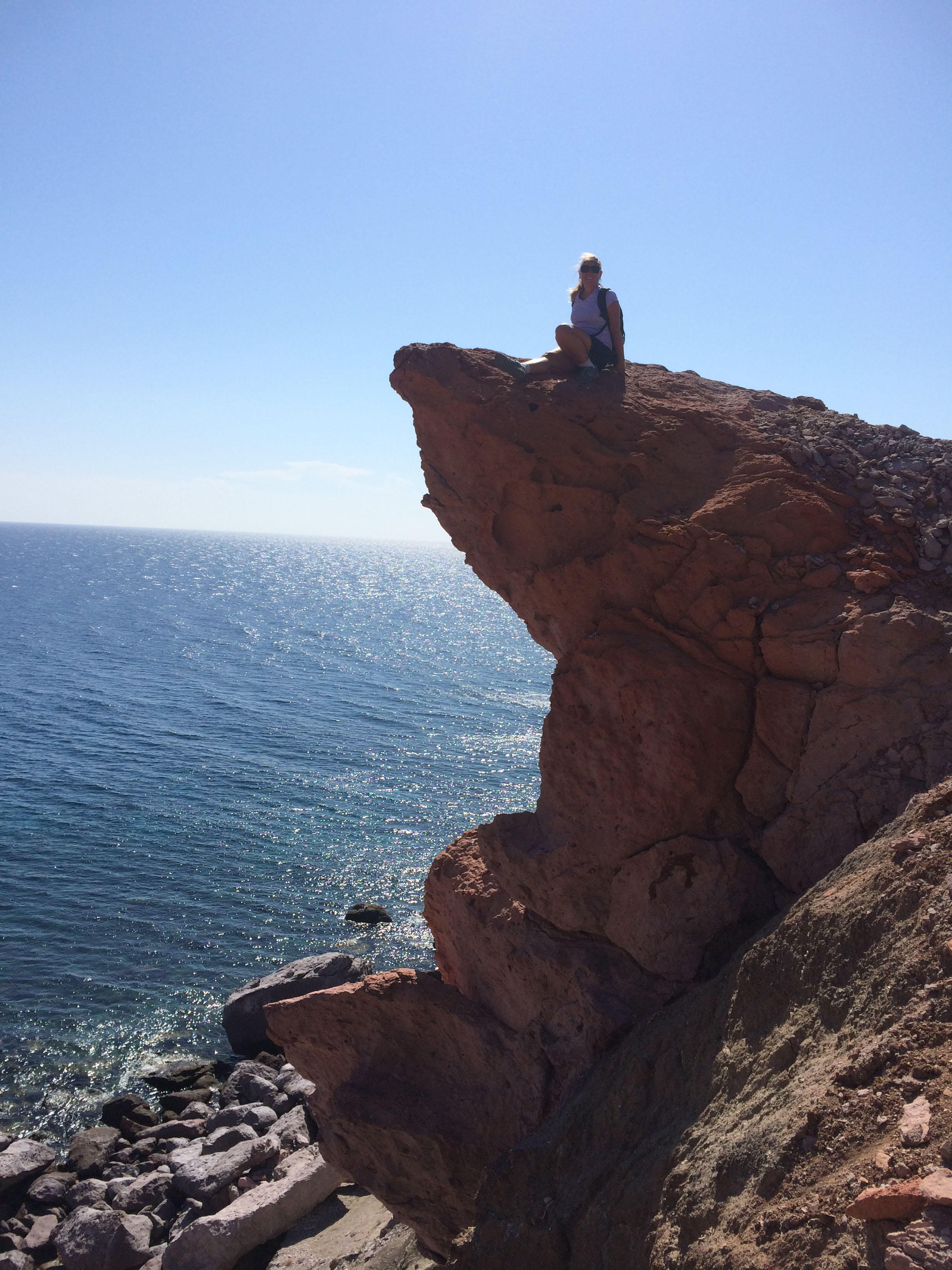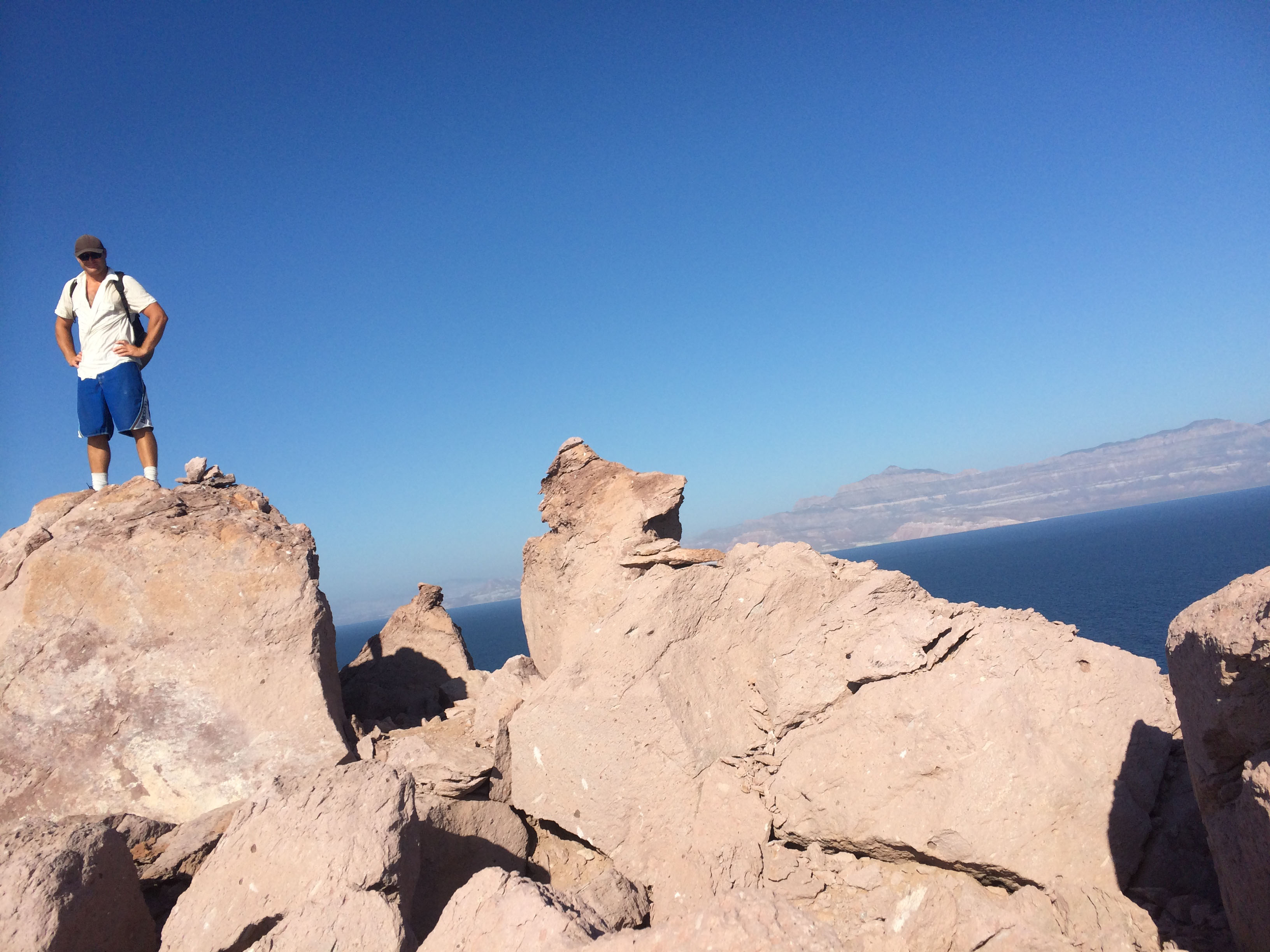 We just kept going and going and going some more. We finally had crossed the entire ridgeline of the Southern portion of the island. We saw the north anchorage and the rocky beach that was supposedly filled with agates. I wasn't entire sure what an agate looked like, but I found 2 rocks that I suspected might be (and turns out I was right). Not many of them there, but piqued my interest in agate-hunting. From that beach we hiked across the flat middle portion of the island where salt ponds lay evaporating their liquid in pinky crystalline pools.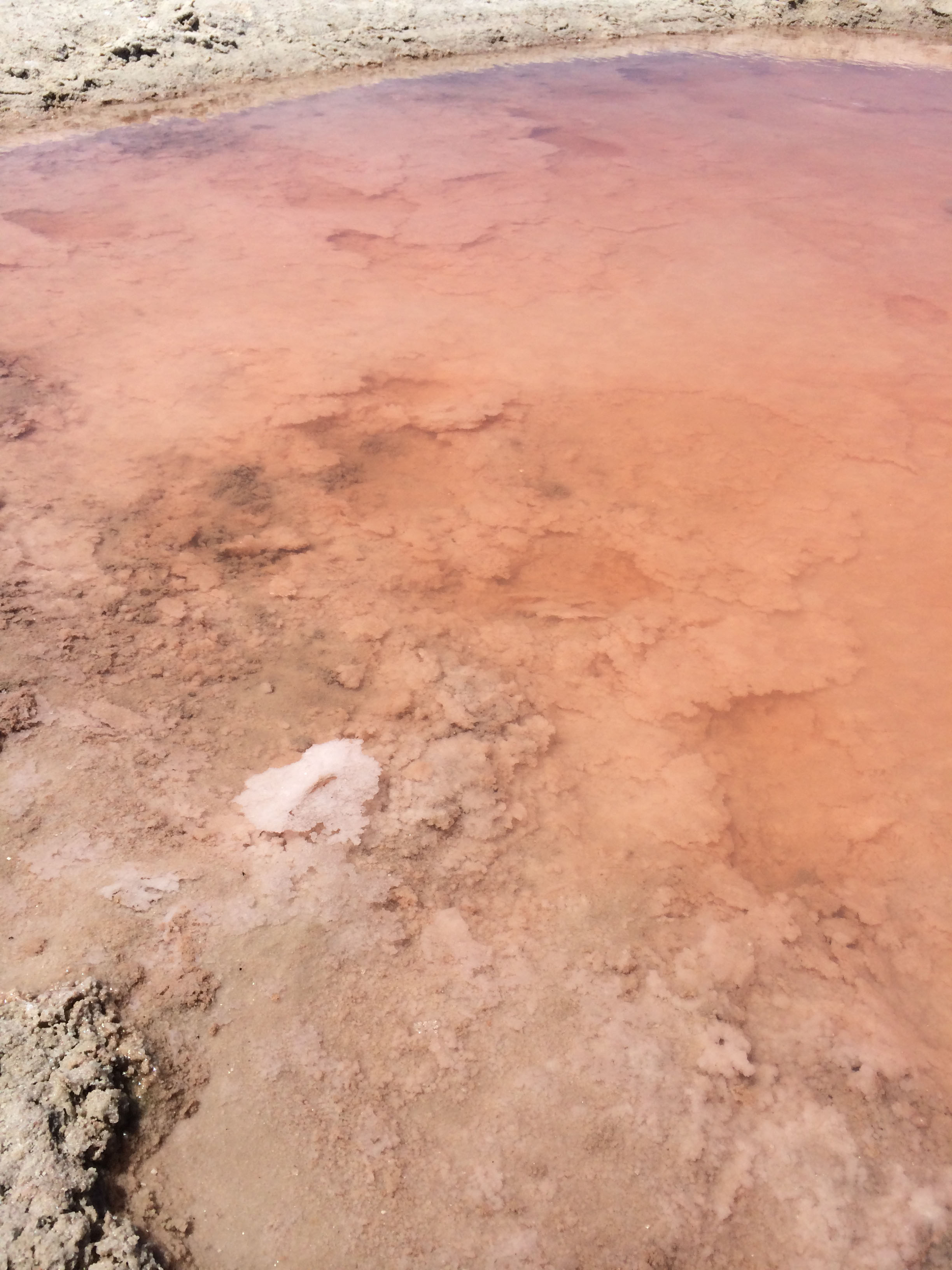 The salt flats were sticky and soft and we kept waiting to sink up to our necks. But instead I found myself getting taller and taller as I walked along. The sticky sand was building up on the bottom of my sneakers! We stopped for a shoe cleaning break on the white sand beach facing Summer. Then we hoofed it back and decided to get the heck out of there – after watching Summer's mast swaying steadily back and forth. Too rolly to even have a chill afternoon after all that hiking. We decided to head to San Evaristo, just 8 miles away. It's a small fishing village with an anchorage, and possibly a tienda (more avocados??). It's also where our friend Rob passed away last month and we thought it would be nice to pay our respects.
We had a decent sail and it was even a bit blustery (if a windy 95 degrees can be called blustery?) as we entered the anchorage. It was a cute little spot, but given the wind direction and anchoring options, we decided to leave the main village and head around the north side for a possibly more peaceful spot. We got it. The northern anchorage was calm, private and had dramatic views of the steep, jagged and very green mounts of the Sierra Gigante mountain range. There was a rocky beach (the smooth, round kind of rocks) and some caves under the cliff point. We happily anchored here and had a nice swim and enjoyed the views. The next day we went ashore to check out the beach and give Jonny a hair cut. We found the last little patch of shade with a good rock for sitting and I masterfully created a new and very short 'do for the captain. Some of my best work yet.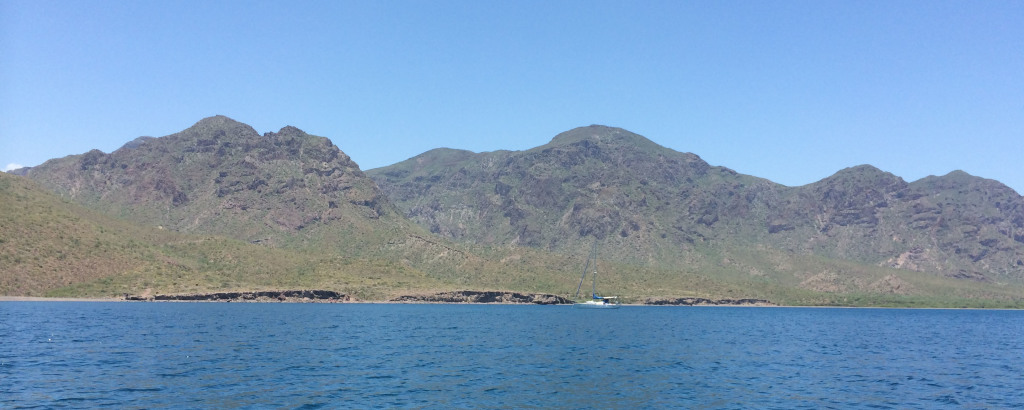 Just on the other side of the beach, past a rickety cemetery, was a huge salt farm. Large pools in various states of evaporation and pyramids of salt filled this area between the beach and a homestead oasis. There was also a road that led back to the village. We snorkeled the point and sat on the smooth rocks in the shallow, cool water. This beach was also crawling with agates! You could hardly turn around without tripping over them. I was in geologic heaven. Living in such a small space, I obviously cannot collect beach finds as I once used to, so, uh, I may or may not have a bag of agates hoarded away somewhere. Later in the afternoon we did the hike into town. We checked it out, not much but some simple homes of fishermen and their families. There was a restaurant at the farthest end of the beach, but we didn't go that far. We searched for the little market but didn't find that either. It would have been nice to get a few fresh veg items, but we were still fine without. We had a hot, sweaty hike back over the pass and threw ourselves down in the lovely smooth stone bottom waters for a bit. I may or may not have pocketed more agates when the captain wasn't looking.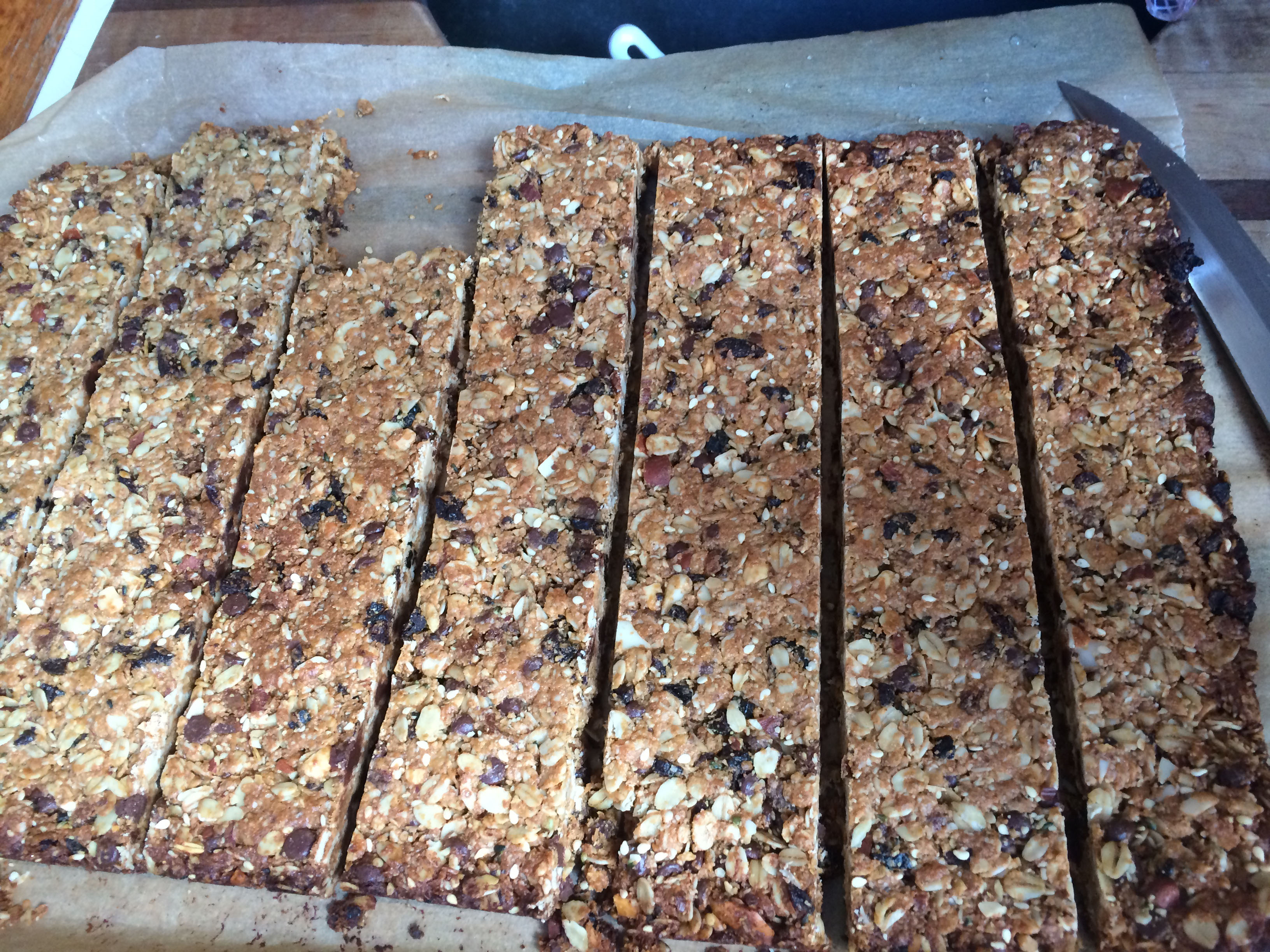 We had our last up close look at the dramatic Gigantes and cast off the next morning. We were headed for Puerto Los Gatos – a place that sounded just amazing with rock formations and very remote. We were in the stretch where there were no road – the road ended in San Evaristo and did not begin again until Loreto. It was a bit of a slow sail/ motor sail, but the views were gorgeous and I used much of the time to prepare some foods to keep us going. I have been experimenting with making granola bars, full of healthy, yummy bits. Easy to grab snacks and additions to our simple meals. I've also been making tabbouleh with cauliflower instead of wheat (if I ever find cauliflower again…) and black bean salads with garbanzos and the most common veggies – cucumbers, carrots, red onion. Things that will fill us up and not require cooking are high on my list these days! No longer are the nights cooler and good for cooking up a storm. The nights are hot and running the stove makes the cabin almost unbearable. Our two little fans are working overtime, for sure. Baking the granola bars underway was a good idea – we are not down below much and the breezes flow through and normalize it again quickly.
Unfortunately we had not caught any fish. I REALLY wanted fish that night in Los Gatos. As we navigated the scary rock shoals into the good anchoring spot, a panga racing down the coast came up to us. They were holding up langostas (lobsters!!) – did we want to buy some?? Hell yes we did! We got a large and a small for a total of 100 pesos (about $6.50). Finally I was to have my first Mexican lobster! It is illegal for non-Mexicans to hunt/trap lobster, but fine for us to buy them. Unlike the Maine lobsters I am used to, these guys don't have giant front claws. You pretty much just eat the tails. So I steamed them up and melted some of the good real butter from Aramburo. We had a mix of zucchini and eggplant on the side. Delicious!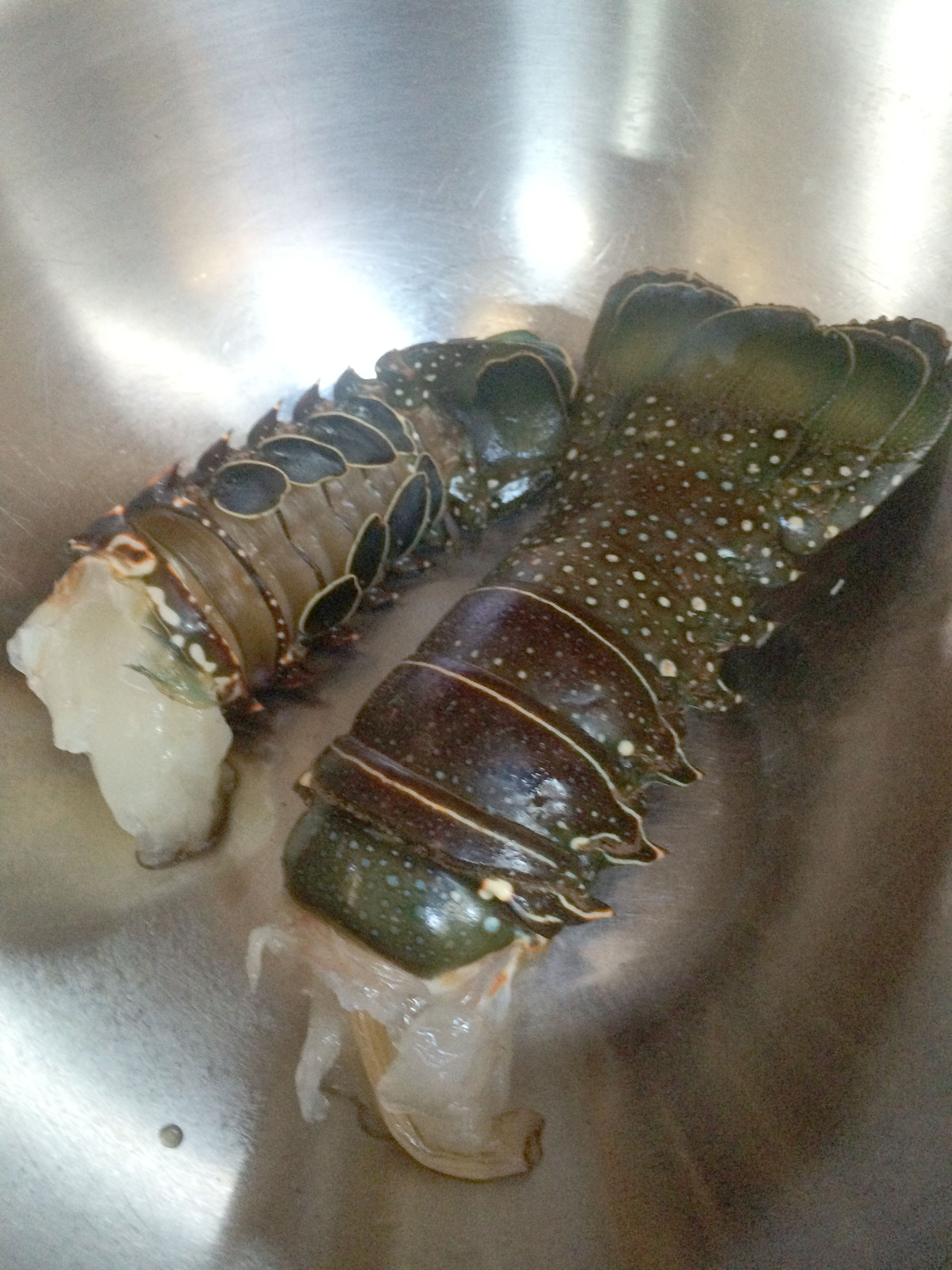 Shortly after we had anchored, a power boat a little bigger than Summer came on in and anchored right next to us. In the most remote anchorage. So far from anything. So peaceful. Right. On. Top. There they were. Seemed like a group of guys on a fishing trip. They played music until 5:00 am. They were well behaved and seemed to be having a good time, so we just had to laugh at our situation. The next morning Jonny went off fishing after dropping me off on shore. I hiked the beach out to the famous 'red rocks' , which honestly didn't look like all that to me. But close up, holy moly! These rocks were really something. They looked like cake batter that had been poured down the side of a mountain. Big, round dollops of red-brown.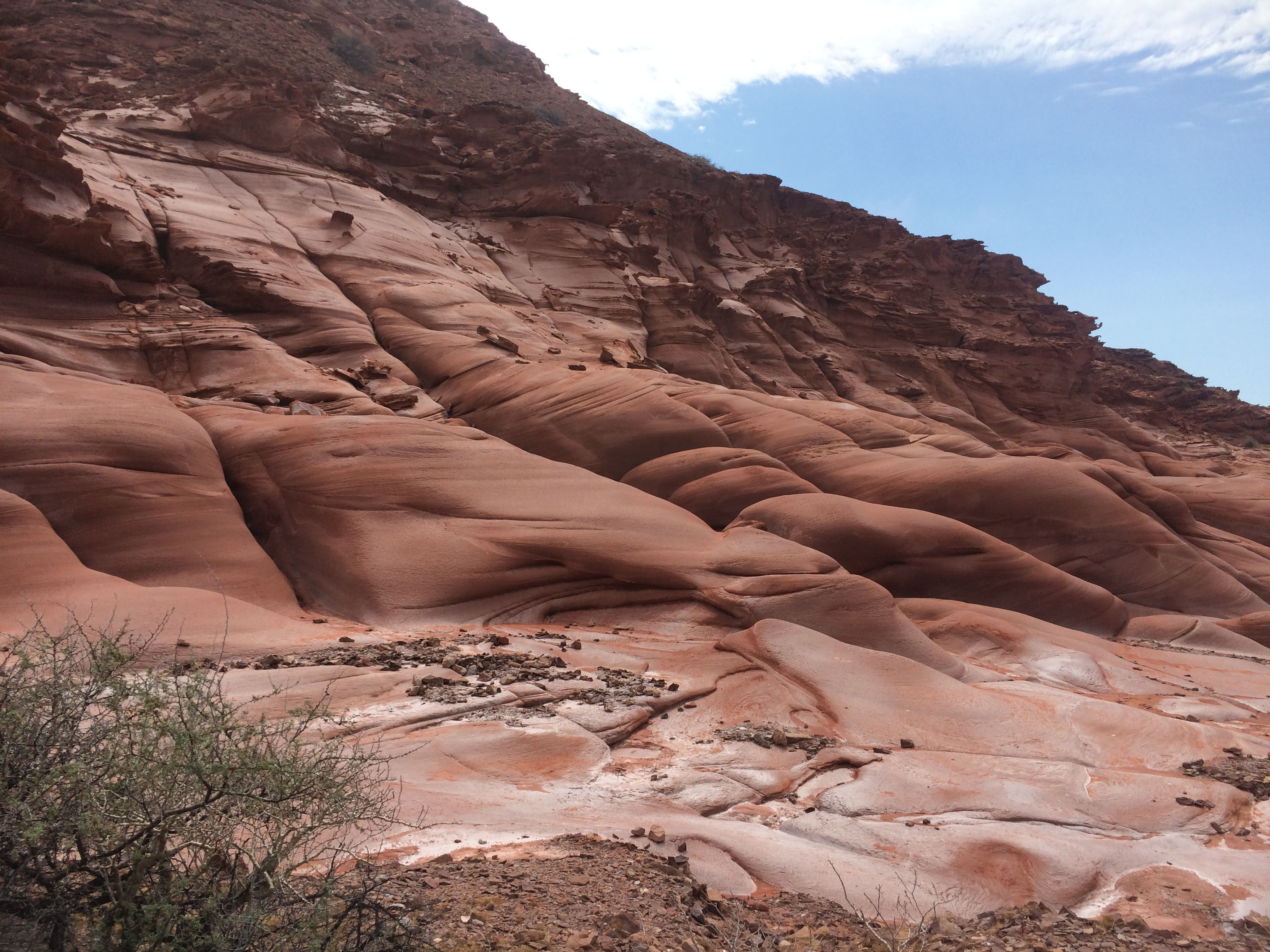 It was hard to get photos that captured how impressive they were. I hiked up a ways and got some good views. I spotted a few people snorkeling – they had swum over from a large catamaran charter boat. On my hike down I met the father and 2 sons from the cat. They were on a two week vacation from Mexico City. On their way to Loreto to pick up the wife and daughter, who were only interested in spending 1 week on the boat. They said the snorkeling was great and they seemed to be really enjoying their vacation. They are planning to buy a boat in France next year and sail it across to leave it in La Paz for their future vacation enjoyment. I asked how they liked sailing on such a big cat – and as I suspected (and the true reason I've never been on one)- he said "it's wonderful, so big, stable and roomy – if you ever go on one, you will never go on anything else again". Yep, I will avoid them at all costs, they are just WAY too nice, I think!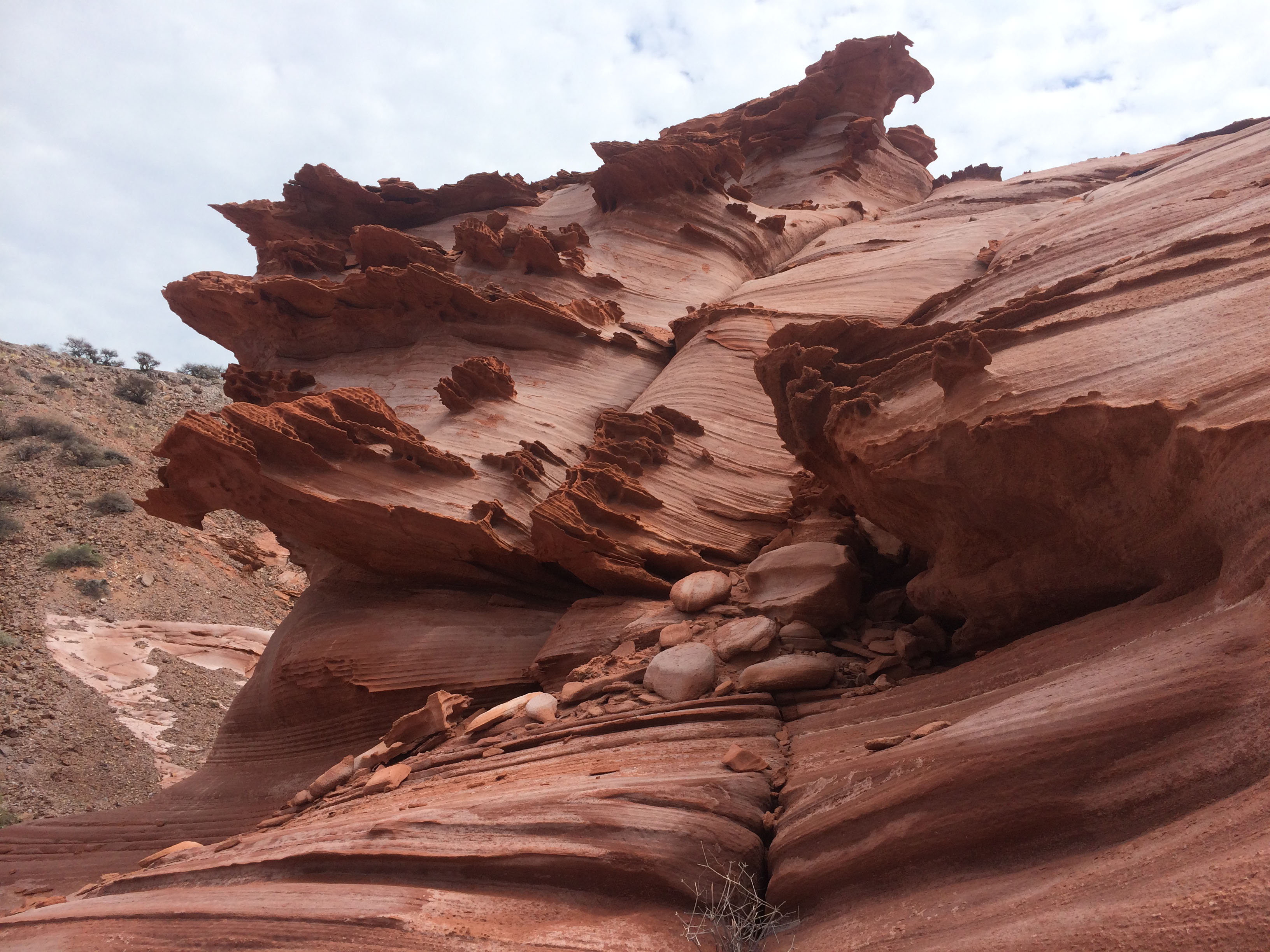 Jonny picked me up at the beach and we got our snorkel gear and checked out the point. It was amazing, all kinds of rock formations and underwater caves and so so so many fish. I even got to study an octopus trying to conceal himself in a crevice, while changing pinky and purply colors. I spent a little more time practicing my free diving. I'm really bad at it. Aside from my very buoyant butt that fights to shoot me to the surface, I also lack decent skills and techniques for diving down. I'm working on it. Jonny kindly took videos of me and my struggles to help me see what I'm doing wrong. No, you can't see them. A graceful whale I am not.
Despite our musical powerboat friends, we decided to stay put one more night. We were grateful for peace and quiet (they were not young guys, I think the first night tired them out a bit!). The next morning we set off yet again (can you say whirlwind trip?) for Agua Verde. Another 20 mile trip. We had some wind and another hot slog ever northward. Agua Verde had really neat rock formation, pointy rock islands and beautiful waters. However, I'm not quite convinced there was enough "verde" (green) in the agua. It looks pretty much the same color as most of the other waters, so I'm not sure how they got to corner the Agua Verde title…I want my dinero back! As we were anchoring, huge black storm clouds were rumbling over the mountain tops.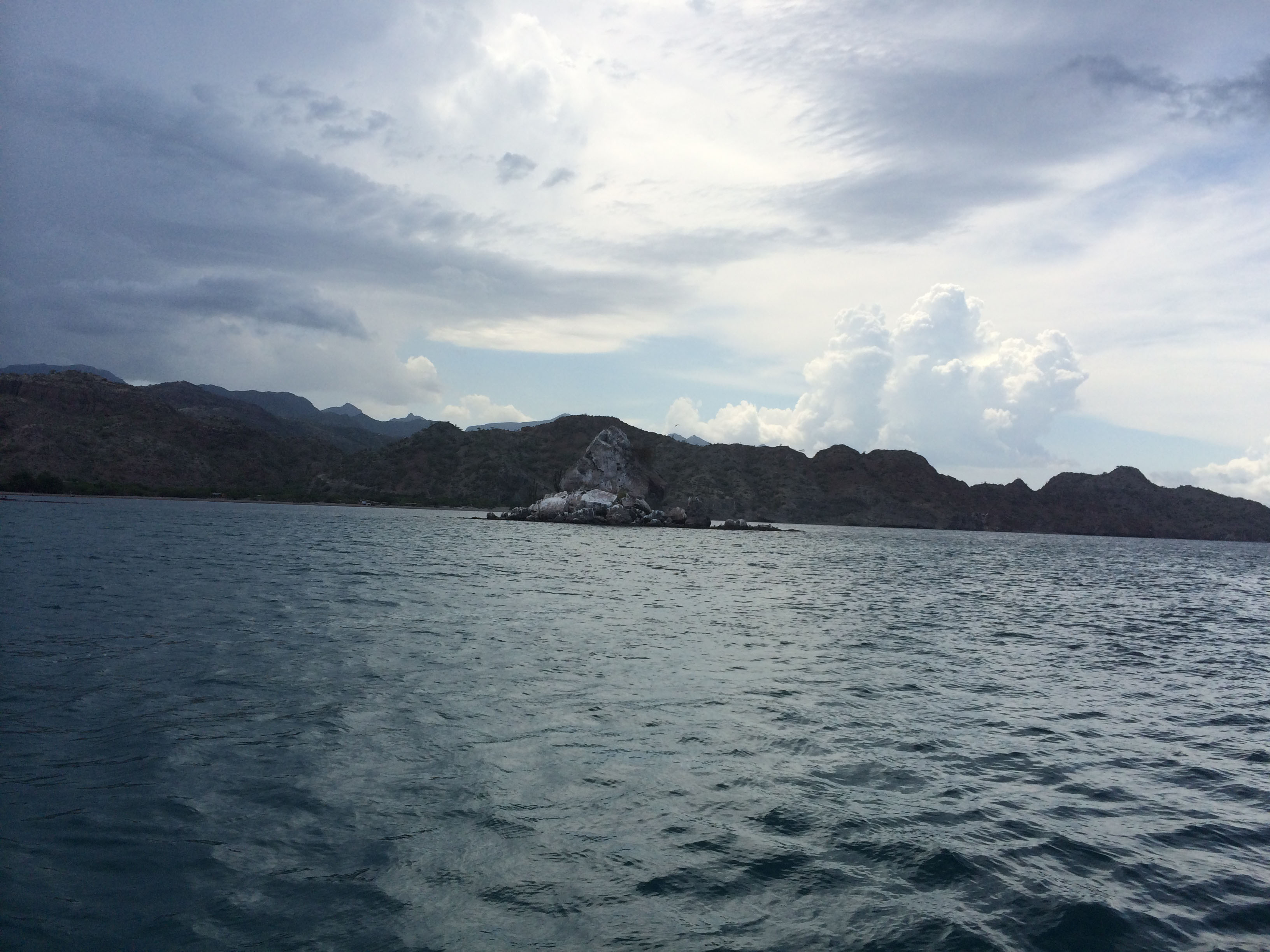 We were preparing for a deluge soon. I was pretty excited, Jonny was scared (as is our way). We got Summer buttoned up pretty quickly, and realized the storm was blowing on ahead north without visiting us.   No rain to wash down Summer, just more hot stickiness. I had to throw myself overboard and was pleased to discover the water seemed a bit cooler there than Los Gatos.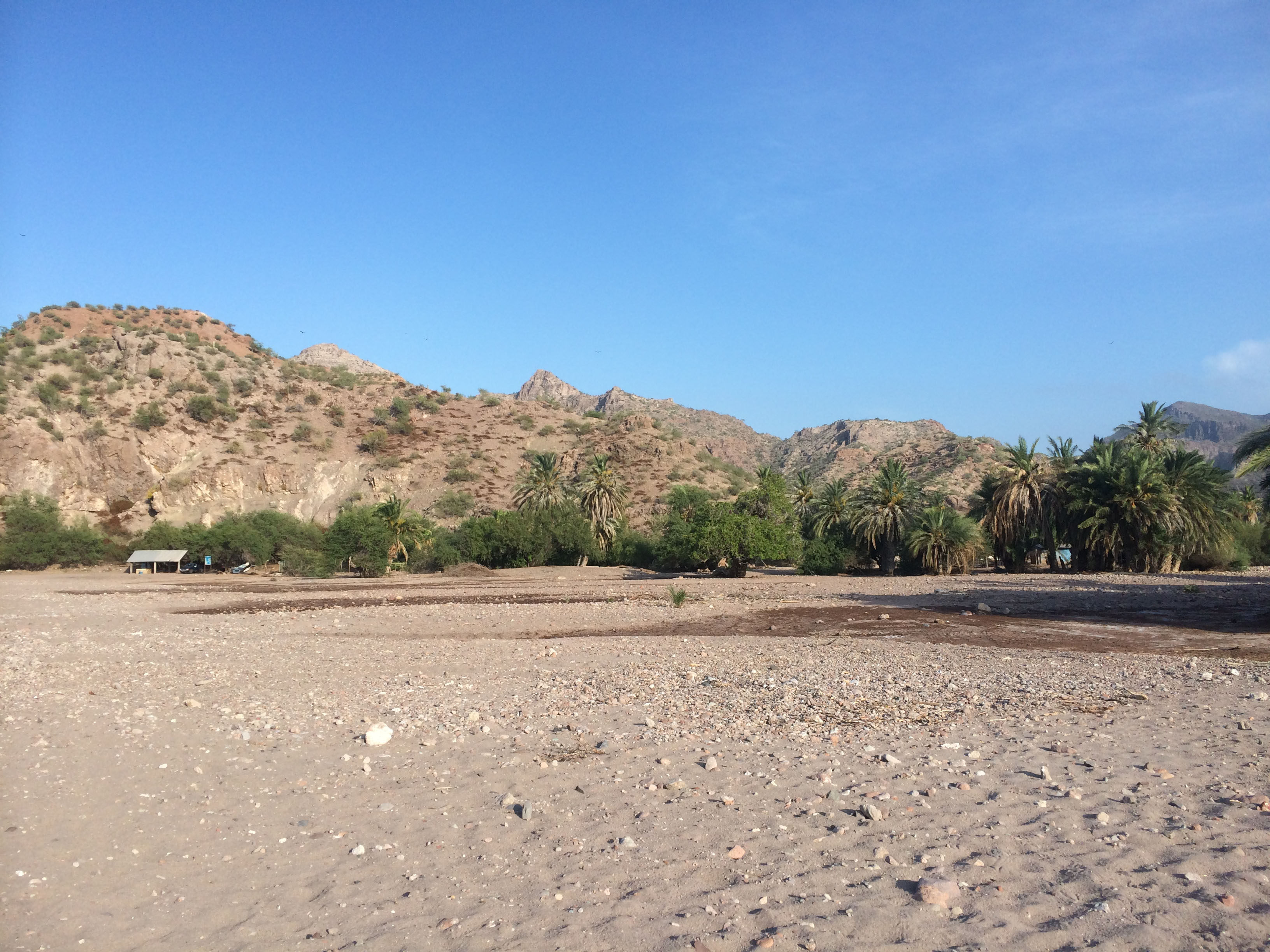 The first year Jonny and I met, he took a trip down to Baja without met. I hadn't yet proven myself as hardy enough for such extreme conditions as the Baja doles out ("You don't bring girls to Baja" I believe is what was said… ha. I proved that one wrong!). Anyway, point is, he spent a few nights camping in Agua Verde and noticed some sailboats anchored out. He even met some cruisers. It was the first inkling he had that this kind of life might be pretty interesting. Now, all these years later, here we are, cruisers anchored in Agua Verde.
Jonny wanted to go fish, so he dropped me on shore to scope out the town and see if I could find the tienda. The 'town' was more of a large multi-family farmyard. I saw pigs roaming about, goats, chickens, turkeys, cows. I was getting really hungry!!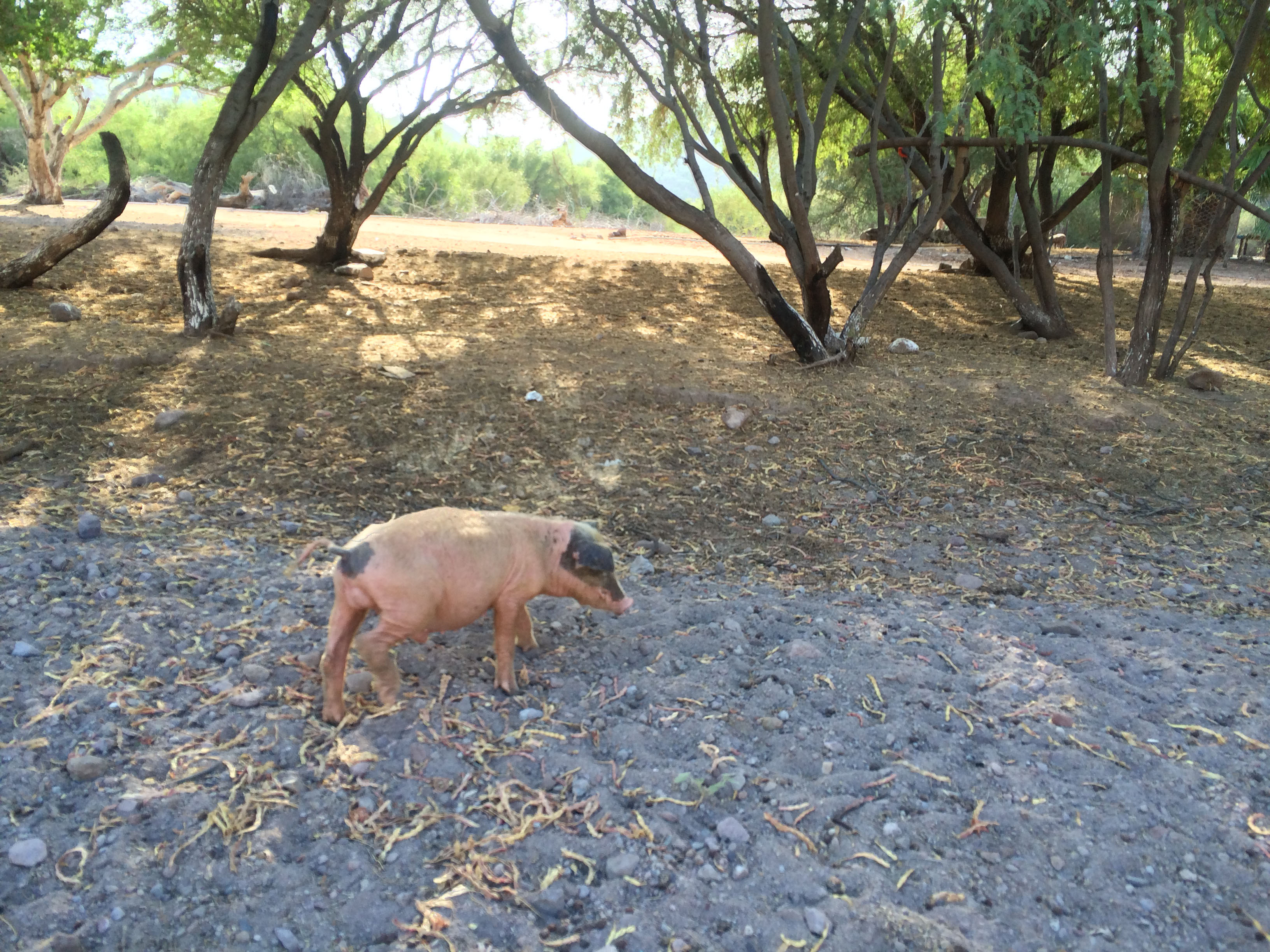 I walked on out past all the homes and up towards the mountains. It was very green and almost forest-like out there, I saw some quail scurrying across the dirt road that followed a dried up river bed. I nearly forgot I was in the desert (except for that I was encased in the sweaty slime I am so getting used to these days). I didn't see a tienda, but on the way back through town, some women sitting outside a house called to me. I realized the little building next to them was probably the tienda. I asked if it was open and one woman got up and let me in. It was about an 8 x 8 little room, no refrigeration. A rag tag pack of dogs and children were running amok all around. Giant sacks of flour and rice, a rack full of junk food (mostly chips) and a wall with a low shelf of bananas, avocados, onions, zucchini-like things – etc. It all looked quite good, too – must have been a recent delivery. What luck. I loaded up and on the way out I spotted a crate full of mangos. There was also some sort of melon ("que tipo melon?" what type? She just shrugged and said "melon"). It smelled amazing, so I bought it. Turns out it's like a really juicy, thin skinned, yellow cantaloupe. What a treat! Our power boat buddies showed up and anchored right on top of us again, this time in a much tinier anchorage. Sigh. So much for bathing privacy.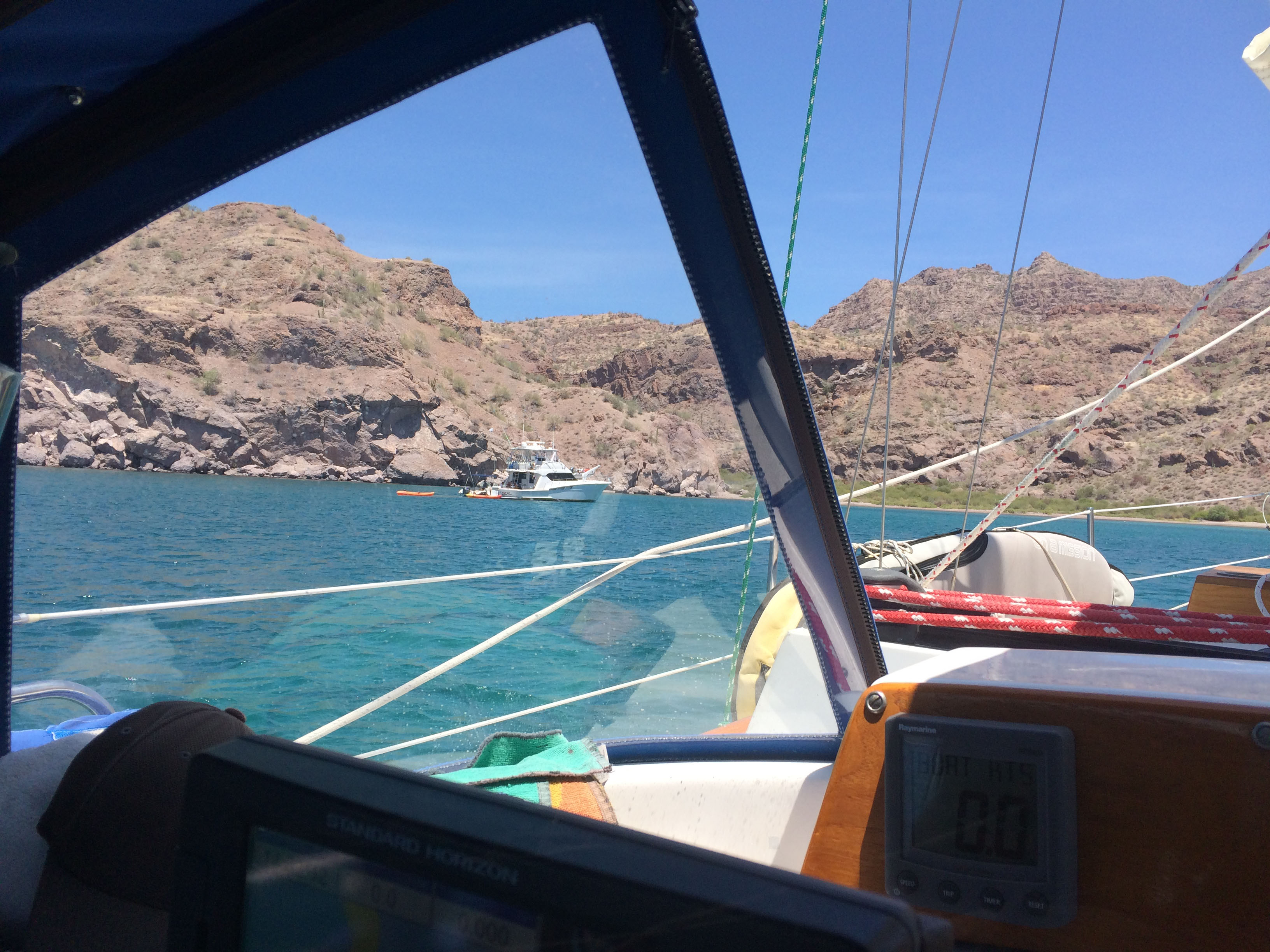 At some point along this trip we heard a strange noise and discovered that our little bamboo shelf we had screwed up under the sink in the head, had fallen apart. I had really packed it full of stuff and it was an excellent use of all that space…but alas, I packed it too well. The little cheaply made bamboo case designed for CD cases, gave up the ghost. Out here, when things break, you can't just run out to Bed, Bath and Beyond or place a two day Amazon prime order. Nope, you either gotta fix it, or do without (reminds me of my favorite old timey New England saying "Use it up, wear it out, make it do or do without"). There was no place else for all that stuff to live (6mos-1yr supply of things); we needed that shelf! Lucky for me I have my very own handyman on board who knew just want to do. If you can't fix it with duct tape, it's not worth fixing!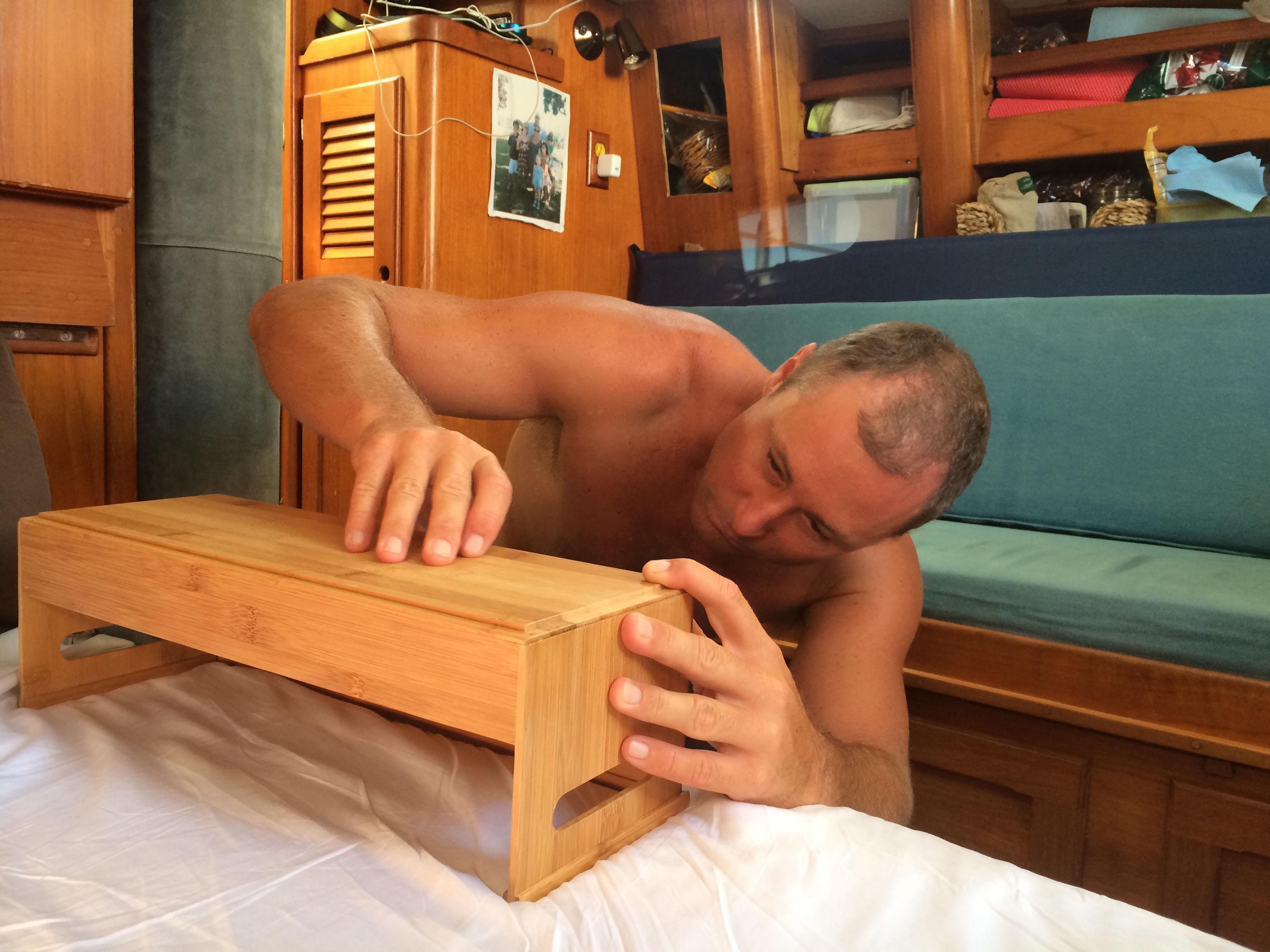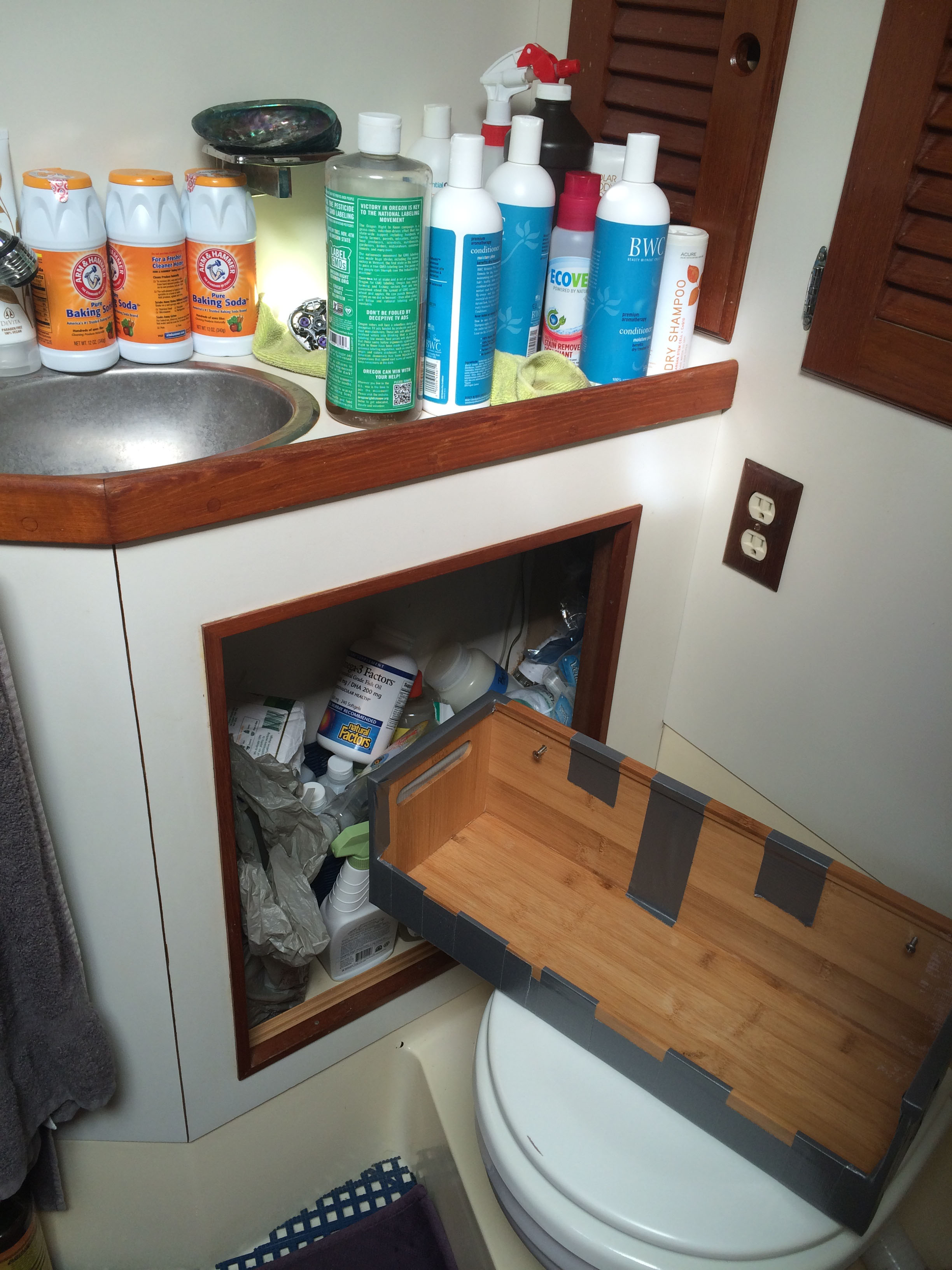 In the morning, our neighbors kayaked by and said a friendly 'good morning' but we were preparing the dinghy and didn't get much of a chat in. We took the dinghy across to the other side of the bay, where Jonny assured me the "Verde" part came from. Still not convinced. We hiked up to the top of one side and got our views. Maybe the water was a liiiiittle greener than usual. I'm starting to feel like I have a sickness growing in me, the need to "summit" and look down on all the places I go. Hopefully I will get over this before destroying my feet and ankles… (flashback to my travels in New Zealand – every place I went, people took me up a mountain or hill to look back down on where we just were…maybe all Kiwis suffer from this summit sickness, too?). It was gorgeous though and after making it back down without too much incident, I was rewarded with a snorkel/swim off the northern beach.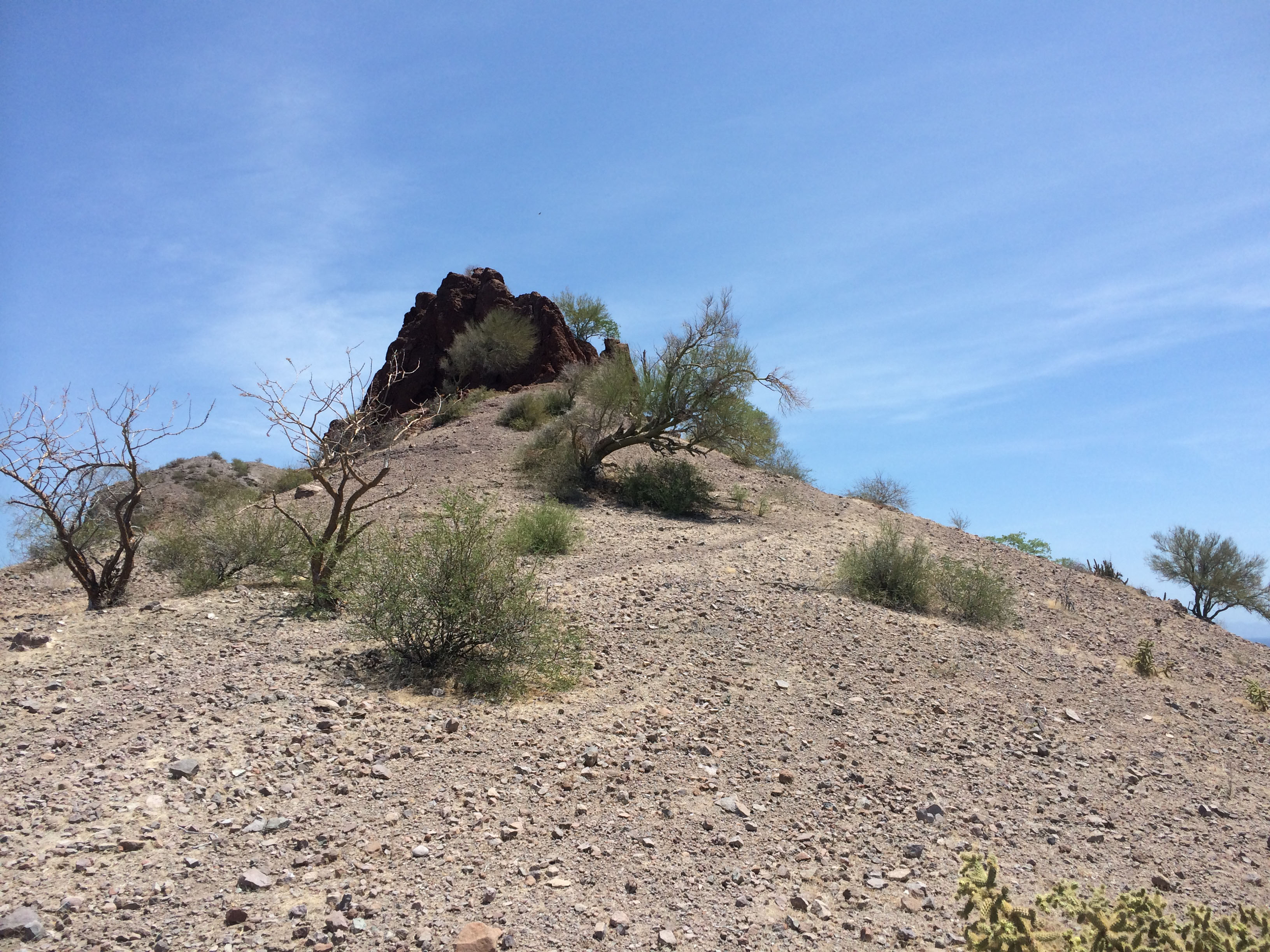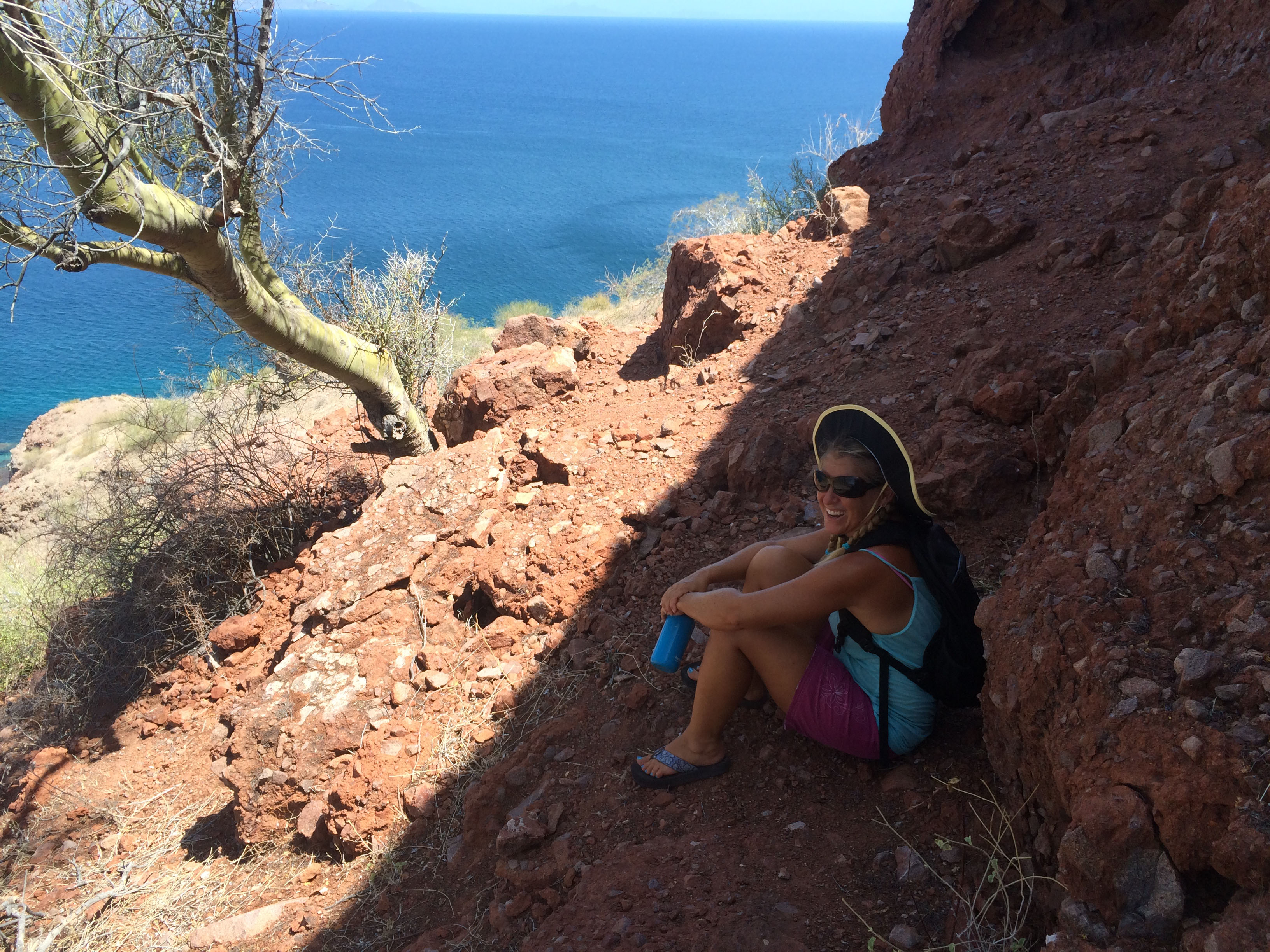 We thought maybe we'd stay another night, but possibly we'd probably leave that day to head up to Candeleros. When we got back to Summer, the powerboat was dragging anchor and dangerously close to Summer. The captain was trying to pull the boat away using the small runabout boat they were towing. Why he didn't just start up the boat and move it is a mystery…but they managed to move it and secure it. Just after that, another power boat, much larger (mini-mega yacht style) came in and wedged themselves right up against us in the tiny anchorage. We were definitely leaving! As we were pulling up anchor, the captain of our powerboat friends (we guessed the 4 guys hired the boat and there was a captain and 1 crew serving them) came up on the runabout and said the guys on the boat wanted us to have some marlin they had caught! It must have been 5 lbs of fish. We were happy to have it (and it had been flash frozen). We waved our thanks as we extracted our anchor from between the 2 boats and raced off out of the bay. And I do mean raced – it was WINDY!!! Most wind we've had in a while. And waves, too! It was mostly a fast, wild ride all the way to Los Candeleros.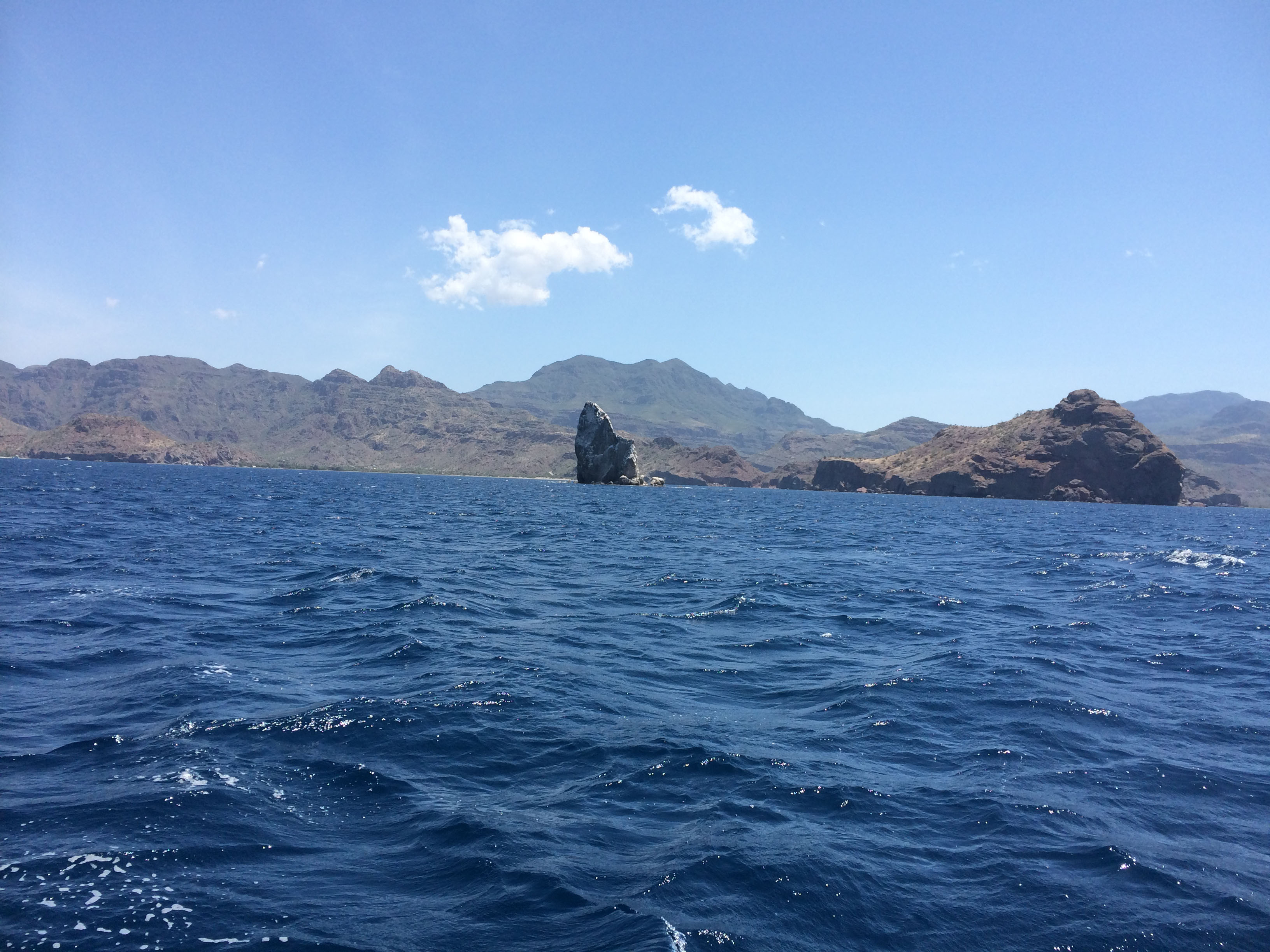 We squeezed our way between a huge rock island and the Baja shore (one chart said it was unpassable, one source said it was safe to do so, and it was! Whew.) and came around the corner to this bay that has a huge resort in it. I knew it had, but it was still a shock to see this giant building after so so so much of nothingness. But even more surprising was seeing 3 other boats in the anchorage and beginning to recognize them as we got closer. It was Sangvind, Orion and Resolute! An anchorage full of friends! We had not expected to catch up with those guys for quite some time still. But they have been sticking together and taking their time making their way north. As we were buttoning up Summer, Megan came by on a paddle board to greet us, Jonah stopped in the dinghy and Meagan, Erik and Nikka came out in their dinghy. It was so exciting to see everyone! They had all just shown up the day before, after spending an entire week in Agua Verde. They gave us the scoop on the resort – we were allowed to go hang out in the facilities and order food in the restaurants (even tho it's one of those "all inclusive" places). They also have a free shuttle into Loreto (40 minutes away) – which is AMAZING! We know that Loreto is the only place to get more food, but there is no good anchorage in front of it, and the nearest anchorage is Puerto Escondido (a good hurricane hole), but a very expensive cab ride from there and no buses to get into Loreto. I'm really glad we decided not to skip this place! We will spend several days and then do a stock up in Loreto and then head out to various other islands that are worth seeing. Hopefully we will get to 'buddy boat' a bit and hang out with everyone.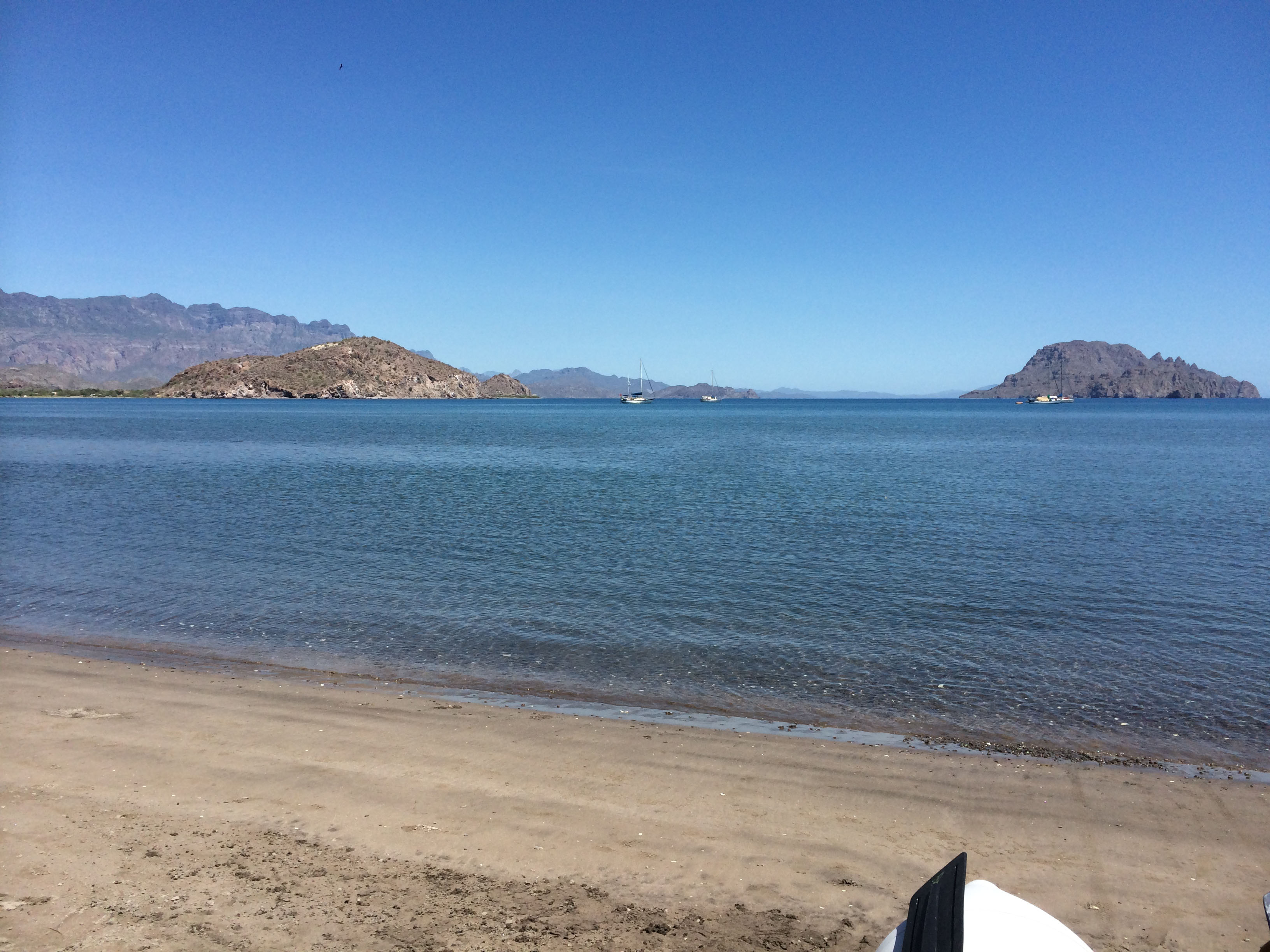 We spent our first day trying to relax. We went ashore and scoped out the resort. Pretty swanky place. The menu prices were very reasonable, but still a bit out of our comfort crange, so we will not be eating out. We wandered through it all feeling a mixture of "oooh" and "iiiccchh". Some very comfy, airy spots to hang out and sit in cushiony chairs and use the unlocked wifi.
Orion invited everyone over for a potluck. Orion is only 5 ft longer than Summer, but it is just gigantic. Great boat for socializing! I was low on supplies for making anything impressive to bring (which causes me more stress than I care to admit). We did have that marlin to share, and I made some deviled eggs, which seemed disastrous (they were too small and not a single yolk was centered) and also some chocolate coconut truffles, which also seemed disastrous. In this heat, coconut oil is very runny and my patience tends to get runny as well. I chilled them and hoped they wouldn't be a goopy disaster. After a few hours in Orion's freezer, they were totally edible. Jonah had speared several fish that day and with the marlin, he breaded and fried up mountains of deliciousness. Meagan and Erik brought a tasty bean and cabbage salad and Sylvia and Frans (and their adorable if rambunctious boys –Dillon and Jaden) brought a great Indonesian rice dish. Perfect mix of things and everything got eaten up. It was great to feel stuffed for a change. It was also great to hang out with everyone – not just people other than Jonny, but people I already knew and like quite a bit. What a treat! I love talking with other cruising women – discovering that I'm not alone in the day to day issues that still seem foreign and all my own.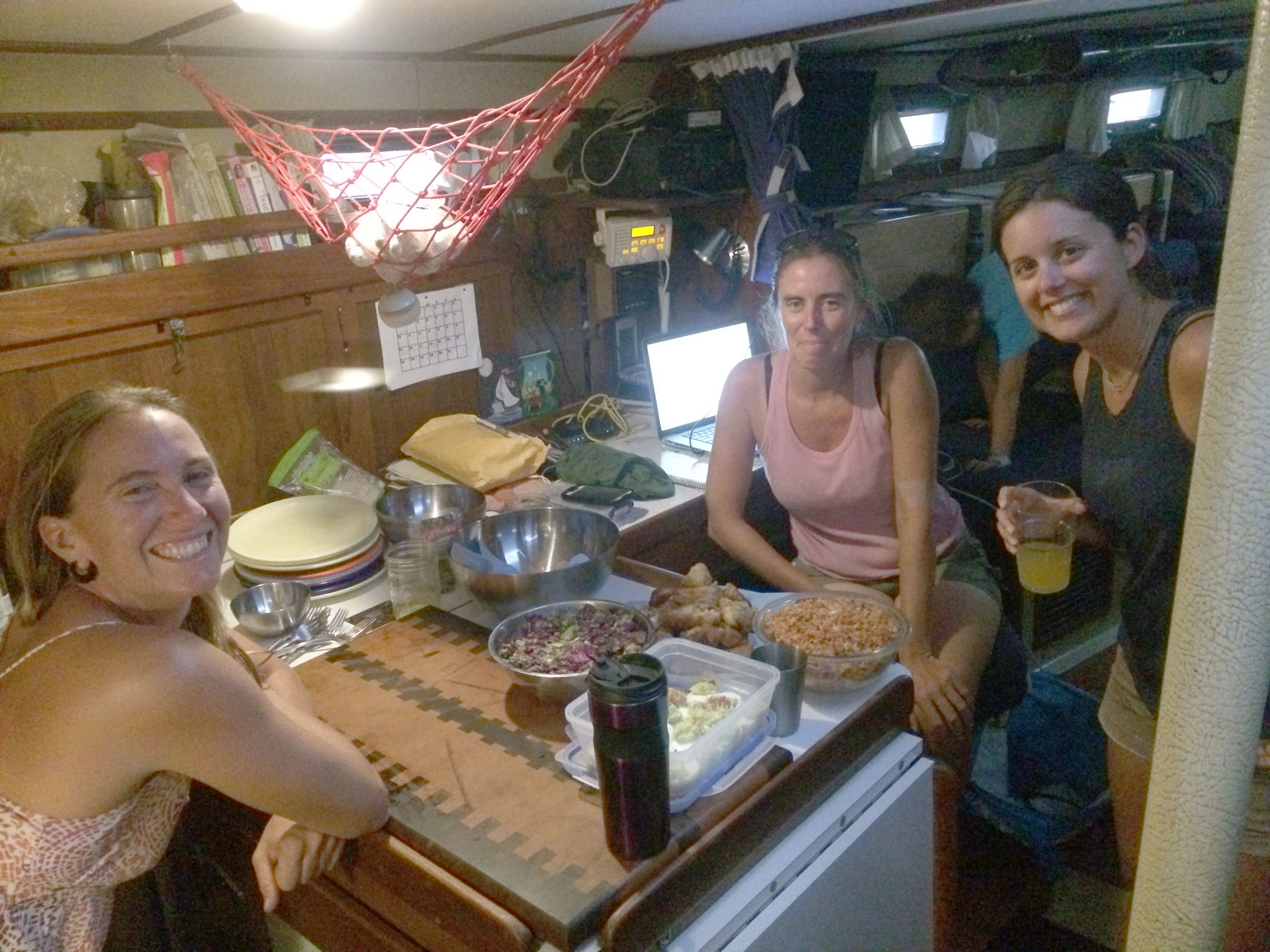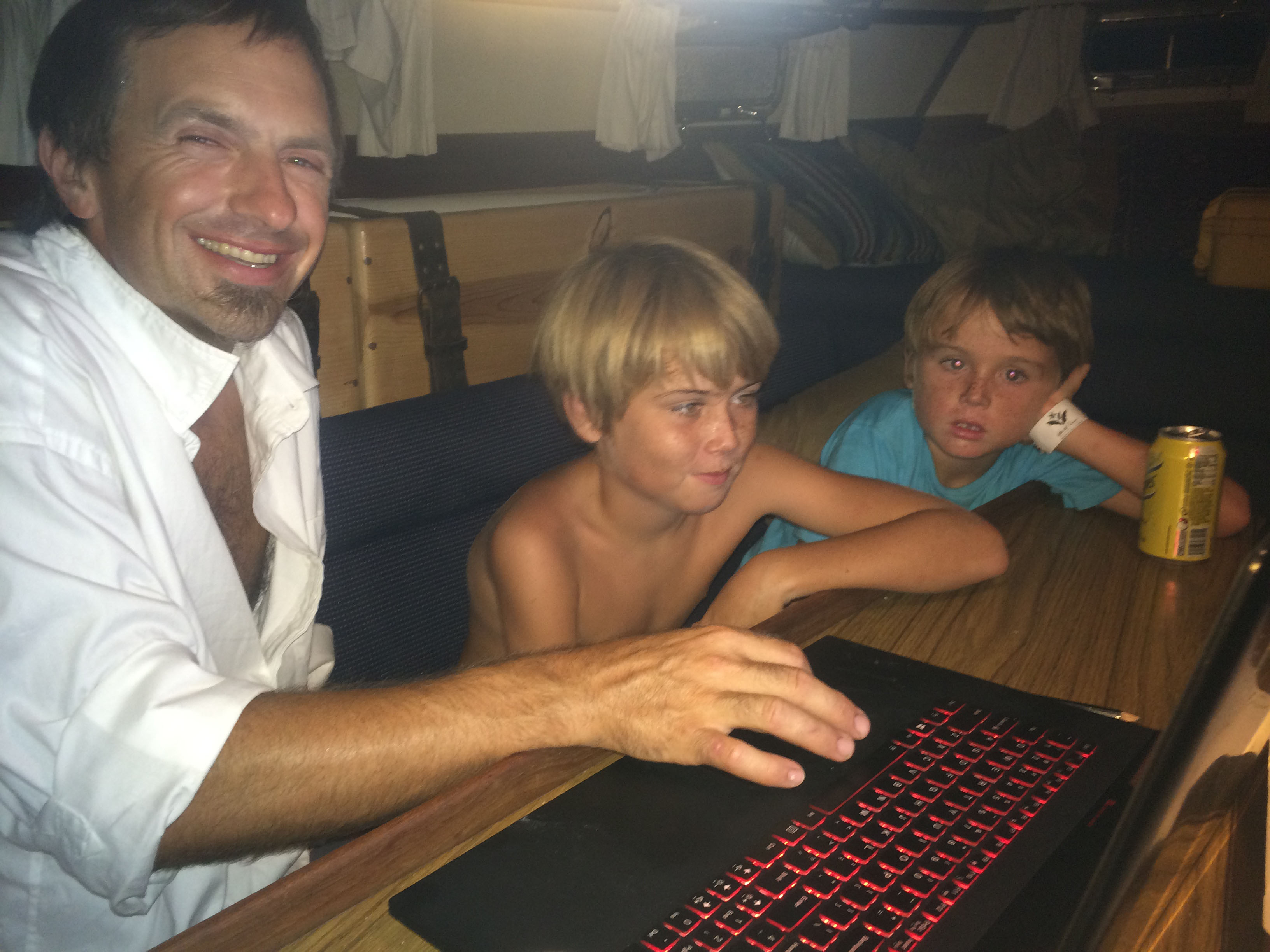 Not sure how long we'll stay here, but planning to head out to explore more islands as we continue our trek northward.