The wind was right so we blew on northward again. We radioed our friends to say goodbye and headed to San Juanico, a supposedly lovely and popular anchorage for cruisers. For some reason I didn't have high hopes – and thought maybe we'd stay a night or 2 there before moving on. I was really looking forward to Bahia Concepcion – where we used to camp and loved very much.
ASIDE – I thought I had learned a long time ago not to have expectations. You are never disappointed when you have no expectations about something – be it a day, a place, a person, etc. But between San Juanico and Bahia Concepcion I re-learned this lesson. And I also realized that we really shouldn't beat ourselves up when re-learning something we thought we already had down. Life actually requires a certain number of Continuing Education Credits in order to maintain Human Being status. So, next time you find yourself re-learning a lesson you thought you had down years ago, just chalk it up to earning your CEC units and continue on with being human.
OK that wasn't a spoiler, was it?!
The sail, while not all that far (20 ish miles?) had a little bit of everything. We started out with the wind failing us and ended up double reefed, holding on for dear life, hoping to get in before the thunderstorm. We also caught a fish at the most inopportune moment, the boat was pitching wildly and Jonny accidently cut the fish wrong and blood sprayed everywhere. Summer looked like a crime scene, which I suppose it WAS…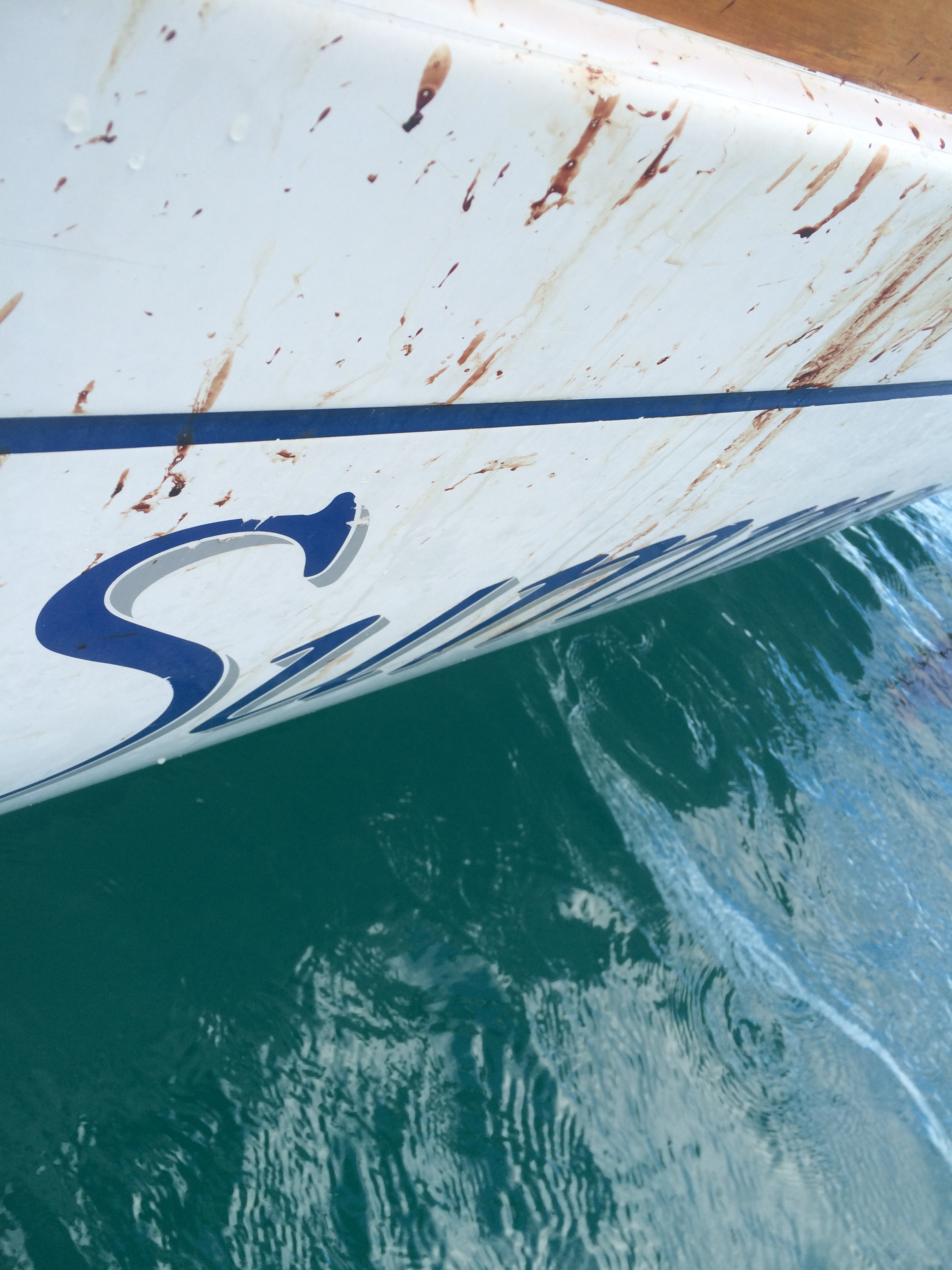 San Juanico was absolutely amazing. It looked sort of beautiful from our anchor spot, some pretty white sand beaches, rock formations that looked interesting and it was a very large bay with many areas to explore. We took the dinghy out to explore the nearest point and as we got closer to it all, I was just blown away at how incredible it all was! The colors and formations of the rocks were far different from what we'd seen so far. We explored caves, rock spires and finally beached the dinghy and checked out the multicolored rocks on shore. It was far too hot to spend any time looking at rocks on shore – we probably could've cooked lunch on them though. So we jumped in with our snorkels and I spent a ridiculous amount of time in the shallows examining rocks and shells. So many agates and things looking like the insides of geodes, multi-layered, multi-colored… I ended up with several handfuls of special treasures that needed examining out of the water. Jonny about had a heart attack when he saw my collection. I assured him I would not take it back to the boat. Well, not ALL of it.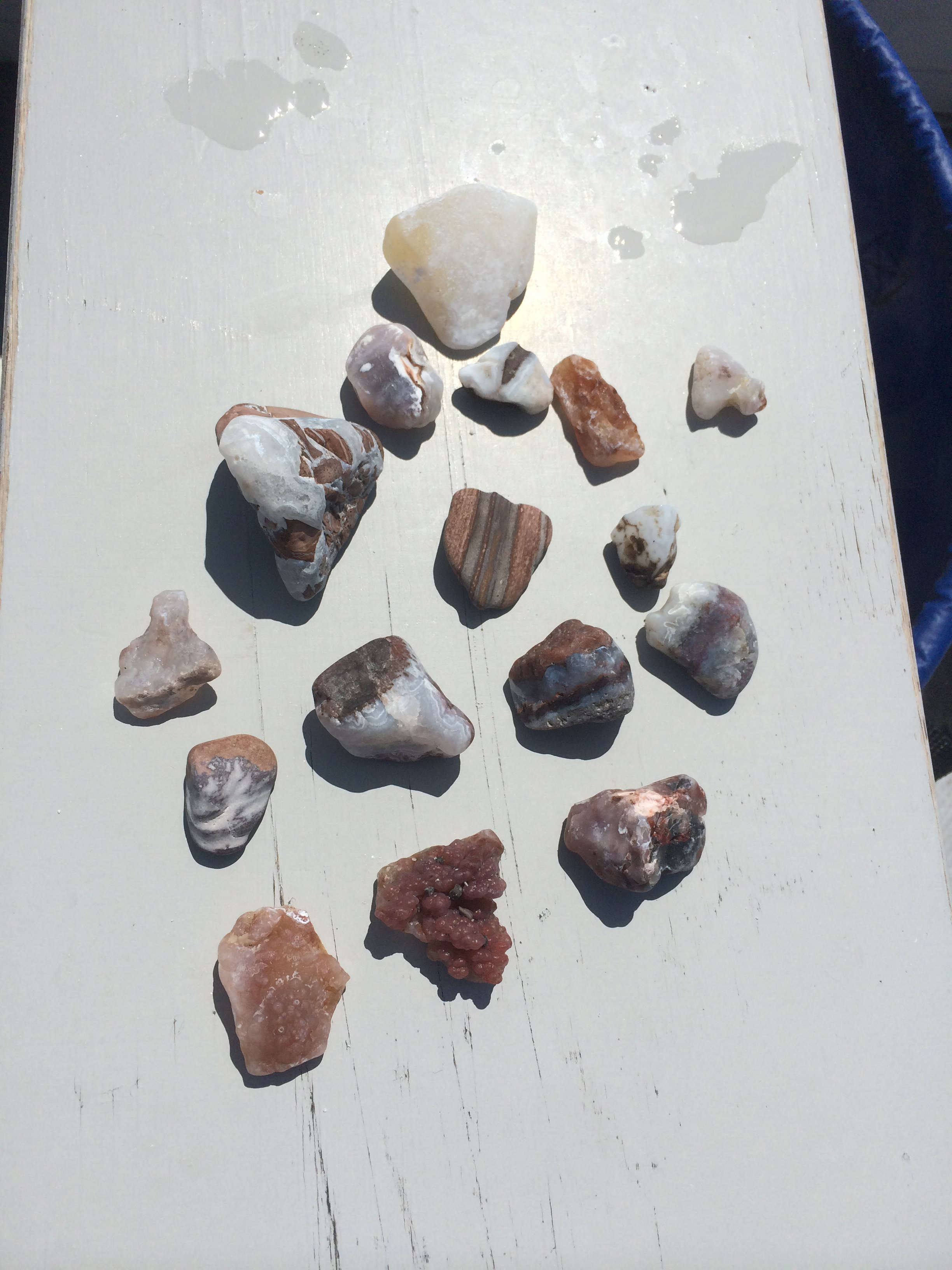 After a rollier night than we'd hoped for, the next day we tried to move to the other side of the bay but didn't find anything to our liking – 2 other boats were in good spots over there. We got another spot near a beach and some interesting caves. We spent an afternoon snorkeling from one beach to another. It was far too hot to be out of the water and being in the water, in the shade of the rocks and caves was the best place we could be. We waited till almost sundown to go back to the boat. The afternoons are the worst because the sun often comes in the back of the boat and no matter what we do, putting up shades and sarongs, it always seems to find your eyes through some hole somewhere. We call it "the blinding hours".   That night, after being in the water so much, I had a bit of water in my ear I just couldn't seem to shake out.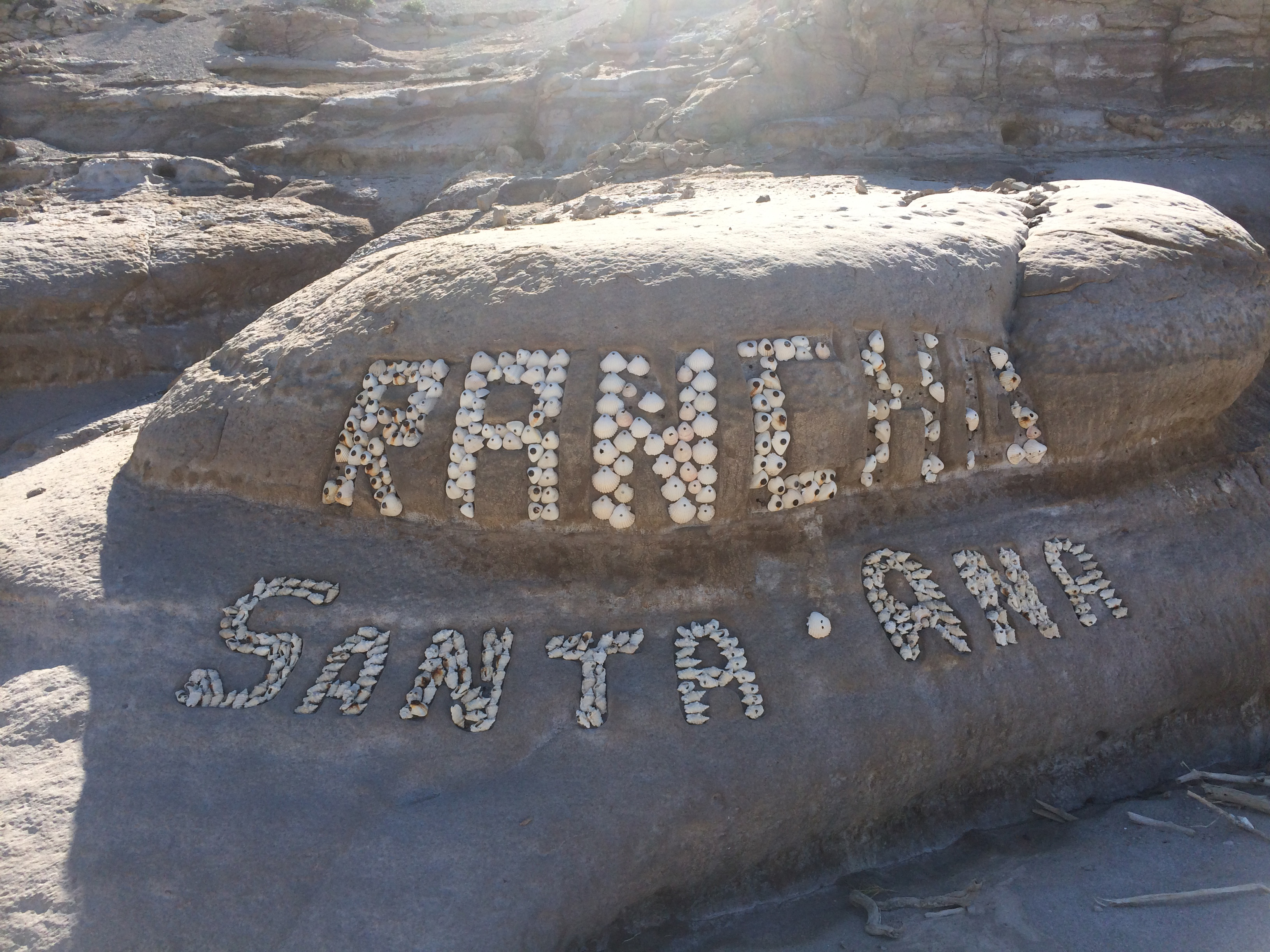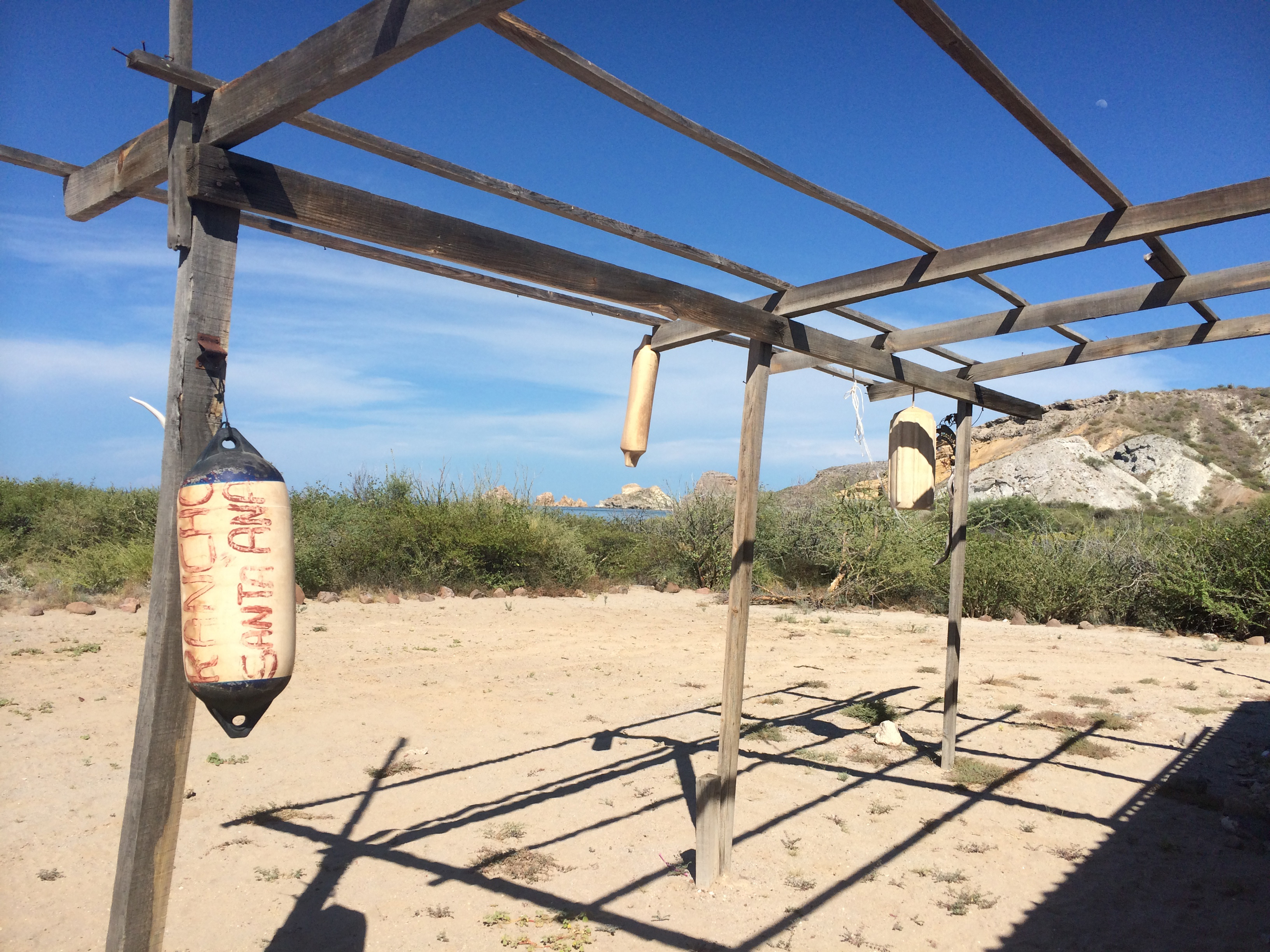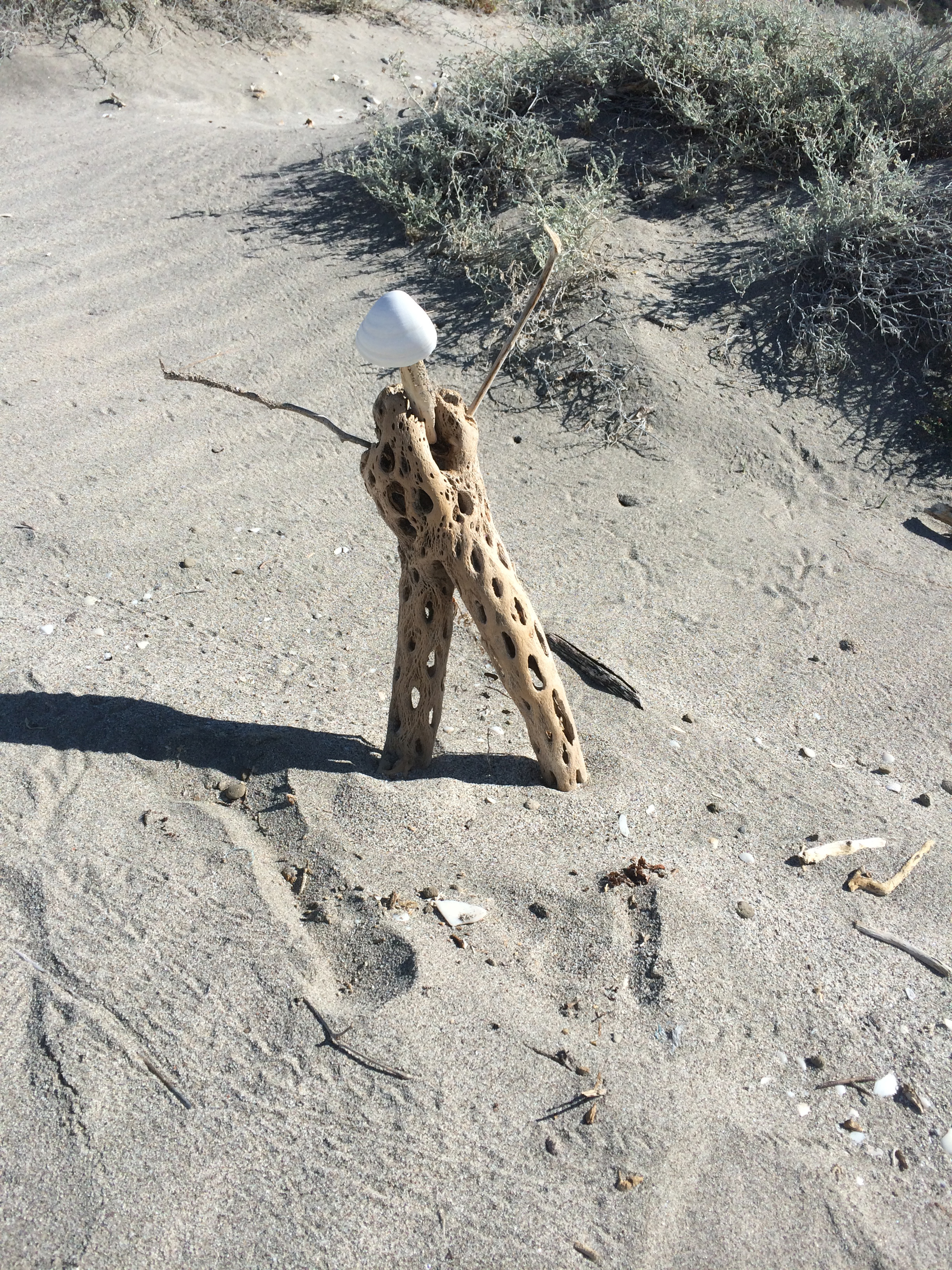 That night was horribly rolly, and some crazy wind event got us up in the middle of the night. I was so delirious that I don't even actually remember what I had to get up to do out there – maybe take a shade down. The wind switched directions and the anchorage was not at all protected anymore. We got very little sleep and the next morning we couldn't get out of there fast enough – with the boat pitching and rolling the entire time. Just around to the north there is an anchorage called Ramada, which offered better protection for the winds and predicted winds. We got in there pretty quickly and it was a lovely, tiny little spot that could just barely hold 2 boats, and it was much less rolly. A little while later the other 2 boats from San Juanico came in to the Ramada as well. Linger Longer and Rain Dancer were our new neighbors. Rain Dancer anchored a bit too close for our comfort, but we didn't have time to say anything because the skies got black and a lightning show ensued. Soon after the intro, a huge rainstorm came on. The wind was not at all coming from the direction predicted so we were blowing back on a lee shore and almost hitting Rain Dancer. We hollered to them to put out some more scope and we started our motor to keep ourselves in place.   It was wonderfully cool and I managed to get myself and my hair soaked in fresh water.   We even half heartedly put out a bucket to collect water running off our shade. The lightning show was spectacular. When the winds stopped howling so much and it was just raining, we celebrated being chilly by having some soup. The water that had gotten stuck in my ear still hadn't come out and it was starting to feel a little funny in there…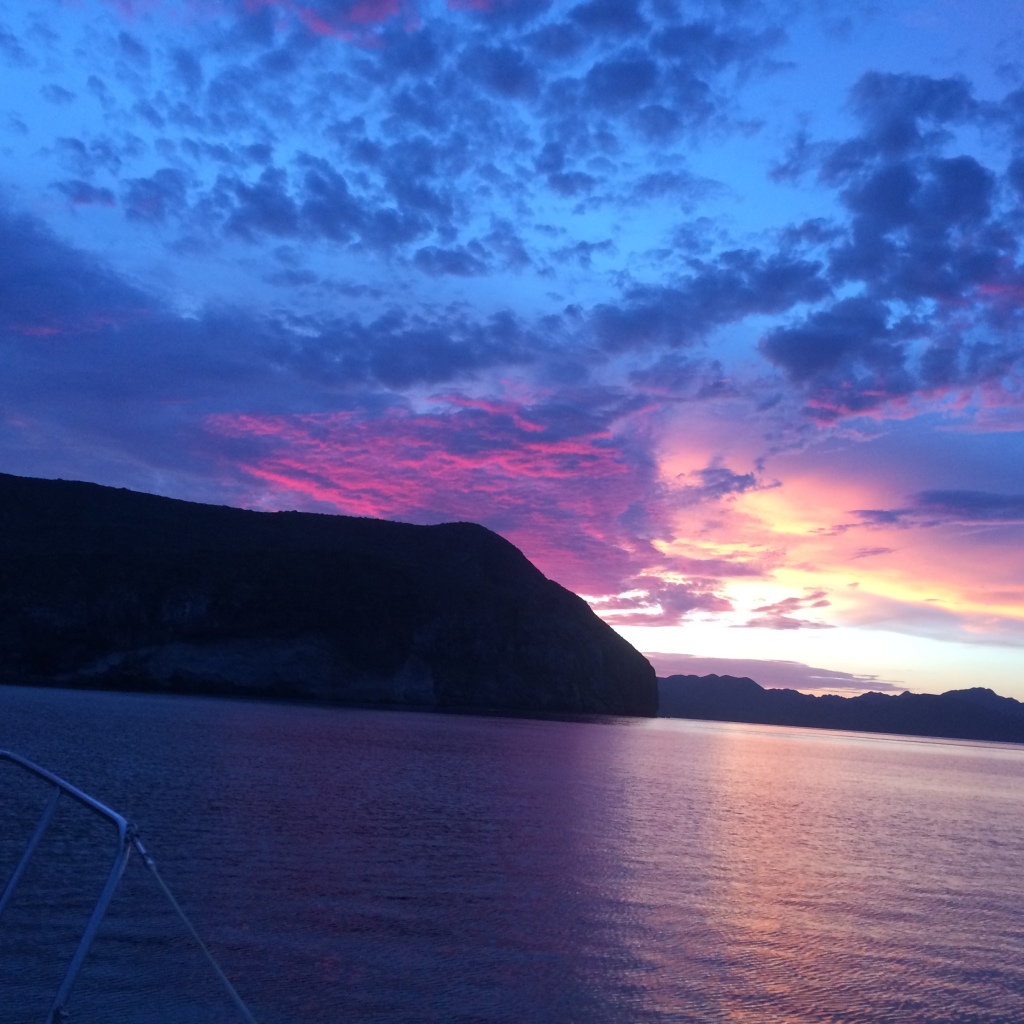 That afternoon when it stopped raining, we met Kris on Linger Longer. The next morning she invited us to an afternoon "noodle party", which sounded like a lot of cooking in the hottest part of the day and I wasn't too keen. But turns out a noodle party is where you get your pool noodles and other floaties and just all hang out in the water together, keeping cool, maybe having a drink or two set on a paddle board. How have we not thought of this??
We checked out the beach and met Rainie, Don and their three dogs from Rain Dancer and then also Kirk on Linger Longer. Kris and Kirk were off to try to find the trail from the beach back across to San Juanico where there is a "Cruiser's Shrine" to visit. We decided we should make the trek too before it got too hot. We went back to the boat to get shoes, hats and water. By the time we got back to shore, Kris and Kirk were already back; the path they took wasn't the right one and ended at someone's house. Unfortunate for them, but helpful to us – we knew to try to the other path.   It was a hot but pretty hike through the desert landscape. Not long before we came to the other side and headed left along a rocky shoreline with gorgeous views of the turquoise waters and rock formations on the side of San Juanico bay we had not explored. I was skeptical about this shrine – it looked like a tree surrounded by trash from the distance and I wasn't sure it was going to be worth the trek down the rocky beach. But we finally made it and it's a pretty good sized tree completely covered and surrounded by "offerings" from all the cruisers that have visited over the years. People made all kinds of creative signs and memorabilia with their boat names and years they visited- it was quite extensive and hard to photograph. The oldest we saw was a rock from 1989 with Wind Walker on it – which made us think of our friend Van and his beautiful Islander 28 Wind Walker that we did some of our first sailing on (we know it wasn't the same one though!). We had fun looking through everything and started to get inspired about what we were going to contribute.  We figured this is our summer project – to create something that will stand the weather and test of time at the cruiser's shrine. We will definitely be stopping in San Juanico on the way back south at the end of the year.
We had a lovely noodle party and got to know Kris and Kirk better. I kept my head out of the water to keep my ear issue from getting worse. It was nice to float around in my hat and sunglasses and stay cool!
The next morning we headed out just after light to Santo Domingo bay at the top of Bahia Concepcion – about a 45 mile sail – a bigger day than we've had in some time. Rain Dancer and then Linger Longer also headed out, quite a ways behind us.   Between us catching fish (and losing 3 of the 4…) and being the little slow guys, both of them passed us before too long. But we sailed once the wind came up and it was a lovely and semi-fast day. I got some carrot cake muffins made before it got too crazy rolly in the afternoon.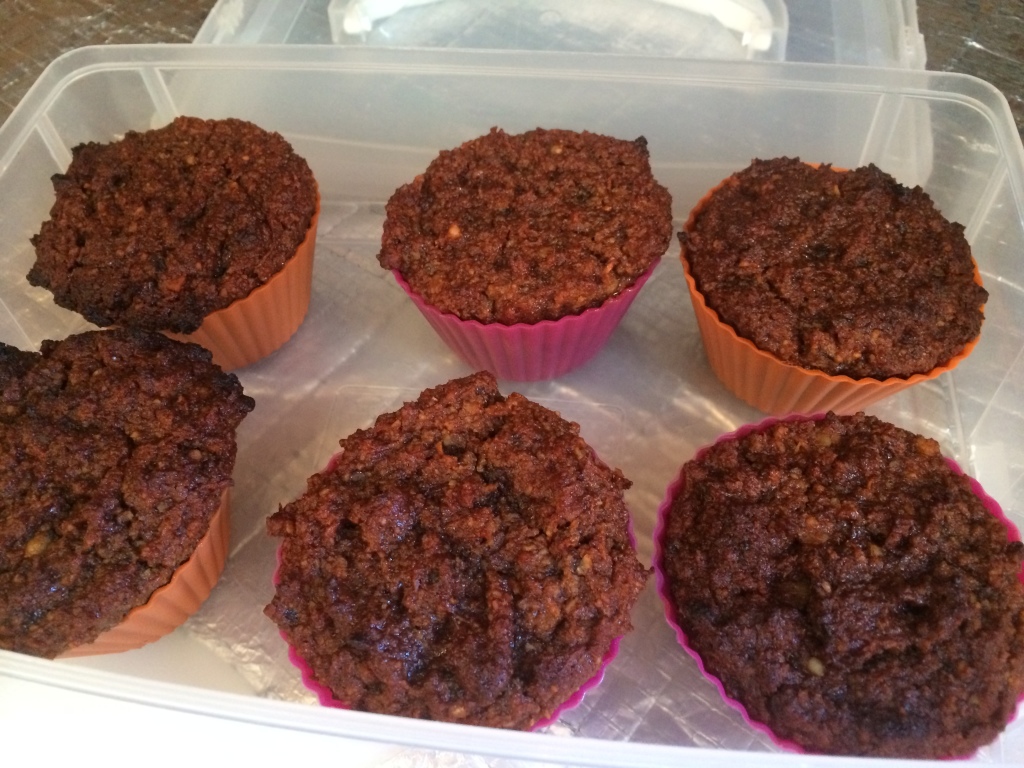 When we finally sailed around the corner to the stopover anchorage of Santo Domingo (we planned to go farther down into the bay), Linger Longer and Rain Dancer were already there. But apparently we were only about an hour behind (and they both motored the whole way). It was a pretty little spot with a big beach and nothing much around save for a fish camp on the point. Water was clear and relatively refresing. We had a beautiful sunset and enjoyed our mahi mahi for dinner. We had a nice chat with Kris and Kirk the next morning and Rainie and Don on the beach before we hiked out to check out the rocks at the end of the beach. We planned to leave that afternoon to go down to Coyote Bay or El Burro Cove – both places we always drove by and loved to see on our camping trips. By the time we got back to the boat, it was later than expected and the wind wasn't right anyway for sailing south. There was going to be north wind the next day, which was perfect, so we decided to spend one more night there. My ear was clearly not getting better – up and down with a lot of discomfort. I was keeping it out of the water and half heartedly attempting some remedies (not entirely sure what the cause was, I wasn't sure what to do – viral or bacterial?).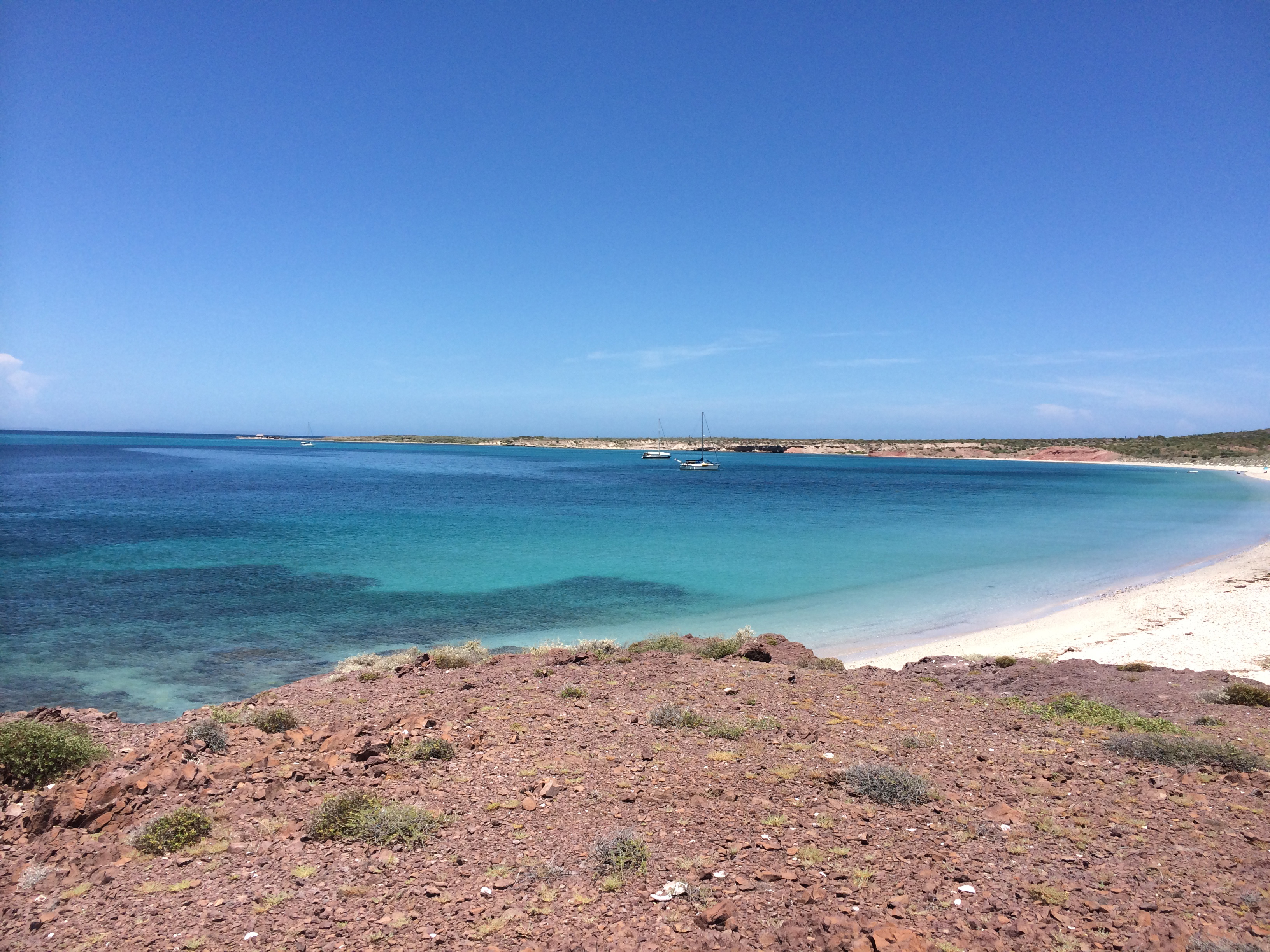 The next day Linger Longer and Rain Dancer both headed out to the north. Kirk is a fishing enthusiast like Jonny – but he hadn't had a lot of luck lately. Jonny gave him one of our lucky lures just as they were leaving. It wasn't long before Kirk called us on the radio to say they were having fish for the next two nights! Those dorado sure like the pink lures.
I was really excited about seeing some of our old haunts as we made our way into the bay. We wove between little islands and checked out El Burro Cove. Every morning we listen to a net on the SSB Radio – cruisers check in and share information and then at 7:45 Geary the weather guy gives us all a report for conditions all around Baja and mainland Mexico – he does this out of the kindness of his heart, and he's very reliable. It's extremely helpful and we never miss a report. We know that Geary lives in El Burro Cove, so we thought we'd try to find him and let him know how much we appreciate his weather reports. We did a 'drive by' of El Burro and the beach is lined with palapa beach homes – we guessed that the one with the most antennas on it had to be Geary's. We continued on to Coyote Bay, just around the corner, as it seemed to have more protection for the winds we were getting.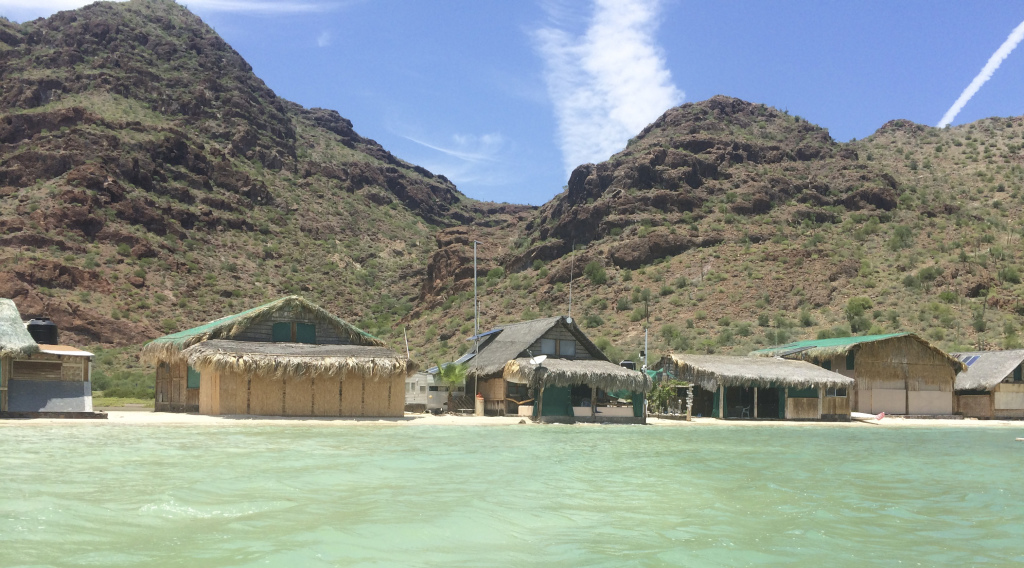 My ear was definitely a problem and I was pretty uncomfortable – continuing to keep my head out of the water until it was better. In the heat, this was a miserable prospect. We decided to go ashore – there was supposed to be a small market and we wanted to scope out the prospects for getting water and we had some really stinky trash we wanted to offload.   The beach was wall-to-wall beach houses and compounds. We landed the dinghy under a shady palm tree and tried to walk out to the road. We were locked in by a very secure gate. We went back to the beach and walked down a ways and found another path that looked like it went out between houses. It led to another locked gate. By this time we were REALLY hot and more than a little annoyed. We ended up jumping over a wood slat and metal fence across from the mini market. I was able to dump the trash in a bin and went in to see what goodies we could glean from the market. We were nearly completely out of fresh stuff. Avocados? Tomatoes? Cucumbers? Perhaps a freezer case with ice creams? I had high hopes. Jonny was only hoping to find a beer. One of us got what we were looking for and it wasn't me. Now I was really sweaty, sticky and dejected. And I had to climb up a metal wire fence and try to get to the other side. A few cuts and bruises, but I made it OK and we trudged on back to the dinghy. Jonny jumped overboard for a swim and got out immediately. Not only was the water not very clear or pretty, but it was 93 degrees – not very refreshing. Crystal clear island water has really spoiled us! I of course didn't even bother going in, I was just feeling hot and miserable and my ear was annoying and worrying me. I just kept spritzing off with our fresh water sprayer and hoping for a breeze. It was a most uncomfortable night.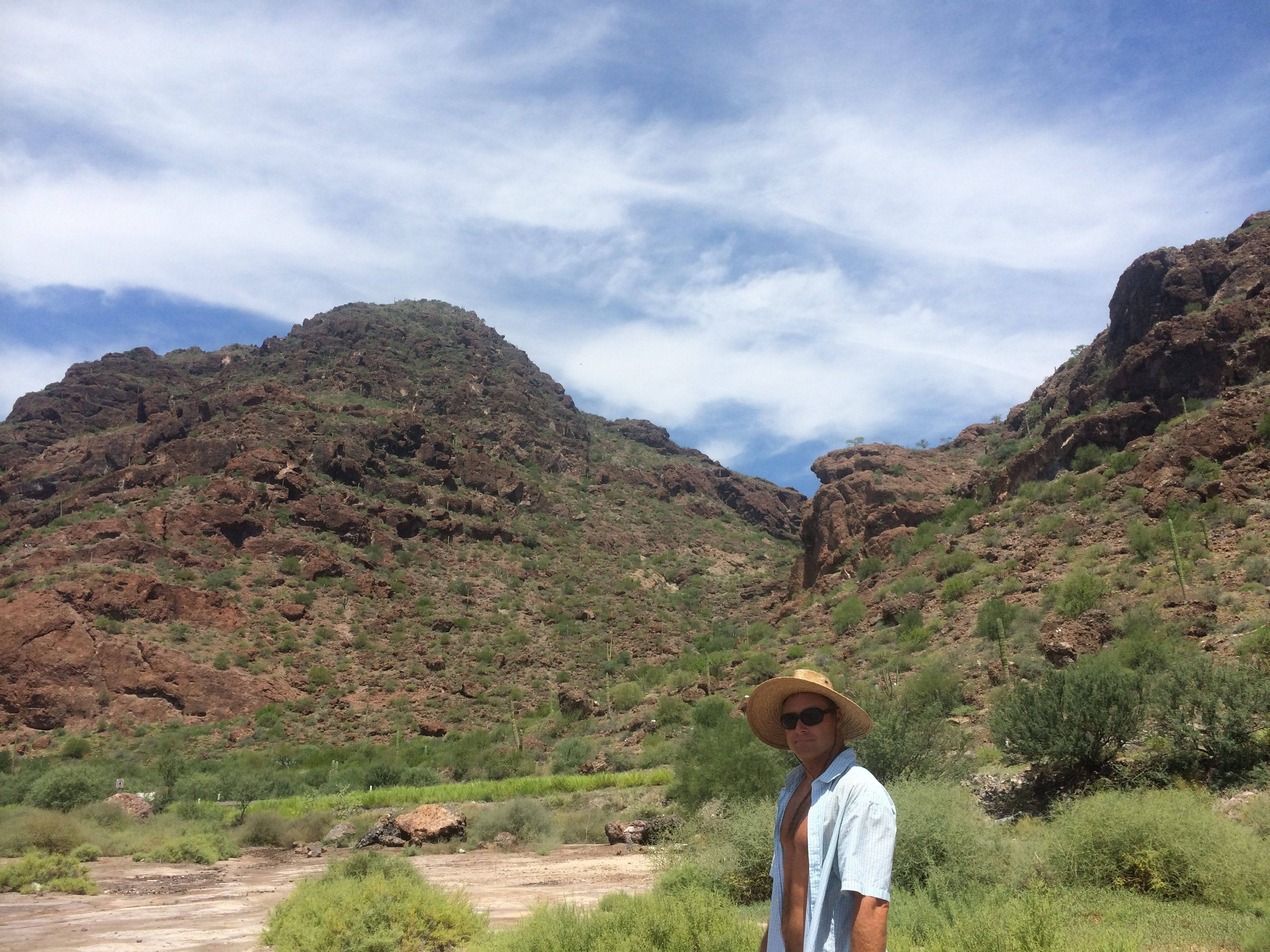 In the morning we made our pilgrimage by dinghy over to El Burro to find Geary. I was not at my best – ear was really bugging me now. We interrupted Geary's siesta, but he kindly got out of his hammock and had a nice chat with us. I wish I'd been feeling better, I would have had a lot more questions for him! He's been living on this beach for over 20 years and has a wonderful place with all kinds of fun and entertaining décor. We left him with a couple of carrot cake muffins (which Jonny so generously sacrificed – they're his favorite) and headed out to find the little restaurant there.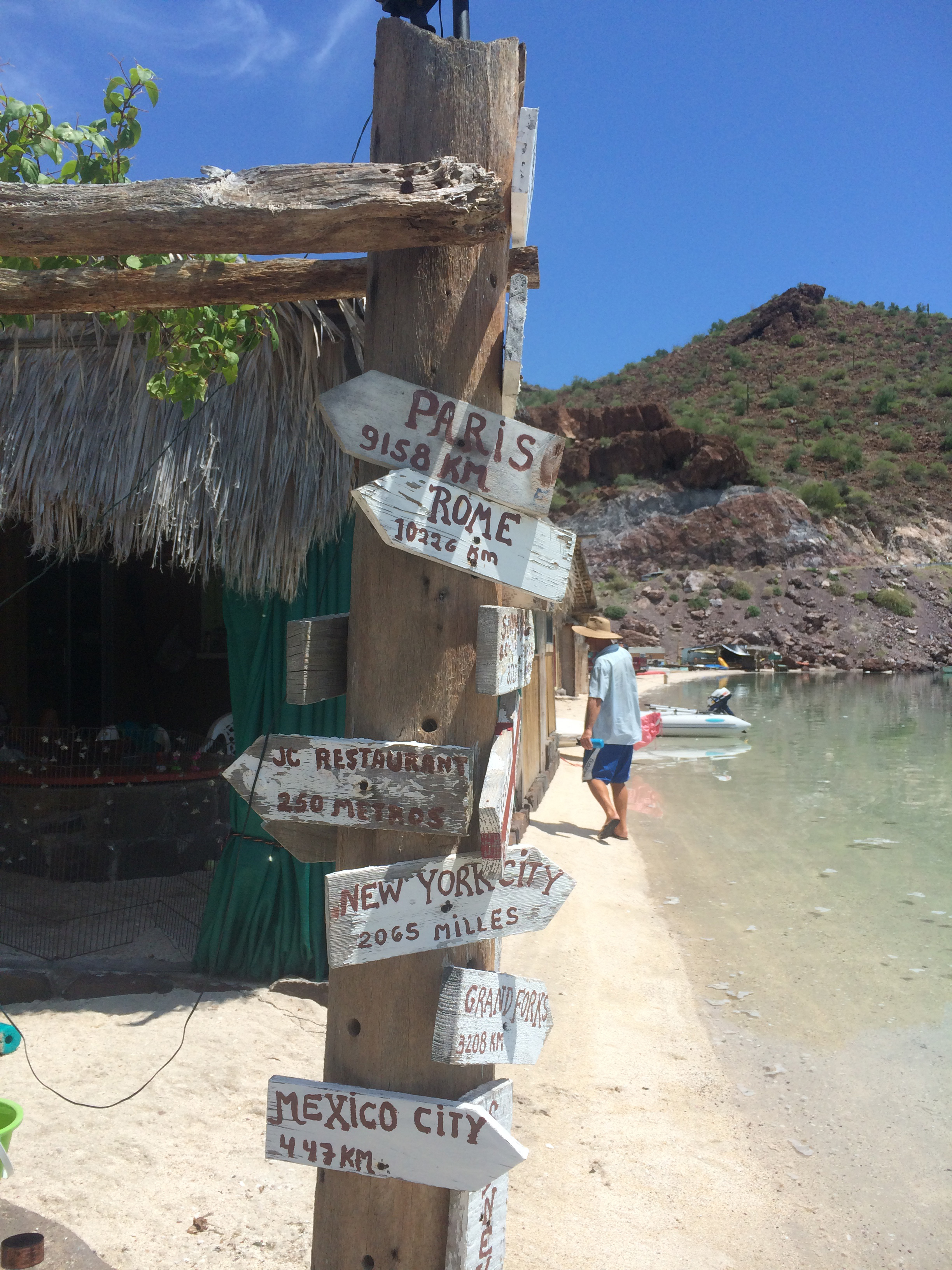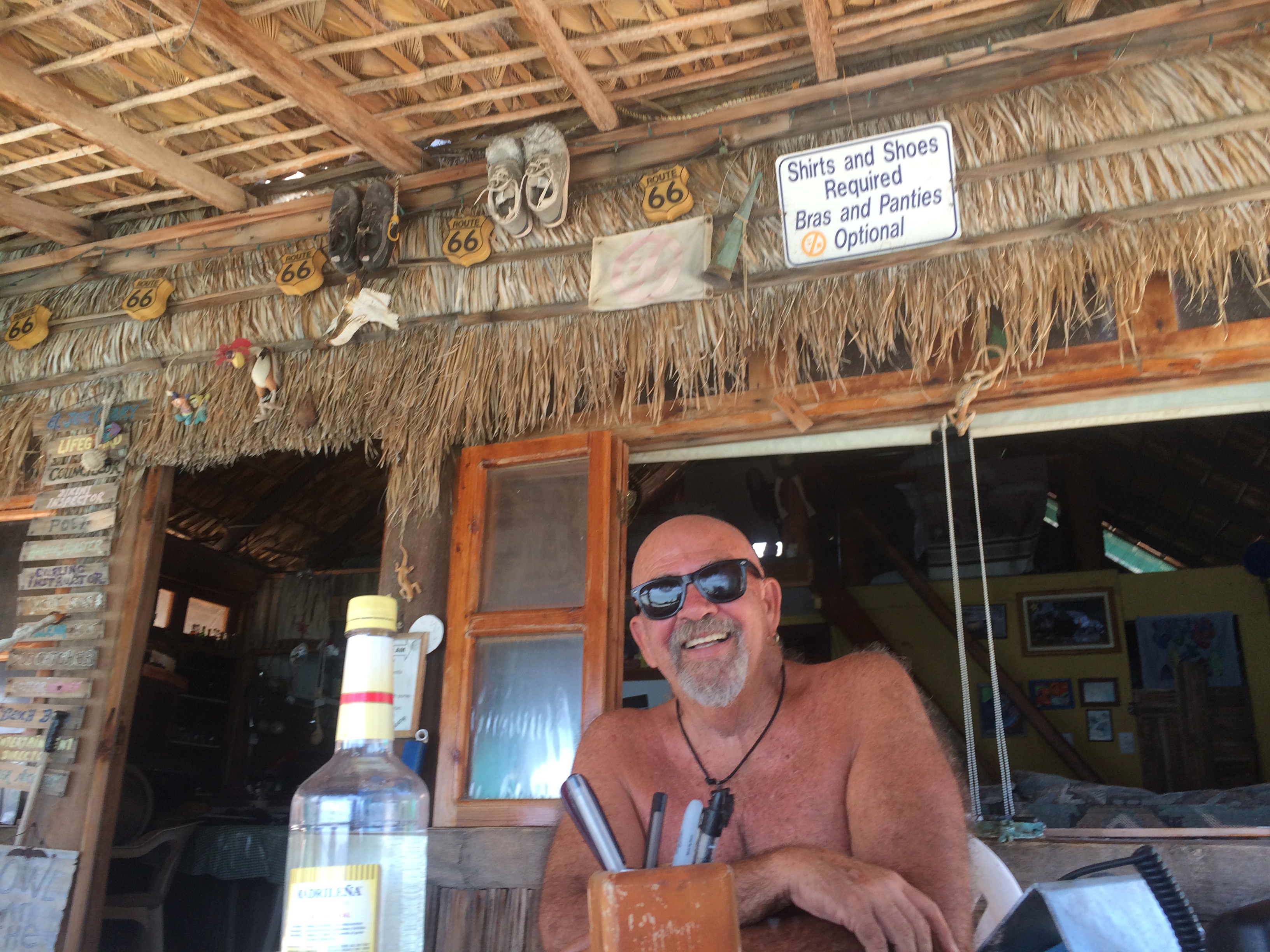 We spotted all these crazy little crabs on the way – tiny little guys with one giant claw – sometimes on the right, sometimes on the left (why is that?).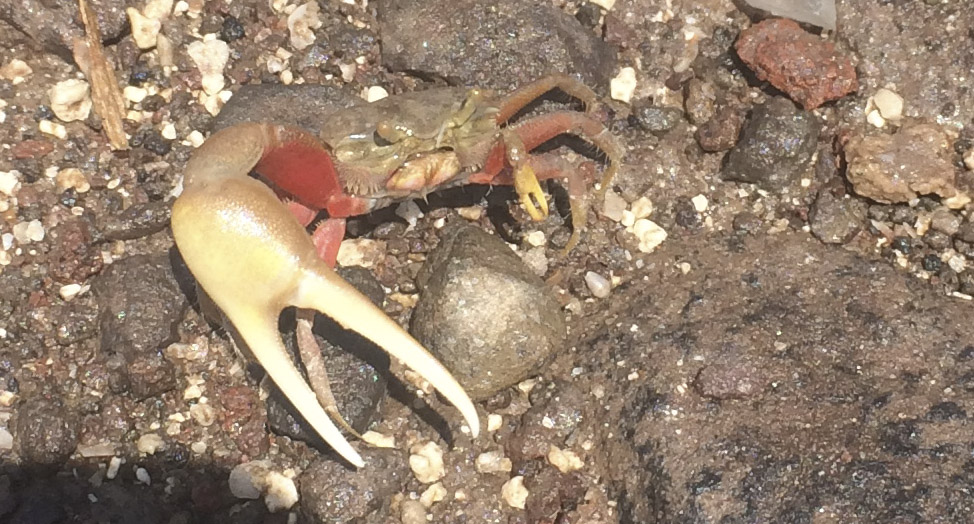 It was hotter and more humid than we've seen. How is it no one ever told us how humid it is down here? We knew it was hot, yes, but the humidity was never mentioned. There really is something to be said for "but it's a DRY heat". I totally get it now. It was 102 in the shade at JC's Restaurant, and we were the only ones there.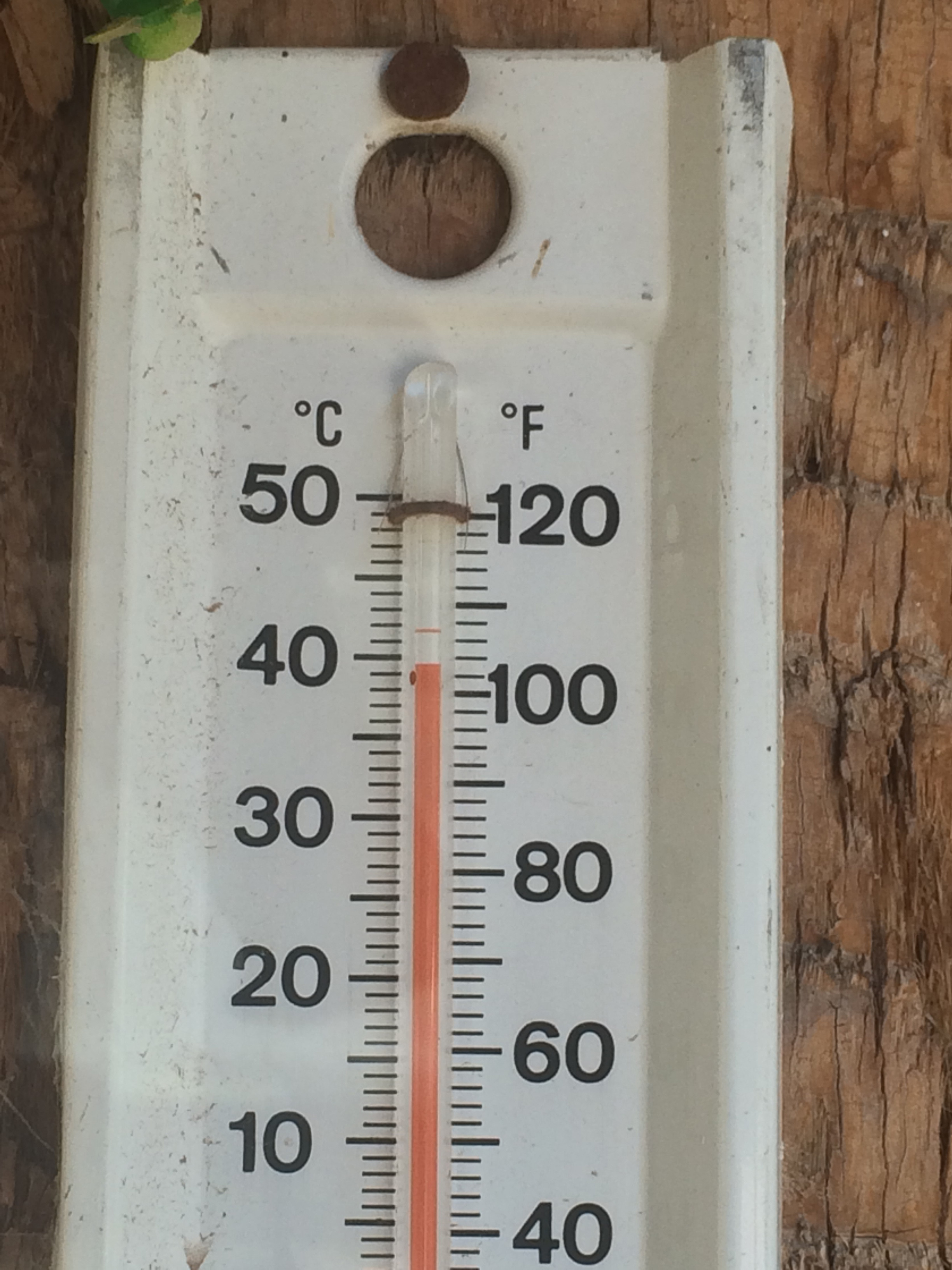 It was a cute little place and the folks there were very friendly and wanted to serve us. They maybe just didn't think anyone was going to show up that day, as it took over 45 minutes to get a couple tacos. I couldn't get a fresh orange juice, but I got the green light on the limonada. I think they had to run over to the other store for ice as it took quite some time for that to arrive. But it was the real deal and it was huge and delicious. The tacos were also extremely good, and I'd almost say worth the wait. As soon as the food came, we were inundated with black flies. They swarmed our food and the condiment platter. I had to eat with one had shooing away flies. It was so bad I just started to laugh and thought maybe we were on one of those hidden camera shows: "This couple came in for a quick taco lunch, but we cranked the heat up to 102 and made the humidity off the charts, then we made them wait for nearly an hour, and then, when their food finally came, we released 800 starving black flies right over their table. Let's watch to see how they react!" We were far too hungry, hot and sticky to react in any way but to wolf down our tacos, wave away the flies and get on out of there (which is probably why they won't be airing our episode). It was nice to get a meal out for a change, though! Cooking in this heat is not a pleasant task. We had another hot and sticky night – trying to cool off by spraying with water and standing naked in the breeze. Clothing optional? No, clothing is not an option in this heat. And no, it's not nearly as sexy as you might think; touching is not an option either. I can't even stand it when the back of my calf touches the back of my thigh. I've been experimenting with 'foot hammocks' so I can lay around with as little of me as possible touching anything.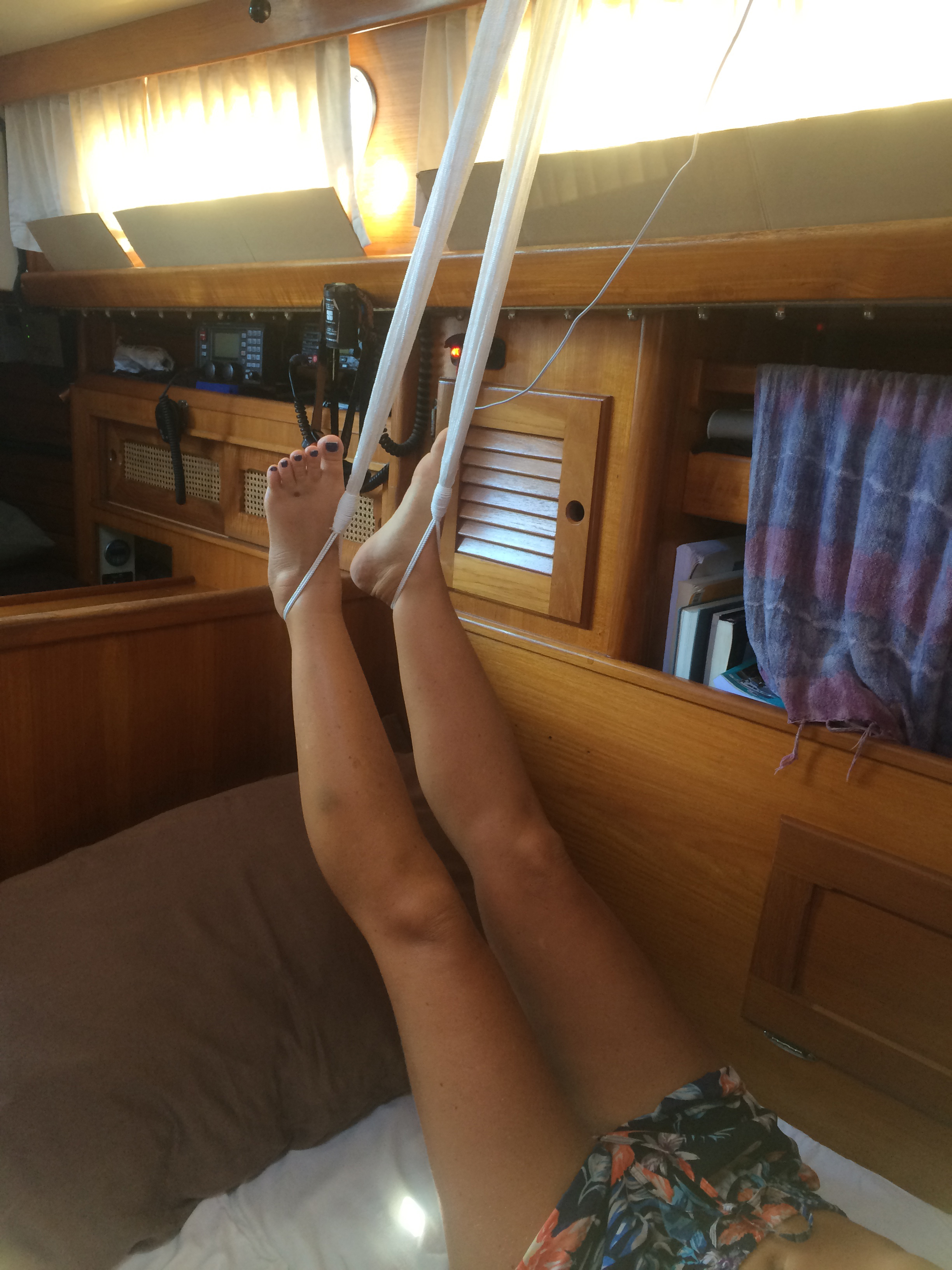 We nixed all our plans intentions to see any more of Bahia Concepcion – it could wait till the cooler winter months when we head back by. The next morning we got out of there pretty quickly and headed up to Punta Chivato, which we hoped would be a bit cooler. As we were nearing the end of the bay, there were lots of dolphins playing around.  Some of them rode Summer's bow for a while.
Otherwise, it was a sweatshop of a sail for me – I spent most of the time down below trying to sew some leather onto our giant shade structure as it had ripped where it goes around the backstay.  I couldn't sew it while at anchor because we cannot survive without it up!!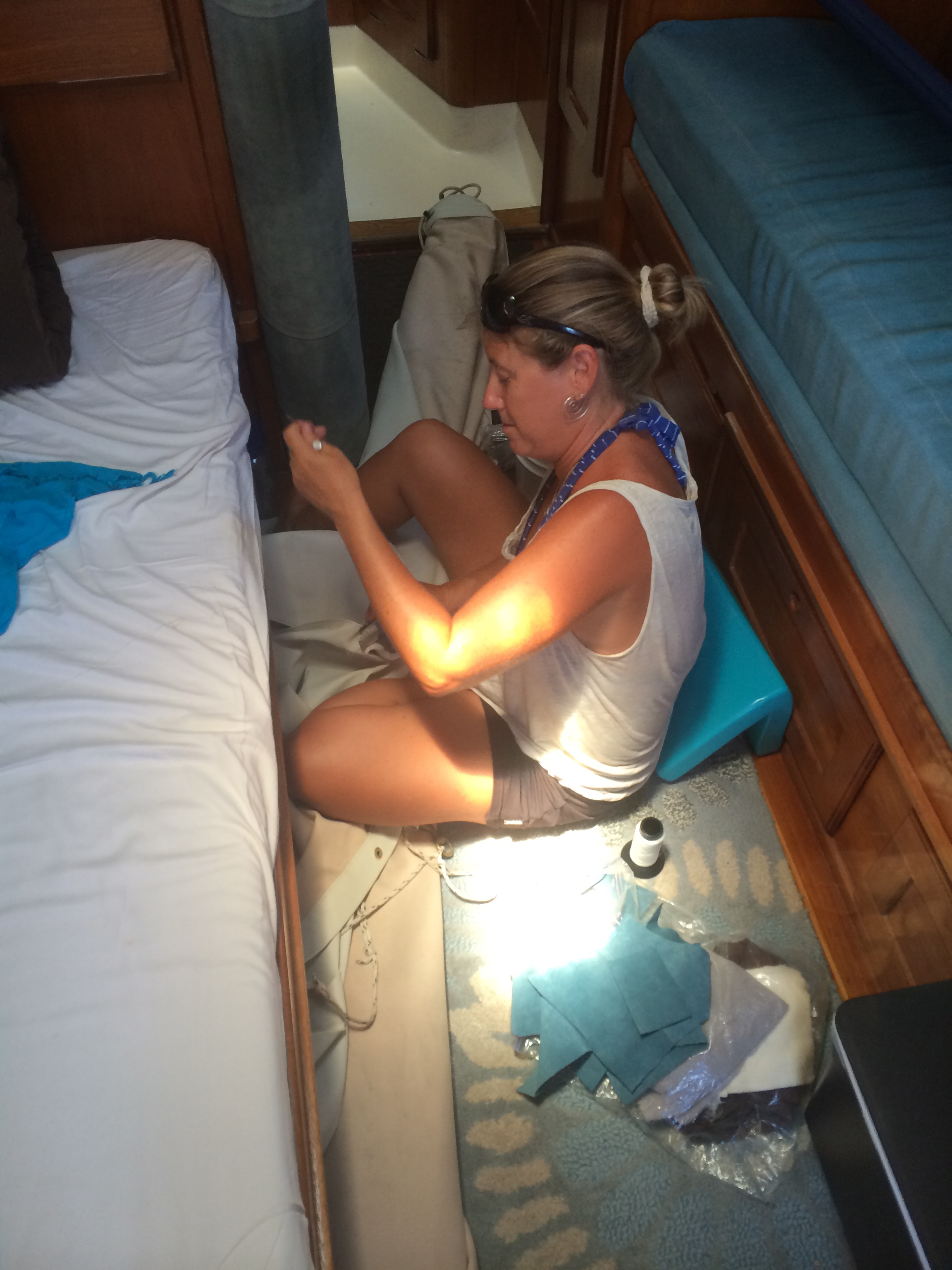 We camped once on Punta Chivato for New Year's Eve.   It was a terrible night for a variety of reasons (it was quite cold and windy in the winter time to boot). But I hoped this time would be much different. And it was. Except it was far worse.  I awoke shortly after midnight in excruciating pain – my ear was howling. And humidity seemed to be around 90%. Our bed was damp, the floors and decks and cockpit were all just soaked with humidity. At least there was a breeze outside, so I crawled into the cockpit and tried to sleep on my good ear. Not long afterwards, Jonny woke up and took up the other side of the cockpit. We must have both fallen asleep, because at 4:45 am we both sat bolt upright as we felt the boat spinning around. Inside of a minute the wind switched direction 180 degrees. This meant the boat also changed direction 180 degrees. This was not a usual motion and that didn't escape either one of us however soundly we were asleep. With the switch we ended up being in extremely rolly conditions and we didn't really get any more sleep. In the morning we got out as quickly as possible, with the boat pitching and rolling the whole time. We even waited to take the sail cover off until we were underway, figuring it couldn't be much worse to do it when we were moving, maybe it would calm down? Nope. It was worse. But we survived and had a decent sail. At least when you're sailing you're always feeling some sort of breeze!
Next stop Isla San Marcos – an island that has a small village and a gypsum mine. We went to the uninhabited north end of the island to Sweet Pea Cove. There was a small fishing camp on the beach, interesting looking caves and we anchored in very pretty waters. The water was a bit more refreshing – down to 90 degrees. I did some floating and we had a more pleasant and cooler afternoon and evening. We watched two fishermen land on the beach in a panga. One of them jumped off the boat empty handed and ran into a cave on the beach. Just moments before this, Jonny noticed that cave and through binoculars spotted a chair inside of it. The second fisherman ran into the cave and they tried to put a big tarp up over the opening. The second guy ran out and sprinted across the beach and got something (a stick?) and back to the cave where the two men secured themselves inside with the tarp blocking them in. After about 15 minutes they came out, put the tarp away and zoomed off in the panga. You can just imagine the speculation we had going on as to what happened in there. Any guesses are welcome!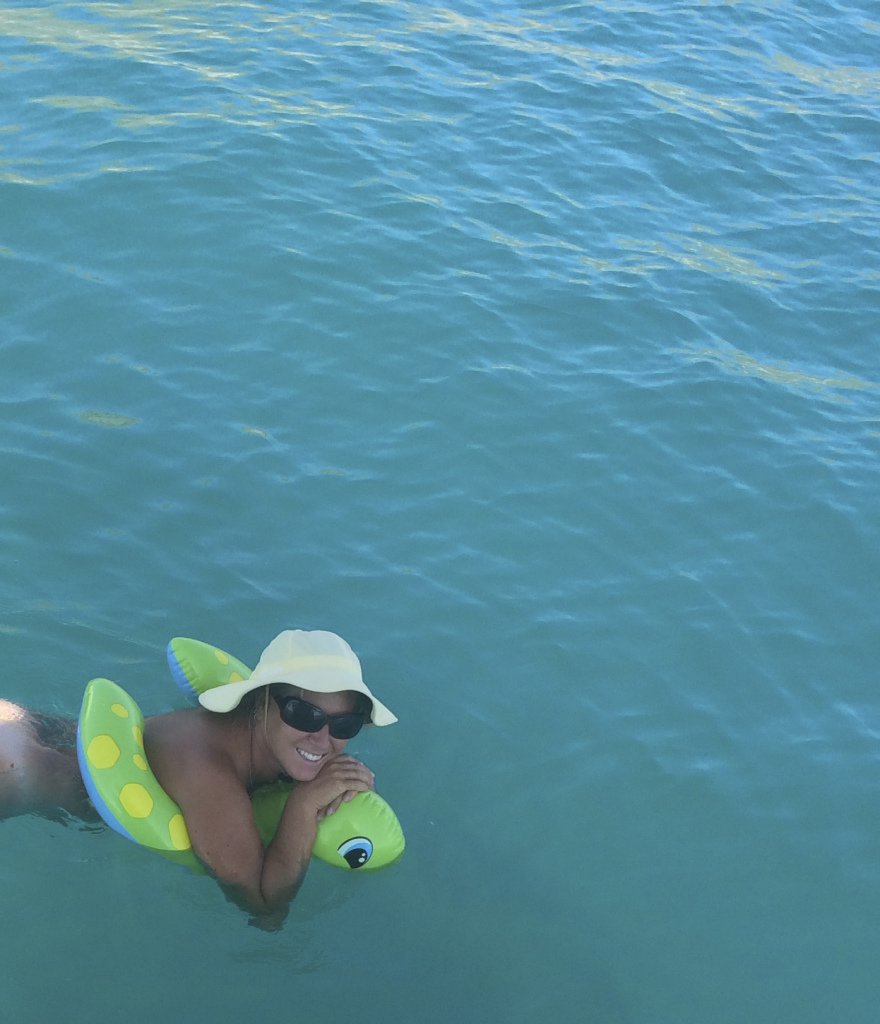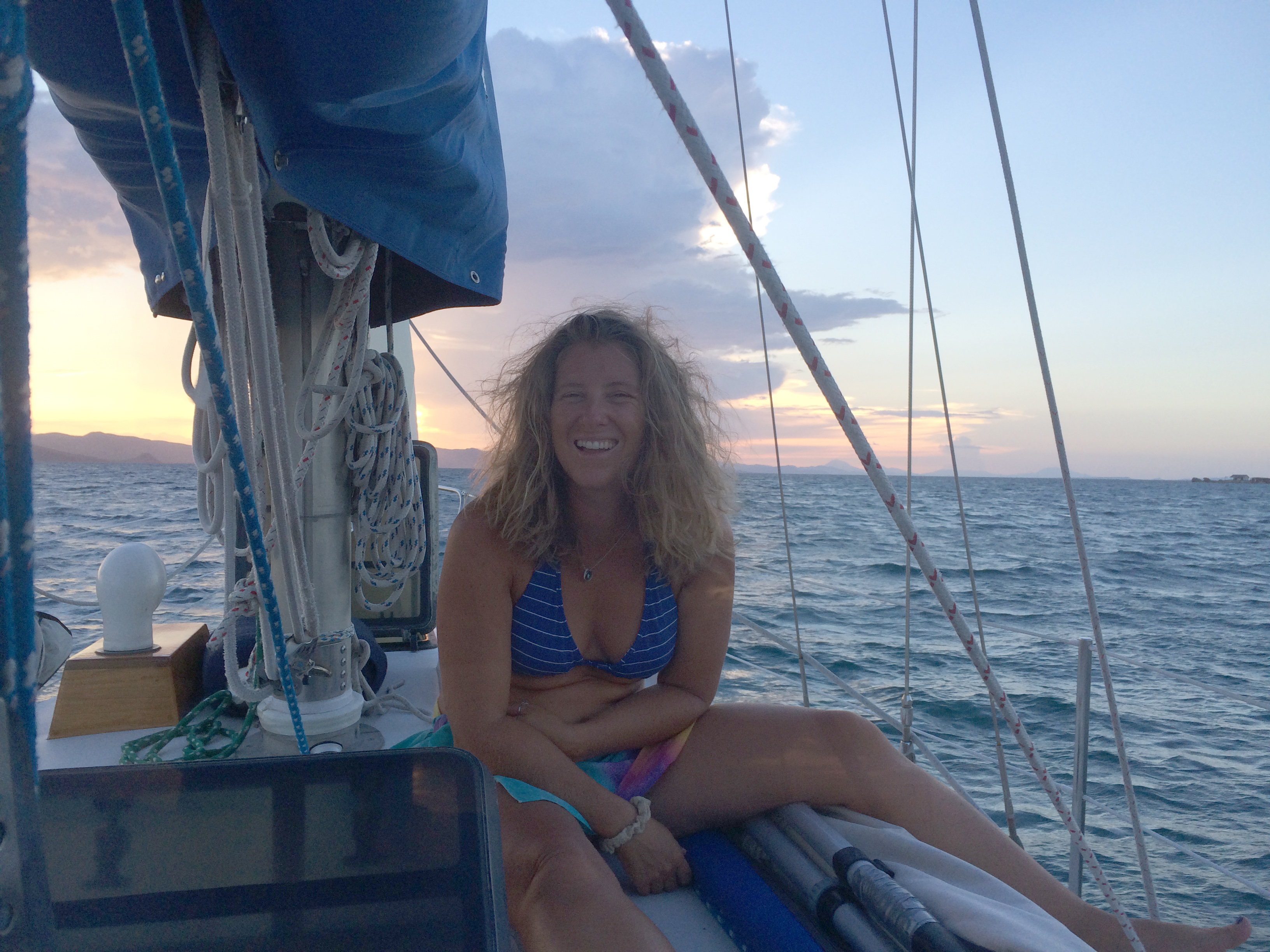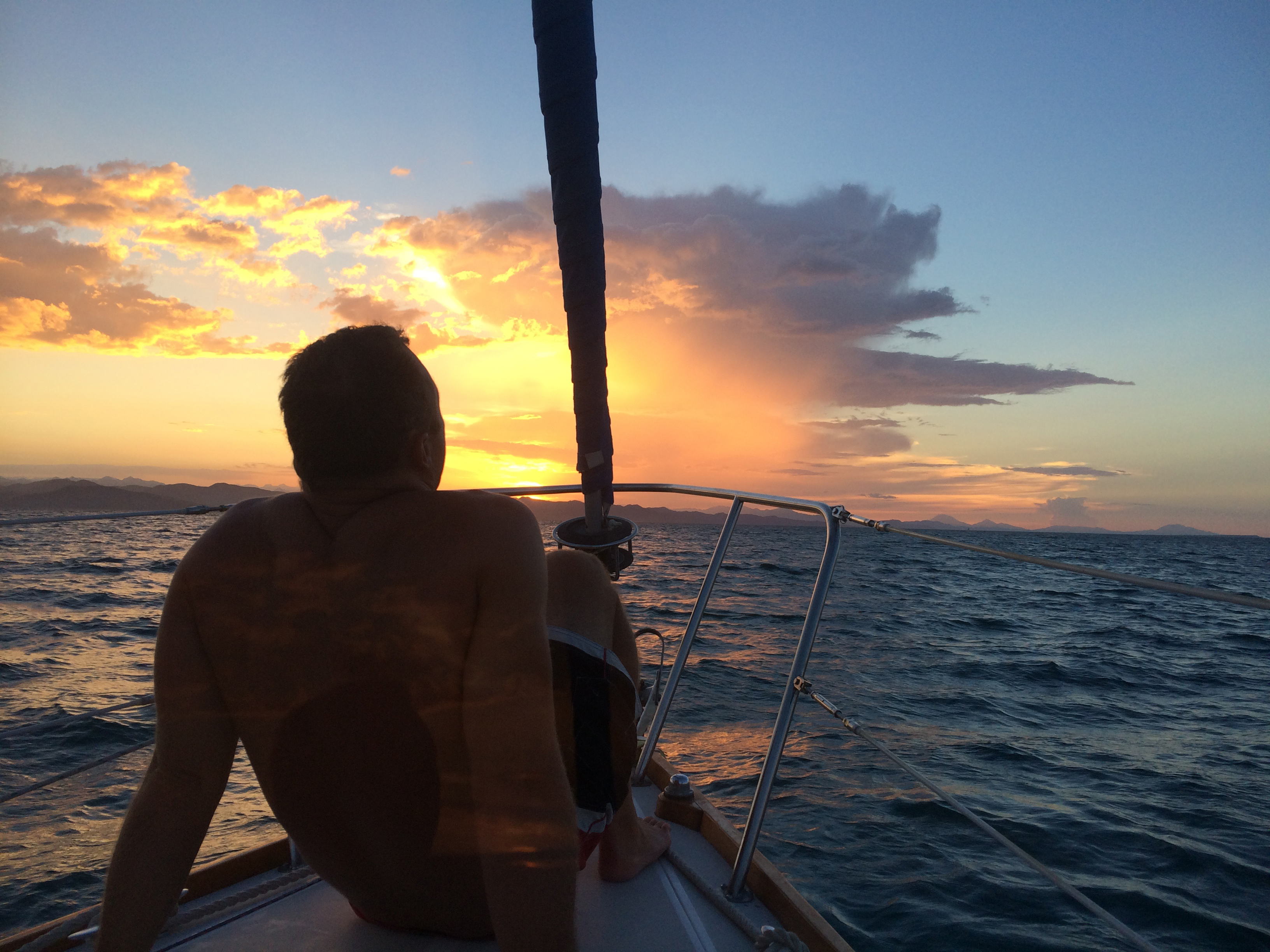 We were only about 10 miles from the town of Santa Rosalia – where we'd planned to stop for provisions before making a big leap to the north. I was really looking forward to exploring the beaches and caves on Isla San Marcos and we planned to do that the next morning before heading to Santa Rosalia. And we were both really interested to go have a look inside that one cave and see if we could find clues of what our mysterious fishermen were doing in there. My ear was hurting pretty badly and I was hoping it would be a little better in the morning. Unfortunately it was not and I had another sleepless night in excruciating pain. Ibuprofen helped a bit, but it was helping less and less. In the morning the entire right side of my face was in agony, it hurt to chew and it hurt to put sunglasses on. I realized I would not enjoy exploring the caves even if I could tough it out. I said I wanted to go straight to Santa Rosalia and find a doctor. Ten days of this was about my limit, I guess.
It was very rolly and there wasn't enough wind to sail. We motored along with a favorable current and made it into the harbor around 11:00 am. We got anchored and immediately went ashore to find a clinic I'd looked up online. We stopped in the Fonatur office and they told us we were not allowed to use their dock for our dinghy if we were not staying there. That was very sad, as there wasn't really any place else safe and secure (and free of loads of disgusting trash) to land. We did get a map and they suggested a doctor to visit. No name or address, but they put a dot on the map. We headed out to try and find that (and yes, we just left our dinghy where it was…were they going to give us a parking ticket? We weren't sure but we didn't care too much at that point). We ran into Rainie and Don and mentioned where we were going. They said they knew a Dr. Pepys who spoke English and was absolutely wonderful. They attempted to give us directions and finally pointed to a white cross on the hill and said it was up there, just across from that.

Santa Rosalia is unlike any other place in Baja. It's an old mining town and the copper mine was run by a French company for quite some time. The town was built up with a lot wooden buildings (impractical for Baja) and Mr. Eiffel, of tower fame, designed the church here.   There's a bakery that's been operating in the same location for 100 years. There aren't a lot of gringos here and it isn't very touristy. We've always stopped here on the way home after our driving/camping trips and it's always had a soft spot in my heart. It is built on some hilly terrain and there are a lot of steep stair cases, roads and walking bridges to and from the high sides. A main town area is in the flatter arroyo in the middle. We hiked up a steep staircase to a lookout – and could see Summer waiting patiently for us in the anchorage. We wandered through some streets at the top, trying to find the right place. We asked several people and got re-directed a few times.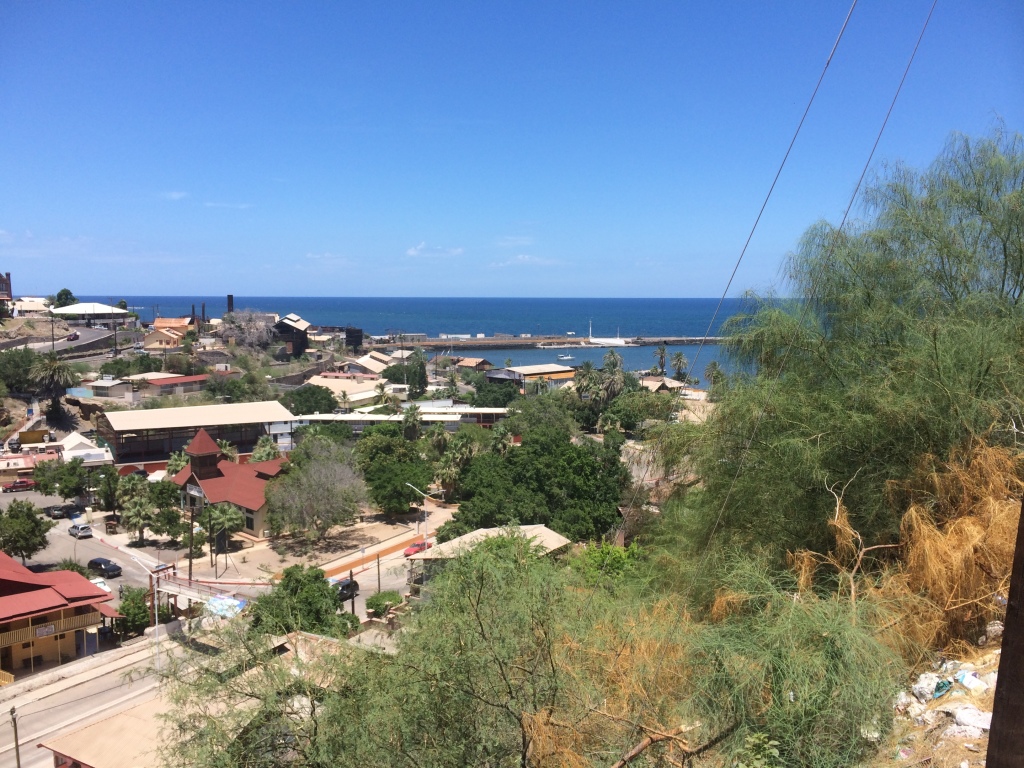 We finally ended up at a Doctor's office, in line with the big white cross a few streets down. It was not Dr. Pepy's office, it was Dr. Lopez's office. Doctor Lopez greeted us and said he could give me a consultation right away. He did not speak a word of English. Between Jonny and I we were able to communicate and understand just fine. Jonny studied Spanish in school and can often say the more complicated things properly, whereas I just have been learning through my travels in Spanish speaking countries – I sometimes know more obscure vocabulary words and can often understand what is being said to us a bit better than Jonny, so between the two of us we do OK.
Dr. Lopez had a scope with a bright light and he put it inside my ear – and it was projected on a big screen. What I saw will live in my nightmares for days to come. "MMMMM…Muy infeccion" said Dr. Lopez.   He came up with a list of things he wanted to give me – an antibiotic, an anti-inflammatory and ear drops. He explained how many and for how long I should take them. I can't remember the last time I ingested antibiotics and I sure didn't want to, but without access to my alternatives, and knowing how bad these ear infections can go, I decided to go ahead with this course of treatment. I was very worried about the very likely possibility of a yeast infection caused by the antibiotics and wanted him to add something for that to my prescriptions. I had a hard time trying to explain that to the doctor. Jonny jumped in with his fancy Spanish class education and pointed to his crotch with both hands and said "INFECCION indentro!" and the doctor looked horrified for a second and then said "ahhh! La vagine?" to which Jonny enthusiastically said "SI! SI! SI!" I wish I had that on video.
On the other side of the waiting room was a farmacia – how convenient! The doctor is apparently also a pharmacist and he pulled down all the drugs for me. I vaguely wondered if there was some sort of conflict of interest there. He said he wanted me to come back in four days so he could check on me and we made an appointment. The entire visit including all the drugs came to about $62 and took less than a half hour, no paperwork, no health history. I took the pills and ear drops right in the (comfortable, air conditioned) office and the drops, containing lidocaine, gave me some instant relief. A day later it was quite a bit better (although my hearing is questionable).
We scoped out a few grocery spots in town and splurged on a nice, very late lunch, in a nice, very air-conditioned restaurant. We recalled eating at the same restaurant on one of our driving trips heading north after New Year's. We remembered being freezing cold and ducking into this restaurant and enjoying their heat. It was quite the opposite this time. When we left the restaurant our sunglasses were so cold they fogged up.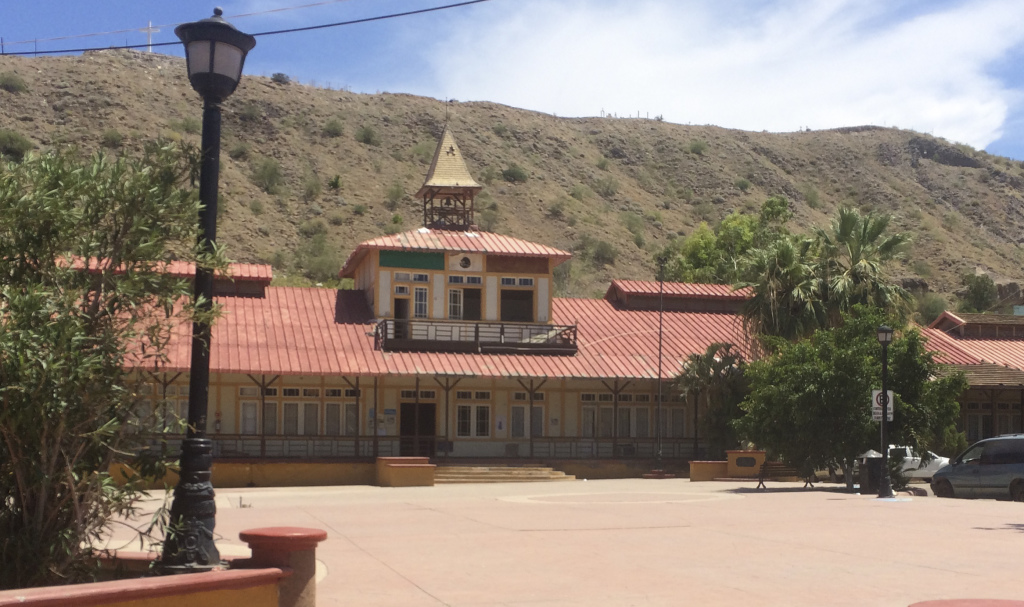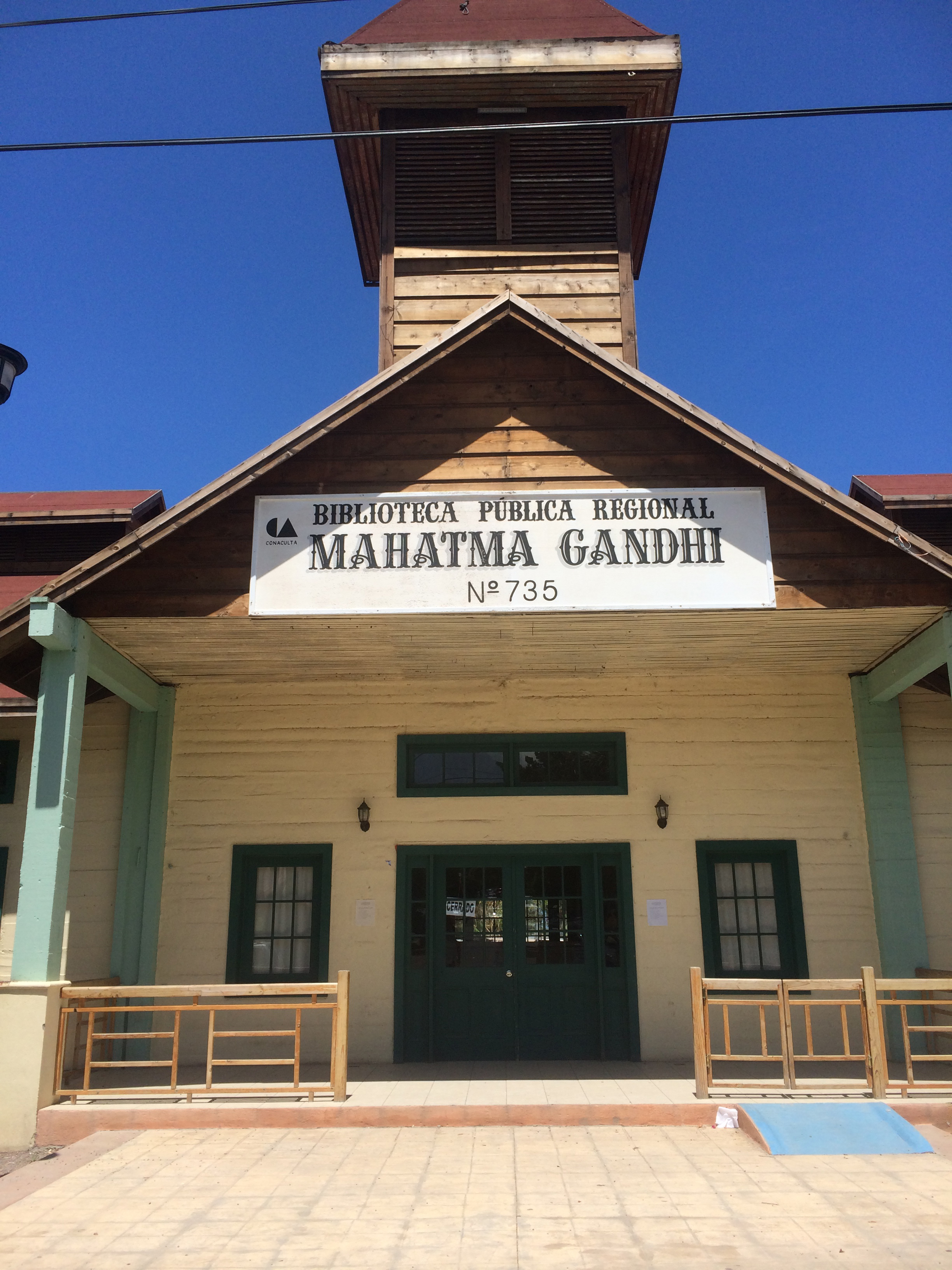 On our way back, we stopped to visit with Linger Longer, as they were staying in the Fonatur marina there. They had just gotten their share of a collective beer run delivery and had several cases piled in their cockpit. They kindly offered us cold ones, and who are we to refuse such kindness? We had a nice time chatting with them – they are really enjoyable folks to hang out with. We finally realized we should probably get our yogurt and other groceries back to the fridge and we headed back to Summer.
After the blinding hour and the sun going down, we planned to go ashore and try to use the showers and then find this ice cream place everyone is raving about. Well, we got our showers, blissful freshwater pouring from above washing away nearly 6 weeks of "the new clean". Unfortunately we got busted for using the Fonatur dock, by the night guard. Don't they have any idea how much we've spent at other Fonaturs? Anyway we had to hustle back to the boat, no ice cream. Very sad.
It was a relatively cool night. And by that I mean it was down to about 93 all night and it felt quite pleasant, and being clean on top of that? Well, it doesn't get much better. Slept very well, with no ear agony and no rolliness in the harbor. The pleasant feeling lasted until almost 9:00am, when the sticky encasement of hot goo settled in for the day. It's really just plain gross.
Jonny had to go up the mast to figure out why our super expensive, power-sipping LED "lifetime" anchor light stopped working after only 10 months. We don't have an answer still, but we did replace it with our old bulb which uses a lot of energy but works just fine. My job was to inventory all our food supplies so we could get at least 3 months worth of provisions stocked up before leaving Santa Rosalia.
For a few weeks now, I've been finding these little black bugs everywhere. Slow moving, hard, tiny beetle-like things. I've had the vague thought in the back of my head that they must be coming from SOMEWHERE and aren't just dropping into the boat at our various anchorages. I was afraid of finding their headquarters at some point and mostly just tried not think about it too much. Well, in doing inventory, I found headquarters. They actually operated out of multiple locations, namely our two stashes of pastas. I believe they were grain weevils that were present inside some of the pastas boxes or bags when we bought them and spread to all the rest. All our bags of pasta were just crawling with these guys. I had to throw away all of it (except for the gluten free, which they apparently don't like). It doesn't appear they got any sugar or flour, still on alert for them though. I had to remove everything from our lowest, largest storage locker, which involved laying on the floor and using a flashlight. I thoroughly cleaned both food lockers where they were found and all the surrounding areas. Sad to lose all that pasta and now I'm afraid to buy more! Fingers crossed I got them all.
By late morning we were ready to try our luck landing the dinghy at the nearby panga beach and walk over to the Ley supermarket that we could see just up the highway. The beach was covered with very black, shiny sand, probably some sort of residual from the mining history of this place. The beach and water leading up to it was fairly disgusting – covered in trash and whatnot.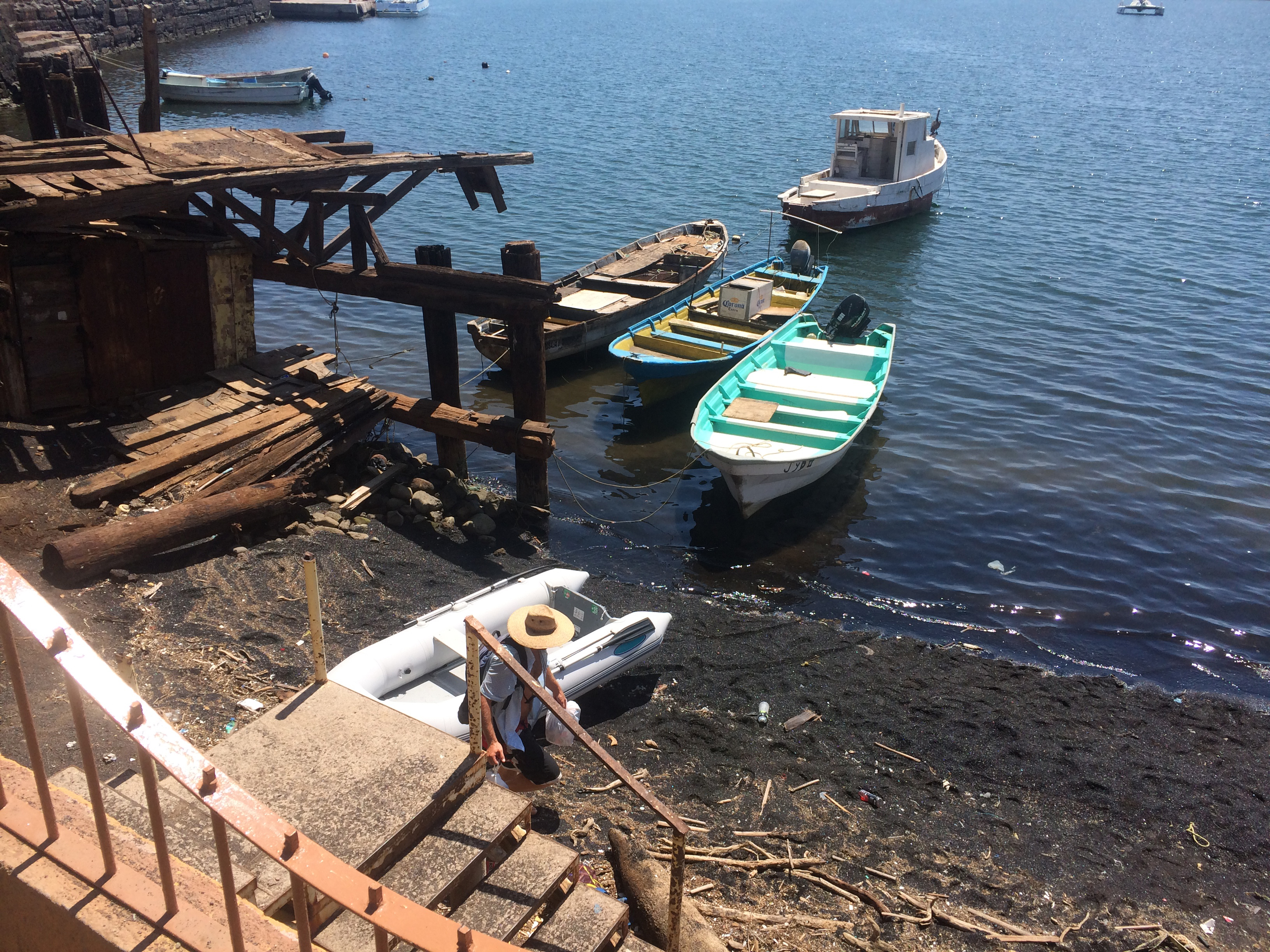 With the whole ear infection thing, I was feeling less than impervious to potential who-knows-what you could get by stepping in that water…Jonny took one for the team and jumped out of the dinghy and pulled it up on shore so I could step out onto dry(ish) beach. We secured Peugeot and hiked up the sketchy staircase to the street. There were trash bins right there so that was nice to ditch a few bags of trash we'd brought. It was a very short walk to Ley, but in the heat it was almost unbearable. We passed by a park built in the ruins of an old mining site. I wandered in to take pictures but Jonny hurried me along, anxious to get into the air-conditioned Ley. We were both dripping sweat after only a block of walking. Jonny's shirt was so soaked when we got into the blissfully icy Ley, people were pointing and laughing at him.   We probably spent about three hours scoping out what was available, getting some things, taking a break to eat a rotisserie chicken in the small deli area and then continuing our shopping expedition. I was not looking forward to the hot, heavily laden trek back, but Jonny had not a single doubt that we needed to take a taxi. Small miracles do happen! We had about half of the provisions we needed, so it was far too much to carry, anyway.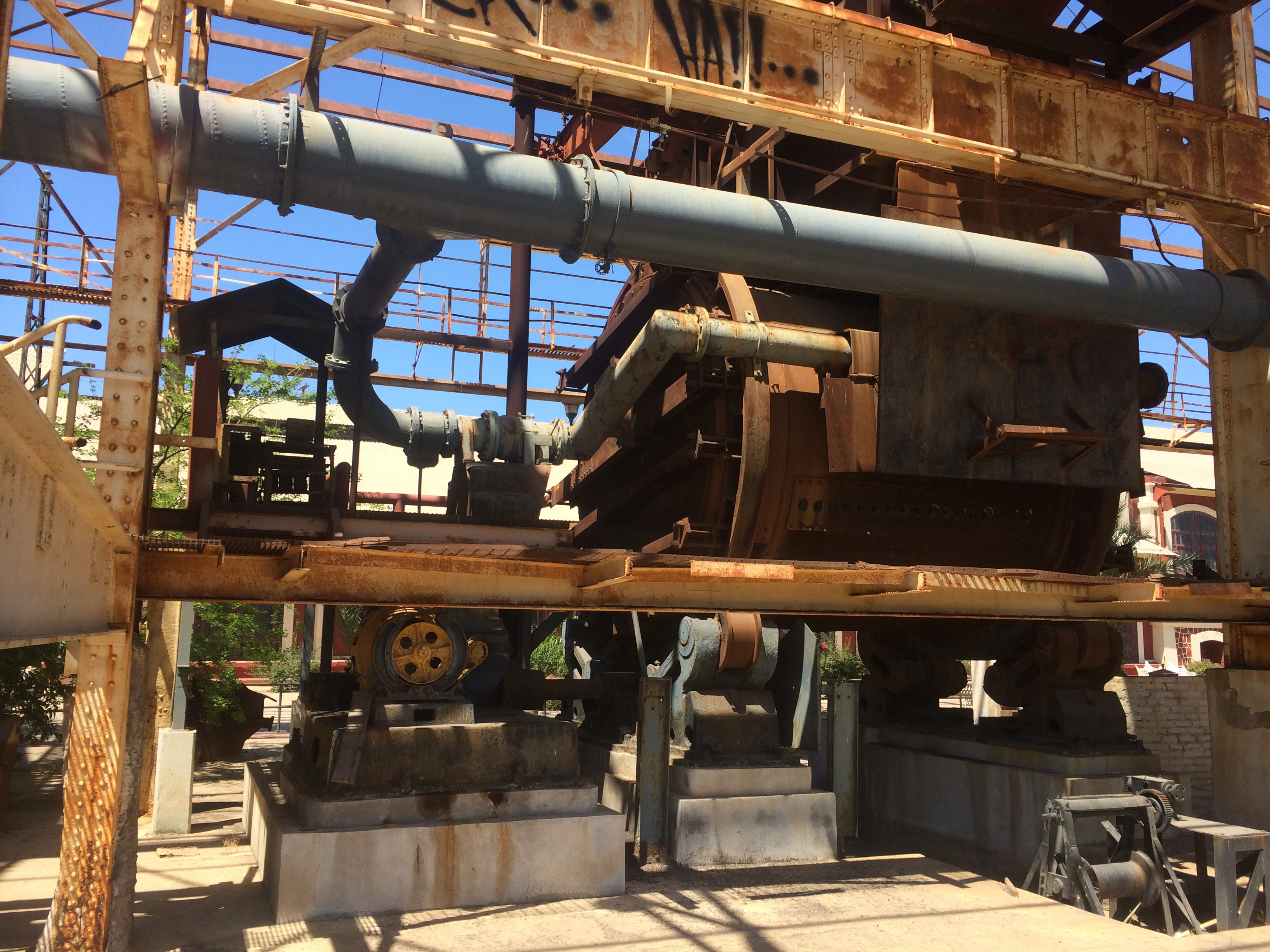 We got back to the panga area and were grateful to see that Peugeot hadn't exploded (we let air out of it before we left her baking on that hot black sand, and she wasn't the least bit soft when we got back). I again got in the dinghy without touching the water. We noticed the panga fishermen wearing high rubber boots to get into their boats. Watching Jonny walk in that water almost made me nauseous. He washed his feet off as soon as we got back to Summer.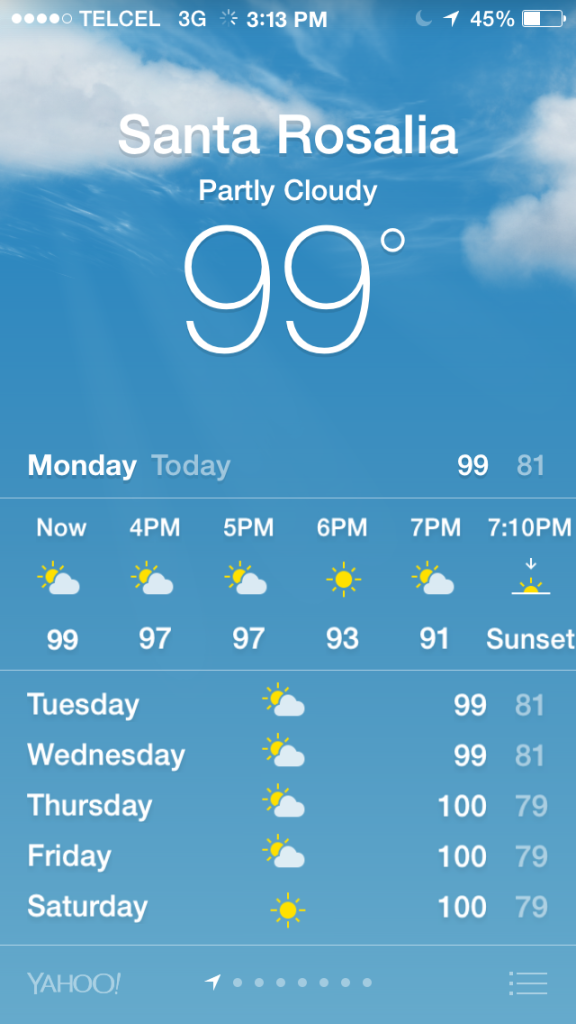 We had a hotter, less comfortable night. No showers, but we did rinse off with as much water as we wanted, knowing that the next day we were headed for water galore at the marina. Water, laundry, propane and more provisions were on our task list.
We are VERY VERY VERY grateful to our dear friend Amy, who sent us a generous donation via the blog. We decided to splurge on 2 nights at the marina…and Jonny is finally getting a new pair of gloves for heaving anchor!
The Fonatur is pretty relaxed (except, apparently when you use their dock and you aren't staying. Most places allow you to do so for a fee or free, which we would have been happy to pay, but they just flat out said no). We picked out a slip and Kris and Kirk caught our lines as we came in. We realized our dock finger was disgusting, covered in guano and other unrecognizably gross stuff. We got a bunch of fenders and rigged some longer lines and pulled Summer over to the next slip over, which was a bit cleaner. There is no water metering, so we went hog wild! Gave Summer a quick rinse down, put up our sun shades and proceeded to do a huge amount of laundry in a Rubbermaid bin. It took most of the day, but being in our shaded cockpit, playing with cool-ish fresh water, wasn't the worst way to spend a day.   When someone finally came in to the office, I checked in for 2 nights and got some laundry tokens –as we realized there was no way we could fit all our laundry on lines on the boat. We got sheets done first and they actually dried before we got other things done, so we were able to dry a lot on the lines, and only brought 1 load to dry in the dryer.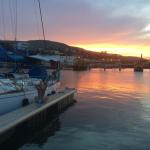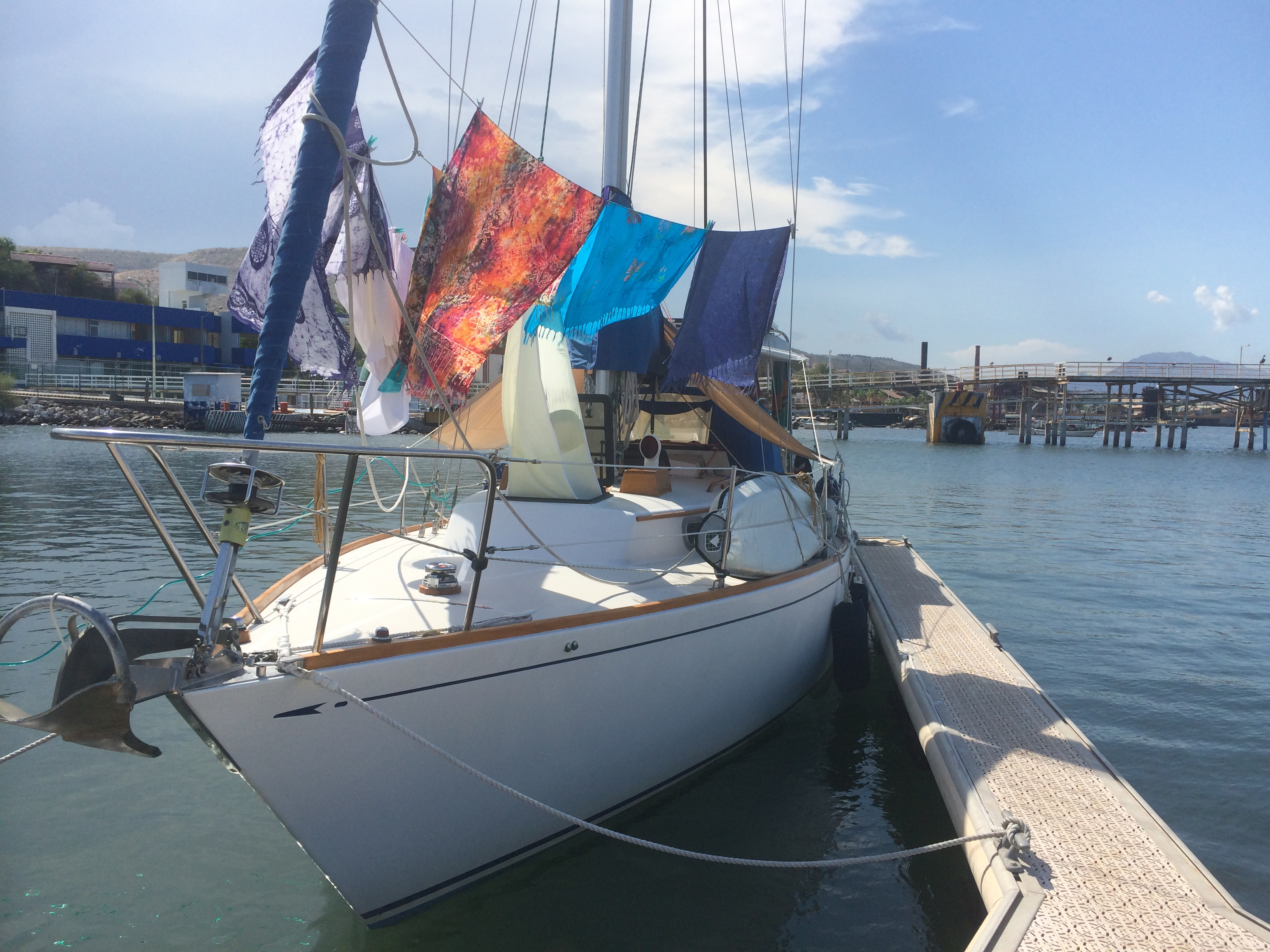 Isabel in the office offered that I could come and sit in the waiting room to use wifi or read books anytime I wanted. Yes, the office is air-conditioned and yes I am blogging in relative comfort.
You'll have to wait till my next wifi interlude to see how the rest of Santa Rosalia went for us. Until then…stay cool.