While we were hanging out at anchor in Playa La Ropa, looking forward to Prism's arrival, discussions transpired that have now caused the more private parts of our life to force their way into this public blog space. A number of things simply weren't working out for us. Our goals and ideas of how to spend the next six months were just not jiving and a variety of pre-sailing issues we never quite found the time to resolve were reaching their expiration date.   It was extremely difficult and I'm sure Zihua bay is a lot saltier after our talks, but after nearly nine years together, we decided to part ways. I would stay in Zihuatanejo and Jonny and Summer would head north for hurricane season. Perhaps they will return to Zihua in the winter. Perhaps not.
Land-based relationships are hard enough, but boat-based relationships have many added layers of difficulty. As John Kretschmer said in Sailing a Serious Ocean: "To thrive at sea, you must be responsible for who you are, not who you want to be" and I'd say it goes the other way, too – we must be responsible for seeing each other for who we are and not who we want the other person to be.   But living a cruising lifestyle was not the reason for this turn of events, but rather the catalyst. The decision to end a boat-based relationship is also many times more complicated- the logistics alone are mind-boggling.
We were able to have some very productive conversations about what we wanted and needed, and how to handle my departure from the boat. Me leaving the boat was kind of a given – I am not interested in or (probably) capable of single-handing. Jonny is extremely capable of handling Summer by himself, and as he began to think about it, became intrigued with the challenge of it all.   I was really liking Zihuatanejo and could see myself staying for a while – getting to know the place and its people (not to mention I was simply flat out done with GOING so frequently). The fact that we are still equal owners of Summer is something we've put off dealing with for the moment.
I spent a day looking into land-based living opportunities (otherwise known as "apartments"). I had a few places I'd found online that I wanted to look into. But of course I got hopelessly lost trying to find the first place and ended up in a really cute little neighborhood. I saw signs for furnished apartments on some very nice looking places. I figured it was way out of my league, but since I was there, I'd at least have a look and try to get a baseline of prices. The first place I looked at was called Villa Encantada and a nice woman answered the bell at the locked gate and let me in to have a look. There were six units – all quite similar, with furnishings and cookware and nice big, tiled showers with skylight, kitchen, bedroom, huge closet, fridge/freezer, table/chairs, hot water, air conditioning, wifi and cable TV all included –and someone comes and cleans every week. The second floor units open onto a large, lovely shaded patio with hammocks, table and plants.   She gave me the prices in pesos, which in my stupor I was not able to compute what that meant until I had left, although I assumed it was far too much. It was actually surprisingly affordable! I could hardly believe it. I felt like I'd hit a home run my first time at bat, like this was IT. But knowing better, I spent the rest of the day looking at around seven other places. Many of them cost far more and were simply windowless hotel rooms in far less desirable neighborhoods.
I told Jonny about my find, and he agreed I should nail it down the next day. Not that there is any competition – we're going into the slow season, where it's so hot here no one wants stay.  I went back for a look the next day and brought Jonny. He gave it the thumbs up and I liked it still, so I put down a deposit. Unlike places in the US, I didn't have to show any identification, fill out any paperwork, state my income, give references…I just paid my deposit, gave a move in date and got a receipt. I happened to mention something about renting a car to move my things over, and Adriana, my new landlady, told me she knew a guy with a truck who helps people move. She gave me Carlos' number and I managed to arrange for him to help me move (all in Spanish!).
In order to get all my stuff off the boat in any reasonable way, we needed to be in a marina. One of the reasons Zihua was an acceptable choice for this decision was the fact there is a mostly-affordable marina in nearby Ixtapa. I arranged for 3 nights in the marina, allowing 2 days for moving things off. Packing on a boat isn't really something you can do ahead of time, as there's no place to put anything. It was going to have to be a "move it onto the dock as it's ready and take it away" kind of operation. I wanted not to have to go too fast – since once it was done, it wasn't like either of us could just pop over to the other's to bring something forgotten. I wanted to be able to think things through and make sure we both had what we needed. With our plan ready to set in motion, all we had to do was pull up anchor and leave Zihua bay for the marina. When that time came, we were both paralyzed a bit. We had to take a time-out for a reality check. My last time sailing Summer out of an anchorage. It felt pretty serious and sad. I was wiping away tears as we waved our goodbyes to Prism and Oleada and headed out of the bay.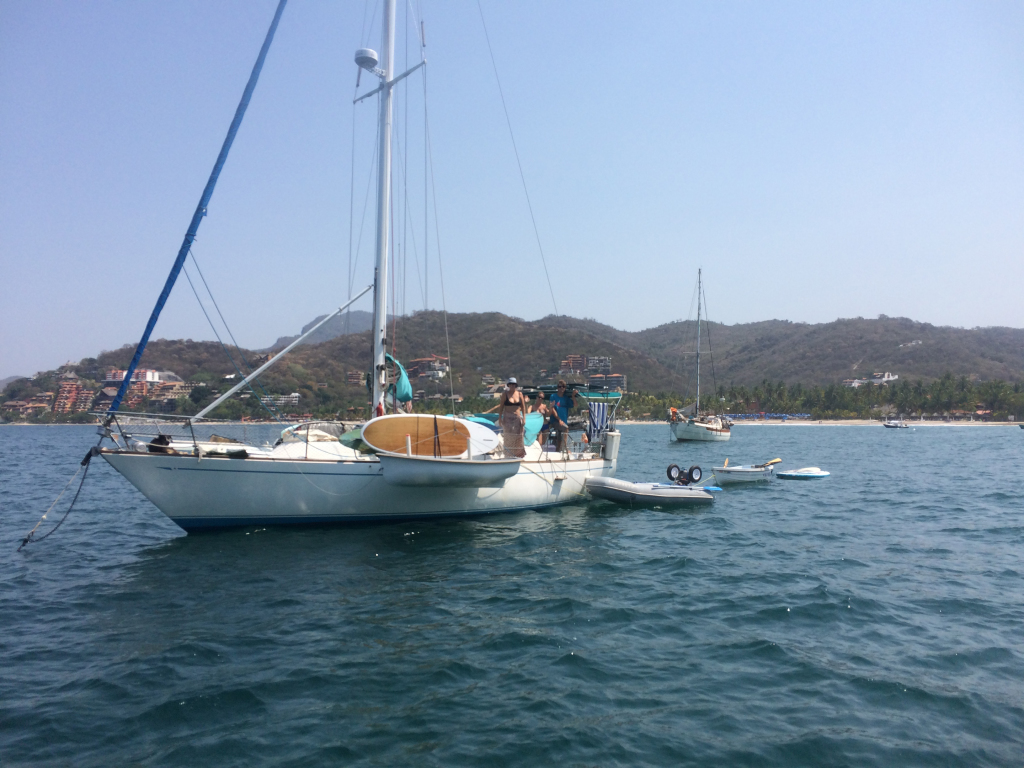 Less than ten miles away, Ixtapa marina is a tricky place to get into. They only open the harbor for an hour per day (and before 7am and after 6pm) and the rest of the time it is blocked with dredging equipment. There were very nearly breaking waves at the entrance and it was one of the scariest experiences, surfing these waves into this narrow, shallow harbor. We made it through just fine and stopped at a sidedock in order to locate our slip. It was quite windy and as I pulled down the fairway towards our slip, we got blown a little to the left. I didn't notice right away as I was looking for our slip on the right. I looked up just in time to see a mega yacht was sticking out too far beyond its slip – and there was a huge anchor hanging off the bow. I realized we were going to hit it if I didn't do something immediately – I turned sharply to starboard and revved the motor. Jonny looked up just after that to see what was happening and started freaking out. The anchor just cleared our rigging and was bearing down on our solar arch. Jonny pushed on it with all his might and it cleared our stainless arch with mere millimeters and then scraped up the side of our dinghy motor that was mounted on the stern rail. Needless to say, aside from the emotional trauma I was already experiencing, this harrowing experience quite nearly pushed me over the edge. And of course Jonny was livid and ready to kill me. We barely had a second to catch our breath when we discovered that a huge powerboat was taking up more than half of the double slip we were supposed to go into (it wasn't there when we first located the slip!). There was definitely not enough room for me to squeeze into that slip. Luckily the slip next to it was open, so we pulled in there. That's when the real chaos ensued.
Ok try to bear with me on this one. When I went online to book the marina, I went to the Marina Ixtapa website. I made a reservation with "Marina Ixtapa" and received email confirmation from "Marina Ixtapa". When we pulled into this other slip, we were informed that it was Marina Ixtapa's slip, which sounded right, right? Not right, the slip I had a reservation for was for some other marina and that marina only had this one slip on the dock. It was very confusing. I went to the office of Marina Ixtapa and was informed that THEIR website was actually "Ixtapa Marina" not "Marina Ixtapa", even though it's called "Marina Ixtapa" and the Marina Ixtapa website actually belongs to a company called "Performance Yachts", and even though neither their website, nor their emails say anything about Performance Yachts–that's where I'd made the reservation. Marina Ixtapa would have been happy to rent me this other slip…for about 25% more money. No, I was not crying yet, but my head almost exploded.
I trudged back down the hot concrete to the far side of the marina where Performance Yachts office was located.  I sat down to patiently, grateful for the air conditioning, and awaited my turn while they were checking in another guy. As it turned out Performance Yachts had a number of slips on the opposite side of the harbor – not near a parking lot or road.  They had only 3 slips interspersed into Marina Ixtapa's (the REAL Marina Ixtapa) side of the harbor – which is where the showers, restaurants, parking, and shops are. While I was still waiting, a couple came in very upset. They were loudly complaining about how they did not want the slip they were given, it was too far from everything (and he had bad knees!). They started making a big stink and were very angry, and speaking only English to the office woman. They were insisting they get into one of the slips closeby. I realized they had basically "cut" me in line, and I was really in no mood for that sort of thing…. So I stood up and said, as politely as I could muster, "I was waiting here first and I would appreciate being taken care of first".  Thankfully the couple backed off and stepped aside apologetically.  I spoke to the office woman (Maria) in Spanish and explained there was a large powerboat in our slip and we couldn't fit. She made it clear that the powerboat was not going to move (no explanation, just no –I realized later it was probably because it was Marina Ixtapa's slip and they had no control) and my only option was to go to a farther out slip. We were all huddled over a giant blueprint of the marina – I asked if cars could get near to those slips out there and she said no. I explained to her that I was moving off my boat and needed to have access to the moving truck. She finally took me by the arm and brought me outside and pointed to a HUGE slip right by the front gate – it was one of theirs that she had just told the other people they could not have – before I stepped up to claim my turn.   I believe she did me a great kindness and I also believe it was my speaking Spanish (albeit poorly) that caused her to do so. Feeling somewhat relieved, I went back to the boat to try to explain everything to a hot, angry and unhappy captain. We needed to move the boat and he did not want to. The dock guards were giving us pressure to move the boat anyway since we were not in a slip we were going to pay for (and no, I was not willing to pay more – and we were not sharing this expense). We went and looked at the slip again and Jonny finally agreed to move there. He was completely certain I was going to do something horrible backing out of the slip, but I managed to keep my cool and do a perfect job backing out and then docking in the new slip (did I mention it was huge?).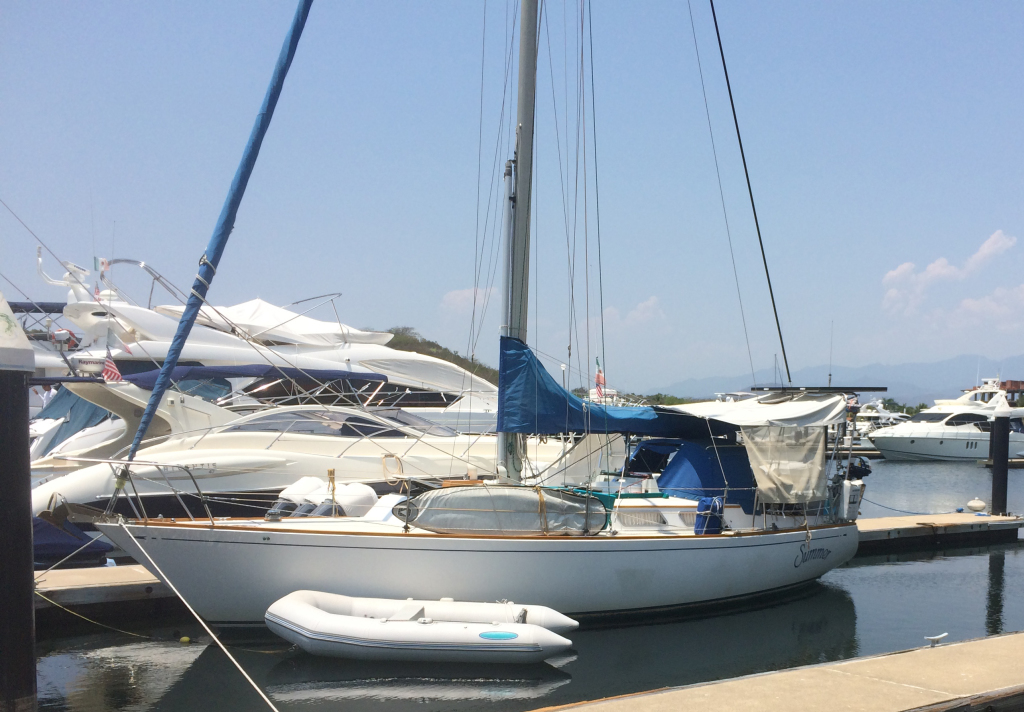 It was a strange, hard, hot, unpleasant and just plain weird few days. My mover, Carlos showed up right on time – he even called when he was ten minutes away to say he was ten minutes away. He and his friend quickly took my pathetic load of stuff to the little Toyota with tall slatted sides. We crammed in the front with Carlos while his helper rode in back with my stuff and we arrived at my new place in no time flat. They quickly unloaded and we agreed when to meet the following day for the rest of it. Just 300 pesos each day ($17) was a great bargain for all their help – it saved me from renting a car, which would've cost a fortune – and I didn't have to go to the airport to get it and drive in scary, unfamiliar traffic (I still can't figure out how the lights work when cars get to turn left from the right lanes…)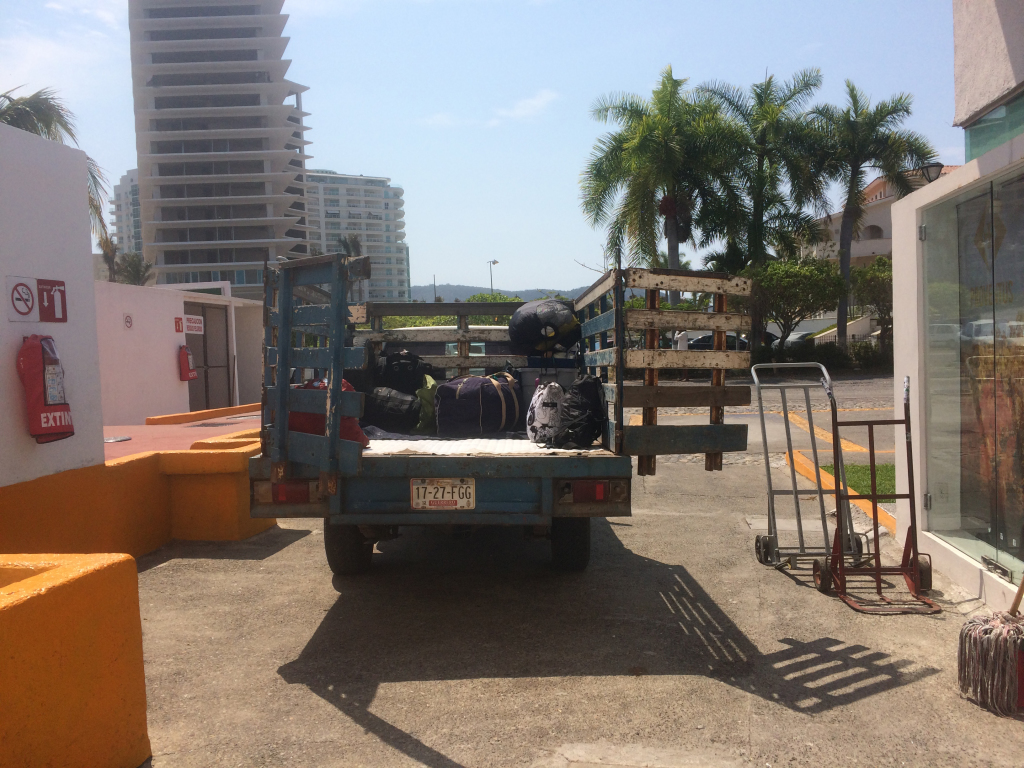 After leaving my stuff, we headed to the Port Captain's office to get me removed from the official crew list. It may or may not be a big deal, but if Jonny were to leave the country and officially check out, they would look at the crew list and possibly wonder where I was (and maybe suspect foul play?). It was a process, but eventually we came out with a signed and stamped official new crew list, sans me. We took the bus back to Ixtapa for my last night aboard Summer. We had a walk on the beautiful Ixtapa beach near the marina and returned to the boat for dinner. Sadly, my cooking skills are closely aligned with my emotional state. I made a terrible dinner and we had an otherwise usual night.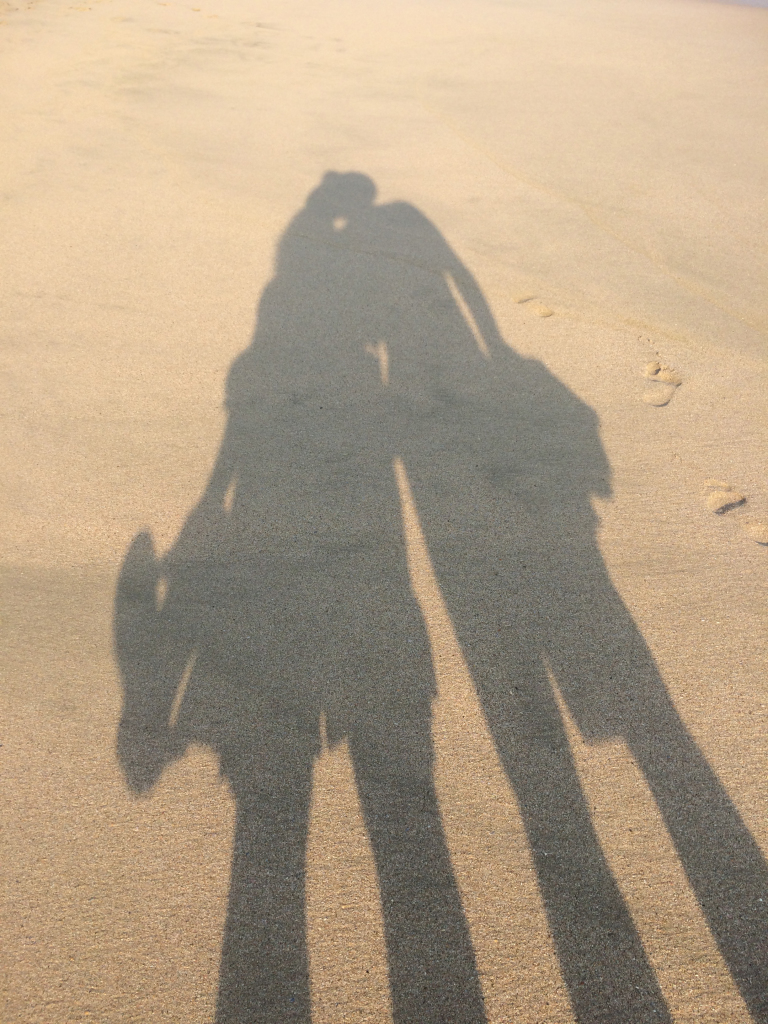 The next day of packing – all my galley stuff – was overwhelming and extremely difficult. But I persevered and Jonny was helpful in finding some much needed boxes. Carlos and friend showed up right on time again and took the last load (which I'd promised would be less than the first, but I may have been wrong about that).
I got things a bit organized in the new place and we showered and went out for a nicer-than-usual dinner. It was sad and strange and we tried to keep conversation light. We stayed the night in my new place and went out for breakfast in my new neighborhood. My fridge was bare and I probably would've ruined anything I tried to cook anyway. Jonny needed to load up with provisions before taking off, which he figured would be quite soon. We did a little walkabout my neighborhood on the way to the big grocery story. I happened to find the immigration office right around the corner – I would need that later. I helped Jonny shop for provisions and then we took a taxi back to Ixtapa (originally I was going to rent a car and do this as part of the deal, but paying for a taxi was still cheaper even after having Carlos help me). I had a few last things to carry back with me and wanted to say my final goodbye to Summer.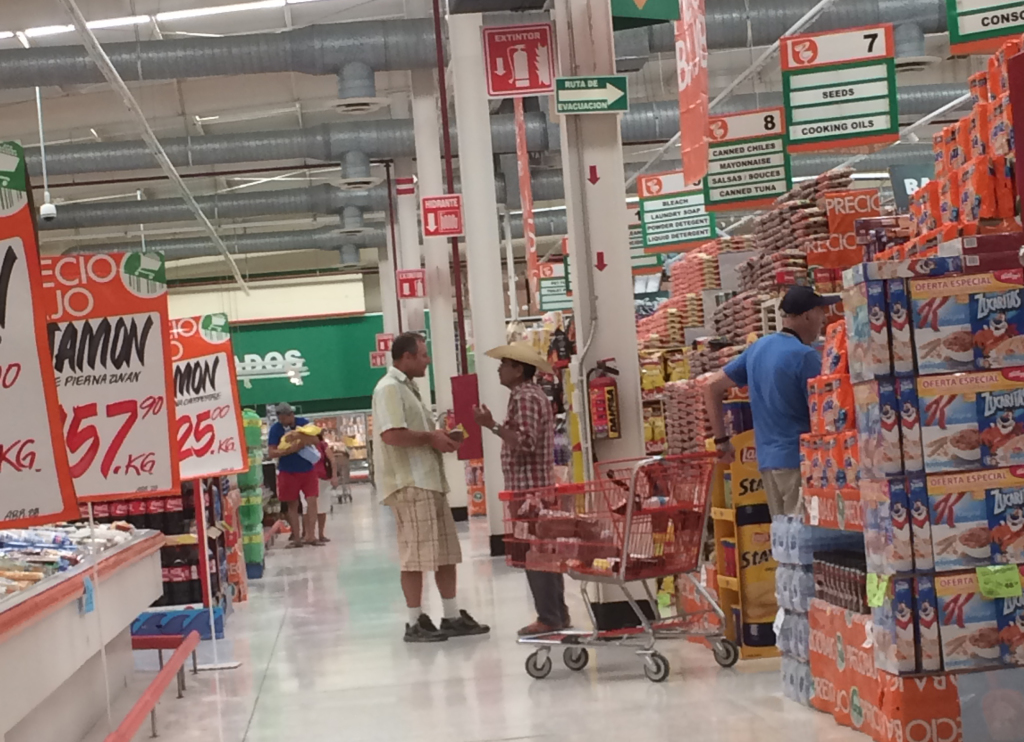 Back aboard Summer, suddenly everything got very real. I had no idea I could cry so much. It was one of the hardest things I've ever done. Luckily, I had items in my bags needing refrigeration, otherwise who knows how long that scene would've gone on. Jonny walked me out and we had a final tearful goodbye as I got on the bus back to Zihua.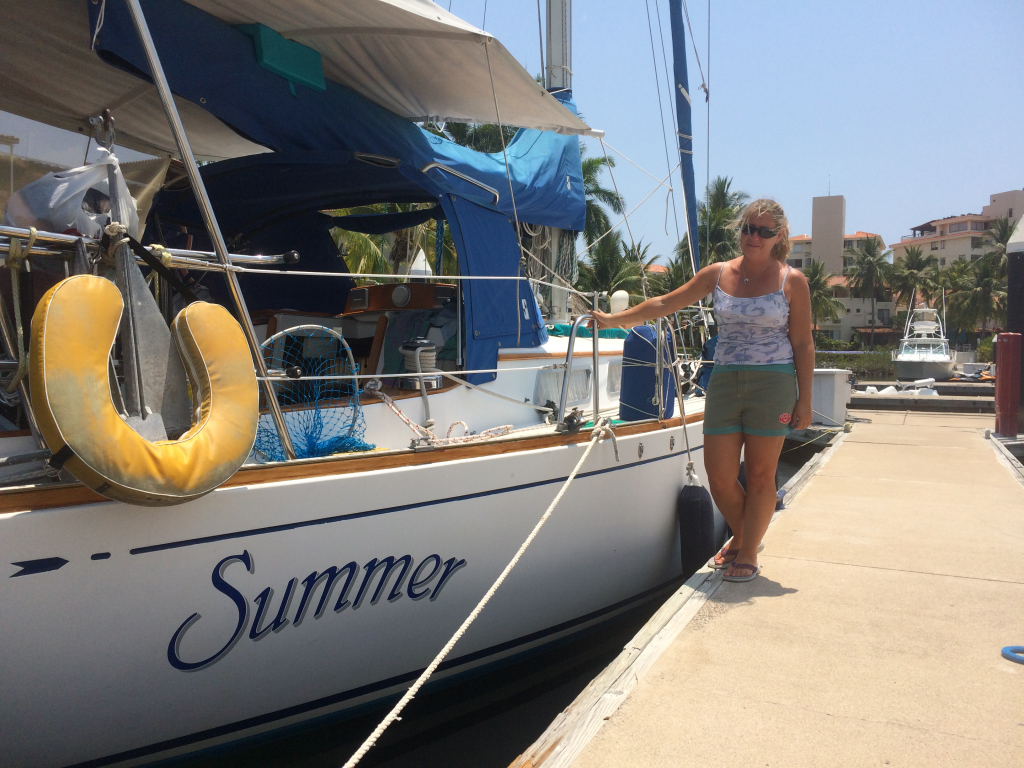 I only had a couple days before my planned departure to the U.S. I wanted to get a temporary resident visa – which would allow me to stay in Mexico for up to four years. Not that I necessarily plan to do that, but the six month tourist visa was getting really annoying- having to leave every six months was really inconvenient and expensive. To get the temporary resident visa, it was necessary to begin the process in the U.S. It also was a great opportunity to visit with my parents and get me a little much-needed family love. So – yeah -In the midst of all the moving/changes, I was also arranging the tickets to the US, making an appointment at the consulate in Boston and preparing the application and documents and getting photos taken that I needed for the consulate appointment. Just to keep things interesting…
The morning before my trip was overcast and cooler. A thought occurred to me that I haven't been able to have for quite some time – it's a perfect morning for a bike ride! I was out of bed uncharacteristically early and ready to ride. Unfortunately my bike was not. I spent about an hour or so unfolding it and trying to pump up the dead flat tires. But I finally got it and I was off to explore. I decided to try to find the road to Playa La Ropa and see the land-side of what we had been looking at from anchor for so long. I also knew that Summer would be out in the anchorage and I couldn't resist seeing her again. It was quite hilly and I went down a lot of side roads that were not what I was looking for. My super out of shape body was seriously out of breath, but it felt good to be doing cardio exercise again. I finally found what I was looking for. I locked up my bike and wandered down along the roadway by the rocks and beach. There was Summer. How strange to be seeing her from this perspective.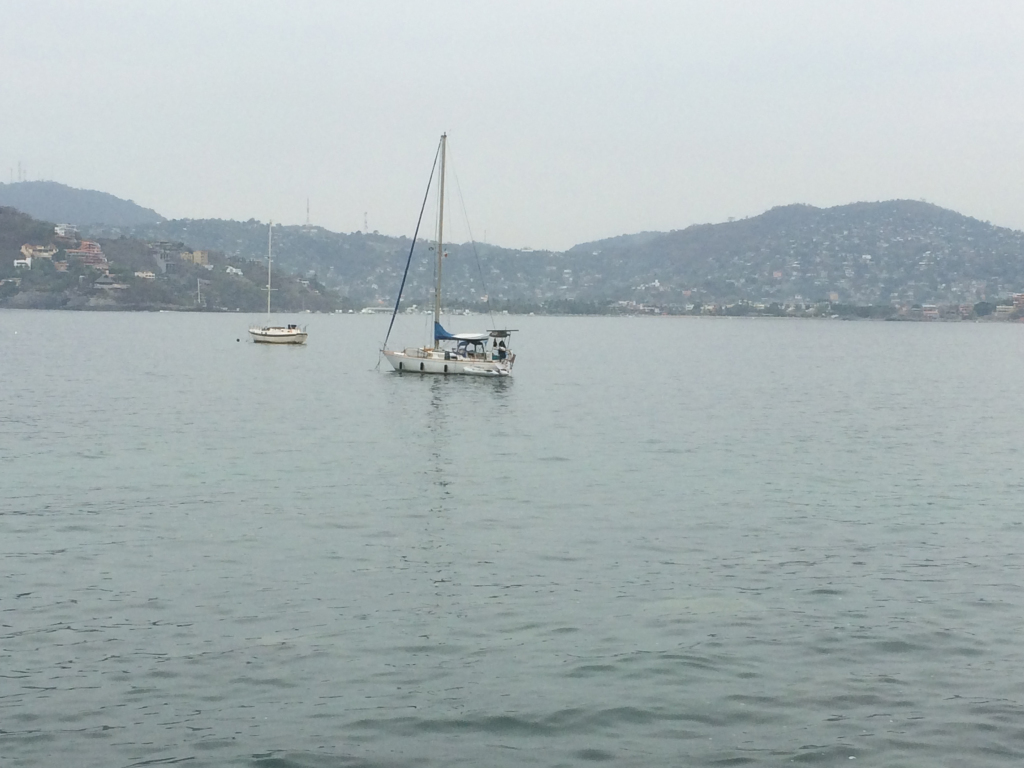 I texted Jonny and he ended up paddling over in the dinghy to say hi, and throw me some rocks I had forgotten (or maybe he just wanted to throw rocks at me?). It was too rough for him to land, so I sat on the jetty and he paddled back and forth for a bit. It was good to talk again without so many emotions happening. He had clearly done a fine job leaving the marina and anchoring by himself.
I managed to arrange for a cab to pick me up the next day and take me to the airport. My driver – another punctual Carlos, showed up right on time and I was on my way. I was looking forward to an uneventful trip, but was stopped short at check in. They asked me to turn in my visa (which they always do) and they looked at it (which they never do) and noticed my visa was stamped with a little car because I got it when we came in via bus back in November.   I didn't understand why, but they wouldn't give me my boarding pass until I went to immigration.  Immigration wanted to see my receipt for the visa. I said I didn't have the receipt, as it was nearly 6 months old…but I had the visa. That wasn't good enough and they said I had to pay for it again.  I knew that was ridiculous, so I kept asking why.  They said to prove I paid for the visa.  But I HAVE the visa, how would I have this visa if I hadn't paid for it???  We went round and round like that for a quite some time.  Finally some other guy came in and sat down and explained to me that coming in via car (or bus, in my case) it was possible to get a visa for free for just 7 days.  But my visa said 180 days on it.  We were simply getting nowhere and I had absolutely zero bargaining power. I was not going to get my boarding passes until these folks put a stamp with a little airplane on my visa and they were not going to do it without me paying them 390 p (nearly $25).  I was pissed, but I paid.  I got my little stamp. And a receipt. And finally, my boarding passes.
I was flying into Boston with just a short layover in Houston. I had to go through customs and almost missed my connection – sprinting about a mile through the Houston airport had not been on my agenda for that day. So much for getting something for dinner. When I finally got on the plane, out of breath and sweating, just at they were closing the doors, the flight attendant looked at me and said "Would you like a glass of water right now?" If I wasn't so sweaty I would've hugged her. I arrived late at night and called the hotel to be sure a shuttle would come for me. When the hotel clerk asked my phone number I mentioned it was a Mexican number. He laughed like a moron and said "huh huh! I never heard that one! That sounds funny to me!". Ummmmm. Okaaaay. The shuttle arrived and I finally got to the hotel after 1:00 am – and had to wait while aforementioned moron (who appeared to be cast perfectly for the role) completed whatever game he was playing on his cellphone before checking me in.
For the few short hours I had at the hotel, I probably should've just slept at the airport! When I saw the final bill, I realized I could stay at my new place for a whole week AND buy groceries for that week for the same amount of money. Welcome back to the US of A!
I had to take the 8:00am (felt like 7:00am) free hotel shuttle back to the airport (with all my stuff, and I had a very large bag of winter clothes I was bringing back to leave) to then take a free bus to South Station and then walk to the Mexican Consulate.  My alternative was a $50 cab ride from hotel, so I chose this free option.  The cold. The cranky white folk. The getting mildly lost and there being no one to ask (even though it would've been in English).  I may have been experiencing culture shock along with my sleep deprivation. Anyway, I ditched my heavy bag at a place in South Station (for $5.00- yikes) and was able to walk the half mile to the consulate.  More cold. More grumpy looking white folk. Oppressively tall buildings.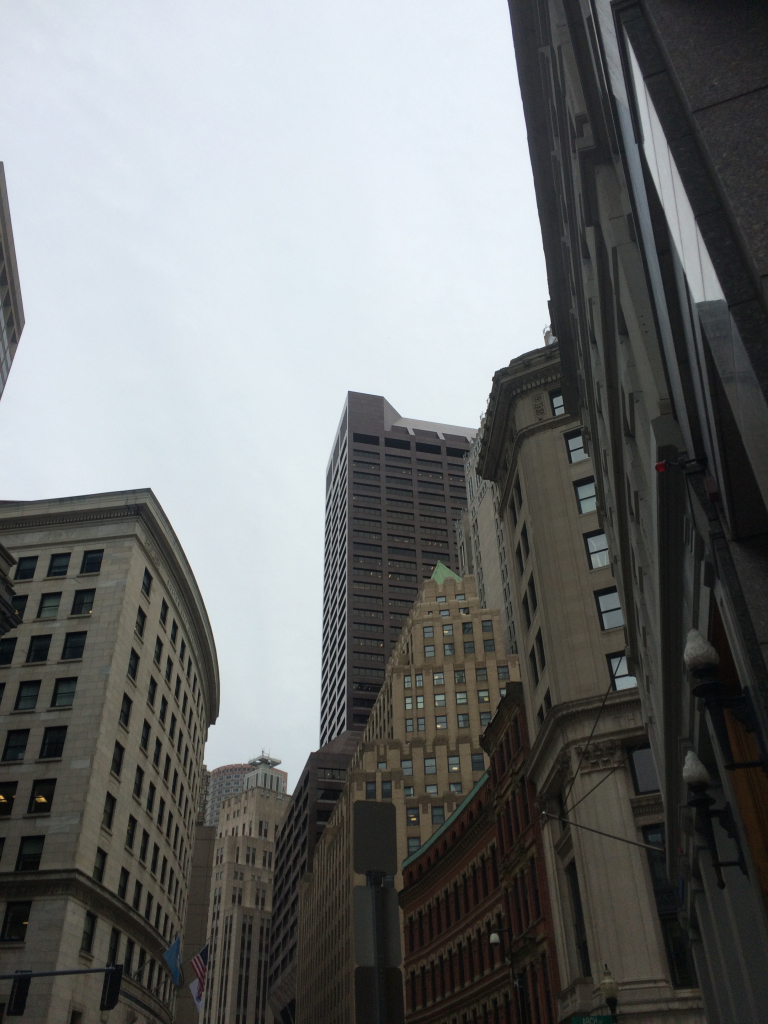 I guess I'm not much of a city girl anymore (was I ever?).  Miraculously, I managed not to get lost (thanks phone maps!).  I finally turned a corner and saw the Mexican flag and felt relief wash over me. Walking into the office, where all the signs were in Spanish and relaxed people were waiting their turns, somehow I felt I belonged there – as much as I surely didn't look like I did…
I was twenty minutes early for my appointment, but one of the clerks took me right away.  He looked through all the paperwork  (I was told to bring 6 mos. worth of bank statements, a photocopy of my passport, a passport size photo and an application form filled out).  He had me sit back in the chair and took another photo of me. He took everything and said he had to show it to the Consulate General;  she may or may not have questions for me and I was to wait.  I waited probably ten minutes and another clerk called me over and handed me my passport, which now had a special green visa sticker with my photo on it, stuck to one of the pages.  They also gave me a tourist visa good for only 30 days from the time I entered Mexico – and I had six months time to enter Mexico.  I took everything and left.  I went back and got my stuff and lugged it all to the bus station (which was not exactly IN South Station as I'd thought) and went to New Hampshire to see my parents.
It all happened so fast – it wasn't until I was gone that I realized I hadn't paid the $36 fee.  The next day I got an email from the consulate about that (clearly they'd made a mistake and were very sheepish about it). I called on the phone and was able to pay via credit card.  I asked to be emailed a receipt – after the debacle with the exit/tourist visa at the airport, I wasn't taking any chances. I explained that situation when he questioned why I wanted a receipt, since I had the visa.  He said that was very strange and should not have happened at the airport, because you can't get a visa without paying for it.  Right, I know! BUT…not to be a jerk, didn't I just get the visa from you without paying for it? ha ha ha (he didn't really laugh along with me on that one).
I had a good week being spoiled by my parents, sleeping (or trying to), eating and taking care of business. It felt strange to be there – especially since it snowed on my first day.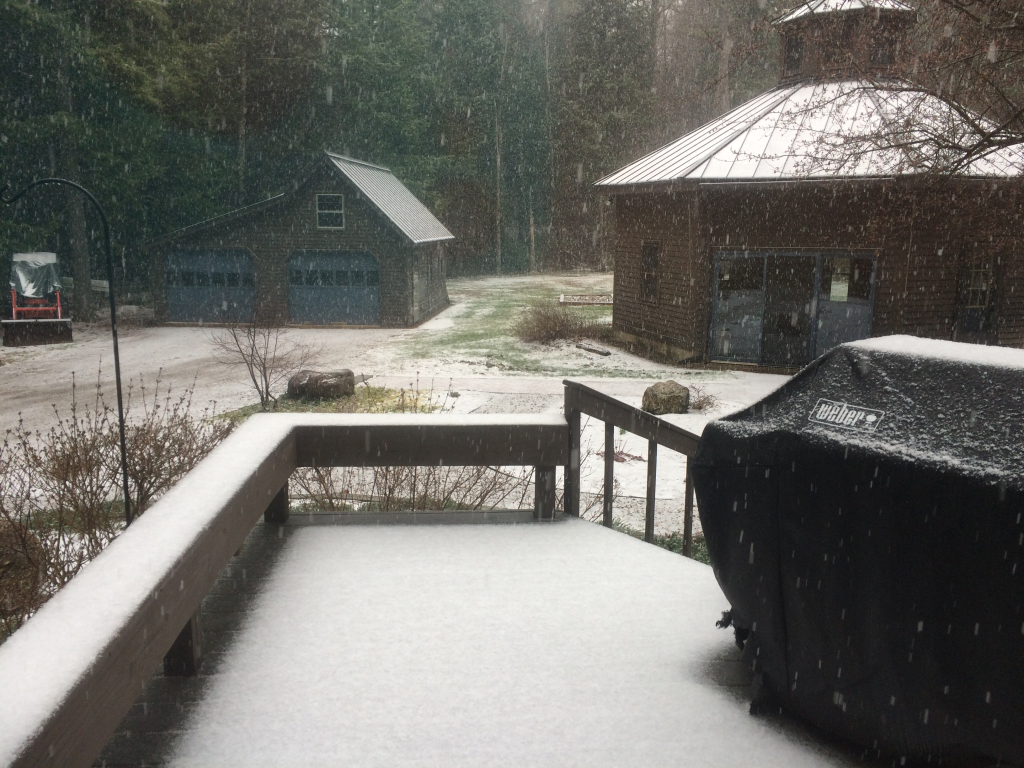 They had promised me that was all overwith! While it was nice to be away and in familiar surroundings, it also felt a little strange.  I had a lot of new-ness to adapt to and I was suddenly transported to a whole lot of old-ness. I was anxious and a bit restless to get on with things. And even though everything was so familiar to me, I felt like I was seeing it all as a stranger from out of town.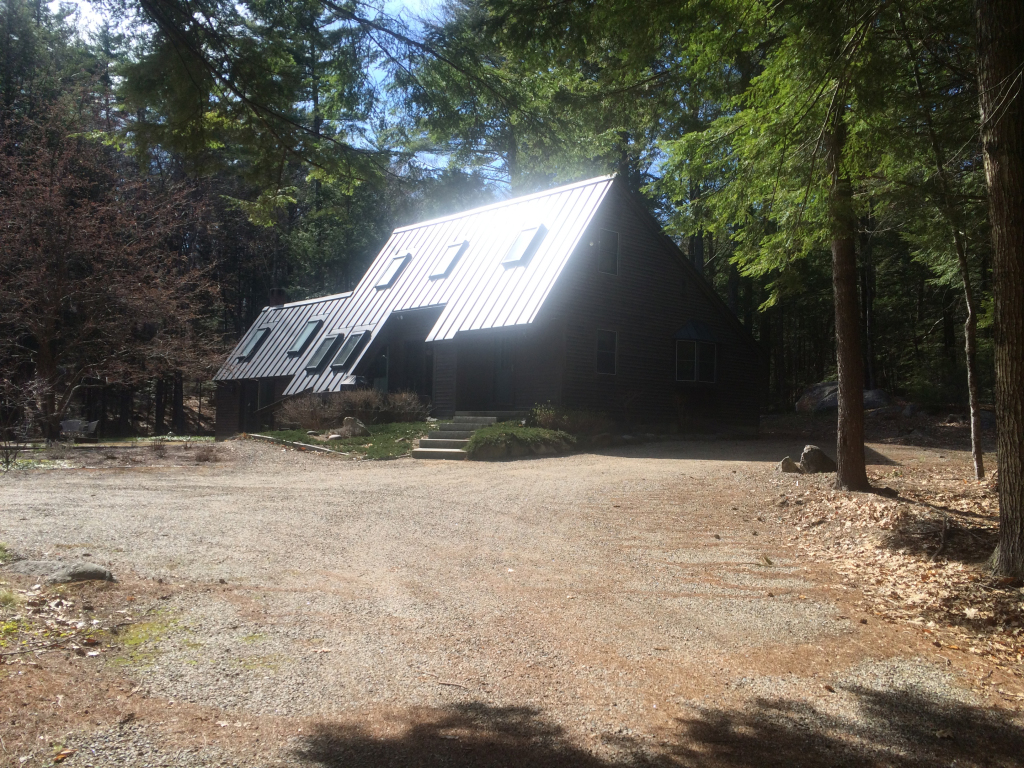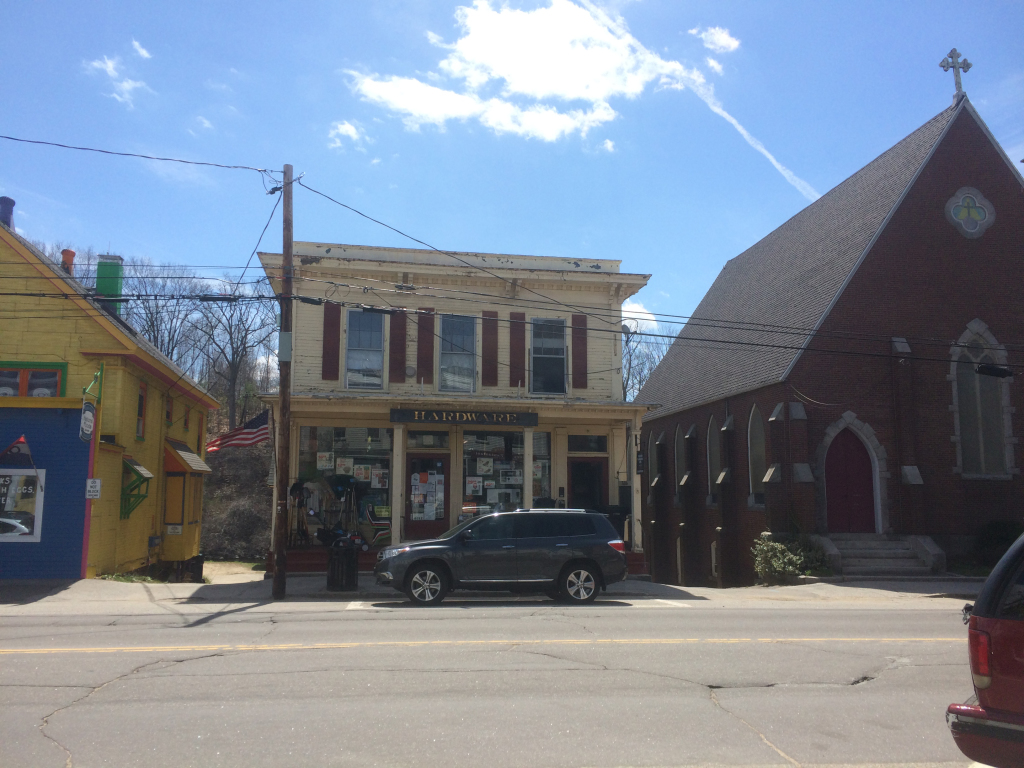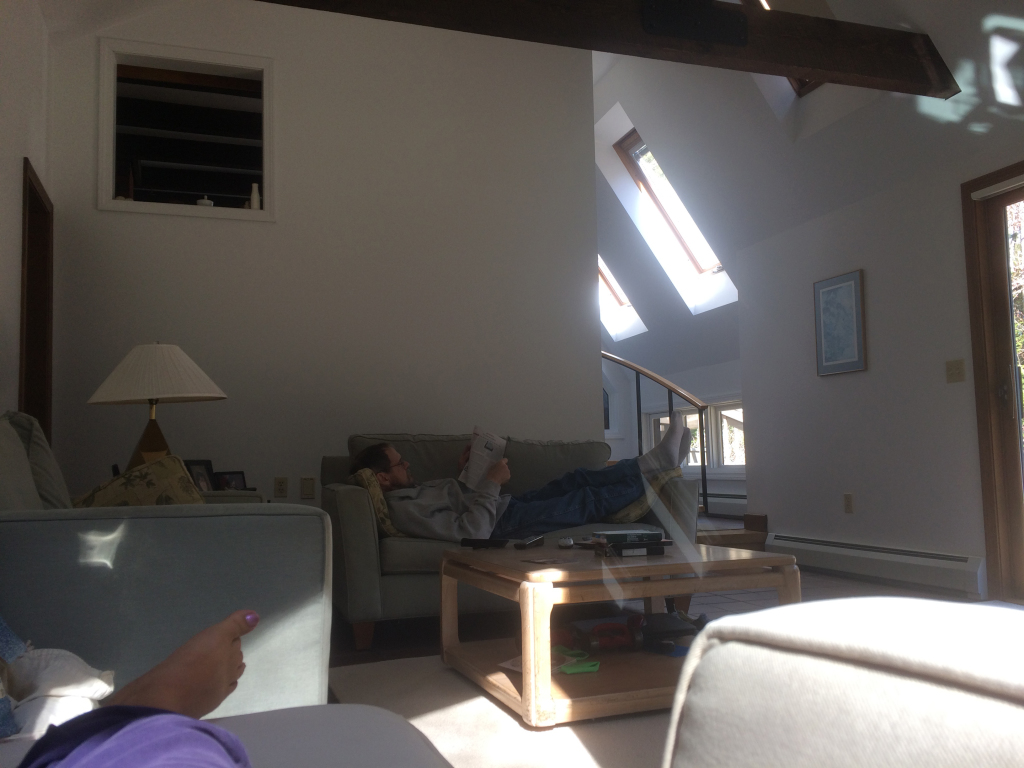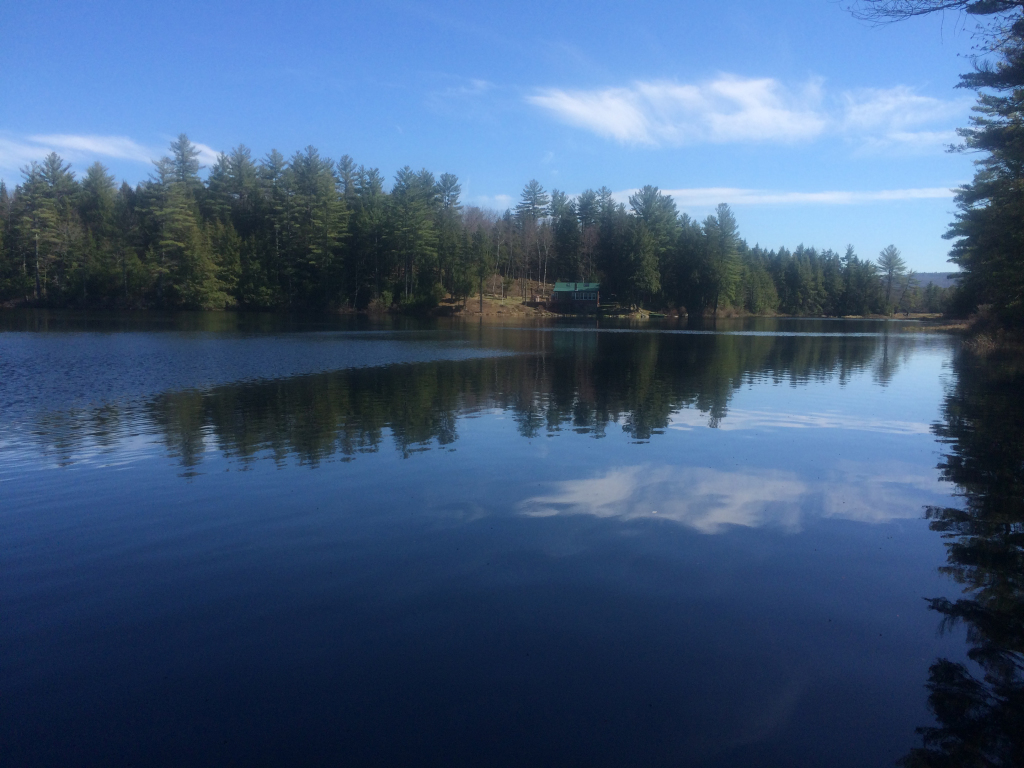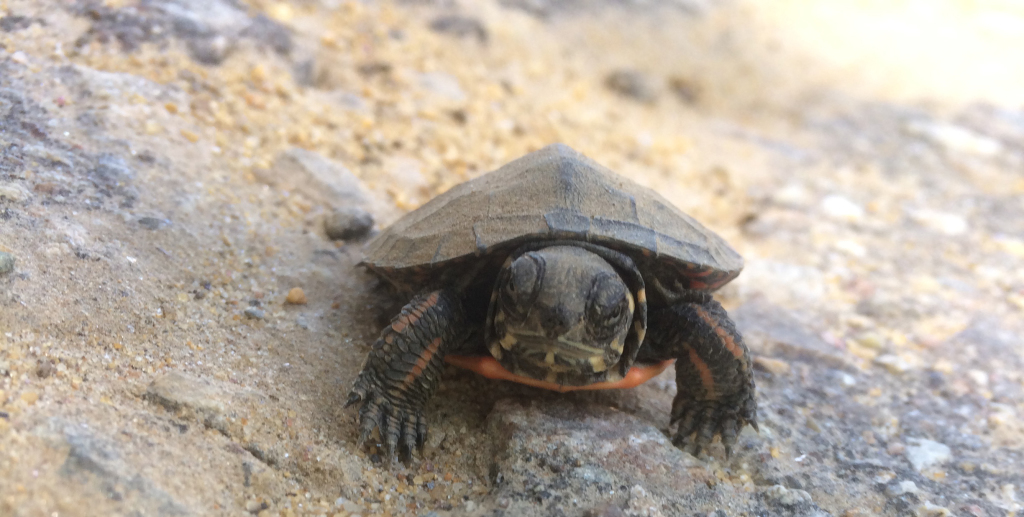 I had a very early fight from Boston, so rather than my parents getting up hours before the crack of dawn to drive me, we decided on another hotel near the airport (a cheaper one this time!).  Rather than go and spend an afternoon in Boston, we opted to take a trip to Portsmouth – a smaller, low-key town – and one where I lived my last year in college. It was a rainy, cold day, but we poked around, and had coffee and hot chocolate and a cozy bookstore café.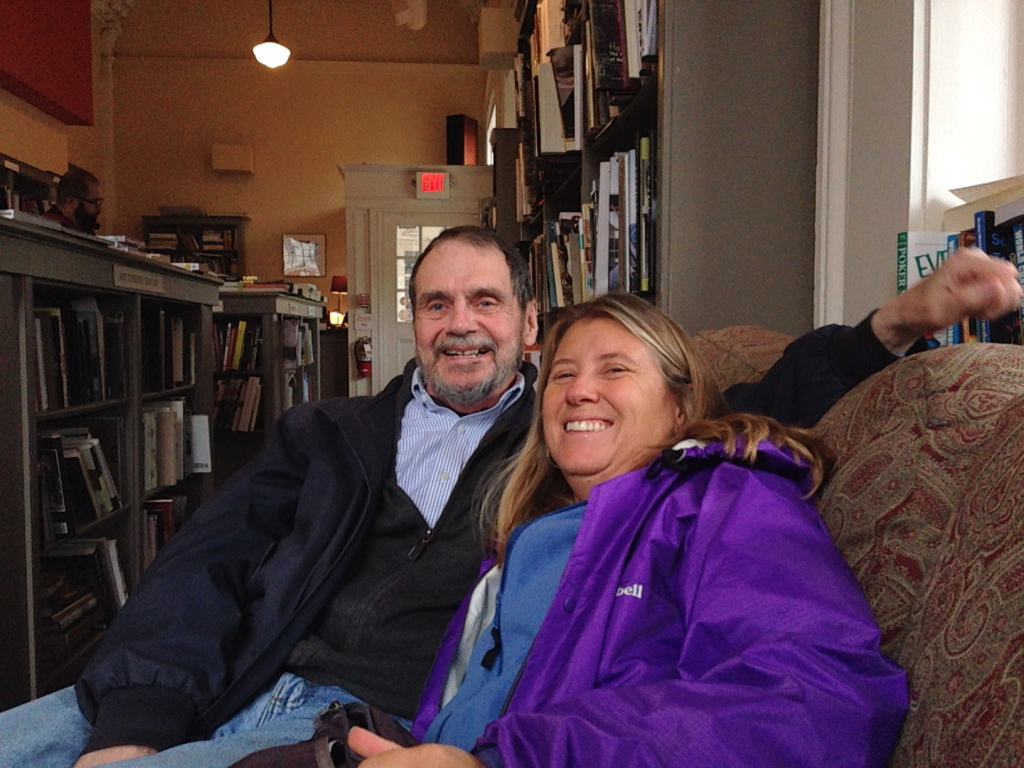 Then we went out for the most amazing dinner at a restaurant overlooking the water. I had the best clam chowder of my life (bacon: always the secret ingredient) and an amazing lobster (lobstah) sushi roll.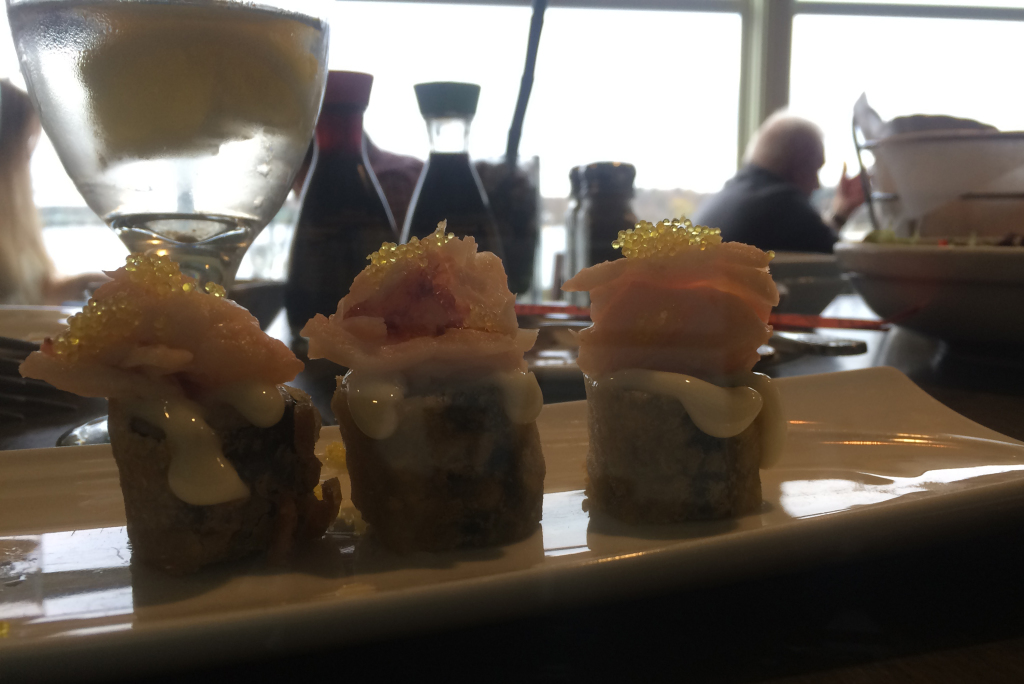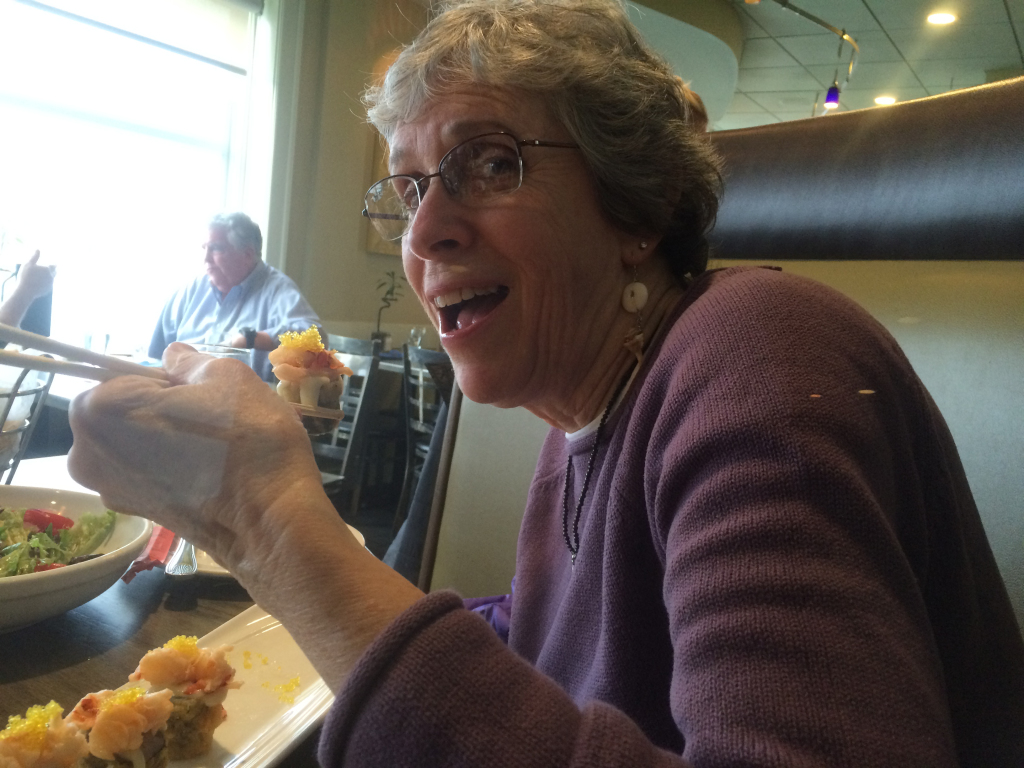 They dropped me at the hotel and we said our goodbyes. I don't think I slept a wink the entire night – such a strange mix of things running through my head. At least I didn't miss the 5:00 am shuttle.
I got back to Zihuatanejo with few problems and it felt like a relief when I was finally in a cab on my way 'home'. Jonny still hadn't left – no good weather windows opened up. The next afternoon he came over to pick up a few things I'd brought back for him. We spent the afternoon together, went out for lunch and had a final joint shopping trip. We shared a cab back and had a quick goodbye when the cab dropped me off first. It seemed really rushed, but probably for the best so we didn't end up with another prolonged cry-fest.
The next day Summer disappeared from Zihuatanejo bay and I found myself completely alone in this charming town, south of the border, down Mexico way. I'm very sad not to be on the water and my boat / home.  But I'm sure this new land life will conjure up some adventures. Terrifyingly exciting.
So, I guess this concludes the "Summer Sails" portion of my blog. This started as a simple way to keep family and friends updated, and has grown to a surprisingly large number of subscribers. I'm sorry if I've let anyone down. There's lots of great sailing blogs going on still (Prism,  Orion, Resolute and Wahkuna to name a few).  I am considering if I will continue to write about my new trials and tribulations in a "Mexi-Jenn" blog. We'll see how the inspiration flows once the dust settles – I'll keep you posted. Thanks to everyone for following along and all the great support – I'm so very appreciative and grateful for everything and all of you.