More than a week zipped by in Chamela. We made one dinghy excursion down to the islands in the south of the bay. It was farther than it looked. But the island was thick and jungle-y with a nice little sandy beach away from the wind. We hung out, snorkeled a bit (the water is just gorgeous all over Chamela Bay) and had a picnic lunch.

The town we anchored close to is actually called Perula. I never got to see the town of Chamela. Perula is a very sleepy, low key town with limited provisions. The water in the bay is beautiful, clear and tuquiose and it was nice to just hang out on the boat and work on my soon-to-be revealed latest concept. It was quite rolly, but somehow we just kept staying. Going ashore was also not a big draw due to the strong, pounding surf that made dinghy landing downright scary to impossible.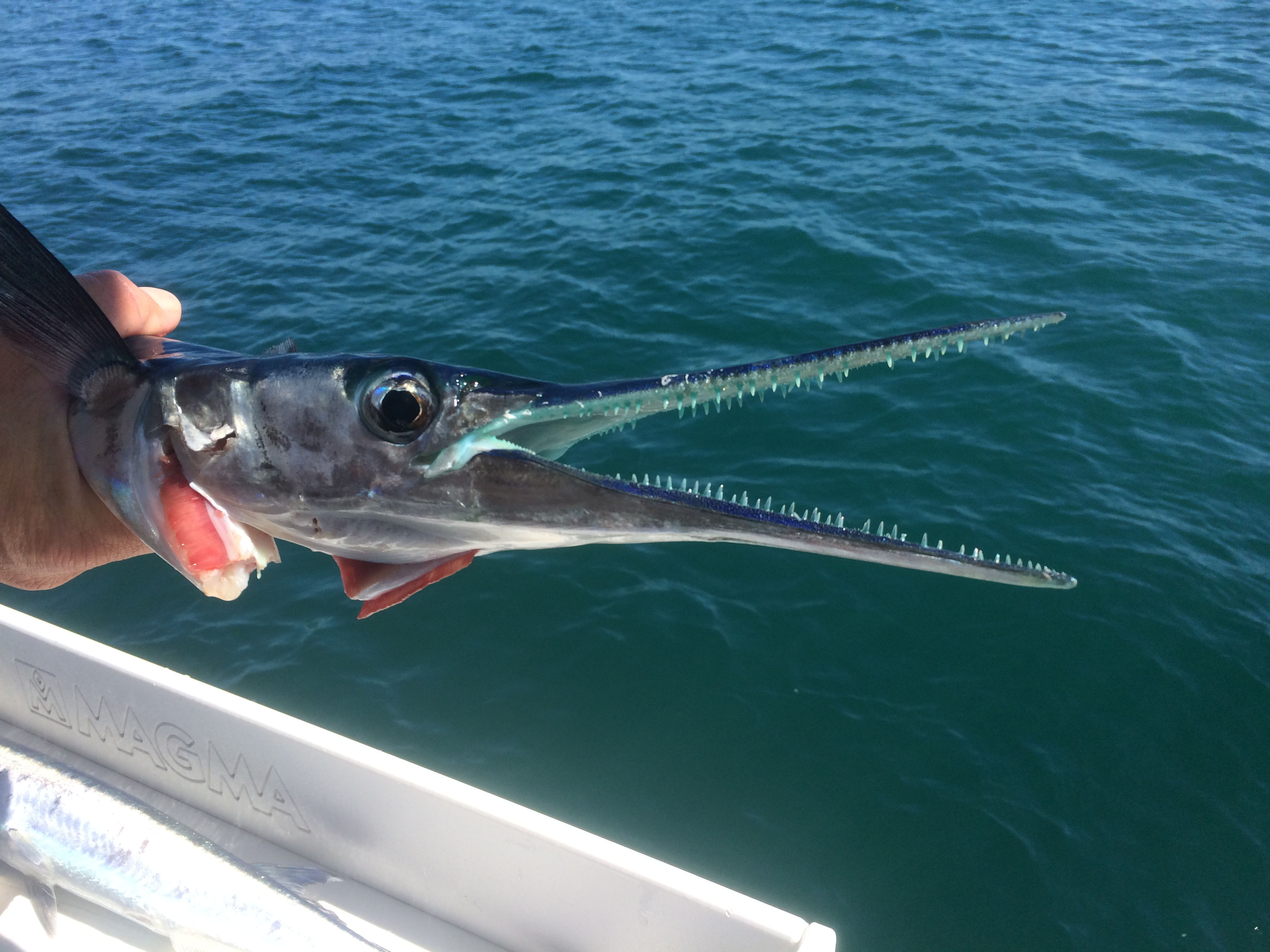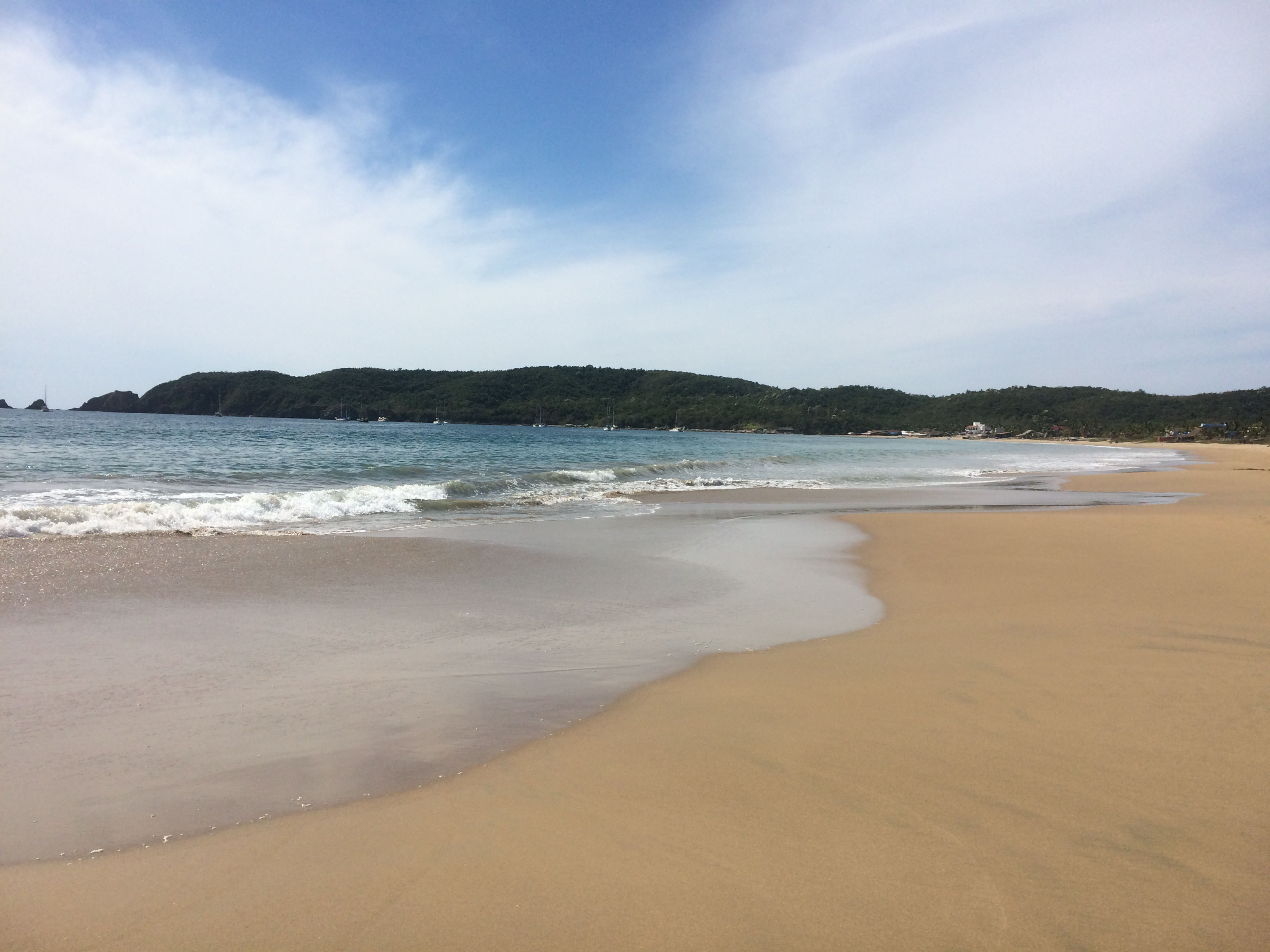 As I was working on managing the books on my Kindle, it up and died. Wouldn't turn on, off, reset or be recognized by my computer. I was in disbelief (I believe that stage of grief is called "denial"). After several days I tried to contact Amazon for help. I lugged my computer a mile down the dusty main road to an internet café and chatted online with several representatives. After nearly an hour it was determined that they couldn't help me since I was unable to turn it on.   Ummmm OK. Then they said it was basically a known software problem that happens occasionally and they'd replace it for me. But- then—oops. NO. It was out of warranty, so sorry. I think the anger phase was next, then the bargaining and more denial (I took the thing apart just to see what I could do to it). And soon fell into depression. Not sure I ever really got to the acceptance phase.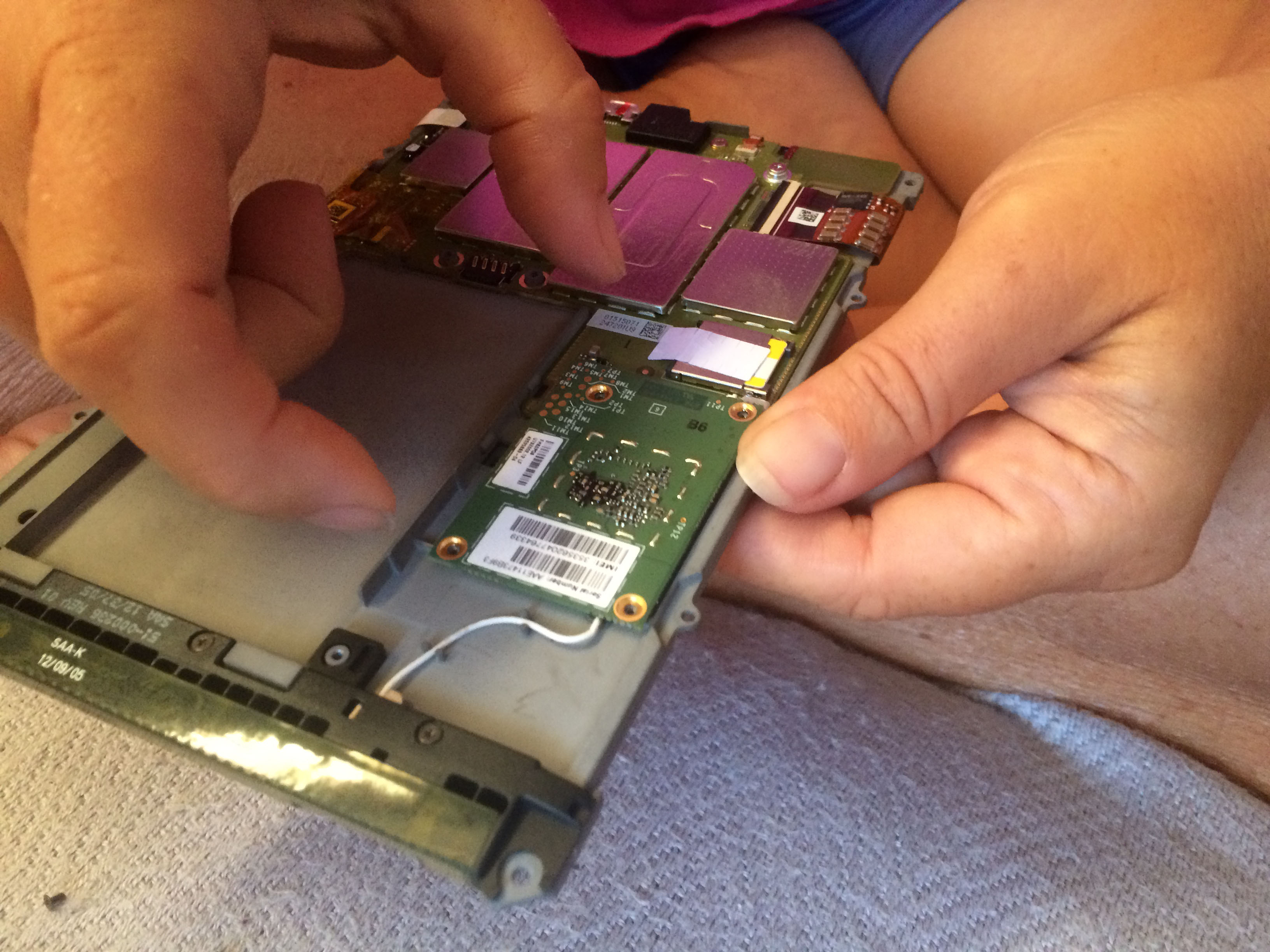 One afternoon I was down below and I heard Jonny greeting some people with the most enthusiasm I've ever heard from him. Who could it be?!?! I came up to see, much to my surprise, Jeff and Anne – our friends and suppliers of the CPT Autopilot (most awesome thing ever) from Moss Landing! We had no idea if or when we would ever see them down here. They came by the next day and hung out a bit and it was fun to catch up with them. We thought we'd get to hang out more in Tenacatita, but unfortunately we didn't see them again – somehow missing them before they headed back north. Maybe another season?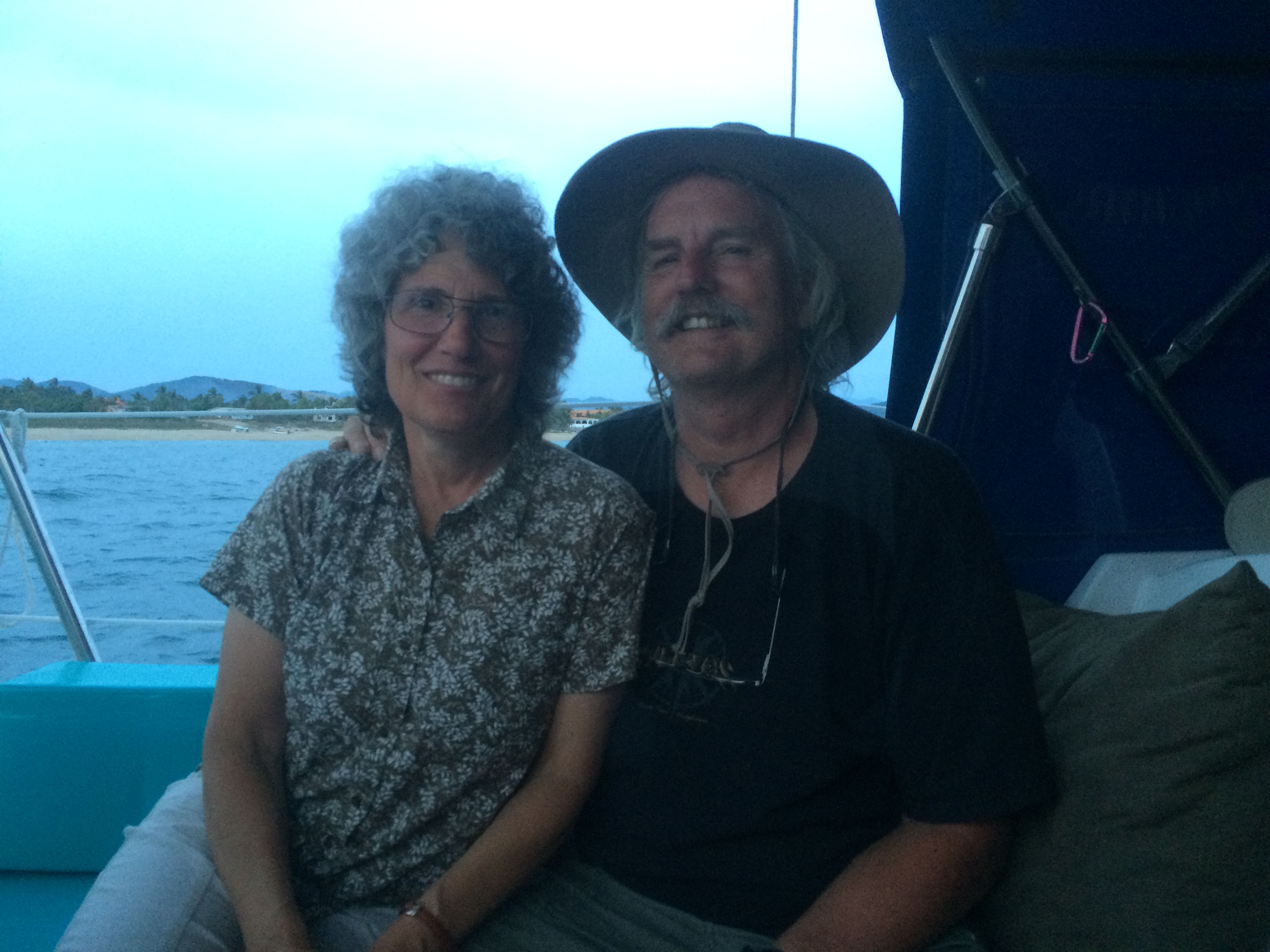 We finally decided we'd had enough rolling around in Chamela and set off for Tenacatita.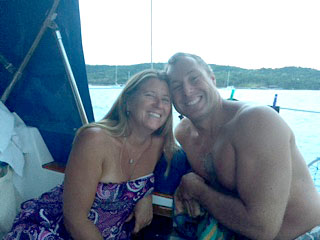 As usual, we listened to the weather to plan our departure for a day of strong north wind. As often is the case, the weather reports were dead wrong for where we were. Instead we found ourselves beating hard into a strong south wind. We really didn't feel like motoring the entire day down into that, so after a couple of hours we decided to head in to a bay called Paraiso ("paradise" – how could we go wrong?). The entrance to Paraiso was between rocky out-croppings and islands and was not at all clear or visible. All I could see was pounding surf spraying up onto all the rocks. It was necessary to trust our Navionics chart on the iPad, so I did and just kept heading towards what appeared to be certain death. The sea state was big and fairly rough and I just held our course as Jonny realized he needed to reel in the fishing line. Right at that moment a fish struck the line. We were kind of too close to shore to really deal with this, so I slowed way down and tried to veer off the wind a little bit (straight for rocks) while Jonny reeled in and released a big toro, which isn't good to eat anyway (Damn the toros! Full speed ahead!).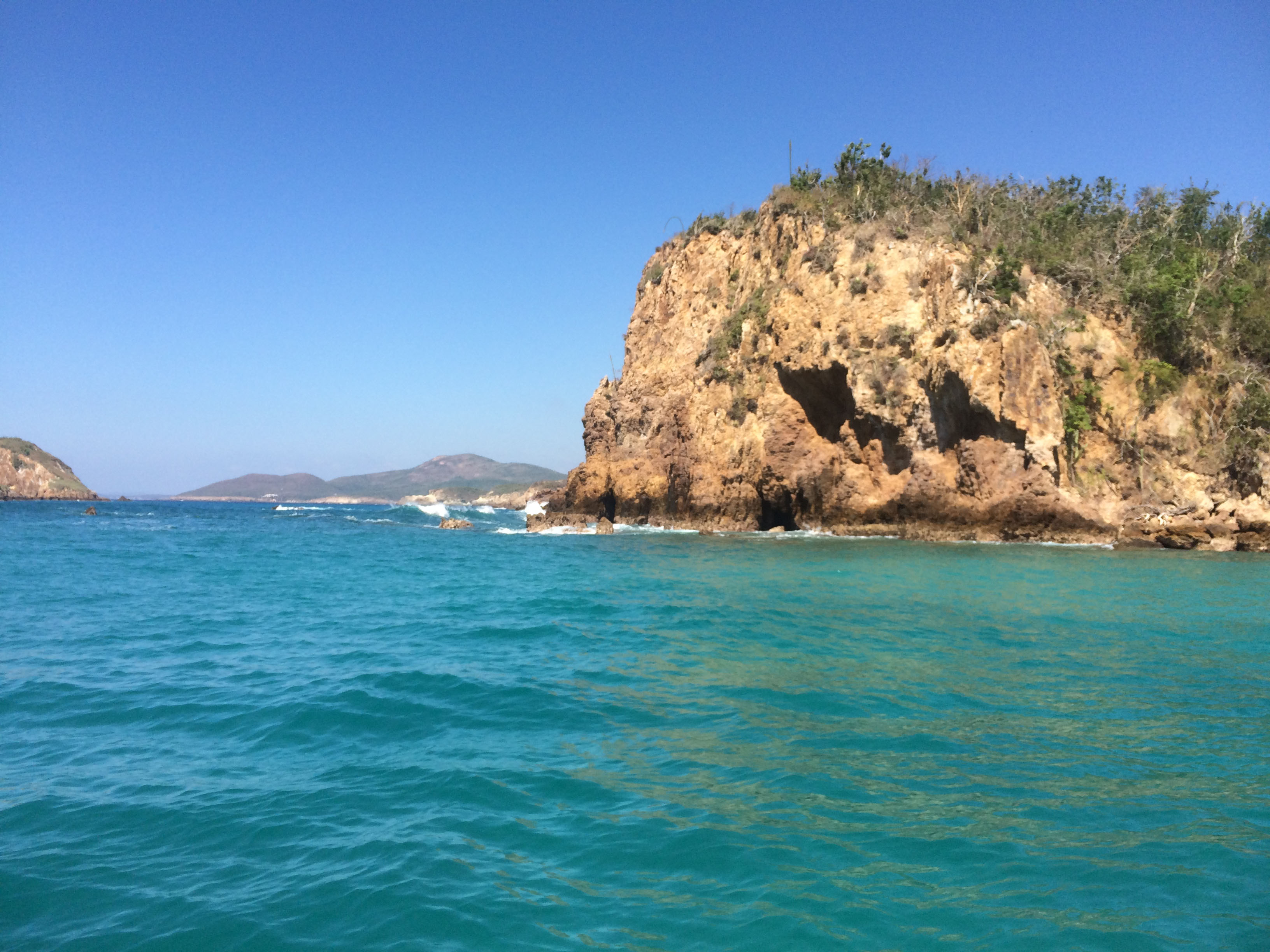 I got us back on track and soon the entrance to Paraiso became clearer and I picked a path toward the anchor spot.   Paraiso is a teeny tiny "pocket" anchorage, and I couldn't imagine another boat in there with us. Luckily we had it all to ourselves. And it was insanely rolly – as in you couldn't sit in the cockpit without being thrown to the sole. But the color of the water was mesmerizing and Jonny knew there was no way I would agree to leave. It was time to finally try an anchoring technique someone told us about a while ago – where you haul up an amount of chain (about ½ a boat length) and hook a line on, drop it back down and put the other end of the line to a cleat at the stern of the boat – essentially turning the boat into a giant bridle. You can then pull in the stern end of the line and the boat will turn away and become beam to the wind. Remember that boats naturally always point into the wind – and in our case, pointing into the wind meant being beam to the waves. So by turning off the wind we were then nose into the waves, which seriously diminished the discomfort level. It was pretty cool how it worked. We were able to eat lunch and then we both wanted to get into the water and explore the shore. There were actually two shores – the main one at a beach with a low key sort of resort and a side beach that was deserted and didn't appear to have any land access to it.   Since we had the dinghy on deck and didn't want to go through the hassle of unloading it for one day, we set off with snorkels and dry bags. I went to the main beach and Jonny went to the side beach. After I determined the main beach was kind of messy looking (debris, random things, lots of rocks) and a bit gross, I swam out to the other beach and joined Jonny. We hung out for a bit and were treated to a siting of a Mexican ring tailed lemur who came out to the edge of the woods to spy on us. We also saw the first signs of Hurricane Patricia that made landfall just a little bit south in Barra de Navidad.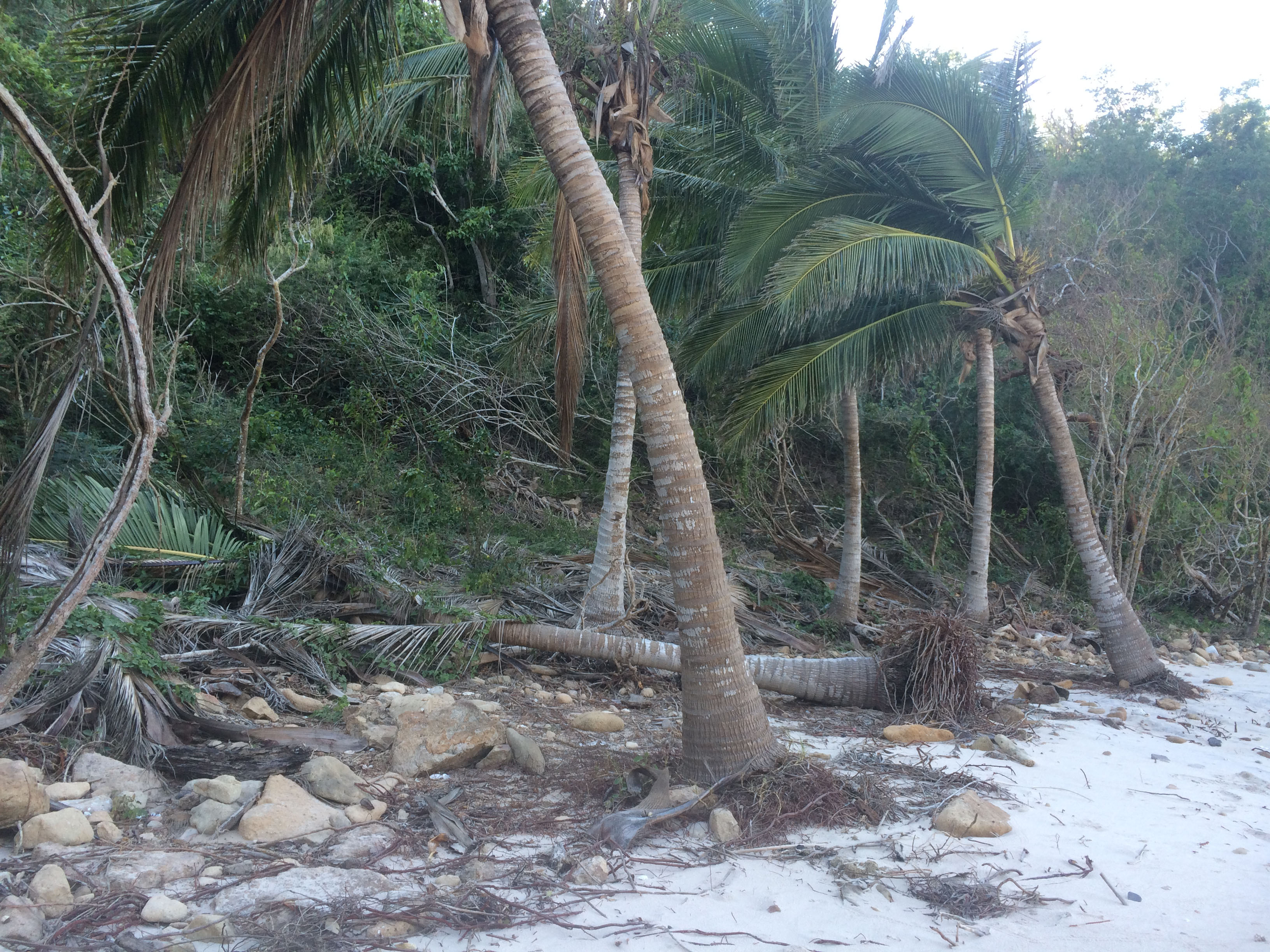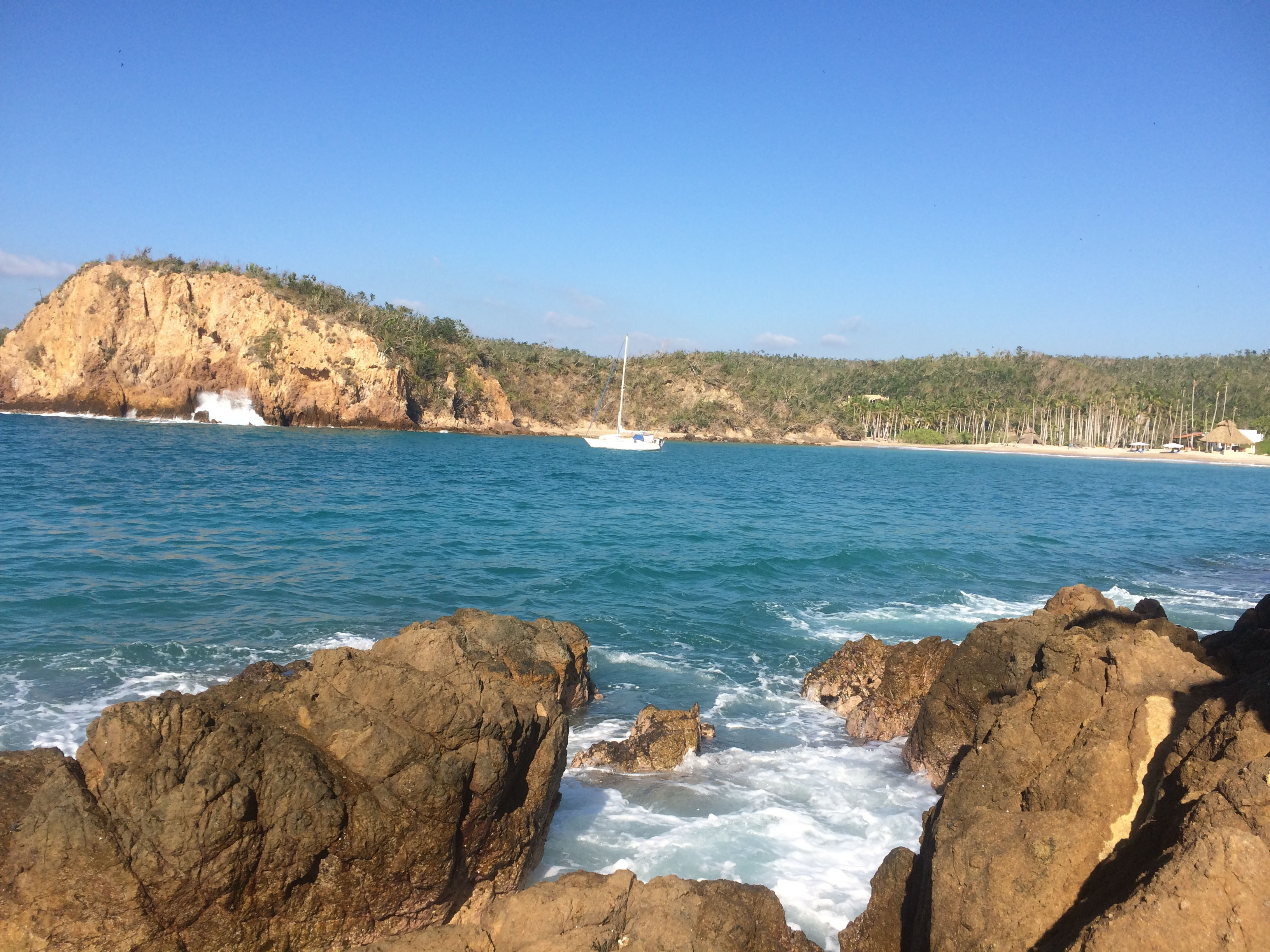 That night I was really hot to try a new recipe I found for okonomiyaki – Japanese vegetable pancakes. Despite the boat motion, I was able to pull these off and now I have a new favorite thing to eat! (sorry no pictures–they taste way better than they look).
The next morning we departed early for Tenacatita. It was mostly a very nice sail and the wind was finally behaving itself. We kept hearing how many boats were in Tenacatita (47 at one point) and we sort of dreading pulling into the crowded anchorage. As we rounded the corner into the first part of the Tenacatita bay call The Aquarium, we saw not a single boat in there! It looked nice and we anchored right on the anchor symbol on our chart. It was a bit rolly but looked beautiful with a huge stretch of beach and interesting rocks on our end. The palapas and homes on shore looked like they had been ravaged by disaster. The next day we set out in the dinghy to do some snorkeling. The water was not all that clear and aside from a giant manta ray and a cool rainbow-y fish, we didn't see much. But it felt good to be in the water. It was a pretty rolly anchorage and we didn't feel like hanging out on the boat. One thing I began to discover about having your home always rolling side to side – it's not something you get used to or develop a tolerance to. Instead it's something that slowly and insidiously drives you completely insane. We had a quick lunch and headed ashore to check out the beach.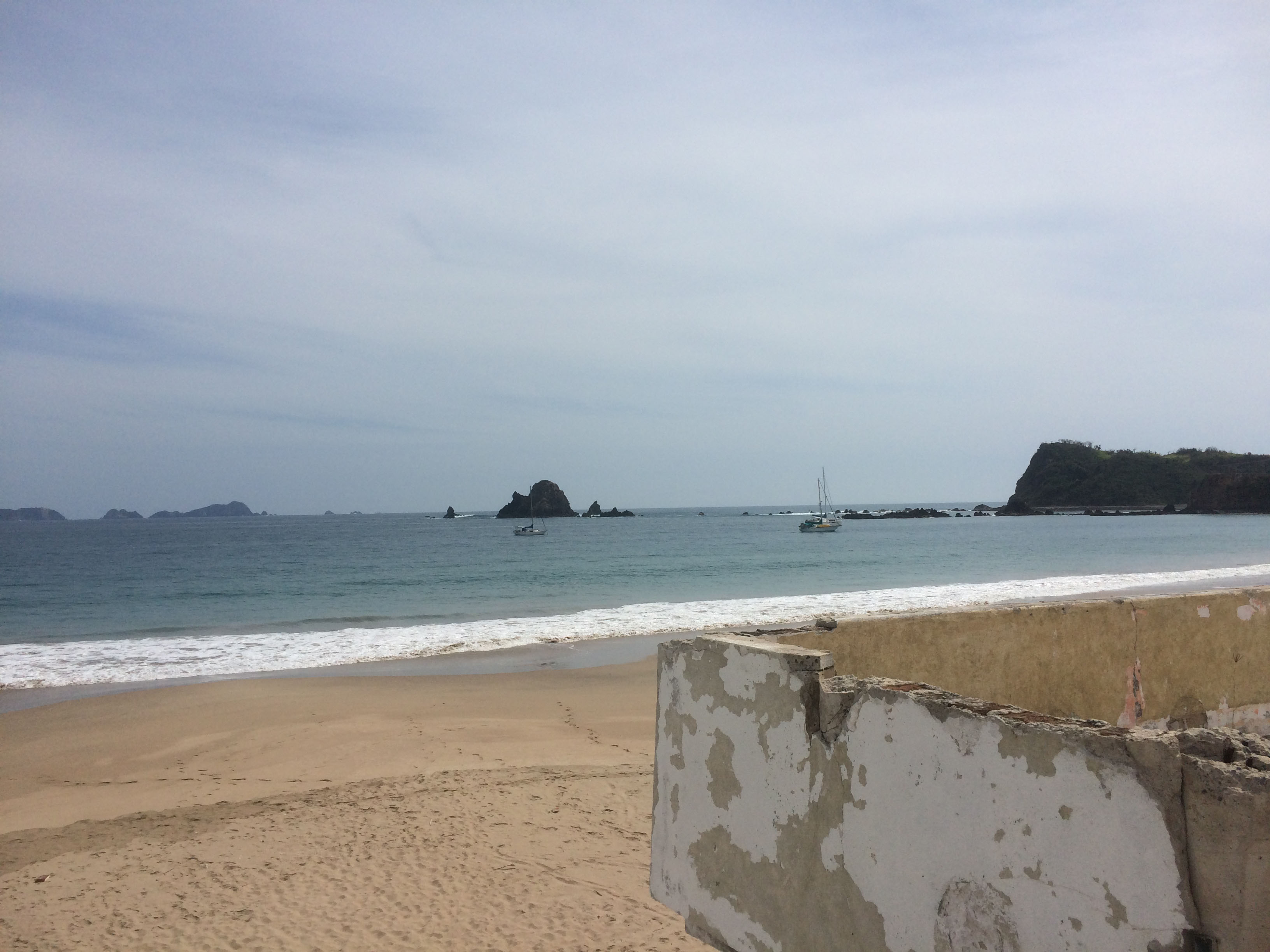 A couple more boats had come over from the other bay and gone right ashore in the morning. They were returning to their dinghies when we were landing in the sketchy surf break. I got the skinny on the place from one of the women: The beach had been taken over by some wealthy man who was friends with a previous governor and he kicked everyone off the beach and began to demolish all the homes and businesses. He had armed guards making sure no one came ashore. Not long ago, there was a new governor who didn't let this man keep the power over this land, so we can go ashore now, but there are no restaurants or tiendas and hurricane Patricia destroyed things just a little more so all that's left is a depressing array of what once was. Such a shame – as it looked like it would have been a great place. The only way to get supplies was to walk two miles or more inland to a small market and I wasn't feeling it, we could get creative with the remaining food we had. We explored some of the ruins and finally posted our umbrella and played in the water for a while. I've become so spoiled that I don't even like swimming at the beach that much because of all the sand…jumping off the boat is eversomuch nicer! But it was fun to play in the waves and I went back to the shade while Jonny got the big smile he only gets when being carried forward by waves.
We were getting pretty low on food, so dinners were getting interesting. We knew there were absolutely no supplies at the next stop and we would have to cross the bay to La Manzanilla for a day to stock up. We heard on the morning cruiser net that the resort at the end of the Tenacatita anchorage was offering a deal on Superbowl Sunday (the next day!) – where cruisers could go there and use the all-inclusive facilities to eat and drink whatever they wanted, swim and watch the game on the huge TVs. While the sports game held no interest for us, the rest of the deal was sounding kind of good – given we had no food and a little splurge might be fun.
We headed the short 4 miles over to Tenacatita early in the morning so we could make the most of the 'day pass'.   I was starving! This is where all the boats were, but only around 20 were left by the time we arrived. We attempted to anchor twice and hit rocks and finally got the hook down in a reasonable spot, out of swinging distance of other boats. We were pretty near Linger Longer and I was looking forward to catching up with them again. Just as we anchored a couple came up to meet us and invite us on a group panga ride to La Manzanilla for the 'big game'. While we declined, we ended up chatting with these people for quite some time. Finally we were getting in the dinghy and ready to head ashore to the luxurious mecca of food and relaxation. I wanted to say hi quickly to Linger Longer, but we were intercepted by Fred in his kayak (we'd met him in Mazatlan) and had a long chat and drifted quite a ways away. Finally a zip over to Linger Longer, for a chat and more declining of hospitality – I was really anxious to maximize this day pass. It was after 1:00pm by the time we survived the rough dinghy landing and walked over ½ mile to the resort. Walking through the resort, I tried to remain upbeat and positive, but it wasn't all that nice. The food looked kind of gross and the pools were dingy, old and not in the greatest shape. When we got to the main desk and asked about the deal, they had no idea what we were talking about. They said the day pass was more than twice as much as we were told.   With my bubble burst, we trudged dejectedly back down the beach to the other end where we heard there was one palapa restaurant. We had a ridiculously overpriced and not very good lunch (it took my jaw an entire day to recover from the tough coconut prawns), but I did have a margarita to drown my sorrows.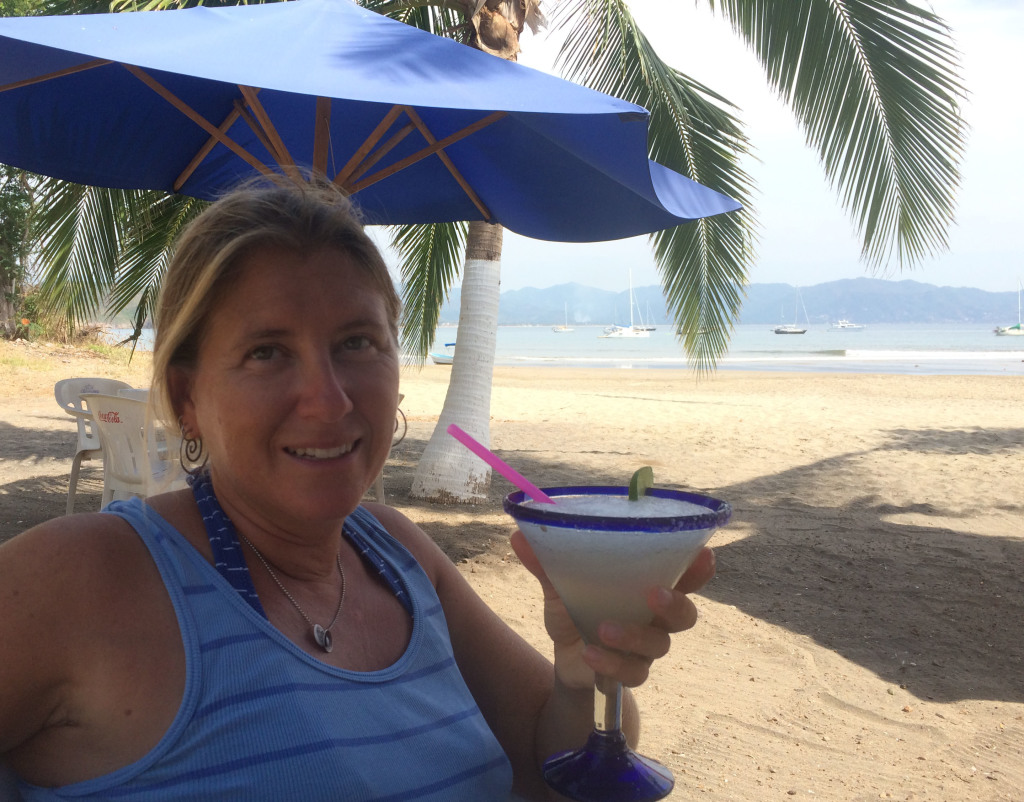 After lunch, I stripped down to my bikini and we braved the crashing waves to try to get the dinghy out without getting rolled. There was a guy waiting for a good set to land his dinghy, but he finally gave up and just went back to his boat. Not a pleasant dinghy landing!
We swam and hung out at home. We did not think we'd spent much time in Tenacatita as it didn't seem to be the paradise for us that it seems to be for many other folks. There was no place to get water or supplies, but there were plenty of other people – so it seems the draw to this place is the social scene with little or no interference from "outsiders" (i.e. non cruisers). Tenacatita has its own morning net and they usually announce the time for everyone to swim ashore and play bocci ball. It's like a little gringo retirement village on water.
The next morning we took Summer across the bay to La Manzanilla. The wind was not coming from the north as it was supposed to, so we had no worries anchoring there and getting ashore. La Manzanilla is a very small and downright adorable town.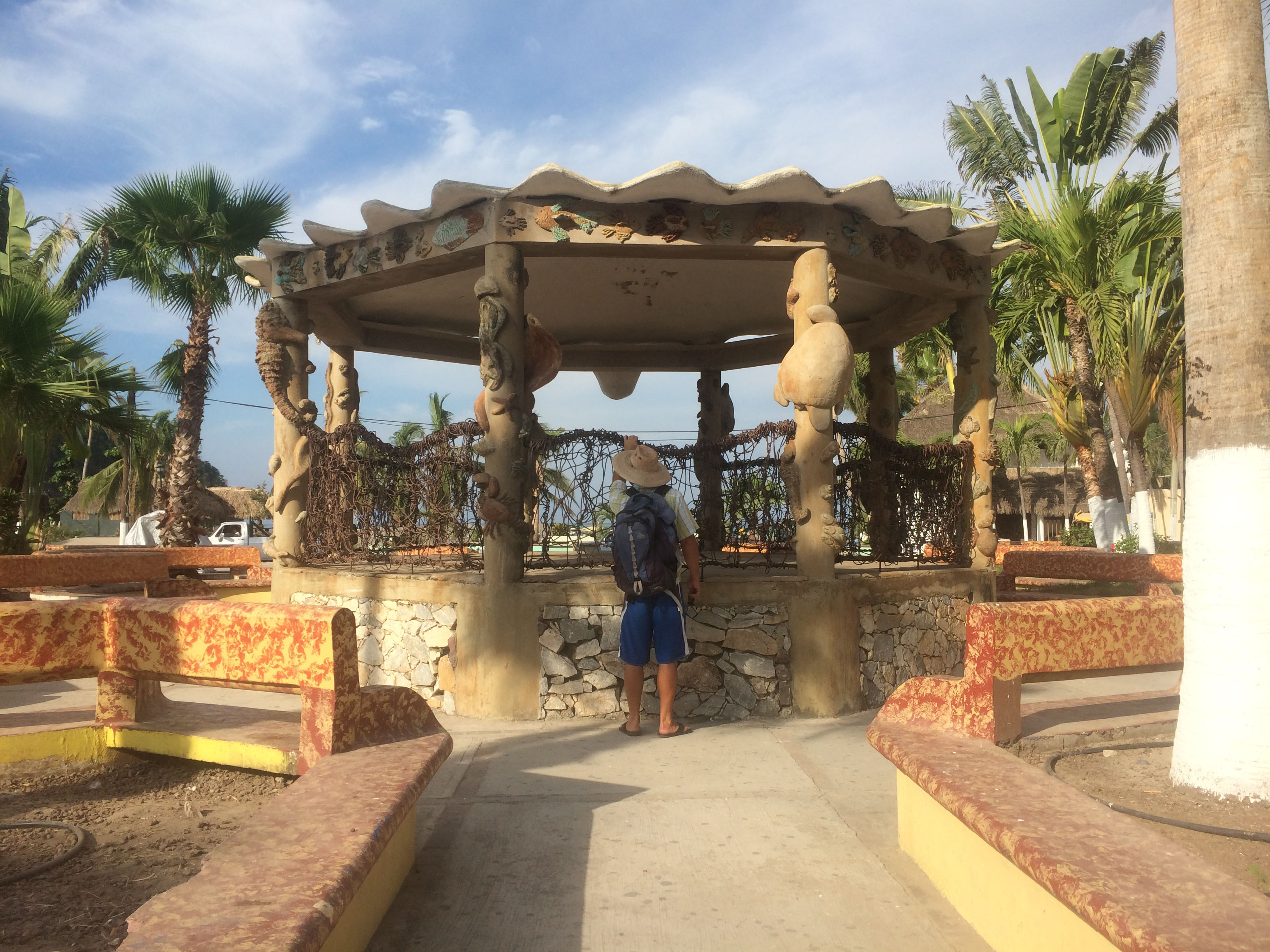 We found a number of tiendas selling pretty much everything on our list (and then some). We decided to make a pass through town and see all the shops before buying anything, and when we got to the end, we were at the 'crocodile park'. We couldn't resist entering the park and walking the rickety boardwalk that circumnavigated the lagoon.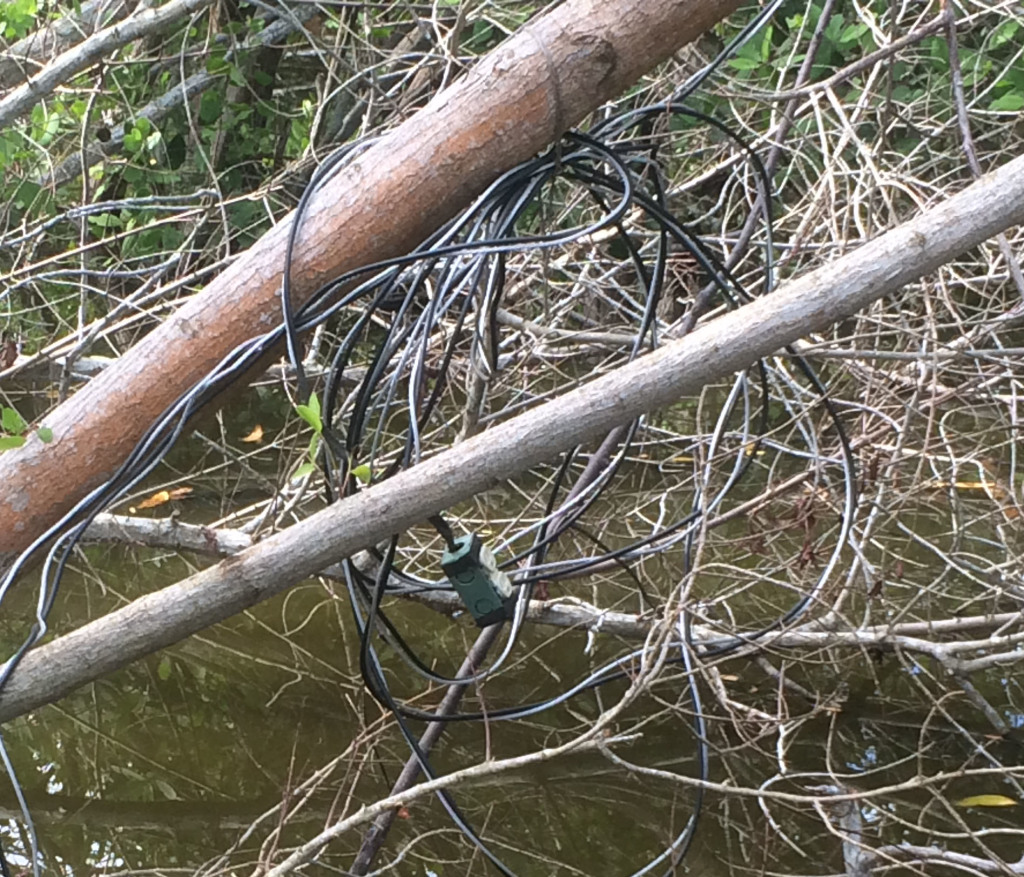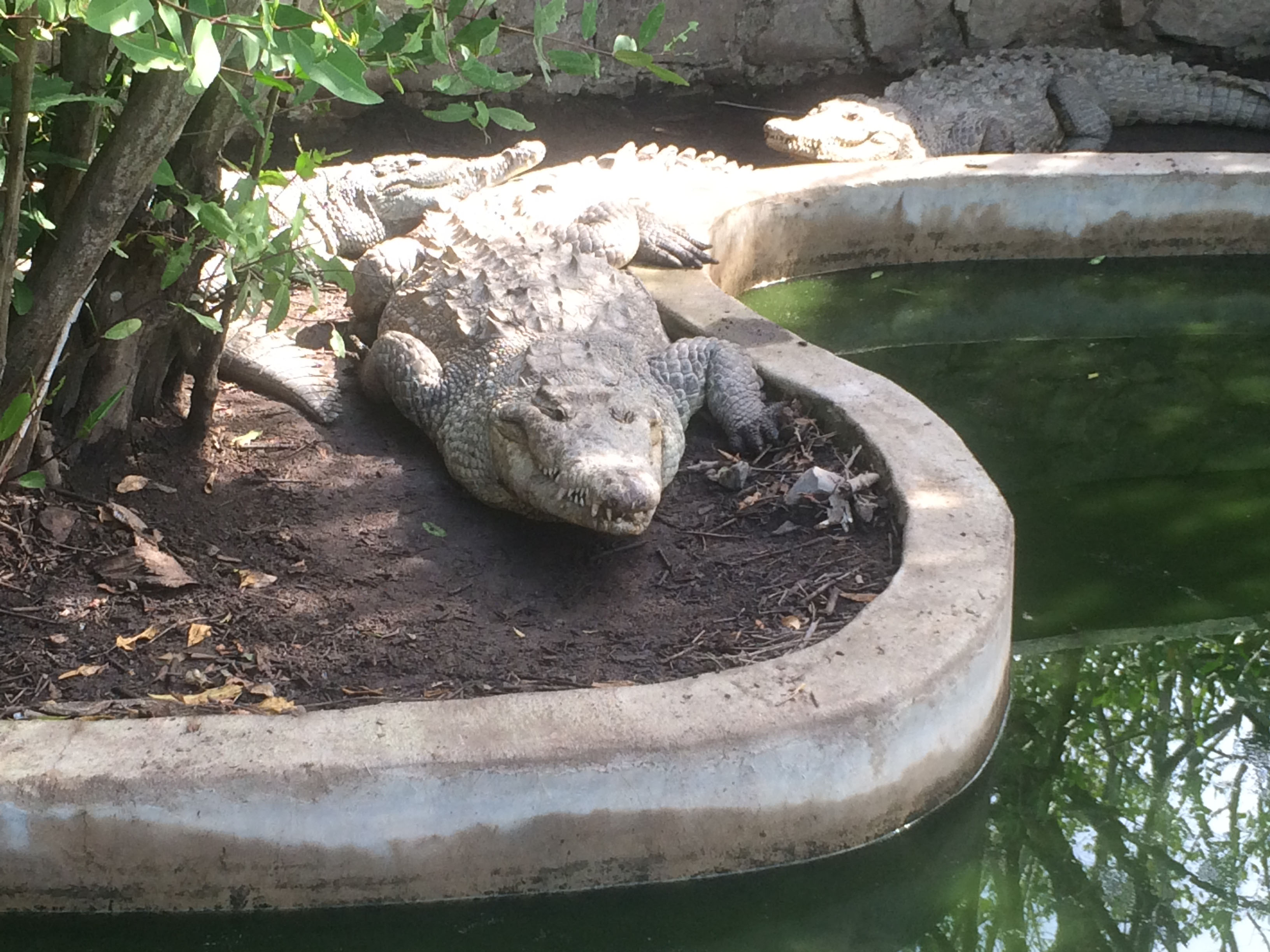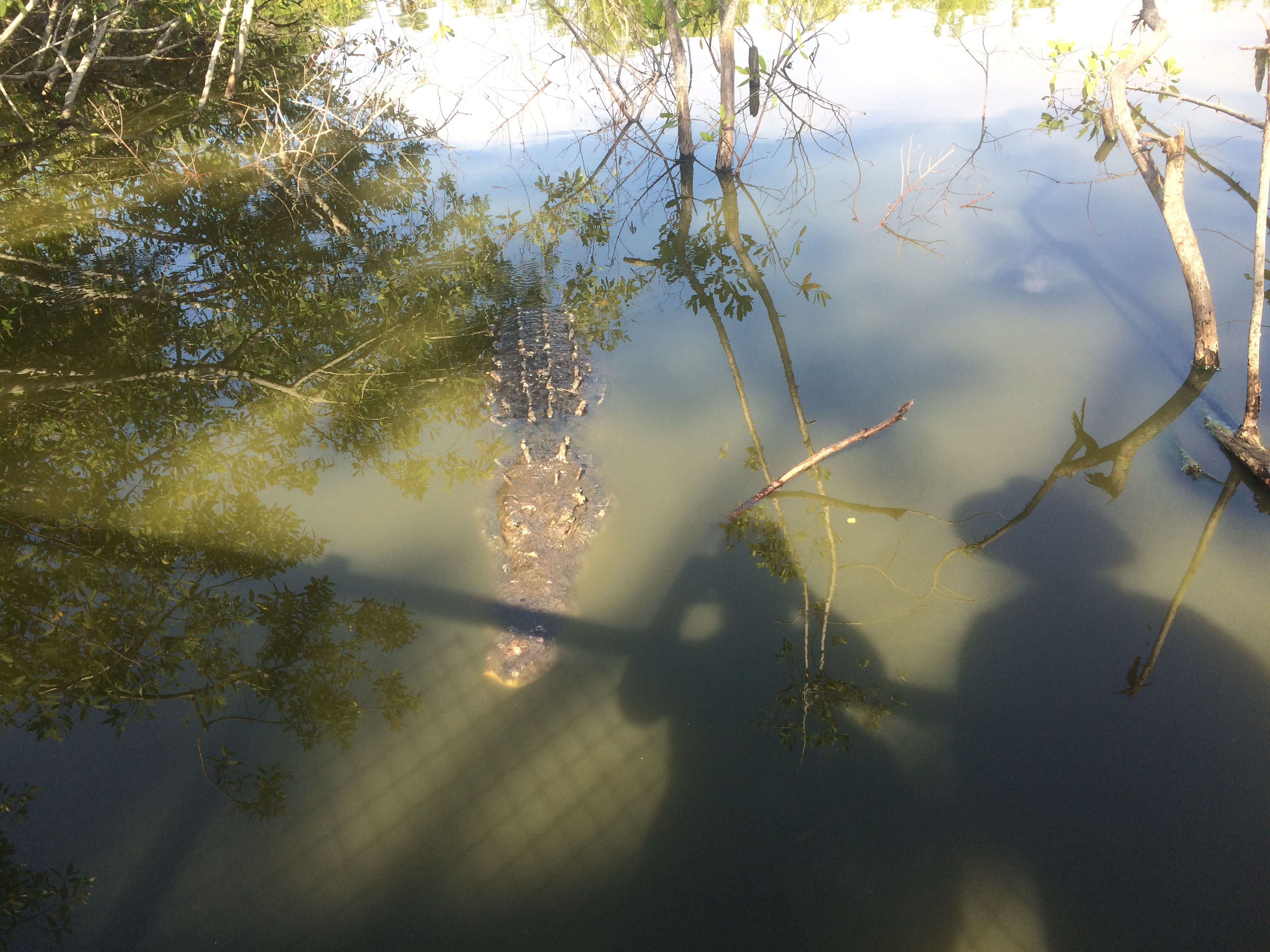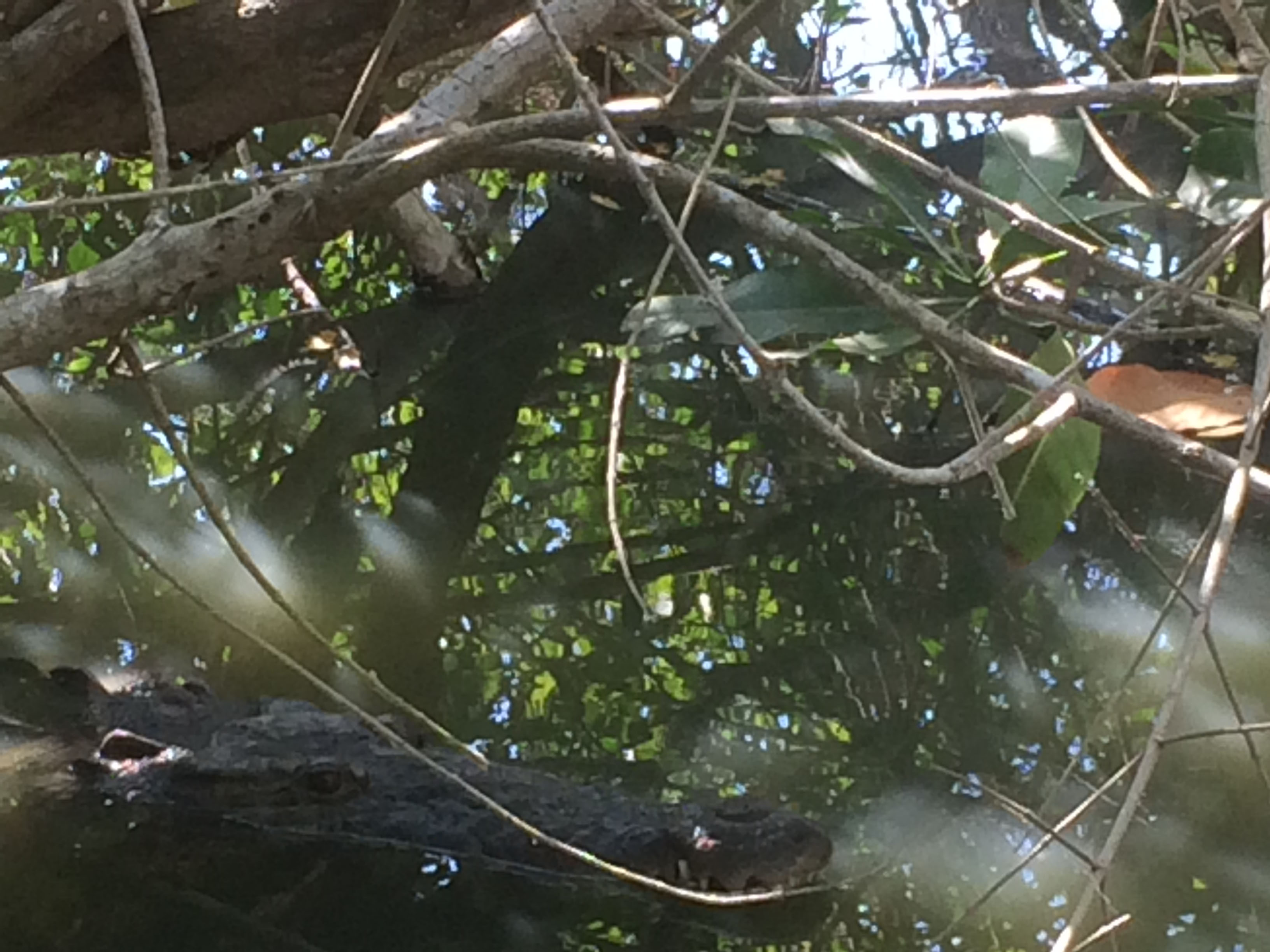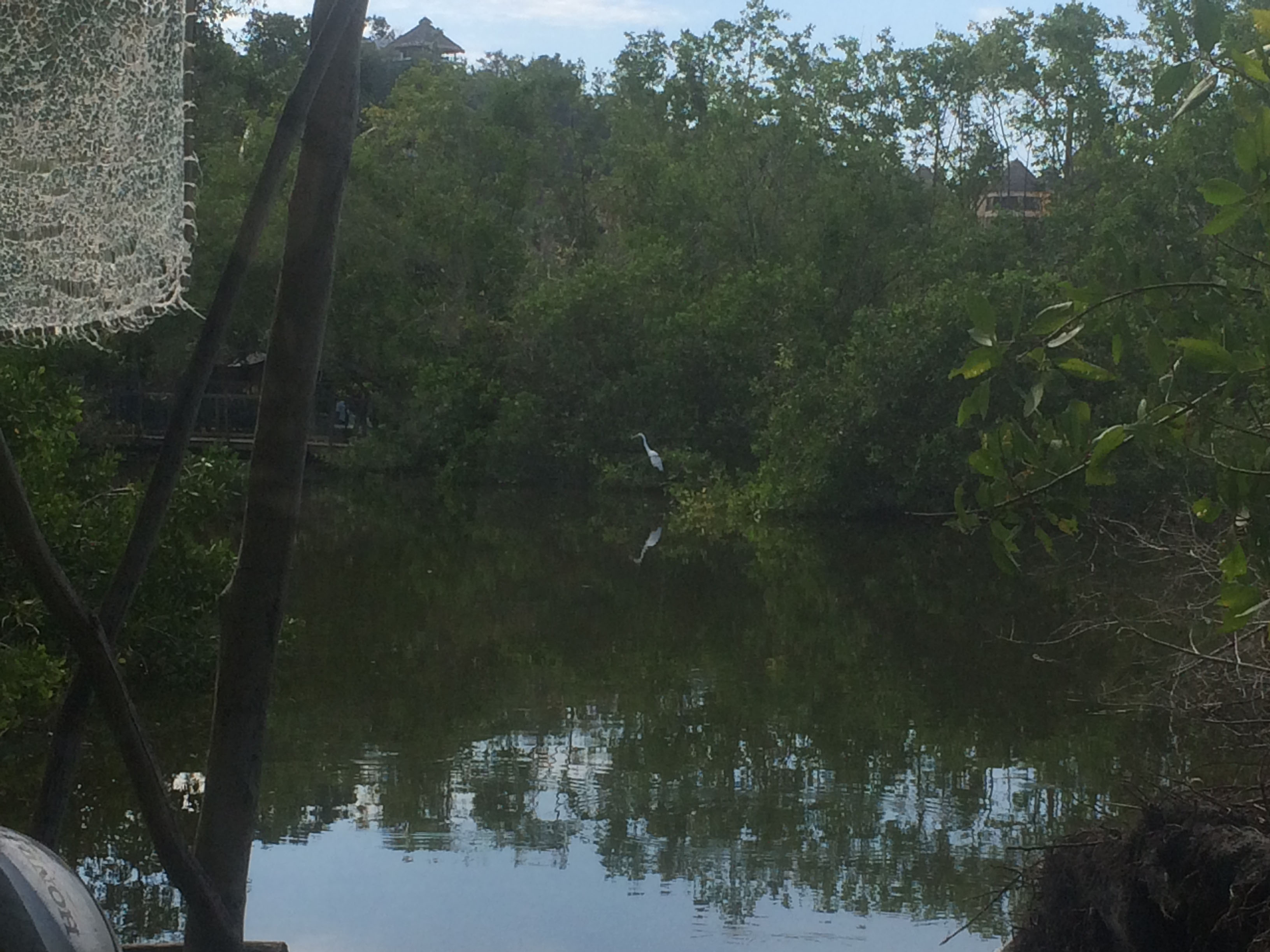 We paid our 25 peso fee and risked our lives for a good close up look at the crocs. At the end of the walk we got to the nursery – so many baby crocs!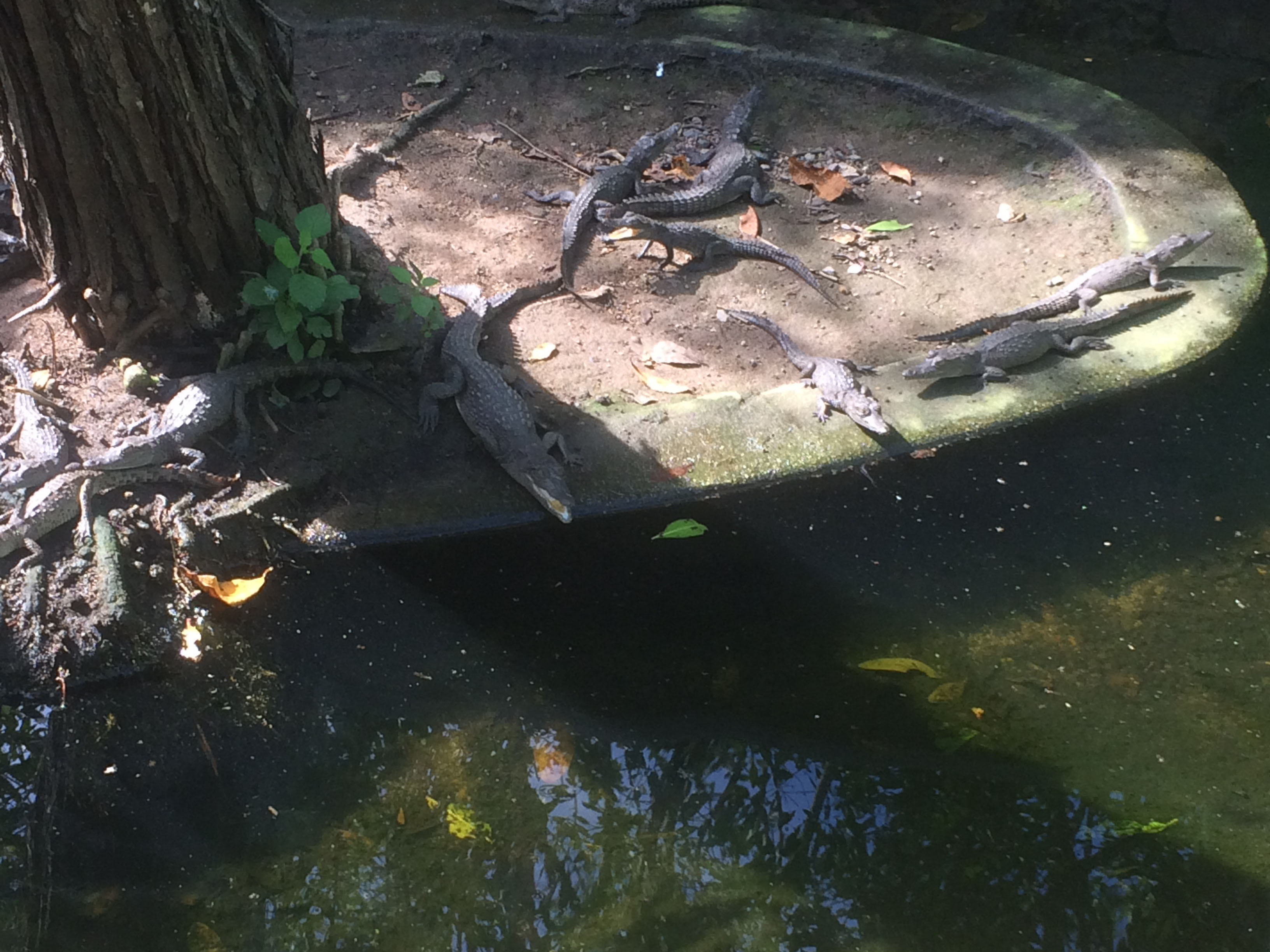 I had fun grabbing Jonny every time he was staring at crocodiles and watching him jump ten feet (he's so easy to scare I can't help myself). We got our groceries, some lunch and made our way back out to Summer. We relaxed for a while in the cute harbor before heading back across to Tenacatita.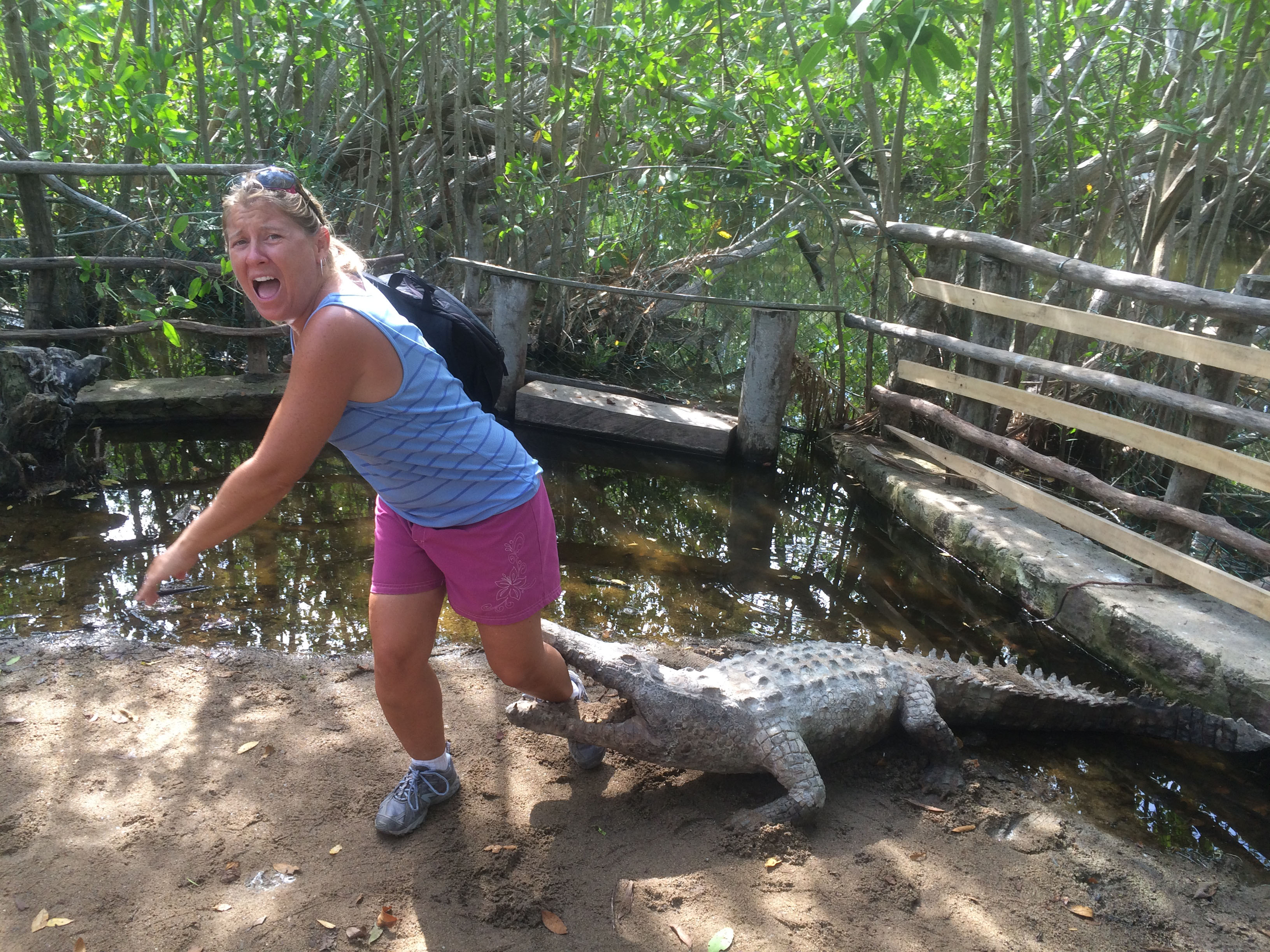 Somehow we ended up spending a week in the bay and for the last five days there my feet never hit land. We took a nice long dinghy tour up the estuary, saw lots of birds and crabs, but no crocs (whew! being in a rubber boat surrounded by crocodiles is not my idea of fun).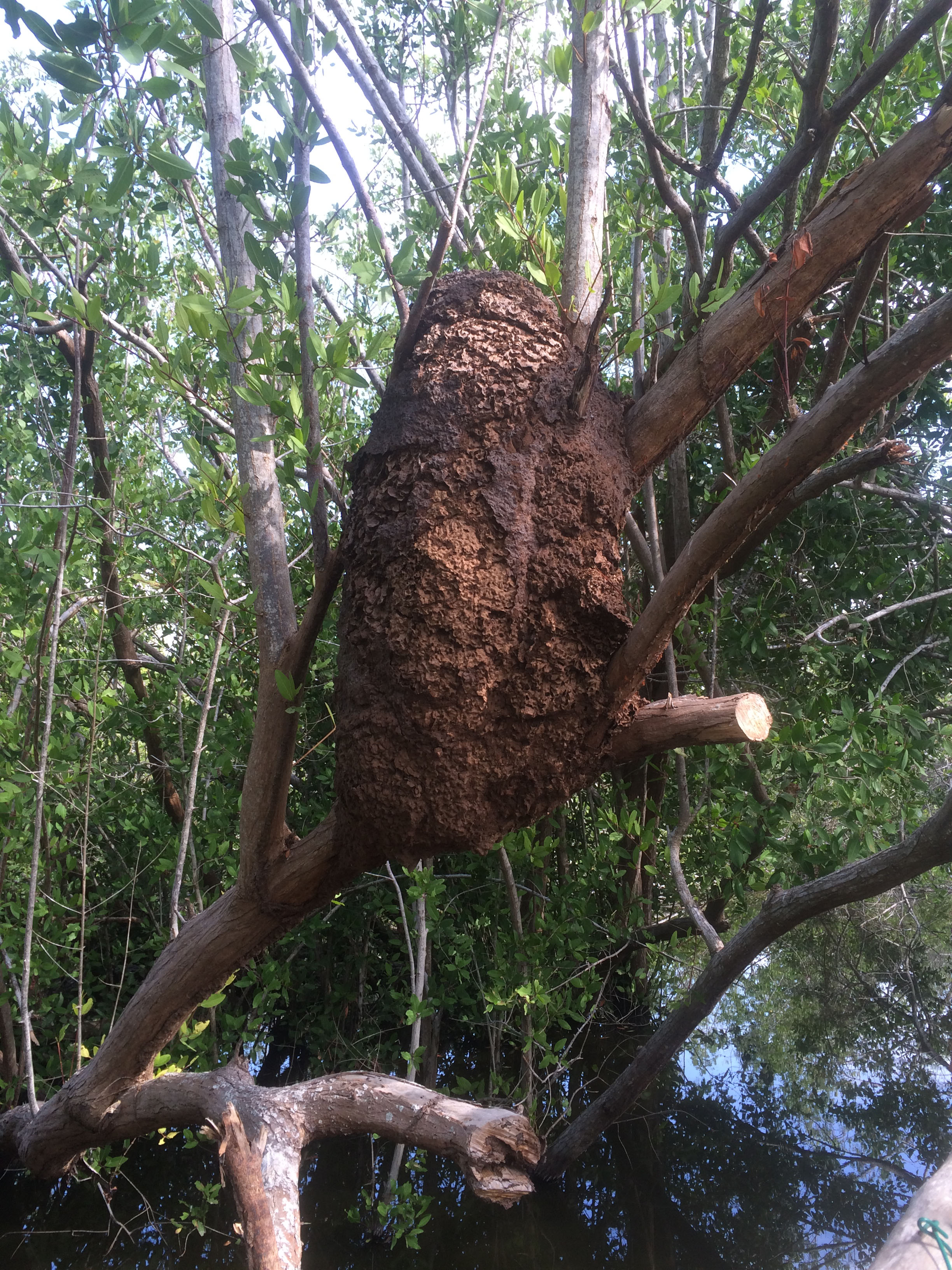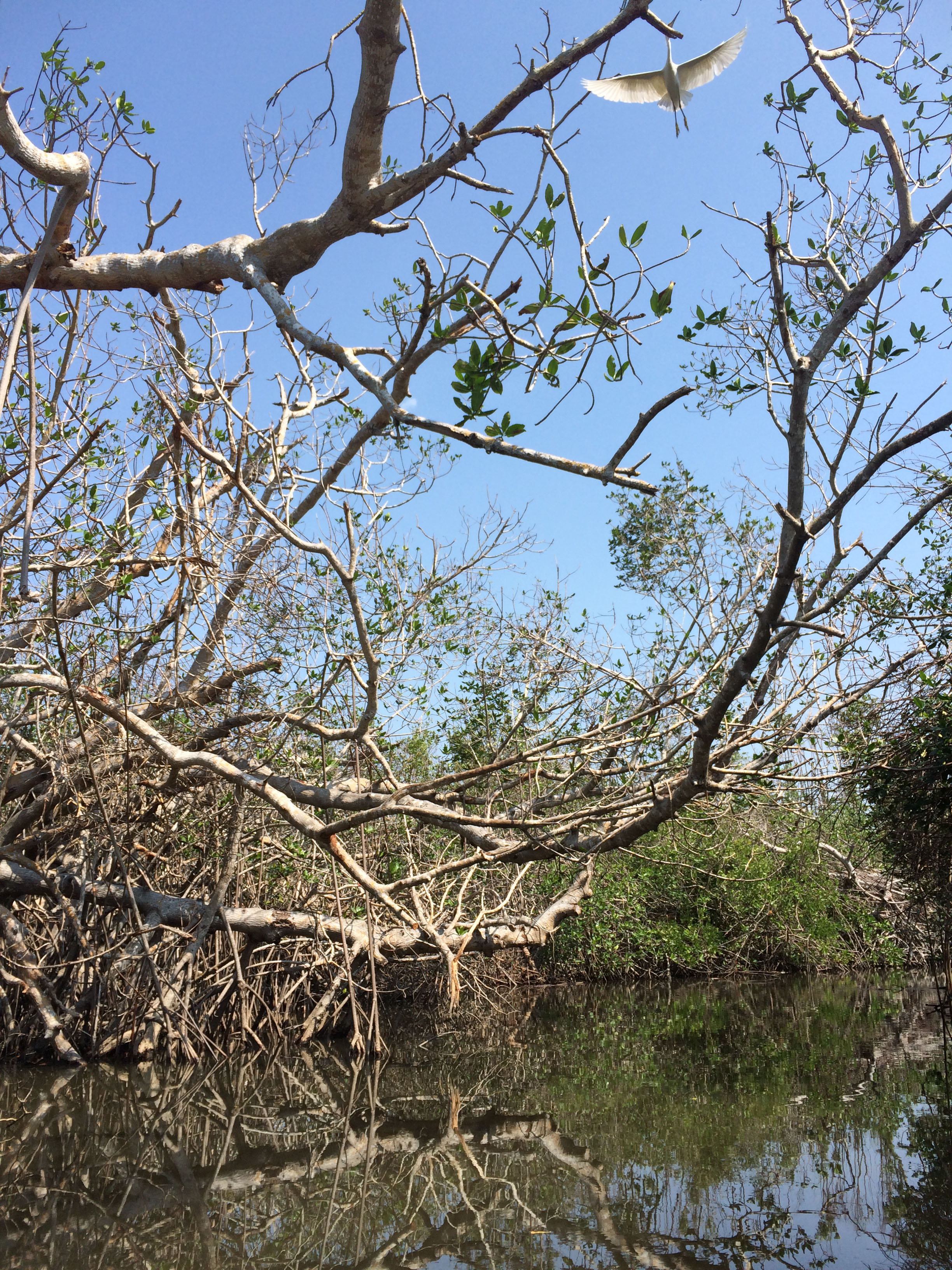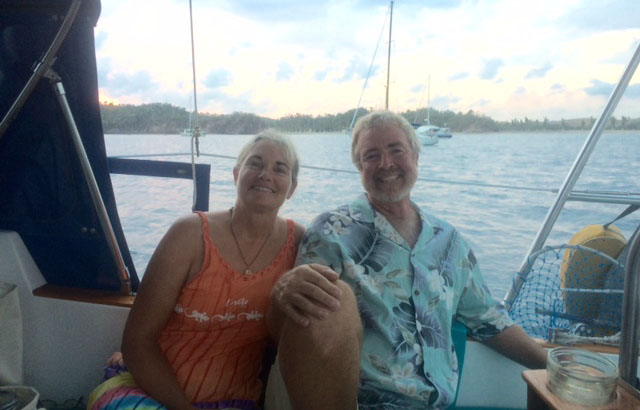 We visited with a number of friends and made some new friends. I finally got to see another Bristol in person! Summer's big sister, Gypsy Dream is a Bristol 41.1 and Graciela and Hugh anchored her right next to us. I couldn't resist going over to say Hi – as I was sure they didn't notice Summer. They immediately invited me aboard and while it was fun to see another Bristol, it was even better to get to know Graciela and Hugh. They have a wealth of stories from their years cruising.   We were both planning to depart the next morning – us south and Gypsy Dream was heading north.  When I returned to Summer, Kris came by and invited us for breakfast the next morning – so suddenly it seemed very possible we were not leaving the next day (especially as it was mentioned that "Ceasars" might be on the menu – which are like bloody mary's but with clamato juice (apparently a Canadian thing). I've never even had a bloody mary). Linger Longer was all set up for a fancy sit down breakfast and we had a great time and some good eats as always with these guys.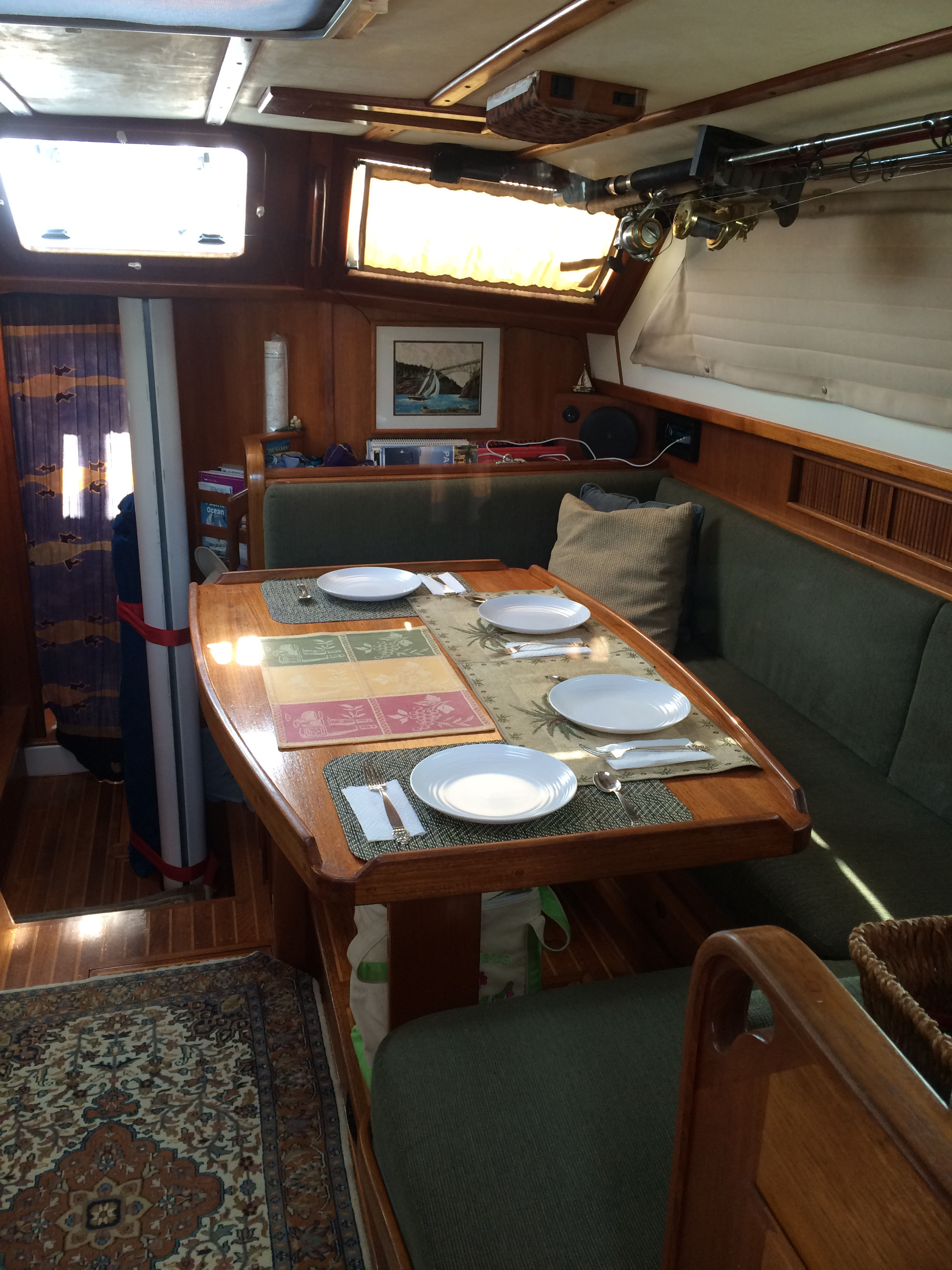 As it turned out Gyspy Dream didn't leave either, so in the afternoon, they came over for a show and tell aboard Summer. Which of course turned into an entire afternoon of visiting – they have the best stories! I was sad they were going north and we were going south.  They left the next morning and we stayed on one more day. It was already going to be Friday and we might as well stay for the world-famous Tenacatita Friday Night Raft Up. I started to see how this place sucks people in…
I made a big batch of fried rice to share and we moseyed over maybe a few minutes late – 5:12 I think it was…and we were the last to arrive (save for one really late guy on a kayak). Man, these folks are punctual! I've always been punctual almost to fault, but in this current life, I've sort of relaxed a bit, as I thought it was part of deal, but apparently not here.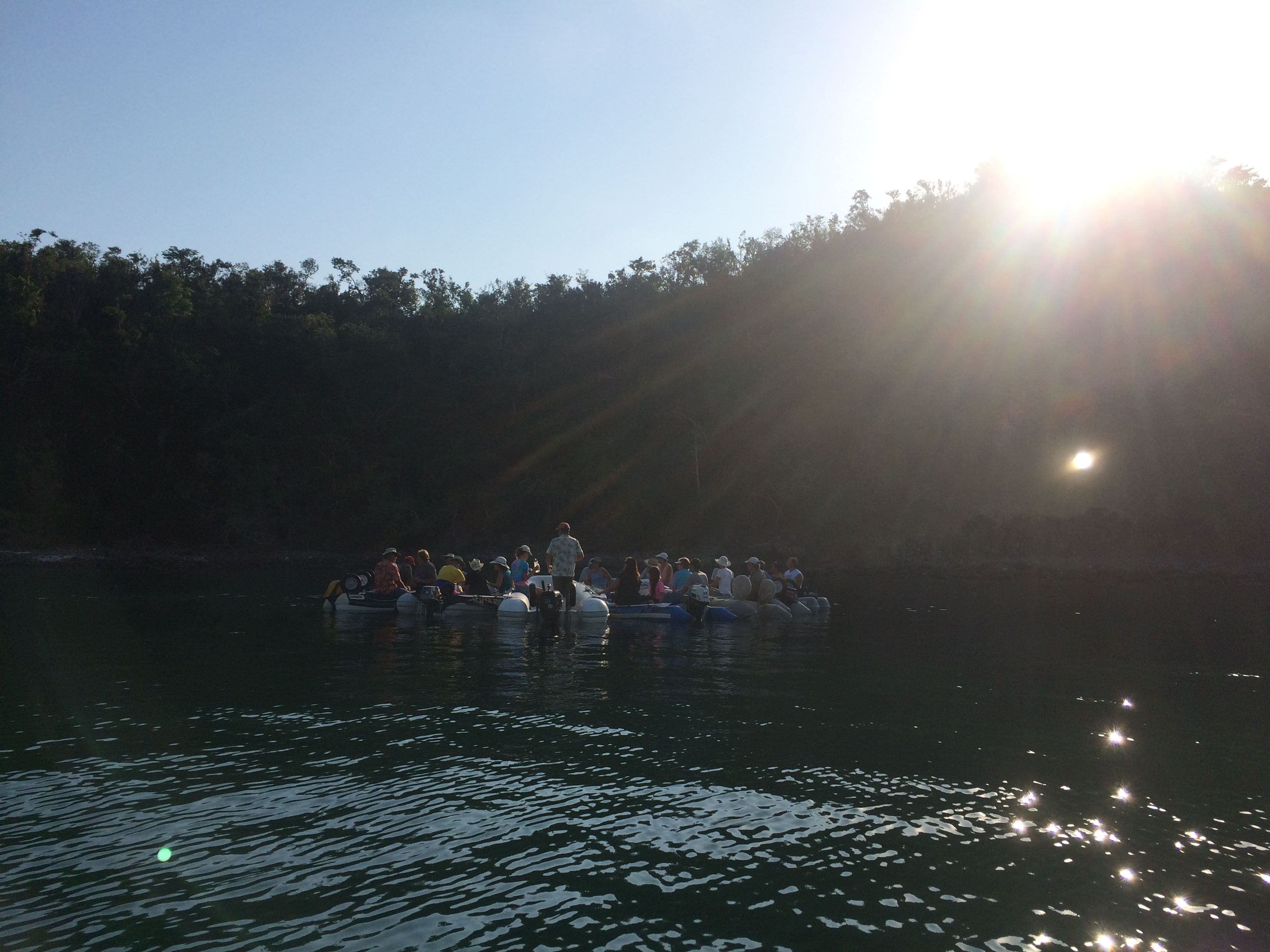 Robert ("the Mayor of Tenacatita") and his wife, whom he calls The Lovely Miss Virginia, have been cruising for many, many years and Tenacatita is their favorite spot. Every Friday night, all the cruisers gather together on their dinghies and tie up in a big circle and pass food around, while Robert blows the conch and thinks of a question that each person must answer when introducing themselves. There were probably about a dozen boats at our raft up and we got to meet a few new folks. We sheepishly wormed our way into the group and got tied up. We ate some interesting potluck foods and heard some good stories and then just chit chatted with folks around us.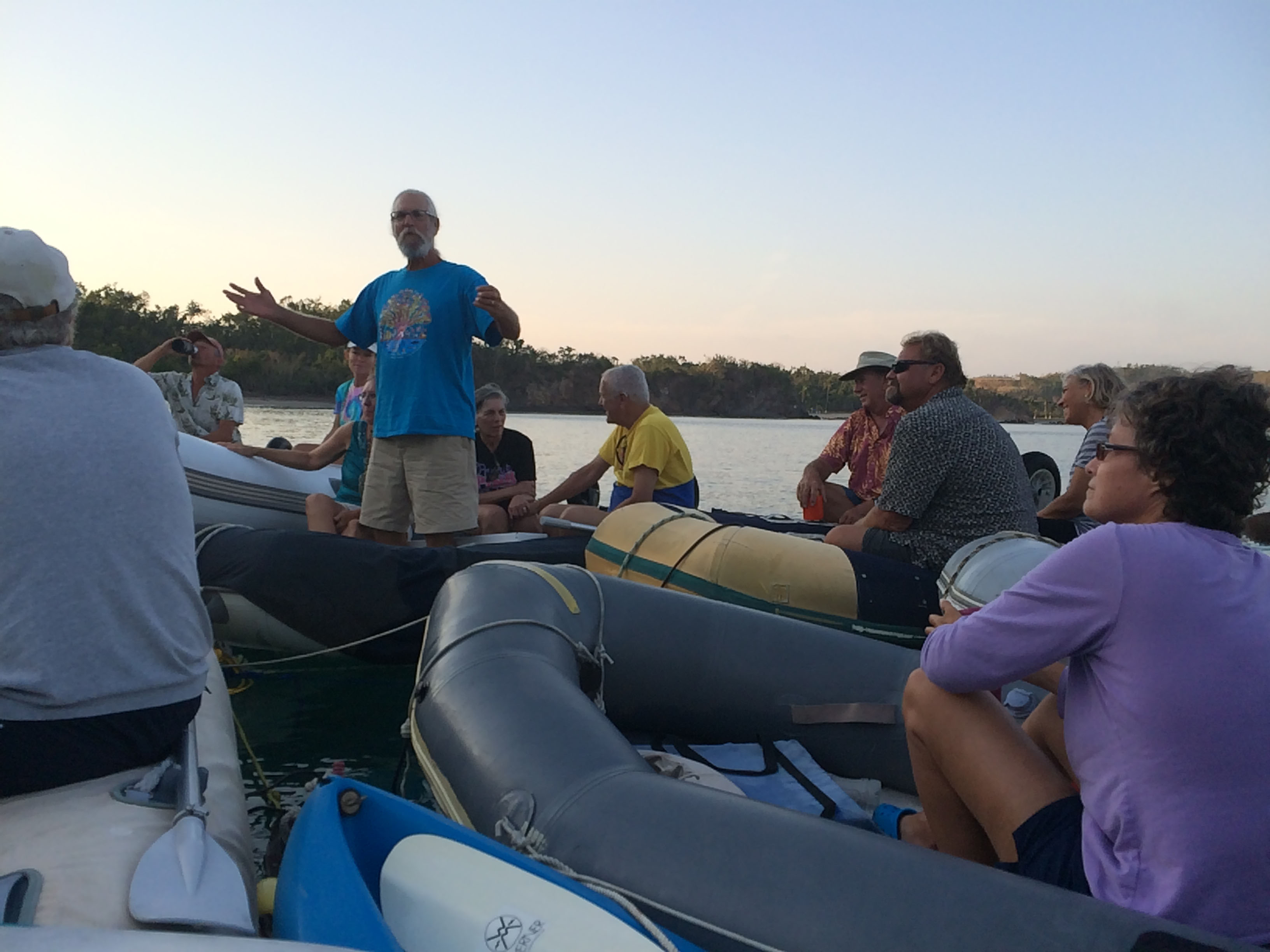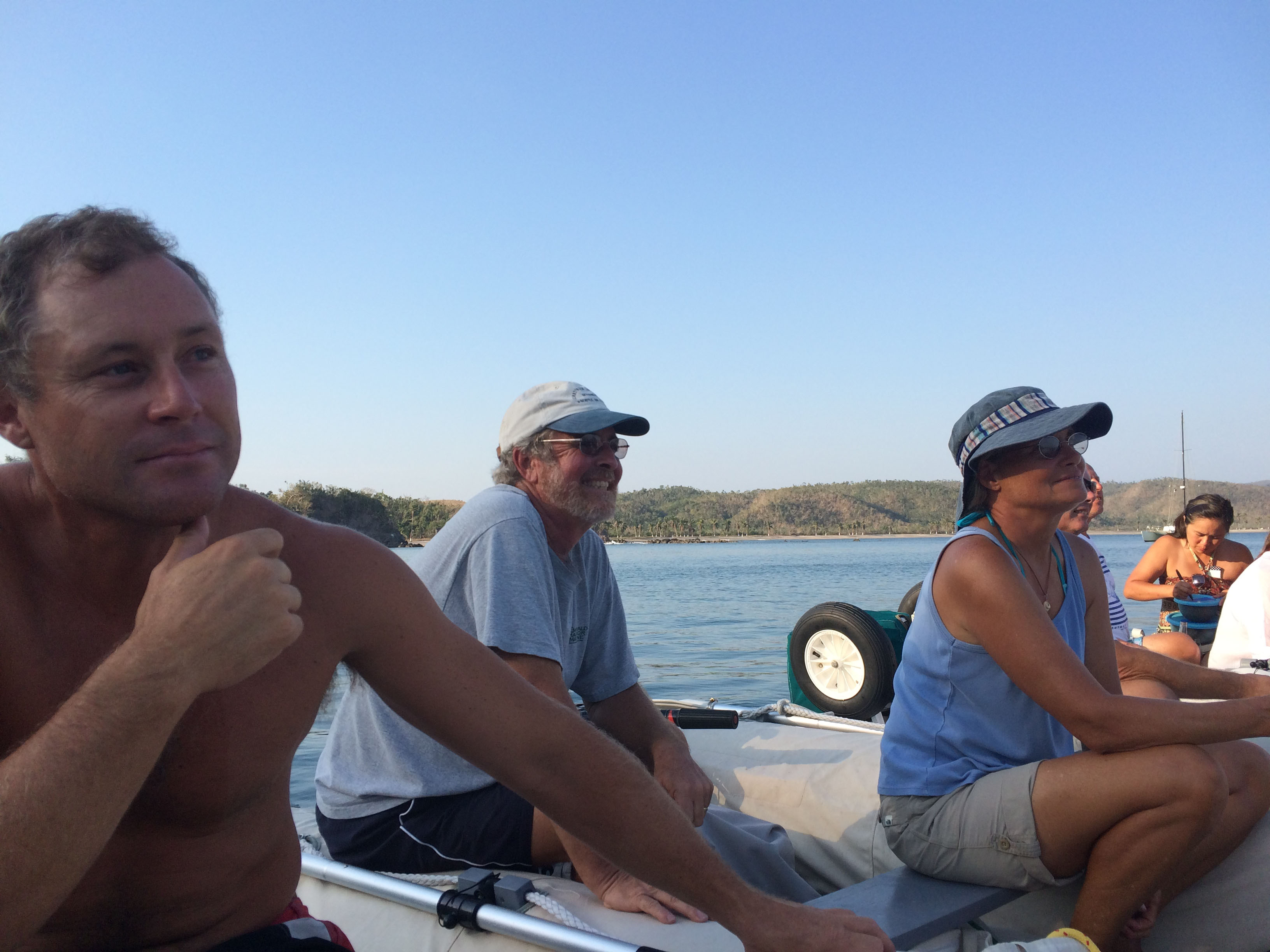 As the group was breaking up, we saw a boat entering the anchorage…could it be? Yes! It was Resolute. We'd been hoping to see them come around the corner at any day. We headed over to say hi and got invited up for drinks and I shared what was left of the ginormous mound of fried rice. It was fun as always and ended up being a late night. They tried to convince us not to leave the next day, but we'd already overstayed by two days and were really ready to move on (not to mention we were nearly out of water). As it turned out, Meagan was planning to fly to Florida to pick up some much needed boat parts. Hmmmm…the US, eh?? I asked if she might bring back a small, flat object for me…that's right A KINDLE! She said yes, so all I needed to do was find wifi and order one before she returned to Mexico. Oh yeah and since we might not be seeing them again, we also had to figure out a way to get it from Banderas Bay back down to me or vice versa. Easy enough, we were hoping to connect with Prism and Orion, and surely they would run into one of them in La Cruz? (as it happens, when Resolute was heading back to La Cruz, they crossed paths with Orion who happened to be coming in from their long journey out to the Revillagigedos Islands!) And hoping they get to meet Prism soon (if not already). My back up plan is they leave the Kindle with our friend Lynne who is living in La Cruz and I don't get it until we end up back there in a few months.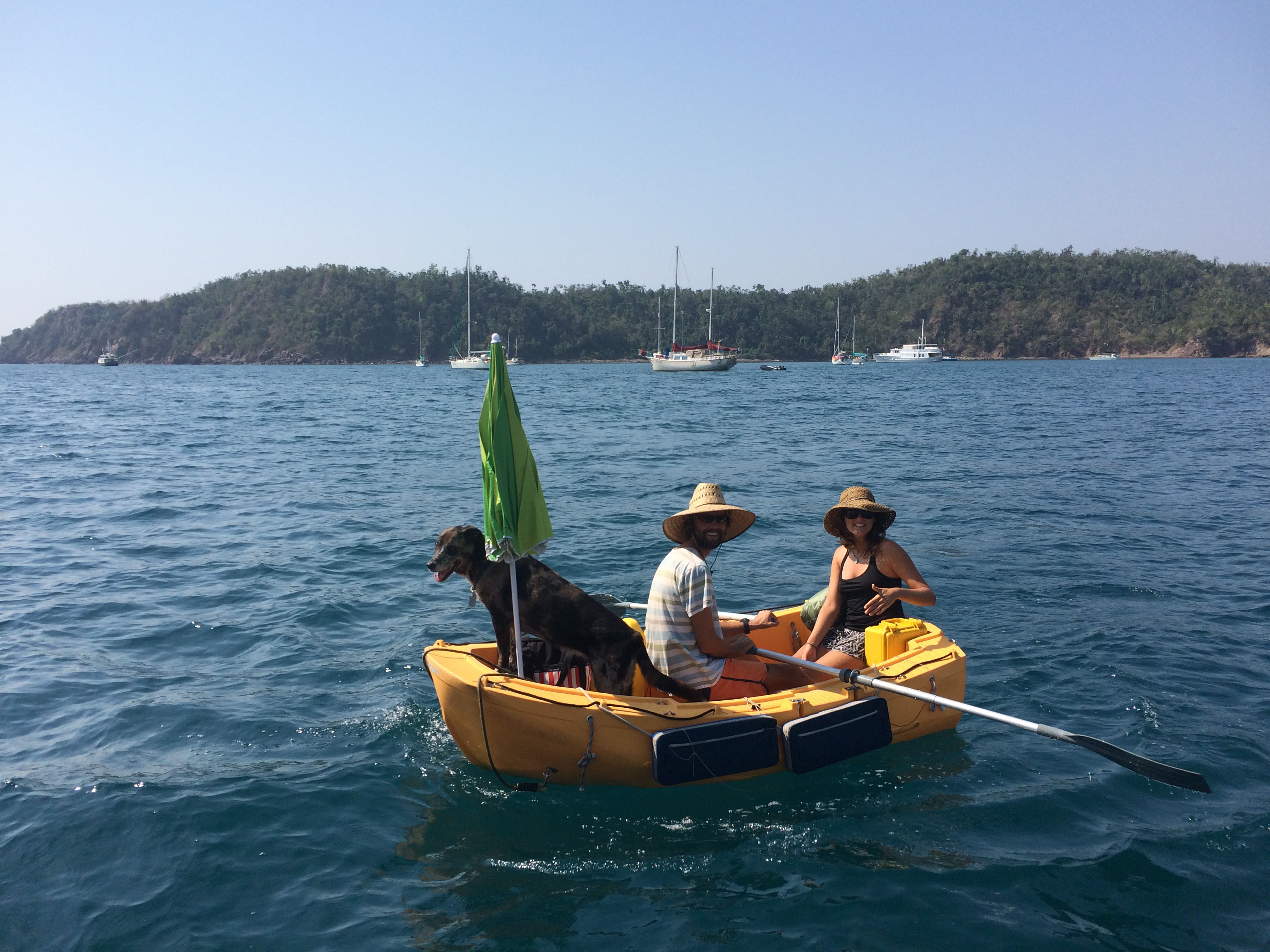 We had a lovely afternoon sail down to Barra de Navidad.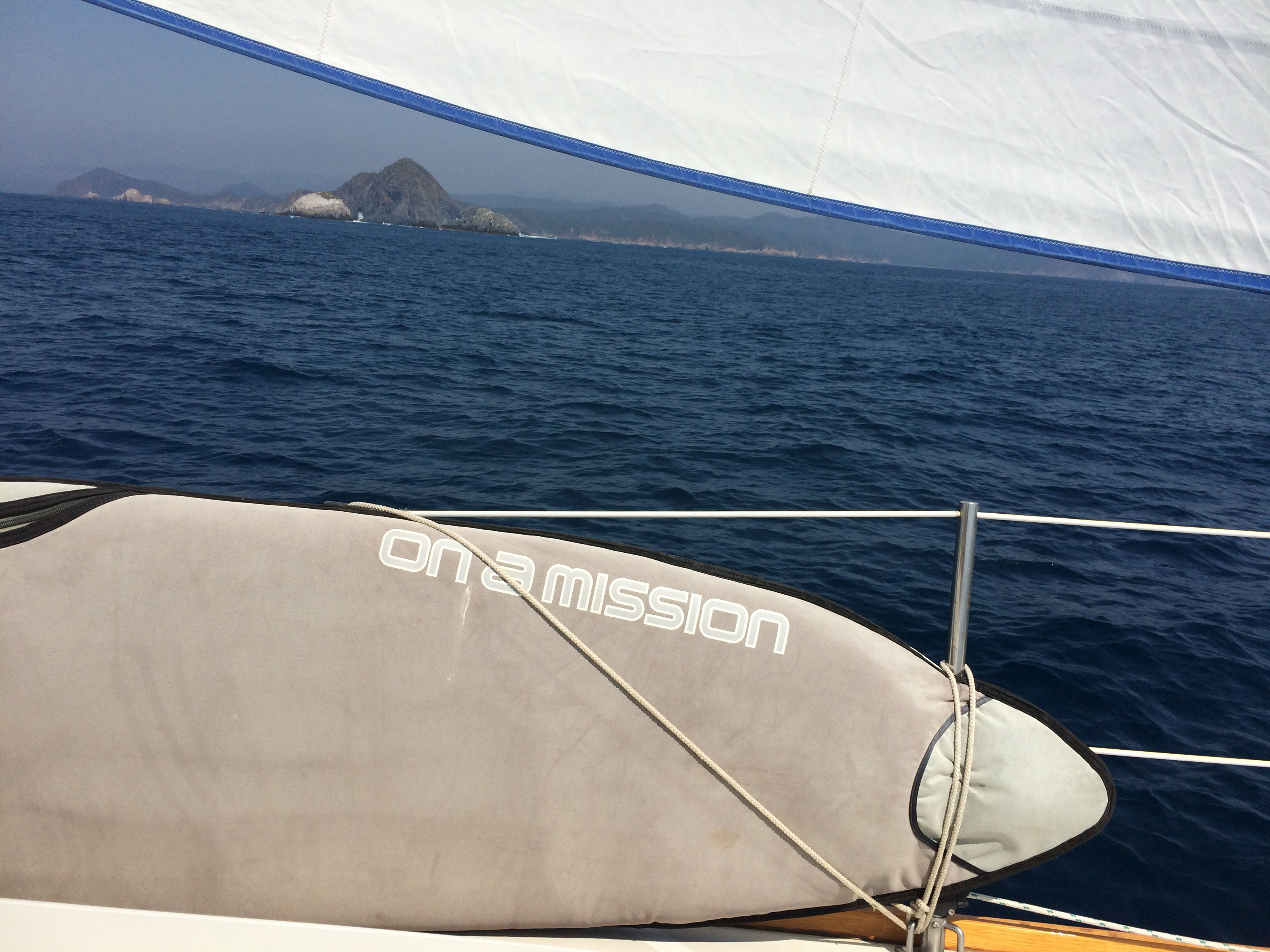 We did a 'drive by' through Melaque, which is just a bit north of Barra. It's someplace we thought we might like to anchor after stocking up in Barra.   We'd heard entering the Barra lagoon was a bit tricky and I was VERY careful to keep the boat exactly in the middle of the channel as it's marked on our chart.   Unfortunately that is the very wrong thing to do. We discovered this after we were stuck fast in the sand. Summer's first true 'running aground'. What a horrible feeling it is to see the depth sounder plummet to zero and feel the boat slowly grind to a sludgy halt as the keel digs down into sand and mud. After the initial few seconds of panic when you put the motor in neutral, you realize you aren't really in any danger and the boat isn't going to fall over, and certainly not sink. Then you begin the problem solving process. Firstly, of course, you try putting it in reverse and pulling yourself back to where you started. When that has absolutely no affect, you then start waving wildly as passing pangas. When that doesn't work, you get on the radio and announce to everyone in the anchorage that you have grounded your boat and don't know what to do.
A couple kind souls told us what channel the water taxis were on, and we called to ask for assistance. A panga arrived and we threw them a line and they tried to pull us backwards. We hoped it didn't pull the cleat out of the transom. It didn't, but it didn't move the boat either. We tried a line on the front. A helpful guy (we later learned was Jeff) came out in his dinghy and tried to nudge us as the panga pulled from the front side. Still nothing. The panga motor was not strong enough to help us. The panguero left and we asked Jeff to help us by bringing and anchor out to the side of the boat. By setting the anchor in the direction we wanted to go, we could pull on the line and pull the boat towards it. This is known as "kedging off", and for some reason we opted not to try that first (probably because digging out the anchor and the line and using our dinghy (which was not ready to go) would've been a huge pain in the butt – but with a dinghy there ready and willing, it wasn't so hard. Jeff and Jonny went out in the dinghy and set the anchor while I paid out the line and then cleated it off near the end.   We then pulled the line in and started to make the boat budge (along with me putting it in gear and gunning it a bit). The panga returned and as all the guys were conversing, I noticed the boat was free and floating away. I had to yell "We're moving! We're moving" to get their attention and get Jonny back on task pulling in the anchor line (quickly, so it didn't get fouled in our prop!).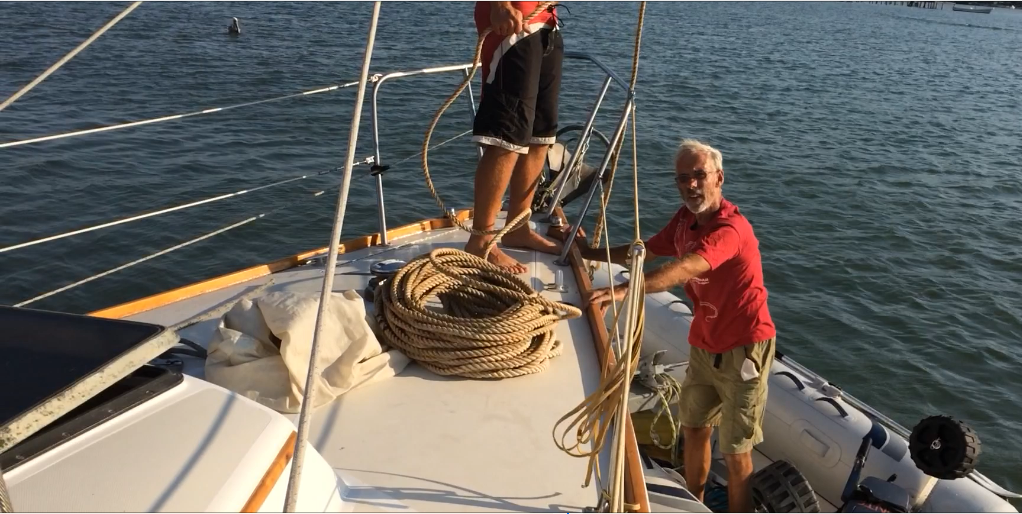 We were now free to go and Jeff chaperoned us along the proper course through the shallows and out to the also- shallow anchorage.   We picked a nice spot in the back and settled in, feeling oddly accomplished now that we'd truly joined the 'aground' club. It still remains to be seen what Summer's keel looks like after this incident. The lagoon is pretty murky and gross, so there was no reward of jumping in to wash the sweat off after our hot afternoon ordeal.
The next morning was Valentine's Day, which really didn't mean that much to me, until the French Baker came by in his panga selling croissants, baguettes, tarts and quiches. I could not resist taking the last chocolate croissant and a pastry for Jonny and a chocolate tart for later. Along with my treats, I was also given a red rose! Suddenly, it seemed like a holiday!
After two nights in the lagoon and getting some food to tide us over, we decided to check into a slip in the marina for a night so we could fill up with water – and clean out the tanks – which somehow were full of debris, wash Summer, flip our 250 feet of anchor chain from end to end (the same end is always ending up in the water while the other end is always dry – seemed like a good idea to rotate) among other projects.   As it was Valentine's Day when we went to the marina office, they were offering a deeply discounted rate – which they said we could have for later days if we paid on that day. We opted to pay for 2 nights, starting the next day. We got a nice little slip at the end and access to all the facilities of this posh resort we were anchored behind.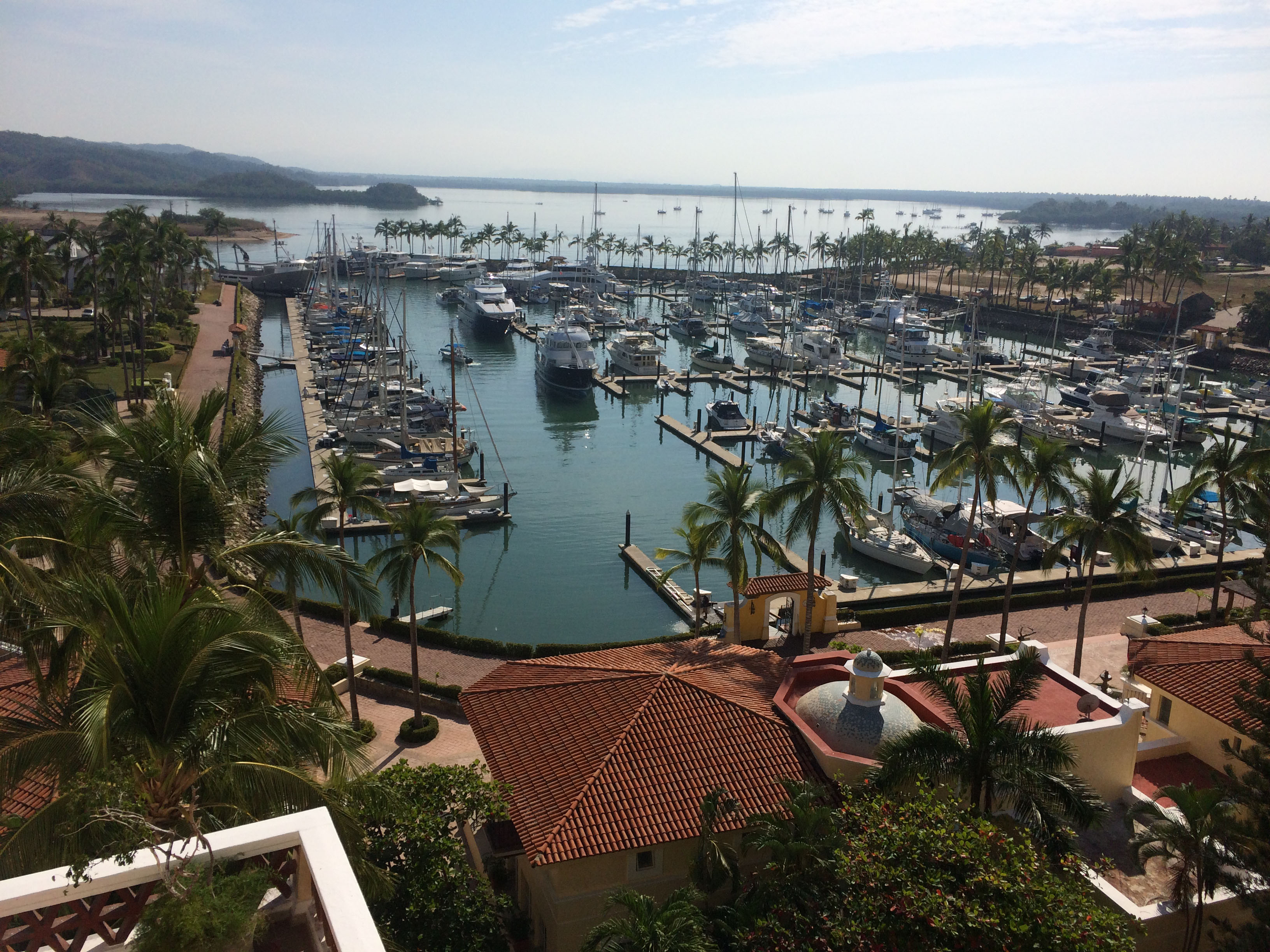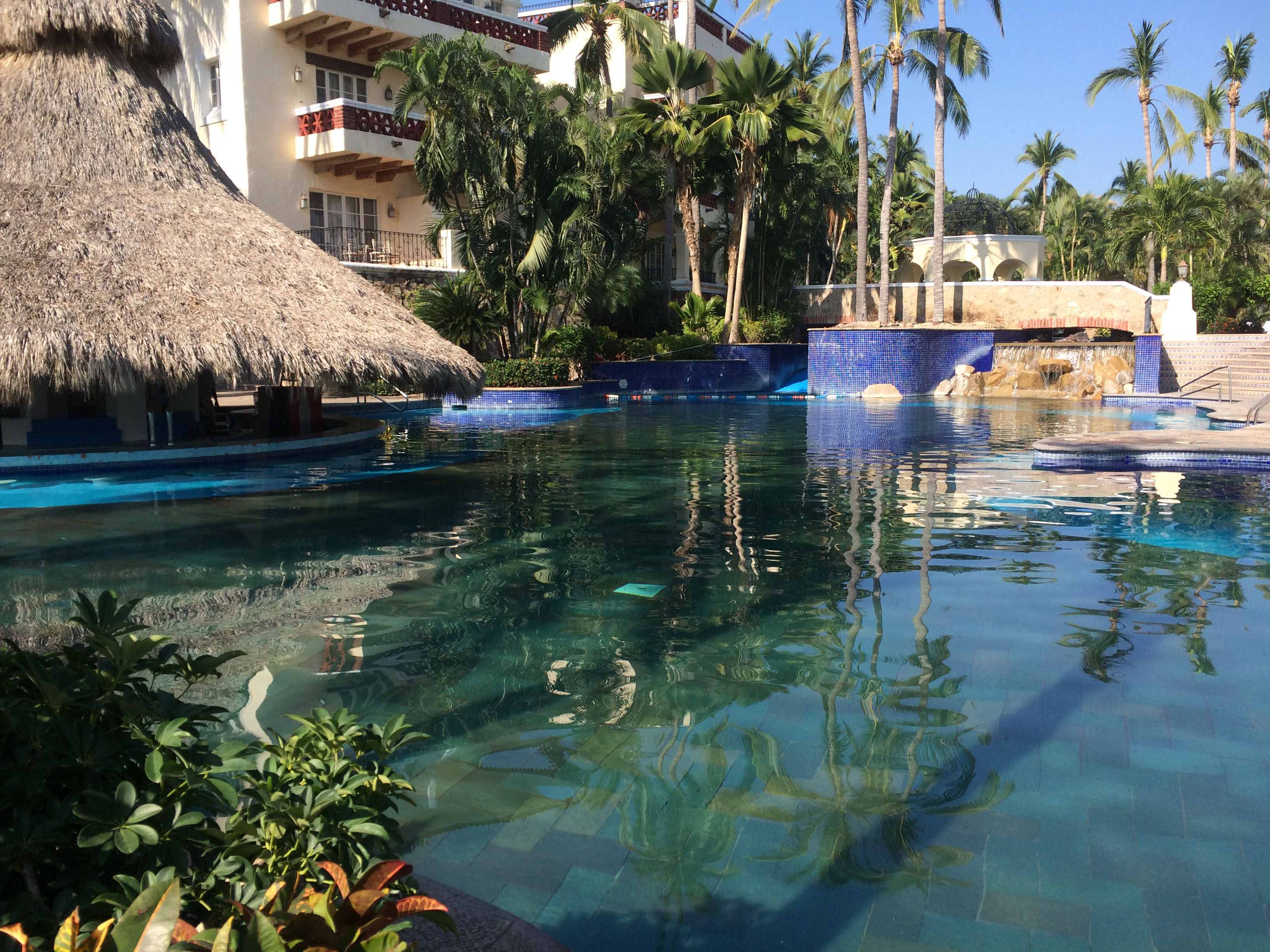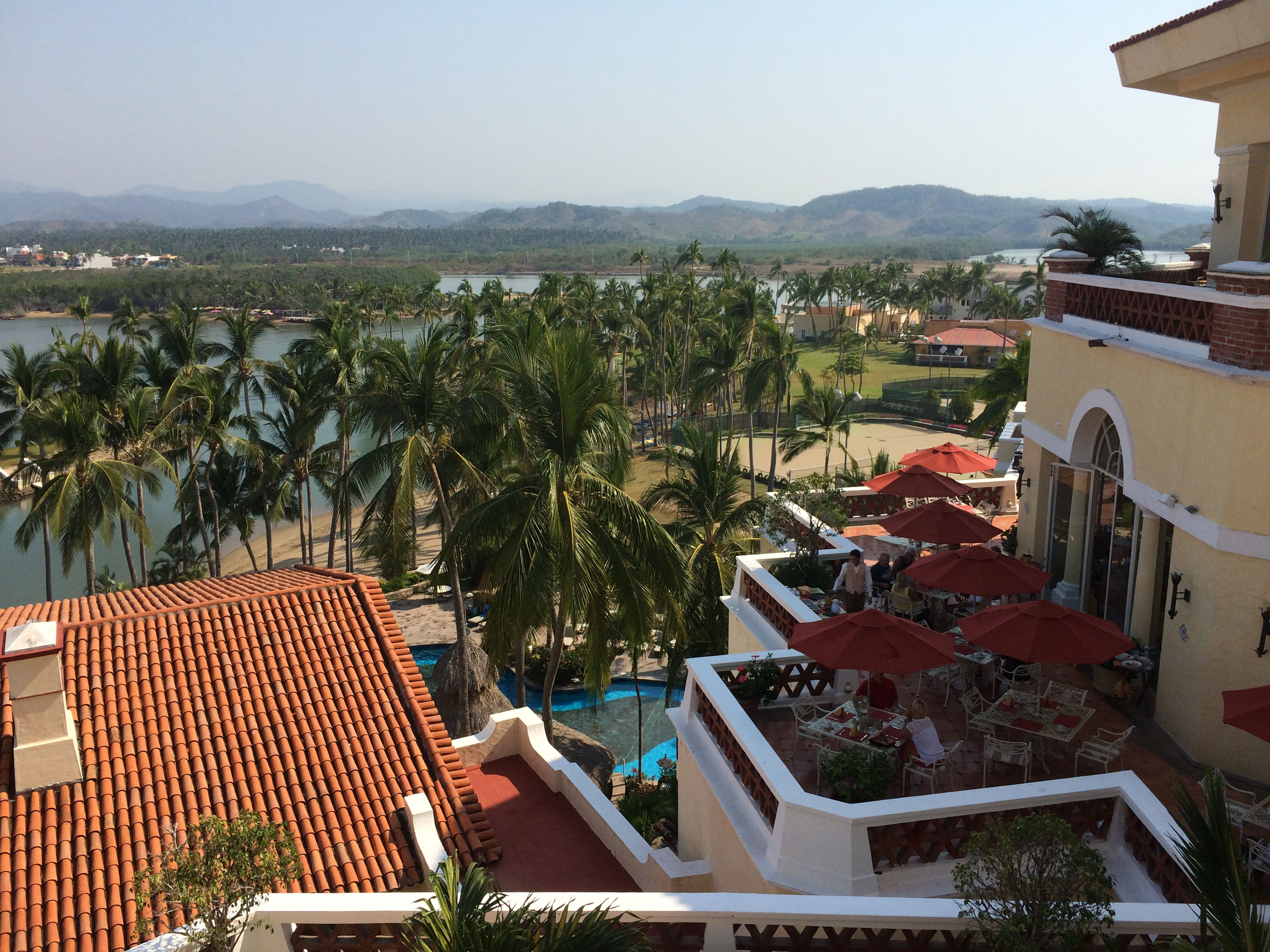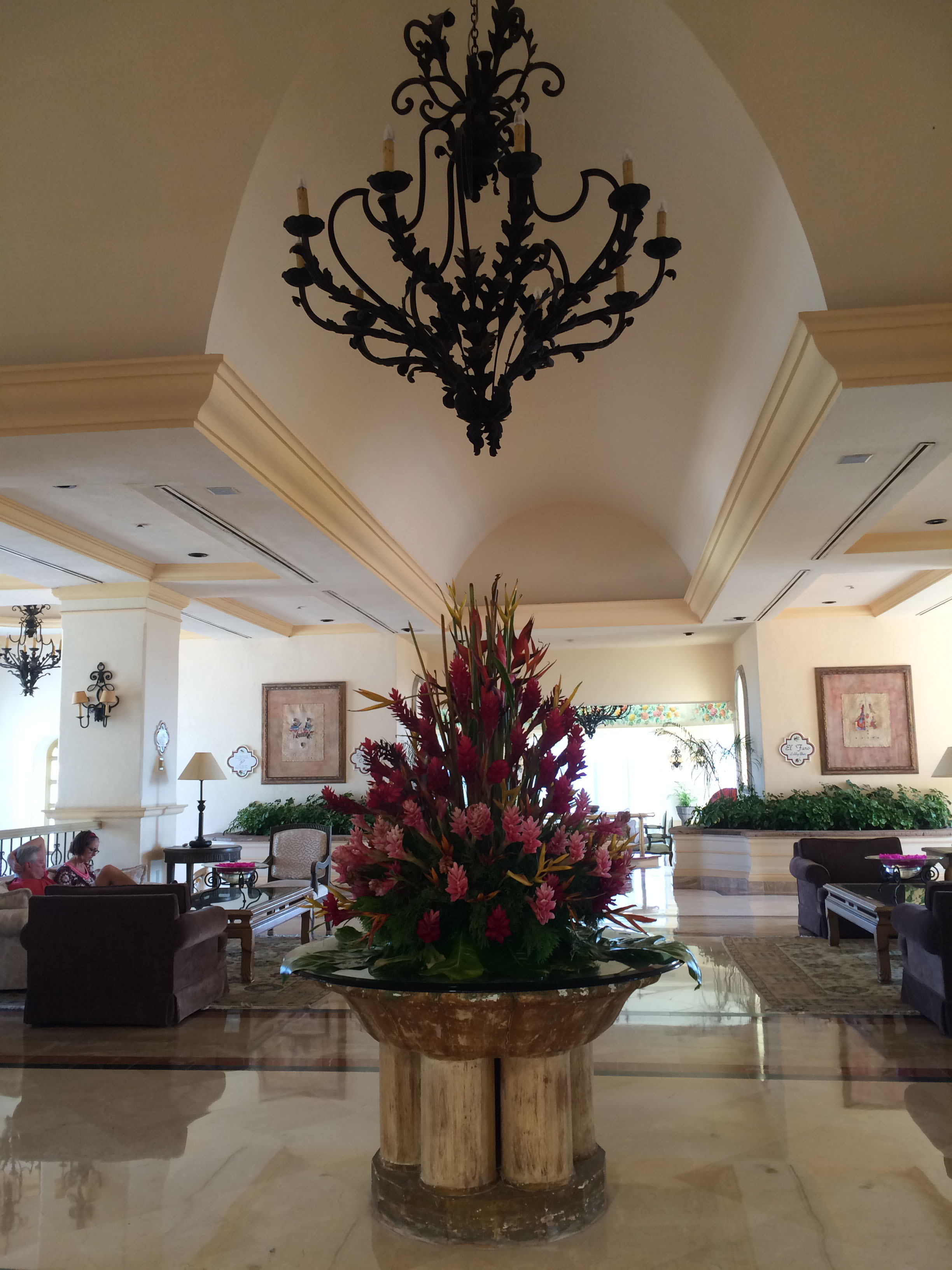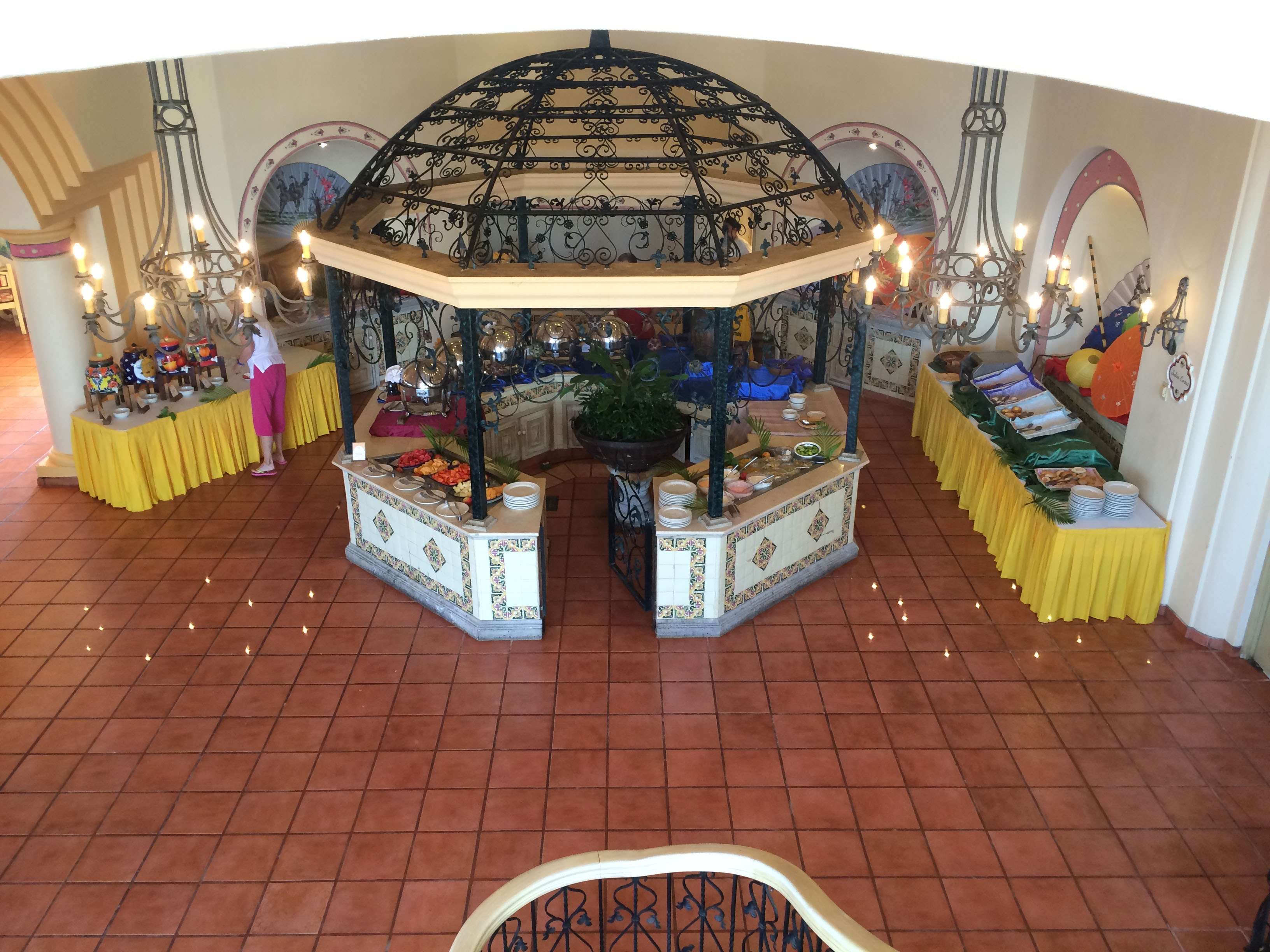 While there was no 'all you can eat and drink' deal, I did manage to get a few hours of pretending I was on vacation at a swanky resort.   Linger Longer was in the marina too and we had a fun afternoon at the swim up bar, meeting other cruisers. Jonny worked away on most of the projects while I managed to get a blog entry posted and take care of laundry and other business. It was a quick two days. After the first day, Dan on Dazzler pulled into the slip next to us, and it was fun catching up with him and having a wild and crazy neighbor. He gave Jonny a lot of grief for the fact that the French Baker had given me a red rose for Valentine's Day and Jonny hadn't given me anything. That night as we were peacefully watching a movie, Dan returned from having a number of drinks and loudly knocked on our boat and said "Hey Jonny, I have those roses you asked me to get! You know, to help you out! Yeah, you can pay me later, but here they are, the roses you asked for – for Jennifer" He handed us 3 red roses, and Jonny, not catching on to the fact that Dan was teasingly trying to make him look good, whispers to me "I don't remember that conversation". It went on and on and was pretty hysterical. Dan may or may not have disturbed some of our other neighbors. And I ended up with a nice bouquet. The next morning Dan sheepishly asked if he'd given us roses…
We finished off our work –giving Summer a final good scrub and filling the water tanks before heading back out to the peaceful lagoon. After having seen the town of La Manzanilla, I had been trying to coordinate a week-long session at a language school there, where I would live with a local family and go to classes every day. I really wanted to improve my Spanish and it seemed that Barra was an ideal place to leave Jonny alone for a week and it was a quick trip back to La Manzanilla overland. In Barra there were plenty of good folks around, boat projects to do and even a little wave Jonny can surf. Panic didn't really set in for him until he realized he was going to have to feed himself.
I managed to arrange the school at the last minute to begin on the upcoming Sunday session. So I had a few days to hang out and see more of Barra. We also we took a bus ride out to see the town Melaque, just a few kilometers away.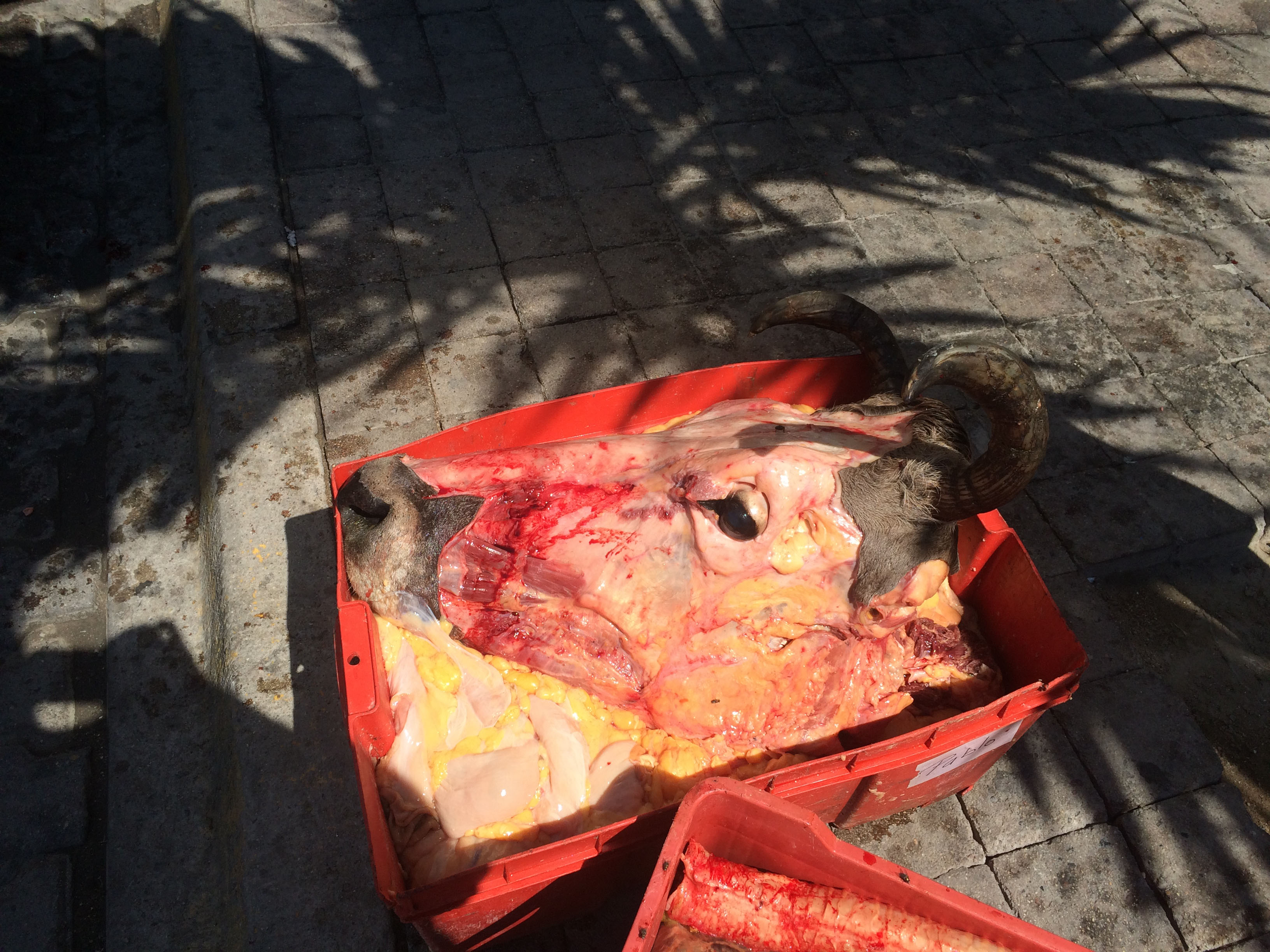 Finally it was Sunday and I was packed and ready for my week-long learning adventure. Jonny ferried me ashore and helped me to the bus and off I went.
AND…We're so grateful to the help we get from our friends now and then feeding the kitty!!