*****Pictures have been added to the previous entry. Enjoy!*****
Monday morning found us ready to make our way back to civilization and see if we could fix our fridge problem.   As we approached BLA I was surprised to see it was quite a bit larger than I expected. We'd been hearing stories for so long about how little there is here and how much we need to do without. We were not expecting very much. Only Dazzler and Linger Longer were in the bay. We were happy to catch up with those guys again. As it turned out, Dazzler Dan had the same fridge as us (but six years old) and was also experiencing problems – albeit of a different sort. He had bought what we assumed were the last 2 cans of refrigerant in town and he had a hose that fit the cans. Unfortunately the other end of the hose did not fit our refrigeration systems and he wasn't sure lack of refrigerant was his problem anyway – so he didn't bother using any of it. He sold us (at cost) one can of refrigerant and the halfway useful hose. We figured maybe we could find either the proper hose with both fittings or at least part of a hose with the fitting for our compressor and splice it to the other.
We got a bit of local knowledge about places to check and we headed ashore, determined to get this thing sorted out. The first store we went to was sort of a strange mix of things – dry foodstuffs, some fresh vegetables, bicycle parts, gay porn magazines, automotive, mechanical parts and a mix of dusty, random parts in a dimly lit building. We looked around a bit and tried to explain what we were looking for. The woman turned on some lights for us and didn't think she had what we needed. On a dusty plexiglass shelving unit, under some other things, Jonny spied some sort of hose in a package. We pulled it out and it appeared to have the correct fitting for our compressor! It was not cheap and, we assumed, not returnable, so we wanted to be sure before we bought it. We trudged back across the salt flat/basura strewn, abandoned campground area to the beach where we landed the dingy and went back to get calipers to measure. When we returned to the store, a man was working there and he helped us to measure and be sure the hose was going to fit our needs. We were also able to get a brass fitting to attach the 2 different sized hoses together and a couple of tiny hose clamps. Jonny went to work cutting our 2 brand new hoses and fitting them together. He then attempted to fill up the compressor with refrigerant. The compressor took an entire can of refrigerant (which is half the total volume it needs!). All we could do now was to wait and see if it got colder in the ice box and then turned itself off. Amazingly enough, it did! We were cautiously relieved (afterall, we did not actually find or fix any obvious leaks).
Jonny tightened the suspect fittings a little bit (they would not go far) and we are just continuing to check on that and see what happens. At least now we have some extra cans of refrigerant and a hose that works like a charm if we need to do this again! We loaned the hose to Dan, as he was still struggling with his system and wanted to give the refrigerant a try now that it was possible. He offered to split the cost of the entire fix (which, btw, was about 25% of our budget for the month!), but that didn't make a whole lot of sense to us, since we were keeping the hose – so instead he gave Jonny an 8 pack of Pacifico when he returned the hose (he knew that would not be turned down!).   So, we don't know what's going to happen to us with this, we remain vigilant and for now the beer. Poor Dan had to go back to Santa Rosalia for parts, and we heard on the radio that he actually ended up taking a bomber mission up to San Diego to get what he needed. What a bummer for him, and made us feel even more grateful we still have cold drinks, frozen food and didn't have to take a very expensive trip anywhere!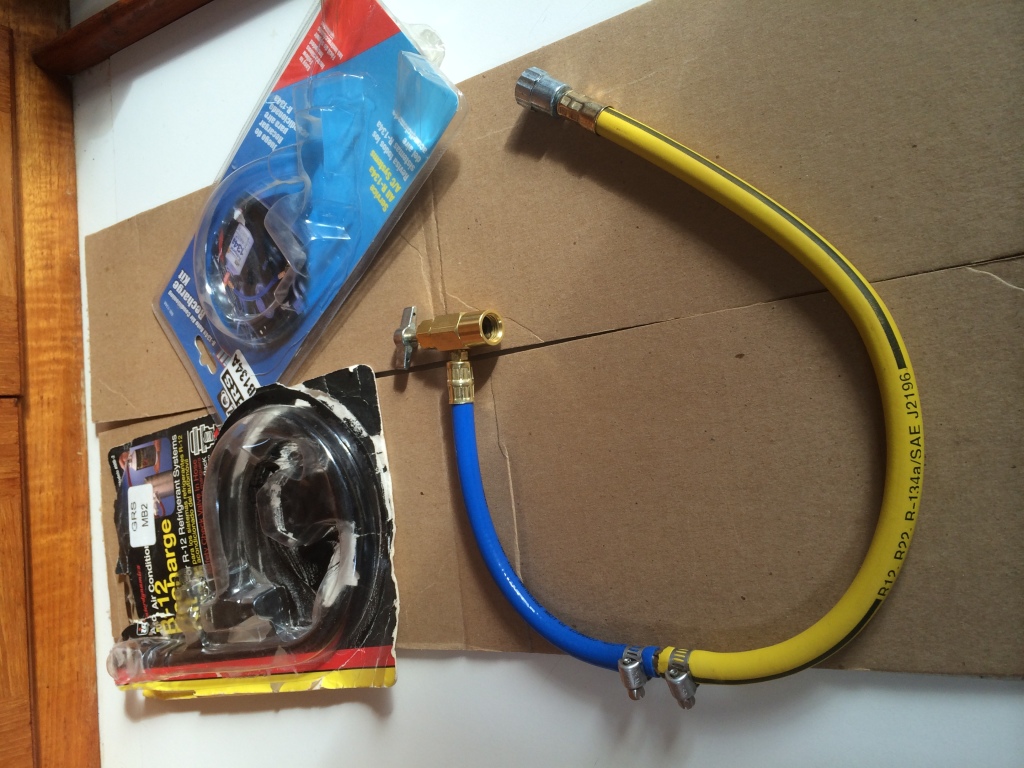 Now that we could breathe a little easier, we began reconnaissance of Bahia de los Angeles. I was pretty blown away at how much was available in the markets – I really was not expecting so much. No, it's nothing like Santa Rosalia, but quite a lot more than expected. I even found my "sin azucar" yogurt! And Challenge butter. I was starting to feel pretty good about having this place as our 'home base' for a few months. The biggest market in town had recently burned down, but they were in the process of getting it back up and running. We managed to find the house where they can refill our propane tanks and even do our laundry. Given that there is no free water here, we have to pay around $1/5 gallons ($20 to fill our tanks, which lasts up to 3 weeks) – we decided that using that water to wash clothes by hand didn't make a lot of sense. For just a bit more, we can have our clothes properly laundered and folded for us. Yolanda took our huge bag of laundry (mostly towels and sheets – we really haven't been wearing clothes much to speak of!) and said it would be ready the next afternoon.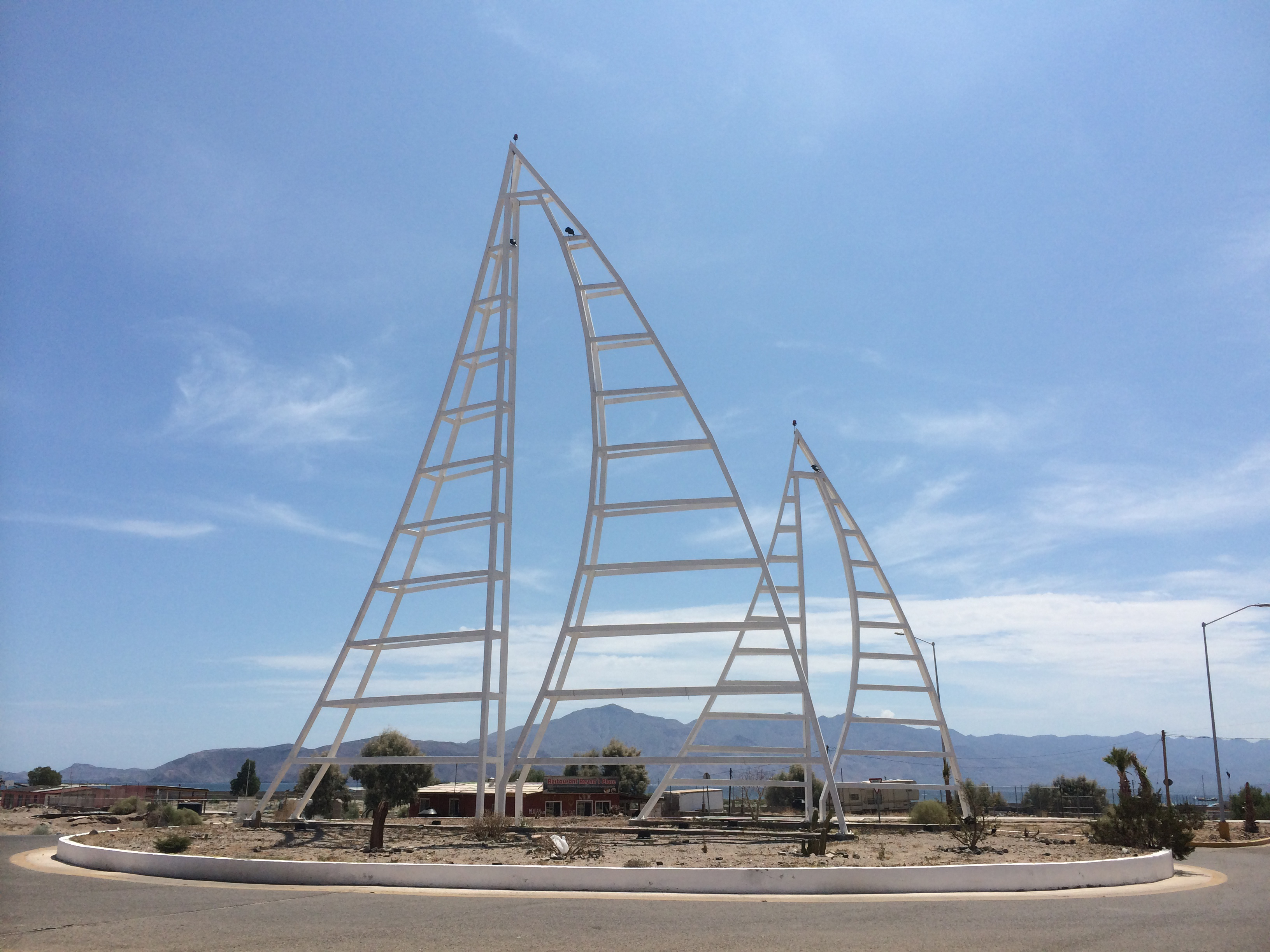 In the midst of 'fixing our boat in paradise' we could not avoid noticing the whale sharks in the bay. In fact, two of them greeted us as we were anchoring. What huge and amazing creatures! I had not yet gotten to see one and was VERY anxious to jump in and swim with them – GoPro in hand of course!
Two mornings in a row I was able to do just that. At first I was quite scared – even though I KNOW they are completely docile, non-flesh eating creatures. I've just never been so close, in a bikini, to something that huge…coming at me with its mouth open. The first time in, I had Jonny bring me out in the dingy and we got close to them. You can see their telltale fins (mid and tail) sticking up in the water as they lazily zoom around with their mouths open, hoovering tiny bits of plankton. When we were close, I jumped in and started paddling towards one. The water was quite murky and not as clear as I'd hoped. I knew I was close as I could see the fin on the surface, but still no whale shark in view under water. I kept swimming and suddenly I was right on top of it! It was maybe about 15 feet long and I was over its middle fin and tail area, which moved powerfully and slowly around as they swam. I was a bit hesitant to get up near its mouth still.
Seeing them from the dinghy is also quite impressive. Every time we went ashore we saw at least 3 of them! Once, one was swimming right towards us and its mouth was as wide as the dinghy! It was probably close to 30 feet long. They often have little fish attached to them, going along for the ride. Seeing them never gets old.
On my second day of swimming with the sharks, Jonny was again running the dinghy for me (why didn't he jump in too? No, I'm sure he wasn't scared of them…or WAS he?!) and I jumped in and was getting courageous enough to swim up and try to get video of the mouth/head. I heard Jonny saying something about another one, but I had a nice big one and I was swimming with it, so I didn't pay too much attention. Next thing I know, I look over my shoulder and there's a whale shark about twice the size of my big one, and it's got it's ginormous mouth open a couple feet from me. As you can see, I thrashed around for a bit and finally got hold of myself and tried to get video.   What an amazing experience! We enjoyed seeing them for several days, and then the bay filled up with a bunch more of our floating friends and we didn't see so many of them anymore. I'm sure we'll find them again one of these days.
There is no cell service anywhere around here, which makes the rumor that Carlos Slim has a house in BLA seem ridiculous (he is one of the richest men in the world and owns Telcel). Would he really have a house somewhere he couldn't use his cell phone? And if so, does he know something we don't know? Hmmm Anyway there are lots of rumors about Mr. Slim floating around – this mega yacht or that resort belong to him, etc etc.   There are several phone services in town, and calls to the US range from 6 pesos per minute to 12 pesos per minute (around 40 cents – 75 cents) NOT cheap! Unfortunately before I found the 6 peso place, I had a brief chat with my parents at the 12 peso place. Oops. And I have serious doubts about the possibility of uploading a blog entry in BLA, but maybe one day I will give it a try. Until then, I just keep on writing– downloading my brain as it gets too full.
When we went get our laundry, Yolanda was not there, but her husband Andres was. We got our huge bag of laundry and asked him if he also ran the raspados stand down by the road in front of their house. He did and we finally got to try our first raspados (deliciously icy fruit slushies). We both ordered mango and enjoyed them in the shade and chatted for quite a while with Andres. He doesn't speak much English so it was a great opportunity for us to work on our Spanish. We really hit it off and by the end we had invited he and Yolanda to come out to Summer. He admitted he'd never been out on the water or seen the whale sharks and that he can't swim. He said he would check with Yolanda to see if she was interested in visiting with us and maybe even sailing.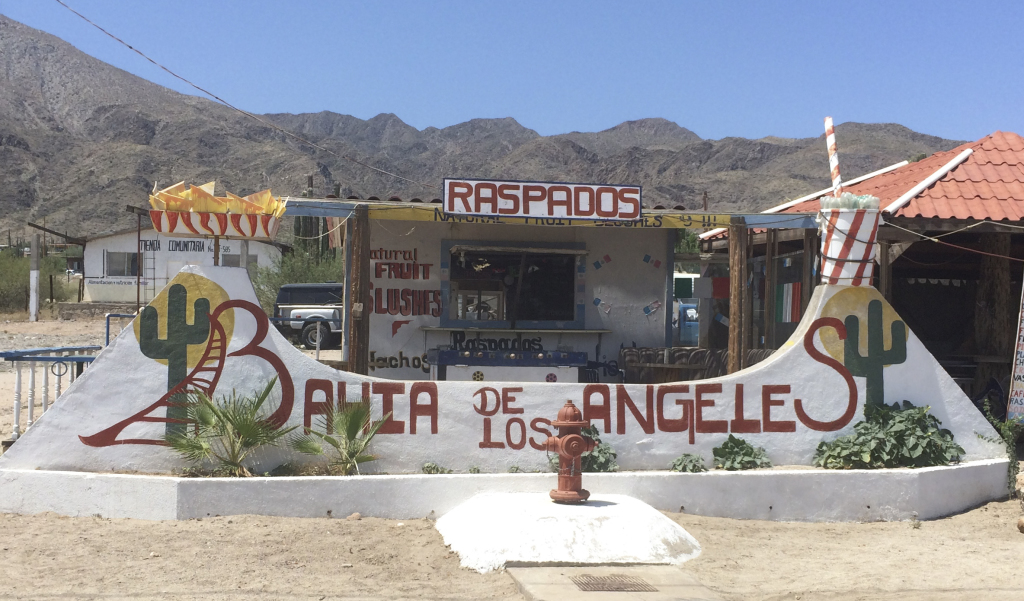 The next day we went to get our fuel supplies topped off. Jonny had 2 five gallon diesel jugs and I had the 5 gallon gas container. There are 2 Pemexes in town, one just sells gas and the other sells gas and diesel. You can see the diesel one just up the road from the gas one. Both are a good walk from where the dinghy lands. It was quite hot and I was not looking forward to lugging a heavy gas container all that way, but there are no other options. I opted to stop at the first Pemex and get the gas rather than go the extra distance to the diesel station and have to lug it that much farther and let the big, strong man forge ahead without me to the diesel station. Well, I didn't get but 20 feet down the road from the Pemex and Andres drives up in his truck and takes the gas out of my hands and puts it in the back and ushers me into the front seat. Donde Juan?? He asks. I pointed to the diesel station and Andres drove on and picked Jonny up, who was still walking to the station. We filled the diesel cans and Andres drove us all the way back to the dinghy. What a lucky break! He also confirmed that Yolanda was interested in coming out on the boat and that Tuesday might be the day. We figured we'd confirm for sure again on Saturday when we went over to their snack stand to get a pollo asada (BBQ chicken) – which Yolanda cooks up every Saturday (she was off buying 28 chickens for the occasion).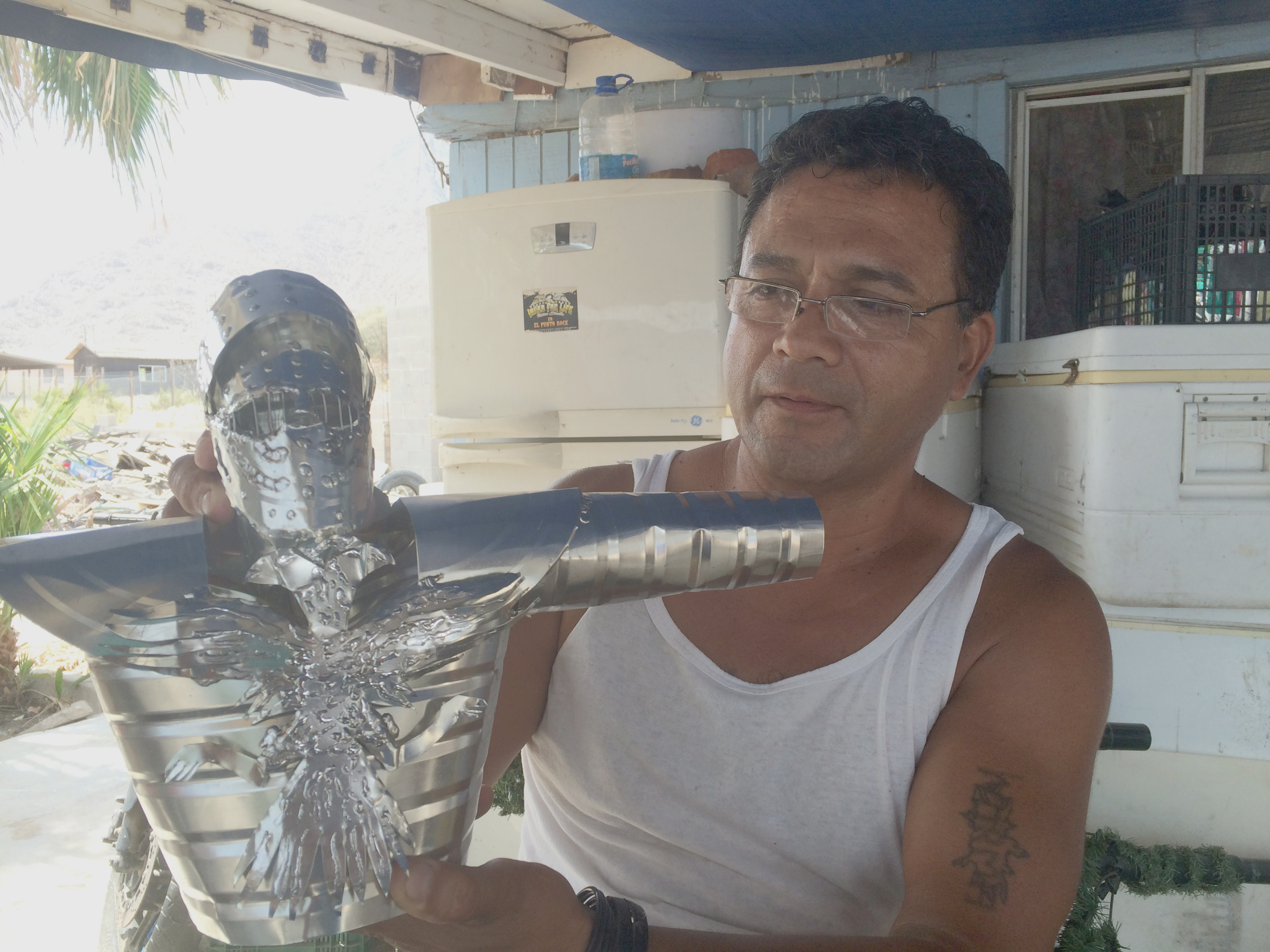 Sunday was the Full Moon Party at La Gringa – an anchorage just up from BLA. There is an estuary there where the tides flow in and out in a big curving, riverlike fashion. At the full moon, the tides are strongest/biggest and the water really rips out of the estuary as the tide goes down. You can ride swiftly along on floaties and then swim ashore, climb over, and do it again.
The above was written on time, as we were about to enjoy our first full moon party. As I am writing this current sentence, it is the day after our SECOND full moon party. It appears I have let an entire month lapse without doing any writing. We've just been so…busy. And uh, it's been HOT. And we've had power issues so I can't always run the computer for a long time. And…and…and… Well, I think ultimately knowing I have no way to actually POST a blog entry has kind of taken the wind out of my sails, so to speak.
I actually had to go to our ship's log to remember where-all we've been in the past 29 days. As it turns out, we HAVE been busy!
So that first full moon party was loads of fun. Everyone that is in the northern sea on their sailboat converged on La Gringa. At that time it was 9 boats – 17 people total. There is one other boat – a trimaran, also up here, but it is a solo guy and he is apparently not interested in making friends (I've gotten him to wave a few times). We arrived a day early, along with Lunasea, and had the pleasure of checking out the estuary by ourselves, along with a few locals. When the tide is ripping out around the u-turn, it's like a river and just gets faster and faster until it's just too shallow to ride it any longer (when you scrape your butt on a rock, it's all over!). The next day the whole gang was there. We finally got to meet Jay and Janice (and their puffball dog Buster) from Ceilidh (pronounced KayLee – must be Gaelic?). Jay and Janice are the net managers and run the SSB Ham net that we listen to every morning at 6:30am to get our weather and find out where all our friends are and what they've been up to. Fun to meet them finally- they have a palapa house in southern BLA and have been around here for years and years.
We all had a variety of flotation devices, hats, sunglasses, beverages, etc. You ride a few times, stop to chat on the rocky spit and watch others go zooming by.   It was a fun and relaxing day and as the tide dropped, so did we, dinghy by dinghy back to our boats to regroup. We all met up onshore for a pizza/potluck dinner. Jay and Janice had arranged for a local pizza place to drive all the way out there to deliver some pizzas! They were actually quite good! It was a rather mellow evening as we ate, chatted and admired the moon.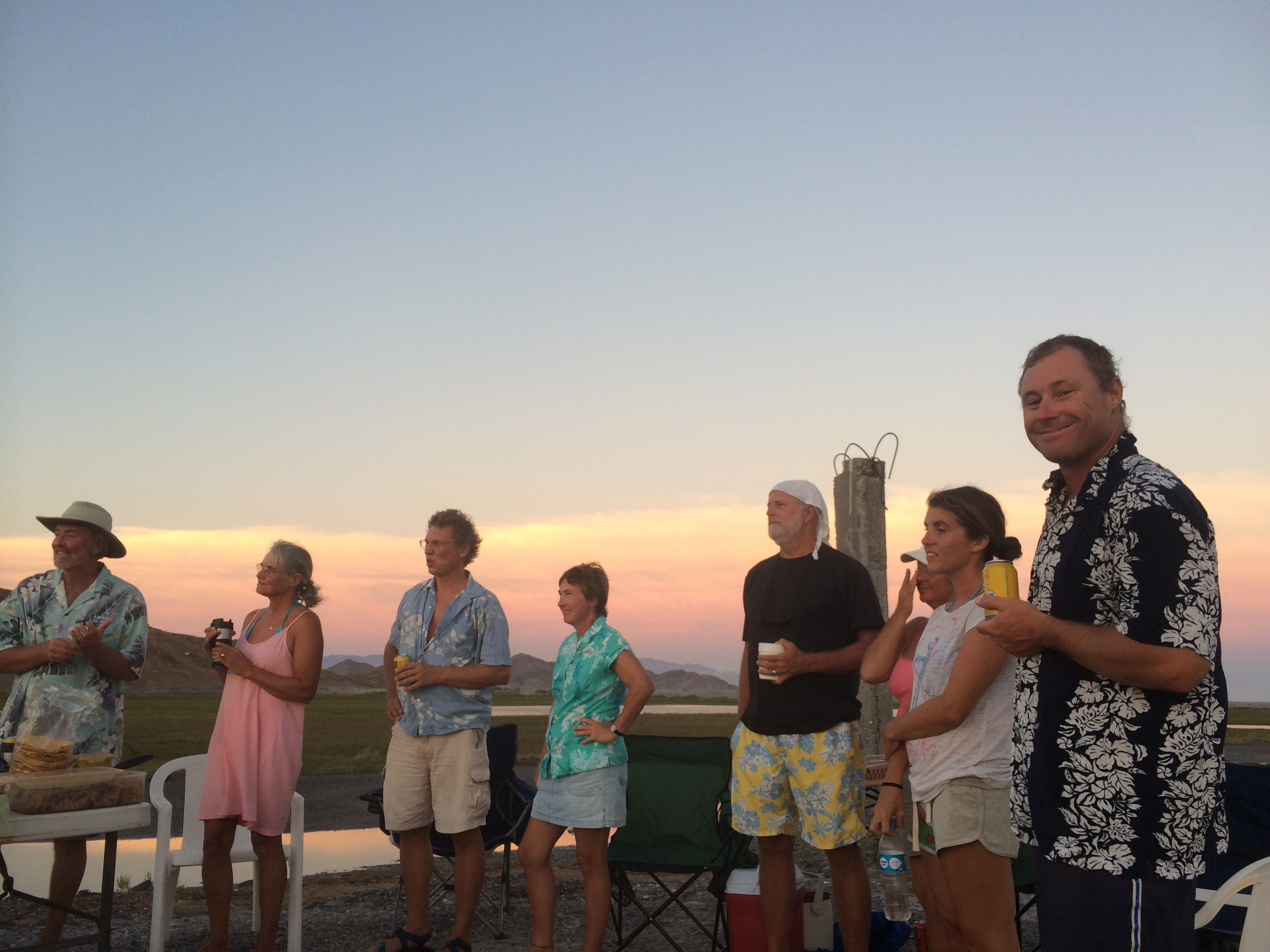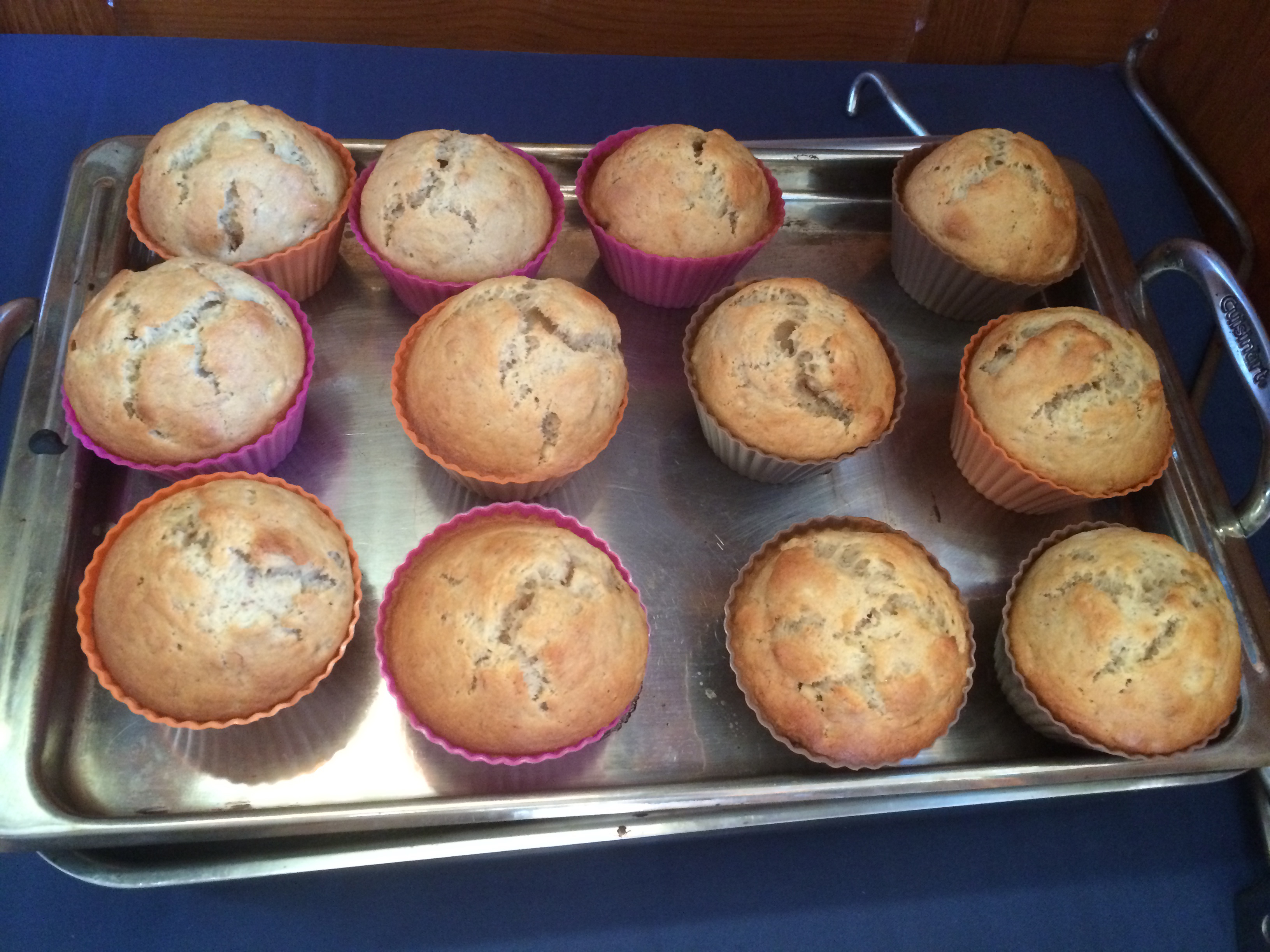 I think we spent one more day in La Gringa and then went back to Village. Being in the village pretty much means the same thing every time, and I'm sure you don't need to hear over and over again how we trudge through the heat to find groceries, struggle to use inconsistent and frustrating wifi, and suffer through the extreme tide dinghy landings (which usually means getting wet and sandy/muddy when you get there and having to drag the dinghy quite far to get away) and lug jug after jug of water out to fill up our tanks. We found the village to always be hotter than anywhere else, and the water temperature is also warmer than other places. We ended up making trips to the village on Saturdays, as that is just after all the fresh fruits and veggies are delivered, and staying as briefly as possible- just long enough to get all our chores done, before heading out to a better locale.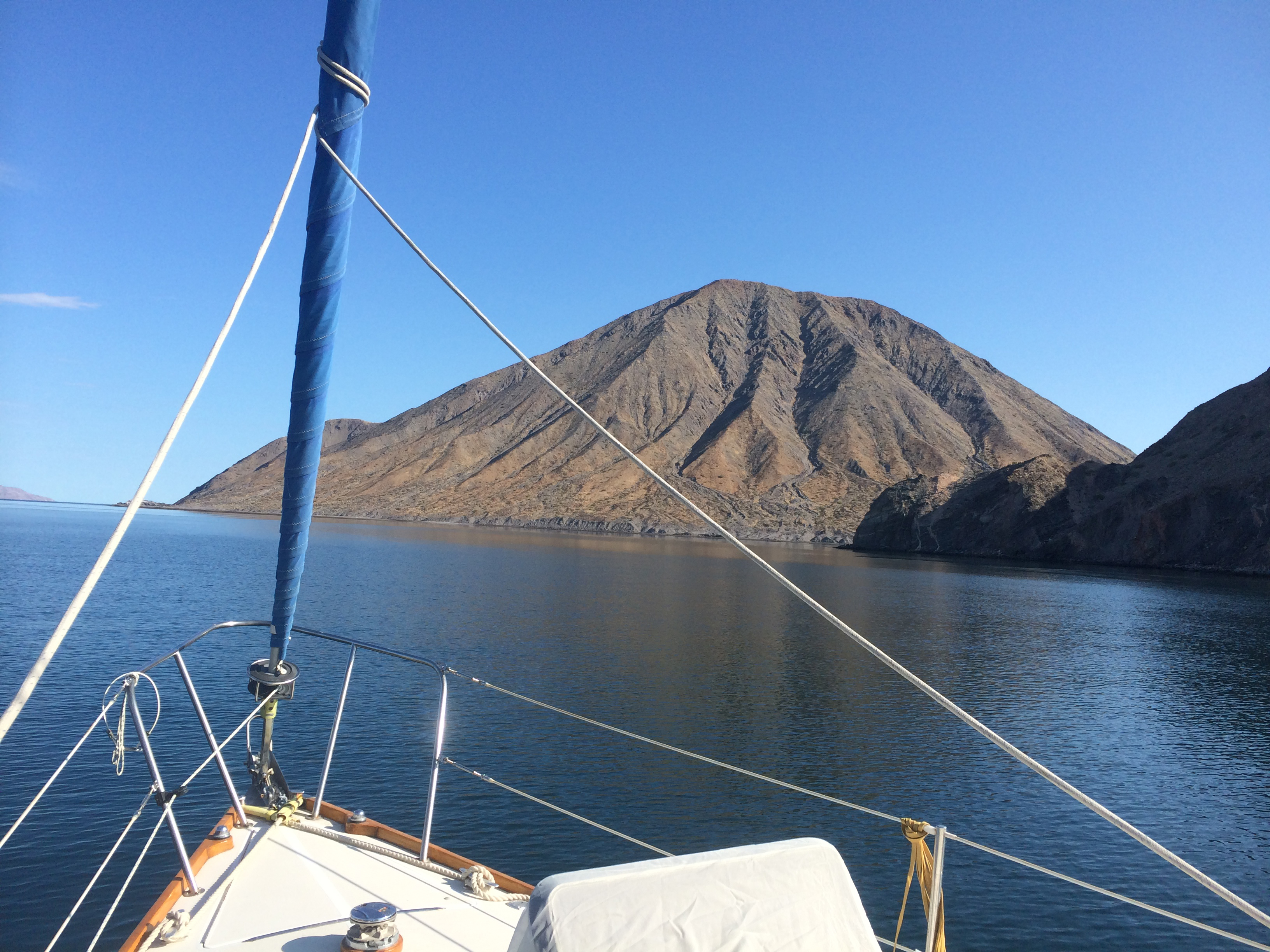 There are a string of islands just east and north of the Bahia village. We decided to sail around the outside of them and head up to an area called Alcatraz, to catch up with Lunasea and others. We sailed off anchor for the first time. Not starting the motor not only saves on fuel of course, but it also keeps the main cabin much cooler. It heats up quite a bit and takes forever to cool down after we motor for any length of time. Also, the motor is right next to our refrigerator, which can't be good for the efficiency factor there, so, lots of incentive not to crank up that motor! It was a calm and simple process and before we knew it we were lazily sailing out of the bahia. To make it outside the islands, we had to cut through a narrow-ish passage way, and with the wind not being in our favor, we had to tack back and forth many times to get through. Our track on the ipad looks like a bunch of zig zags. The wind was quite light and before long we realized at that rate we were going to take forever to get to our destination. Easy solution – change your destination! We ended up stopping at a little anchorage between Isla Coronado/Smith and Mitlan. It was a windy little slot with nice cool water. We did some fishing, spotted a large shark (suddenly swimming lost it's appeal), took a ride around Isla Mitlan (which is nothing but rocks, but somehow seems to put off a surprising number of jejenes) and we went ashore on the nice beach below the volcano on Isla Coronado. Jonny has a strong urge to hike up to the top of that 1500 foot volcano – so a return is imminent. We couldn't stand the bugs for long, though and we headed on up to Alcatraz after just 2 nights.
Alcatraz is just beautiful. A huge sweeping white sand beach, with a white sandy 'dune' over the mountain, there's also a little island that shows great promise for snorkeling. We were happy to see Lunasea and Azul as we were anchoring. We had a fun potluck evening with those guys – Naomi made inspiring fish cakes and an amazing cheesecake. We hung out for a few days after everyone left. We hiked up to the top of the sand dune and got a great view of Lunasea sailing south. We snorkeled and enjoyed the beach for a bit. The wind died and the jejenes started to get bad. But we got good at putting our screens up and burning a toxic coil of death (Fumakila) disguised at incense, outside the boat before sundown.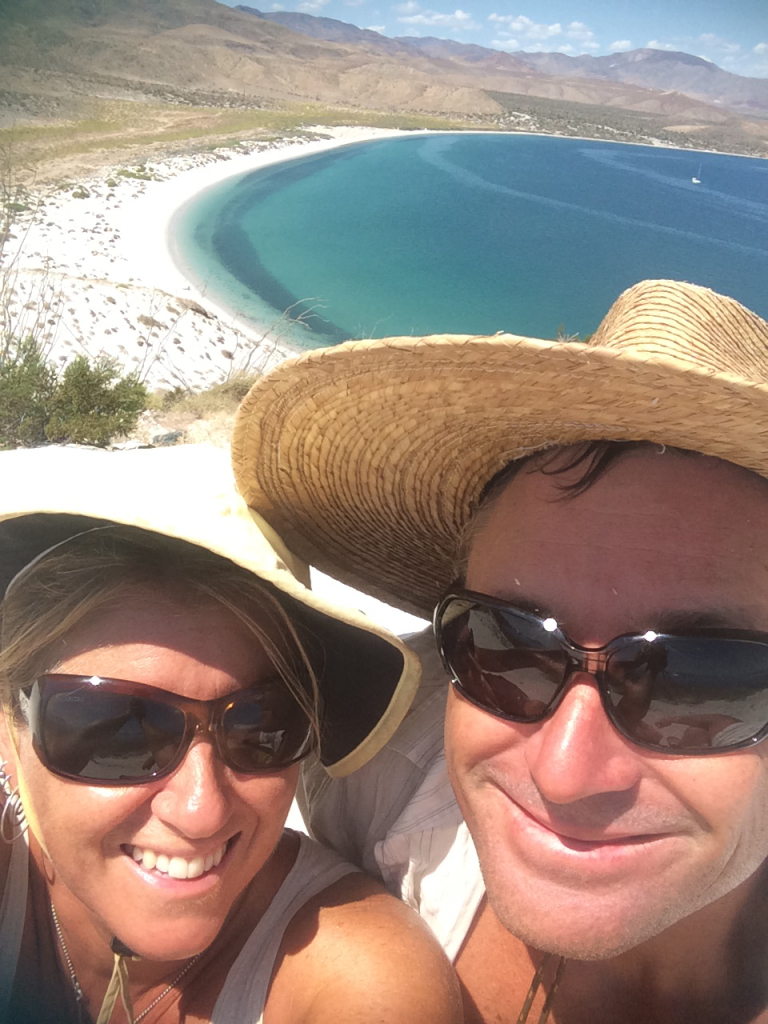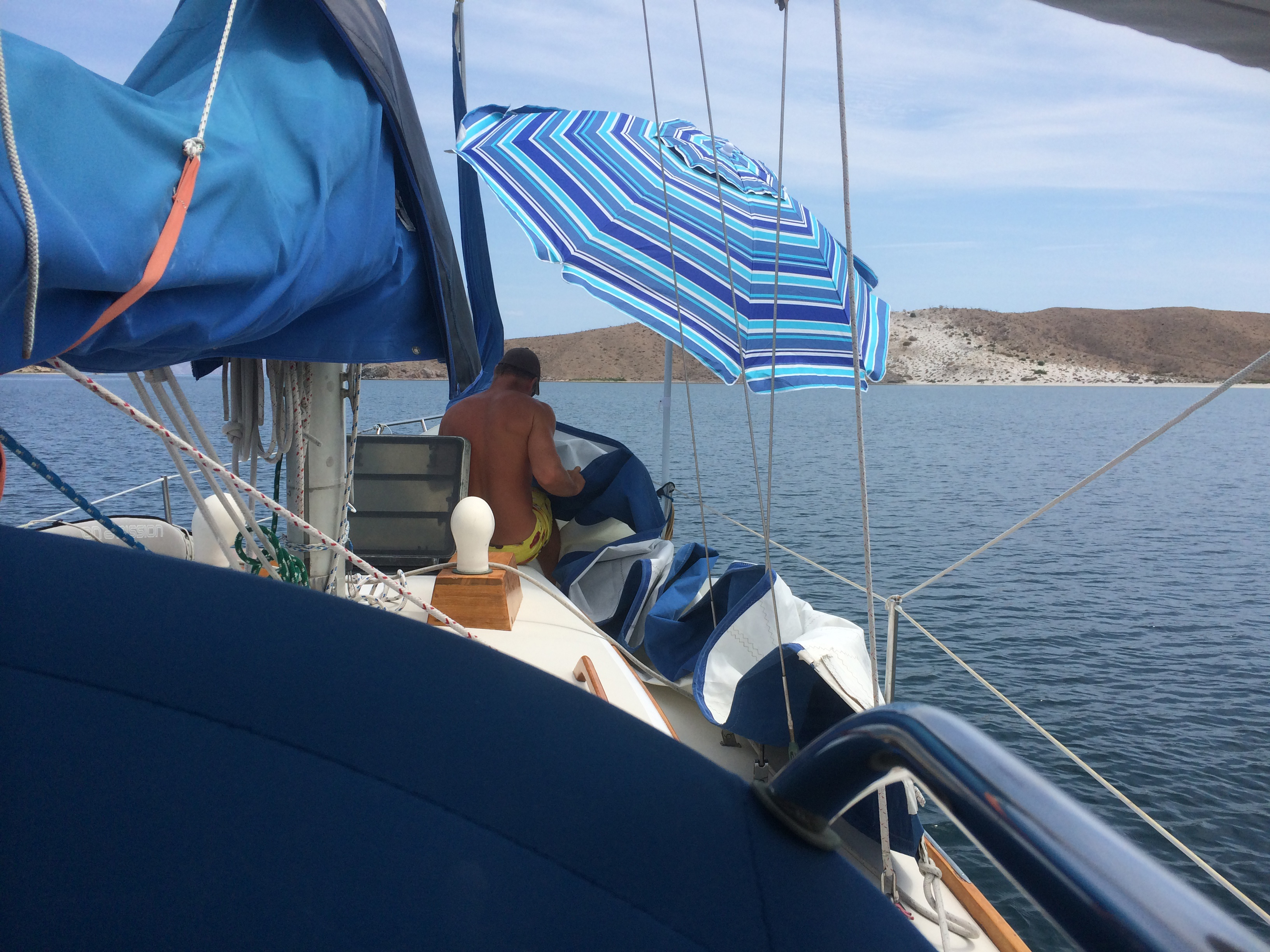 We stayed perhaps a day too long…the weather got a bit rough and we ended up sailing south with 20-30 knot winds on the nose. It was not the most pleasant of sails, and our plan to sail only, around the outside of the islands down to the Don Juan hurricane hole, was quickly changed. We realized it was just going to get rougher, and given the wind direction we might end up sailing twice as far as we had to to get down there. We changed direction just in time to skirt behind Isla Coronados and go down between the island and the Baja.   It was supposedly not as rough (and if that was the case, I'm sure glad we weren't on the outside). Summer got extremely clean! All the waves we took over the bow washed everything down nicely. I got pretty salty myself. We were really hoping rains were coming to complete the cleaning by washing away all the salt!   Later on, when people discovered it was us sailing that day, we heard "aaah, we were wondering who was crazy enough to be out in that!". Yep, that's us.   Sneaking around the corner into Don Juan was wonderful. There's just a narrow entryway and you are inside a huge bay of tranquility. There is still quite a bit of wind, but there is no fetch at all inside, so it's almost like being on a lake.   Manta, Azul and Lunasea were already hunkered down in there. To insure we would get rain, I took a spray bottle and washed off much of Summer's stainless. Worked like a charm! We had some nice rains that night.
We managed to get over to Manta to celebrate Nia's birthday with everyone, in between rains. Nia's parents were visiting from Colorado, so it was fun to meet them as well. I asked Nia's Mom if she worried about those guys a lot – and she said "Oh! You have NO idea! And thank you so much for acknowledging that!". She's just like my mom – even though Mike and Nia have been cruising for four years already (sorry Mom, I guess it doesn't get any easier!). We had delicious cake that Dawn made and had a nice visit until the rain drove us all back to our boats to close the hatches.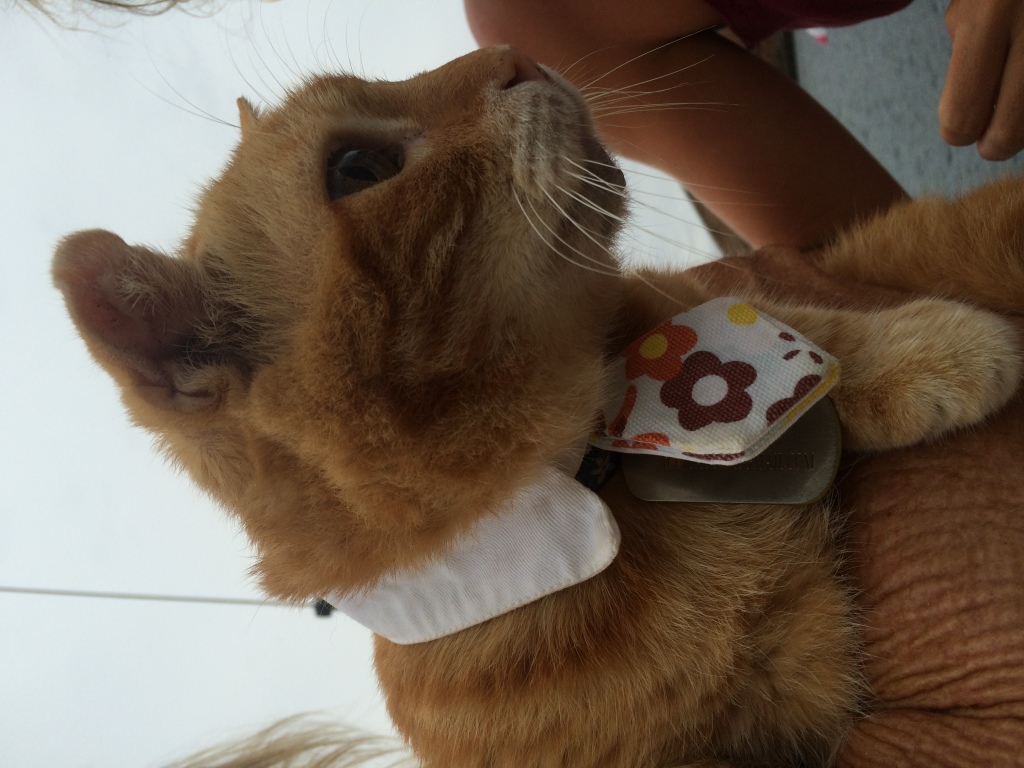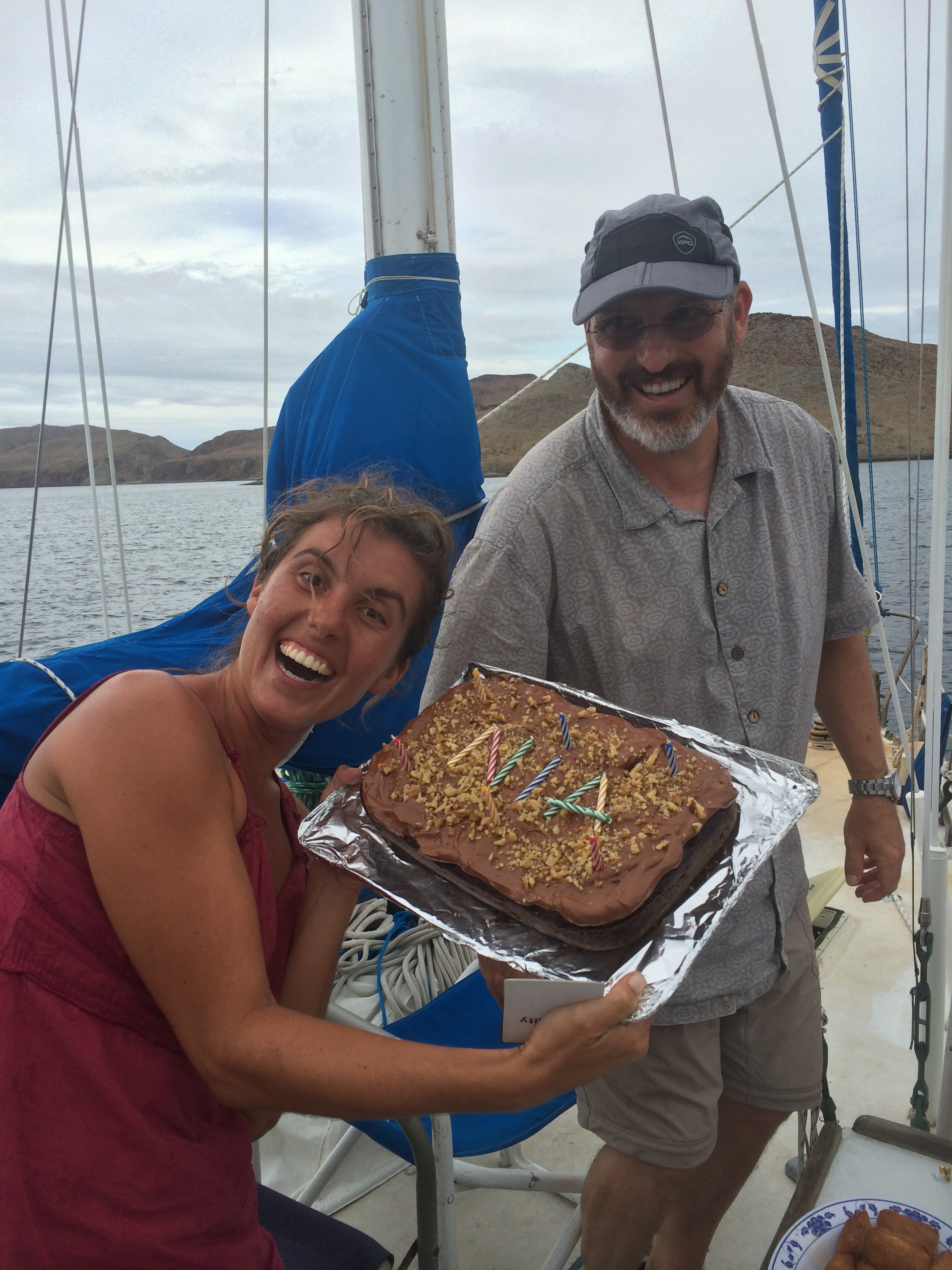 There are apparently a lot of little fish called golbies in this area. How do we know this? Because these little fish like to hang out near rocks, where there's growth, or near the through hulls of boats whose bottoms haven't been cleaned in a while… When tiny little fish hang out near the hole in the bottom of the boat where sea water is sucked in for the toilet flush, they get sucked right up in there! And when they get to the valve that opens and closes the seawater inlet, they get stuck. On the inside of the boat, this means you are happily flushing the toilet one second and then suddenly the handle won't pump anymore. It is then necessary to remove everything from under the sink in the head, take up the floor board, shut off the through hull, dismantle the dry/flush knob on the toilet, remove the spring and ball and pull the little fishy out with a pair of tweezers. Usually the fishy loses it's life as it's squished in the valve, or happens to sit there overnight because you don't feel like doing that whole process just before bedtime. Miraculously, we had never gotten any fish stuck in our toilet, since the beginning of boat ownership. And, somehow in span of 4 days we got FIVE fish. One of them actually made it out alive. We had just gotten finished clearing one out, put everything back together and away, and pumped the head to test it out and IMMEDIATELY got another fish. We took everything out again and managed to get the little guy out from the hose before he got stuck in the valve. I had him swimming around in a container, and planned to release him as far from the boat as I could.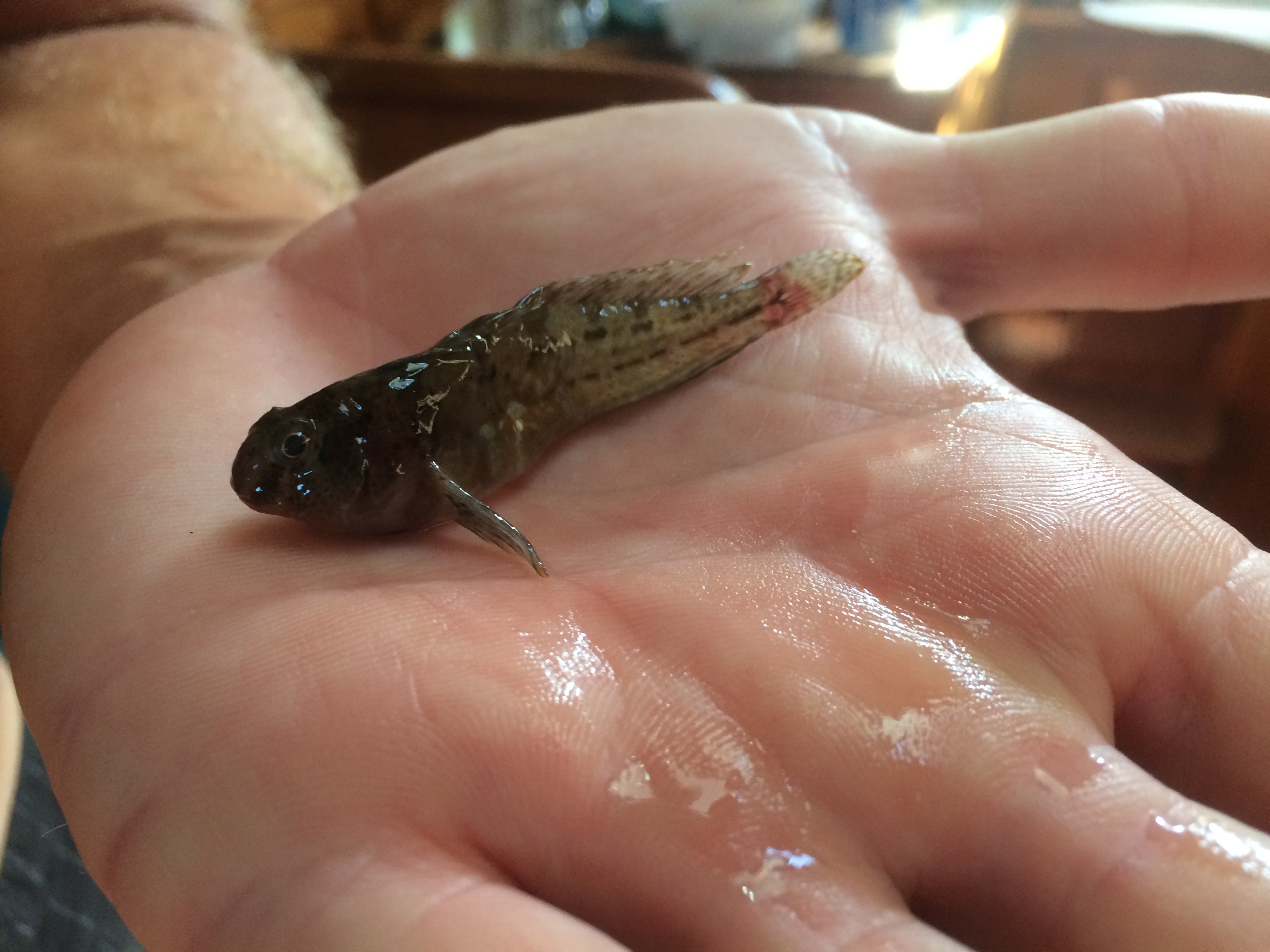 As I was rowing the dinghy away to dump the toilet fish, I see Naomi riding a surfboard like a wakeboard, being towed behind Manta's dinghy (they have a huge dinghy motor). She dropped into the water just near me and said "Hey Jenn!! You wanna try?!?!"   Ummmm. YES! Of course I did! So I give Naomi the dinghy and she gives me a life vest, and next thing I know I'm on my knees on a surfboard, holding a tow bar and trying to stand up behind a pretty fast dinghy. It was SO much fun! I got a few tries in, and wiped out every time I tried to stand up. I was exhausted, and so I gave Alex a turn – and took his place as spotter in Manta's dinghy with Terry. Soon Jonny and Naomi are coming out in our dinghy and Nia and Mike are chomping at the bit for their turns. The day became known as "The International Dorkboarding Competition". At one point, Alex, Naomi and Mike were all three standing up on a longboard. Jonny was quietly enjoying the show, laughing and hooting with the rest of us. I finally yelled out "Jonny needs a turn!!!!" and we eventually got him out there. He surprised the hell out of everyone (except me). He biffed it on his first try, but he was on his feet in no time and surfing like a pro. Funny thing is, surfing is quite different from wakeboarding – which he has never done. But he was definitely surfing. At one point Naomi said "Wait! You can't DO that on a wakeboard…but he IS!". I think the fact that the dinghy wasn't as powerful as a wakeboard boat, and Jonny is more powerful than a mere human, meant that he could lean forward and still hold on without falling on his face (when wakeboarding, you lean back, not forward). I don't think anyone had seen him smile that much. That boy sure misses surfing (he just has to hang on a few more months and we'll be back in Chacala!). He did a 10 point dismount right in front of everyone at the end.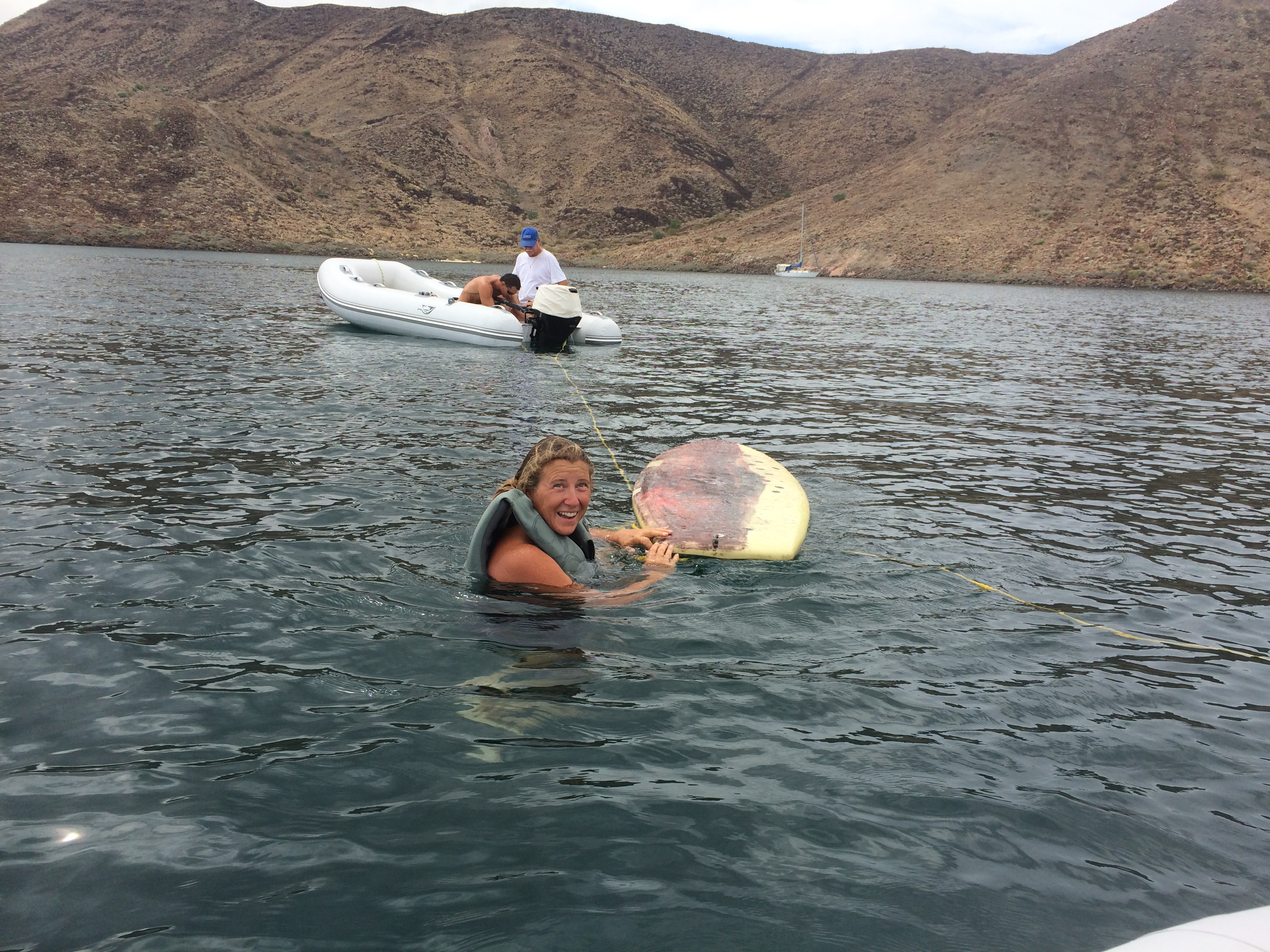 We headed back to the village to refill our water and the other usual chores. Everyone was there and had gotten to the easiest water before us. The store was fresh out. They claimed they would be getting more in 2 days. Water comes from Mulege and is kept in a big cistern for this one place closest to the beach. We figured we could go a few more days without, rather than having to lug heavy 5 gallon jerry cans repeatedly over long distances. A group of people were heading north to Refugio – which I was really hoping to join. Supposed to be really clear water and great snorkeling up there at the northern tip of Isla Angel de la Guarda. But instead we headed just a short way south in BLA to La Mona, to check it out for a few days and wait for water.
La Mona turned out to be a beautiful stop. It had a lovely white sand beach with estuary behind and a sweeping mountain view across the bay. Scott and his dog Trox aboard Angry Seagull were anchored there. We had met Scott at the Full Moon Party and were happy to see him again. He came over with Trox and had dinner with us. Fun to have a big black dog on board!! We stayed for 5 or 6 days in La Mona. We enjoyed the beach, hiking up rocks, snorkeling with silly bullseye trigger fish (they are super curious but like to pretend they aren't looking at you and when you look away they follow you).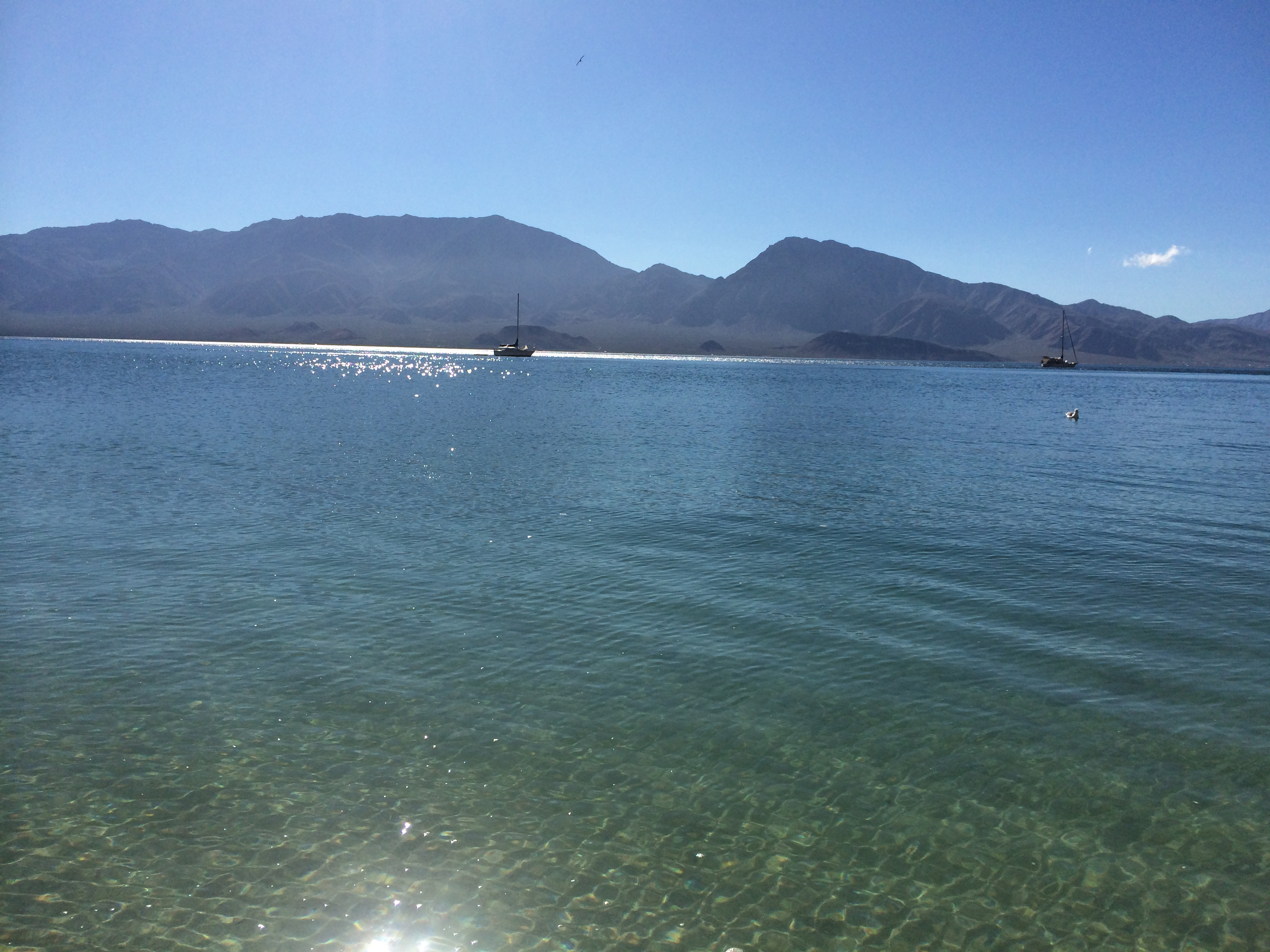 But the ultimate highlight was my first day going ashore. I rowed the dinghy in by myself to have a look around. As I was leaving, I noticed some movement down the beach – it looked like a seal rolling around, but it was way too far up the sand. I rowed over for a closer look and realized it was a giant Sea turtle mama laying eggs! I watched from the water and even up on the beach a bit. She didn't notice me at all. She was working hard, bearing down in the hole she'd dug and then flipping out sand with her hind flippers. I probably could've gotten right up close, but I kept a distance of about 20 feet and tried to zoom in with my camera. I was kind of frying in the sun as I watched her, but I couldn't tear myself away. She finally seemed to finish and was just laying there, exhausted. I was hoping to watch her cover up the hole and make her way back to the water. But she seemed to have fallen asleep. I wasn't sure how long she'd be there and I was getting awfully hot. I decided to row back to the boat and see if I could get Jonny and bring him back to see her. As I was halfway back to the boat I saw her moving again and eventually slip back down the sand into the water. I felt VERY lucky to have witnessed all that. I'm trying to figure out how long it takes for them to hatch, maybe we can be back there to watch all the baby turtles come along?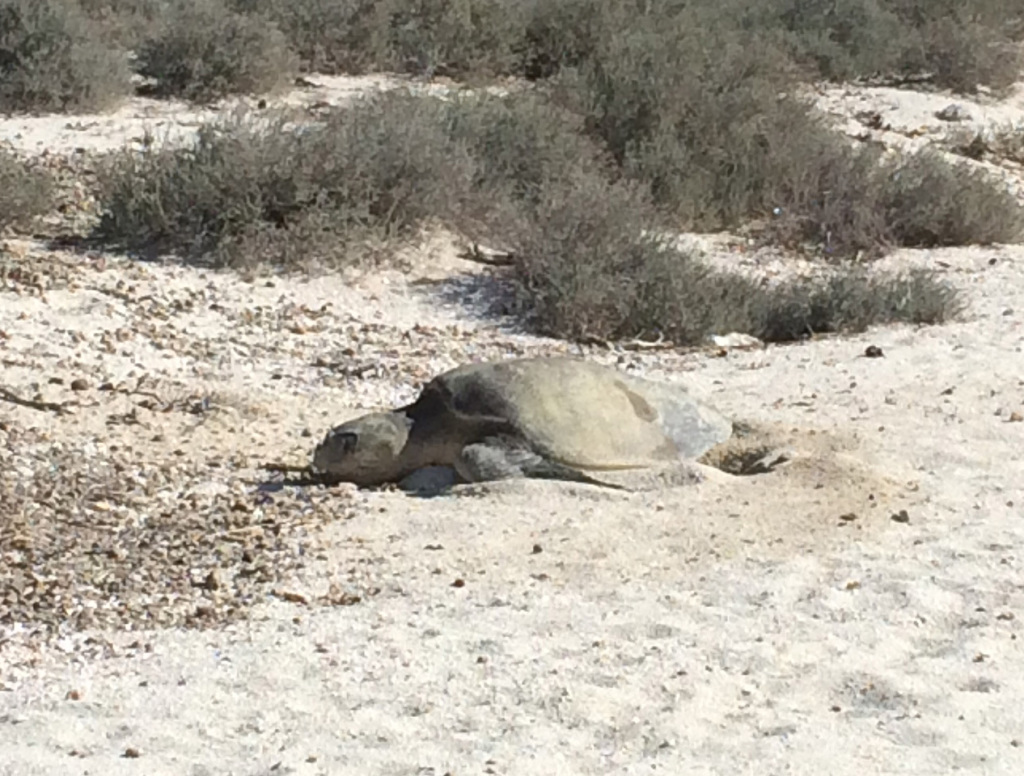 Back in the Village, after six days, still no water! At this point we were pretty much out of water and couldn't wait for what may or may not appear. Jonny rose to the occasion and made 7 trips with heavy jerry cans to nearly fill us up with 70 gallons. I did all the other usual running around. We had another rough weather patch coming. Unfortunately we were a little behind on this one as well. Our final trip back to the boat was a wild and wet dinghy ride. Summer was hobby-horsing wildly and getting the dinghy motor hoisted was a special treat. I knew it was going to be a wet ride back out to Don Juan, so I just changed into a bikini. I had a moment to stop and appreciate that – thinking how rough weather used to mean putting on MORE clothing. As we were getting ready to go, we got a call on the radio from Linger Longer, who had left much earlier than us. They were already in Don Juan and experiencing high winds (and tranquil seas) and were wondering if we were (stupid enough to be) still at the village. I assured them we were on our way over! Of course the wind was exactly on our nose and even motoring full throttle we could make very little headway. It was going to take us about 6 hours to go 9 miles, in horribly uncomfortable conditions. We ended up pulling out the jib and tacking off wind, which calmed the boat down and more than doubled our speed (still motoring, too). After just a couple tacks we were safely tucked into Don Juan again. This storm promised to be much more eventful than the last. Even the 85 foot mega yacht that is always moored at the village scooted into Don Juan (there seems to be a full time crew looking after that yacht, but never any owners visiting).   After another salty ride, Summer got another freshwater bath for a couple days! I took advantage of the indoor time to finally take care of organizing our boat manuals and our personal files. It was fun – I got to use my label maker again! Apparently, you can take the girl out of organizing., but you can't take organizing out of the girl.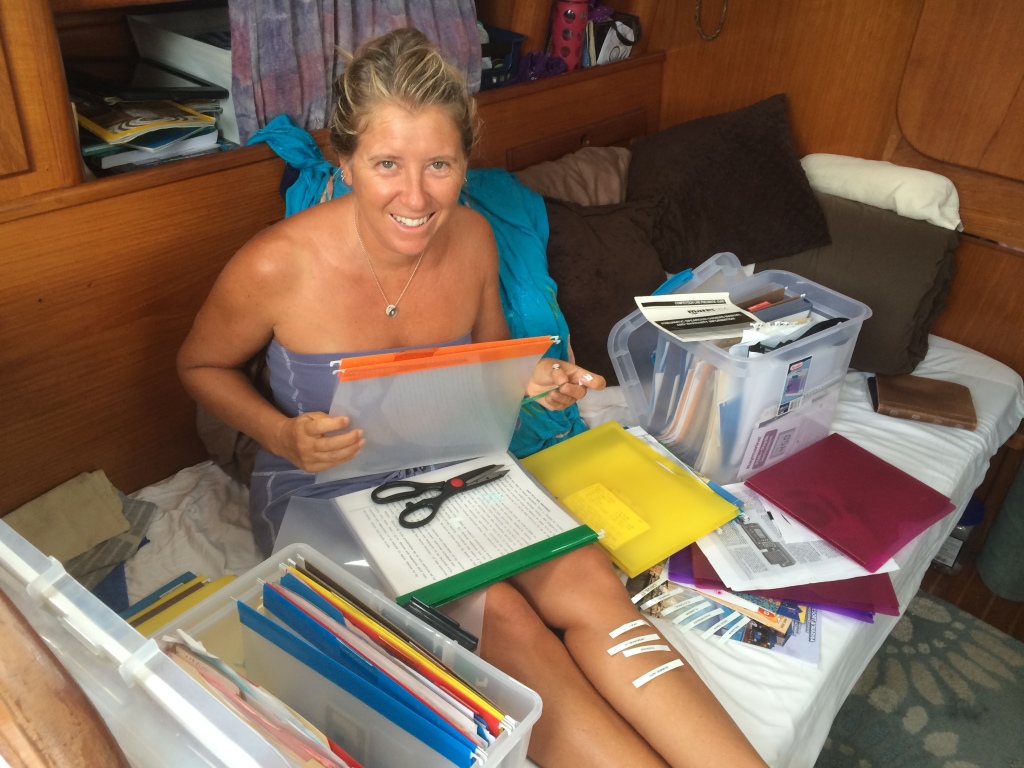 When the storm passed, we decided to go and check out El Pescador – a couple anchorages to the south. There is a nice island there and a mysteriously deserted resort looking place on shore. Linger Longer departed Don Juan just before us and said they were also planning to go there. Anchoring between the island and shore was just a beautiful spot. Linger Longer called to say the winds seemed wrong and they were heading to Quemado (on the other side of the land), which is also a great spot. We said we were going to give it a go at Pescador and see if the wind switches or not and if not, then maybe go to Quemado. In the end. Linger Longer came in and we all stayed at Pescador.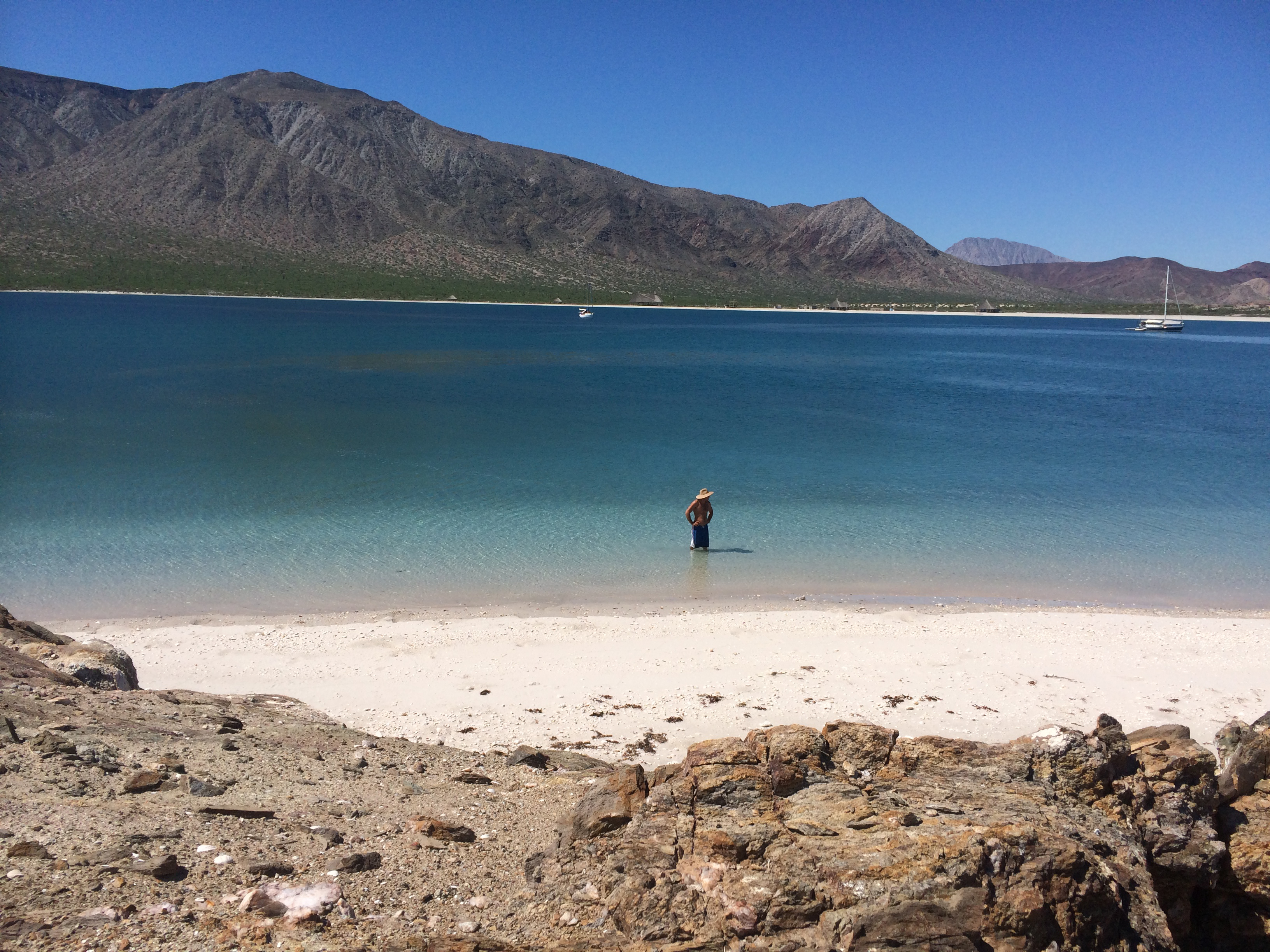 We went ashore to explore this mysterious collection of building and palapas. We'd heard a lot of rumors about it (including that Carlos Slim owns it now…) – nothing is locked up and it's full of expensive furniture and appliances. We wandered through all the buildings, at first full of awe and wonder, which slowly turned to confusion and sadness. Who on earth would spend SO much money to build this place (and clearly it wasn't even completed) and simply desert it and leave it unlocked!? Two of the smaller buildings looked like people were living there, and had left expecting to return, but never did. There was a calendar showing Sept/Oct 2014. We wondered what impact Hurricane Odile had at that time last year. When we had our fill exploring the mysteries, we rested in an unfinished palapa and waited for the sun to stop shining directly in the cockpit of our boat.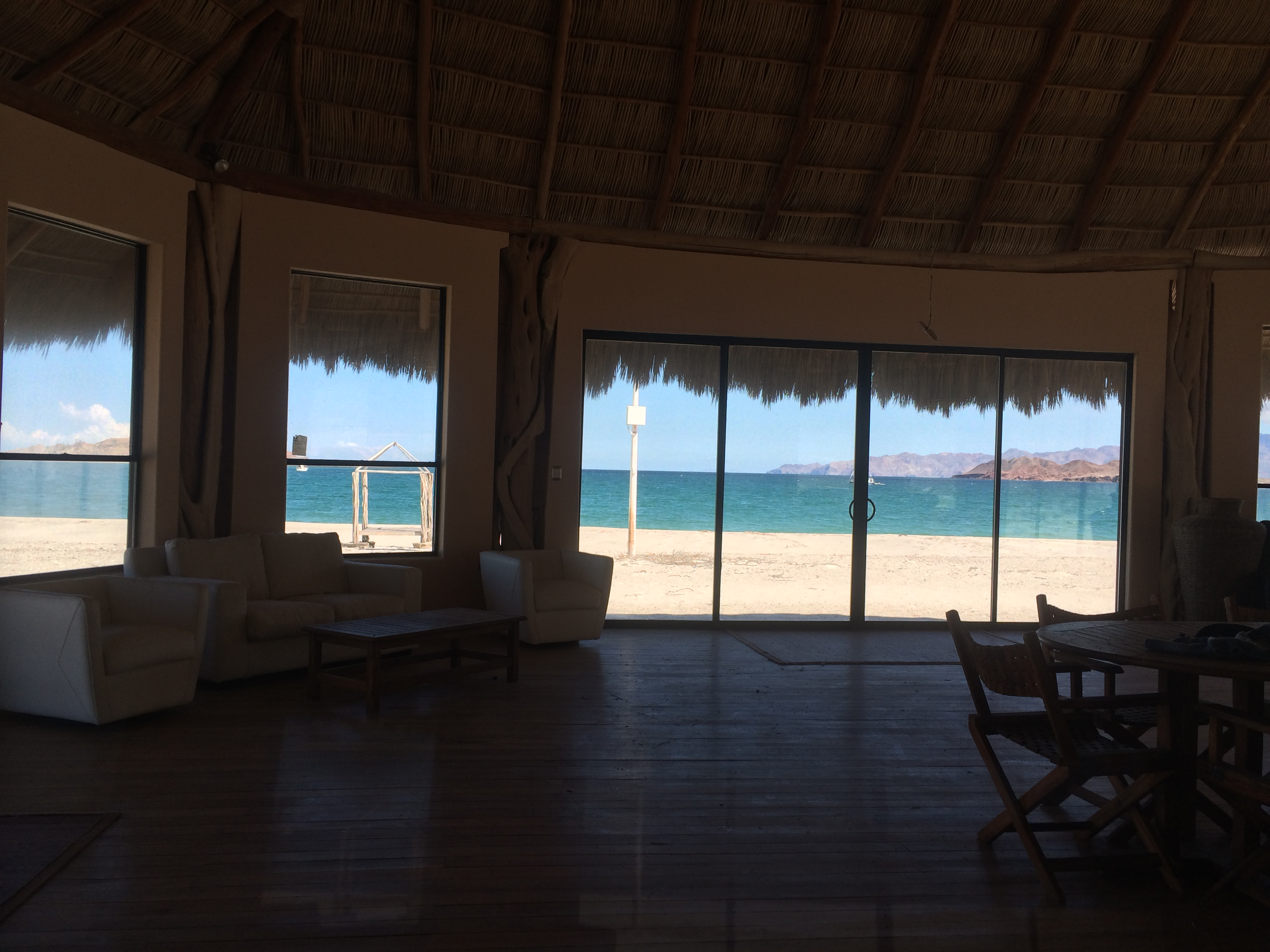 We celebrated the first day of Fall with Kris and Kirk – having a "We survived Summer in BLA" party on board Summer. Kris and Kirk brought amazing margaritas complete with ICE, and Kris let me borrow her heirloom antique meat grinder to make fish cakes.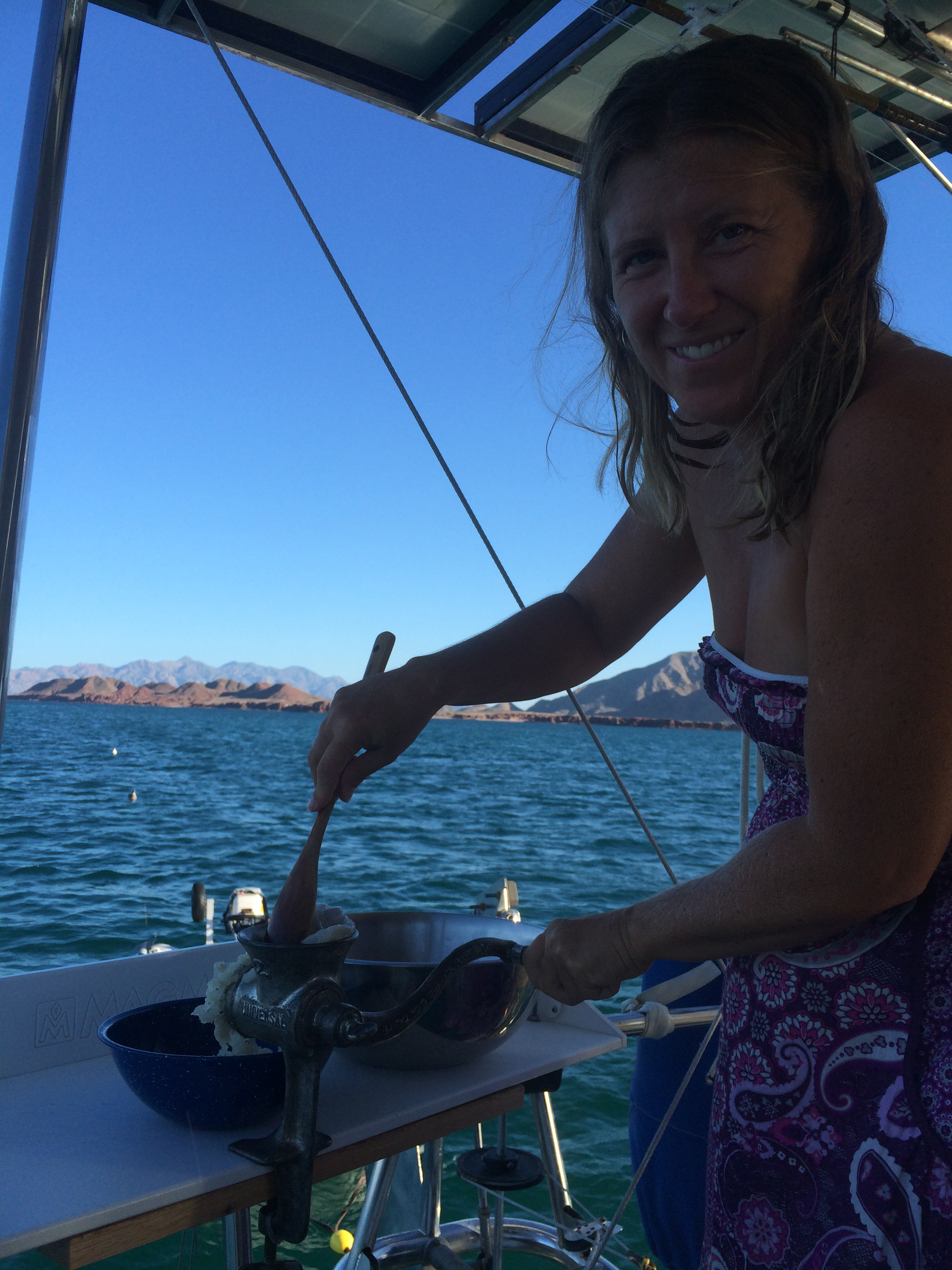 I also made a cheese cake (Naomi inspired me). I now desperately want an antique food grinder!! Oh the things I could do with that! And it's so simple and uses no power, save for my muscles (which could use more to do).  The next day we went over to Linger Longer and had a 'media swap' – which seems to be a common things cruisers do – sharing movies, music and books whenever we can.
The day before we were planning to leave Pescador, we spotted a sailboat on the horizon coming from the south. The south? Who could possibly be coming from the south?? I wondered if it could be our friends on Resolute. Meaghan had emailed me a few weeks before saying they were considering coming to BLA in a week, but then nothing. As they got closer, we spied the telltale orange dinghy on the deck, sure enough! It was Resolute! I called them on the radio to welcome them in. They were surprised to learn they had randomly chosen the anchorage we happened to be in. It was a fun reunion. They had just sailed for 3 days straight over from Guaymas. We had plenty of fish, so I invited them to come and have dinner with us. It was great to catch up and hear about their summer adventures and get a lot of info about Guaymas, which is where we are headed in a few weeks. We made sure to tell them about the upcoming Full Moon Party in La Gringa and left them to catch up on their rest.
We headed to the village for the usual chores. We were hoping to catch a sierra on the way, but instead we ended up with a blue footed boobie! Poor thing got snagged through his webby blue foot and we had to drag him backwards through the water to reel him in. Luckily it was just a small hole through the webbing and Jonny was able to slip the hook out and he swam off and flew away, seemed to be just fine. He sure had a story for his friends, though!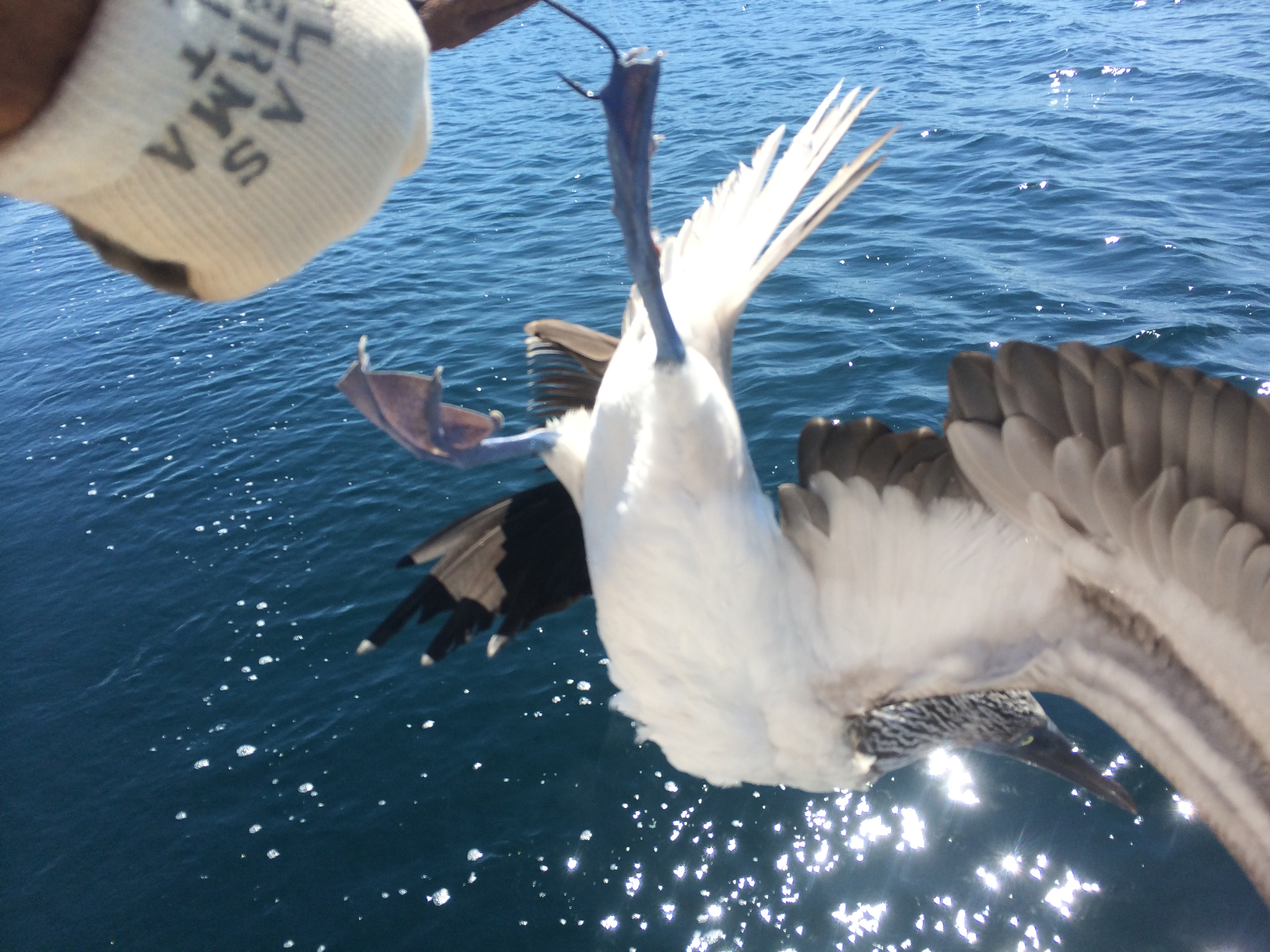 We anchored in the village near Angry Seagull and Scott and Trox came out to say Hi. One of Trox's friends from the village also swam out to the anchorage to visit everyone! I was afraid we were going to have to rescue him in the dinghy, but he just kept swimming and swimming and even went out to Angry Seagull after Scott had left. But he made it back to shore afterall.  Turns out he's sort of the 'top dog' of the street dogs in town.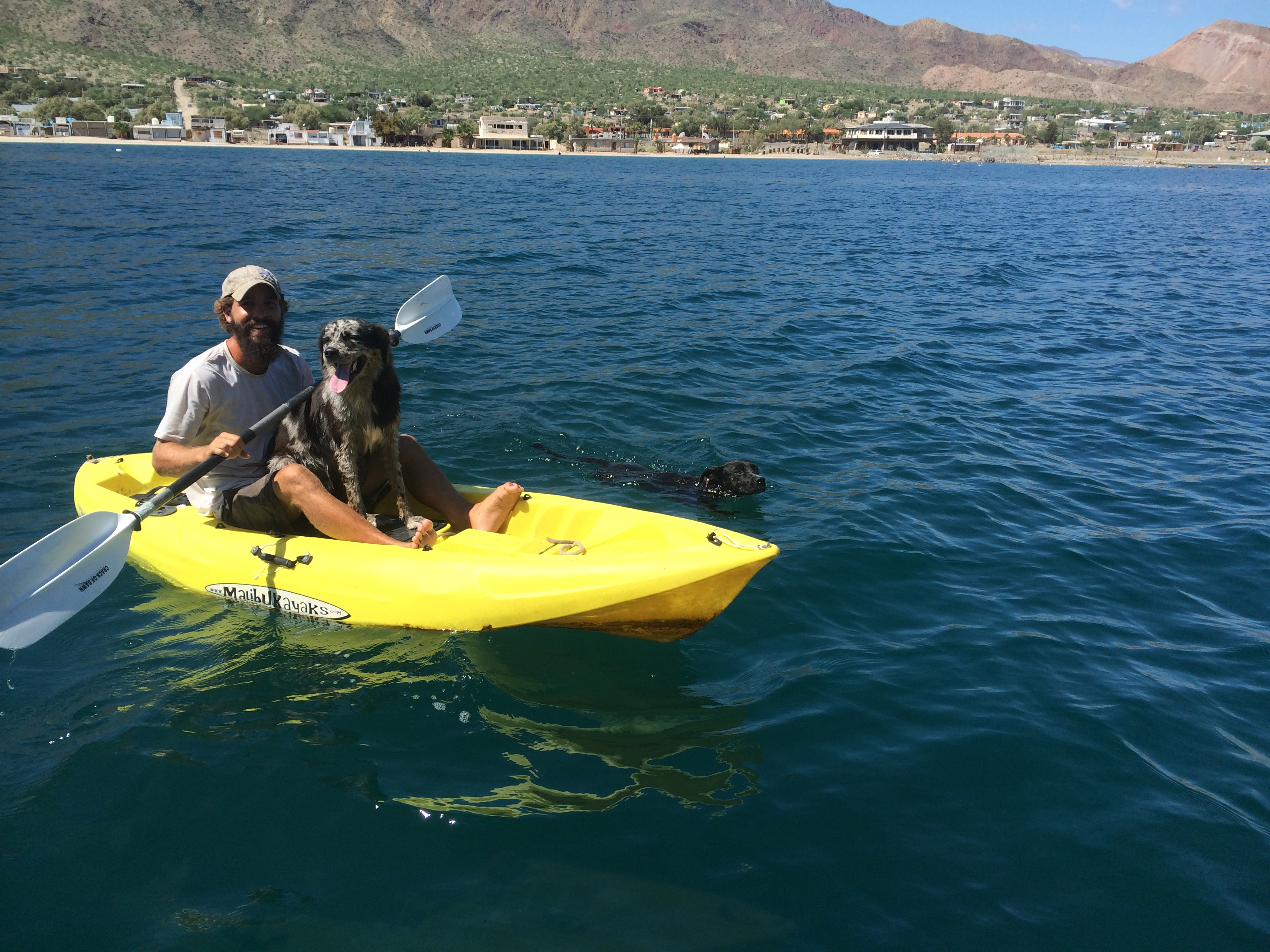 Back to La Gringa for Full Moon. Seems like the month went by fast, but it also took forever! Only 7 boats this time – Slipper had left the area, Scott's motor wasn't working and the wind was wrong for him to sail up here, and Scoots is exploring up north, but we gained Resolute. We had a fun afternoon riding the tide around and went back to our boats to have some dinner and prepare for the full moon and eclipse which came up just after sundown. There were a lot of hyjinx going on in the anchorage. Manta has a potato cannon and was shooting limes at Lunasea and Azul. Apparently those guys have been messing with each other quite a lot – there were stories about stealthy night boardings to shut off Manta's generator and all kinds of crazy things going on between those guys. Funny stuff – sorry to have missed their last gathering in Don Juan, but I'm glad we aren't lime targets, yet! People were howling as the moon came up and Manta got on the radio and invited everyone to byob and come hang out on their huge trimaran deck. Everyone went and we had a great time watching the moon turn red and then back to super bright again (14% brighter than usual). A few of us brought snacks so there were munchies and plenty of space to hang out (trimarans are pretty cool boats! Manta is wider than Summer is long I think!).
Just two days after the Full Moon Party, was the End of Summer party and Dart Tournement at "Duffy's Tavern", which is what Jay and Janice call their land base (it's a couple of trailers with shady deck area and an outdoor shower and all kinds of useful land luxuries, including a great, shaded dart playing area!). Jay and Janice were cooking up bacon wrapped hot dogs for everyone (who knew I'd have another so soon?!) and we all brought dishes to share. It was our first time down in Gecko, or Southern BLA, or SO-BLA as they call it. It was not so blah afterall! Just across from La Mona, nice views and plenty of room for everyone. 19 people entered the dart tournament, so we played in rounds. I came in 2nd in my round, so did not make it to the finals. The finals round was a rousing game and fun to watch. Nia kicked the other 4 guys' butts! She was awesome! J&J had prizes for the first 4 place winners – so everyone got a little something to remember the game. I had a great time hanging out with everyone – what a wonderful group of folks! I even got to use the shower there, which was a HUGE and luxurious treat! Jay and Janice had been offering it up to everyone, but only Nia and I took advantage. As we happily returned to Summer at sundown, we realized that had been our longest time on shore in many months. Nearly 8 hours on land, we were!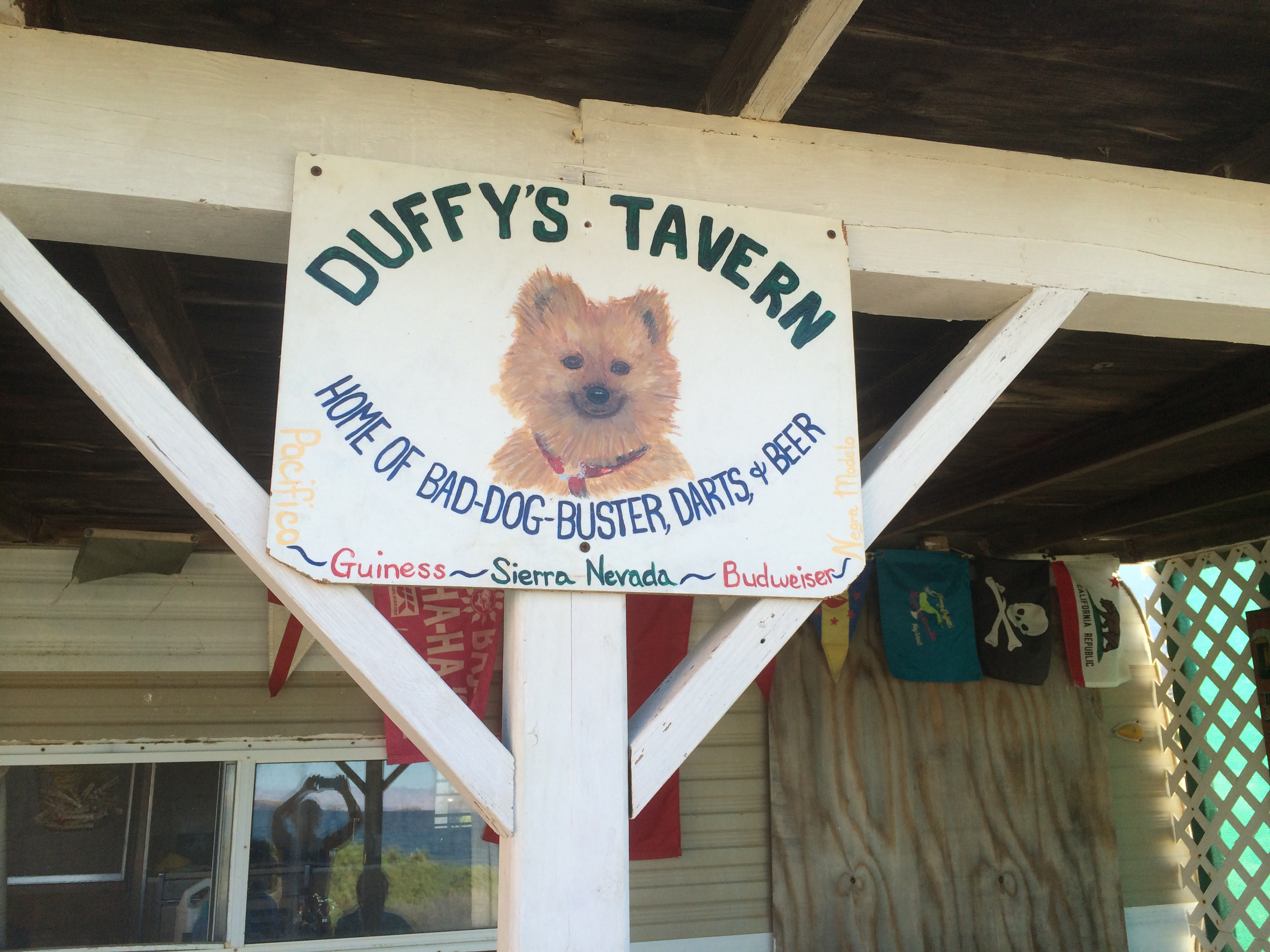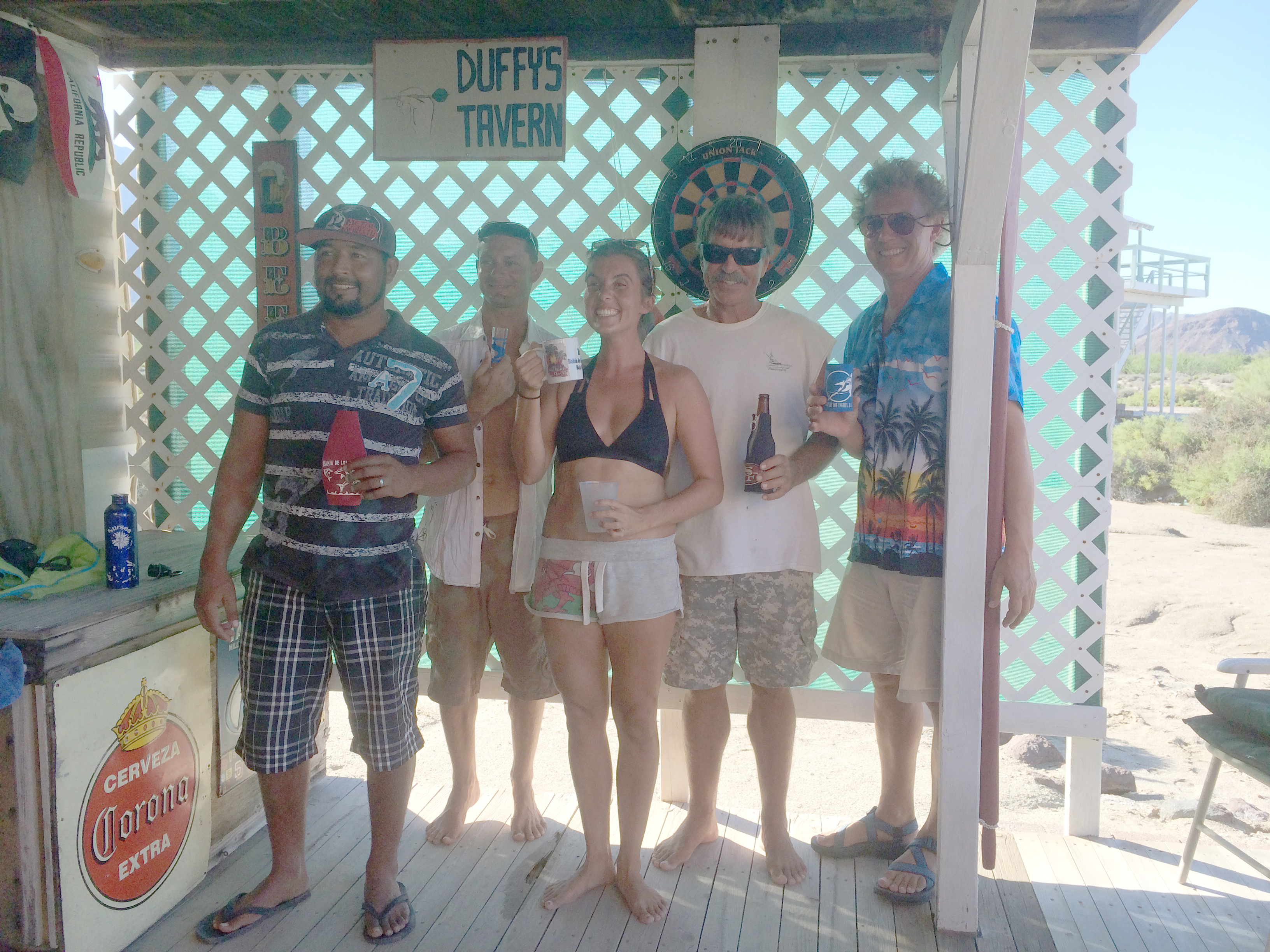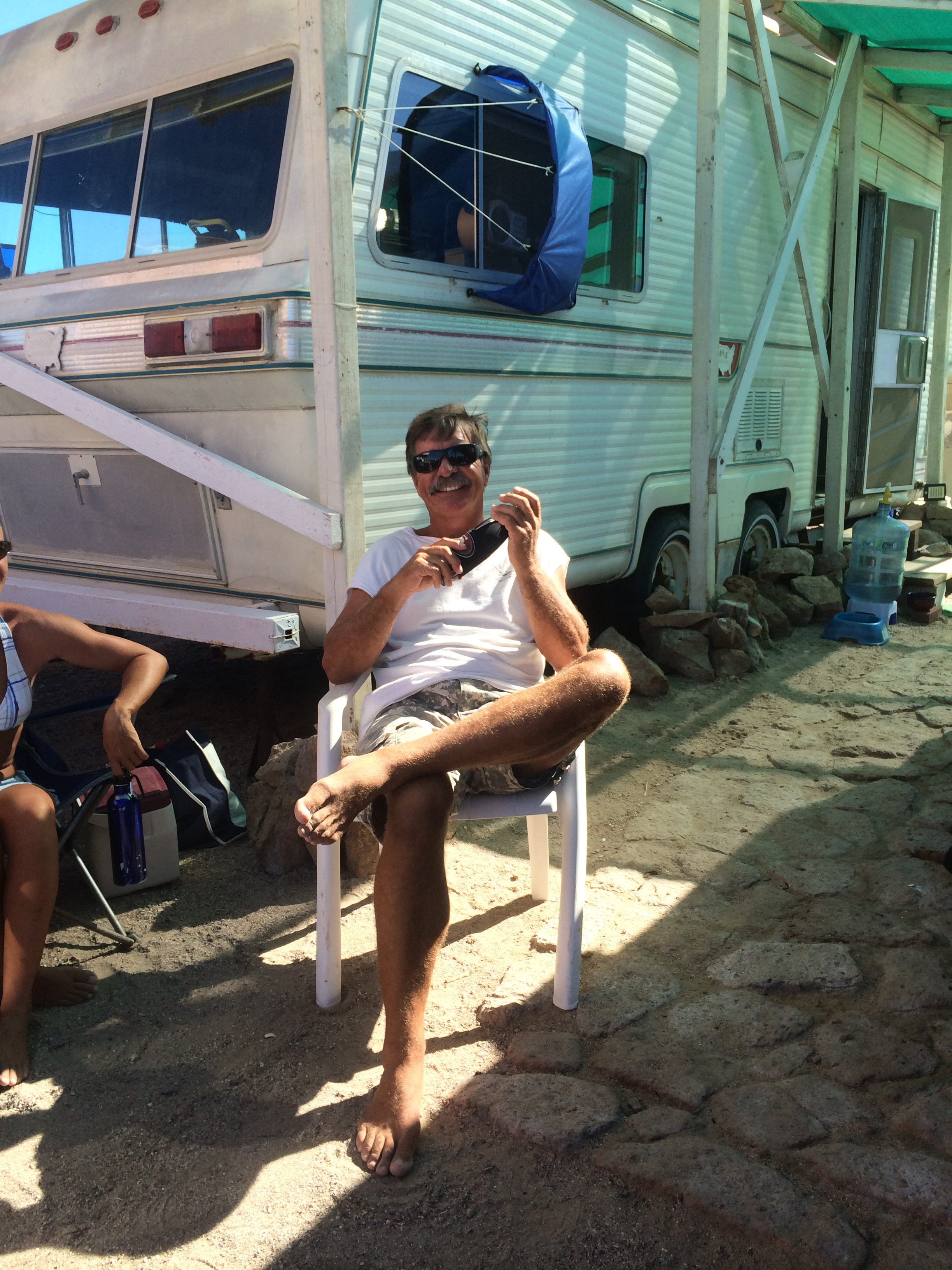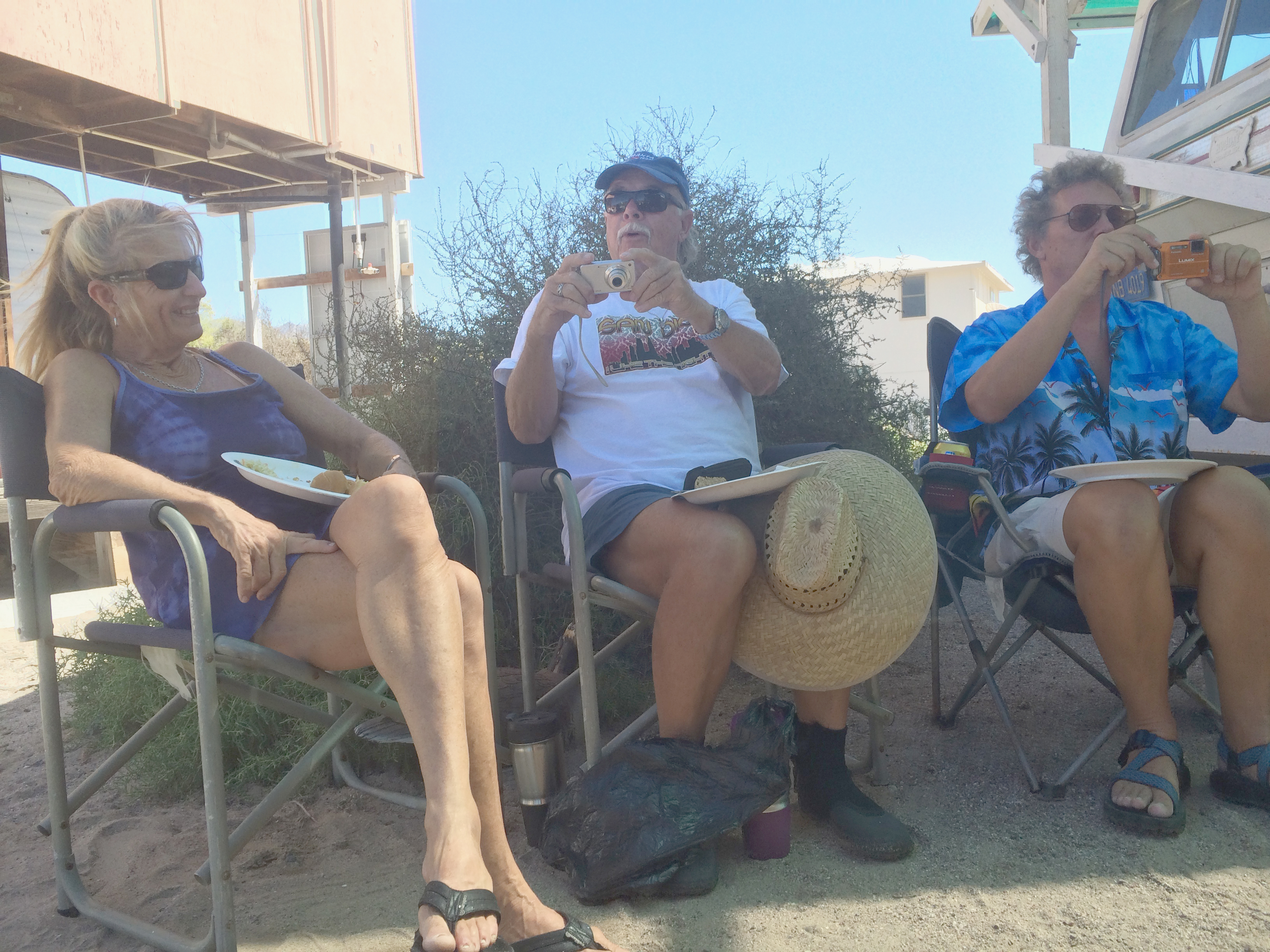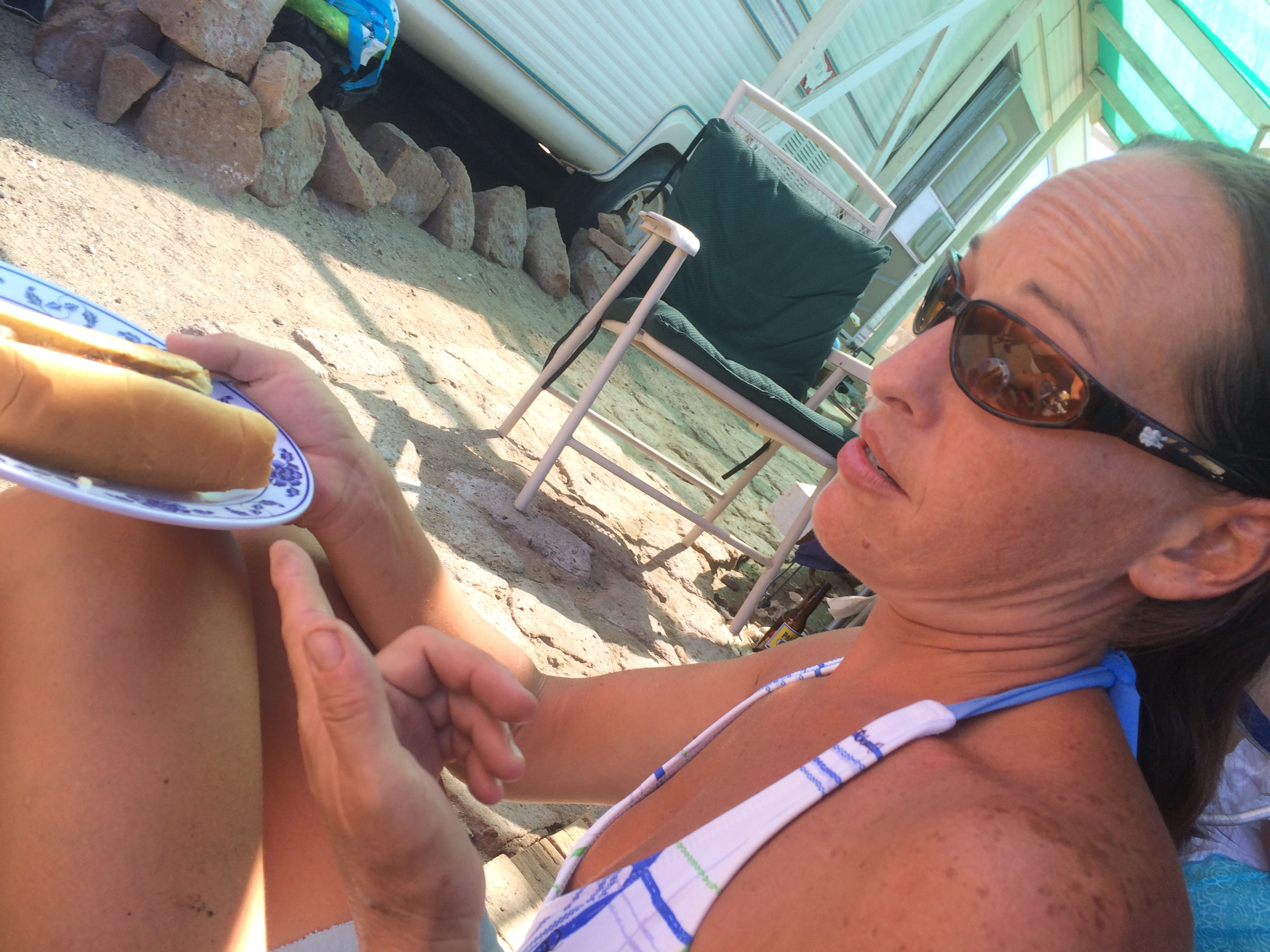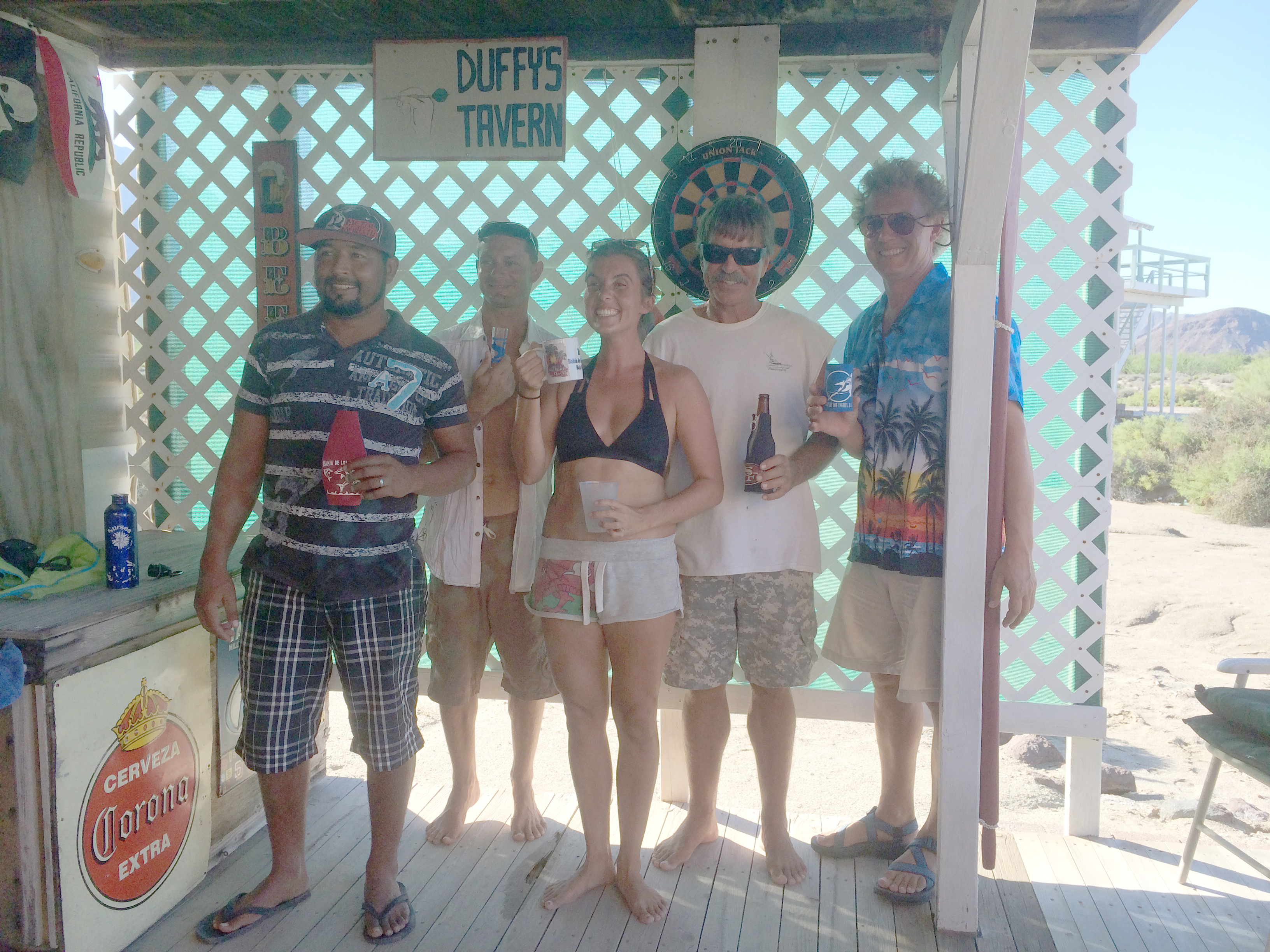 The following day we intended to go to Puerto Refugio and see this place once and for all. Linger Longer also had the same plan, but as usual, they weighed anchor and were off long before we were. We still had to go to the village to get our laundry and some more supplies before an extended trip up into the remote and wild unknown.