I don't know why this continues to surprise me, but somehow we spent six nights a Bahia de los Muertos. The first 2 days there we didn't even leave the boat. Big wind was predicted and happened. For once, listening to the weather worked out for us! Winds over 25 knots blew both nights, or so I was told. I slept right through it. I had six blissful nights of sleep with wild and crazy dreams, as only Baja seems to provide me. No cell service or internet around there – I wonder if there's some connection?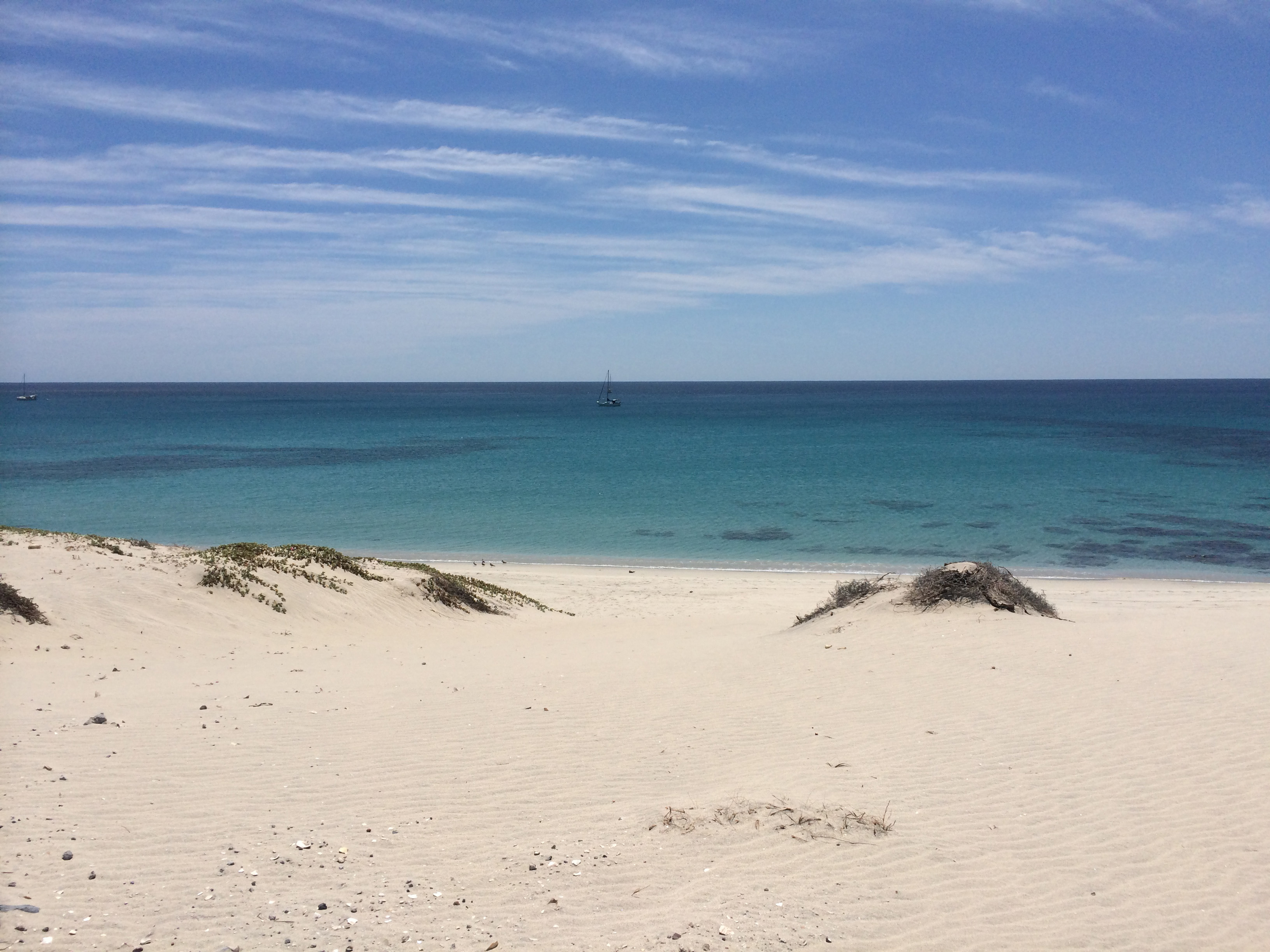 The water color is so beautiful there I just wanted to cry, or somehow become part of it. I did swim on the 2nd day, and it was a bit of a shock, being about 10 degrees cooler than what we were used to on mainland. But so clear and clean, and the white sand beach with so little built on it was a very welcome sight. When we finally ventured ashore, we walked down to the unobtrusive 'resort' buildings. We walked up the steps to one place and everyone there was acting like they owned the place, I just got a vibe…turns out they kinda did. The whole place was rented out for a wedding that night.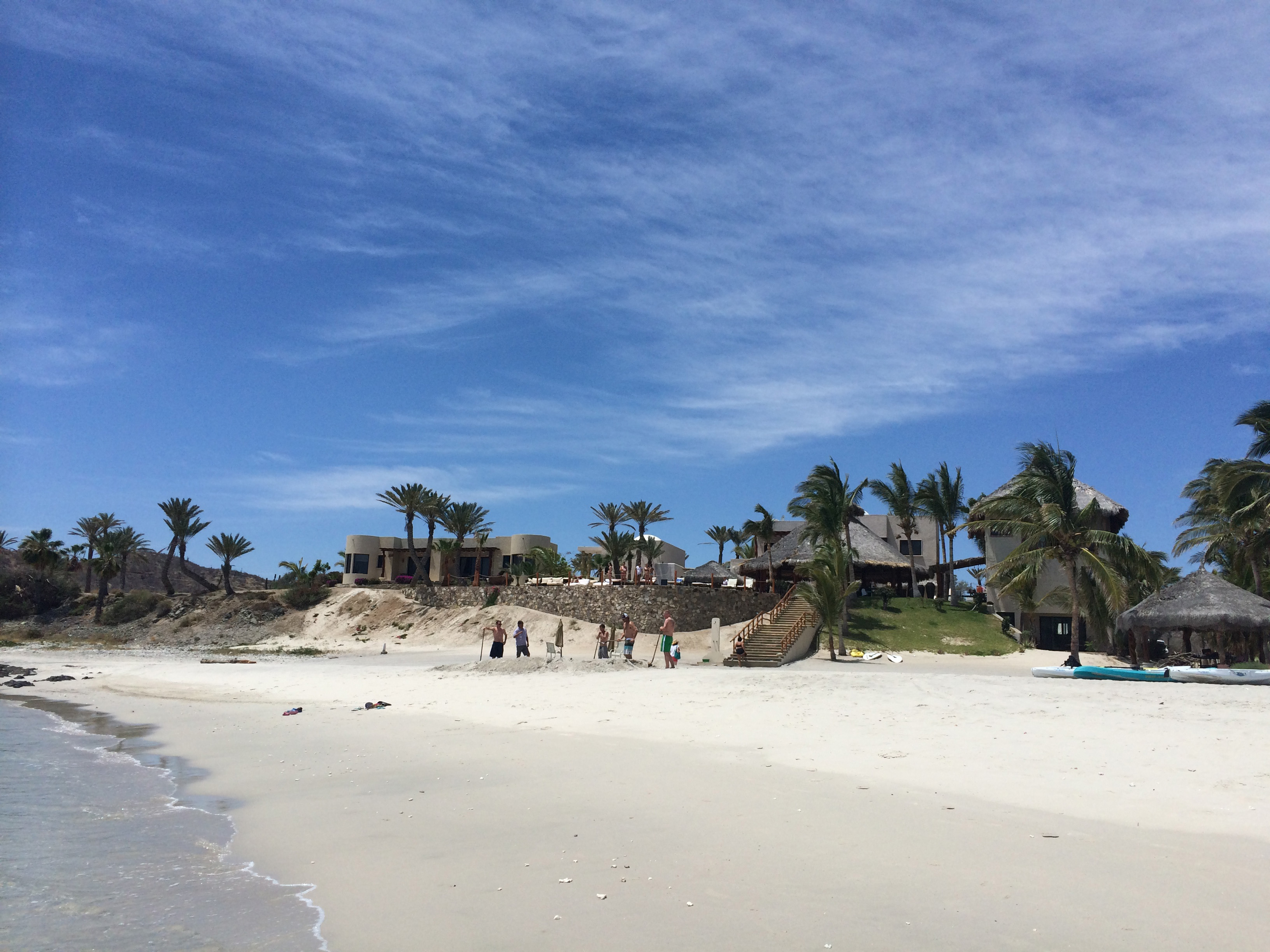 Nice folks – one woman told us about the Train Restaurant that was just up the way; she said we must check it out. Who are we to pass up seeing a giant train set in the middle of a deserted desert beach? The restaurant was a little ways back up into an arroyo. We were barefoot and the sand was SO HOT. Luckily by the time we arrived (out of breath from running and pain) we dipped our feet into the really cool pools in front.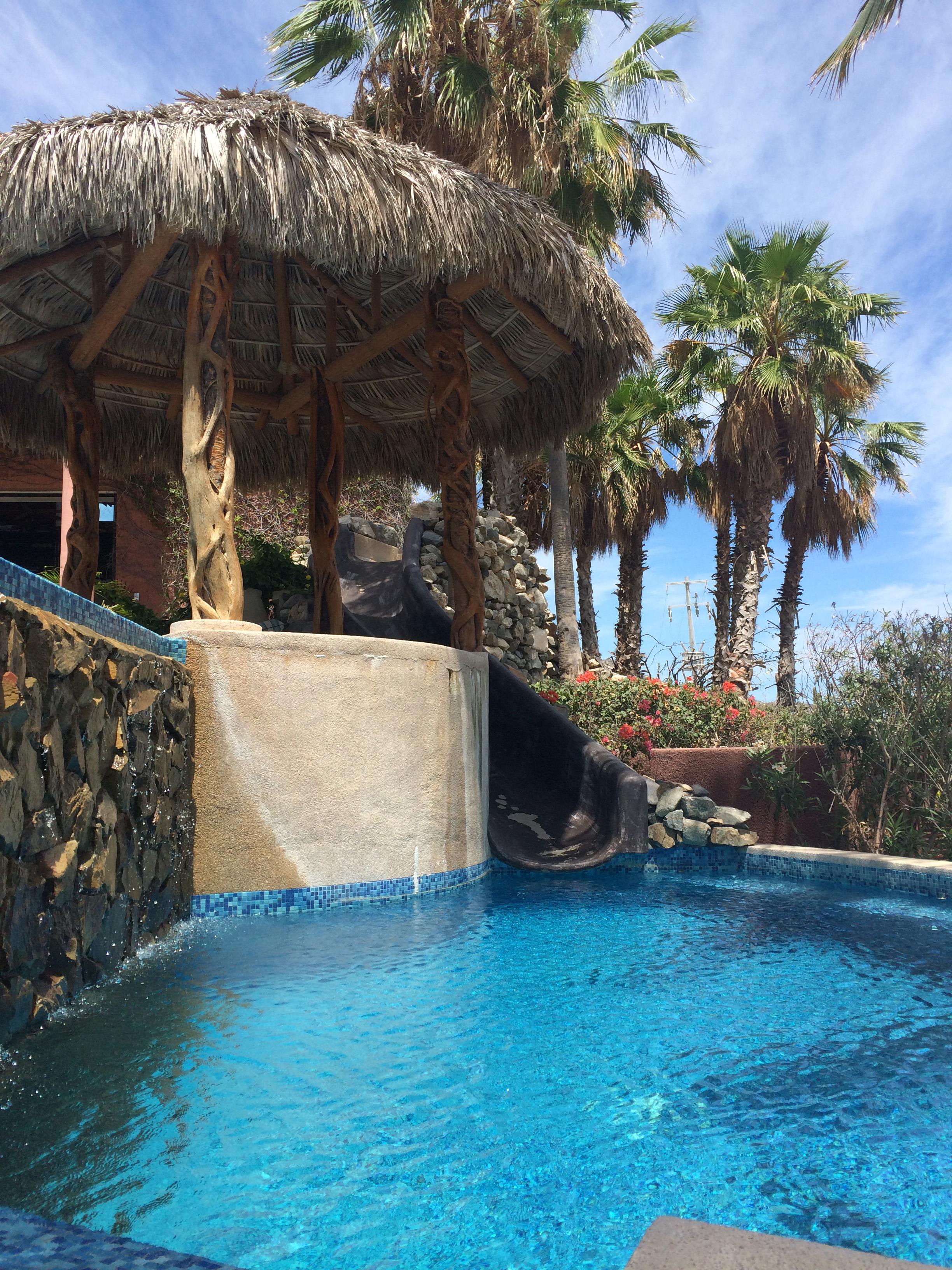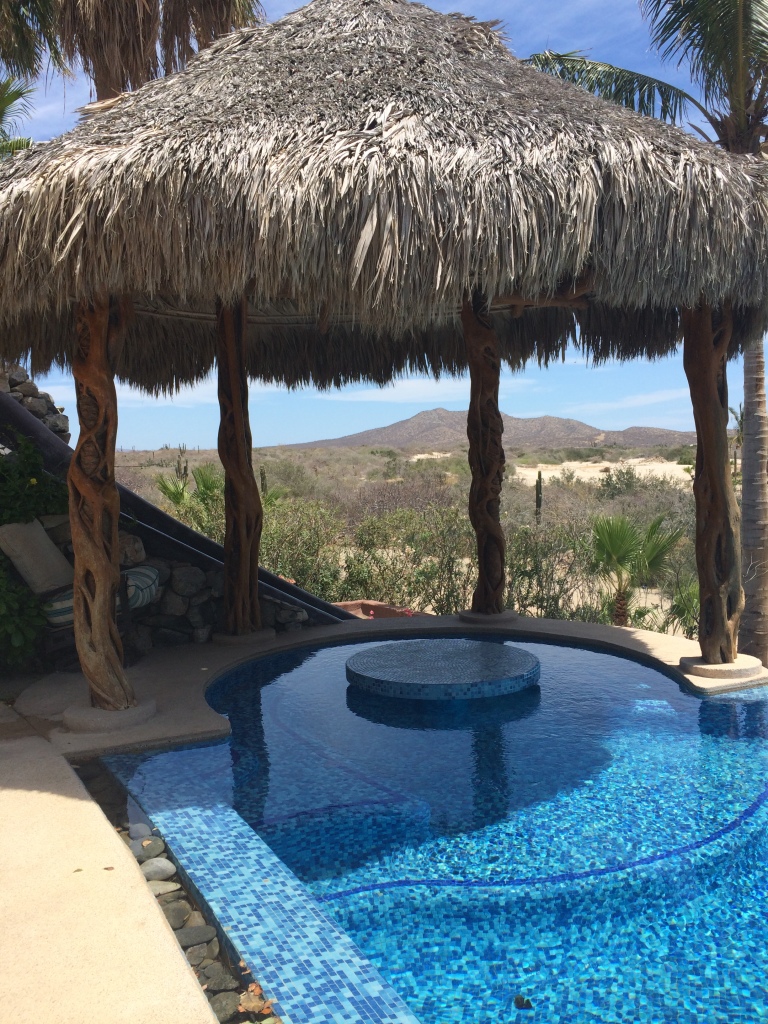 The place was truly deserted except for a bored waiter texting on his phone. The restaurant/bar downstairs was open, airy and beautifully furnished and had a pool table and one of those shuffleboard sand games.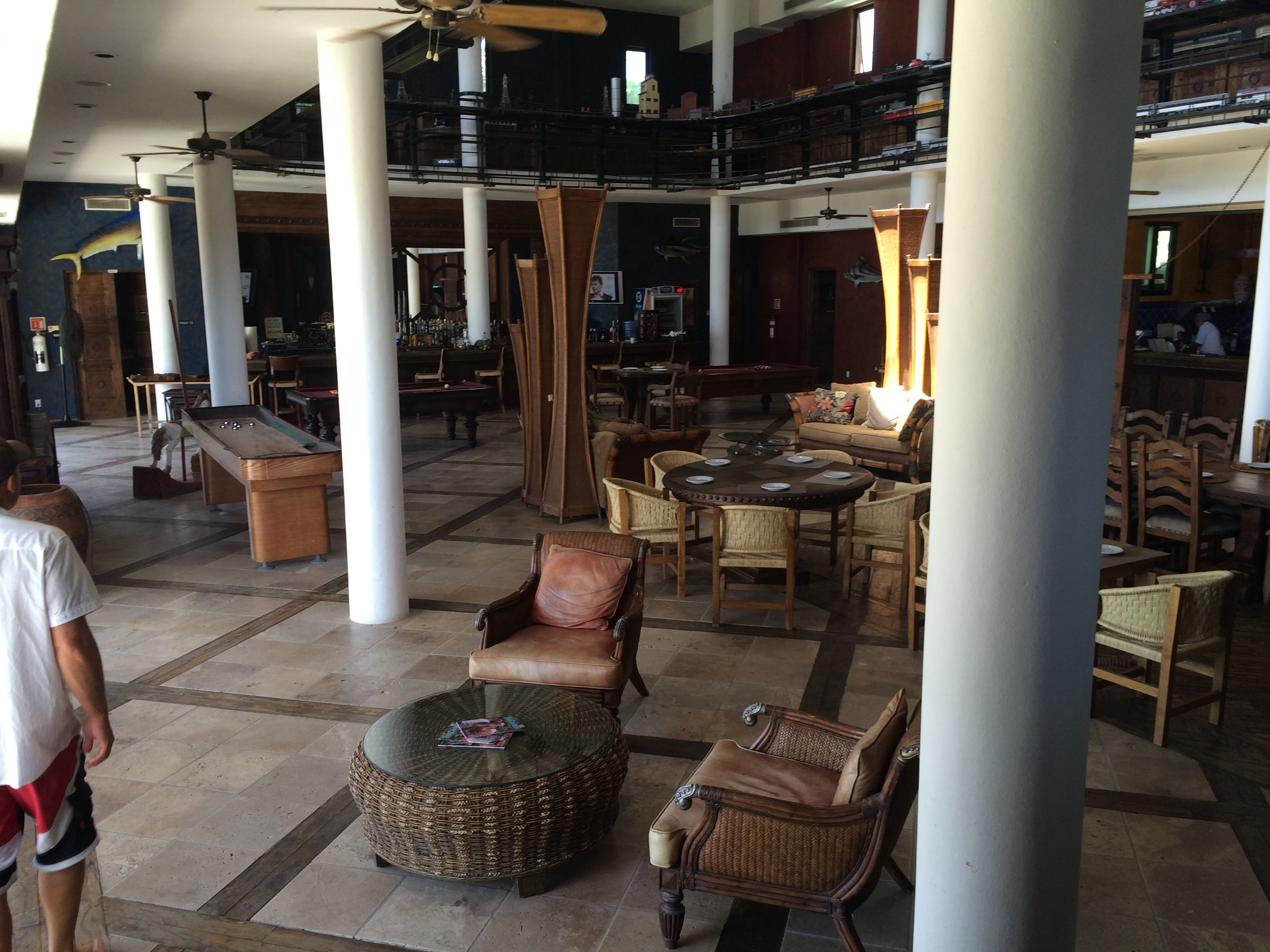 It definitely looked like a place we couldn't afford. Upstairs was just a balcony that wrapped around and overlooked the restaurant.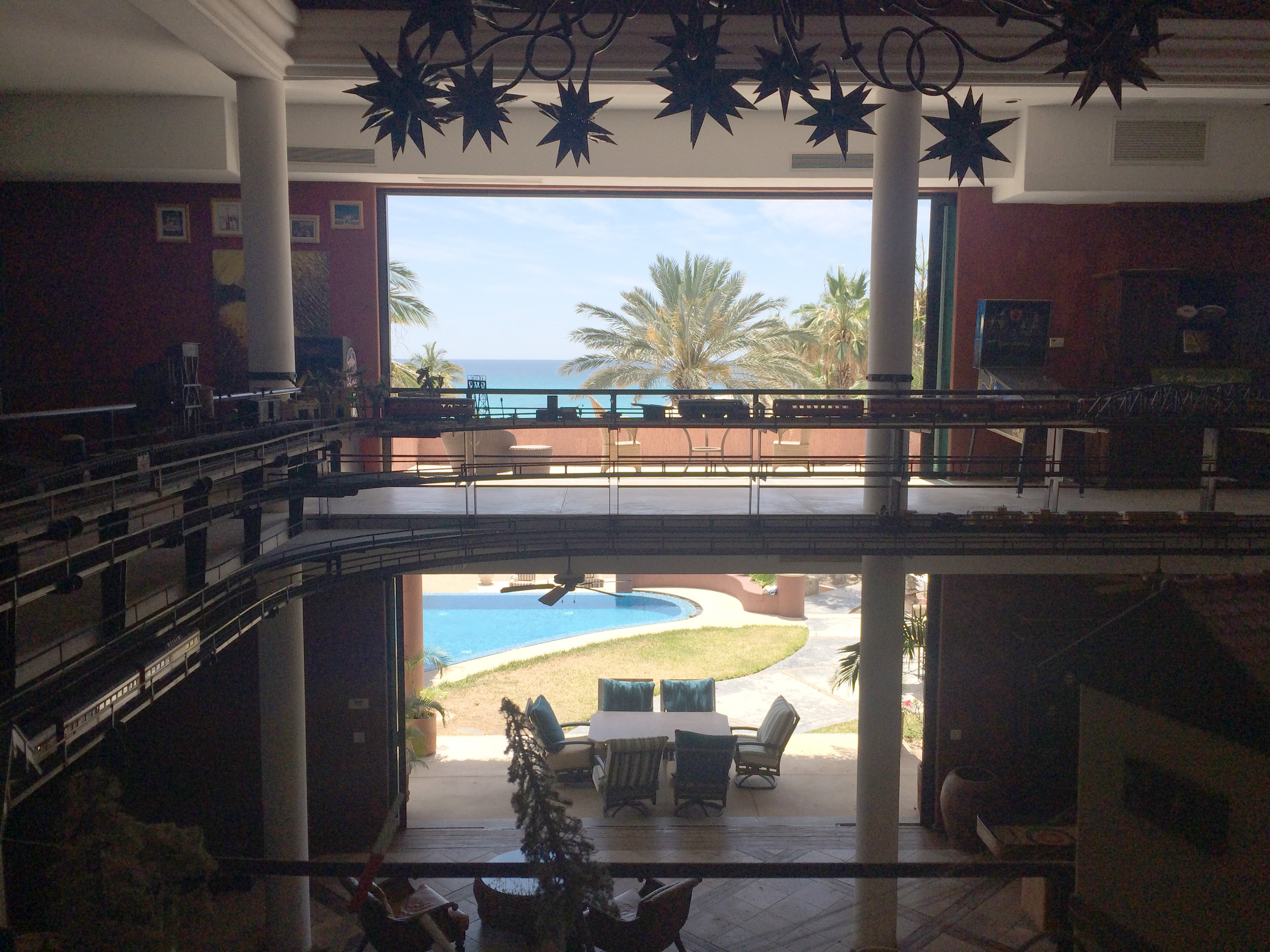 Aside from the Ms. PacMan game and Terminator pinball machine, the entire balcony was a giant train-set.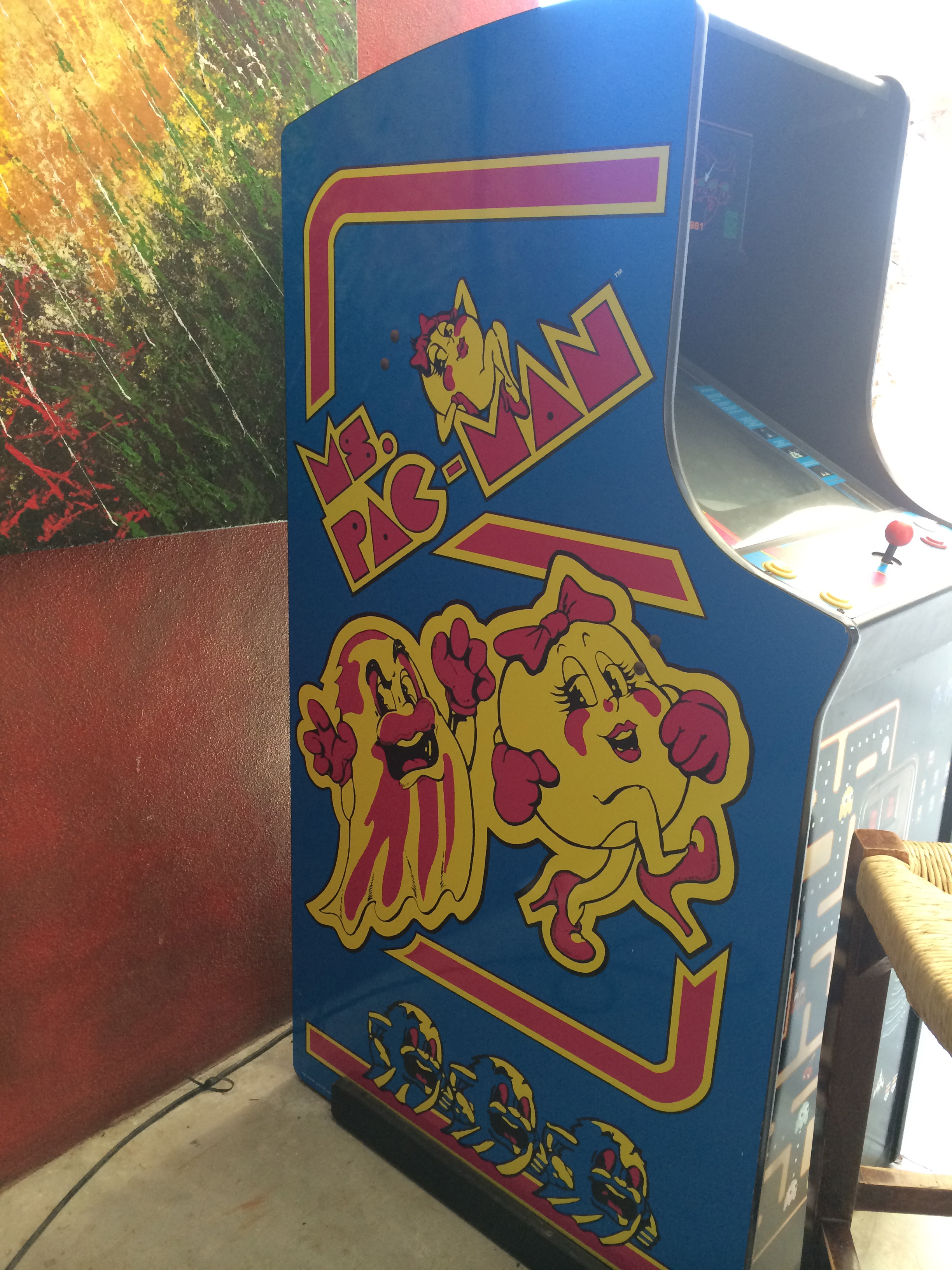 It almost seemed like some extremely wealthy gringo's wife left him and he said "Oh YEAH? Well I can TO have a giant train set" or maybe he's still married and his wife said "no more goddamn trains in this house!" And he said "Well, I'm going to buy a huge place in Mexico to support my train set habit, and I'm going to spent hours upon hours arranging tiny people and hotels and restaurants and train yards, and there's going to be THREE McDonald's". It was pretty amazing, and really kind of bizarre – out there in the middle of the desert, just a flaming death run away from a gorgeous white sand beach and nothing else around.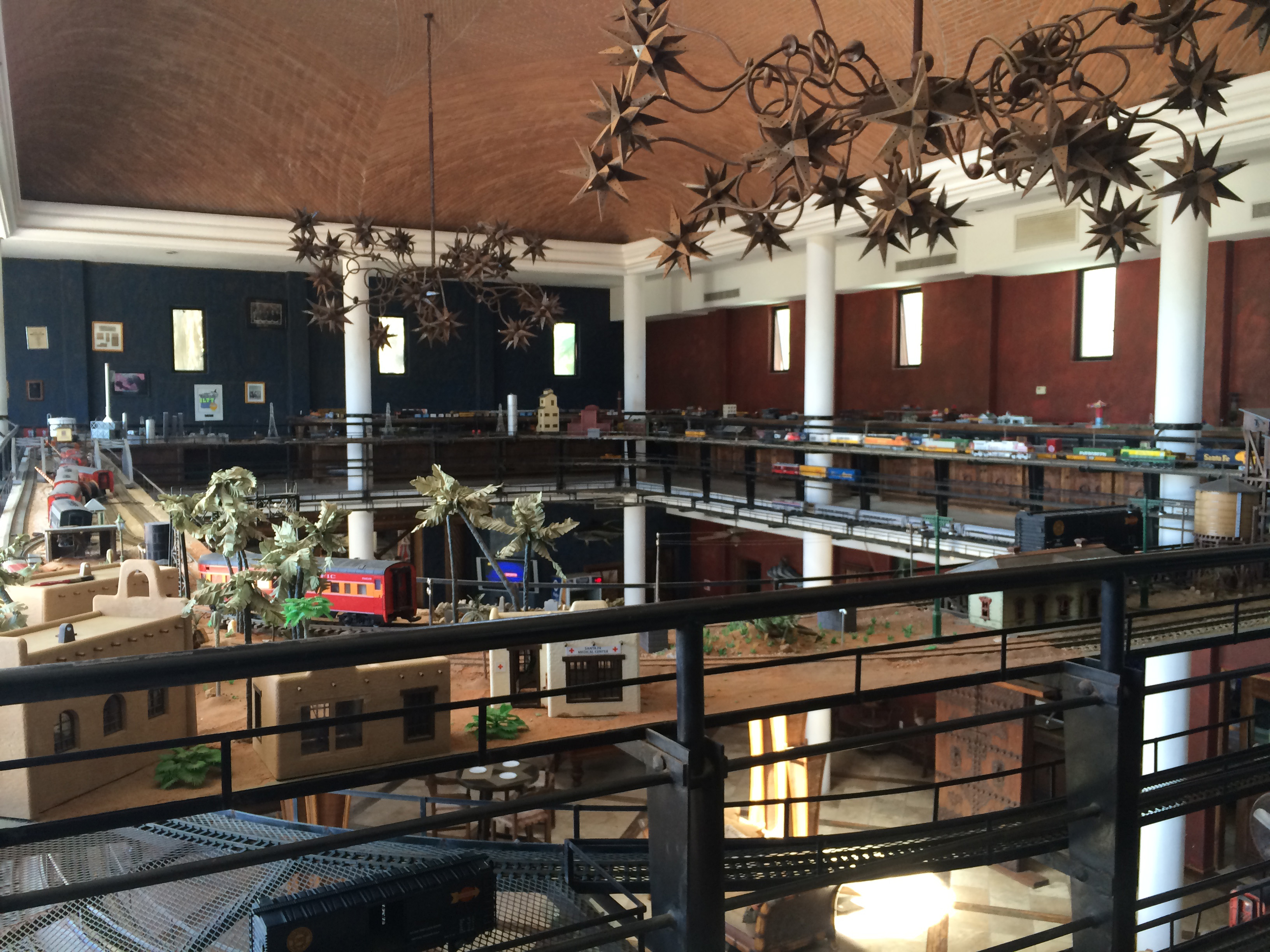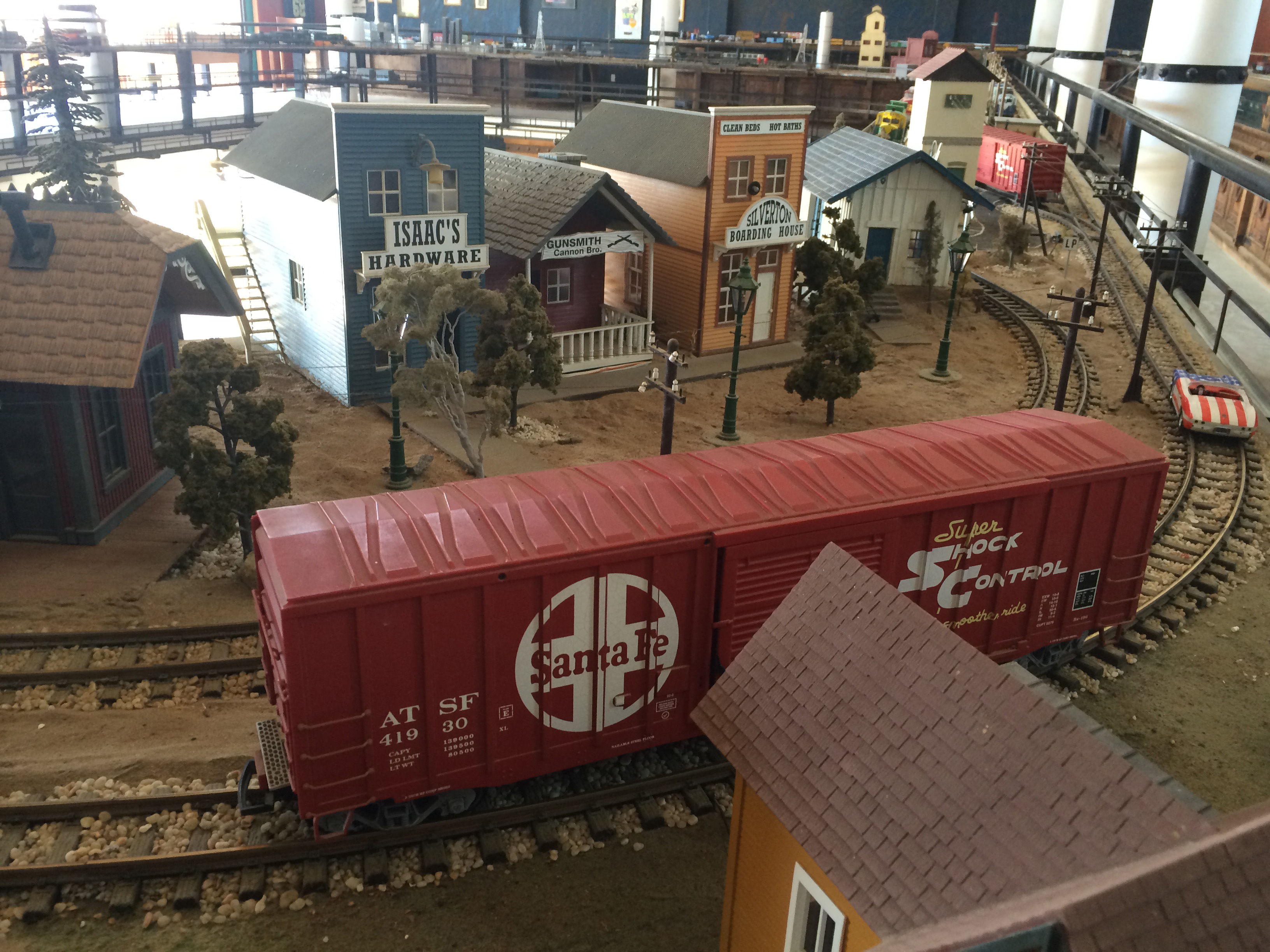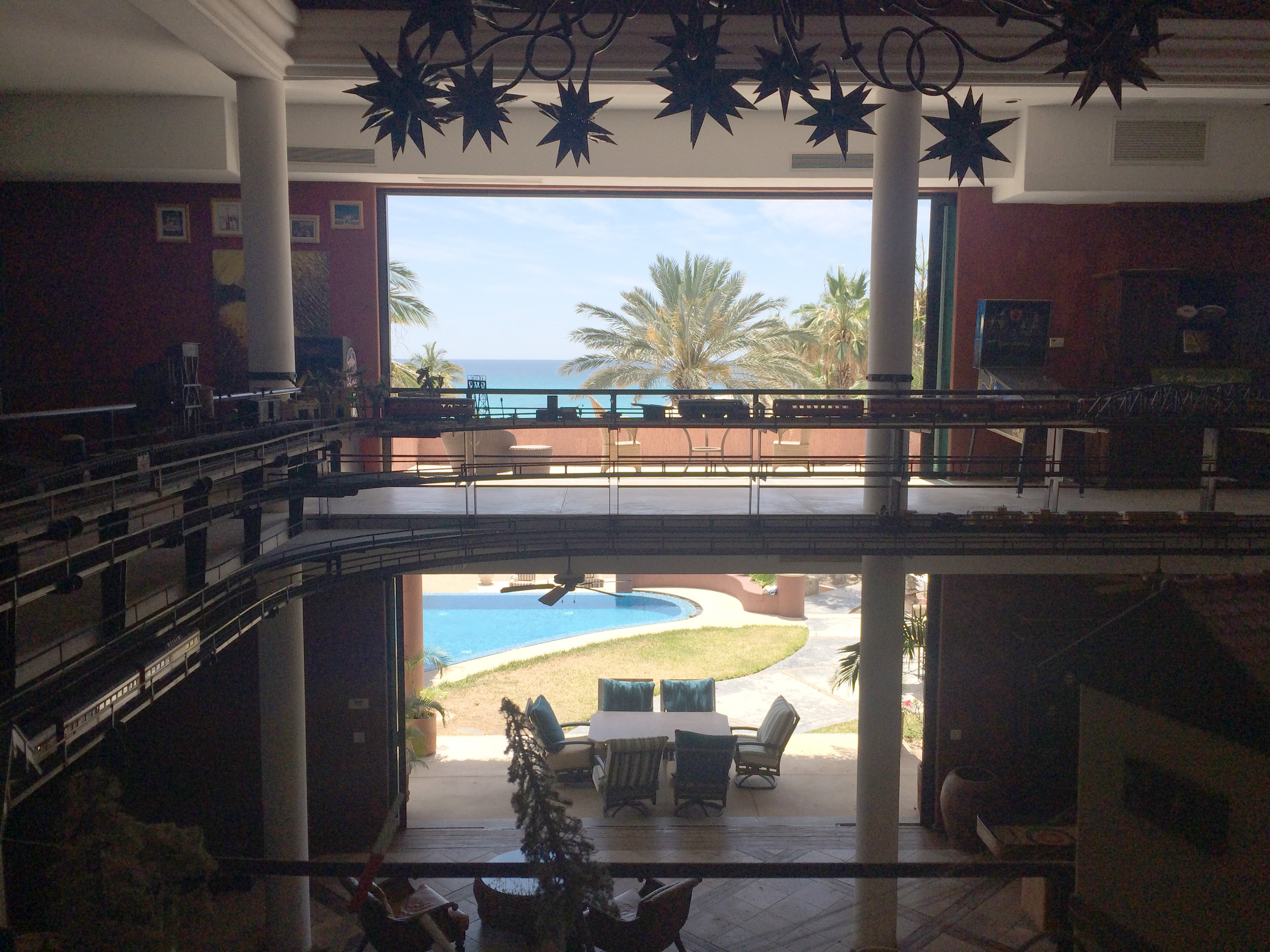 On the run back to have our feet sizzle in the water, I realized that hot sand should be the next fitness craze trend. Drop a bunch of people off a couple miles into some flaming sand and tell them there's a pool of water at the other side. Trust me they will NOT stop running at top speed till they get to it, and they will pick their feet up really high, too. Mental note: Do not wander off on a beach without flip-flops again.
We walked all the way to the far opposite end of the beach, which is where there is one restaurant next to the area where all the fishermen come and launch their pangas (it's only about a 20 mile drive to La Paz from there, so it's a good fishing tour destination. We had decided to splurge on lunch at this (more affordable than Los Trenes, but still pricey – no competition!). I decided it was high time I had a cheeseburger in paradise. Which led to some Jimmy Buffet discussion and to the bet regarding lyrics to "Margaritaville", in which I lost heavily and had to do the dishes for 2 weeks. It turns out I really have no idea HOW he blew out his flip flop. I don't want to talk about it.
We had an idyllic beach day with our new beach umbrella (such a good purchase!).   I met Sherry and Ken from Cake (I love that boat name, and have yet to find out how it came to be), who were walking on the beach (Jonny was passed out under the umbrella). They are also part of the "Summer in the Cortez" crew, so we'll be seeing them again and again (already have…). We also spotted Orion, which we were pretty sure was our neighbor in Moss Landing (we met Megan on the docks a couple times), but they left before we got to confirm.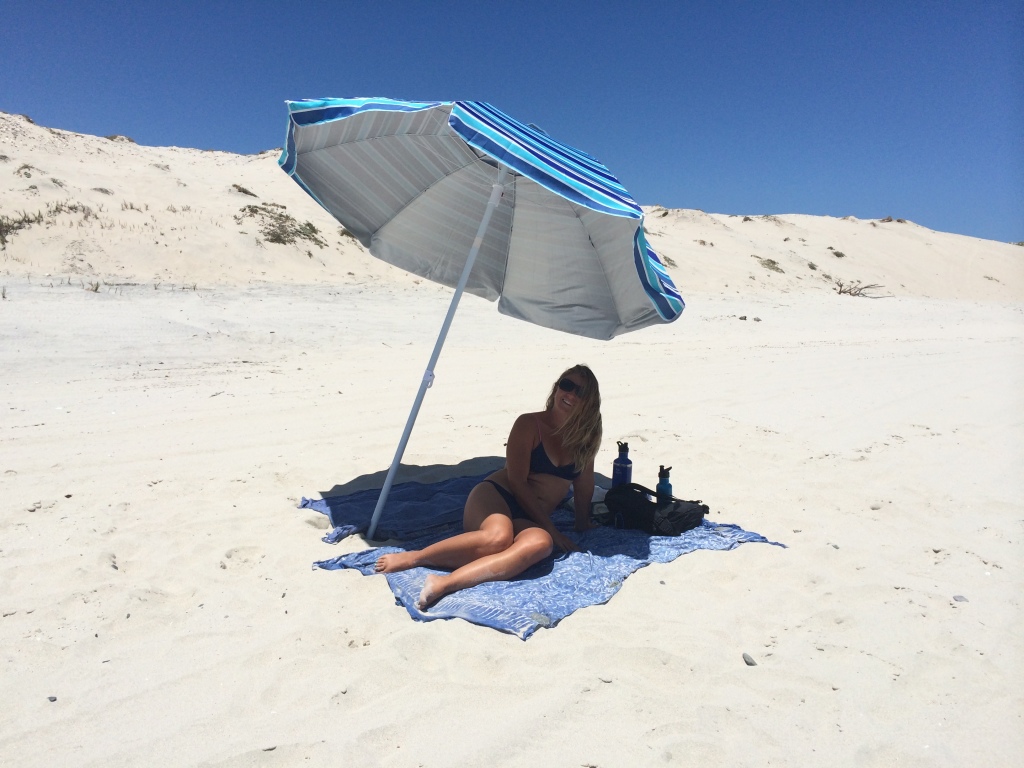 We had an amazing snorkel day, too. The water is SO much clearer in the Sea of Cortez (just north of Muertos is considered the beginning of entering the Sea). It was so mesmermizing and I could snorkel forever – but remember how cold the water was? We snorkeled until I was shivering.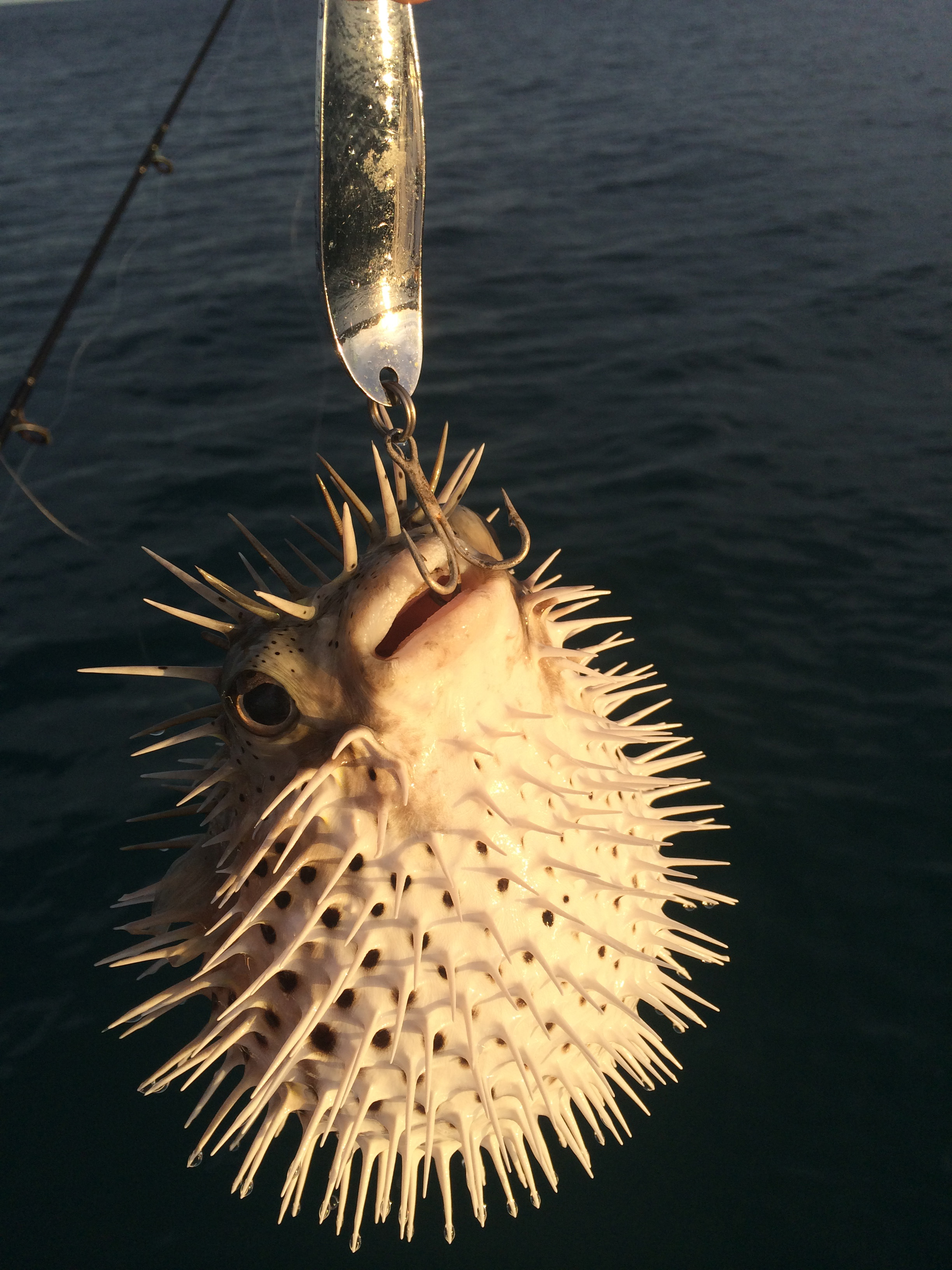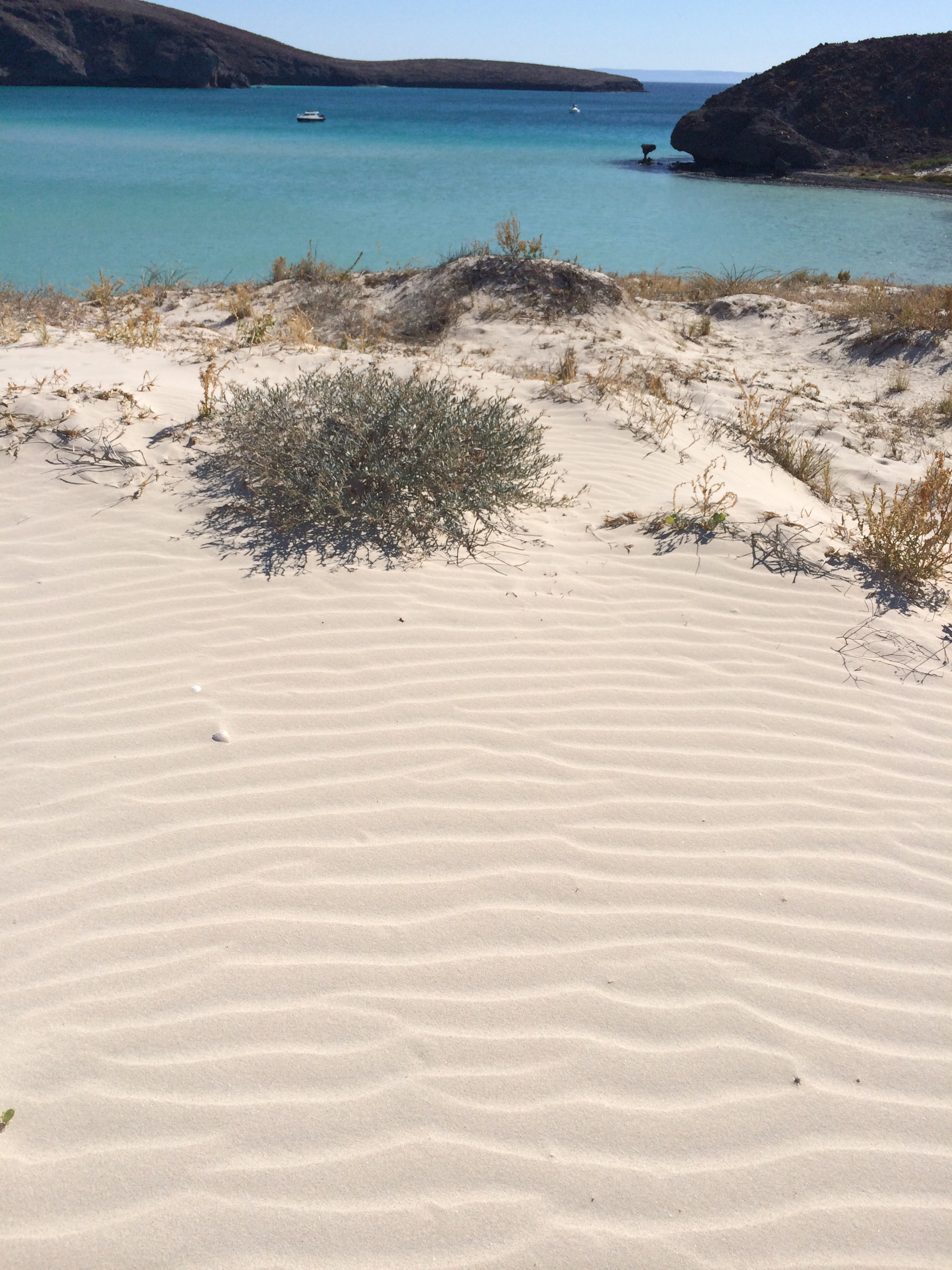 We and the wind were finally ready make our way North. It was an easy/slow-ish sail. Cake passed us (we caught a fish which slowed us down a bit) and we were about to catch up to them when we caught ANOTHER fish (neither was edible and got returned to swim another day).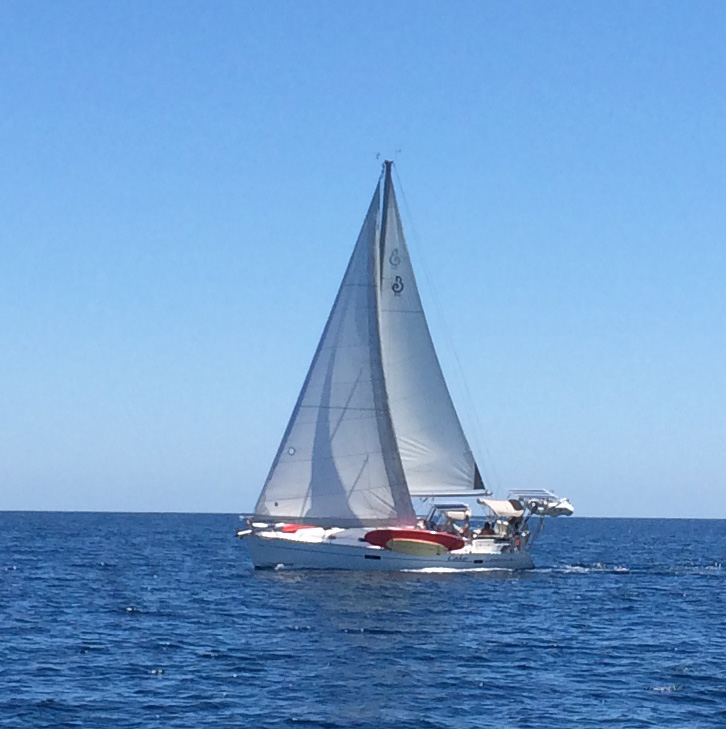 We decided to spend the night at Balandra Bay, just before La Paz. We'd been to Balandra twice on our driving trips to Baja. I've had a picture of the bay as my desktop on my computer for 3 years. I've even tried to Photoshop an image of Summer into it. I have been waiting for the day when Summer would actually be anchored in that amazingly gorgeous water – I could hardly believe we were there!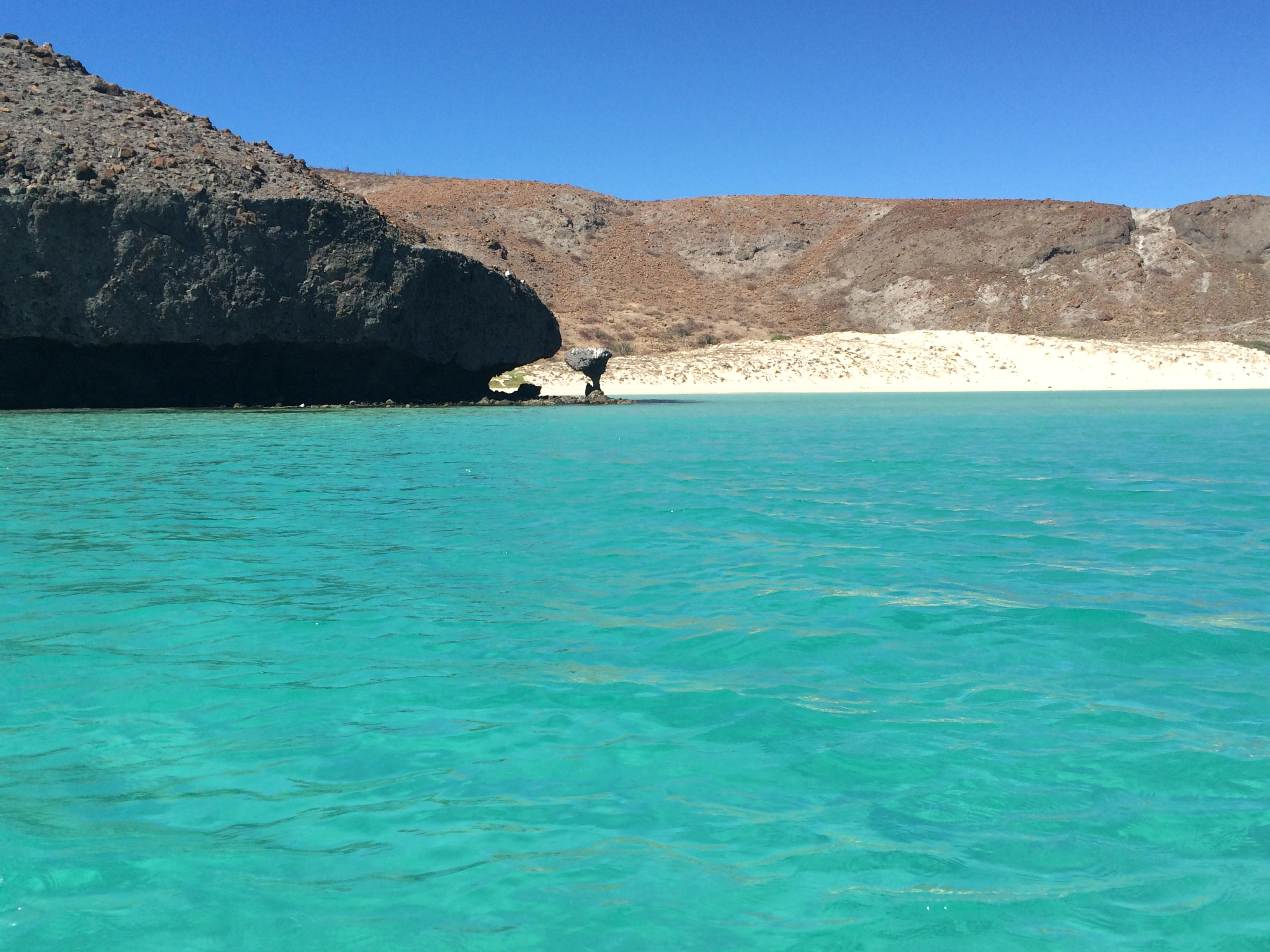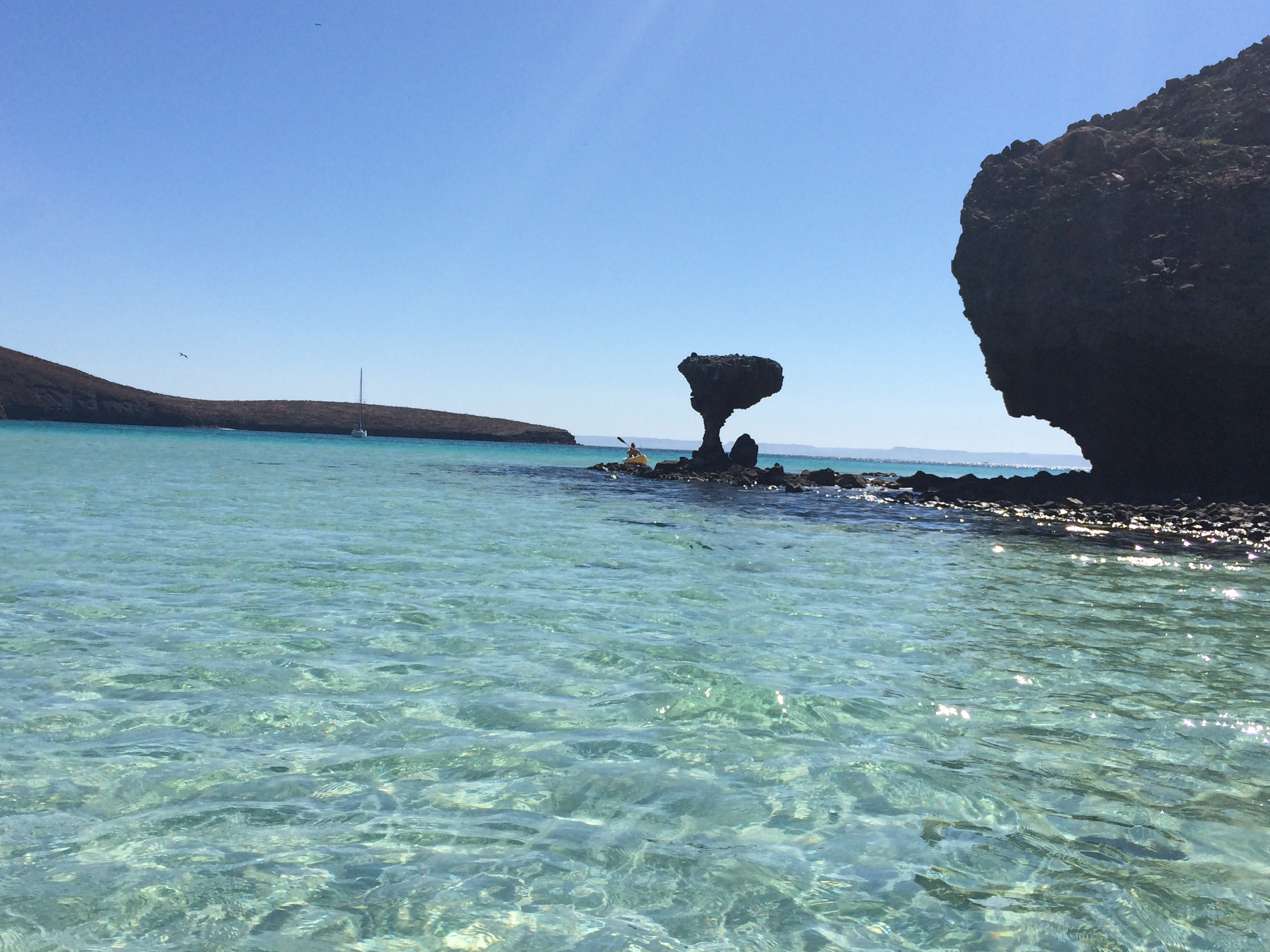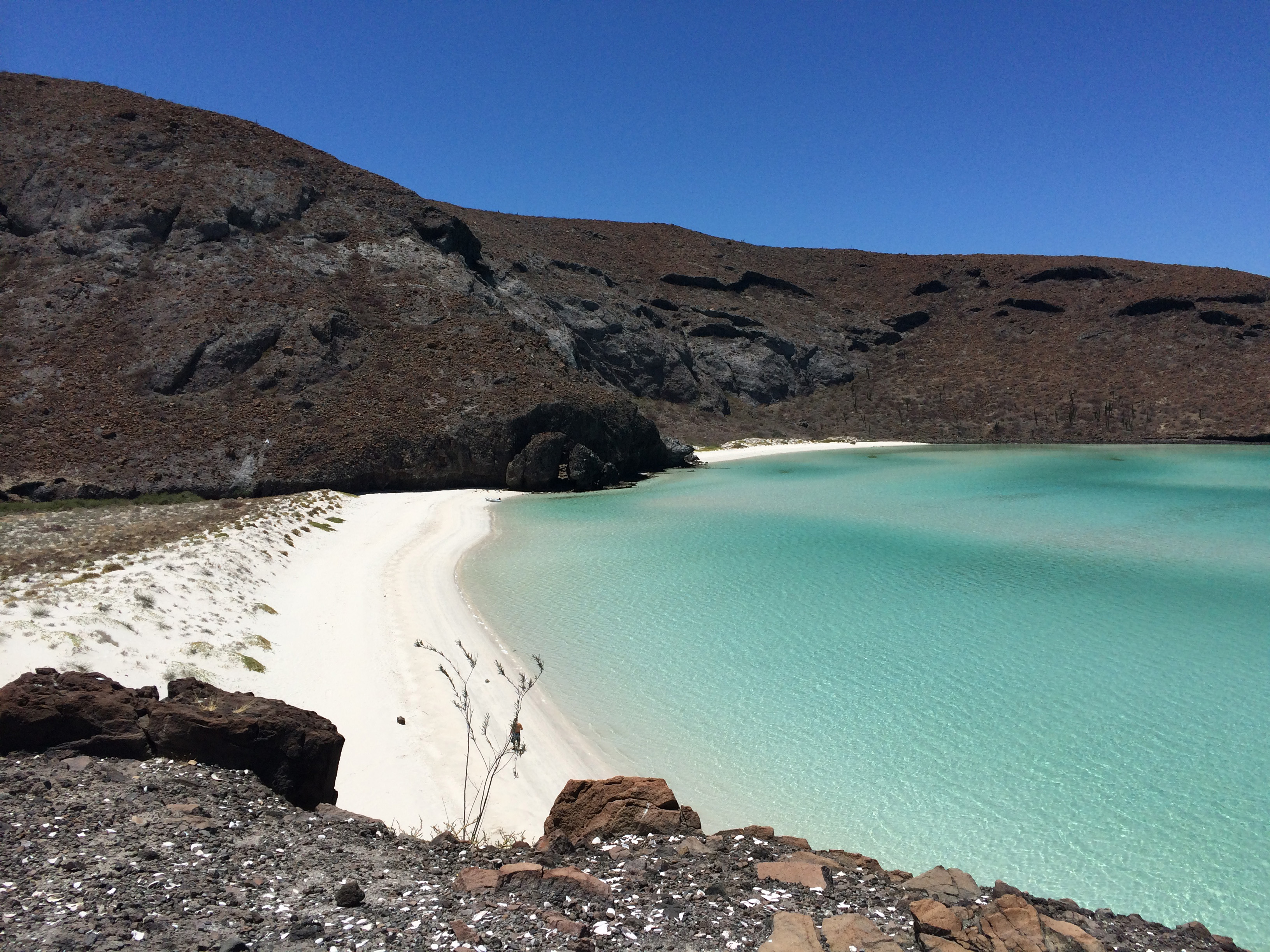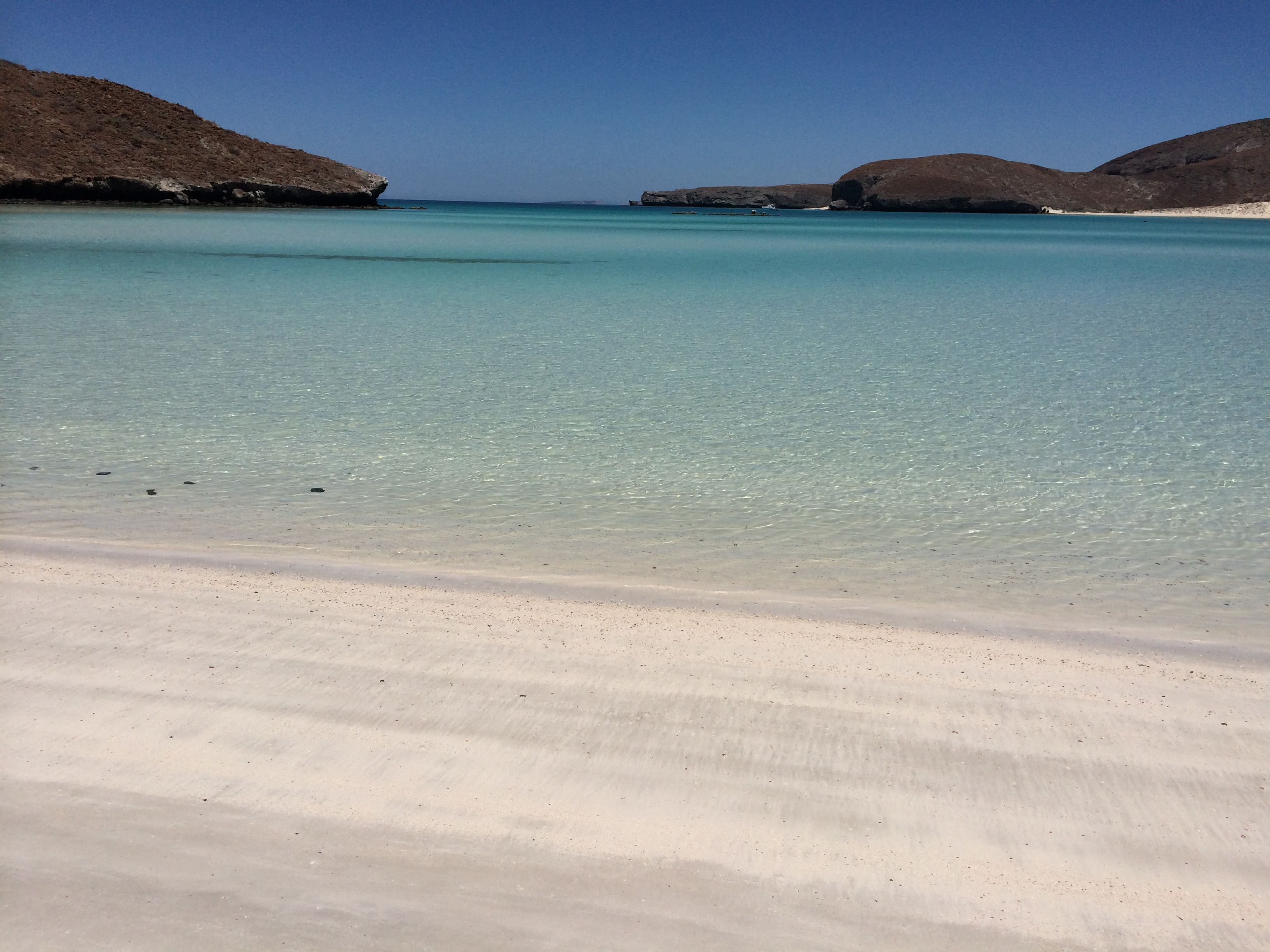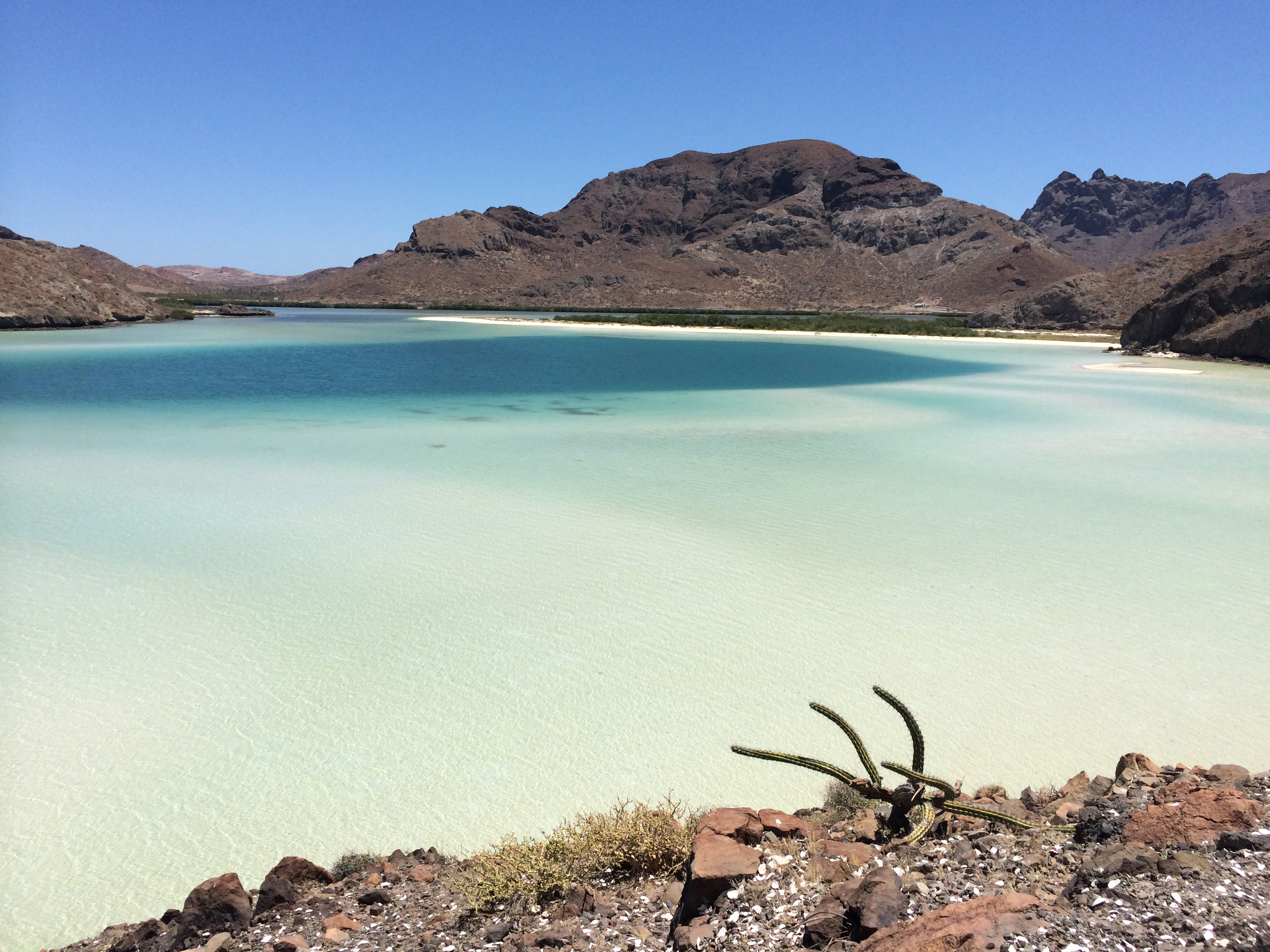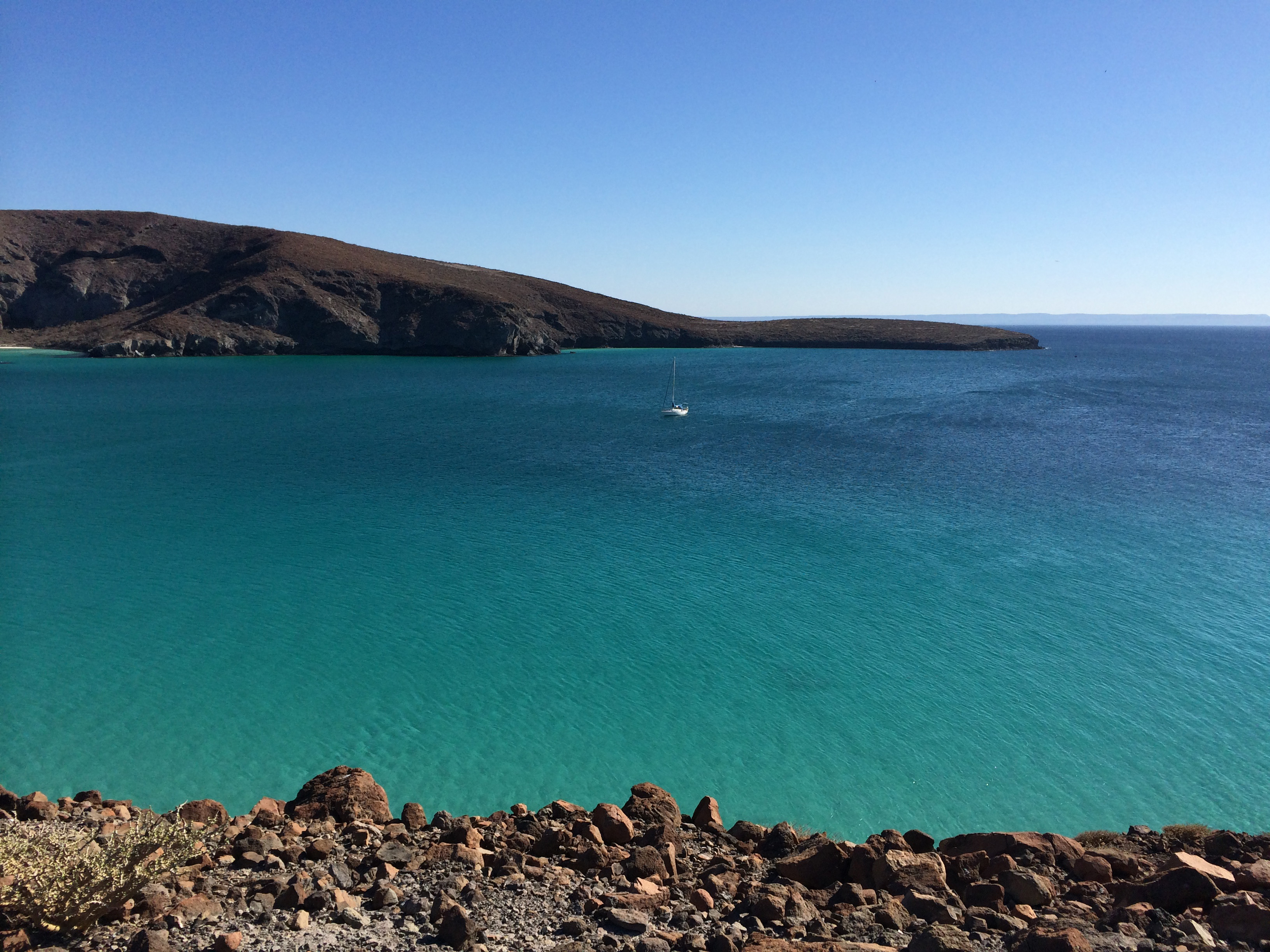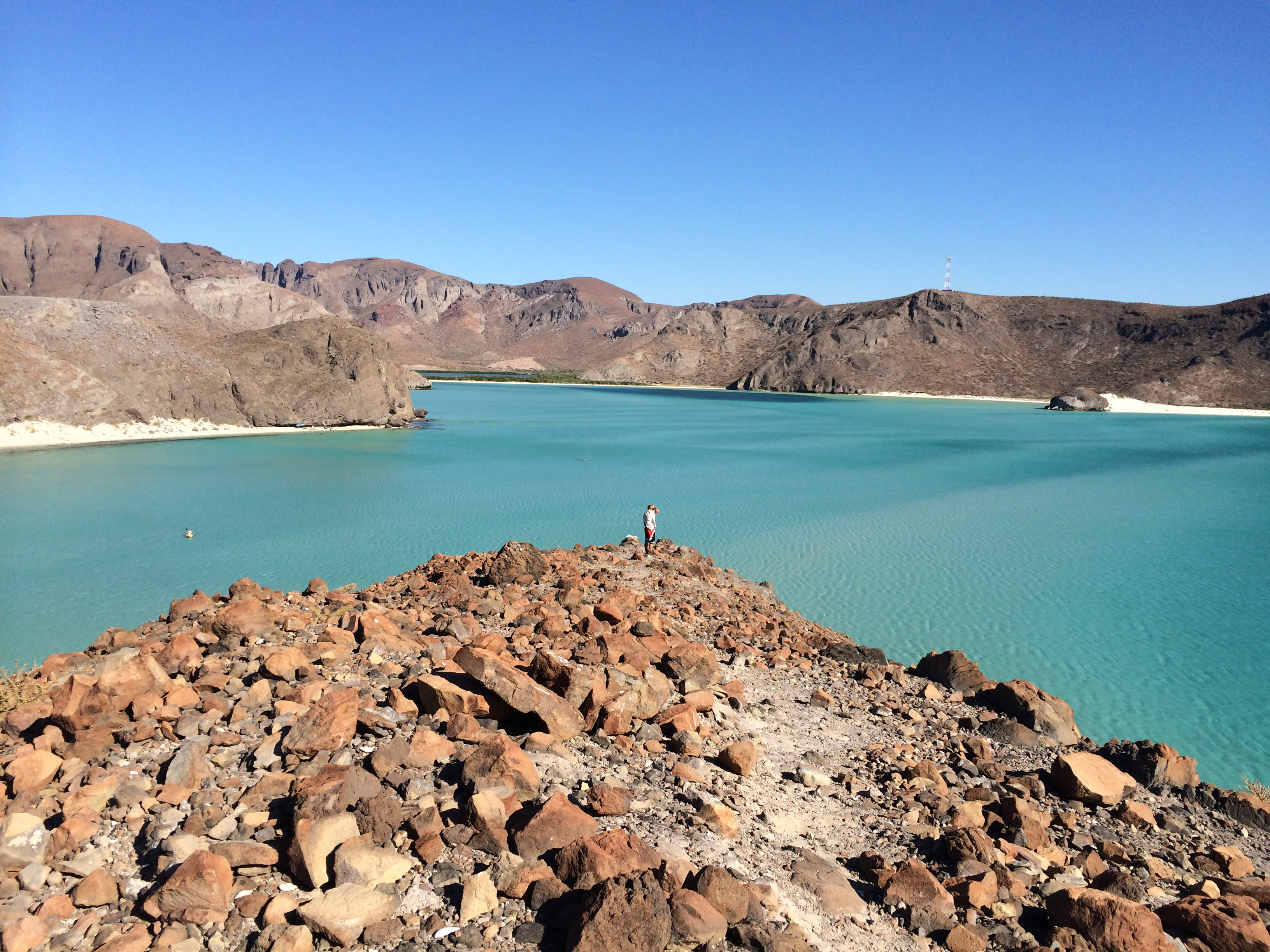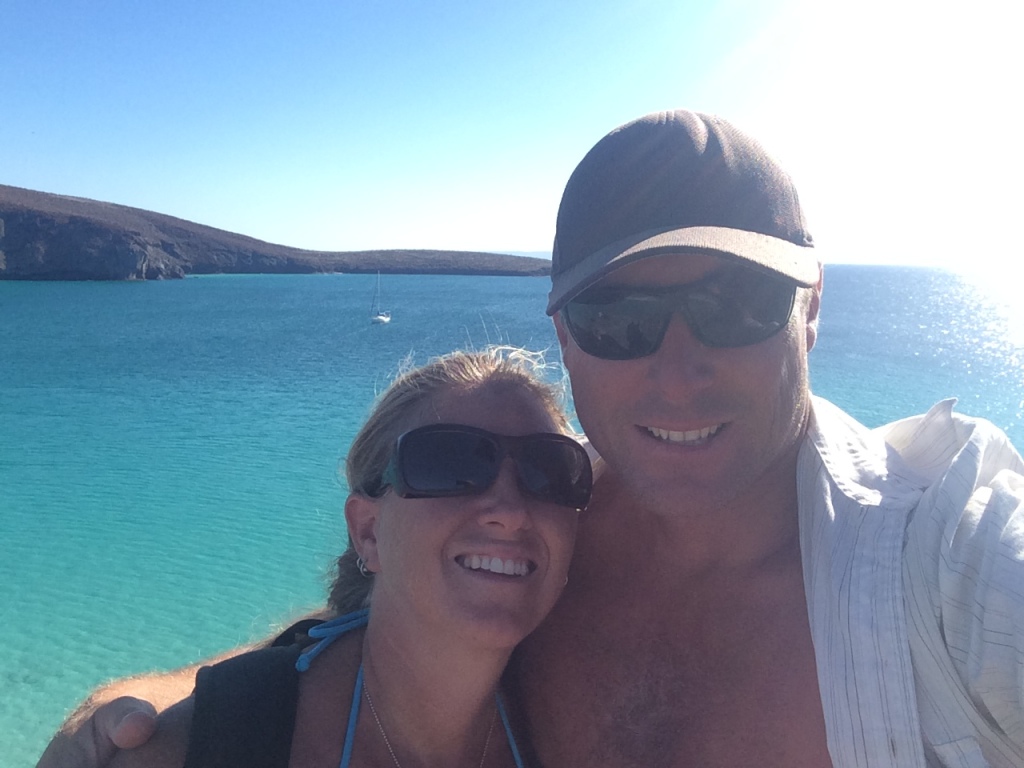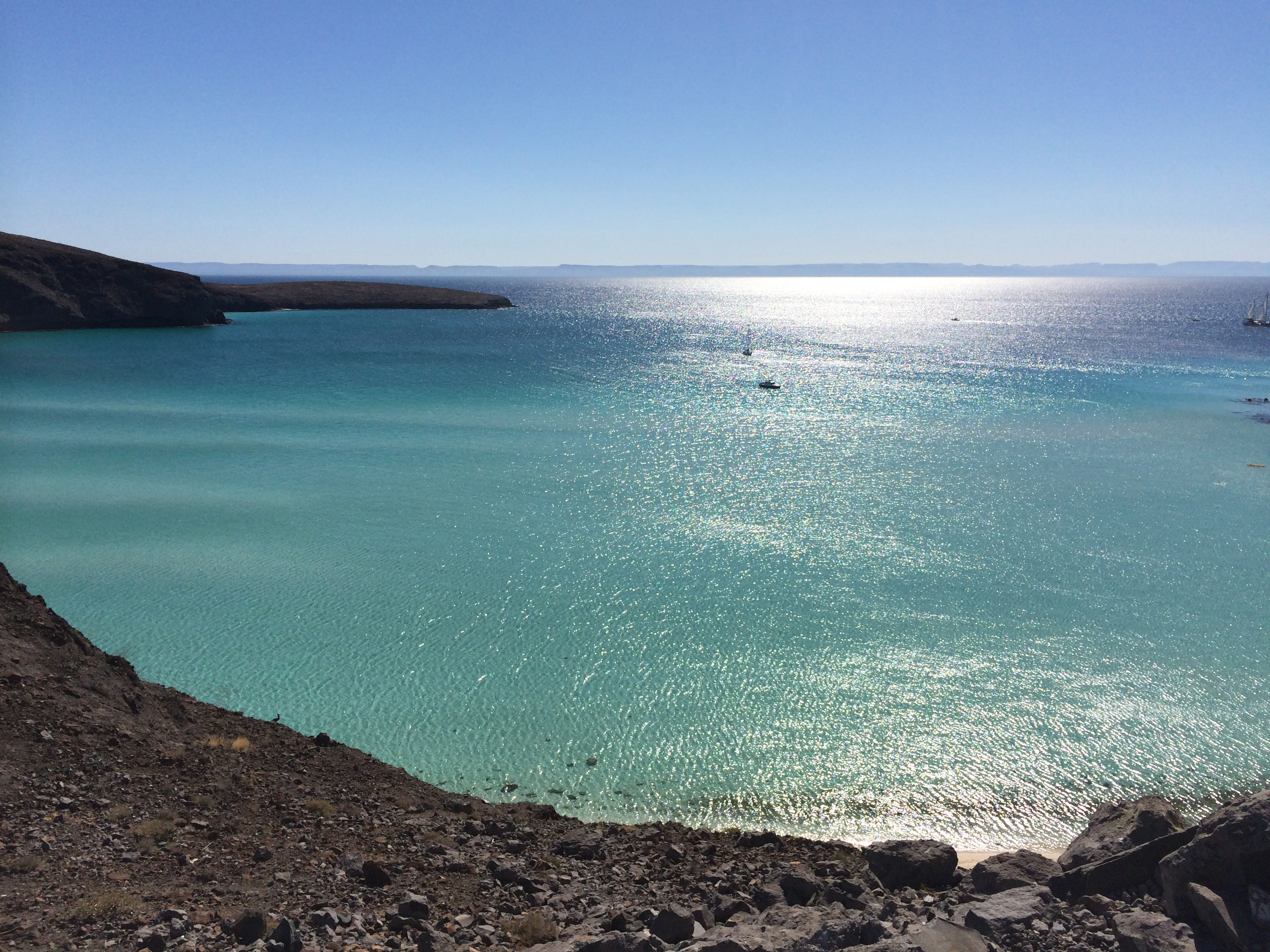 We anchored just off from the iconic El Hongo (Mushroom) rock and hurriedly got the dinghy ready to go ashore. We hiked up 2 different peaks and stared slack-jawed at the beauty.   Back at the boat we swam and got ready to make dinner. There was a huge, fancy ketch with it's mainsail up, but not sailing and a bunch of support boats taking people here and there. They then moved to the other side of the bay and we could see groups of people here and there that appeared to be filming something. At one point a smaller boat came up to us and we were looking forward ot chatting with them. The guy on the bow was not very friendly and asked us (I think) if we could just move back a little. Apparently we were messing up their scene? The thought of heaving up 150 feet of anchor chain, starting the motor and trying to re-anchor someplace we didn't want to be wasn't very appealing. And this guy wasn't nice OR flashing any pesos at us, so we said "No, es muy difficile" and they went away without another word. Very strange.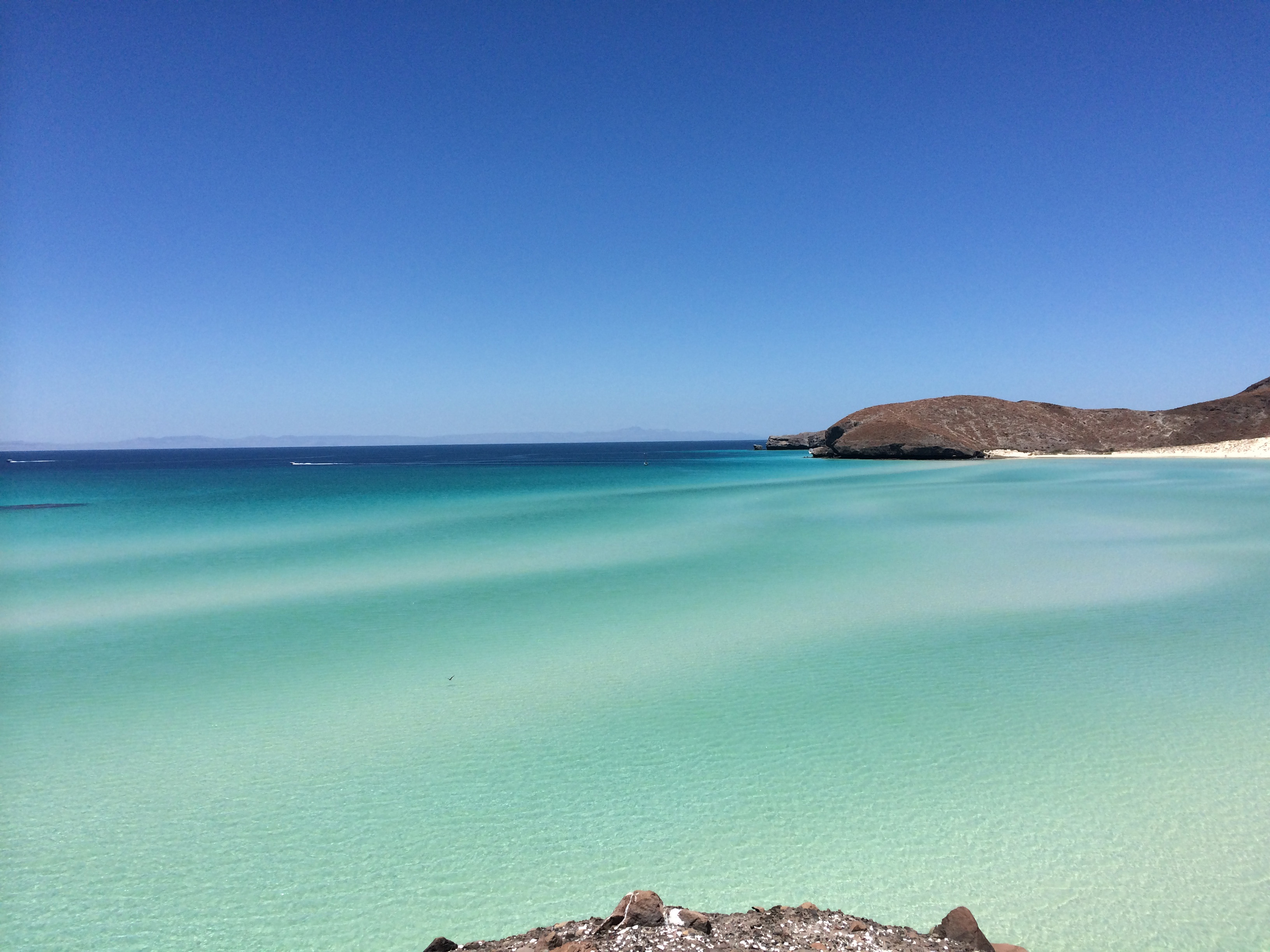 Balandra is not known for being a very tranquil place to spend the night, but, you know us, we're hard core. It was NOT a very tranquil night and the Captain didn't sleep well, I even woke up in the middle of the night and crankily thought "what is this all about?!" before I fell back asleep. We planned to get out of there early and head to La Paz. But first, we should check out the other side of the bay – there are two beaches I never got to go to, and probably some good snorkeling. Well, the snorkeling was ALL TIME! We swam in and around a little reef island and it was just magical. I spotted a shell of one of the puffy sand dollars and wanted to get it. It was my first real motivation to try to dive down to the bottom, fighting against the buoyancy of my own bottom. I actually touched it, but it was between coral and I chickened out and/or lost breath. Jonny ended up getting it for me. It's not quite as amazing as the one I found a few years ago at Punta Chivato (camping trip) – that one looks like a turtle shell and was my prized piece in my extensive shell collection (which now belongs to my nephew). We checked out the beaches and hiked up a huge white sand dune and marveled at the view from this side.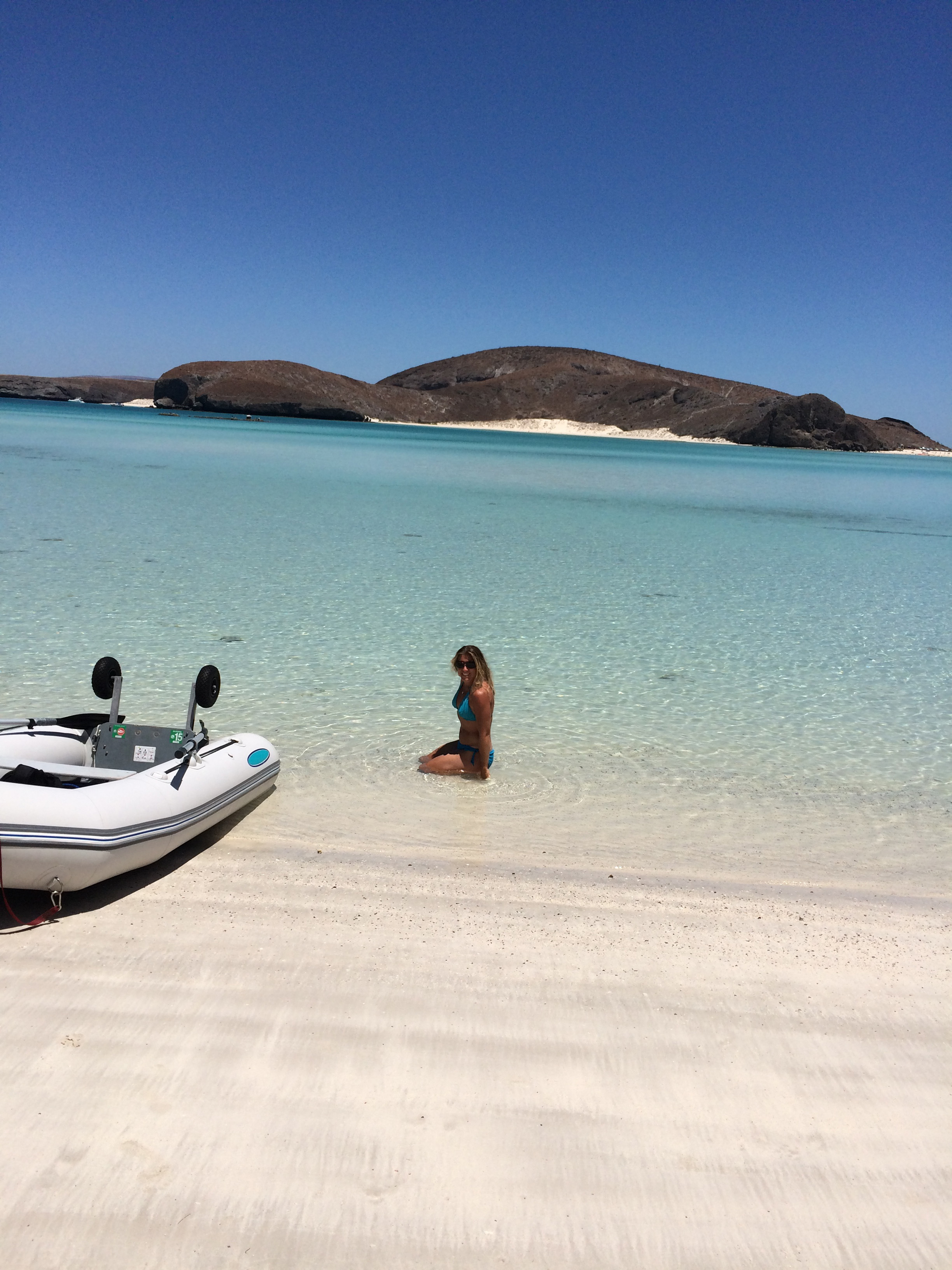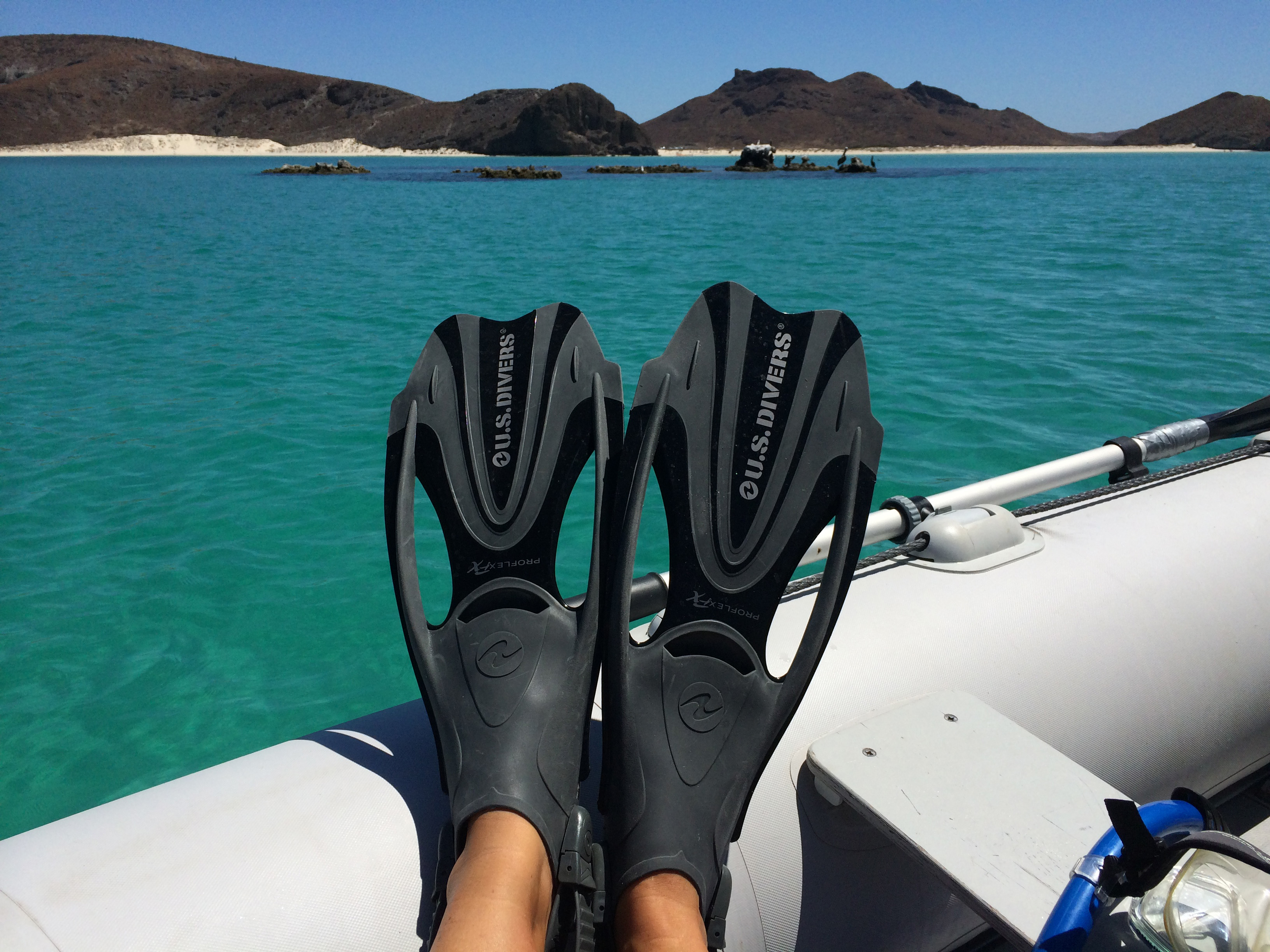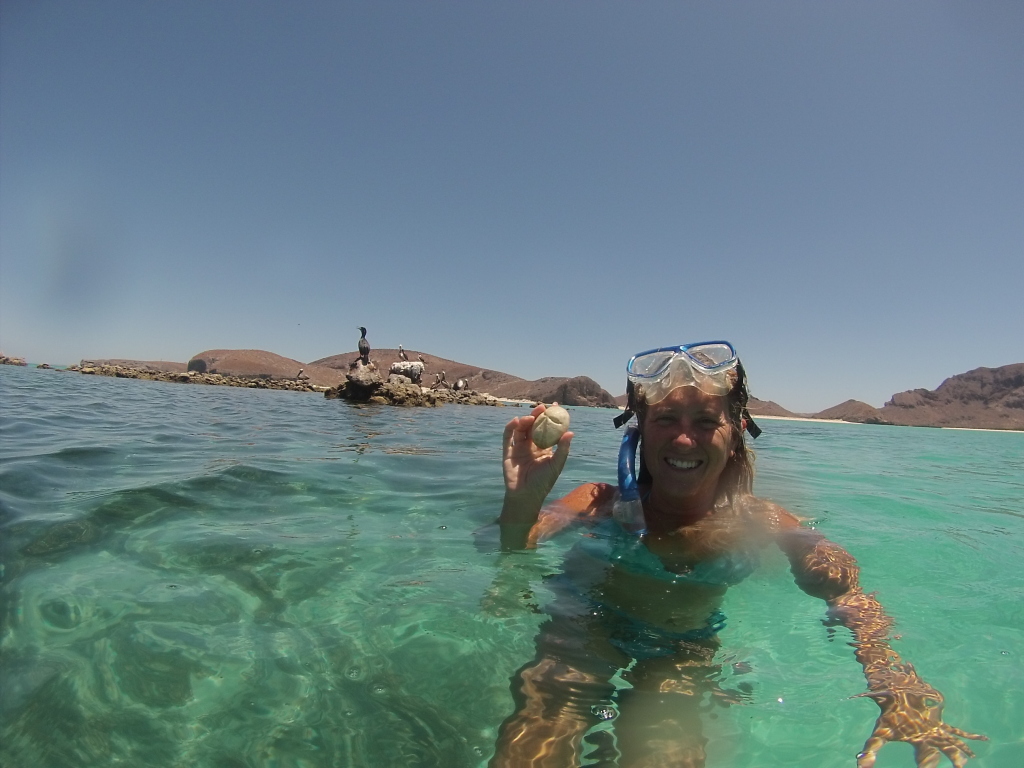 We left quite a bit later than planned, but we did actually leave. It had been about eight days since groceries with only one meal out, so we were pretty well out of food. Plus, it was Wednesday and we had it on good authority that there was a good pizza place that had two for one pizzas on Wednesdays (I texted Jon from Prism for the name). It was just a couple hours to get to La Paz.   Entering La Paz was far more exciting than I imagined it would be. It feels like such a familiar place to me, we've driven all the coastal roads and I recognized everything. We passed by the ferry docks, the super expensive marina Costa Baja (aka Costa Lotta), the crazy water slide I've never gotten to go on, the Chinese hotel we used to stay in and the Malecon. We ended up anchoring far out near the navy facility. There were lots of boats and a variety of places to anchor between the Magote (the weird strip of land that runs along the outside of La Paz Harbor and La Paz itself). We spotted a few boats we recognized as we buttoned up Summer and made our way to the dinghy dock at Marina La Paz. We were at what we used to consider "the way far end" of La Paz. We had a lovely walk along the Malecon, it felt so nice to be some place familiar that I also happened to love. We were so happy to have a rooftop table overlooking the water (I know, we aren't sick of it yet, how weird is that?). The pizza was an incredible surprise- hands down the best pizza I've ever had in Mexico. OK I know that isn't saying much as the worst pizzas I've ever had have been in Mexico (hotdogs on pizza? No thank you), let's say it rivals pizza places in California. As if that weren't enough to thrill me, it turns out they also had CRAFT BEER. I kid you not. We each ordered a pint and then a flight of samples to go with our two pizzas. We finished every drop and crumb and floated back down the Malecon, not missing the gelato place I took mental note of on the way there. Pizza, beer and gelato. I'd say that was a perfect trifecta.
Thursday happened to be organic farmer's market day not far from the marina. It was tiny and there was only one table with veggies, but what a table it was! Apparently there's the farmer comes in from near Santiago (mid-Baja – near Agua Caliente, where we've also camped). We scored a pile of veggies and some sausages, eggs and bread. We spent a couple more days stocking up on food, visiting our favorite pastry shop and restaurant. We were disappointed to see that half of La Fonda, our favorite restaurant, had been sold out to an OXXO (like a 7-Eleven – and like 7-Elevens in the US, they seem to be on every corner around here (I once looked up how many 7-Elevens there were in Chula Vista. Seventeen. For real. Who needs that much crap food?!?). Anyway, our favorite seating area was all that remained. We were the only diners for dinner. We told the waitress how we loved the place and how sorry we were to see the OXXO – she nodded sadly and said it had been almost a year since it arrived. She then brought us complimentary shots of tequila. We were surprised and grateful, thinking she must really like us and we were very special customers. It wasn't till we left when I noticed the sandwich board outside advertising "Free Tequila with each meal". Oh well, it felt good to think we were special for a little while!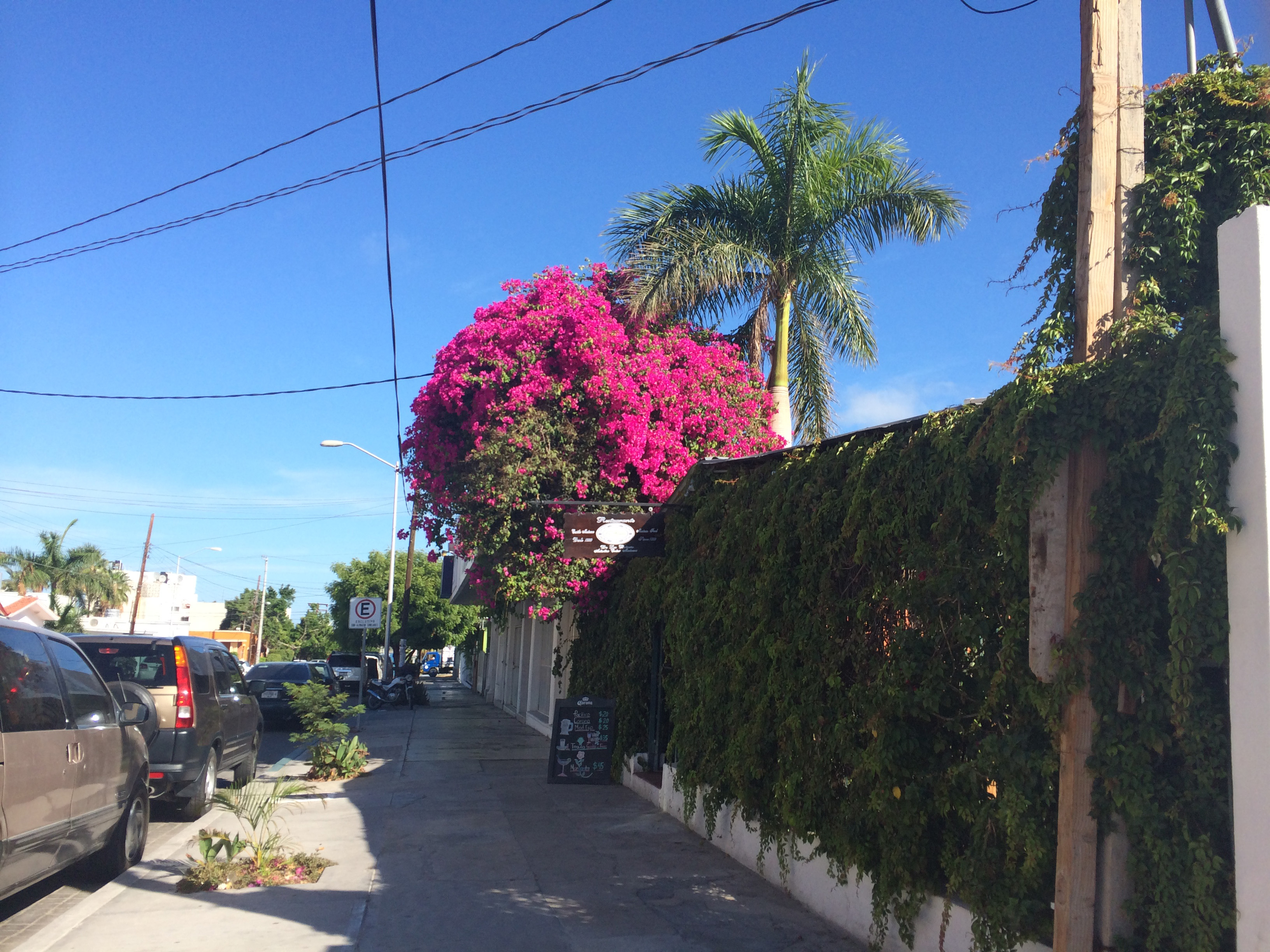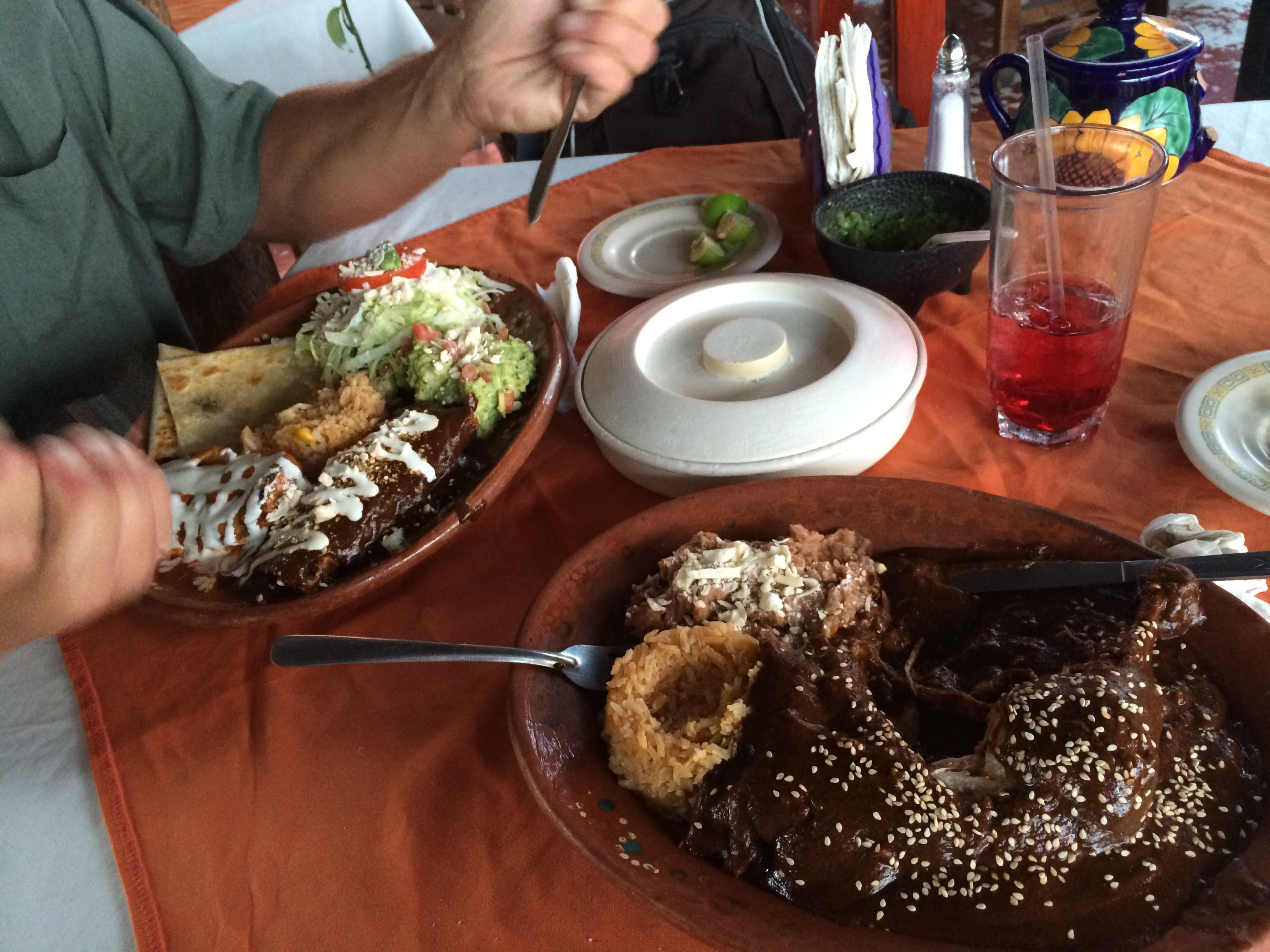 We began sorting things out for our upcoming trip to the States. In lieu of my parents sorting out a big expensive trip to Mexico, they are giving us a trip to New Hampshire, which coincides nicely with our need to renew our tourist visas by leaving the country and returning. We had to figure out which marina was going to be graced with a long visit by Summer. It's all about price and security. As suspected, we opted for the Fonatur – the cookie-cutter government-run marina. They always have the worst locations. This one is 2 miles away from all the other marinas, back in a ditch at the far end of the bay. But oh boy is it cheap! Not only is is now "off season" rates, but if you stay for a month, you get a 25% discount. So, it would cost the same to stay for 3 weeks as a month. So we opted to sign up for a month, giving us time before the trip to take care of a list of projects, and a few days to recover and re-supply before heading out into the Sea when we return.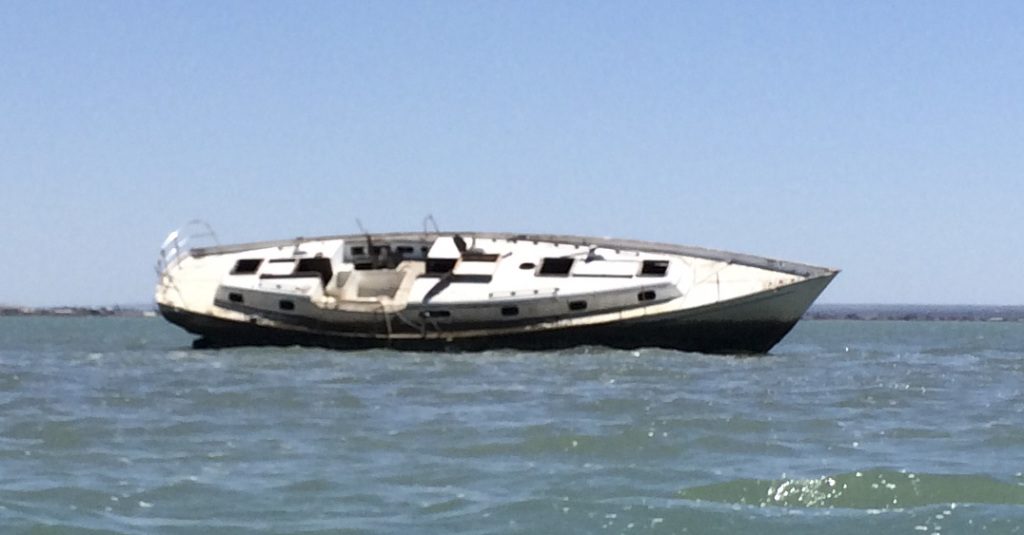 With that all settled, we decided to leave La Paz for a few days. The La Paz anchorage is notorious for "The La Paz Waltz". Weird wind and currents often have boats dancing around in a variety of directions. Normally boats at anchor will all point into the wind, and swing around together and usually avoid knocking into each other. Not so in La Paz. Things being kind of crazy at anchor, coupled with the fact every time we go ashore money just evaporates from our purse (15 pesos to dock the dinghy, 15 pesos for a shower, and that's just after going 10 feet onto shore! etc.), made us ready for a little quiet island time. We decided to check out Bonanza anchorage at Isla Espiritu Santo. It is just over twenty miles from La Paz, so we figured we'd get a couple nights in and then head back to hang out with Alex and Naomi from Lunasea.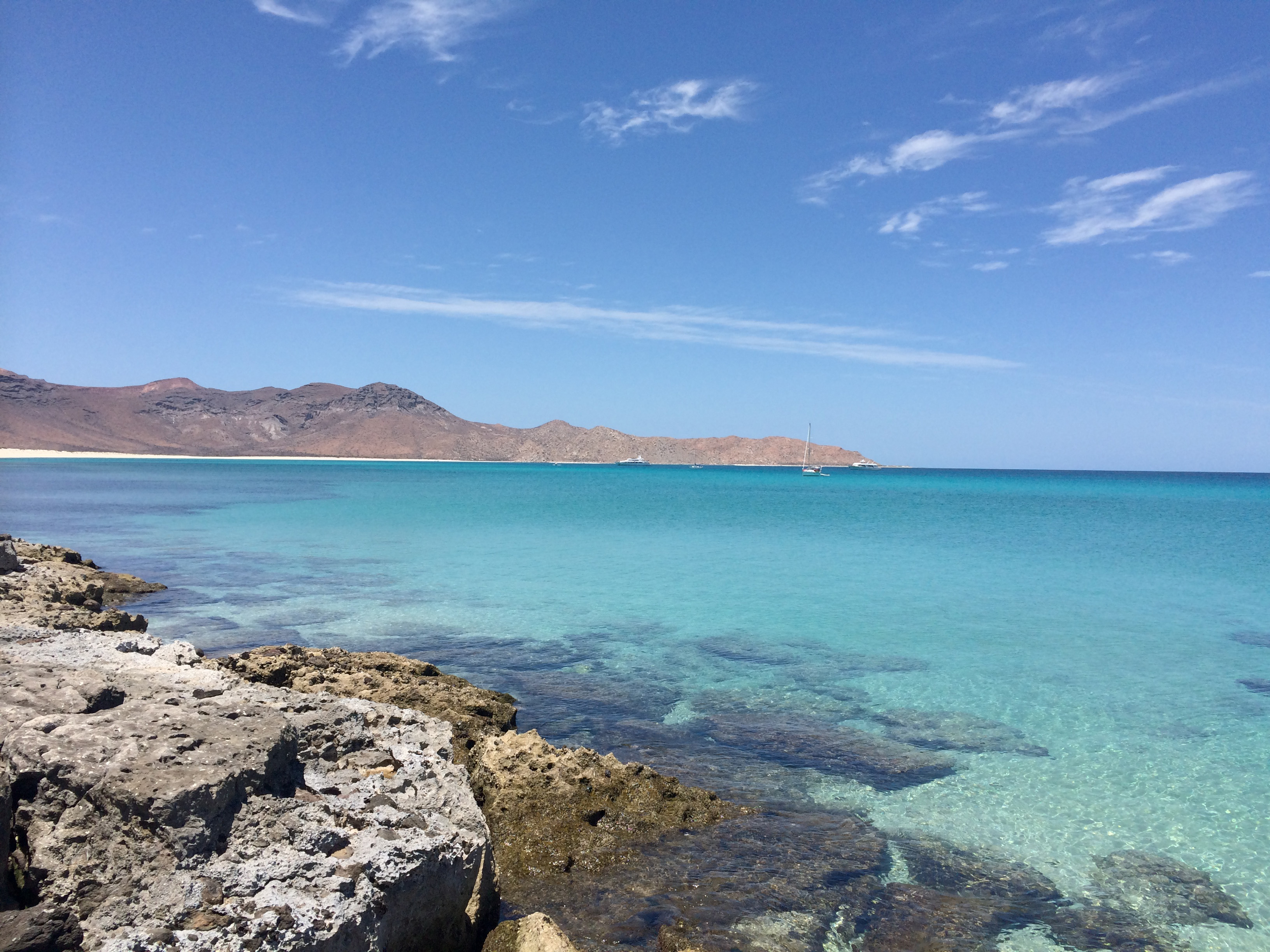 Bonanza has turquoise waters and a 2 mile long white sand beach backed by pristine desert landscape. Epiritu Santo (like all islands in the Sea) is a national park. There are ton of anchorages on the other side of the island, too, which I hope to visit in June on our way north. Poor Jonny had a sore neck (bad nap?) and wasn't up for doing much. We managed to get ashore and set him up on the beach under an umbrella. I took off to explore the desert and beach. I had forgotten how complex and beautiful – and QUIET – the desert is. I found myself wandering in and around the cactus and spiky shrubs that want to stab you. I saw a long eared rabbit hopping away from me, cactus bones and beautiful orange flowers. I walked through the desert all the way to one end of the beach where there was a giant rock point. That end of the beach was just gorgeous. The sand was so white and covered in perfect coral specimens and white shells. You could clearly see how they make white sand!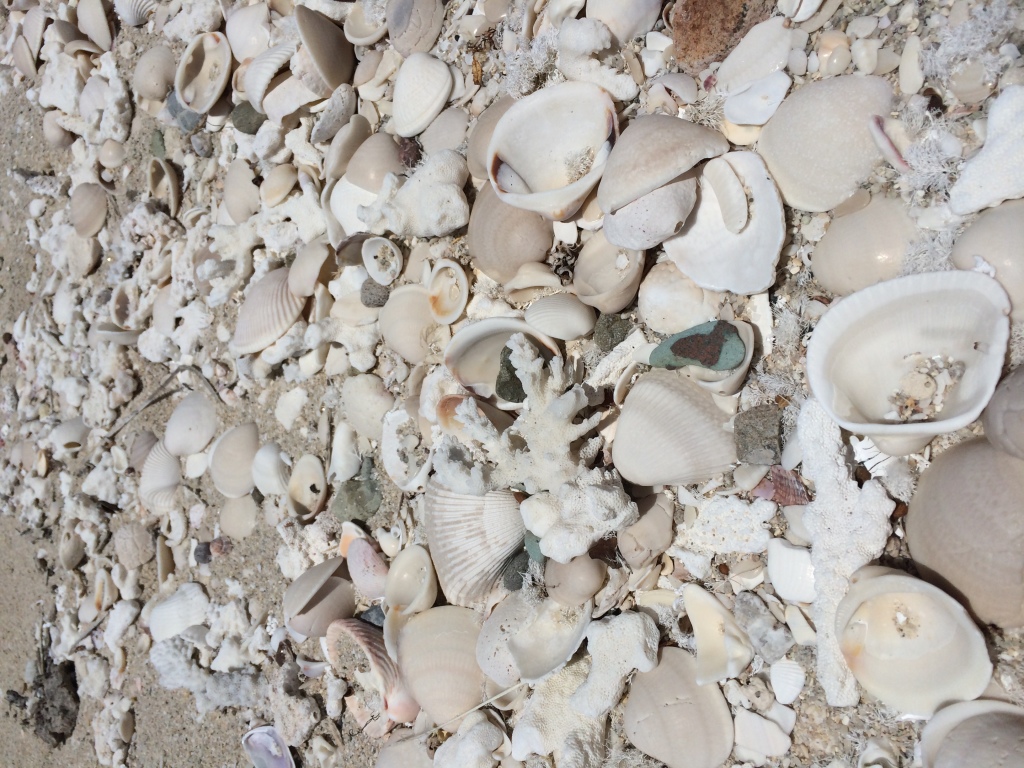 The water was crystal clear and black crabs were scampering all over the rocks. I was just in awe of it all.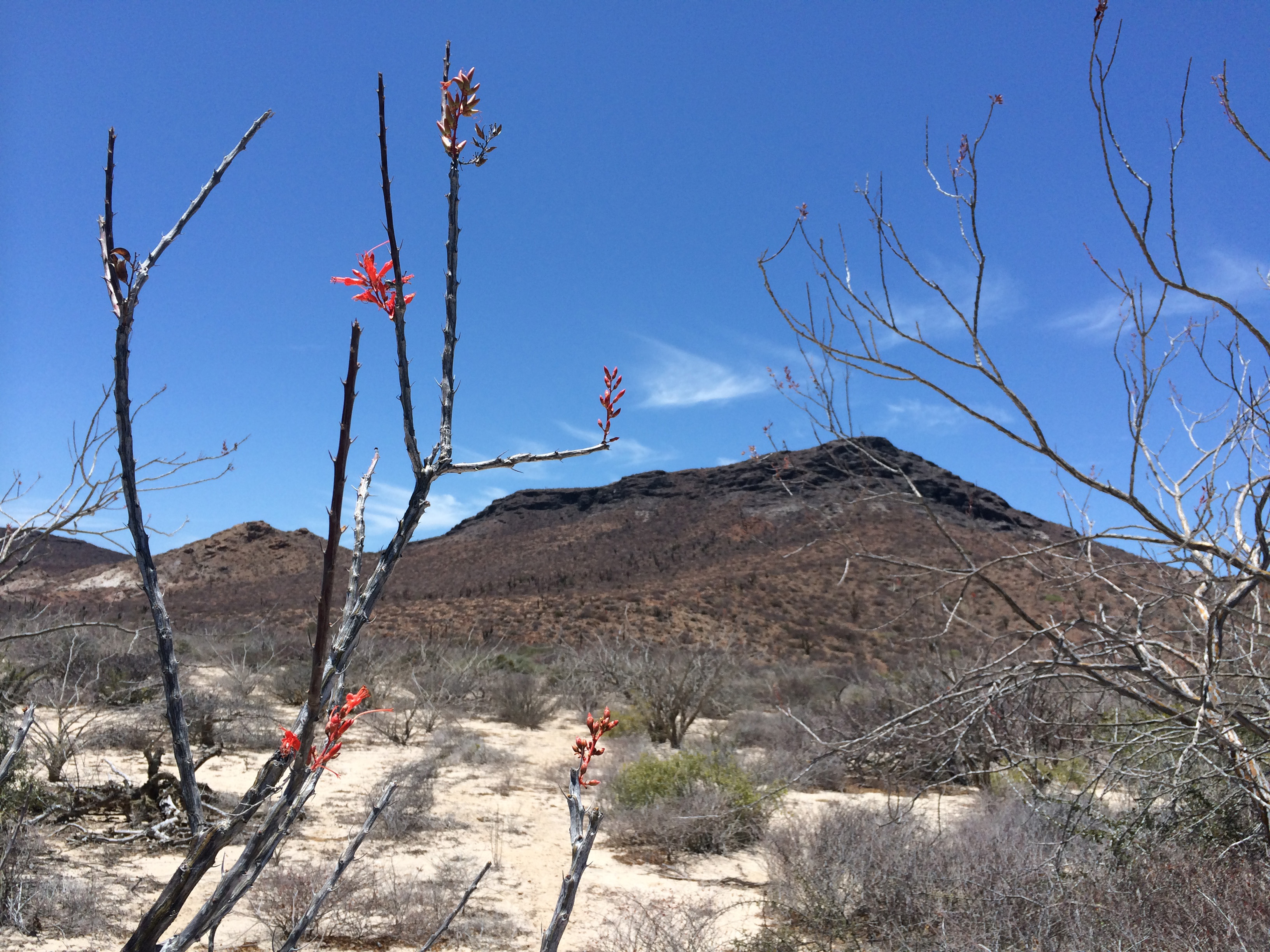 The tranquility and beauty was soon shattered by angry seagulls trying to peck my eyes out. They made loud barking noises and swooped directly at my head. The first time it happened I ended up throwing myself onto the sand and tossing handfuls of sand upwards. It was rather terrifying. But I soon figured out that they weren't really going to make contact with me, they were clearly warning me, though.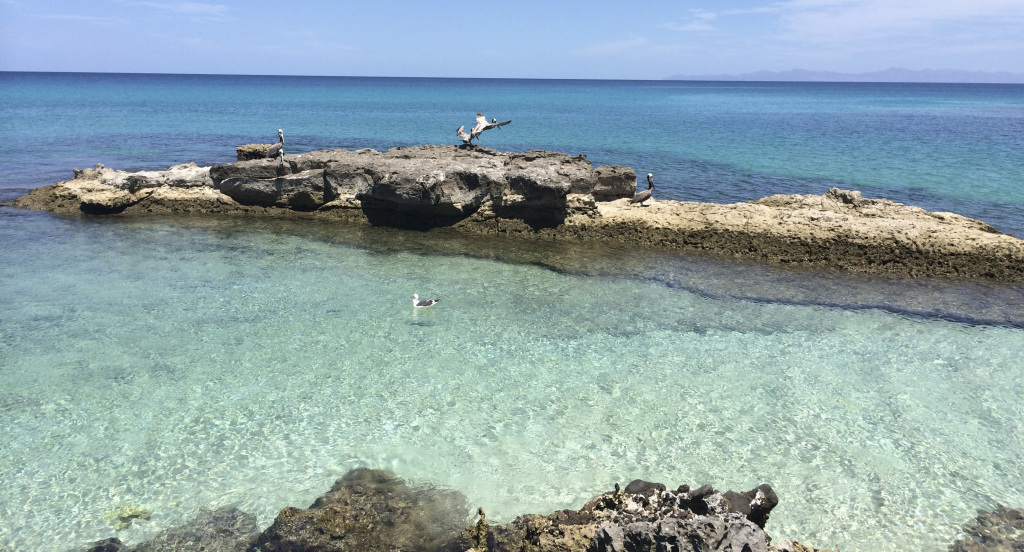 There was a long row of these territorial, Hitchcock-like seagulls. I had to go way up the dune towards the desert to get by them all. When I got back to the umbrella, Jonny was sorry he missed out on watching my attacks – but luckily I had a video. I accidentally forgot to turn off the camera, so this video actually went on and on for minutes, very "Blair Witch Project", but this shorter clip will give you the idea.
We had a bit of a wind event and Jonny needed to let more anchor chain out. It was kind of rough and he ended up hurting his neck a lot more. There was no way we were going to leave on the 3rd day. I made him a neck brace out of rolled towels and he spent an entire day holed up watching movies. It was a good opportunity for me to get some confidence taking the dinghy ashore by myself (yes, that's what it was, it definitely wasn't payback for all the times he's left me alone, flat on my back in pain…).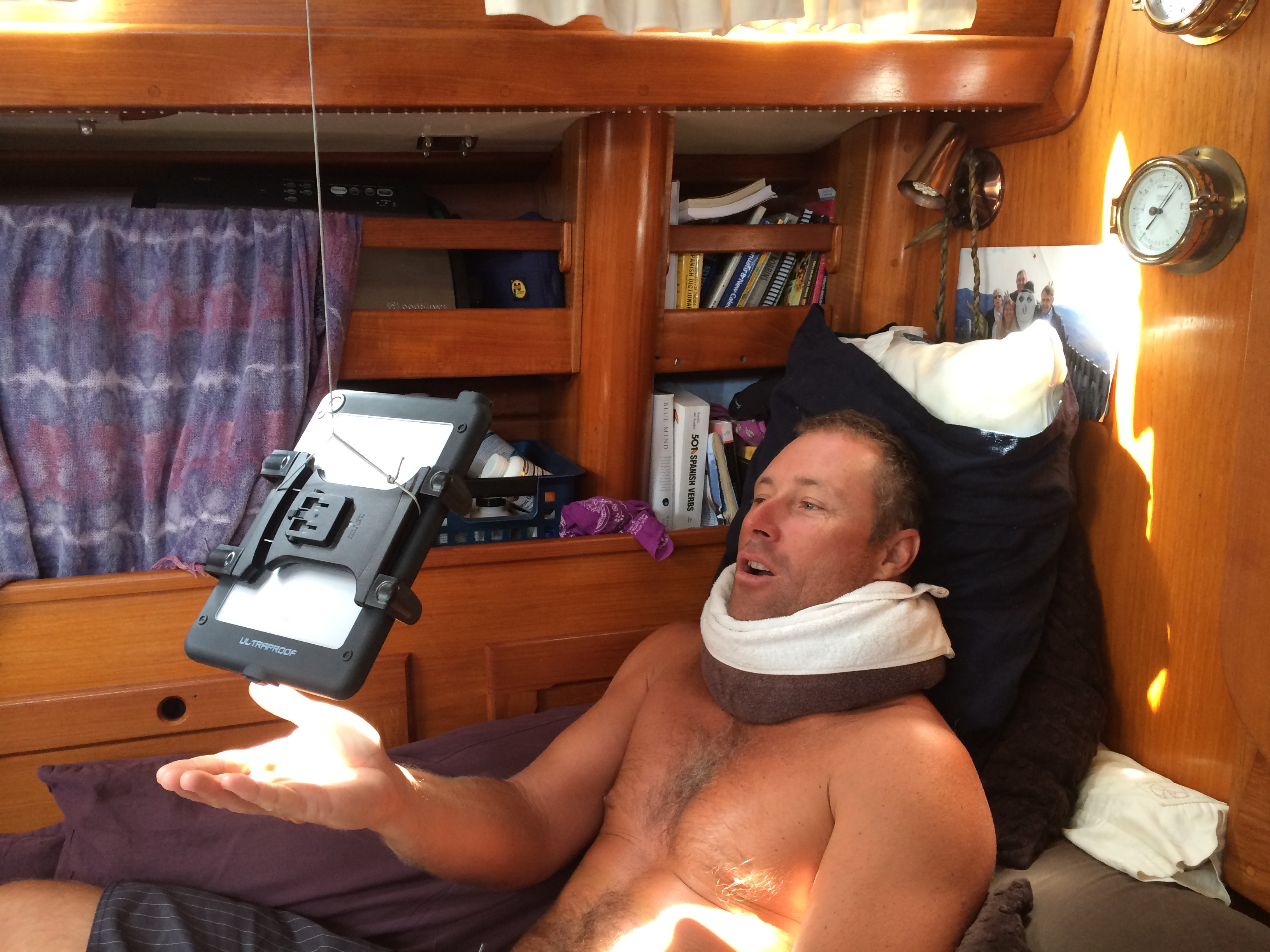 I went to the other end of the beach and dragged the dinghy as far up as I could by myself. I found two huge pieces of coral to put the dinghy line around, just in case the tide came up. I set up the umbrella and felt pretty satisfied with my solo beach landing skills. I did a long hike on the dunes between the beach and desert. So much I wanted to explore! Mounts to summit, critters to see, shells to sift through. I could spent a full week at this place! As I was heading back towards my umbrella, I noticed it had blown over. So I ran along to save it, figuring I could come back for shell-peeping after. After I got everything settled, a mega-yacht pulled in an anchored right across from me. It spilled out a dinghy and a jet ski. A guy started zipping back and forth on a jet ski. Peace and quiet ended by the rich and famous, I grumbled. But the guy gave me a big smile and wave as he passed by – he looked so happy I couldn't help but smile and wave back. Next thing I know, he comes back with another guy. They land right next to Peugeot walk up to me. My "woman alone, wearing only a bikini, far, far from anyone or anything" instincts give a little jolt: hyper-analyze these guys and don't mention your husband is incapacitated!! But I was immediately disarmed by a handsome guy holding two beers and a bag of chocolate chip cookies. He offered me a beer and the cookies – which their chef had just made. Apparently if you give me beer and cookies, I'll be your best friend. Who knew? Turns out these guys were not 1%-ers on a romp – they were five hard working guys enjoying a perk from their vendor on a company yacht. I'm terrible with names and I forgot my camera that day…but (Jim?) the vendor in charge of making sure these guys had a good time, was the one who brought me the beer and cookies and he looked vaguely familiar to me (never figured out why)- easy going guy who used to be a yacht broker. The other four guys who came ashore were obviously having the time of their lives on this trip. They were all so happy and relaxed –it was their last day before they had to go back to the grind. They invited me to bring Jonny over later in the evening for drinks and to see the boat. I REALLY was dying to see the inside of one of those boats – but unfortunately poor Jonny's neck was too messed up –and I wasn't going to leave him to fend for himself in the evening, too.
The next day we managed to pull anchor and head back in to La Paz. We anchored at the beginning of the harbor to avoid anyone doing the La Paz Waltz. Alex and Naomi were up for dinner, so we went ashore to shower and meet them. On the way we ran into Aldebaran and stopped to visit with Lynne and Rob and their friends (Chris and ? – see, I'm terrible!).  There really are no 'quick visits' in the cruising world – but we just roll with it and managed to drag ourselves away before it got too late.
We shared arrachera (yummy marinated/grilled meat with all the fixin's) for dinner and then I dragged them all out to the gelato place. We love hanging out with those guys – and happy that was about as wild as our nights ashore get.
We had one more day in La Paz to load up on groceries, have breakfast at La Fonda – our favorite restaurant-turned-half-OXXO and we headed up to the marina. Marina time always means "work your ass off". We had a list of projects to do to prepare for the summer and for our two week trip to the States to visit my folks. "Summerizing" the boat, as it were (that makes me laugh almost as much as "our solar system") is quite a bit different than winterizing. It gets HOT – and so far we haven't experienced nearly the temperatures we will find in the northern Sea. Our teak work was over-due for a maintenance coat of Cetol – and the sun/UV is really harsh on that so we didn't want to let it go. We put in SO much work getting it that way, we're not ready to give it up yet. But we do know eventually we will let it go, strip it off and just do an oil on bare teak thing – this Cetol stuff is SO much work!. We did some of the maintenance coats in San Diego, but ran out of time and figured we'd finish down here. We spent an entire day taping and scuffing up the toe rail and cockpit coaming. At 5:00pm a guy from the marina came down and informed us we were not allowed to sand, paint or varnish by ourselves at the marina (environmental reasons, they claim, but we saw some pretty harsh-to-the-environment stuff going on in their boatyard…). We HAD to put a coat on because we'd already scuffed it all up. So the next morning we left the marina and made our way out the long narrow/shallow channel and anchored. We got our teak coated in just over an hour and then we had to wait all day for it to dry and for high tide so we could get back down the channel. We kept ourselves busy with plenty of other projects. Jonny got the oil changed and I went through all our supplies and took inventory and reorganized and cleaned (yes, I still love doing that stuff!). We were thinking of maybe getting up at dawn and putting the 2nd coat on the next morning, before marina admin came in. But that evening, the guy from the office came to the boat with a clipboard. He went on and on for quite some time about gathering signatures, and a boat in slip C-2 that caused a great deal of problems and on and on. I had NO idea what he was talking about; I thought he wanted me to sign a petition of some sort to save the world. Finally he handed me the clipboard and there was a piece of paper stating in both English and Spanish, that I solemnly swear not to sand, paint or varnish my boat in the marina (or something along those lines) and it had a signature line with both my and Jonny's name. Very odd timing! Jonny was off hunting down a beer so I signed it and waited to tell him I think our plans had just been foiled. We didn't dare do anything to piss off the folks who were going to watch Summer for two weeks while we skip town!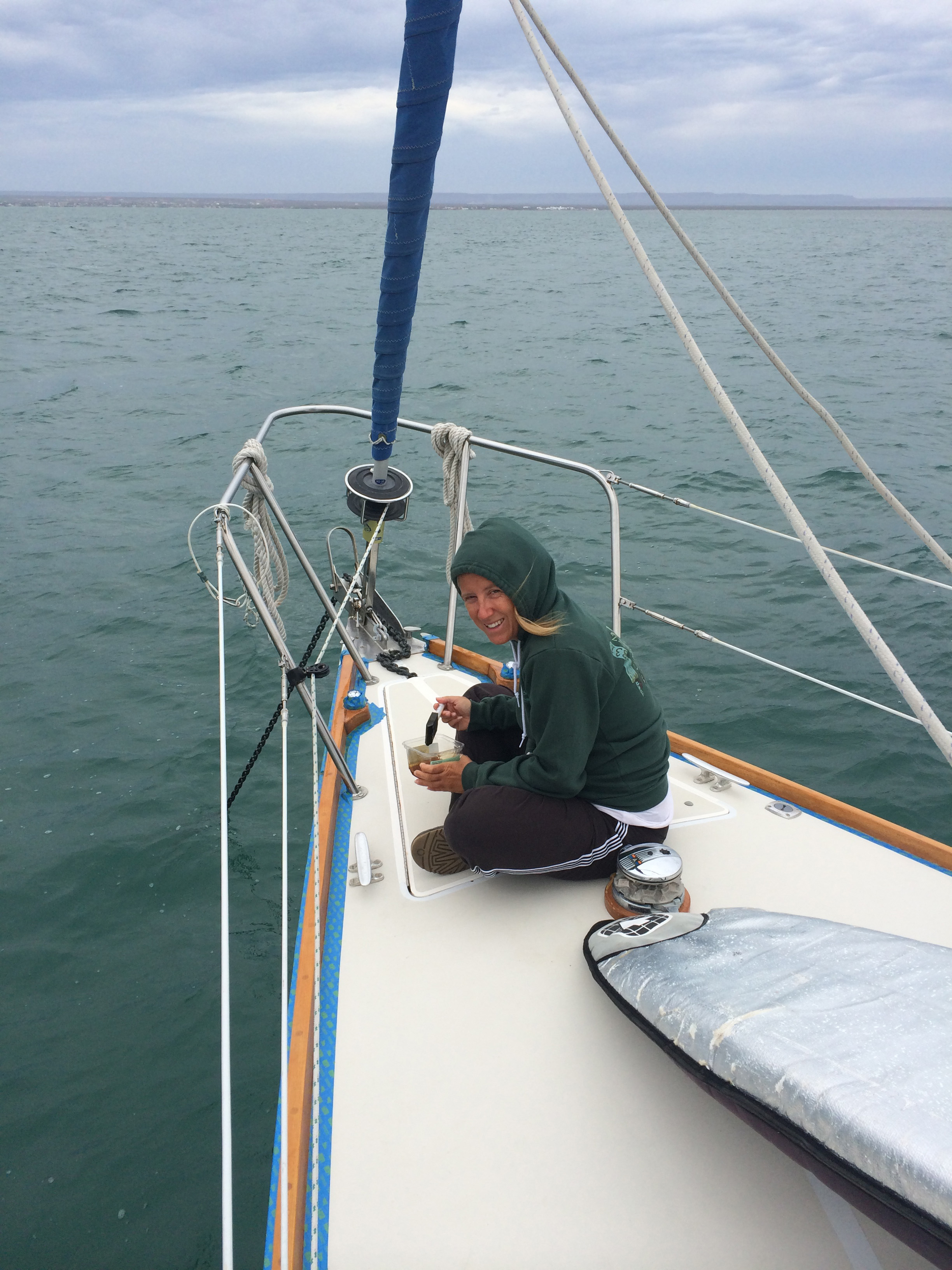 The next morning we motored out again to anchor and put on the last coat. We had too much work to do that involved being off the boat or using Internet – so we could not afford to spend an entire day out there again. But we also couldn't just wait an hour or 2 for it to tack up because the tide was dropping out and it wouldn't be possible to get back in until late in the day. So we hurriedly did our last coat and decided to risk getting back and not messing it up. The tide was already dropping out and we knew it was going to be sketchy getting back down that shallow channel. We picked our route as carefully as we could with what we'd observed the past couple times. The shallowest spot was right between the first 2 channel markers. With some anxiety we watched the depth sounder like hawks. There it goes, 4 feet, 3 feet, 1 foot, under 1 foot…WHOOOAAAA! I felt Summer's keel dragging through some heavy mud, Jonny yelled "Rev it up!!" so I "floored it" and Summer powered through into slightly deeper waters. That sure got my heart rate up!! We are still debating as to whether this truly constituted "running aground". We've had the saying stuck in our heads for quite some time: "There are two kinds of sailors, those who have run aground and those who haven't yet". I believe it counts (based on hearing other people's stories when they said they've "run aground" – I used to think it meant simply crashing into a beach or onto rocks and being stuck there). We managed to dock without messing up our handiwork. Whew. But a poor fly did not fare so well and got his little feet stuck in the wet cetol. Glad to have that task overwith!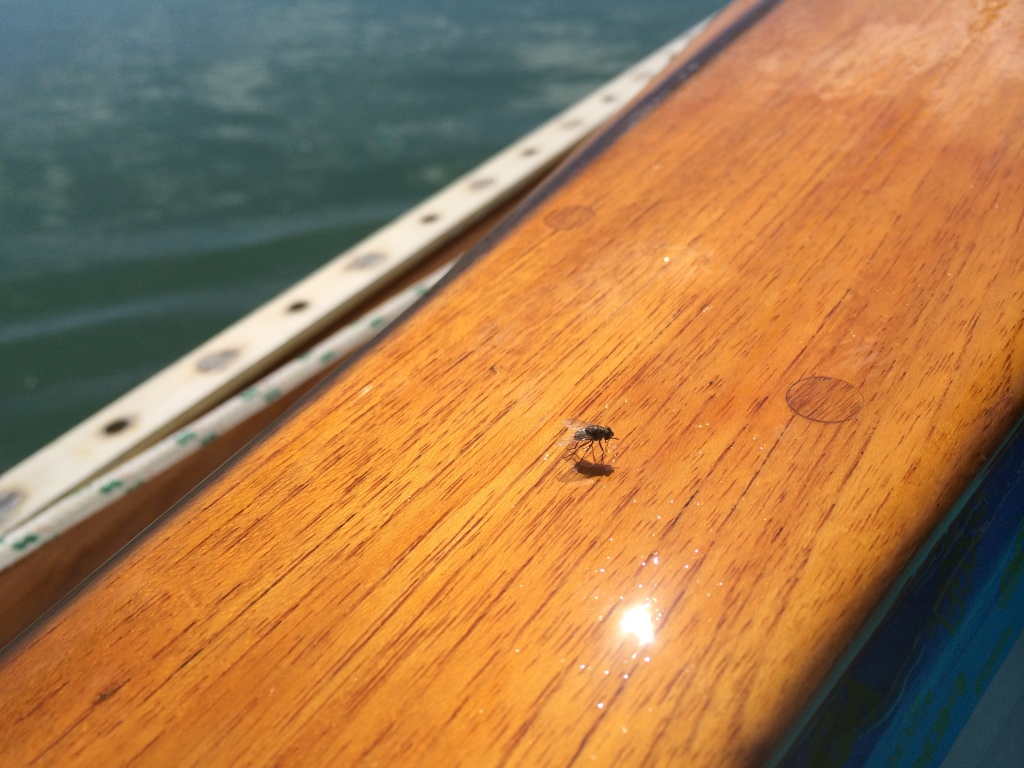 Our next task was to work on more shade possibilities. Our teal cockpit cushions already get so hot in the sun that we can't stand on them barefoot. Shading the boat can also mean up to a 10 degree difference in temperature inside the cabin. Our dodger has zippers sewn into the front of it to allow for an additional bimini to zip onto it and shade the cockpit. We have enough Sunbrella fabric left to make such a shade. We decided to mock up a template with some cheap fabric ($1.50 from the fabric store!) and bring it all home and try to make it with my Mom's help on her sewing machine.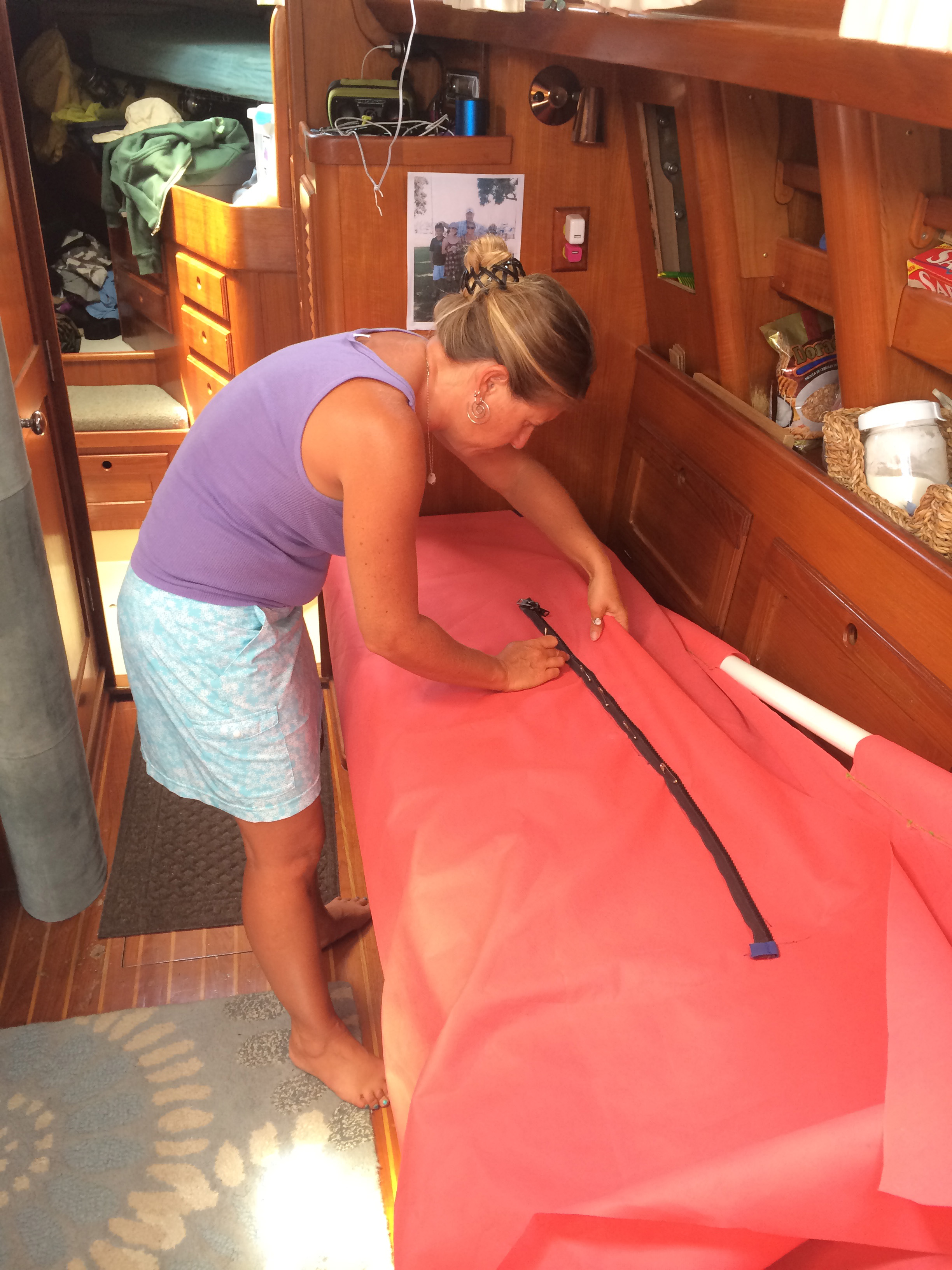 The farther we get into the Sea of Cortez, the safer we will be from hurricanes, but also the more remote it is and less access to food and water. In order to make our fresh water supply last as long as possible, it's a good idea to wash dishes in salt water (with a fresh rinse at the end). Heaving buckets of salt water on board gets old really fast (been there, done that). We decided to convert our hand pump faucet into a salt water faucet. We have three faucets on our sink – the 'normal' one that gives water from our tanks using the 12 volt water pump, the hand pump, which as you may guess, you pump by hand to get water from the tanks, and our drinking water faucet that purifies our tank water through a charcoal block filter and a UV purifier (killing EVERYTHING – we drink hose water and it hasn't sickened us yet!). Jonny made a T from one of the salt water intake lines and  ran it to the hand pump. Now we can do dishes with salt water without heaving buckets! With this we can pretty easily go 3 weeks with our 100 gallon tank.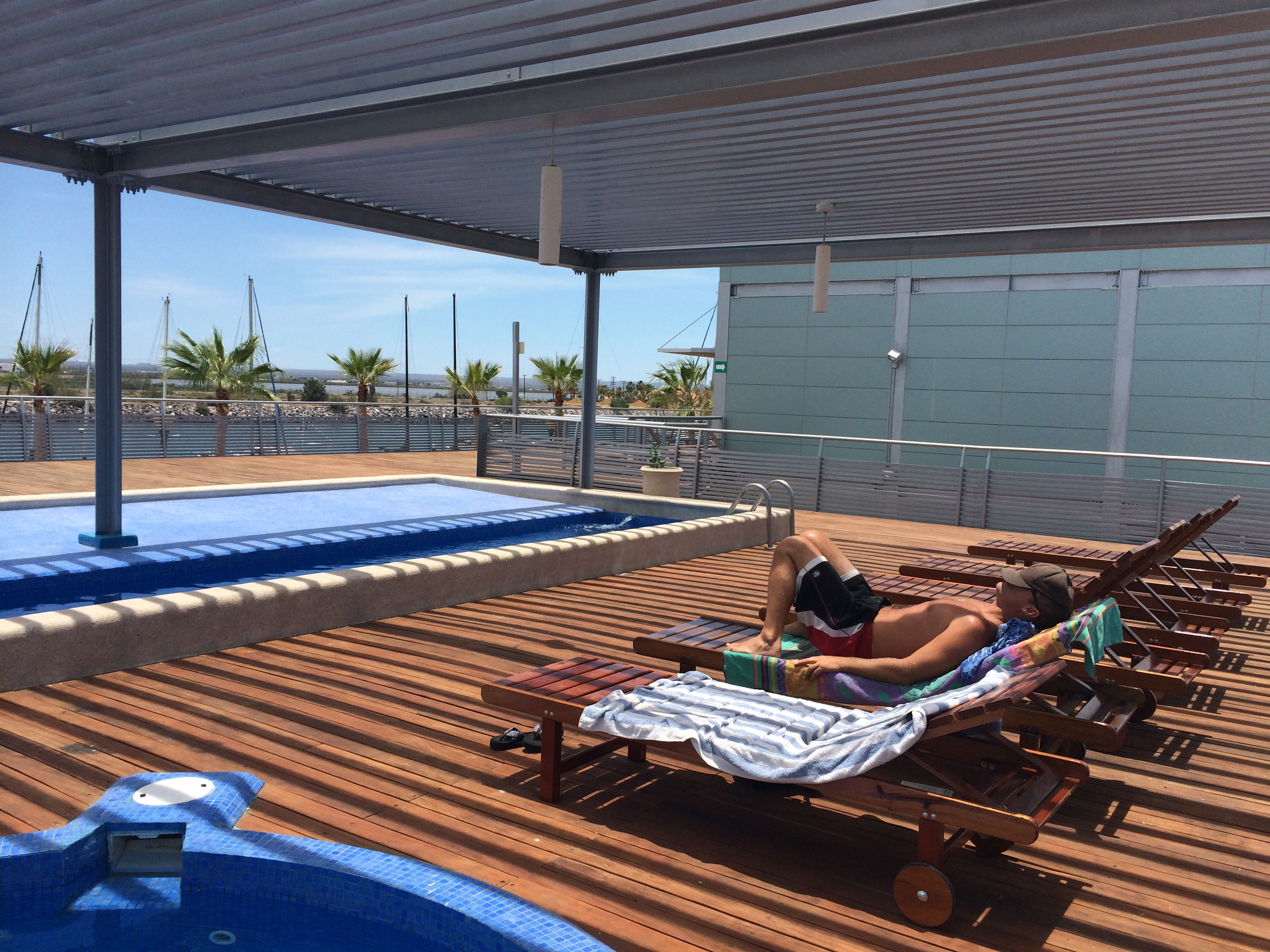 Laundry, arranging airport transportation, placing orders for stuff we want to bring back from the US, cleaning/stowing the dinghy and cleaning/defrosting the fridge and otherwise preparing the boat to be left alone are a few of the other things on our list.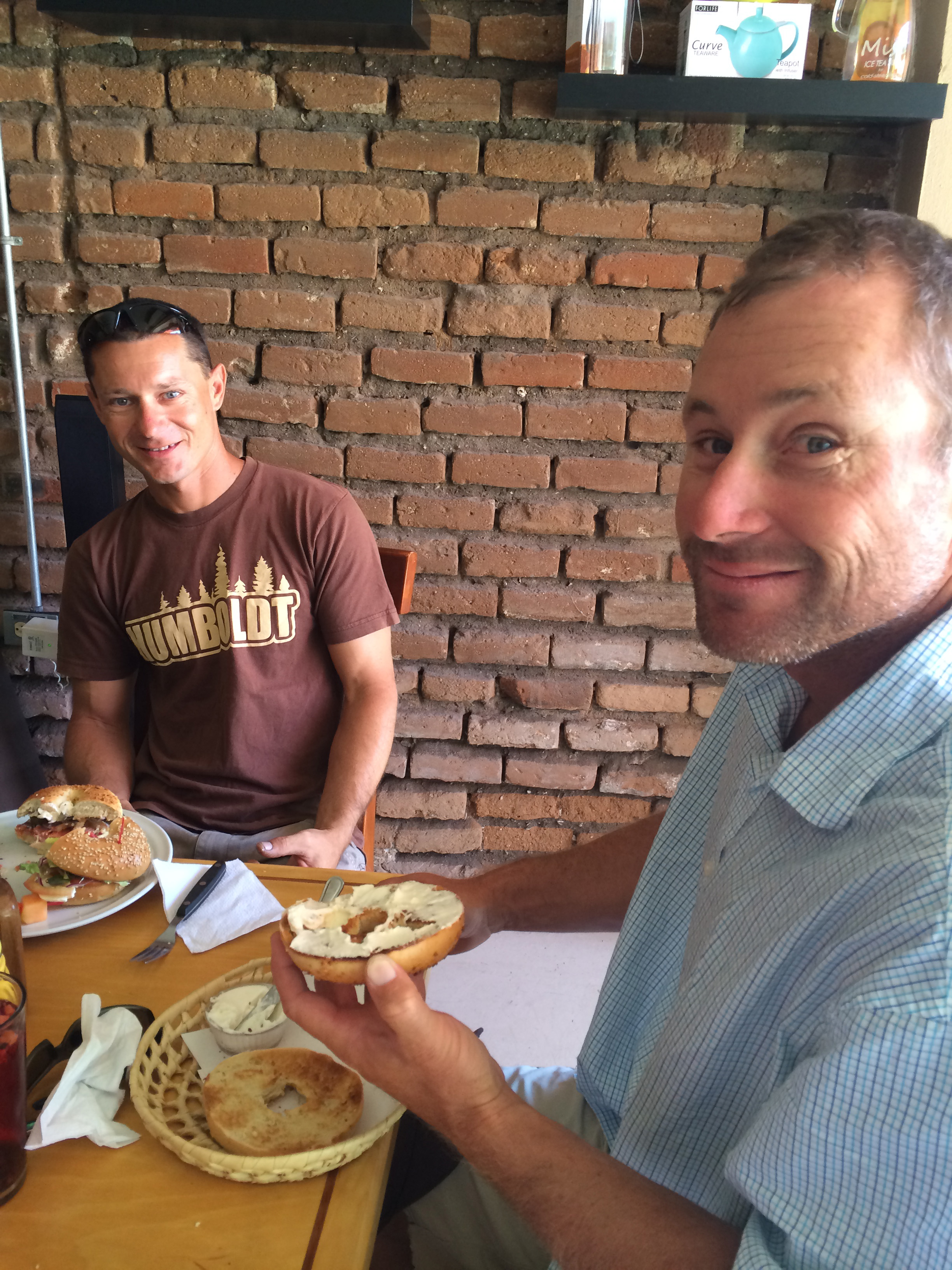 We also made time to go into 'town' (back where the other marinas are), to check out the nautical flea market going on. Our friends Alex and Naomi on Lunasea met us there and had offered to take our propane tank for us and bring it ashore to get filled. There's a service at the marina there where a guy takes everyone's tanks out to the propane place and gets them filled and back by the afternoon. Jonny locked our tank into their dinghy and we hung out for a bit. Naomi was telling me how she's just met Megan and Jonah and they were also from Moss Landing. As I was saying we'd met Megan briefly and thought we saw them on Orion down in Muertos – Megan walks up to us and says "I think I heard my name!". So we finally got to talk with Megan and Jonah- they're awesome! They will be up in the sea with us this summer as well.   Later in the week we all met up for 2 for 1 pizza night. Megan and Jonah had 3 friends along, too – from Santa Cruz (Chris, Chris and Matt. One Chris had come down to buy a boat in La Paz and his friends were there to help him bring it home. That made 9 of us for pizza night – we got 8 pizzas for the price of 4 (and lots of beer), which seems like a much better deal than 2 for 1! We had a lot of fun and we're so looking forward to spending more time with this crew (and really happy to have "girl-time").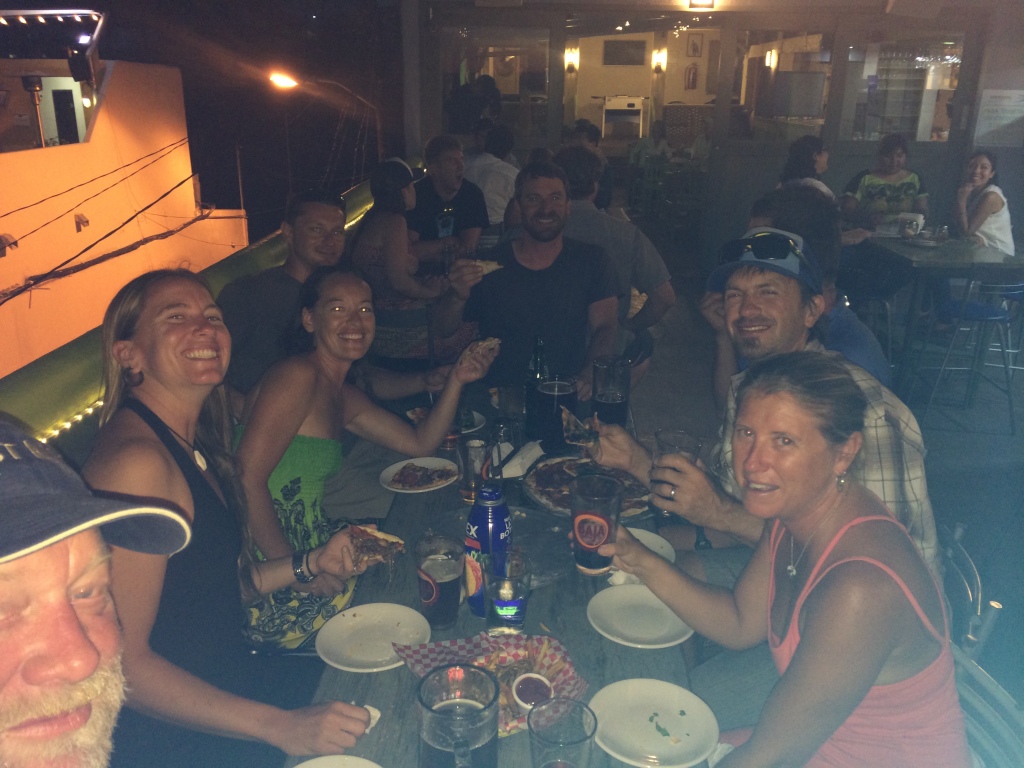 We leave Monday morning at 6:00 in the morning, if the taxi we arranged actually shows up at 4:30am. Fingers crossed!!