I know, I know, it's been a while.  Get comfy.  This isn't even going to get you totally current, but should hold you over for a bit longer.
We stayed on for a while longer in Chacala (surprise)– as we had plenty of time and not far to go to meet up with my family. We had some great days there. Jonny got to surf a lot more and we really liked the anchorage. We had a couple more rain storms but it never got really rolly again. We put out a stern anchor which helped a lot with the rolling.
I got the brilliant idea to start rowing the dinghy around for exercise. As usual I overdid it a little on my first go. It was fun, and it felt pretty good! So I kept going. And got pretty far away and had a tough row against the swell back. Two days later I woke up with major back pain.  My weird and twisted lower back (not to be confused with my sense of humor) did not appreciate the rowing motion. I could walk and I could lie down, but anything in between was agony (getting up? Sitting? Not so much). Kind of a bummer because there is a lot of that in between stuff you need to do when living on a boat.
In the afternoon our neighbors stopped by to meet us on their way into shore. Ryan and Nicole on Naoma are our age and turned out to be AWESOME. We all talked so long that it got dark and they abandoned their trip ashore.   Definitely people we wanted to hang out with again. Ryan was anxious to check out the surf with Jonny. The next day they were rarin' to go and I ended up going ashore with Nicole. Probably a mistake given my back situation, but I didn't want to miss the opportunity for a 'girls day'. Such a rarity and it was great to get to know Nicole. The four of us had a really fun dinner together on their Erikson 38 that night. (check them out- blog and website)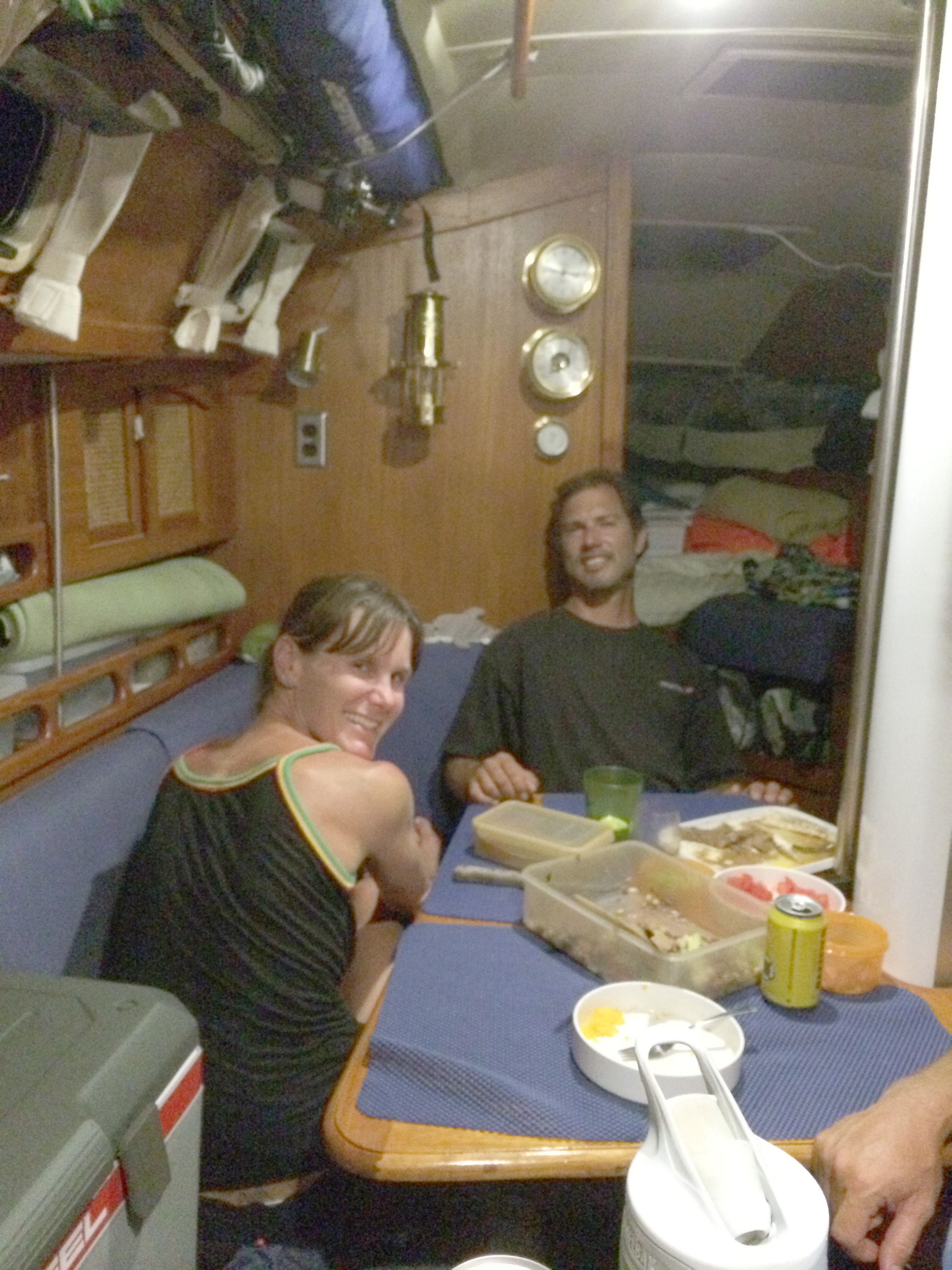 The next day I pretty much had to stay boatbound and heal up – I definitely overdid it going out and about. I started to get some inkling of how scary it would be to be REALLY hurt or sick and out at anchor. Not fun – so many added layers of challenge to deal with. But you can't go on worrying yourself too much I guess…
It was time for us to pull up anchor and head into a new adventure. We had thought we were getting to La Cruz de Huanacaxtle a few days before my sister and kids showed up, but we dilly dallied and suddenly arriving the day they arrived seemed fine, too. We had a lively sail from Chacala to Punta de Mita – gorgeous, warm and plenty of wind. Jonny fished and lost a lure – no big fish dinner for us. We had planned to go out for a nice dinner in Punta Mita anyway. Thanks to our friends Van and Susan (Van, being our first informal sailing instructor oh so many years ago in Santa Cruz)
– Van found our 'secret' DONATION link on the site and made a generous donation so we could enjoy a nice dinner out with a special toast to them [THANK YOU!!! SO GRATEFUL TO YOU!].
It was windy and a little rough when we arrived and anchored, and we were both a little cranky that I hadn't been up to par (due to my back). We quickly realized that deploying the dinghy off the deck for a rough ride into shore and an unknown dinghy landing area to hunt for a restaurant and have to make our way back in the dark only to get up early and finish the trip to La Cruz the next day…..yeah. No. We made pasta on board and holed up with a movie for the night. A romantic dinner out was put off to a better occasion – and very much looked forward to!!!
We had a lovely sail from Punta Mita to La Cruz. The wind was good, but a little weird and fluky around a few corners. Jonny caught a huge sierra after a good fight (and losing some progress, but we weren't in a hurry). It was big enough to feed all of us, so we were excited to be bringing that in. Hung it by the tail and dragged it behind the boat as we normally do.
We made it to La Cruz with enough time to get the boat situated and get ashore to meet up with Sandra (my sister), Kiyomi (niece) and Adin (nephew) at the house they had rented. As we were anchoring I heard the engine make a funny noise. I stopped and called Jonny back and tried to describe the weird chunking noise I'd heard. We started back up again and didn't hear anything. I must be going crazy? We got anchored and were putting stuff away and cleaning up. It was HOT! We were tired and gross and would've loved to have a swim, but we'd cut our time a little too tight. Jonny went to get the fish cleaned and filleted. He pulled up the line and…NO FISH! It didn't take long for us to realize what that chunking noise was when I was in reverse, anchoring… Yep. We backed over dinner. Our propeller chopped it up into a million pieces to feed the all the little fish down there. No fish for us. Again.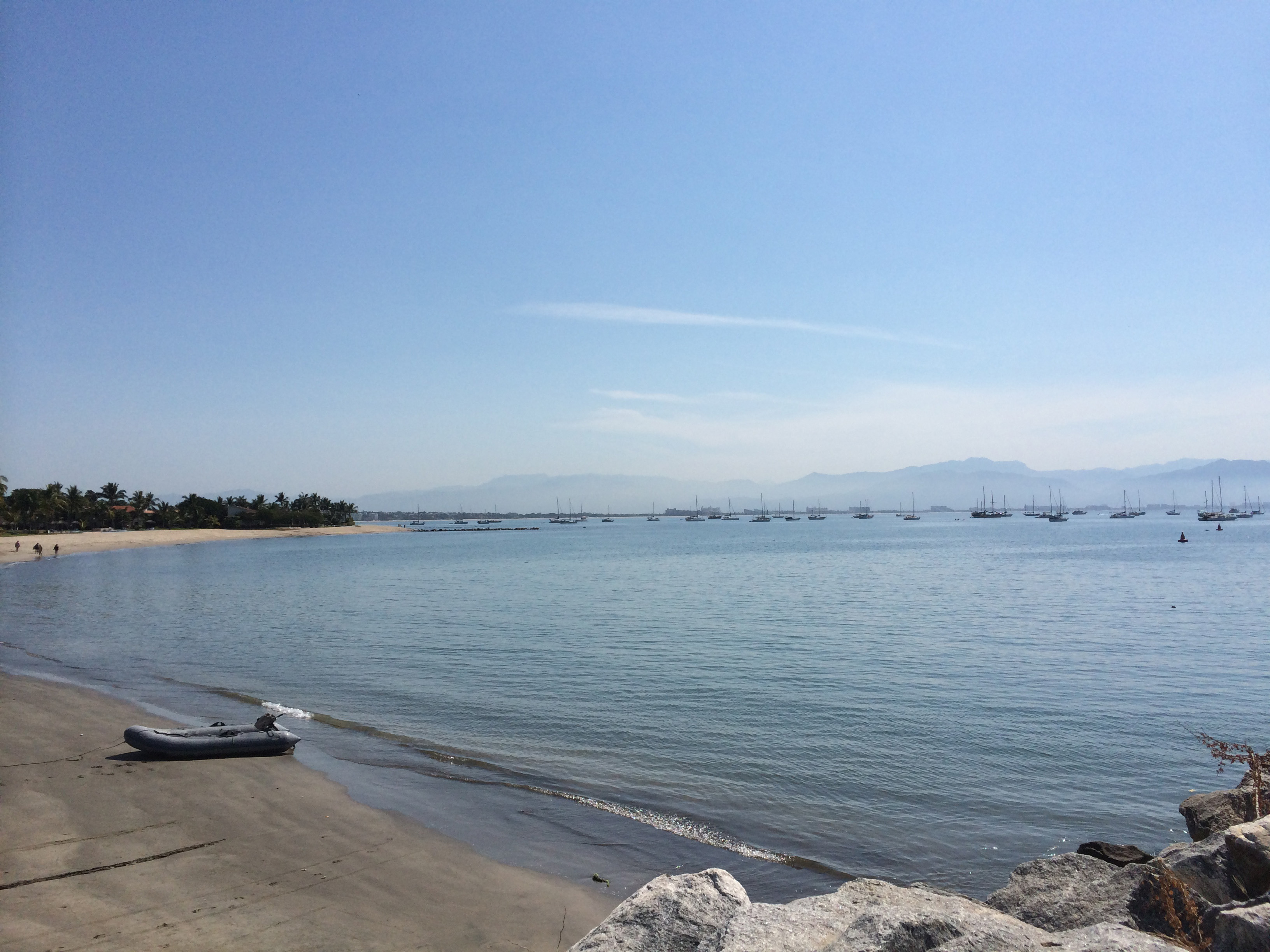 We found our way ashore and located the dinghy dock (not at all where our guidebook had said it was). We did some walking around to try and locate the streets to take us to the house – made a few wrong moves, but eventually found the right street. As we arrived we saw everyone inside the gates – they had just arrived as well. Good timing.
We met the owners of the compound and learned there were 4 units in the one house and their apartment was a tidy little place in the back on the ground floor. We had it in our head that it would be a sort of 'home base' for us as well – showers, laundry, hang out etc. I was very much looking forward to a shower!   We had our 'hellos' , showers and hung out a bit before going out for tacos. We were pretty tuckered out from 2 days of sailing and all the associated tasks – so we headed back to the dinghy dock with everyone tagging along. We managed to find Summer out in the dark sailboat parking lot that is La Cruz anchorage.
The next day we discovered that use of the laundry at the apartment was off limits to us. Bummer. We'd been saving up for over a month! We would discover other options, but it took a while and we eventually had 7 wks of laundry to do.
We did a shopping trip to Mega and stocked up for the first week – trying to figure out how we'd coordinate food and cooking etc. We certainly weren't going to starve!
We had planned to go out for a sail the next day. Unfortunately Kiyomi had recently had her wisdom teeth out and woke up all puffy and infected that morning. Poor kid had to rest and take antibiotics. We just hung out and had a mellow day. We left Kiyomi to rest and went to check out Bucerias. It was a very large beach, but not the cleanest – but Jonny and Adin got some good body surfing in and Sandra and I cooled off a bit.   Most of the rest of the beachside town just stall after stall of kitschy tourist goods and persuasive hawkers.
The next day we went for a late afternoon sail for a couple of hours. Big wind and lots of fun. We raced a few boats and got to swim at anchor afterwards. I dinghied everyone back to shore for the evening and Jonny and I made dinner on board.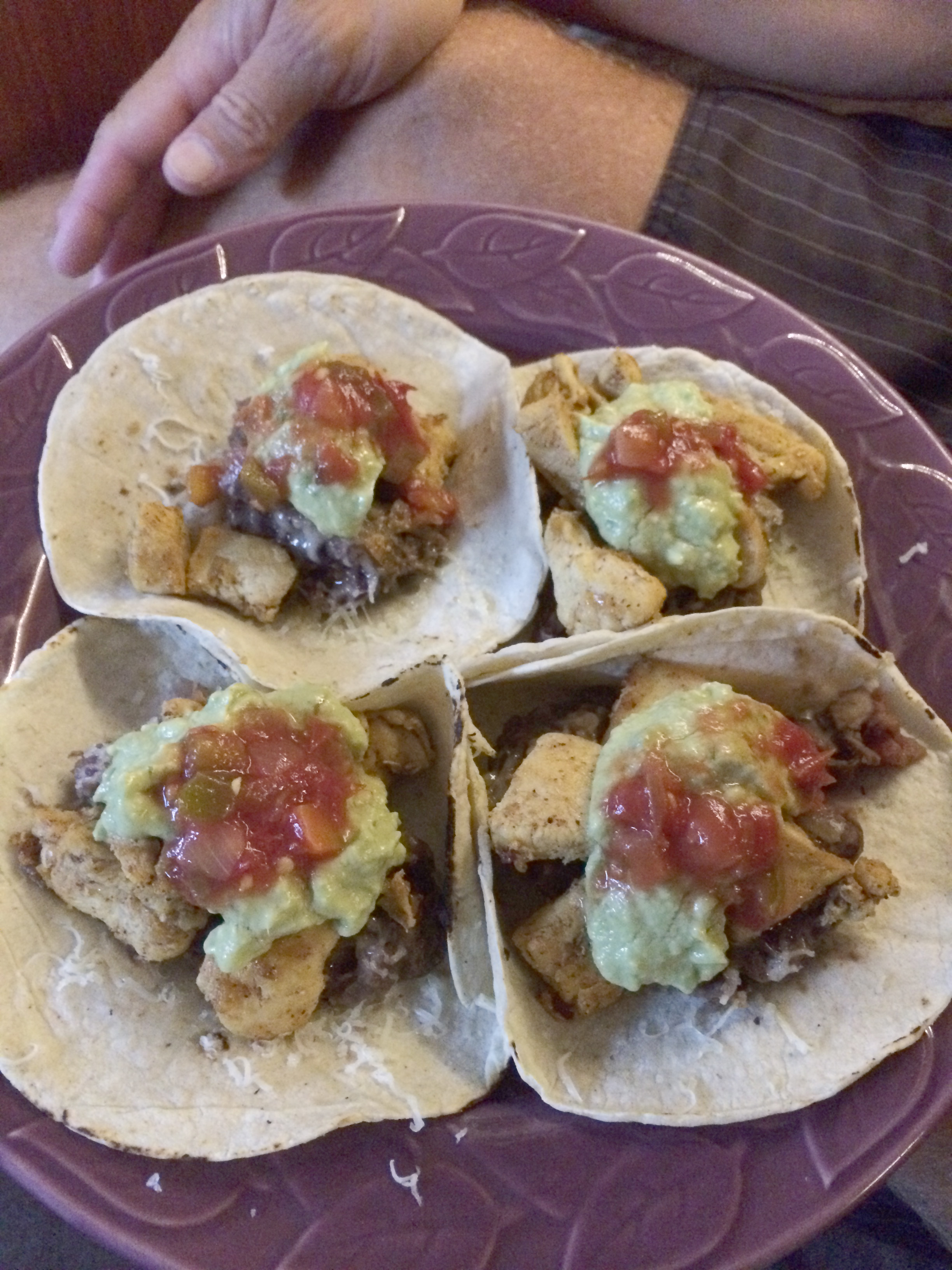 Sandra's friend Tracy was supposed to come out for a day or 2 visit –but unfortunately she got sick and delayed for a day.   But she did arrive and we had a fun couple of days – we went to check out Punta Mita- beautiful white sand beaches and pretty waters. Tracy's boyfriend Mike was supposed to come out and they were going to stay in Sayulita for a few days—well, he missed his flight and came a day later, too – so we got to have a bonus day with Tracy! We had another beach day at a gorgeous nearby beach with lots of shade umbrellas. Sandra negotiated a discount (for late arrival) and we got to enjoy the table and shade for the afternoon.
After a week in the anchorage we got a slip in the marina. Much more convenient for daily shore visits and after-dark returns home. La Cruz Marina is criminally pricey and Sandra and I pooled our Christmas monies to make it happen.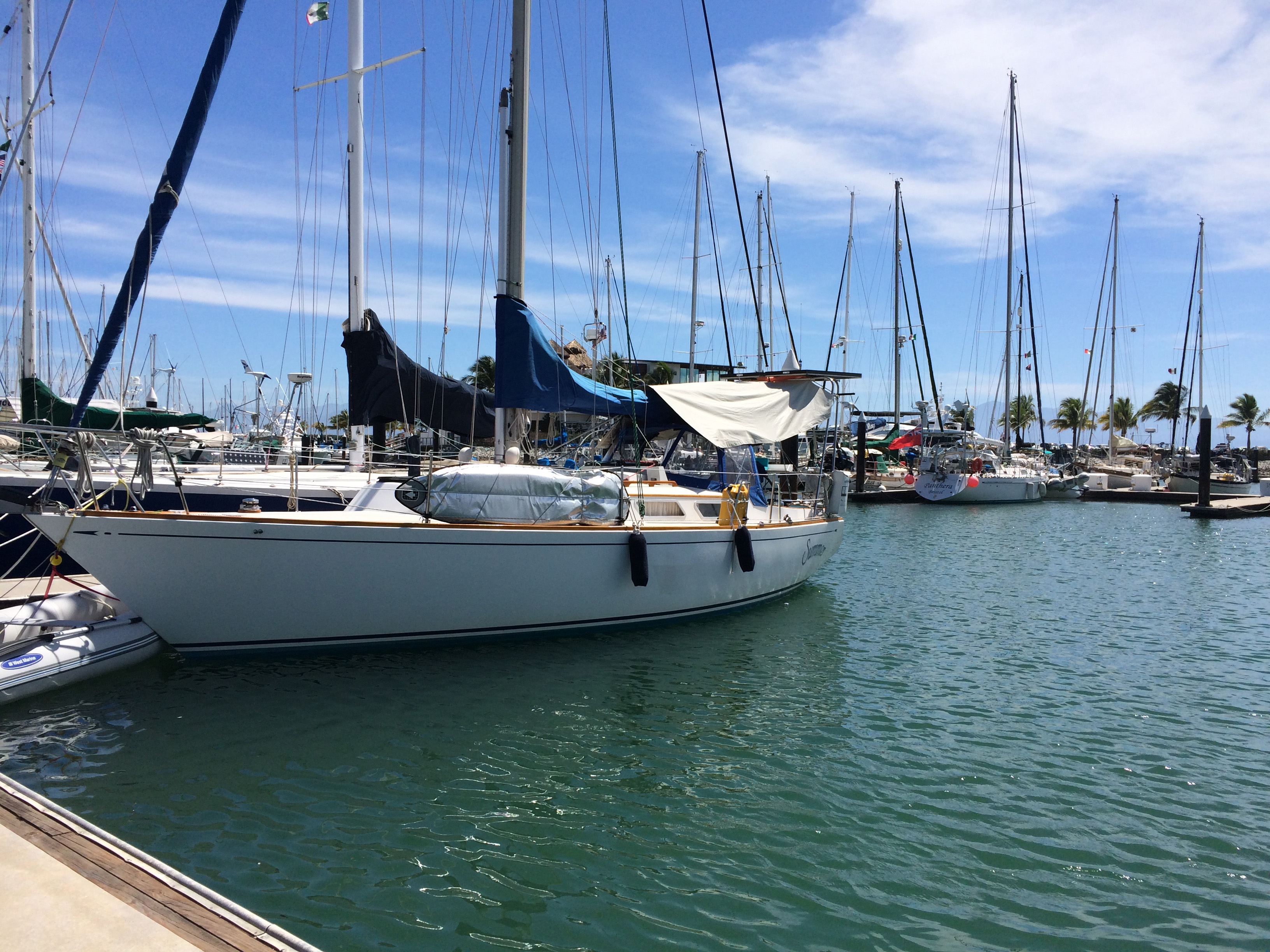 After Tracy left, we all piled in the car to go and check out Sayulita. I had heard so much about it – being an artsy community, very cool, interesting people etc. etc. etc. Definitely a "Must See" everyone said. I have to say my first pass around the town (as we were looking for parking) did not excite me…apart from the greater abundance of fruits and veggies I noticed in markets. Very crowded and busy and full of shops, stores, touristy kinds of things. The beach was completely packed and full of people wanting to sell you things. It was a bit of an overload for me after the peaceful, quiet life we've been leading. But Sandra and the kids really took to it immediately. Kiyomi met some local surfer guys who were anxious to teach her to surf. We ran into Tracy and Mike and had a little beach visit with them, too.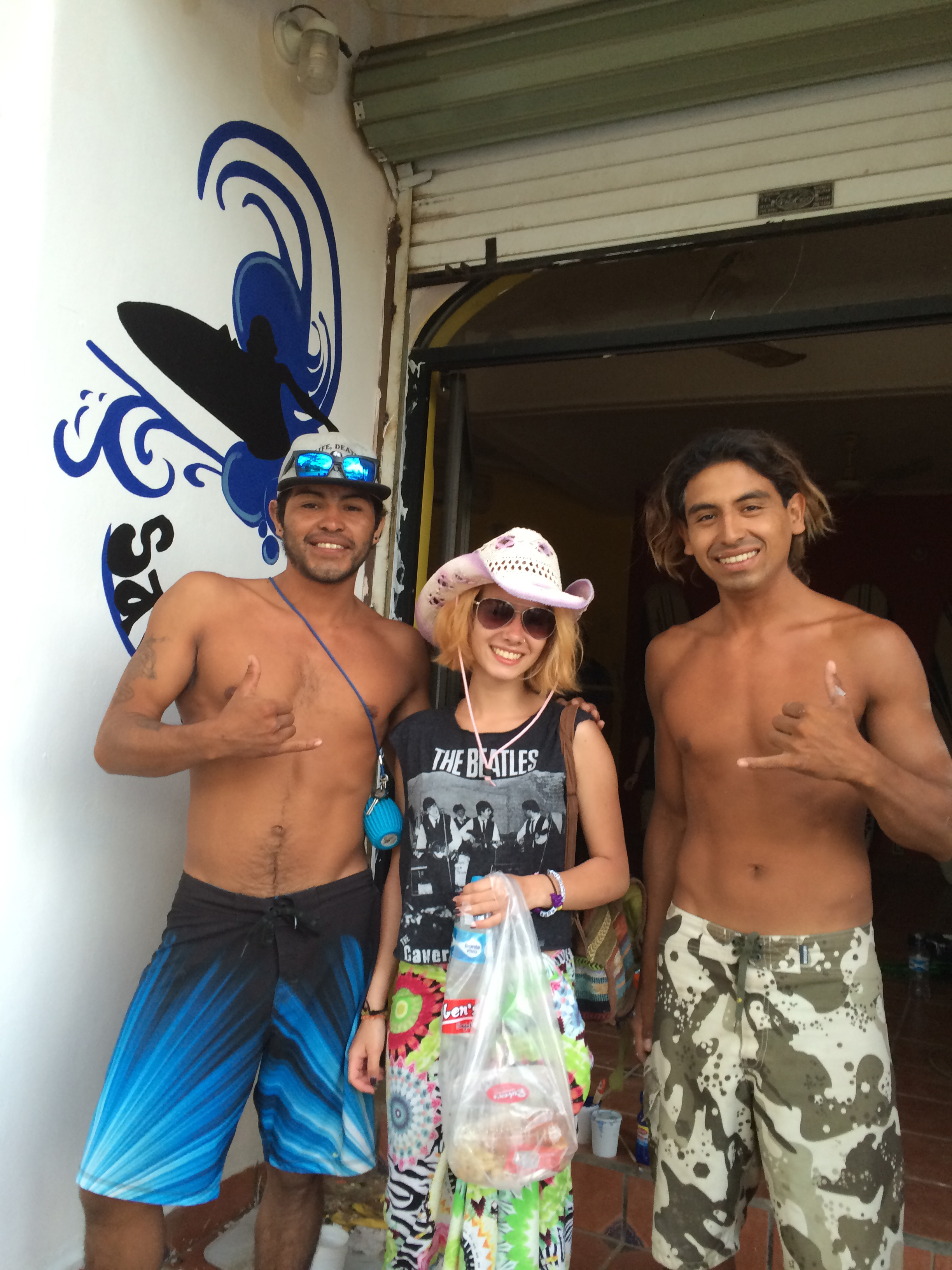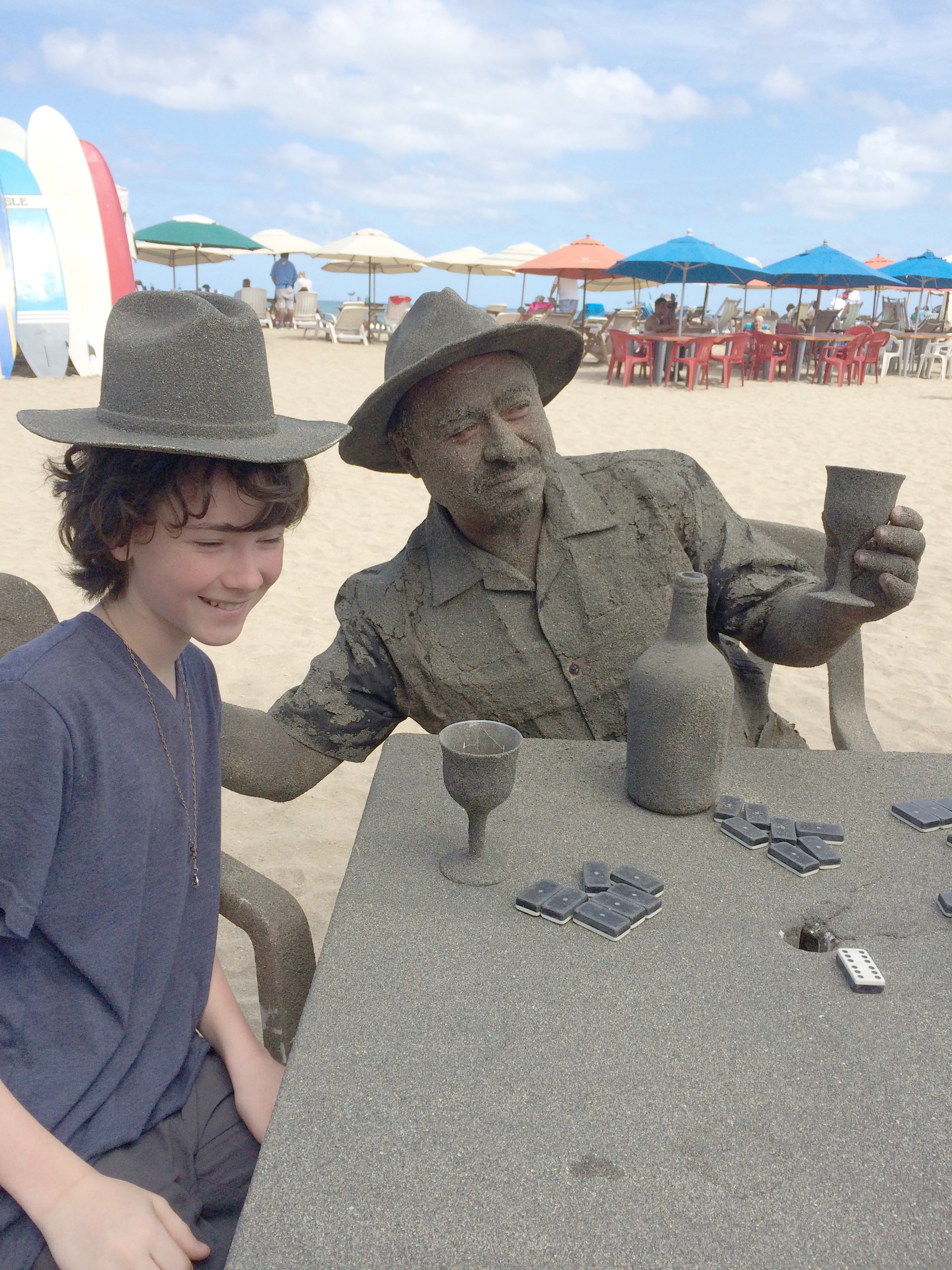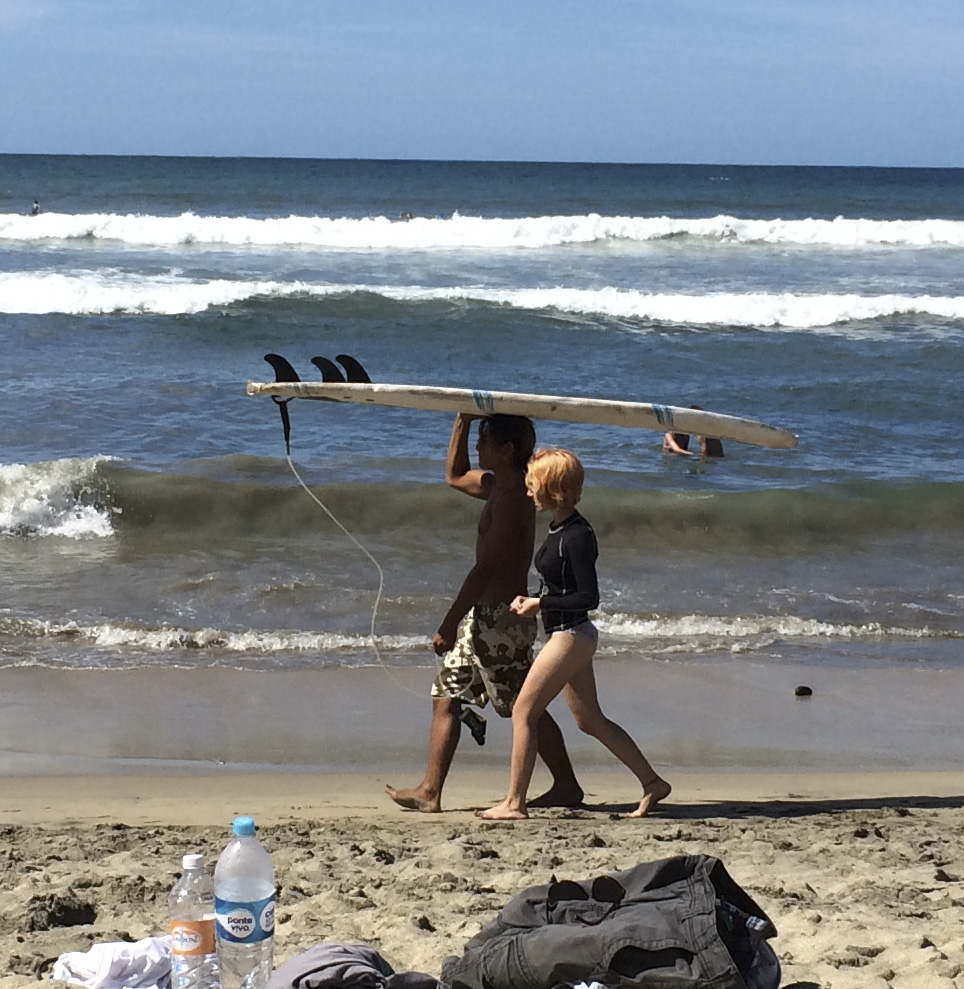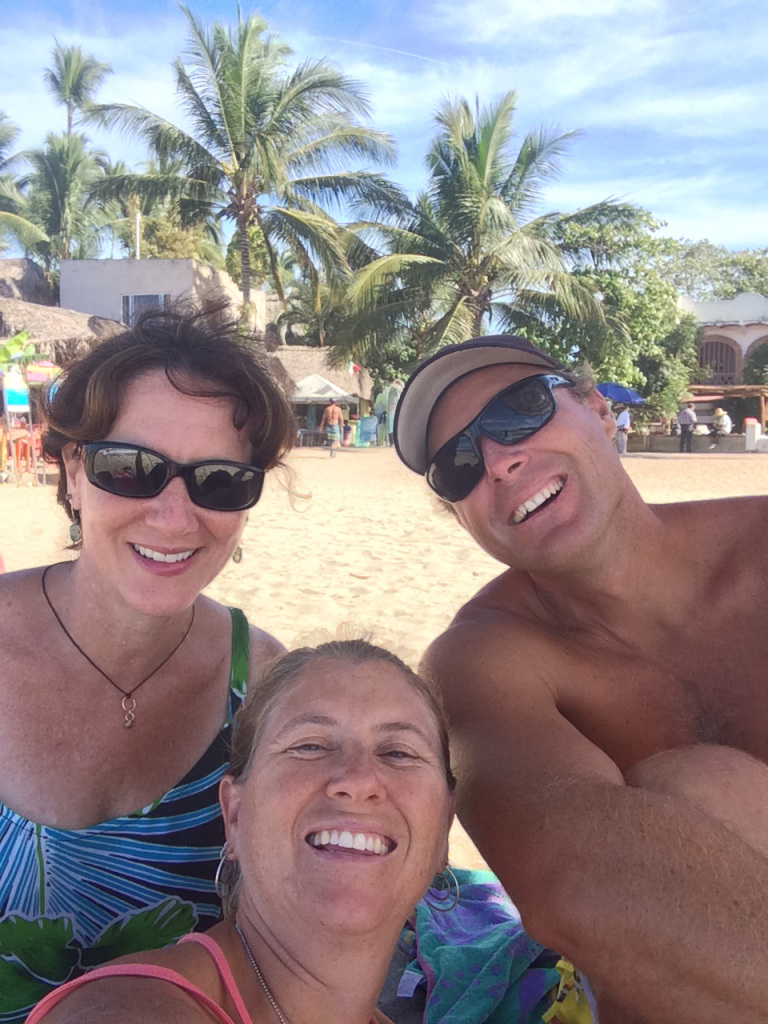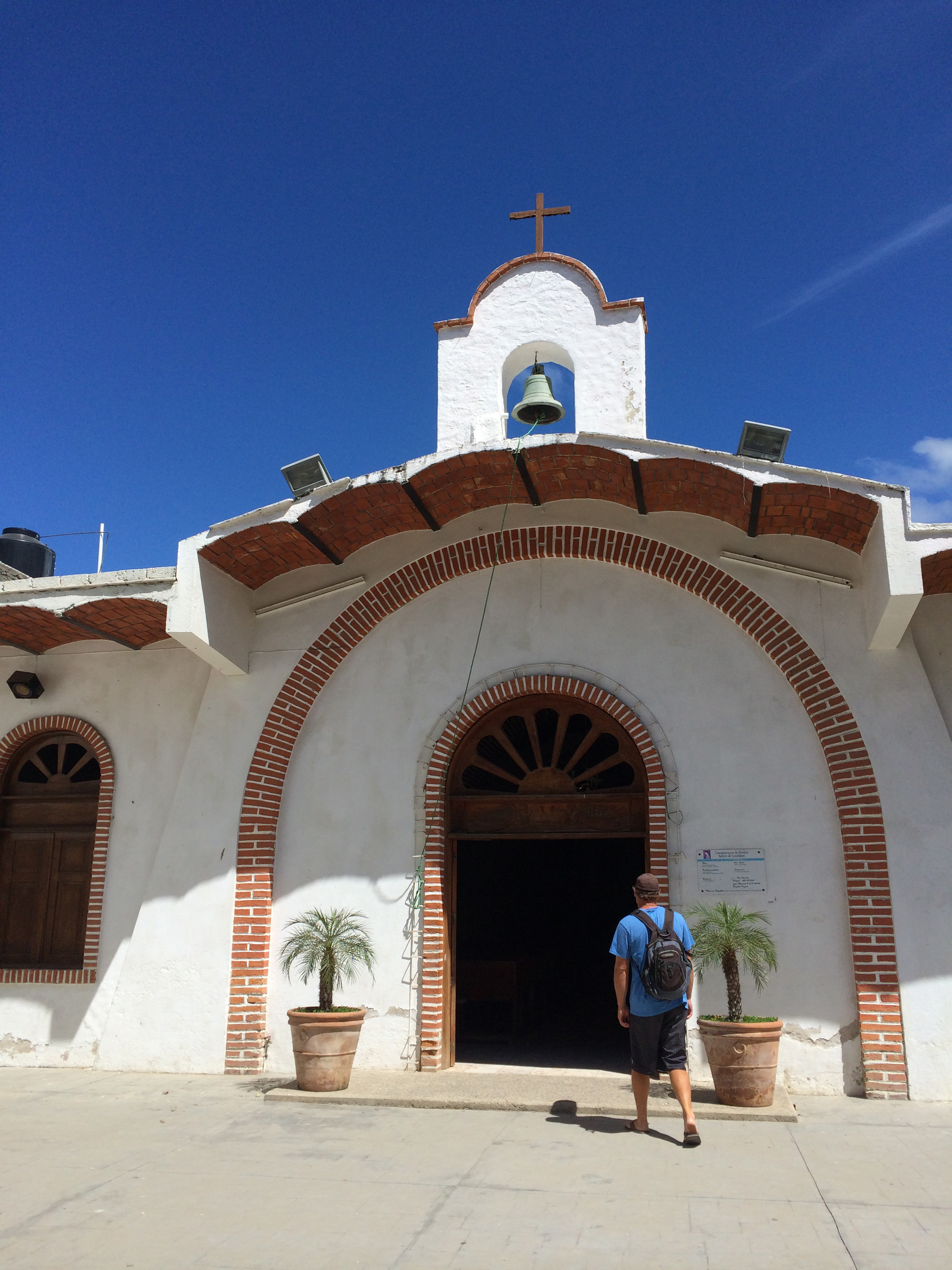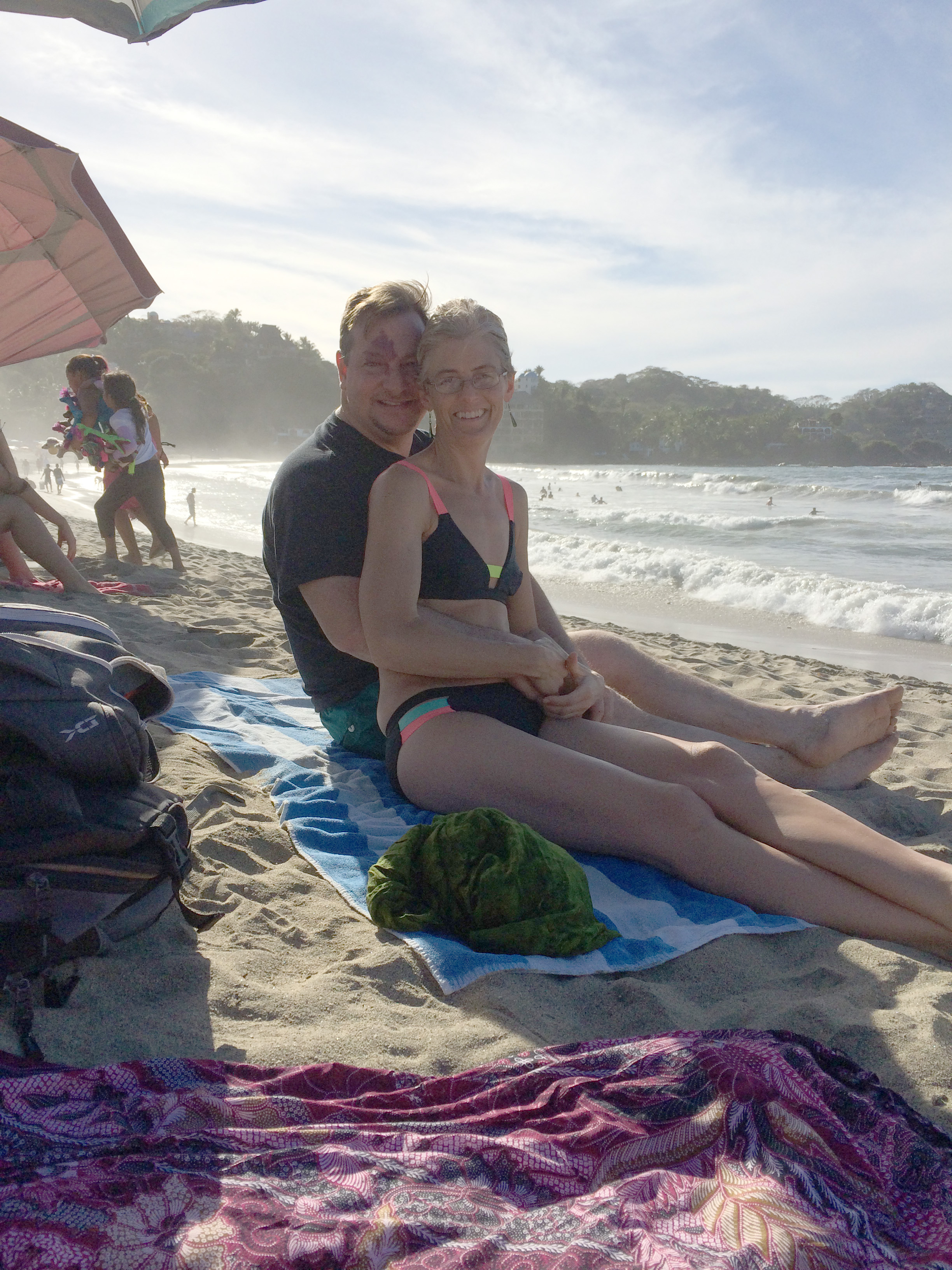 We had planned to go out to the Tres Marietas islands for some swimming, snorkeling, etc. It's at least a 3 hour sail one way so we had to leave really early. Unfortunately Sandra had hurt her back and it didn't seem like a good idea to head off into the unknown and have her possibly make it worse –and/ or get stuck on board while we were all off having fun. We rescheduled for later – since we had a 3 week window – we could certainly fit it in another time.   We had the boat all ready to go – and the weather was predicting a big swell (i.e. Surf!) coming in for a few days, so Jonny and I decided to take off on our own and go to Punta Mita so Jonny could surf . Sandra and the kids could do their thing, too – and they decided to do an overnight trip to check out San Blas.
Punta Mita was a bit of a bust. Not only didn't the surf pick up, but it was overcast and blah. Jonny surfed a bit and got some fishing in. He caught the biggest sierra EVER and for some reason decided to give it away to a local guy who was hanging around in his boat watching. I guess he figured he'd caught that one so fast he'd be sure to catch another one soon. We ended up with only a tiny one, but it was still good! We relaxed for a few days and got ourselves back to La Cruz. Luckily the marina had kindly agreed to give us a 3 day break and allow us to come back to our same slip, which was really convenient.
Sayulita was a big draw for our guests and as there are buses coming and going all the time – Kiyomi and often Adin got to enjoy their own kind of vacation with far more interesting people than boring ol' Jonny and I.   I realized that our extremely simplified life really isn't interesting for many people – especially teenagers! We're just not late night partiers anymore…
We enjoyed going to the Sunday Farmer's market in La Cruz. Such an amazing array of stuff I never thought I'd see again (Veggies galore! Arugula! Strawberries! Blueberries! Yogurt!) I was very excited about all that. Yes, my life basically revolves around hunting and gathering these days – the only thing I buy is food. As a fellow cruiser we met on the docks said "If ya can't eat it, ya don't need it!".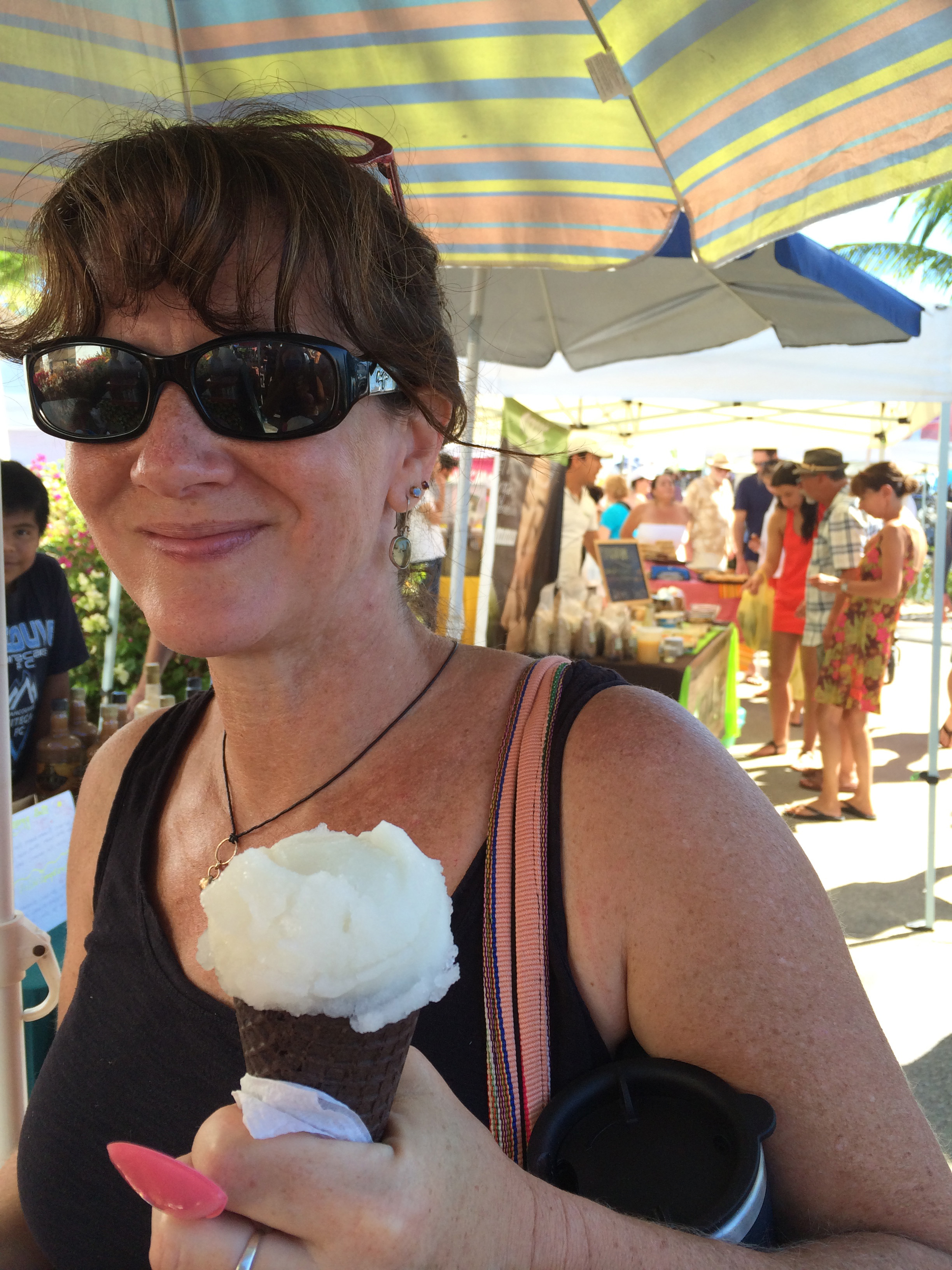 Jonny knocked out a good list of boat projects while we were at the docks and we tried to balance dock life and land life. We eventually did find a place to bring our laundry – there are no coin-op type places here –the closest being a bus ride away. There was a service at the marina where you could leave your stuff and someone would bring it back, but I'm pretty particular about my laundry soap and wanted to be sure mine would be used. We found a service and gave it a test run with a couple loads. It came back that afternoon, all folded and bagged and (mostly) smelling like my laundry soap. Yay! It was cheaper than laundromats and we didn't have to do a darn thing besides drop it off and pick it up. We proceeded to bring ALL of it in over a few days. Clean laundry is a wonderful thing.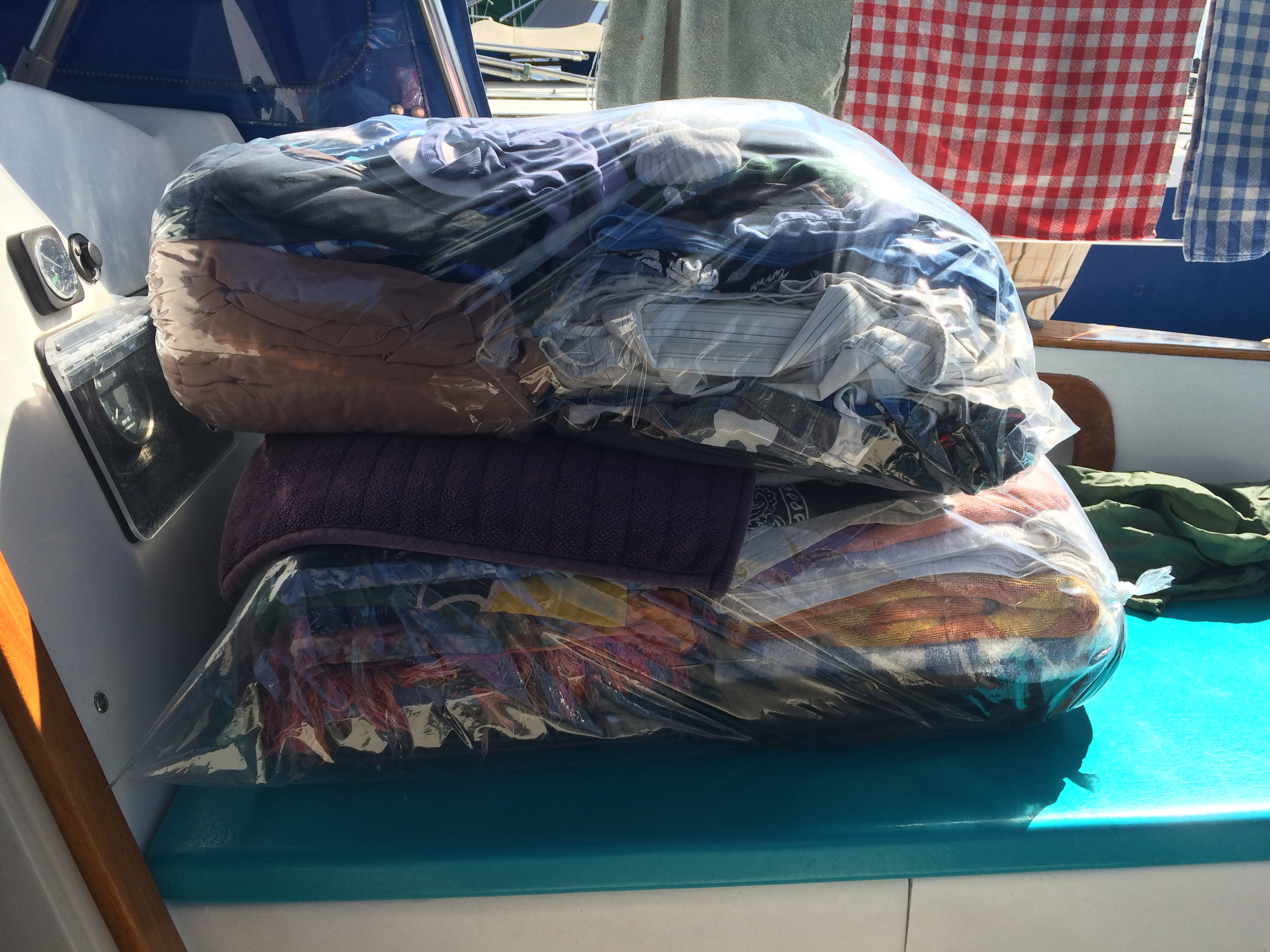 One day we made use of Sandra's rental car to do a big provisioning run to Mega, while Sandra and Adin checked out the stalls in Bucerias (Kiyiomi was of course livin' the dream in Sayulita). We loaded up on all the non-perishable type stuff that is much cheaper there than the local markets. Now we don't have to worry about getting that stuff until after May. We can just get fresh fruit and veg locally and meat/chicken at the carnicerias.
We had saved our trip to the islands for the end of their visit. We were all excited to finally get out there. The night before we were set to go bright and early – I woke up around 2am and had a lovely few hours of diarrhea and vomiting. I thought I felt a bit bitter in the morning and figured it was just something I had eaten at the farmer's market, and I was going to just power through the day (afterall, I have plenty of experience sailing while sick, right?) . I texted my sister to see how they were doing – unfortunately she had experienced the same kind of night I had and wasn't feeling better at all. Turns out I wasn't either. The trip was called off and I spend the entire day and night in bed running a high fever, moaning deliriously.   I felt quite a lot better in the morning (as did my sister). Unfortunately my nephew was hit in the night. Clearly we had a virus, not food poisoning. Turns out it was the norovirus. Even Jonny, who never gets sick, held out for 3 days and it finally hit him as well. It was rather convenient for us all to get sick on a staggered schedule, as it made taking care of each other much easier. That was pretty much the only bright spot – as we missed our opportunity to get out to the islands and the visit came to a hazy, feverish/post-feverish end.
I had several hours after saying goodbye before welcoming my friend Erika for her week's vacation. I used that time wisely to do a little customizing on Peugeot. I had quite a bit of the short life-span liquid patch kit left from fixing our cockpit cushions and thought it might be fun to jazz up the dinghy.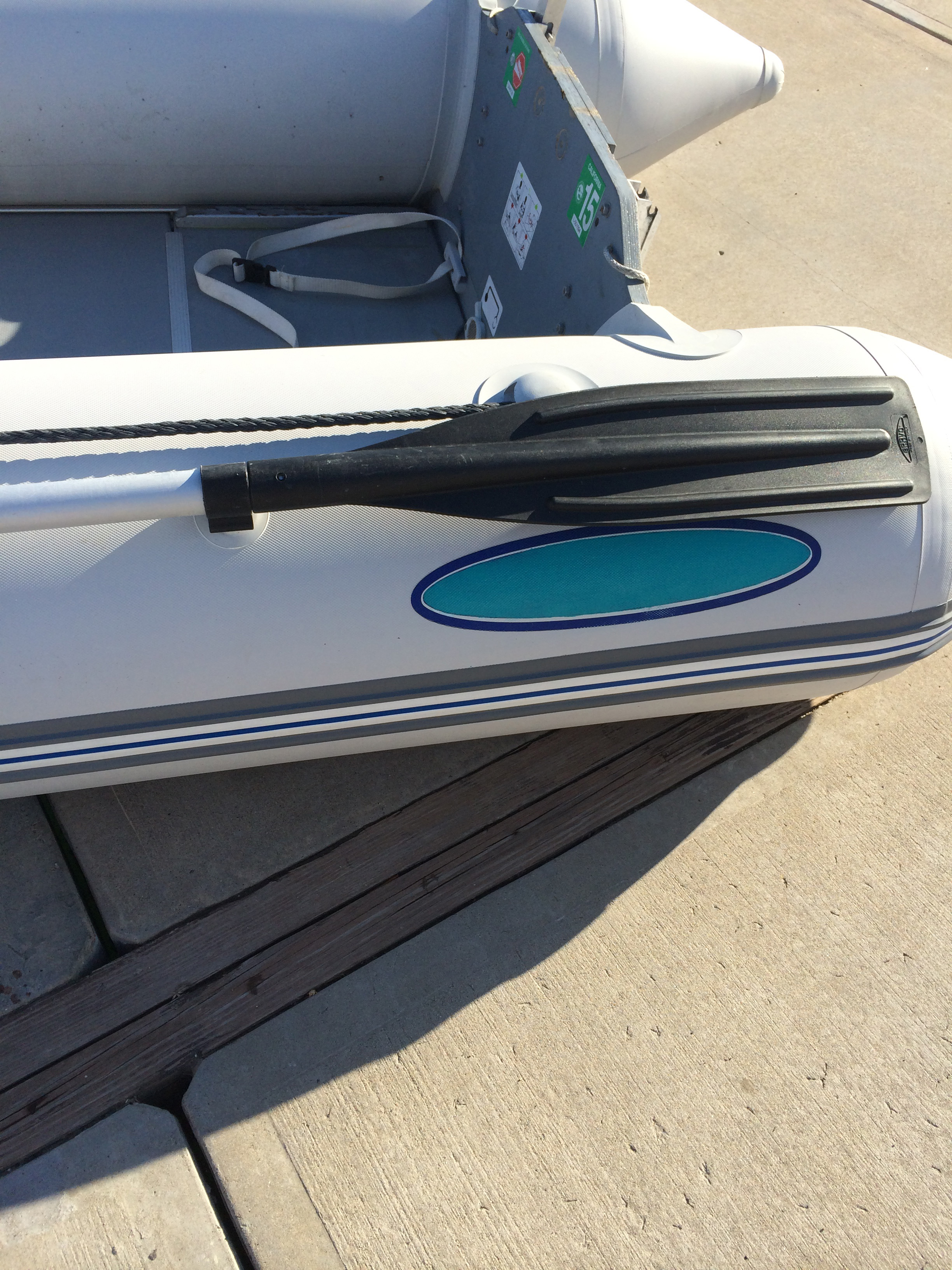 Erika and I had a mellow night catching up –her vacation goals were to relax and chill out and visit. I can do that! I managed to get my taxes done (ouch) on the first day, as we were planning to leave the marina (and easy wifi access). On the 2nd day we took the much-anticipated trip out to the Marietas. We left right at 8am and it was a gorgeous 3 hour sail out there. We grabbed a mooring buoy (a.k.a. large, floating propane tank) and explored on the dinghy. Magical and beautiful!! Headed back to La Cruz in the afternoon and had a lively sail back. Poor Erika had a migraine all day, but still managed to see a bit of the islands (bad day to try to give up caffeine!). I am definitely looking forward to an extended visit back there on our way out.
We ended up extending the marina time a little longer – it just made sense when trying to live a land life. Blanca at the marina office had been telling me about the "day pass" to an all-inclusive resort not far away. It sounded like just the thing for Erika and I. Erika treated me to the most relaxing day ever! We arrived just after 9:00am to take advantage of the full day. We went right to the beautiful restaurant overlooking a gorgeous white sand beach and ordered whatever we wanted off the extensive menu (all included!). When we had eaten our fill we went to lounge on chairs IN a pool by a waterfall. There were also 2 waterslides! We soon realized that "all inclusive" also meant drinks. And that the waiters would bring you drinks TO YOUR LOUNGE CHAIR. Oh yes. I had a mango margarita. I was not able to fully relax immediately – I think I was too excited about the prospect of so much CHILL! I went and wandered on the beach a bit – absolutely beautiful! We got peckish again and went back up to the restaurant for a nice lunch (did I mention it was also included?). Erika got the tortilla soup she had been craving. We decided to switch it up and sit in the lounge chairs under umbrellas down on the beach. And I switched it up with a lime margarita. I could barely wait to order a brownie sundae. To be delivered to my lounge chair. On the beach. Under an umbrella.   That lime margarita made me have to run up to the restroom. It might have also made me go down the waterslides several times. It was a pretty fun waterslide – long, dark, winding tunnel kind (although, truth be told, I had also done it several times earlier on, stone cold sober). I finally convinced Erika to give it a go – I don't know why she was so reluctant! But after her first run she insisted on a second. She can only pretend to be an adult for just so long. And that's why we're friends. 😉
Our day of pampering came to an end and we rode the ply-wood floored bus back to La Cruz with relaxed smiles.   We got to enjoy the farmer's market yet again (all that fresh fruit and veg never gets old!). The rains came – we had some dark and stormy days but luckily cleared up for our departure from the marina. We had a little bit more and got to see some gorgeous rainbows–and got to get soaked riding the dinghy ashore for dinner on Erika's final night. I got a picture of a rainbow coming out of the top of Windward Star. We went over and met them to get an email address to share that picture. I certainly would want one like that of Summer had someone taken it. MaryLou and Evan are really nice folks from San Francisco and they were thrilled to have the picture. They also gave us a spare Latitude38 they had from March (featuring stories on a couple people we have met out here!). For Erika's last night we had some delicious wood fired oven pizzas – it can't be Mexican food EVERY night!
Our friends Ryan and Nicole on Naoma had arrived in the marina and we were looking forward to catching up with them. They were there provisioning and preparing their boat for the Pacific Puddle Jump – heading across the great ocean on a 3-4 week passage. We are very excited for them and look forward to the day we feel ready for the same trip. We waved as Erika's plane flew overhead and then invaded Naoma for dinner. We had a load of shrimp that had been in the freezer at the house – we were supposed have a big dinner with my sister and the kids but norovirus had other plans for us. So we were glad to be able to share the shrimps with Naoma (and in case you're wondering why we didn't share them with Erika – she doesn't like seafood!). We just love those guys and it was fun to hang out with "our own kind" again. They soon joined us out in the anchorage and all kinds of shenanigans ensued.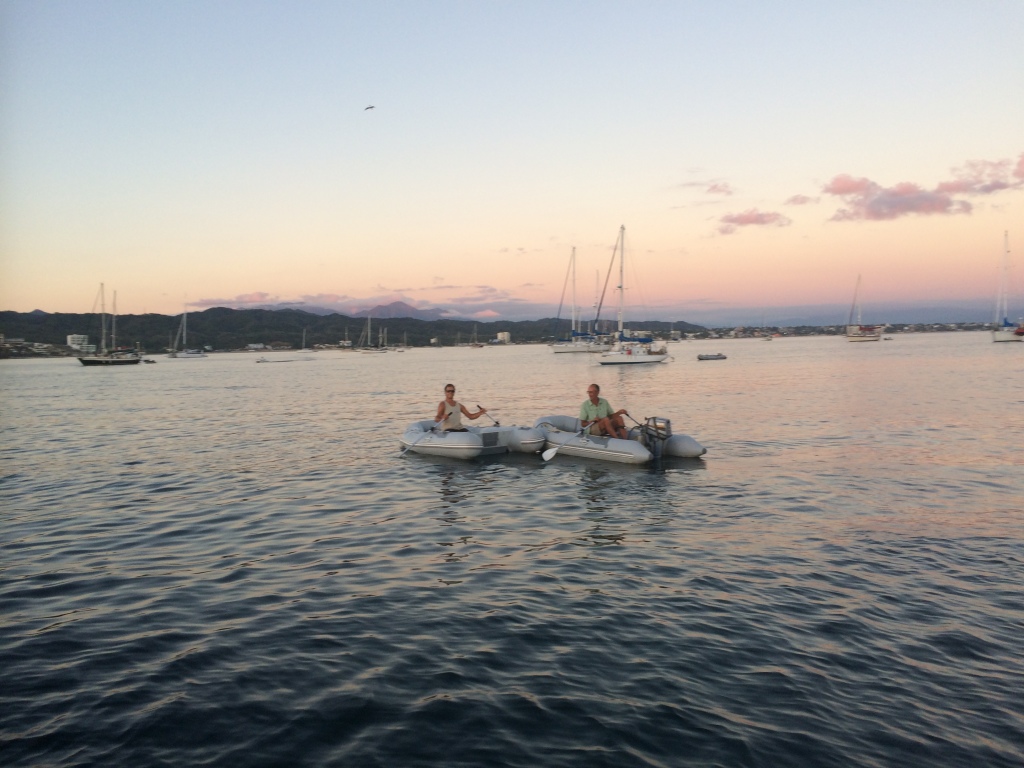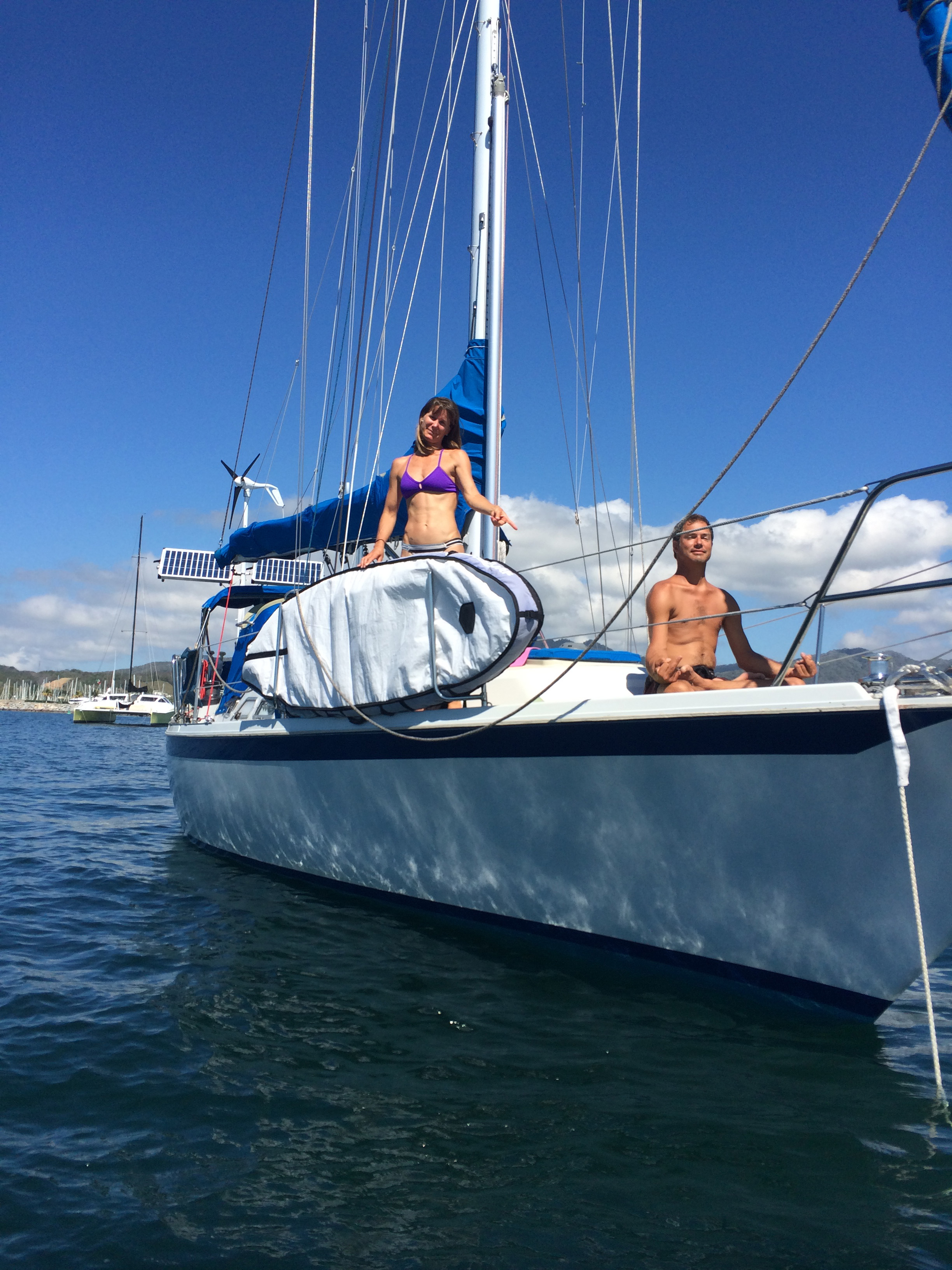 Jonny and I decided to take a bus into Puerto Vallarta – just to see it and also stop by the Zaragoza – a big chandlery there. We got as far as Neptuno Square, had a quick walk around the marina there and then across to the boat part store.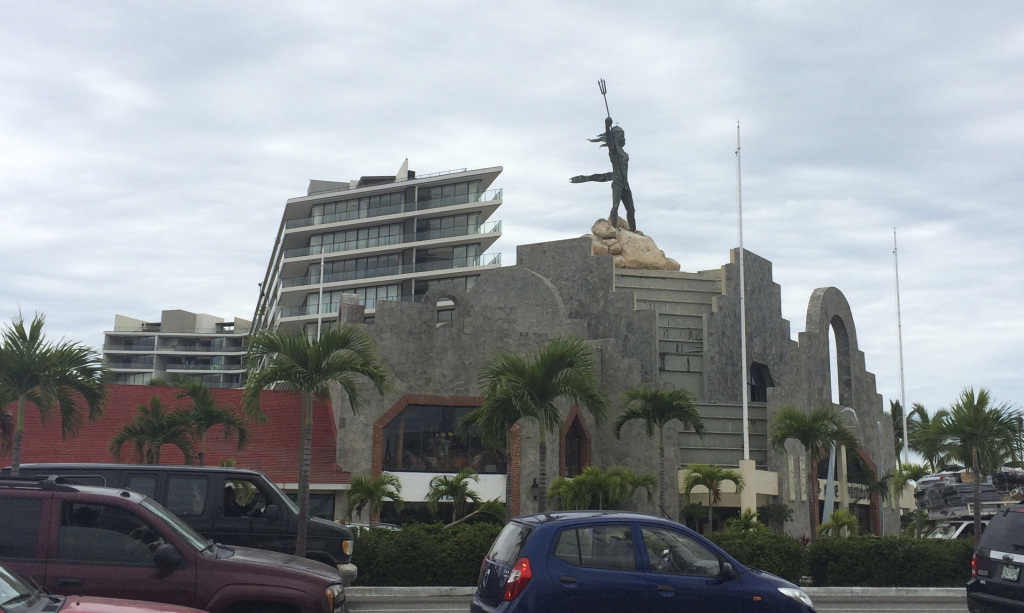 It was pretty much just like any other big store that sells boat stuff. We didn't really need anything so it was kind of boring for me. I realized that the 'old town' part of PV would require another bus ride. We were both getting hungry and not all that interested in seeing it anyway. As we were leaving, we ran into some people we'd met at the marina and as is always the way with cruisers, we stood and yapped for quite some time. We were really hungry by the time we left, but had no interest in going back across to the marina area, since it seemed a little upscale and overpriced for us. Getting a bus back proved to be far more difficult that we thought. It seemed none of them went as far as we wanted to go. We ended up going into a large grocery store in a shopping center for a quick 'meal' (mistake) and eventually discovered if we went to the airport we could get a bus back to La Cruz. We stopped at the Wal-Mart (I know, I know…but it was our last hope for finding the large beach umbrella we so coveted). Everyone kept saying how great Wal-Mart in Mexico is and how you can get so many things you can't otherwise find. My experience was it was no better than Mega. I went down every aisle and didn't find anything special (aside from the umbrella). So. Meh. My first and last trip to Wal-Mart. On the bus back to La Cruz we were treated with live music. I can't imagine playing an instrument while staying upright on that bumpy bus! That's real talent.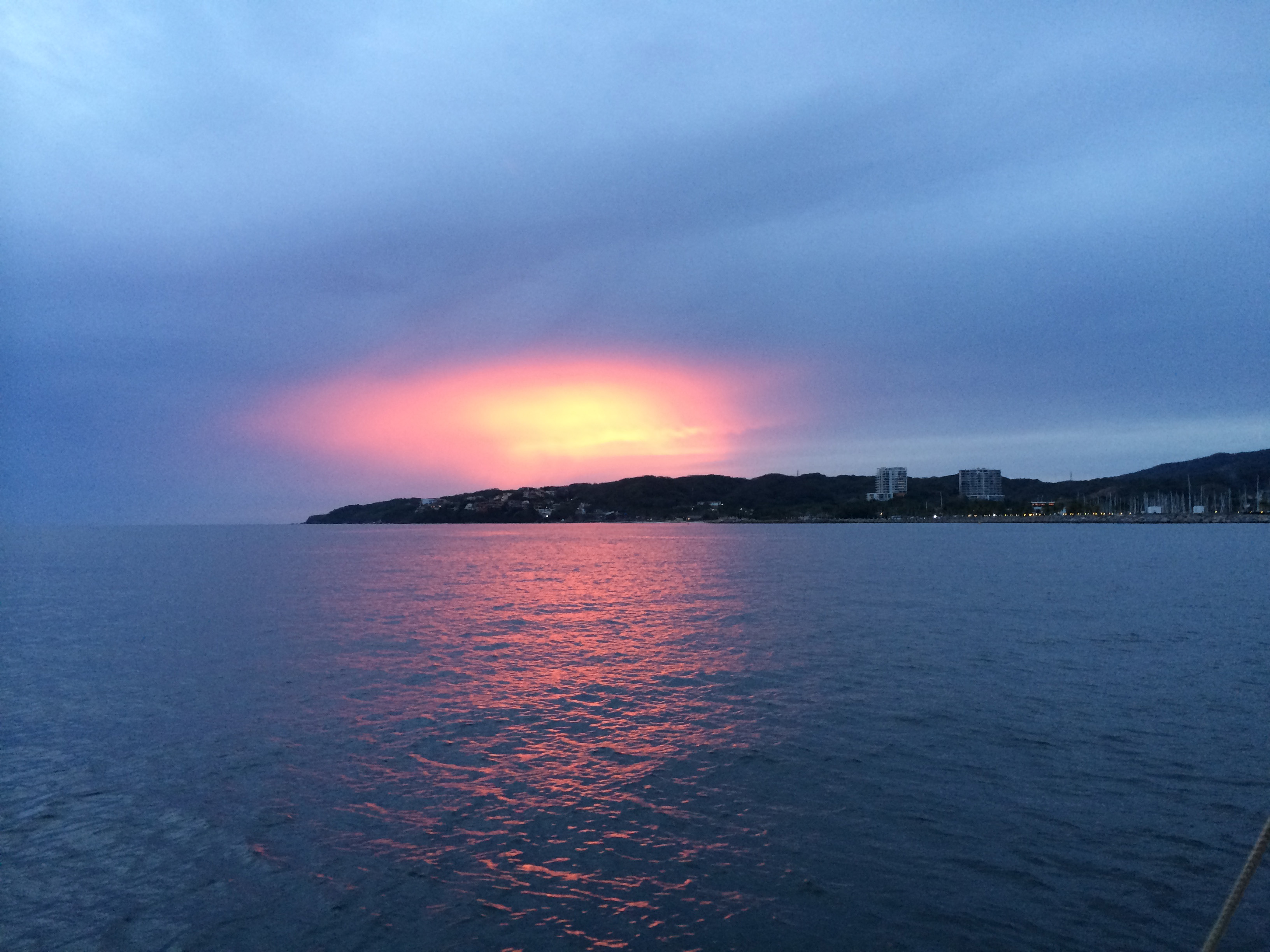 We stayed for one more farmer's market and we were ready to take off for new adventures.   They day we were set to leave, it seemed there was going to be heavy wind and Ryan convinced Jonny to stay one more day so they could go kiteboarding. Unfortunately that did not materialize, but we had one last day hanging out with them in the anchorage.  Finally we were ready to make our move. As we were leaving, Evan on Windward Star gave us a call on the VHF. He said they had a movie they wanted to share with us – so thoughtful (and it was just wonderful – check out "Zaca" fascinating history of a beautiful sailboat that was once owned by Errol Flynn among others).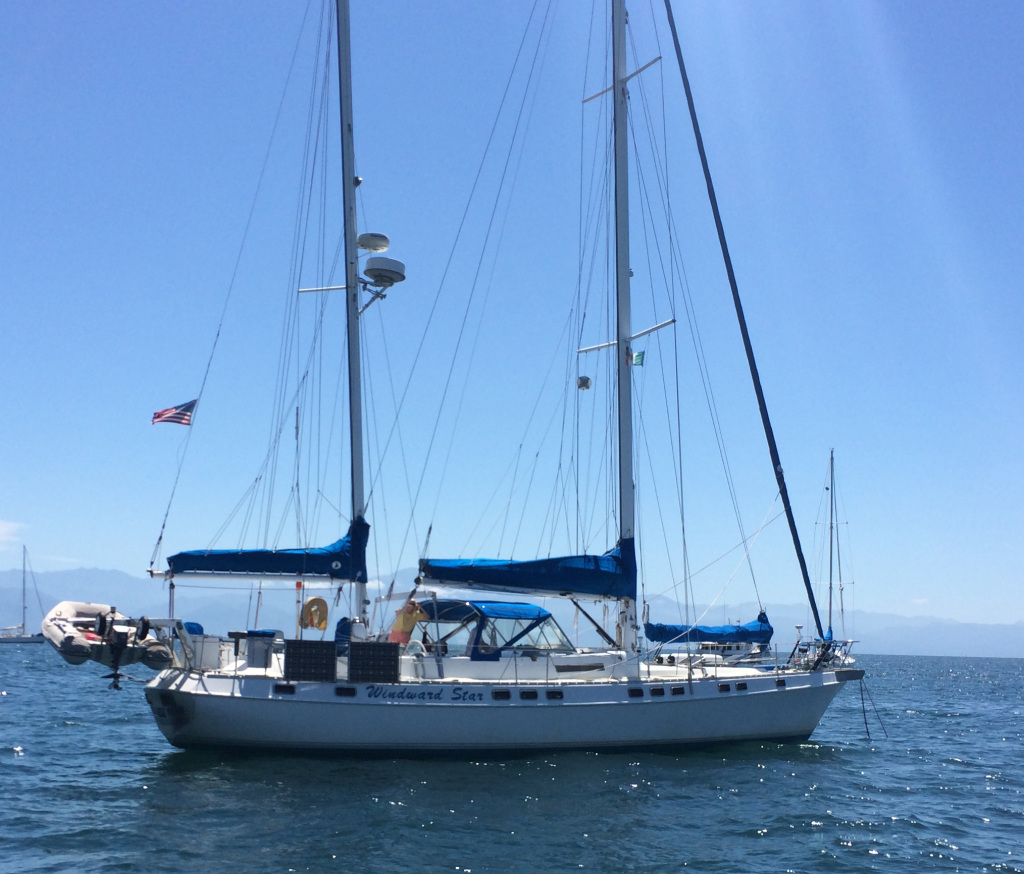 We had already loaded up our dinghy and had the motor running to go – and their dinghy wasn't yet launched. So it was suggested we cruise on by them and stick out our fishing net so they could toss the DVD in it. Worked like a charm! We waved goodbye to them and then did a couple laps around Naoma – we hoped to see them again in Punta Mita before a REAL goodbye. We were heading to discover Yelapa – across the bay.  We played with the GoPro a bit on the sail and got this video:
Yelapa is a unique kind of place – it's accessible only by boat or mule. There are no roads going there and no cars or streets in the town. It has very steep hillsides covered in palm trees and lush green tropical foliage. Back in 1581 the land itself was deeded to the indigenous people who have lived there for hundreds of years. All the land is owned collectively and no one owns their property privately. It looked like paradise as we entered the little bay. The buildings are built up on the sides with cement walkways winding up and through everything. We had heard there were 2 waterfall hikes – one very easy to get to and one 1-2 hours hike away.
We only planned to stay a night or 2. Before we got to the bay, a guy in a panga came out to meet us. We were prepared for this – as we'd heard that anchoring here due to the severe steepness/depth of the shore and you need to take one of the moorings owned by several different people. Edgar was kind enough to ask us if we planned to moor or anchor – and when we said we'd prefer to anchor, he told us the best spot. We negotiated a good rate (100 pesos) for a mooring in case we didn't like the anchoring. We attempted to anchor – but weren't comfortable with the steepness—when we put out enough scope for the depth we were in, we ended up in shallow water with our rudder in the sand. We ended up taking the mooring afterall. When we'd paid for 2 nights and Edgar was pulling away, he noticed we were from Santa Cruz – he'd been there and loved the boardwalk! He came back to talk about it. I can't tell you how many locals we've met down here who have been to Santa Cruz. I guess that might explain the Mystery Spot sticker I noticed at the La Cruz marina.
We had a really pleasant night and it was so exciting to wake up in this tropical paradise. We got a bit of a late start and took a water taxi ashore (Edgar said our mooring included one free taxi ride). We decided to see the nearby waterfall and give the far one a miss – as it was too far and we were planning to leave the next day. Crossing the river that runs through the beach was necessary to get to the stairs that take you up to the path that winds through the village. It was like a magical fairlyand! We were like kids, marveling at things every 10 steps. The views, the doorways, the improbable shops and houses at every turn.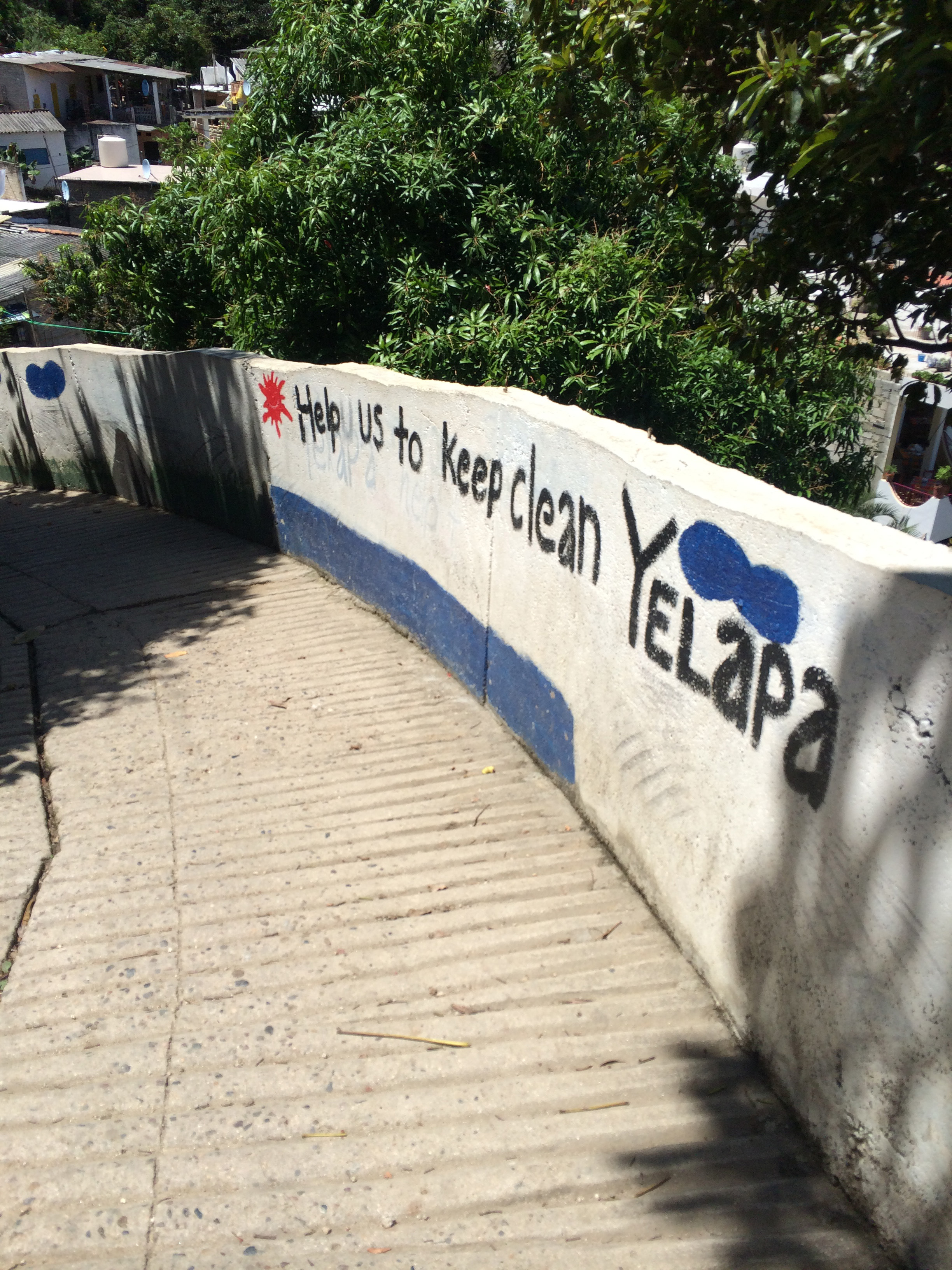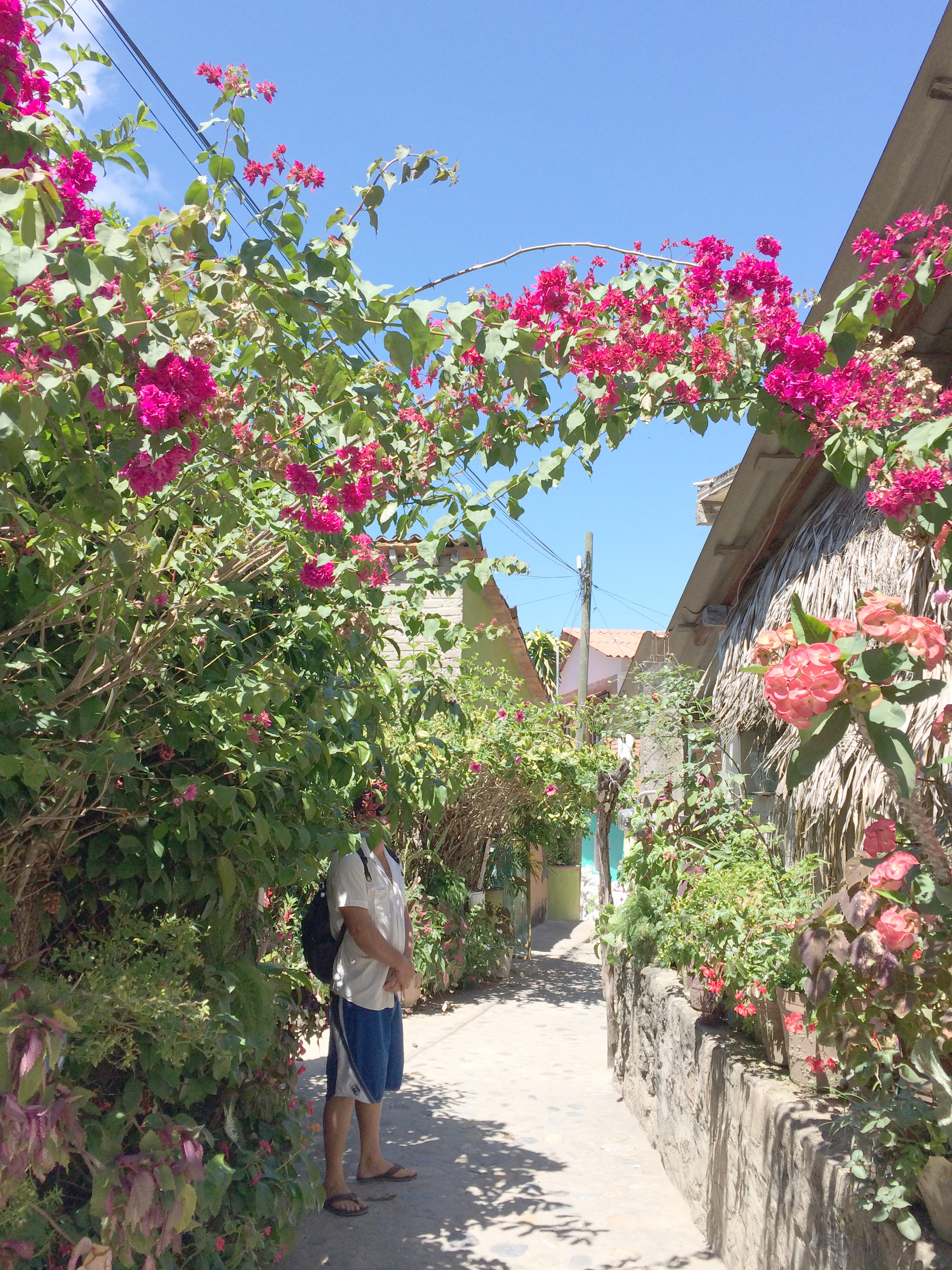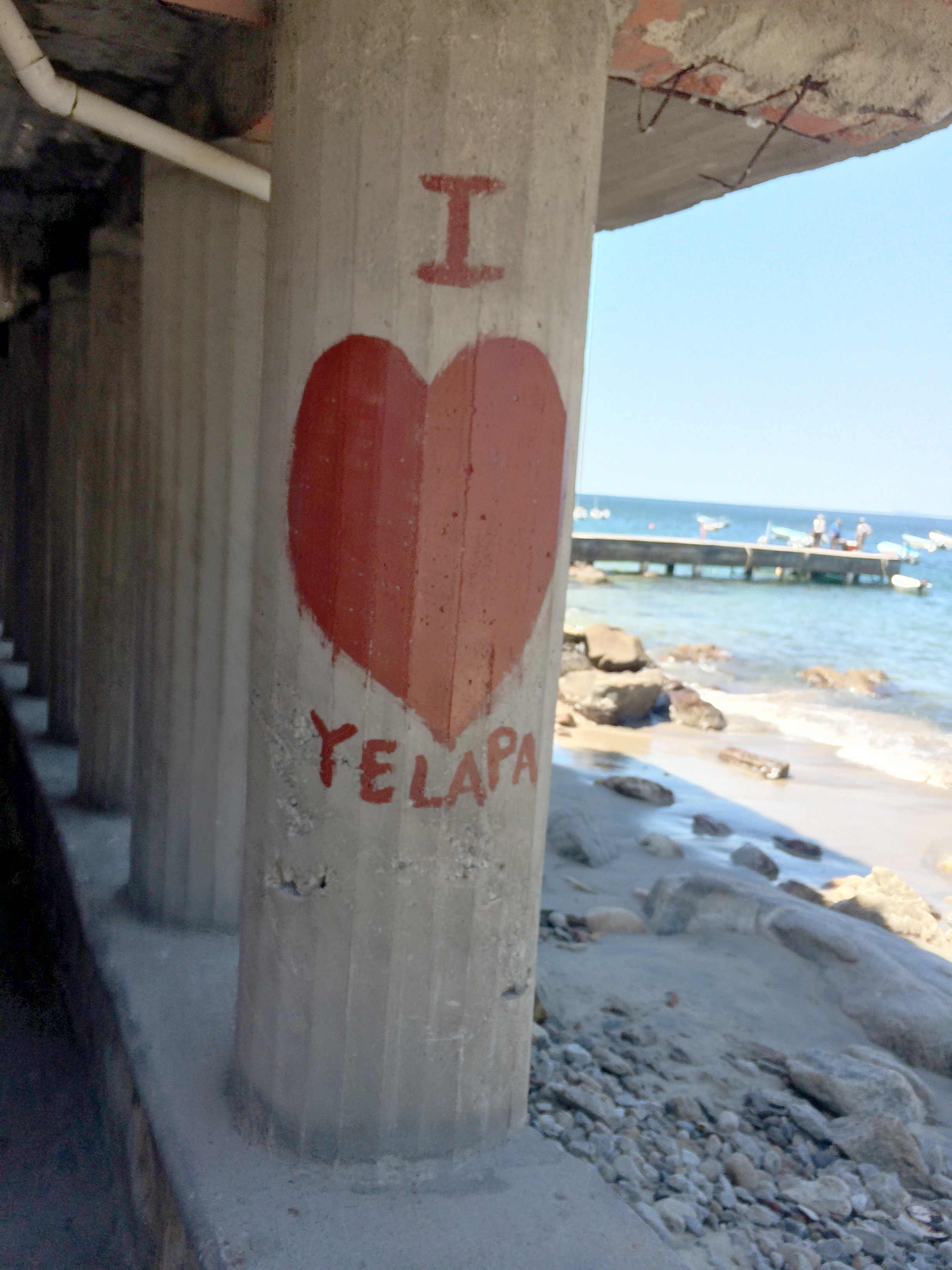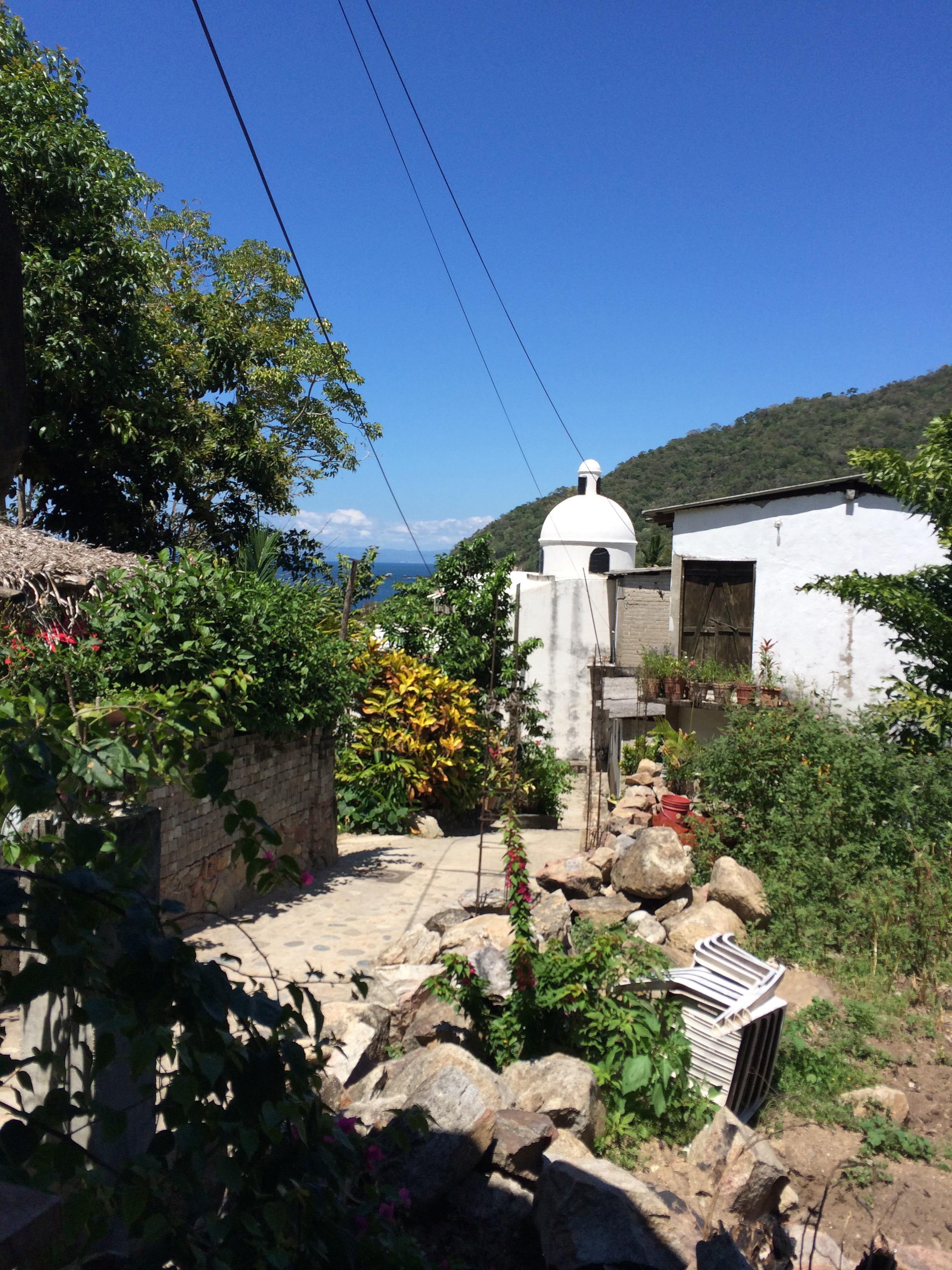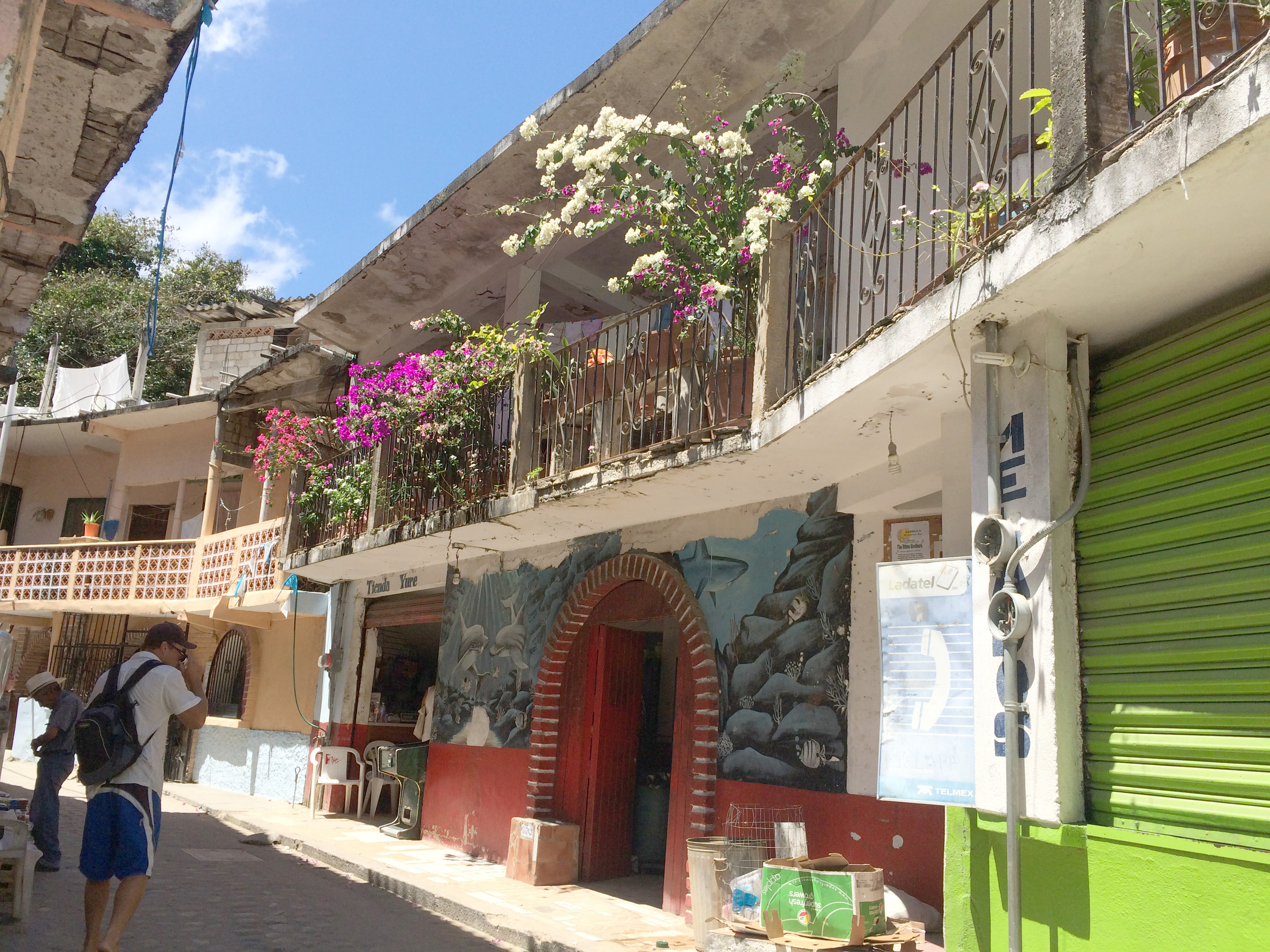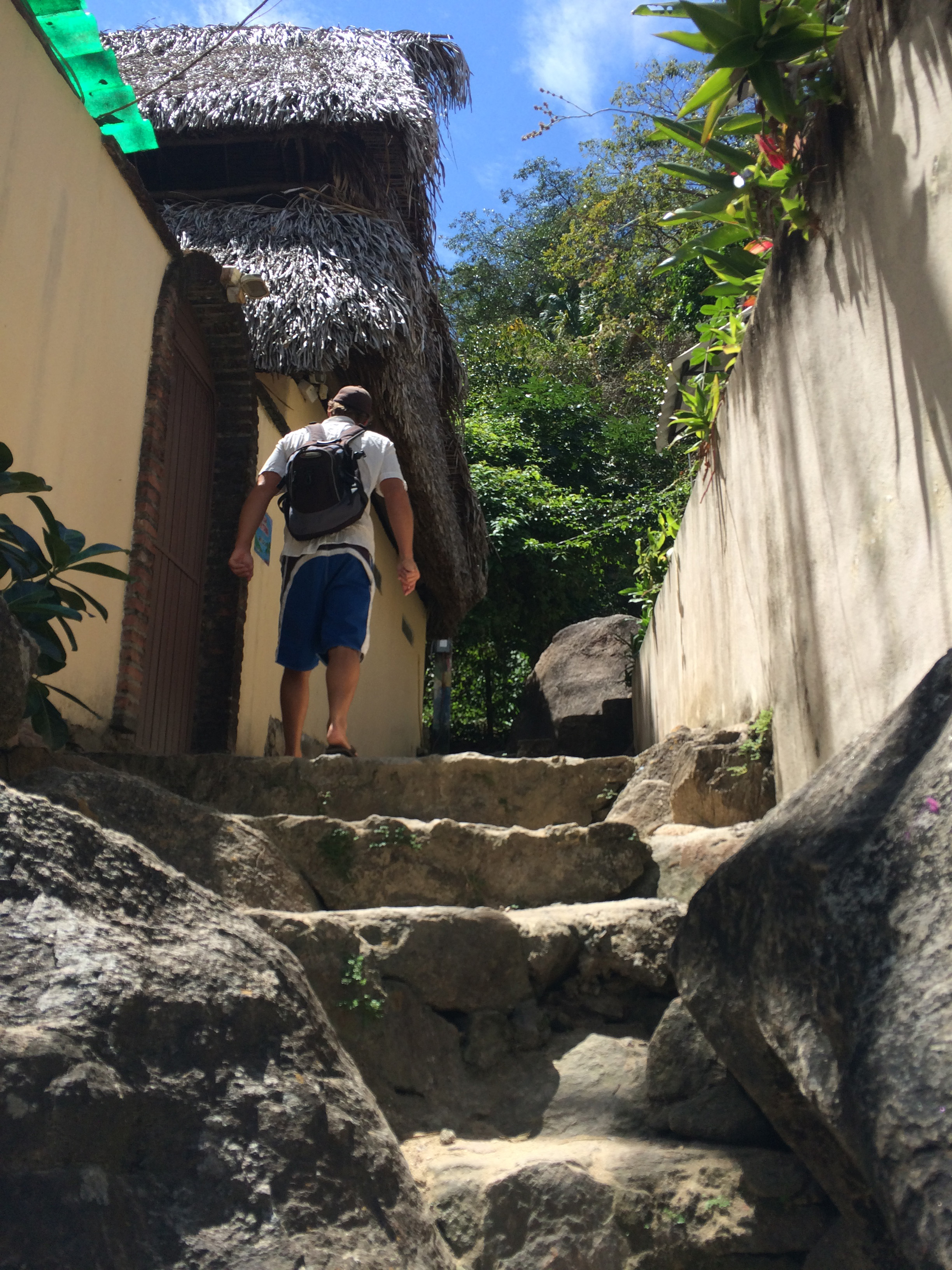 We were impressed with the array of veggies available at the first little tienda we came across. We saw the signs to the cascada (waterfall) and decided to go a different way, just to see what's around the corners. We went up and up a little winding path and at the top we found… a billard hall!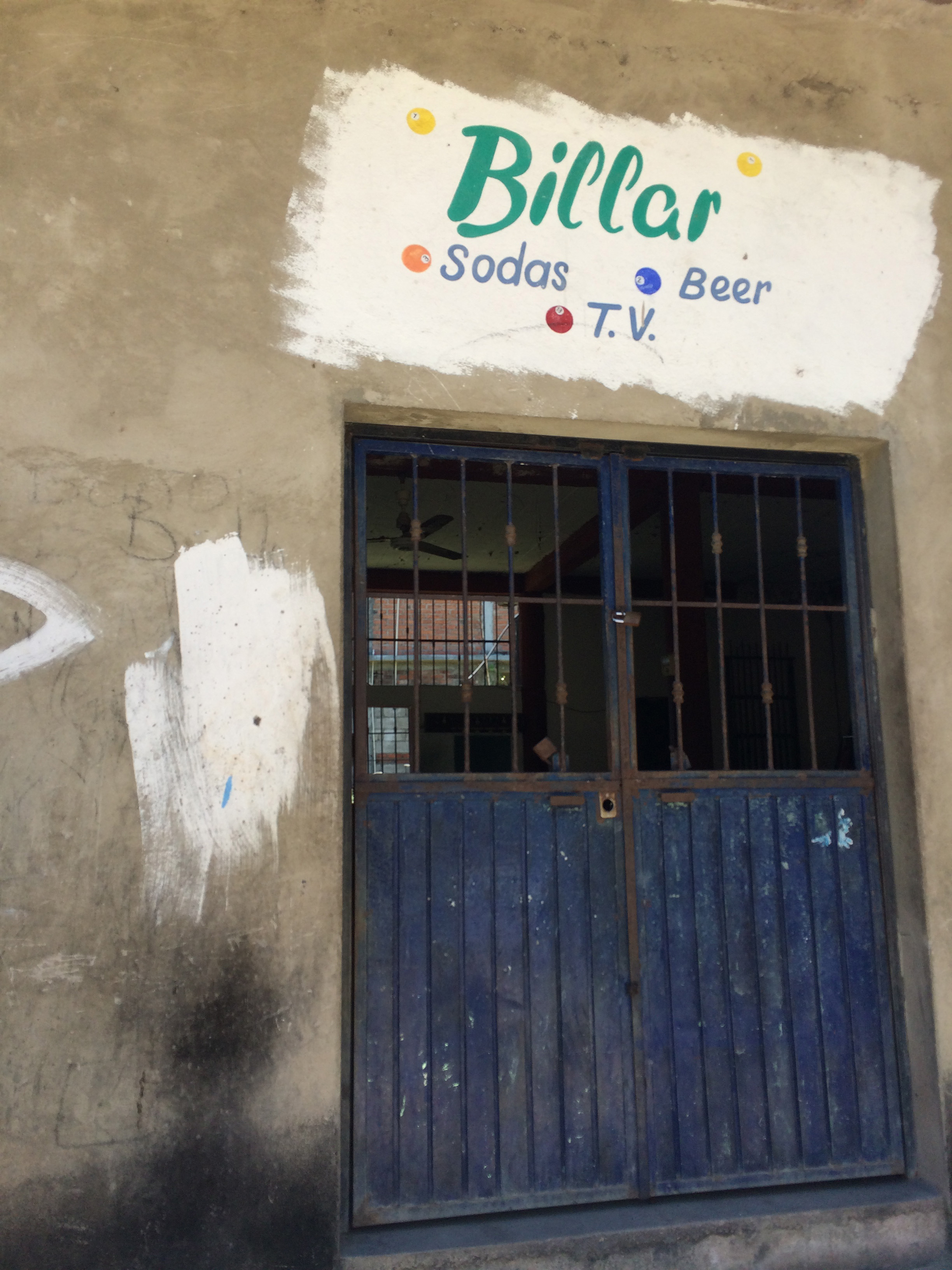 We looked through the door – 3 tables and a large screen TV. Not what we expected! Back down to the waterfall path- we happened upon a couple of tour groups, winding their way up past tables full of souvenirs and stopping to get educated about the guava trees leaves (if you eat too many, you will get constipated). We politely pushed our way past and hurried on up to the falls, hoping to catch a glimpse before it was mobbed with loud white folk.   We got our wish – the falls was beautiful, the small pool at the bottom was a little murky and slick with what appeared to be sheaths of sunscreen washed off the mobs of tourists. We made our way to the back edge to at least get in and under the falls. I think we were both mostly excited about getting washed down with fresh water. I figured it would've been inappropriate to bring a bar of soap, but it was nice to get cooled off and waterfalls are always fun! The mobs arrived and threw themselves in with great abandon. A tour guide posed with his arms around bikini clad women and yelled "I love my job!" while the tour photographer got pictures of each of them.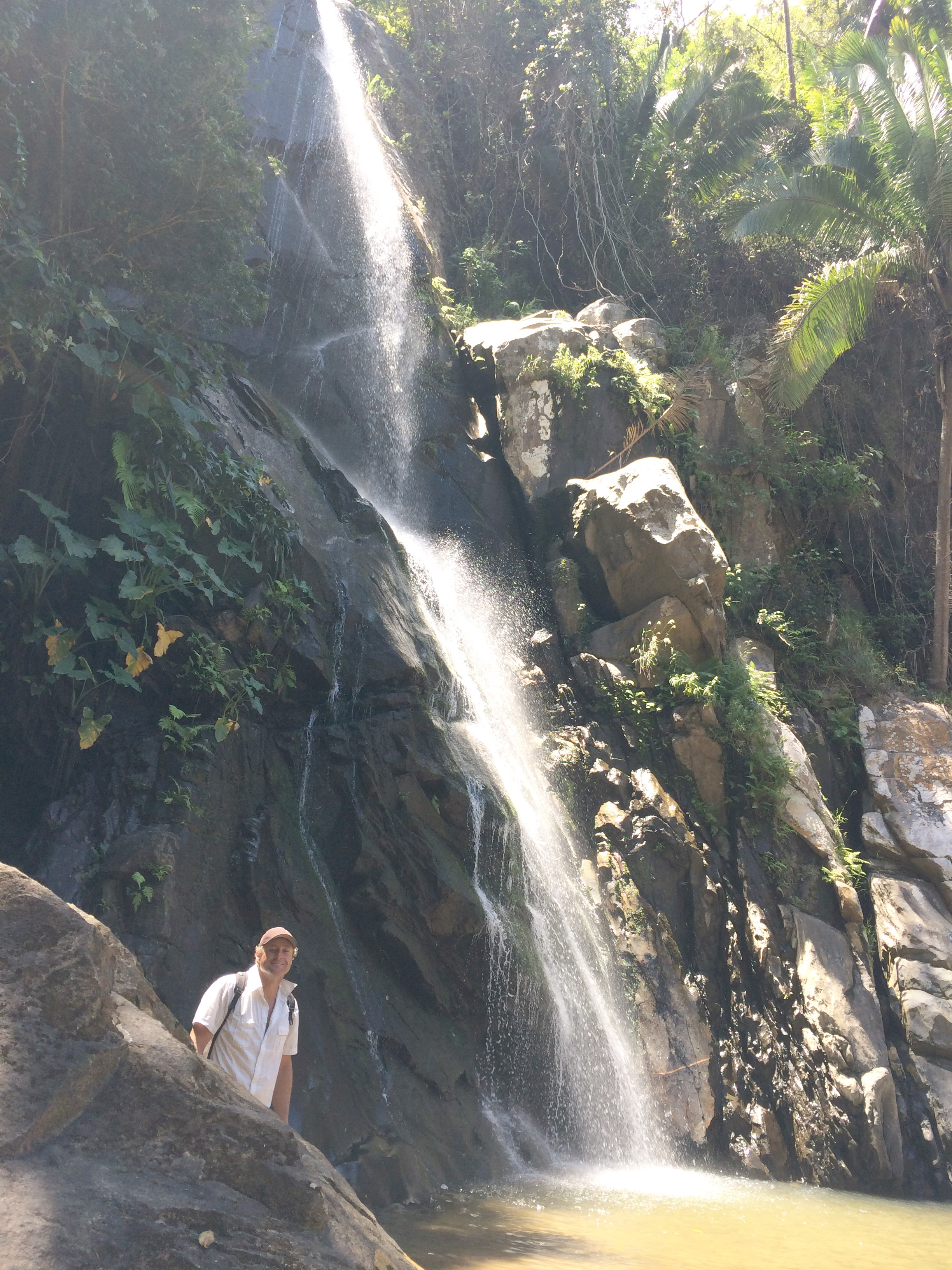 We wandered up what appeared to be a trail that might take us to the top of the falls. It was a dead end – the rocks and trees going straight up. We stayed in the periphery, watching everyone have their fun. They eventually left and we had a peaceful hike back down through the village.   We decided to have a late lunch at the restaurant that Edgar said belonged to his father. It was a little overpriced and so-so but we got to sit under palapas watching Summer float around in the bay and I finally got my giant coconut with a straw in it. There's like 3 cups of liquid in one of those!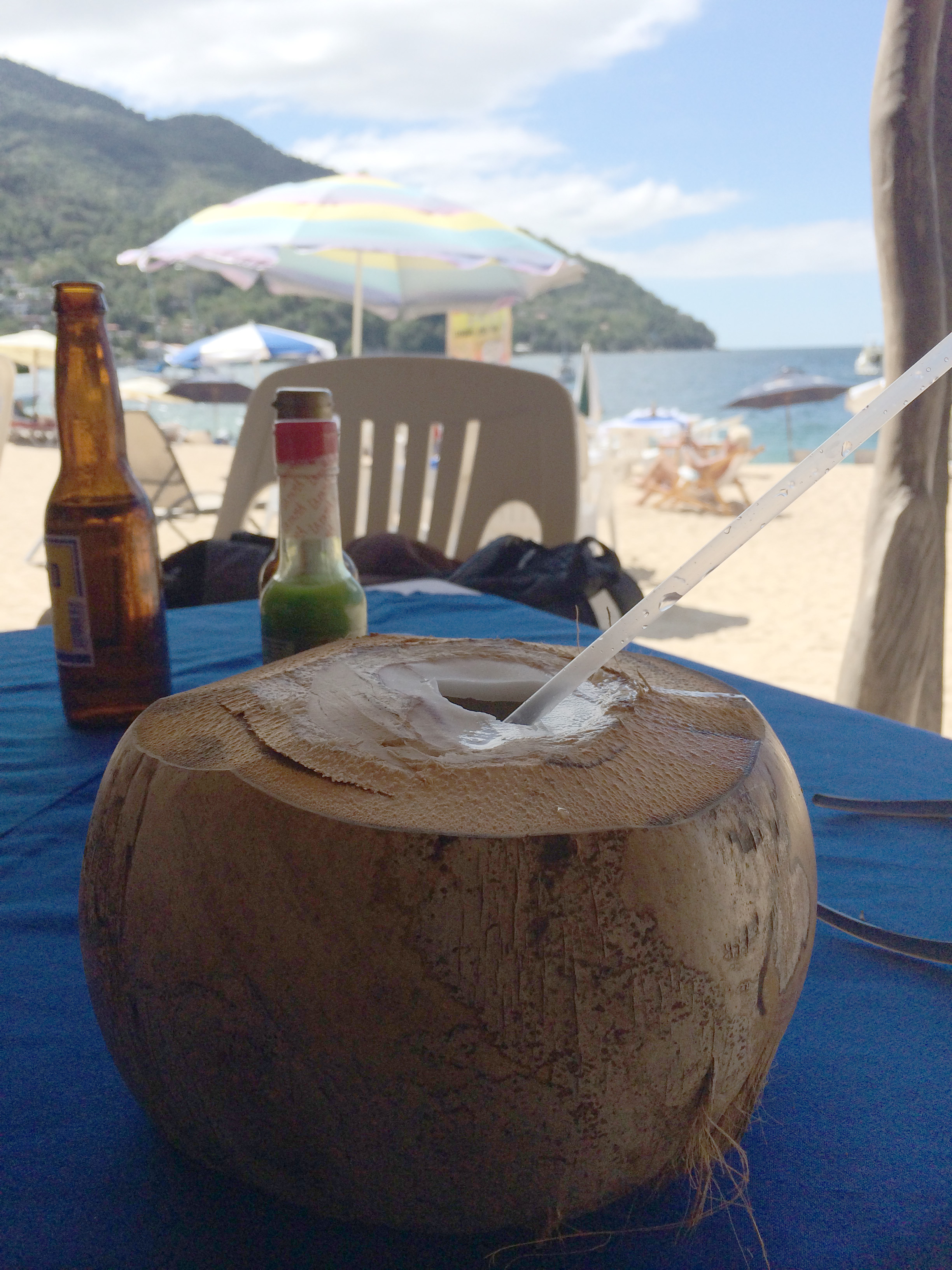 It seemed like we'd seen it all and we were ready to call it a day. We started wandering along the beach in front of all the palapa restaurants and souvenir stands. In the back between some restaurants, I saw a sign for a small grocery – thinking they might have ice creams, we went back in there. No ice creams but I got a nice looking papaya for later. Never being able to resist seeing "what's around the corner" we went a little bit farther on this behind-the-scenes path that ended up taking us farther inland through the REAL Yelapa – where the people lived. It turns out Yelapa was MUCH bigger than we imagined from the face of it. It was beautiful and lush and intriguing walking along the path by the river. We noticed power lines (Yelapa got power in 2001), trash cans hung on the fences and even sewer drain covers. It is an extremely clean place. We talked with a few people we met on the way and learned about getting to the far waterfall. Well, we were sold. We planned to get in early the next morning and go to the far waterfall for a quick look and then still make it to Punta Mita to meet up with Ryan and Nicole by evening.   That night we met Nia and Mike – a young couple from a boat named Azul – next to us in the anchorage. They gave us some good tips on finding the waterfall and regaled us with stories of summer in the Sea of Cortez. We are looking forward to seeing them up there!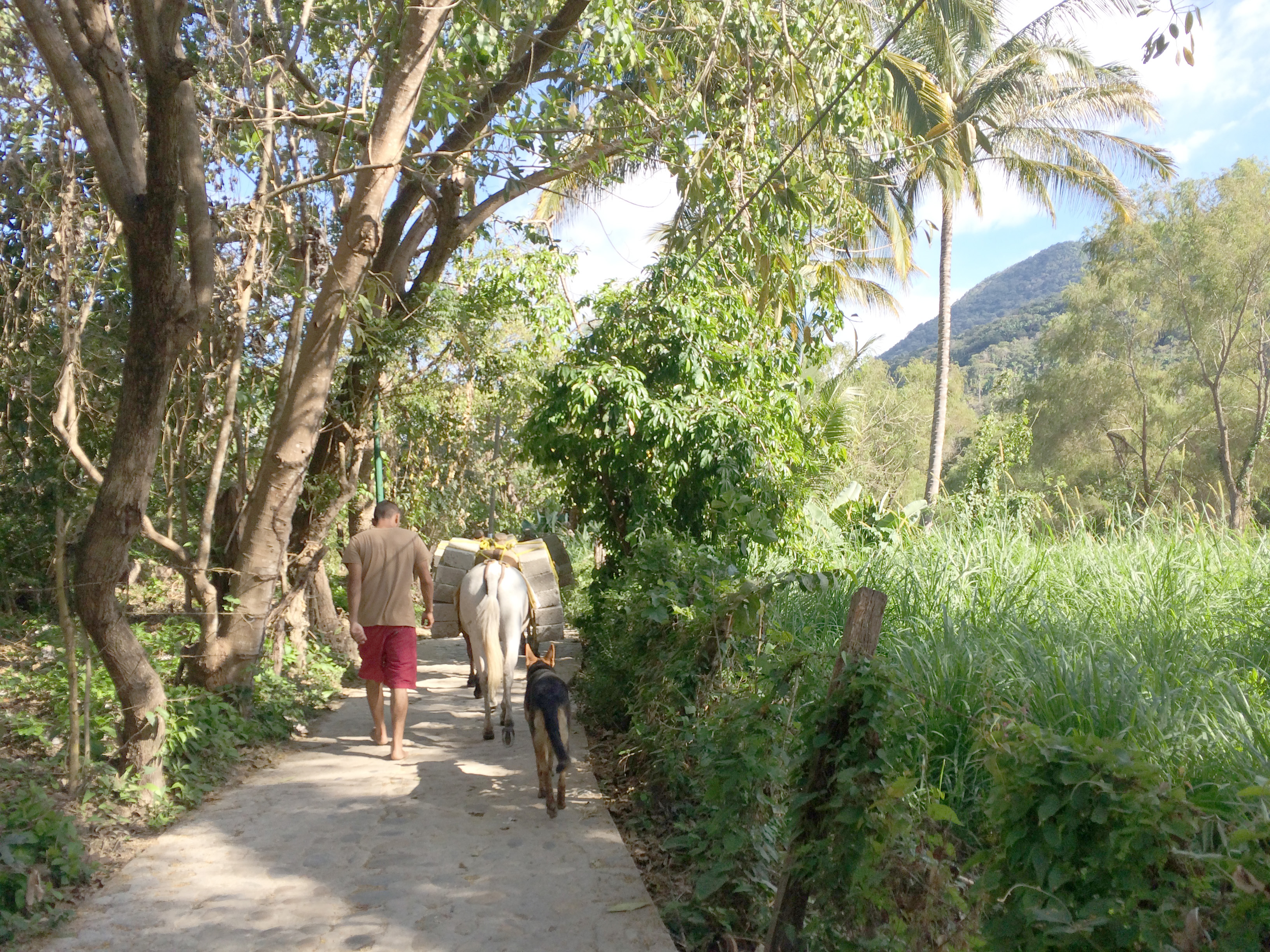 We packed a lunch and got our early start. It was a fun and challenging hike. We heeded Mike's advice about "taking the high road" and "keeping the faith" – that we would eventually find the hole in the fence and the waterfall sign. It was quite a ways and we had about 2 more river crossings than necessary…(people on both sides of the river had told us you cross the river twice to get to the falls – but they couldn't BOTH be right, right? It was like a bad riddle). Luckily we stopped at one restaurant and the nice owner suggested we snap a photo of the map on his wall. Very handy.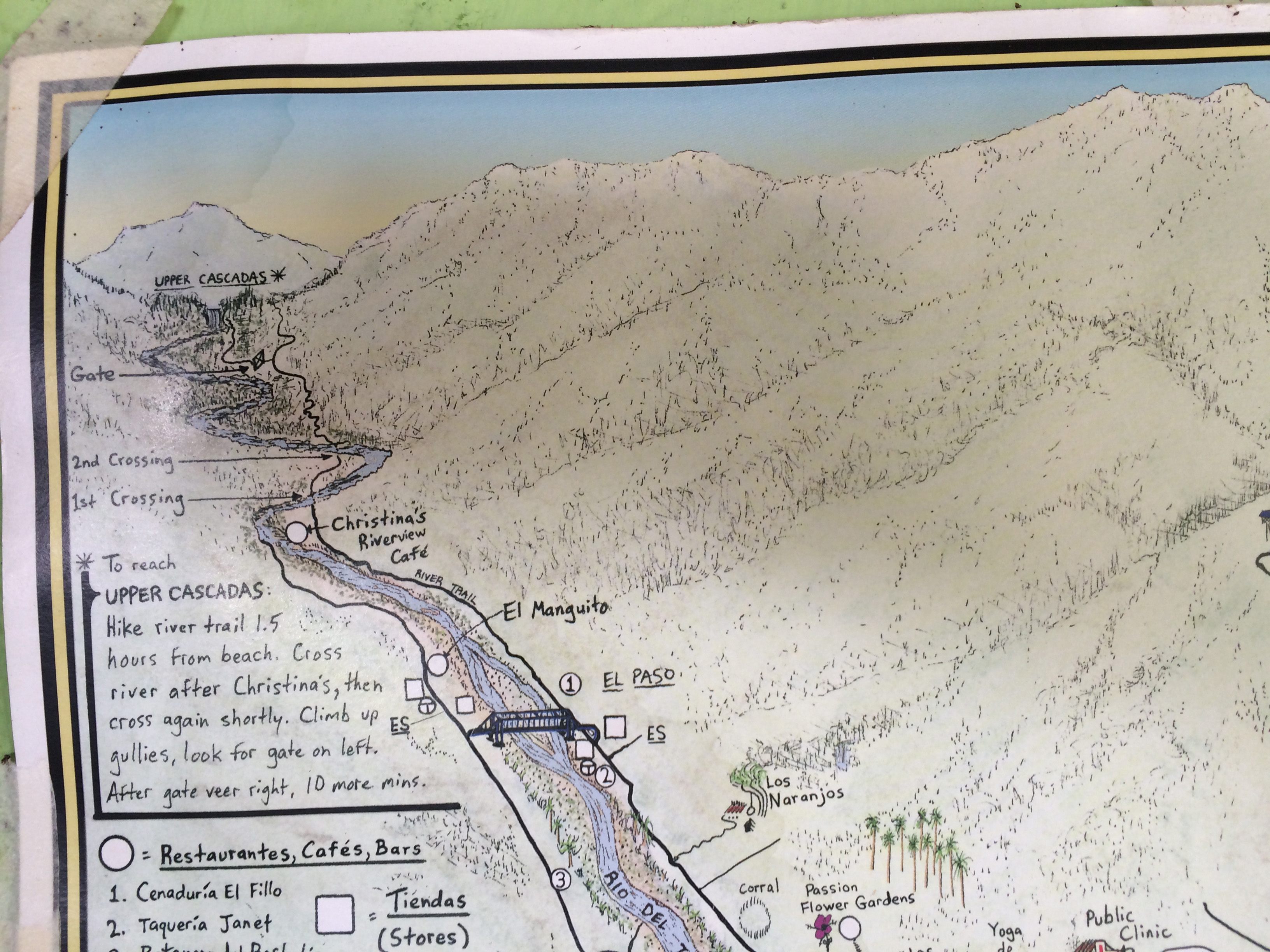 We started to take one 'high road' that seemed downright wrong- and it was – so we followed our instincts, kept the faith and soon we were on the correct path, to the right high road. The falls were amazing, gorgeous and deserted.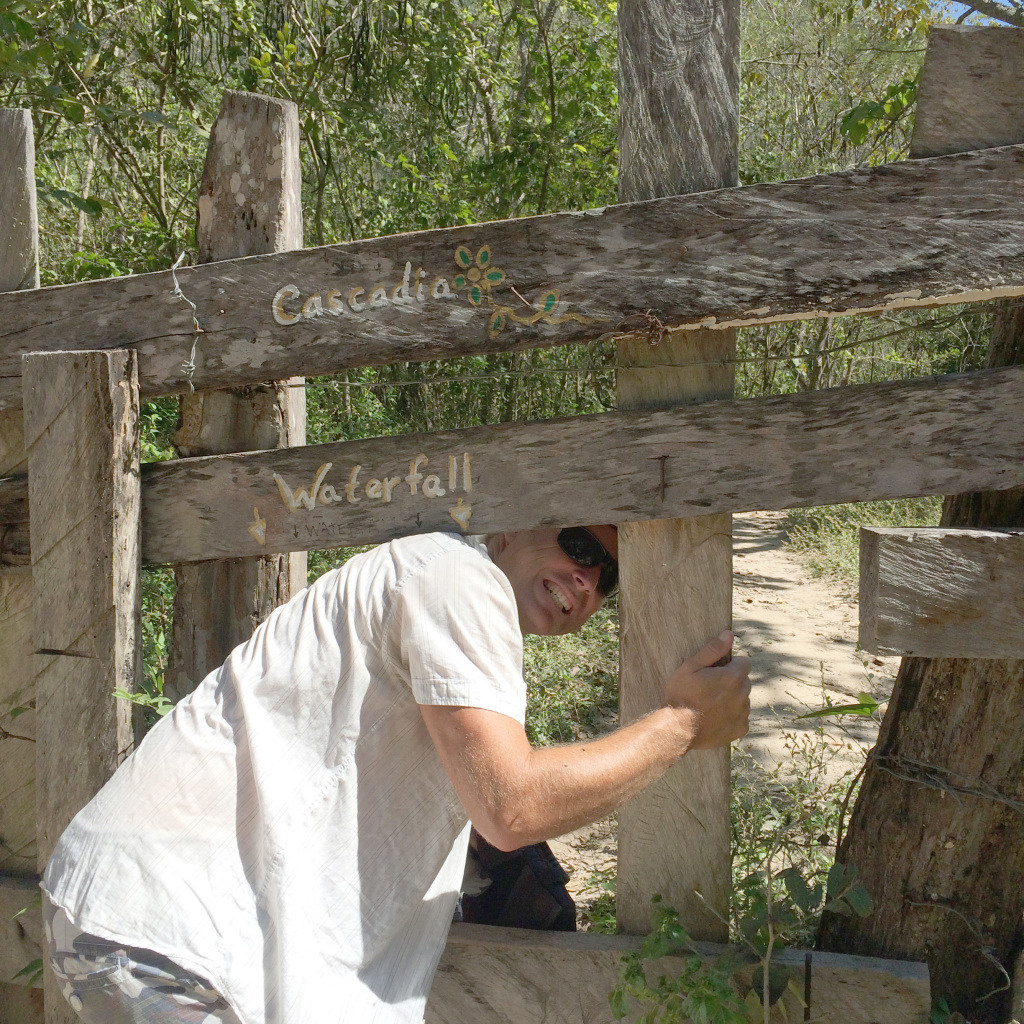 We swam and played and laughed. Definitely paradise. I was pretty sure we were going to be the only ones there the whole time. In fact, at one point, I pulled my bathing suit bottoms down a little to show Jonny how much sand I had lodged in there and turned around to try and get clean. Jonny said "you know there are 4 people over there, right?" OOPS. Nope, hadn't seen them. Pretty sure they saw me. Soon more and more folks arrived. We took our stuff a little bit down river and found a nice smooth rock to have our lunch. The sound of the rushing water was so loud that it was like we were all alone – you couldn't hear a thing from the other people playing just around the bend. After lunch we headed out to get back and sail off. As we passed 'the low road' trail we were both a bit curious. Maybe we should just go down to the first bend and see where it goes? It was clearly the path less traveled- narrower and overgrown in spots. It eventually got down to the river and we found an opening in the barbed wire fence. It was gorgeous in there! And truly deserted.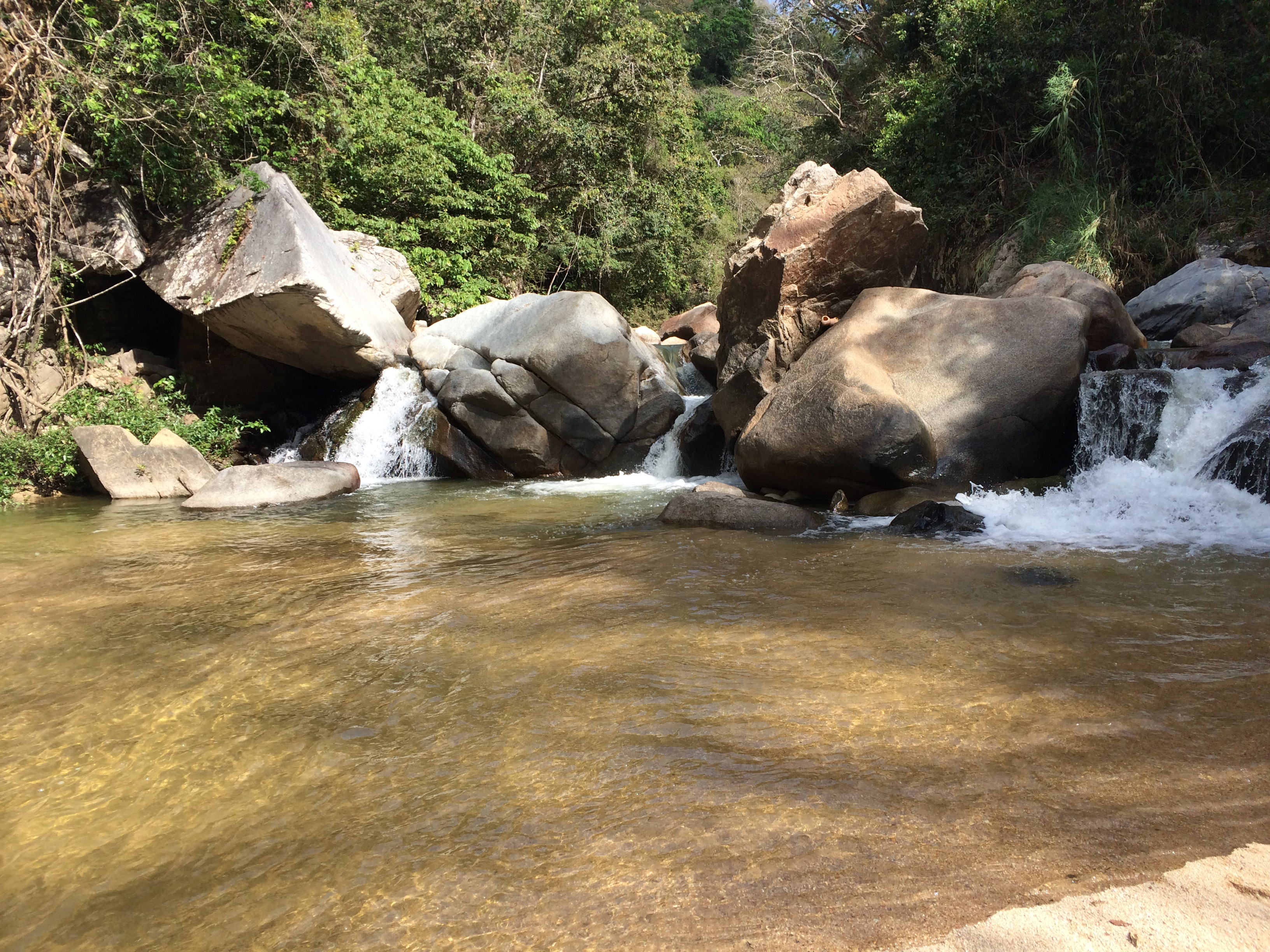 Scaling a few large rocks and wading across a few spots and we came to a pool with three waterfalls and a sandy beach. We played in the falls and swam around a bit. After a nice massage from a powerful falls with perfect rock footholds underneath, I found a large boulder to lie on – hot from the sun. Massage and hot stones? Best spa ever! We checked the time – if we wanted to make it to Punta Mita before too late at night we were going to have to go. Neither of us wanted to leave this magical place. So…what the heck, let's spend one more night in Yelapa! With that decision overwith we proceeded to lounge, nap, swim and play in the falls until late afternoon. It was the best day ever! We finally hiked back down the other side of the river and saw new things along the way.   Even though my feet/ankles were killing me, we opted to go up and through the hilly village one last time and end up at the panga mooring spot to try to get a water taxi home.
Stroll with me through Yelapa:
I happened to find a ice cream place, right next to the tienda where Jonny happened to find a beer. A little cone of delicious caramel ice cream helped me make it that last stretch to the panga dock. No taxis running. It was after 6pm and folks in this town are serious about stopping all work at 5pm. We saw the panga called El Buly coming in to call it a day. We convinced him to bring us out to Summer. He was really angry at us because we had taken Edgar's mooring instead of his when we arrived. But he took us anyway and we paid him more than we thought fair. We see why he's called El Buly, tho!
We had another magical night in the mooring – 3 nights of peaceful sleep in a place people say is ridiculously rolly. I guess we got lucky! The next morning we met Katherine off a large Catalina next to us – she was paddling around on a SUP. She and her husband are retired and sold everything to live on their boat. They've spent the summer in the Sea of Cortez and she had so much great information to share and she got really excited for us getting to see it for the first time. That got ME even more excited for Summer's summer in the sea.
Edgar came over, as we were sure he would –since we had stayed another night, yet not paid for it. We had another 100 pesos ready for him and said our goodbyes. We had a great sail to Punta Mita – we pointed high on the wind and went straight across. Jonny caught a huge toro (the super un-tasty fish that dominate these waters) it was a tough fight but we were finally able to let him go. We had really been hoping for fish for dinner so we made several passes around before anchoring – but still caught nothing. We anchored with Naoma and Jonny went to check surf with Ryan, but it was late and we were ready for a quiet night. I realized too late it was to be our last night to hang out with those guys! They came over to visit in the morning and later all surfed with The Vortex until afternoon.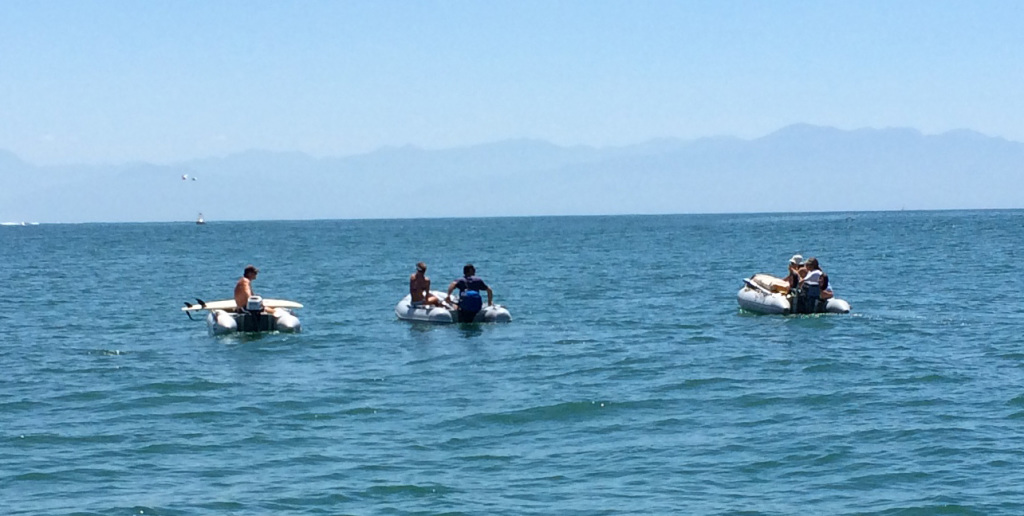 Me? I painted my toenails, baked chocolate chip cookies and worked on this never-ending blog!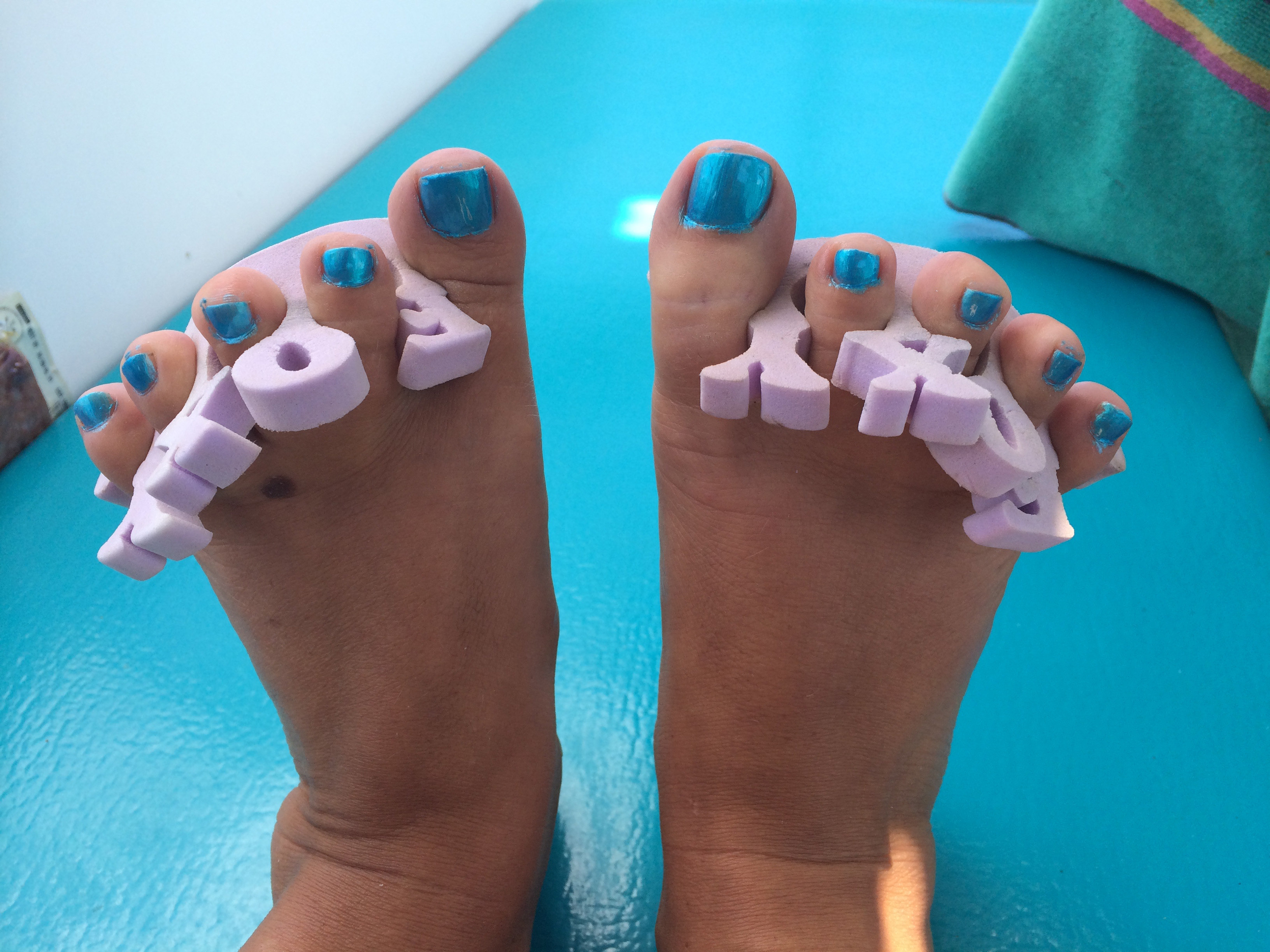 It was a REALLY rolly spot we were in and my craving for the thin and chewy type of cookies was not compatible with the rolly-ness. I did manage to get vaguely cookie-shaped cookies by using parchment instead of silicone mat on the next go 'round.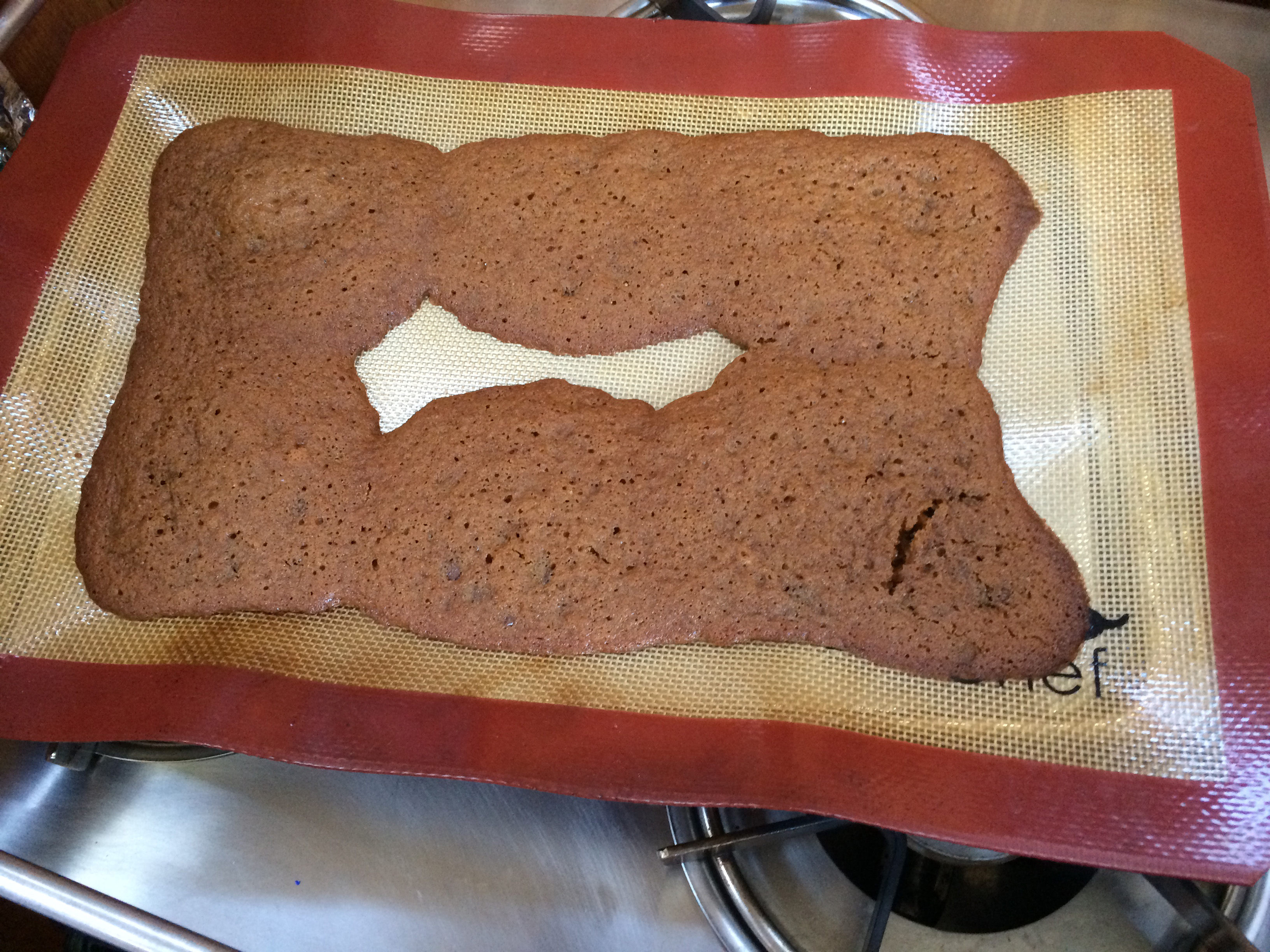 After surfing Ryan and Nicole stopped over for a 'quick' goodbye. Two hours later they were heading off back to La Cruz to provision and wait for a window to open that they could jump out of. No, they aren't suicidal – (per se) – the weather window seemed to be coming up for a reasonable "jump" across the Pacific to the Marquesas etc. The Pacific Puddle Jump, as it's known, is a loose 'rally' of cruisers wishing to cross. They don't all leave at the same time, it's more of a season to go and camaraderie and safety. Banderas Bay (with La Cruz anchorage, Neuvo Vallarta/Puerto Vallara etc.) is kind of the hub from which many people jump. We've had fun listening to the evening SSB radio net where those who have already jumped check in and give their positions and relay info about their trip. It's exciting and inspiring to hear people we've met or seen around who are suddenly 900 miles away in the middle of the Pacific Ocean! I believe someday that will be us, but this season we are not quite ready for such an undertaking. I'm too excited for our time in the Cortez and then coming back down to all the spots south of here that we haven't yet seen –and of course all the countries below Mexico, too… We may jump someday from much farther south.