No blog entry since last year?!? Time is flying, and yet somehow also slowing way down. Somehow we spent 2 weeks (or more?) in Cabo San Lucas (or as dear Perry called it "Cabo San Ludicrous". Very fitting).
We spent the last night of the year in the IGY Marina slip, nestled inside a ring of restaurants, bars the Luxury Avenue Mall and lots and lots of expensive power boats. Our time docked was mostly about 'taking care of business'. Lots of running around and getting things done. And appreciating the unlimited supply of water available to us.
New Year's Eve has always been my favorite holiday. I love the finality of the year and the prospect of starting afresh. It wasn't feeling like NYE. I wasn't all that excited, we didn't have solid plans and I wasn't sure what was going to transpire. We had planned to get dinner with Jon, Shannon and Sean. They arrived early evening and we went out to a simple not overpriced restaurant. We had thought it might be something fancier, but I was just as glad not to spend a lot of money and we were in good company. After dinner we wandered around looking at all the bars preparing for big, crazy parties. Cabo has some really bizarre places! None of us seemed inclined to settle in anyplace and spend a fortune on drinks. We ended up stopping in a corner store and buying some 'walking around' drinks. Which is a nice thing you can do when you are no longer in "the land of the free"– can walk around in public and enjoy a drink. We were hoping to run across some live music. We didn't find any. Our wanderings eventually brought us to the beach (where else would we want to be?). We walked along and watched all the parties underway at the fancy hotels beachfront areas. They were all roped off to keep out the riff-raff (namely, us).   There were some strange and interesting parties going on. If there was any party I wanted to be at, it was this one that was like a surreal, confusing dream (I'm funny like that). All the help were dressed in elaborate costumes of no apparent theme and a pianist was blasting out some intense music that Jonny later identified as "Master of Puppets" by Metallica.
MasterofPuppetsBizarreParty  <—-VIDEO (can anyone get these to play?)
We saw set ups for massive fireworks displays and we were getting excited to see the show.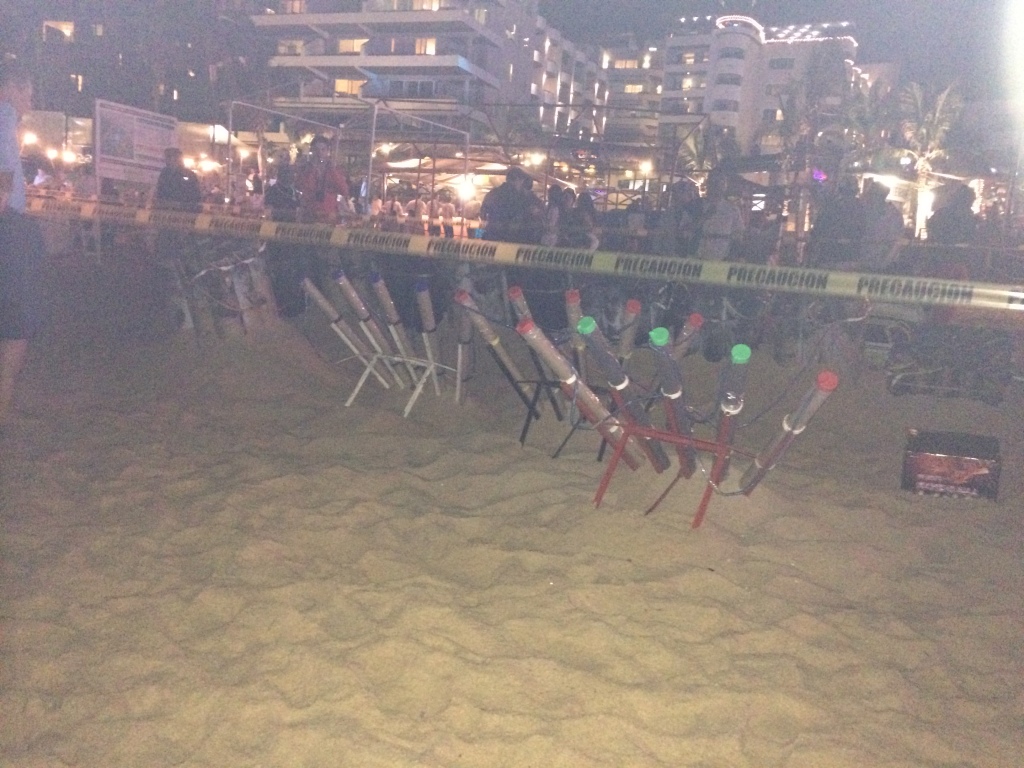 We eventually found a way to sneak off the beach, between hotelas and onto the street – rather than trudge back the long way on the beach. We weren't sure where we were, but we adventurously forged ahead in what seemed the right direction. We came across a beer store at an opportune moment. I was dismayed with the beer selection, being a fan of the darker stuff. There was one brand called "Indio" and Jon assured me it was far better and closer to a darker beer and I might like it. There was only one, and it proudly advertised "37% Mas!". It was the biggest beer I've ever seen. My arm got tired holding it. But it WAS tastier than the other options.   Somehow I bore the extra weight as we wended our way through back streets and eventually made it to the marina area again. The bars by the marina were heating up and getting crowded. I got a lot of stares and laughs at my beer. Did I mention it was huge? It was starting to feel like New Year's Eve after all. I think the Indio helped.
BigIndio  <—VIDEO
Since Prism was anchored out, it was a perfect venue to watch fireworks– and also they wanted to be on board to be sure no stray fireworks set their boat on fire. We took Pugeout and towed Prism's little dinghy. It was nice to be out in the anchorage and it really made me look forward to moving out there the next day. Dock life gets old fast.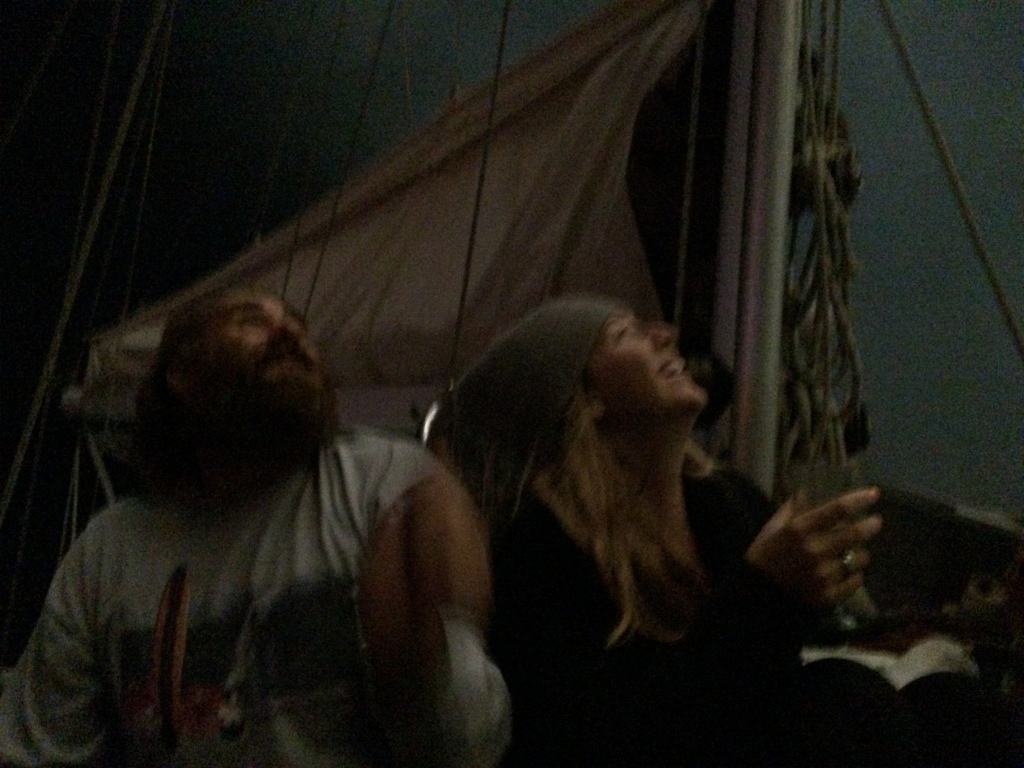 Midnight came up really fast. We were right under the most amazing fireworks show ever. Very exciting – I love fireworks on NYE even more than 4th of July. Bring the new year in with a bang. 2015. Holy Moly.
VIDEOS!
I'm not used to staying up late anymore, and I was nearly crossed-eyed when we dinghied back to Summer around 3:00am. The bars around the marina were still raging. Ear plugs, eye shades and a big bottle of water, I was ready for some serious sleeping.
By the time we were moving in the morning, we wanted a real breakfast. We went out to one of the fancier gringo restaurants and had overpriced gringo food. It was pretty good! We eventually got ourselves organized to get out of our slip and out to the anchorage later in the afternoon. The anchorage is limited to a very narrow strip by shore and drops off to super deep water very quickly. We ended up quite a ways out beyond Prism.
Welcome CSL <—-VIDEO
or is this better?
While the scenery and water were beautiful, the bay was filled with jet skis, party boats, parasailors and panga/taxis. Non stop entertainment. And wakes.
The next –10 days somehow dragged on with lightening speed. We were waiting for a good window to make the southern crossing from Cabo to the mainland. After our hellish trip down, we were feeling a little trepidatious, and hoping for perfect conditions, I think.   There was a northwest wind and south swell that wouldn't quit. It was the big northeast wind and the wind waves and the west swell bashing together that made the trip down so bad.
We did get to enjoy the things that make Cabo such a big destination for so many people. We did a dinghy trip with Prism over to the arch and Neptune's Finger and Lover's Beach. It's just gorgeous sand and water and giant rock formations. It was a little too rough for us to actually go through the arch, but it was fun to get up close.   We also did some snorkeling and saw a few cool fish. There was a roped off area with a lot of people snorkeling, we went a bit out of the ropes and along the edges. The sea floor drops off steeply into a black abyss in many areas. I guess this is why all the cruise ships can come into the bay.
There are SO many pharmacies here that cater to tourists. And it seems Viagra is the main drug they push. The advertisements are just ridiculous. I started collecting pictures.
We also got off the main drag a bit and explored further inland. We took a local colectivo (mini bus) out to where the big department stores were. We did a big re-stock at Mega. I was surprised to see they even had an aisle with some 'organic' foods and one of international foods.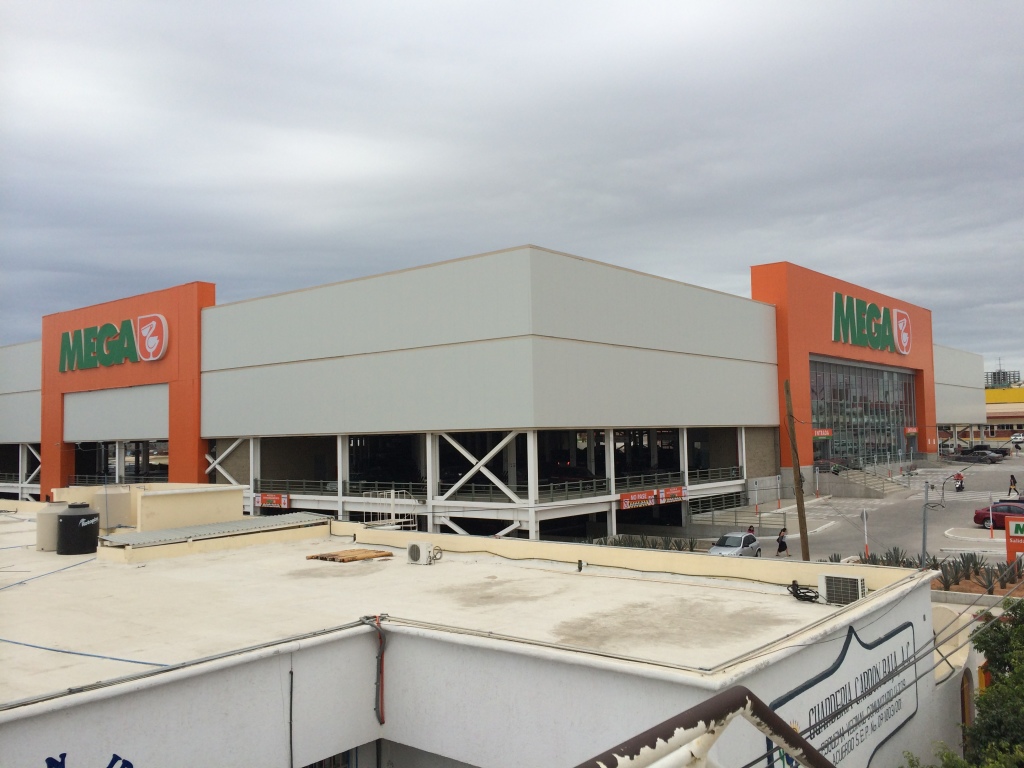 On our second trip to Mega at the end of the week, we were treated to impromptu live music on the colectivo. I had slyly taken my phone out to get a picture of the woman with her guitar, and when they suddenly started to play, I just as slyly recorded.
Yes, the colectivos are quite bumpy rides!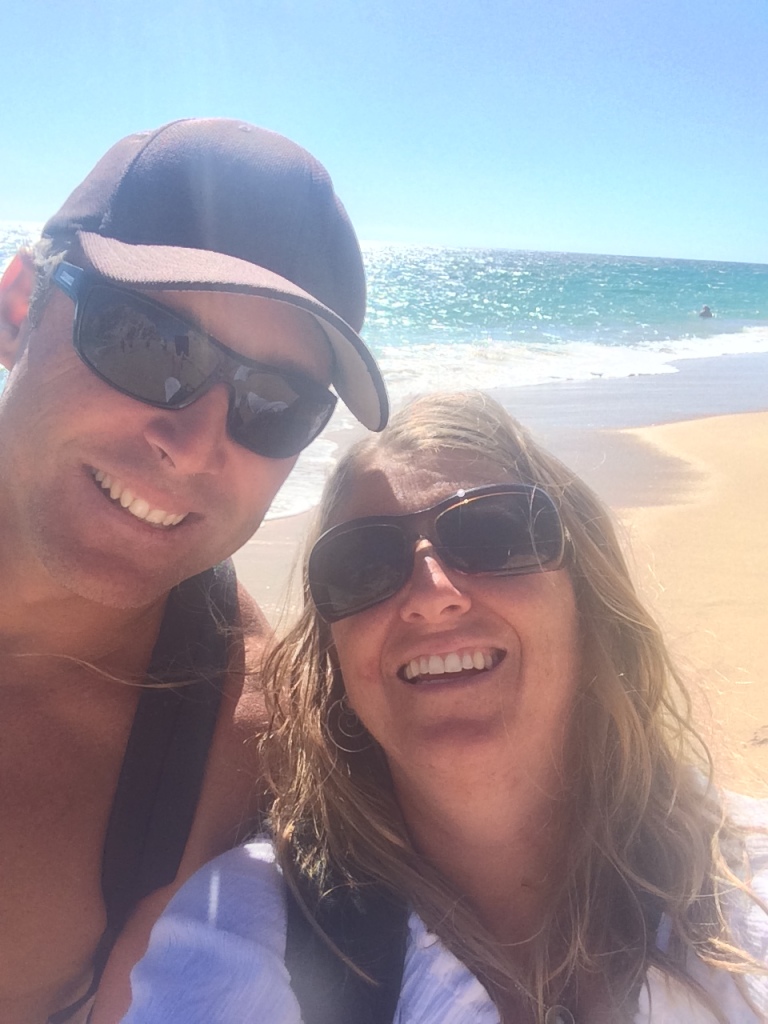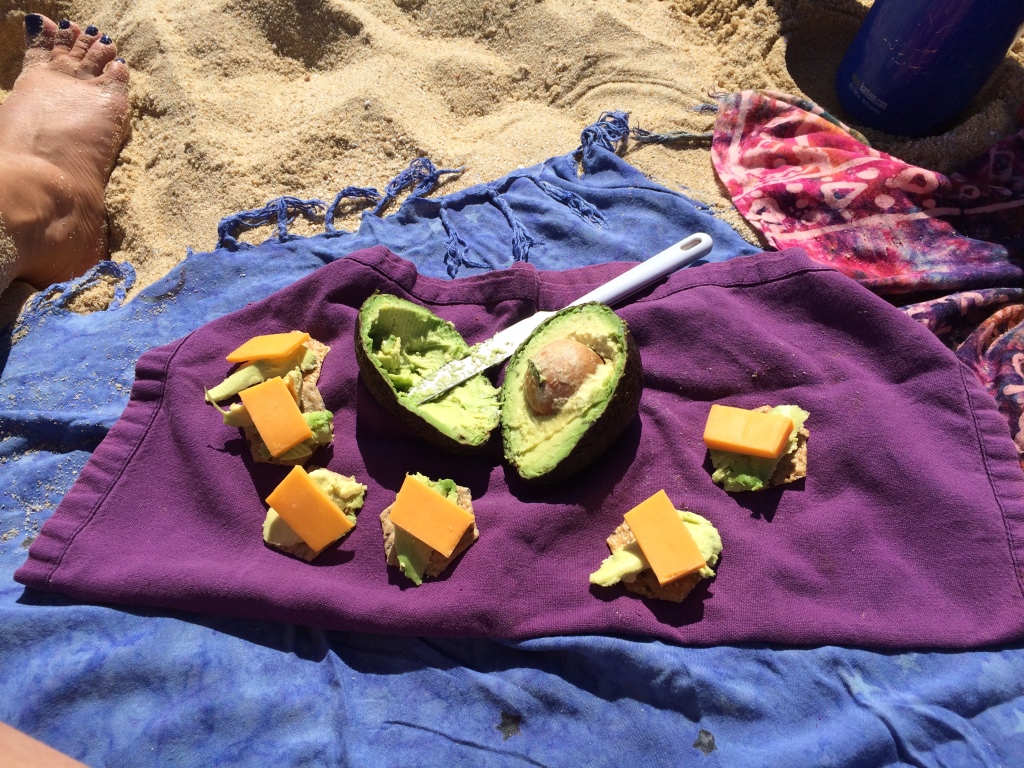 A few times we just went over to the main beach which is huge and long with hotel after hotel which soon dissolve into time share condos. It was fun to relax and people watch. Quite a lot of good people watching, good, very, very white people watching. You could almost tell which part of the frigid and snowy US people were from by how glaringly white they were. I attempted to snorkel off this main beach. I thought it was some kind of fake, Disneyland thing—the water was perfectly crystal clear, the very white sand was uniformly sculpted in ridges the shore came up very steeply, like a white wall. It looked like I was snorkeling in a swimming pool. No fish, no shells. But strangely gorgeous and relaxing.
The anchorage was horribly rolly and not very comfortable otherwise. Sometimes I just wanted to get off the boat and be on solid ground. Cooking was unpleasant with the occasional knives sliding towards you as you tried to keep the pots from sloshing over. Many nights were nearly impossible to sleep. It wasn't the worst rolly we've experienced, but it just went on and on and we kept not seeing a good time to make a break for it. We felt like we were going to be stuck there forever, surrounded by people who've never been on a jetski before, going way too fast, panga taxis zipping by us, huge party boats, enticing their passengers to drink more and be louder. One "Eco-Cat" loved to get the drunk Americans to dance on the trampoline in their bathing suits to "YMCA". Every. Day.
YMCACabo  <—-VIDEO
One hotel on the beach had big, loud parties almost every night. It often sounded like wet t-shirt contests. The announcer frequently yelled into his microphone things like "Let's maaaaake some NOOOOIIIIIISSSSEEE!" and "Take it off!" Did I mention I have a whole jar of ear plugs?
Jonny and Sean finally went to explore the eastern point and found some surf. It was good to see them get out there. It also happened to be a not-so-rolly day and I opted to stay on the boat and putz around, make brownies and have some quiet domestic time.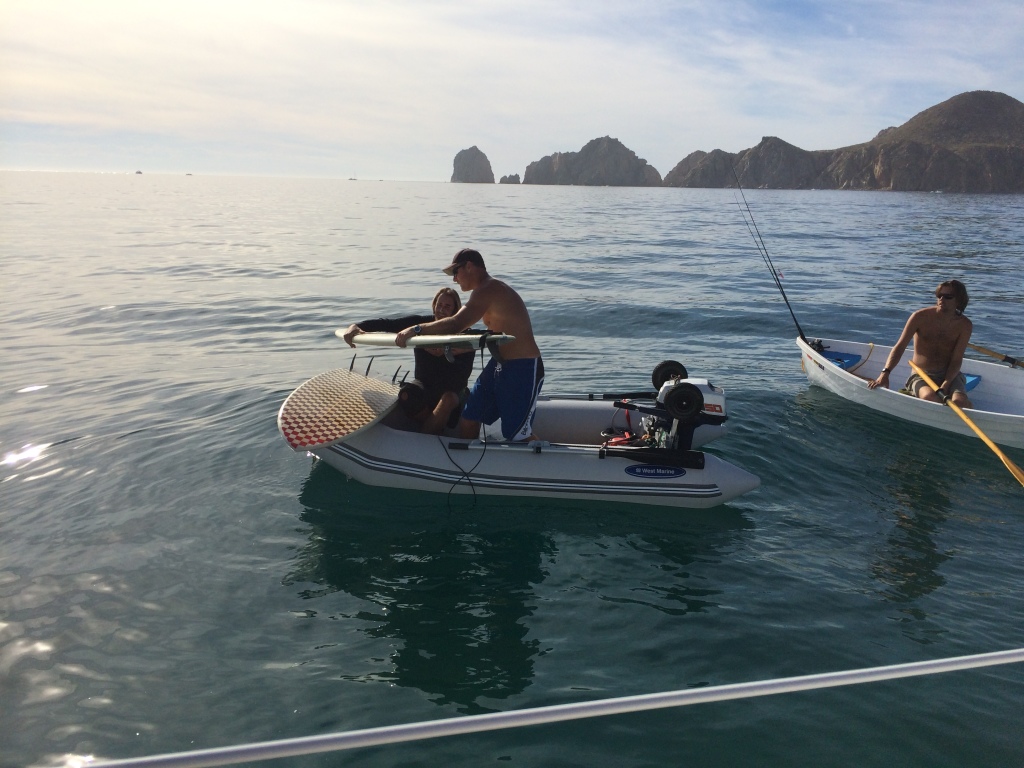 Finally we saw a window to make our move. Winds were not too strong, not too light and the south swell wasn't quitting, but at least looked to be smaller.   The guys on Prism took off the day before us – heading up to La Paz (brrrr!). We had a quick good bye – I'm sure we'll run into them in the Sea of Cortez this spring or summer—and I'm definitely looking forward to it – good peoples!! Shannon so kindly gave me their recipe for ginger beer as we said our goodbyes. We have our first batch brewing now in a 2 liter plastic bottle, should be interesting!
We did our final food shopping and cleaned up the boat and got things prepared for our journey into the unknown. I was so ready to leave Cabo, but also apprehensive about the trip. My gut had been a little off to begin with…
We had hoped to stop at Isla Isabela, which is about 50 miles from Mainland Mexico, sounds like an amazing environment/ecosystem with a crater lake and blue-footed boobies (Let's make some noooiiiiissse! Oops, sorry. Wrong boobies). But the weather looked like it might get a lot windier the day after we arrived and it's not the most stable of anchorages (and all the books and folks we talked to said you'd better put a trip line on your anchor or you might lose it). So we decided to give it a miss and catch it on our way north later. We were headed for Mantachen anchorage, just south of San Blas.
In order to be sure we arrived in day light hours, we calculated we should leave around 3:00 or 4:00 am. I made some of our usual 'road food' but not as much as usual – I figured either I'd been cooking or not wanting to eat at all! It was hard to get up so early, but I put on my warm clothes (Uggs, again!) and we got Summer moving. As we were motoring out of the bay, I was marveling at all the stars. Wait – was that the Southern Cross low on the horizon?!?! My first siting this trip. I was very excited, for some reason. And then of course I had that Crosby, Stills and Nash song stuck in my head…"When you see the Southern Cross for the first time, You understand now why you came this way. And the truth you may be running from is so small, but it's as big as the promise, the promise of a coming day…" There. Now you have it stuck in your head.
After the excitement of getting underway, I needed a bit of a nap.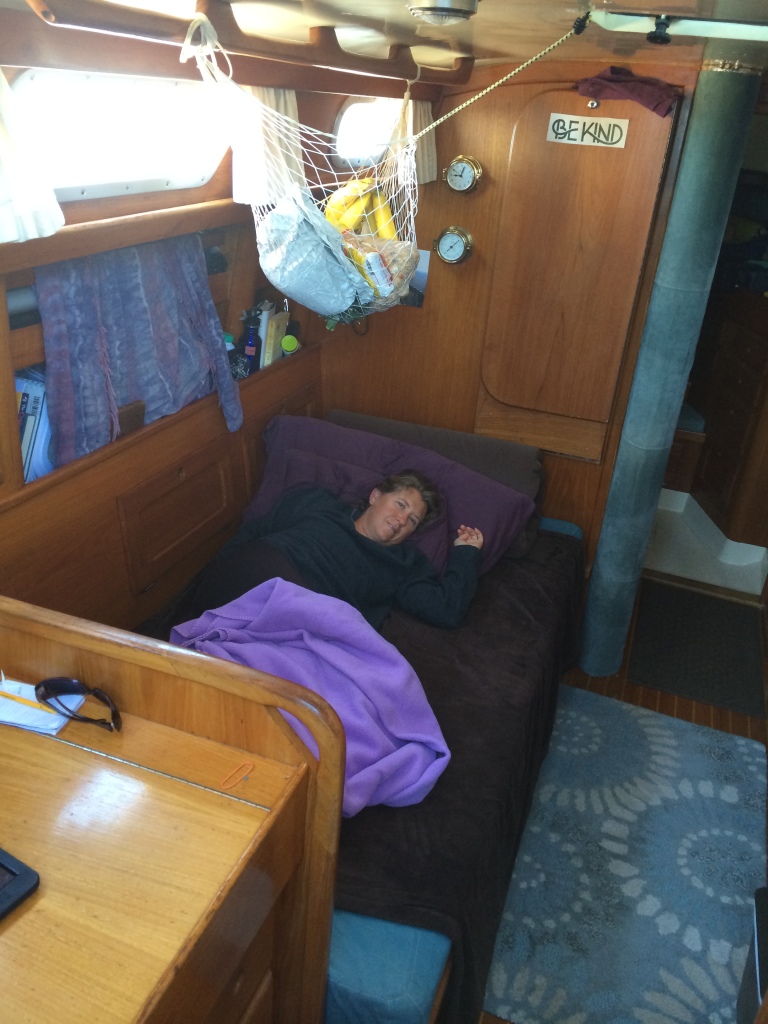 The wind was supposed to be Northwest, but it was Northeast nearly the entire trip. But the swell, although south (and some also north) was negligible – making it one of the most perfect trips ever! We sailed nearly the entire way – only having to fire up the motor a couple of times when the wind got really light and the sails were slogging to noisily. It was warm and, as they say "smooth sailing". I felt a little off the first day – not exactly Montezuma's Revenge, but just off. Raw garlic, ginger tea and bentonite fixed me right up and I felt great the second day of our trip (and ever since!).
The stars! The phosphorescence! The not-freezing-my-ass-off! It was just beautiful. I got a little more confidence trimming the sails by myself at night on watch. Now, we have not done a passage longer than 3 days and everyone says that after 3 days it all gets a lot better, the first 3 days are the hardest. So, I can't speak to anything beyond 3 days, but I have to say that being underway is not exactly the vast expanse of leisure time I had expected. You are either desperately trying to get your 3-4 hours of sleep when it's your turn, preparing food, doing dishes, or being on watch. Being on watch actually requires you to look up occasionally to make sure you are still on course and/or not about to run into another boat, and/or trim the sails as needed. You can't exactly get involved in other projects requiring full attention and you have to try your darndest to stay awake. So, I get some reading in, or play this annoying word game on my Kindle (it's like it's like scrabble solitaire with a time limit and fast moving letters. It keeps me awake!). The time, however, goes by incredibly fast. Our makeshift "4 hour alarm" seems to be going off all the time. Already?
We passed by Isla Isabela in the wee hours of the morning – and through the binoculars there appeared to be many anchor lights there. The weather seemed grey and gloomy as the sun came up. I thought maybe we were in a Twilight Zone and at any second see the entrance to Moss Landing harbor… But, before long, it was "Land Ho!" Layers of pointy green mountains! We realized how starved for green we had been in the desert. As we got closer I saw things sticking up from the shore. Palm trees! The approach was taking forever and it was hard to maintain the excitement. We finally dropped the sailed and motored the last hour or so into Mantanchen bay.   Clearly, we were SOMEWHERE. It looks just gorgeous –so lush, green and tropical. The sun was coming out and the water temperature was nearly 88 degrees! I could hardly wait for a swim. Although had I had a Magic 8 Ball, it would have told me "Outlook not so good". Mantanchen is a huge and very shallow bay. Several miles out we were in 25 ft of water. By the time we anchored, we were in 12 feet of murky, muddy water, teeming with life. It wasn't that it was 'dirty' in the polluted sense – not at all. This is an incredible ecosystem around here. The fish, the sting rays, the jellyfish, all made the waters around us a thick soup.   I heaved up a bucket of water and it didn't look so bad, so I had a bucket bath and a freshwater rinse. Felt great, anyway.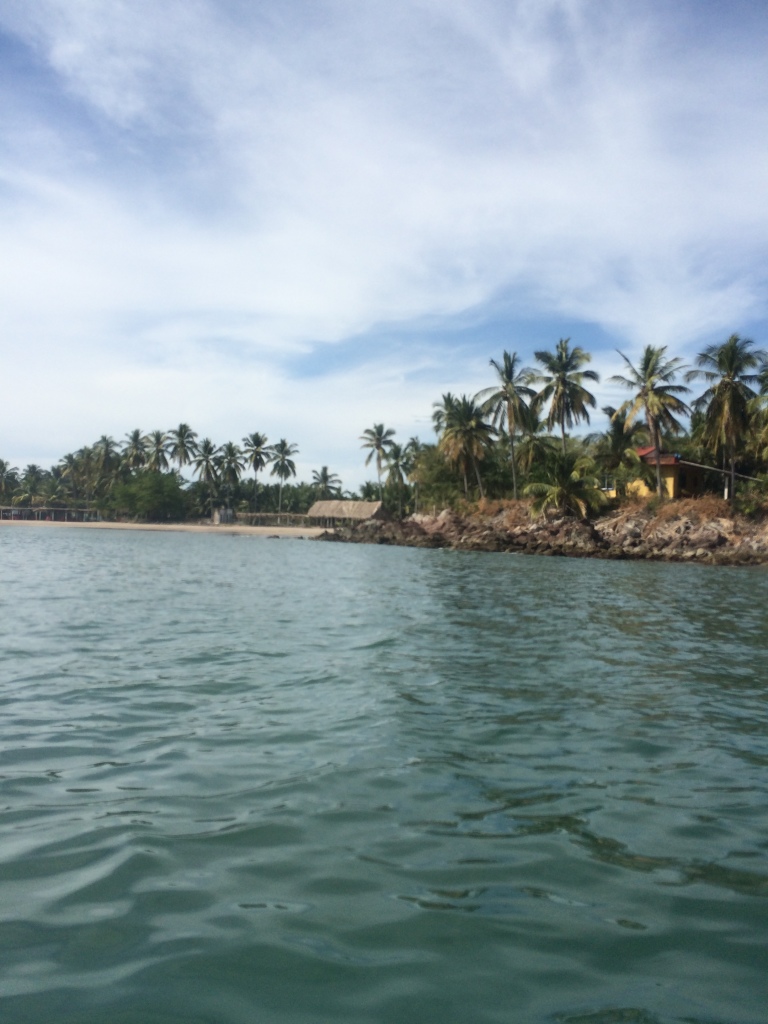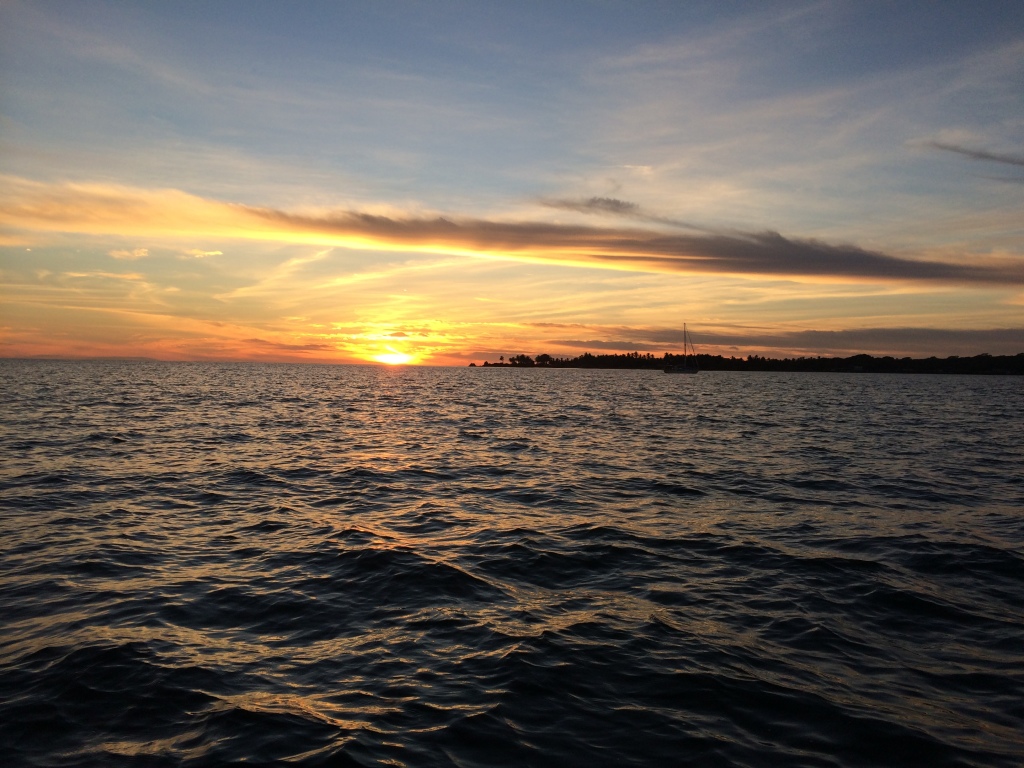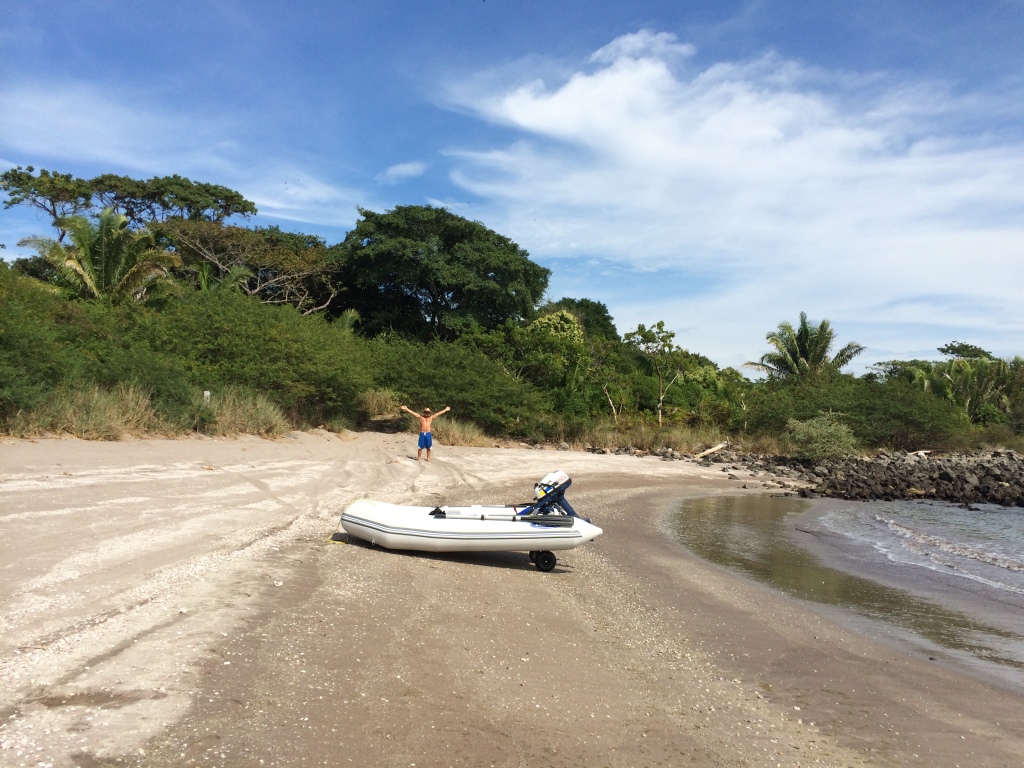 We anchored out there for 3 nights (or was it 4?). We did a dinghy tour of the bay one day. We dinghied the 5 miles around and into the estuary to visit San Blas. The marina there will let you tie up for 10 pesos per person (? It's just one dinghy) and shower, do laundry, etc. (each with a price of course). We met Moses (not to be confused with our CPT Autopilot) -a very friendly guy who works at the marina and speaks perfect English. He gave us some directions to find the town area and we set off to have a look around. Very cute and clean town! So much history here. We were keen to explore a lot more. We met some people anchored in the estuary and we thought we might like to do that as well. We wanted to see a lot more of San Blas an the 30 minute dinghy ride each way was not so great. We spent one more day at anchor and I finally sewed up our screen door. I had purchased some stretchy mesh fabric and a box of small-ish gauge galvanized chain. I sewed the chain around the mesh fabric so it could lay around the edges of our companionway, giving us a simple, inexpensive screen door. I then sewed some suede patches into the part where it bends so it won't tear the fabric. We were expecting it to be buggy up in the estuary.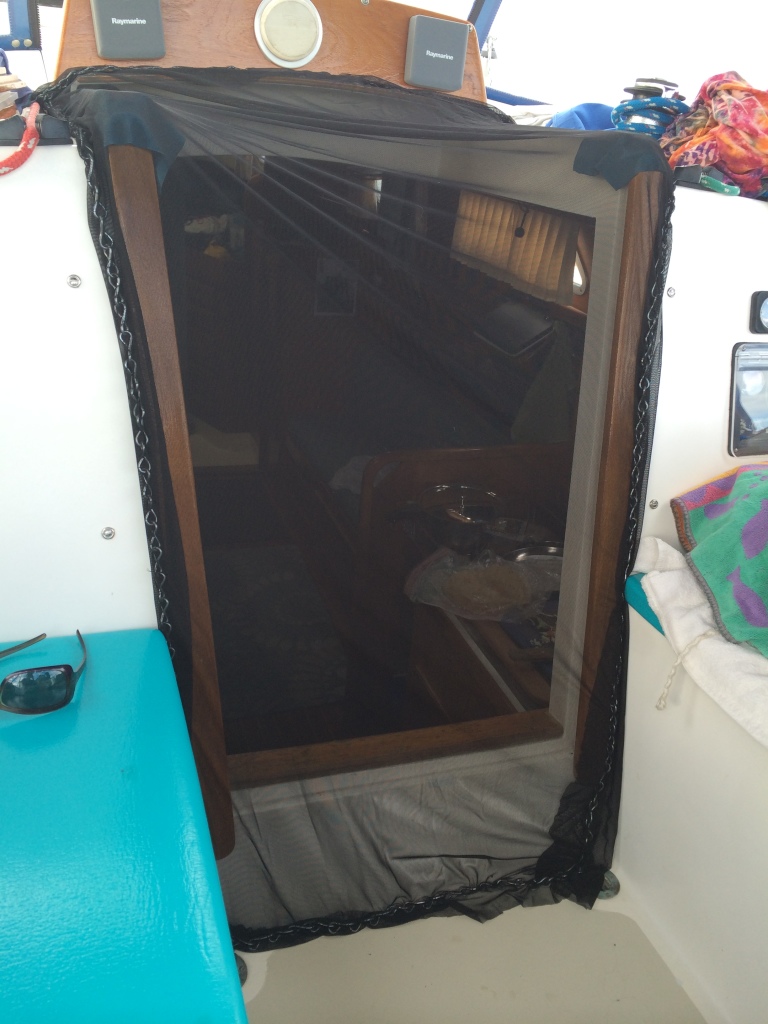 After one more relaxing morning we were ready to head into our new spot. It was hot, sunny and we were underway (for a very short trip) to a new adventure.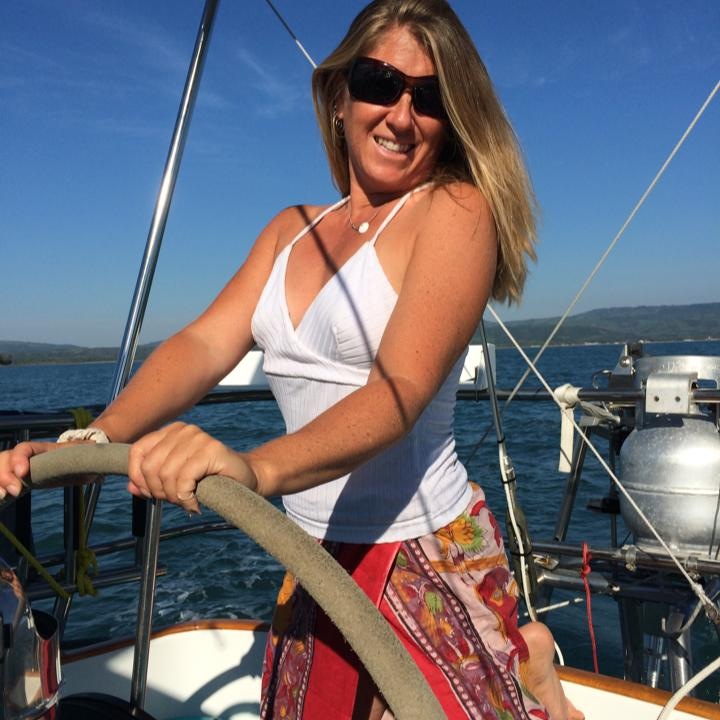 We found an indent outside the channel markers where we thought we could fit. The first spot we tried was way too shallow and we very nearly ran aground. You know what they say, "There are 2 kinds of sailors, those who have run aground and those who haven't yet" (they say that about seasickness, too).   Well, this time wasn't our turn.   We settled in just across the way from the marina docks and very near to the lush green shore. And noseeums (or jejenes, in Spanish). We started getting bitten immediately. How is it those teeny tiny things can bite so hard?? We were very grateful for our screen because it was also far too hot to put the hatchboards in at night.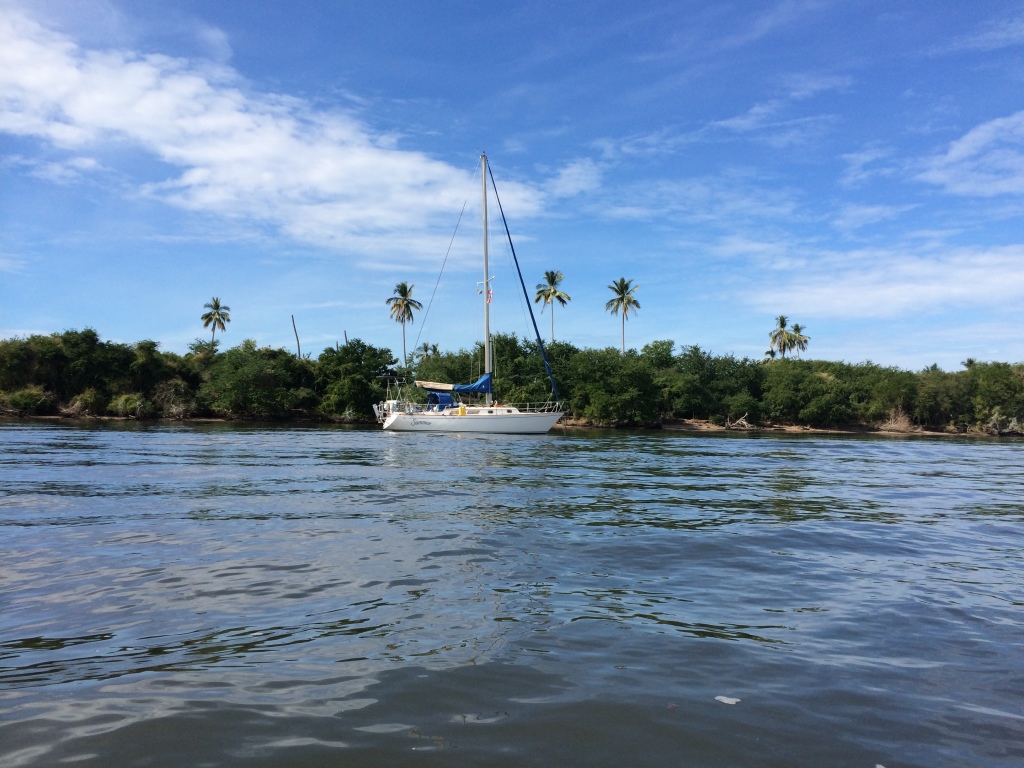 We still have much to explore here in San Blas. We also are about to run out of propane and discovered there is none in San Blas, so it looks like we are going to get to explore somewhere else by bus, as well…
We spend most of our first day wandering around. We came across a place that said it had the Original Pan de Platano. Banana bread is a big deal in these parts, due to the banana plantations in the hills.   Well, we HAD to try that, skeptical it was in fact the original. But the owner came to the walk up window (there's also a restaurant) and told us he was the first person to make banana bread here over 40 years ago. We got a couple of muffins and they were delicious! I don't even like bananas! We plan to go back there for a whole loaf and probably breakfast. He has a sign about yogurt and I got the feeling he makes it himself. I don't eat a lot yogurt, but when I do… I like it to be JUST yogurt. No additions, no sugar, no sucralose, etc. That is all but impossible to find in Mexico. I went back yesterday and found out they do make their own yogurt, so I got a big to-go cup of it and had it for breakfast this morning. Delicious!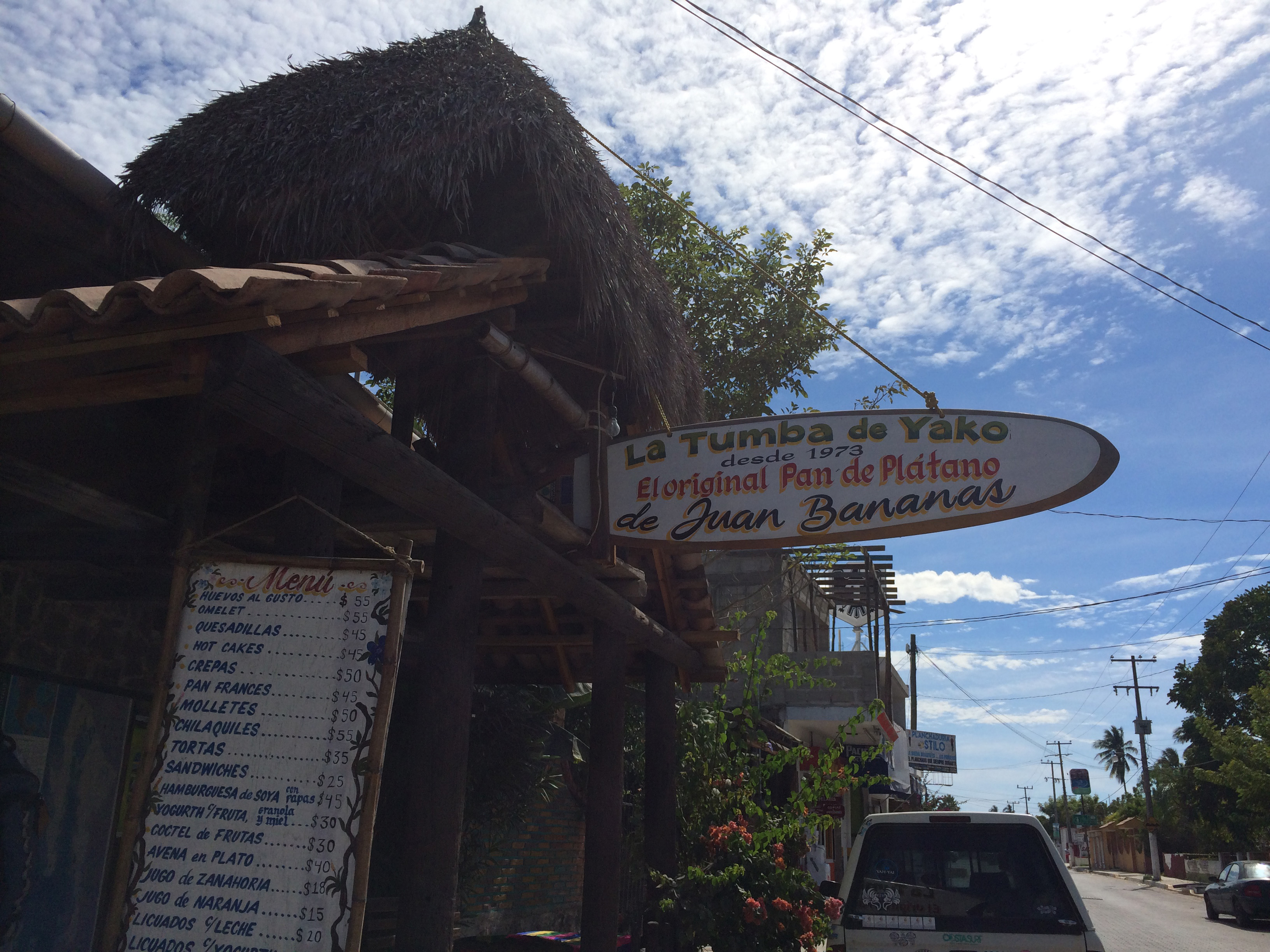 We did make it up to the old church and Spanish fort at the top of a hill overlooking EVERYTHING. The church ruins are from the 1700s. While we were wandering around taking in the view, an old man with a bucket came up to us and told us he was an historian and apparently a docent at the park. He began telling us the whole history of the fort – and we were even able to understand most of it! The Spanish lived up there and the Mexicans lived down in the town below. Apparently it was mostly ocean down there a long time ago and the land has filled in leaving just the estuaries. San Blas is the port where Junipero Serra set off from to build all the missions in California. Although there were people living in San Blas over 2000 years ago. This has been a pretty happening spot for quite some time! After the history lesson, we discovered that our historian had published a few booklets and if you bought all three you got the best deal… We got one that was also translated into English so we could bone up on the history of the area – and we had really enjoyed Juan's presentation for us. He was clearly very passionate about San Blas – in fact he was born here, right on the beach.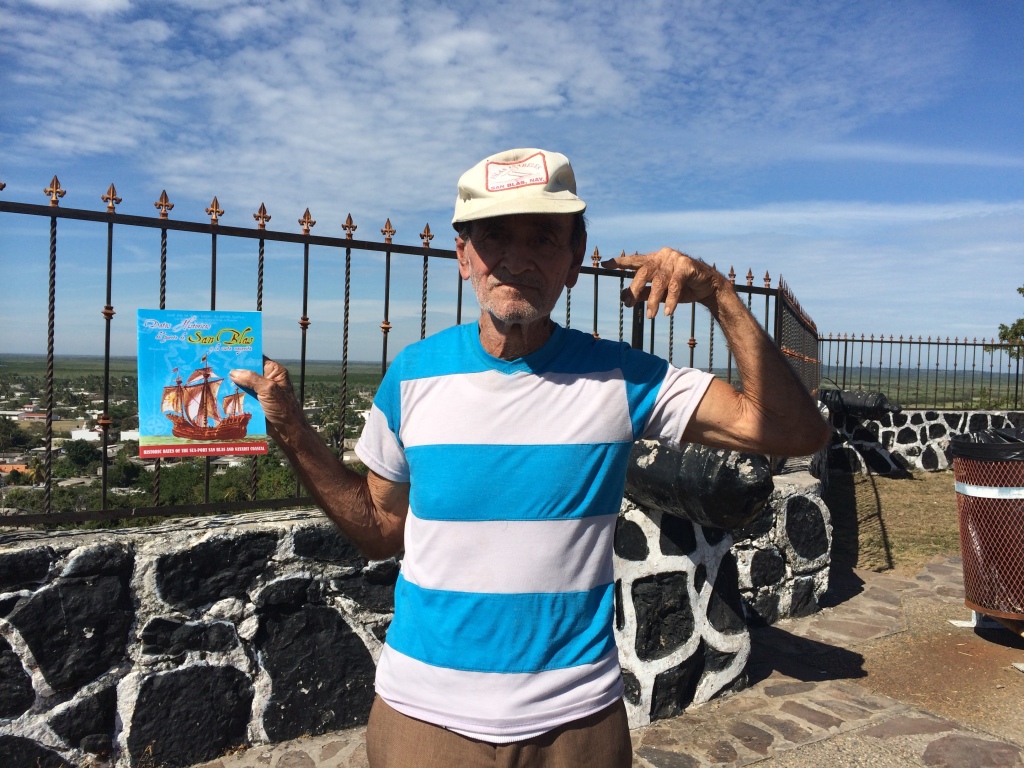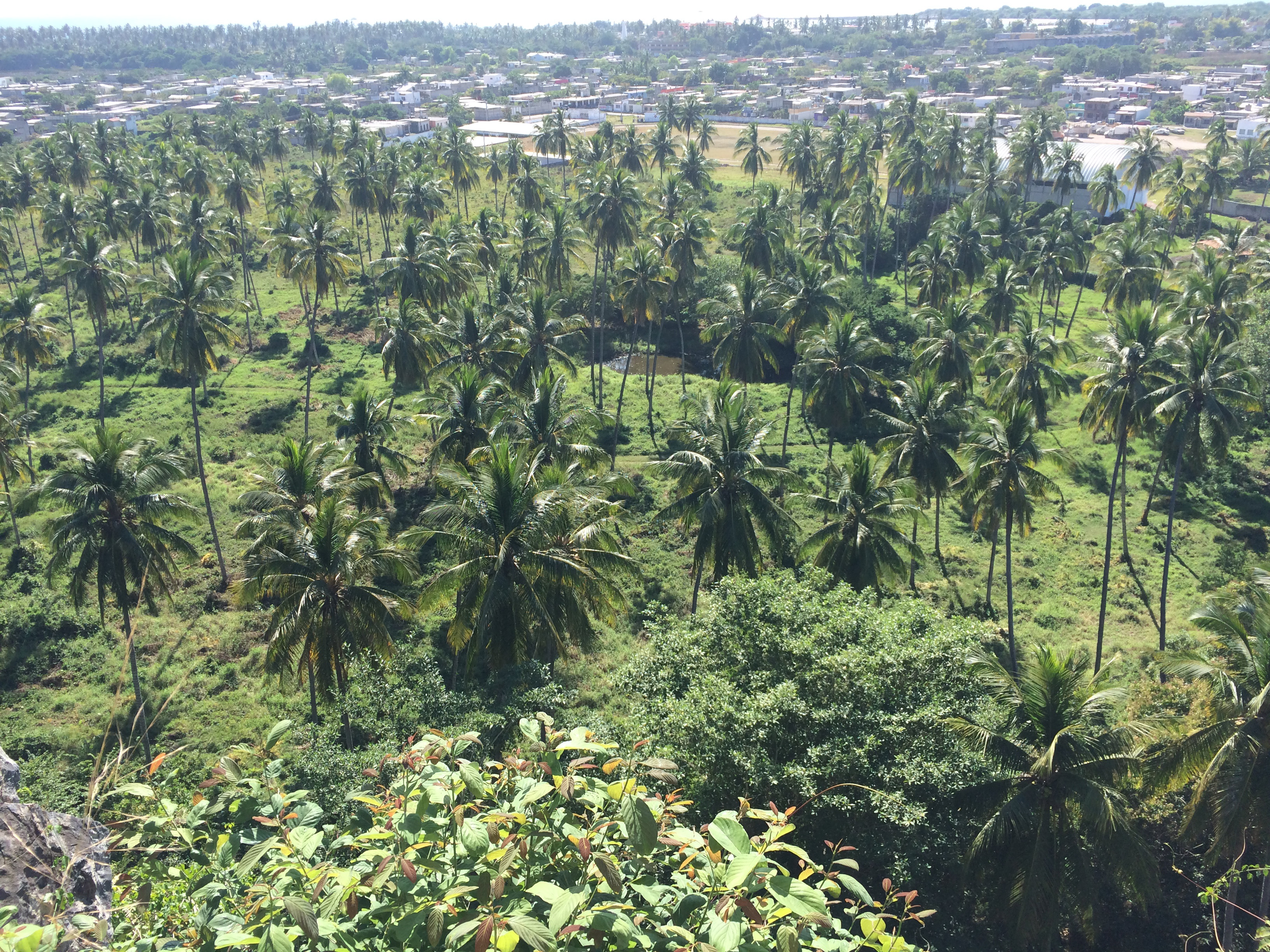 Everywhere around here are cobblestone streets and cute markets and shops. It's not without it's trash, but everything is SO much cleaner than places we've been in Baja. There is clearly a lot of pride in homes and town here. Everyone we've encountered has been very friendly and many interesting to chat with. We went into a pharmacy to see if we could buy some rubber bands – we had a grand plan to put some of our stretchy mesh over our port windows, because we discovered the jejenes can get in through our screens (no we haven't gotten much sleep and we itch a lot!). Anyway the woman taught us how to say rubber bands in Spanish (in Mexico it's ligans?) and she gave us a handful for free. It's not often anyone gives a Gringo anything for free in Mexico! There's no big supermarket in this town of 11,000 people – you have to go from place to place finding what you need. We managed to cobble together some groceries yesterday to keep us for a couple of days.  I got a pound of shrimp for under $4 – I made scampi (but Jonny had to take their heads off!). At least now we know a few places to go to. At the tortilleria we got a huge stack of fresh, warm corn tortillas for 8.50 – that's 8 pesos and fifty cents – that's about 60 cents US.   I was really confused when the woman told me "ocho cinquenta" – I was thinking 85? No, eight and fifty? That's not a number…WOW. So cheap! At another shop I got cauliflower, limes and green beans for just over a dollar.  Warmer AND cheaper? I'm IN!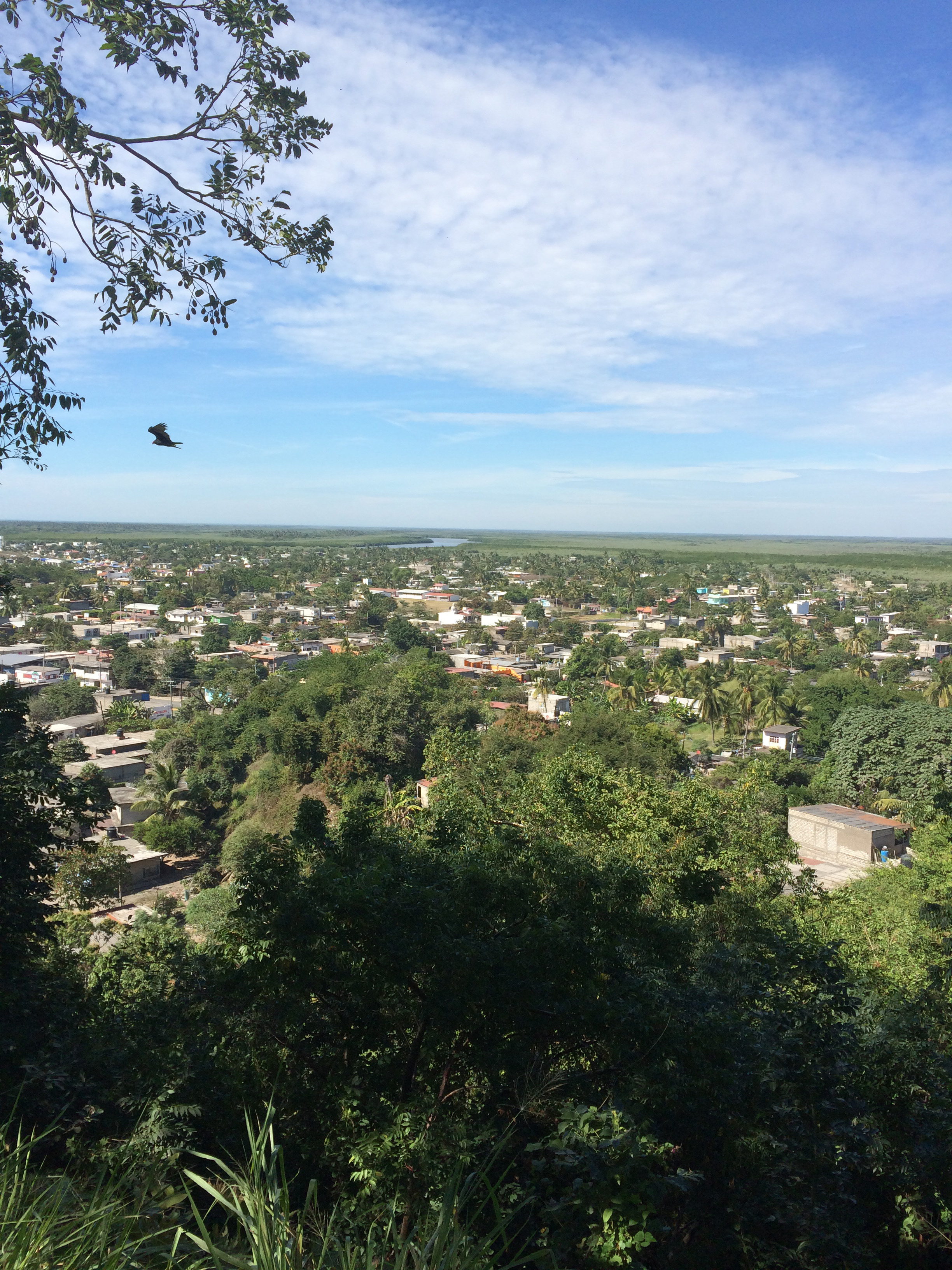 I did some laundry at the marina—no dryers, so I had to call Jonny to come get me and a bag of wet laundry. I hung it all around the lifelines. Jonny was changing the oil, Summer is overdue. He noticed a lot of coolant everywhere…turns out Summer's last original hose finally bit the dust. We searched all over town and found a possibly suitable replacement (with some creative adjustments…). Jonny also took this opportunity to get the heat exchanger bracket off and fixed once again (for the 3rd and possibly last time? We're not holding our breath). But with the help of Moses (marina not autopilot) we found a soldador who re-welded the bracket and with Jonny's design is welding a triangulated support bracket on the bottom that should go up against the transmission. This may help stop the vibration issues. We shall see…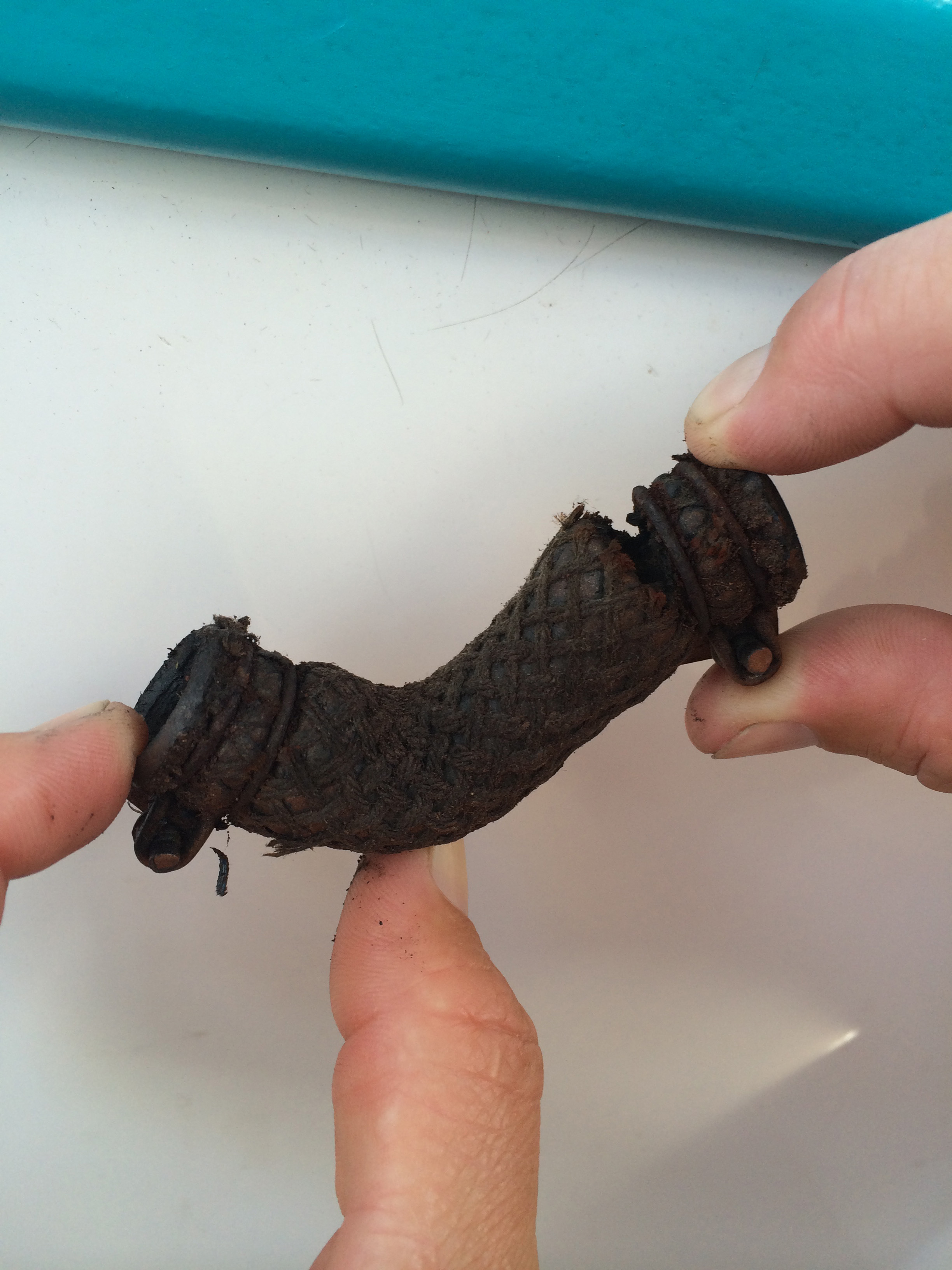 We decided to come in to the marina and get slip to make it easier to work on these things. And get unlimited water. And showers. And laundry. Yeah! And the slips here are so inexpensive – this is the best place we could have this happen. Around $14/night! And the place is a ghost town – and on the outskirts of town. Very quiet and seems very safe and friendly.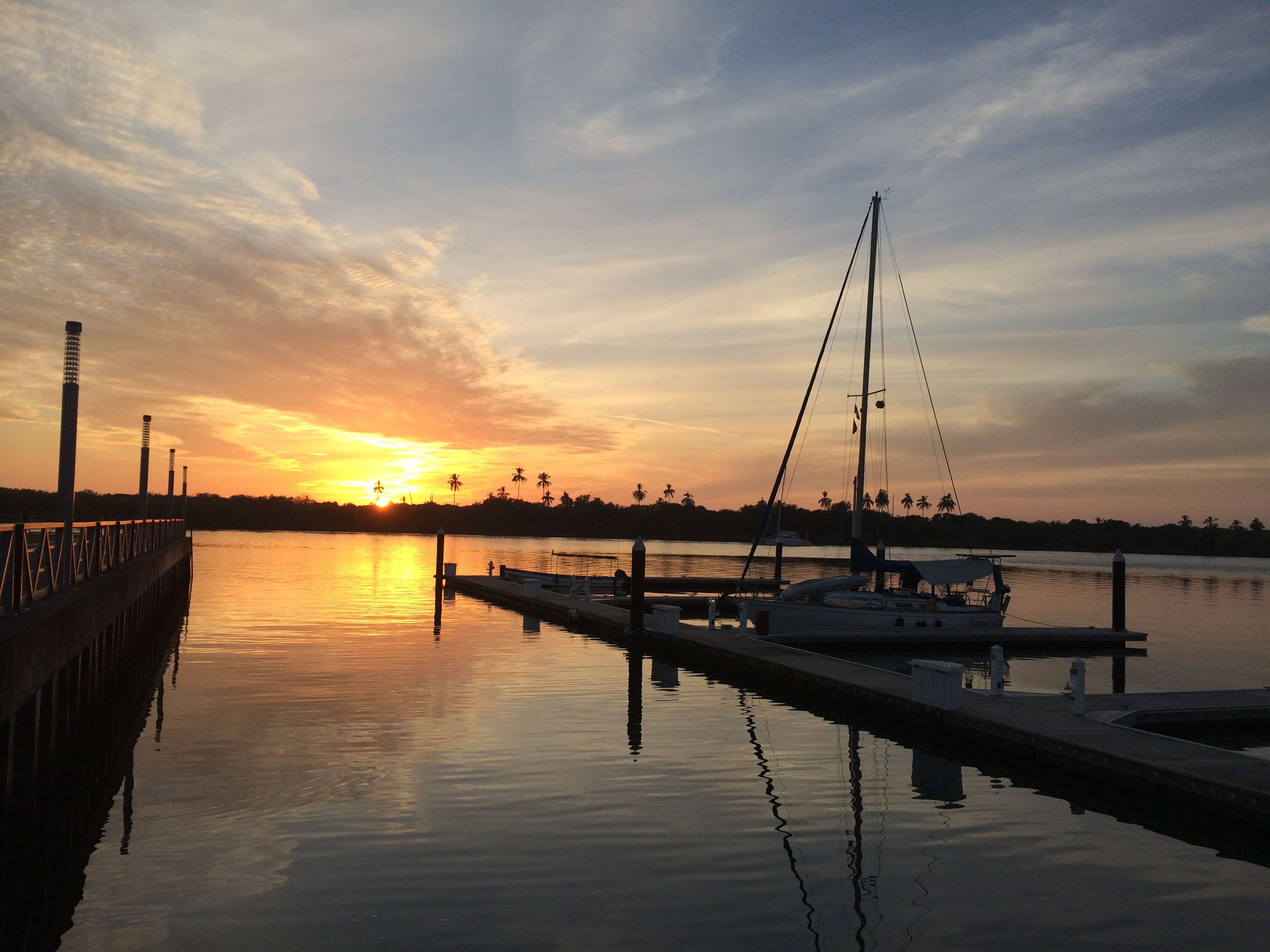 There were a few boats here that all left the morning we came in (we tried not to take it personally). Actually they were all heading south and going to catch up with the Pacific Puddle Jump – a gang that crosses the Pacific together every year to French Polynesia. There was one more boat – a gorgeous catamaran anchored out near us. We met her owner's Chris and Katie from Massachusetts – really nice folks who have a lot of years cruising experience from the Caribbean through the Panama Canal and up to here. We really enjoyed talking with them and ended up going out to dinner with them last night. It's great to hear other people's stories and learn from those who've been at it far longer than we have.
When they headed back out to their boat last night, we got to see the blue phosphorescent algae in the harbor. Just amazing!!!
blue algae <——VIDEO
Jonny took my bike out today to look for parts, etc. I'm hoping to get to explore town on my bike (manana?) but today I've been marina-bound doing laundry and trying to get the wifi to cooperate to finally get this post up! If parts don't make sense, I apologize – I thought I was going to post it 2 days ago and had to add on, so maybe I said today somewhere and it was really 2 days ago… sorry.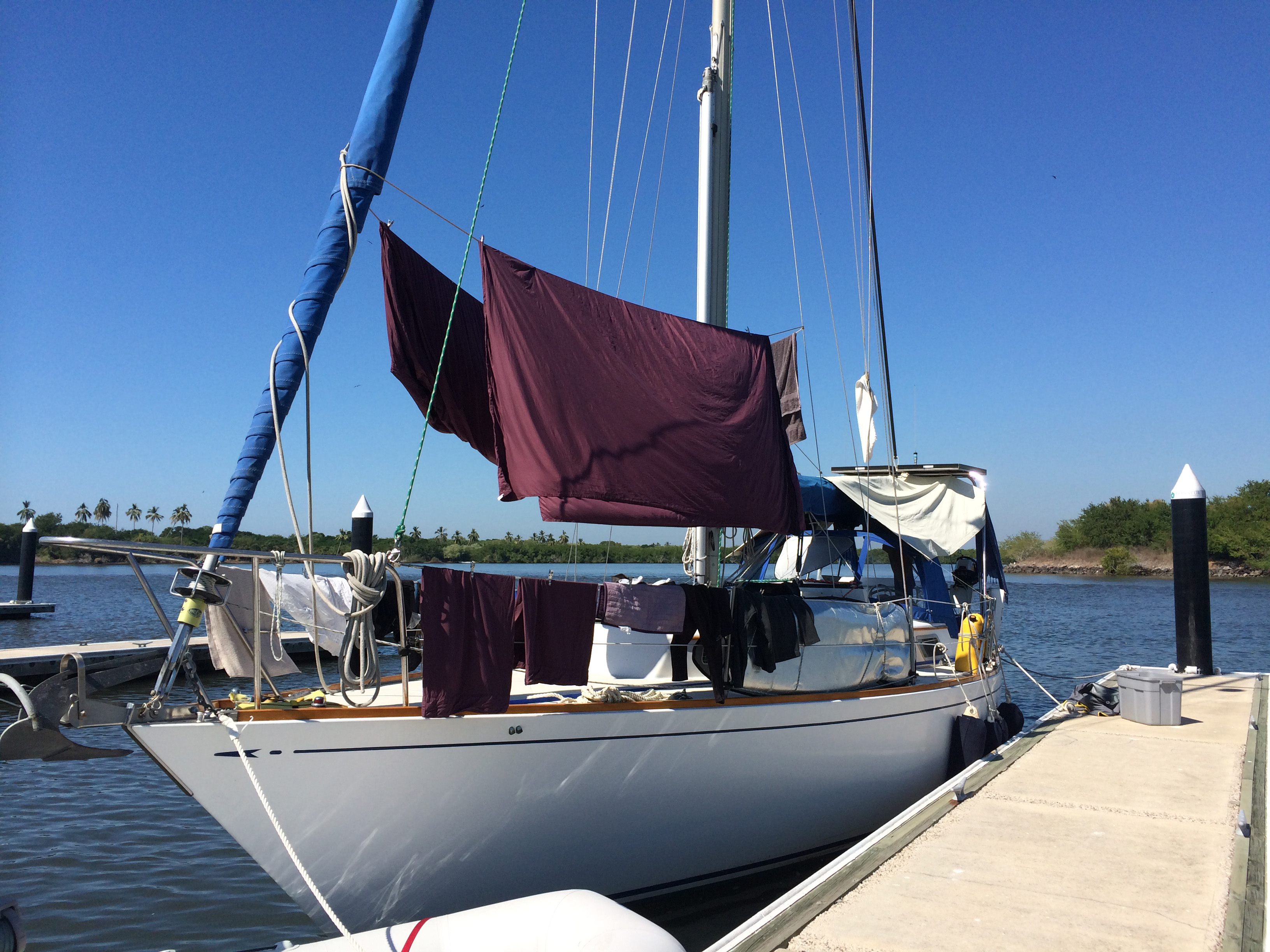 Not sure how long we'll stay here in San Blas, it's a really wonderful place so far, and the food is ridiculously inexpensive and people are very pleasant and clearly proud of their town.  We still haven't gotten the propane sorted out and we actually can't leave here until we do – we are dangerously close to running out. At least we can go out to eat here and not spend a fortune, but once we leave it will be a few weeks or so until we have this luxury again.
[ONE OF THESE DAYS… I promise I'll get the video and images "right" in these blogs…really. I will. Wifi is always so bad I can't even test this out…]