We of course spent more time in Guaymas than originally planned. There was a strong north wind we were waiting out before crossing back to Baja. Having three days extra meant we didn't have to bust our butts quite as hard to get all our projects done, but it still seemed we went nonstop the entire time we were there and barely finished every last thing as we pulled away from port.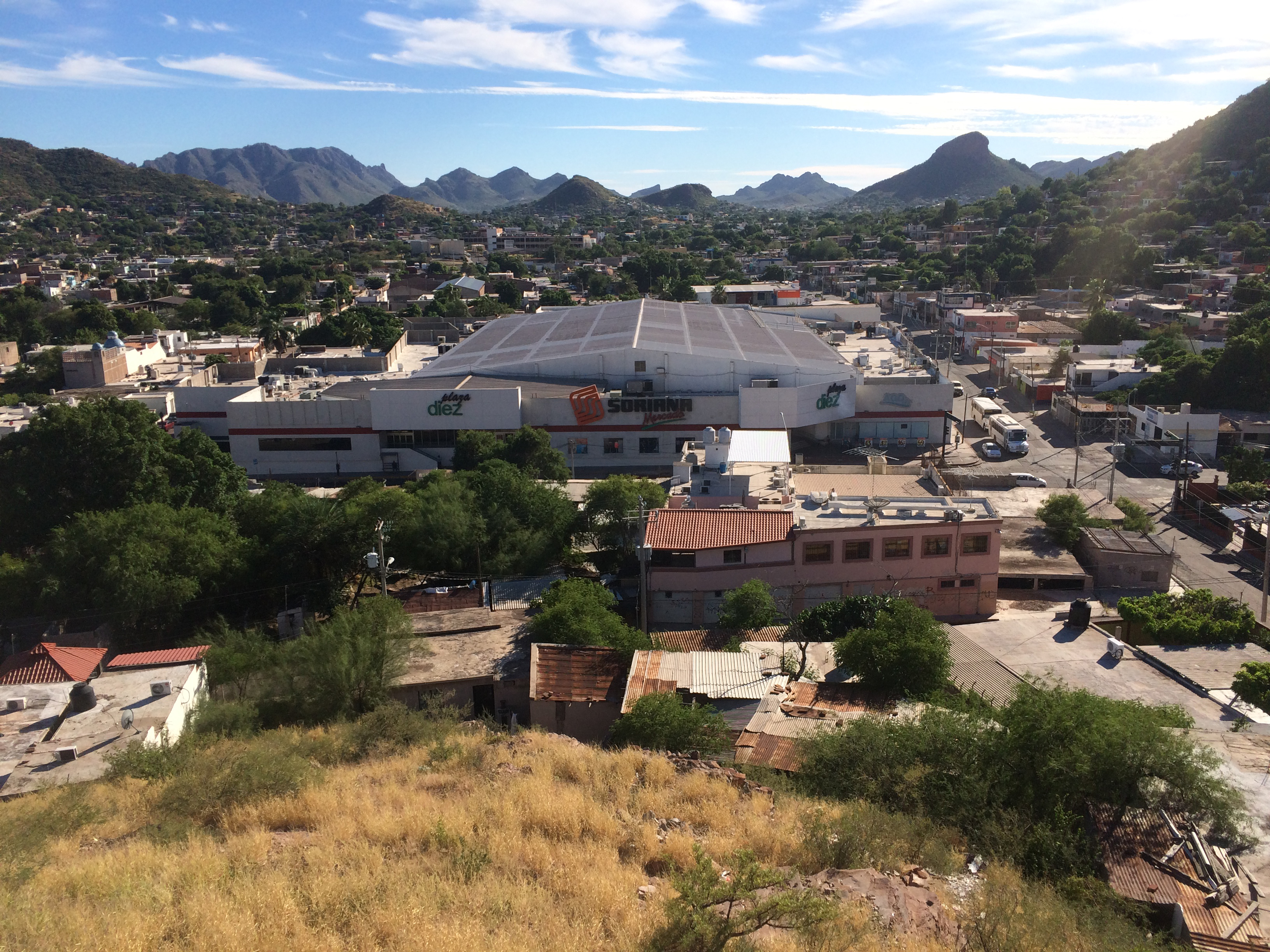 Getting food was a priority (isn't it always?). We decided to trek up to the big Soriana grocery store to see if it would be the best place for our big provision later in the week. It was supposed to be a quick trip and we left at noon to walk up there and find some lunch on the way. We didn't get home till after 5:00pm. There was lunch, and the fabric store (and us with a 'new' sewing machine) and then there was this big hill with a park at the top of it that we just had to figure out how to get to.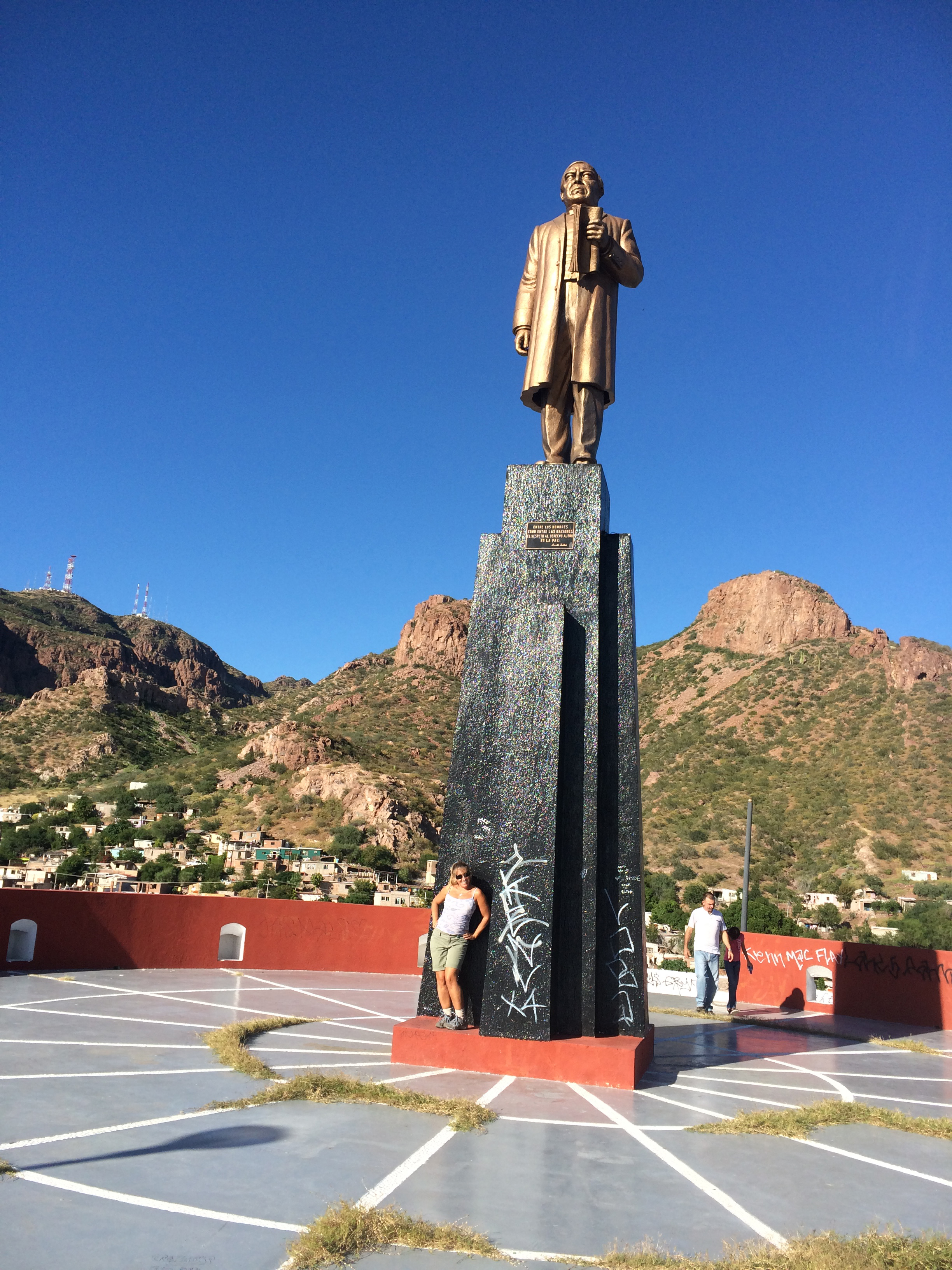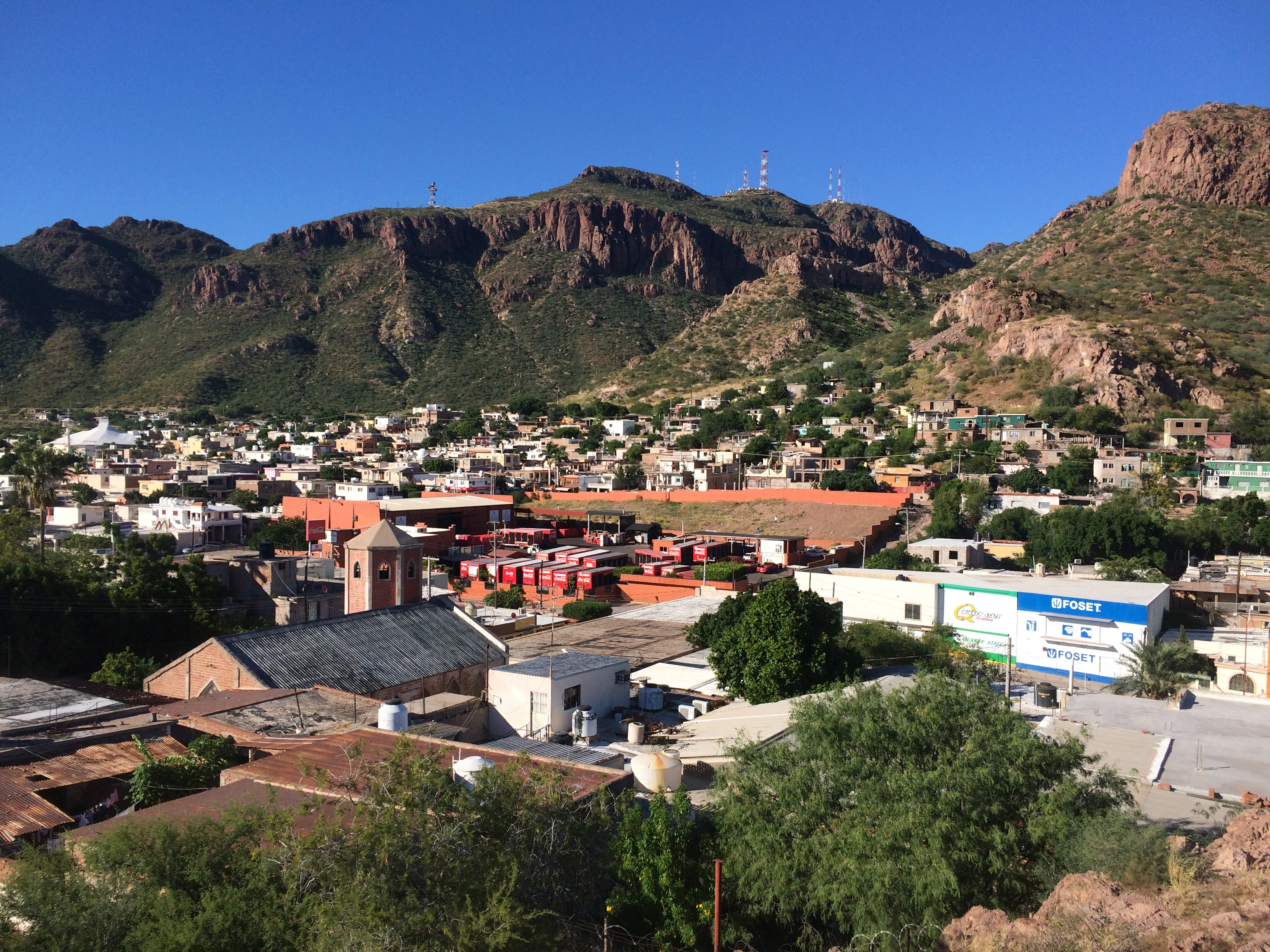 And the views were well worth it! It's always fun to get 'the big picture' of places. Sadly, this Soriana was not "it" and fell far short of what we were hoping for, but we enjoyed the visit at any rate.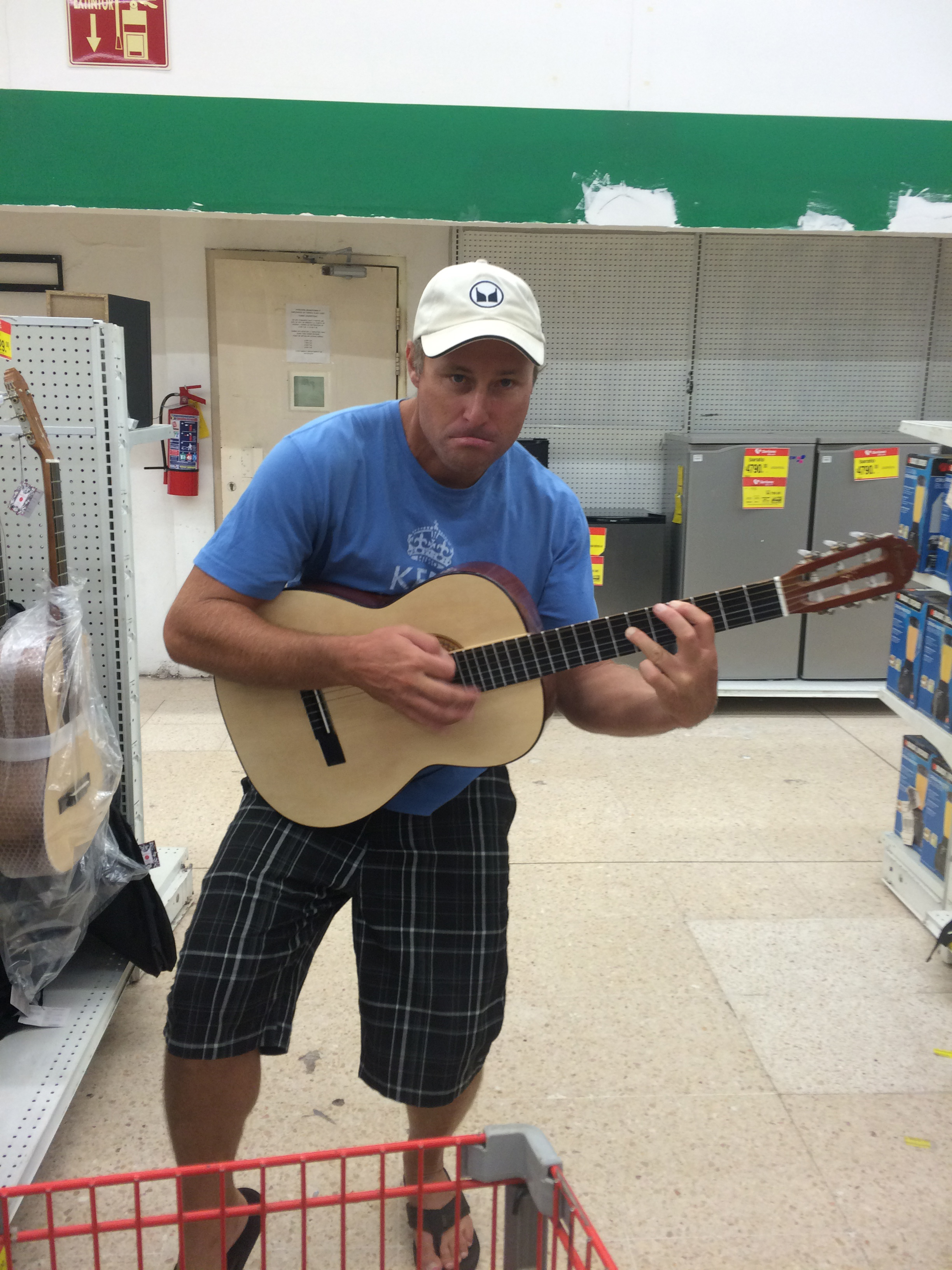 It seems the rumors of Walmart being THE place to get the best produce etc., were true and we were going to have to bite the bullet and bus it out there.
Boat projects included removing the leaking handrail, digging out the holes and filling with epoxy and replacing it (that took days and days), Cleaning, polishing and waxing all the stainless (my pet project), cleaning out our water tanks, changing the oil in the dinghy motor, changing filters/maintenance on Summer's motor, cleaning the barnacles and green slime off the dinghy (and stowing it for the passage), getting a blog entry posted, getting propane tank, diesel and gas tanks filled, cleaning every inch of Summer – inside and out (freewheeling water! Whoo hoo!), doing tons of laundry and a number of other things I've already forgotten…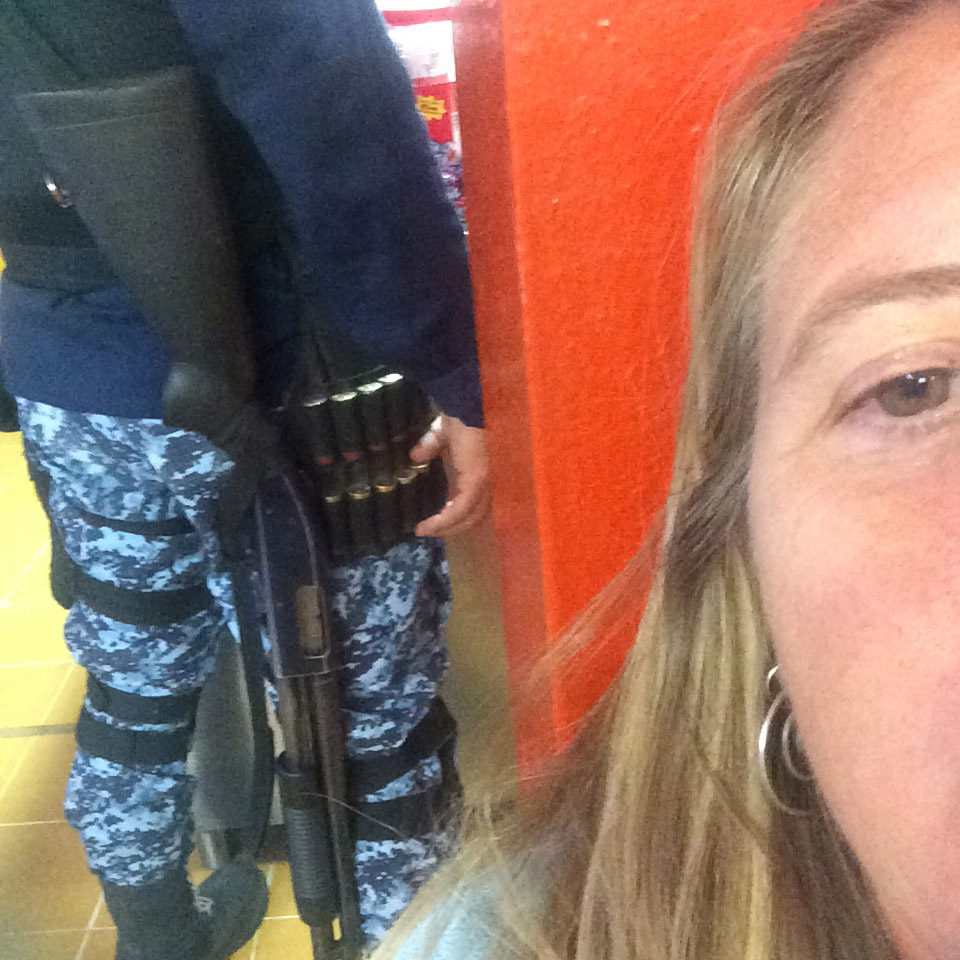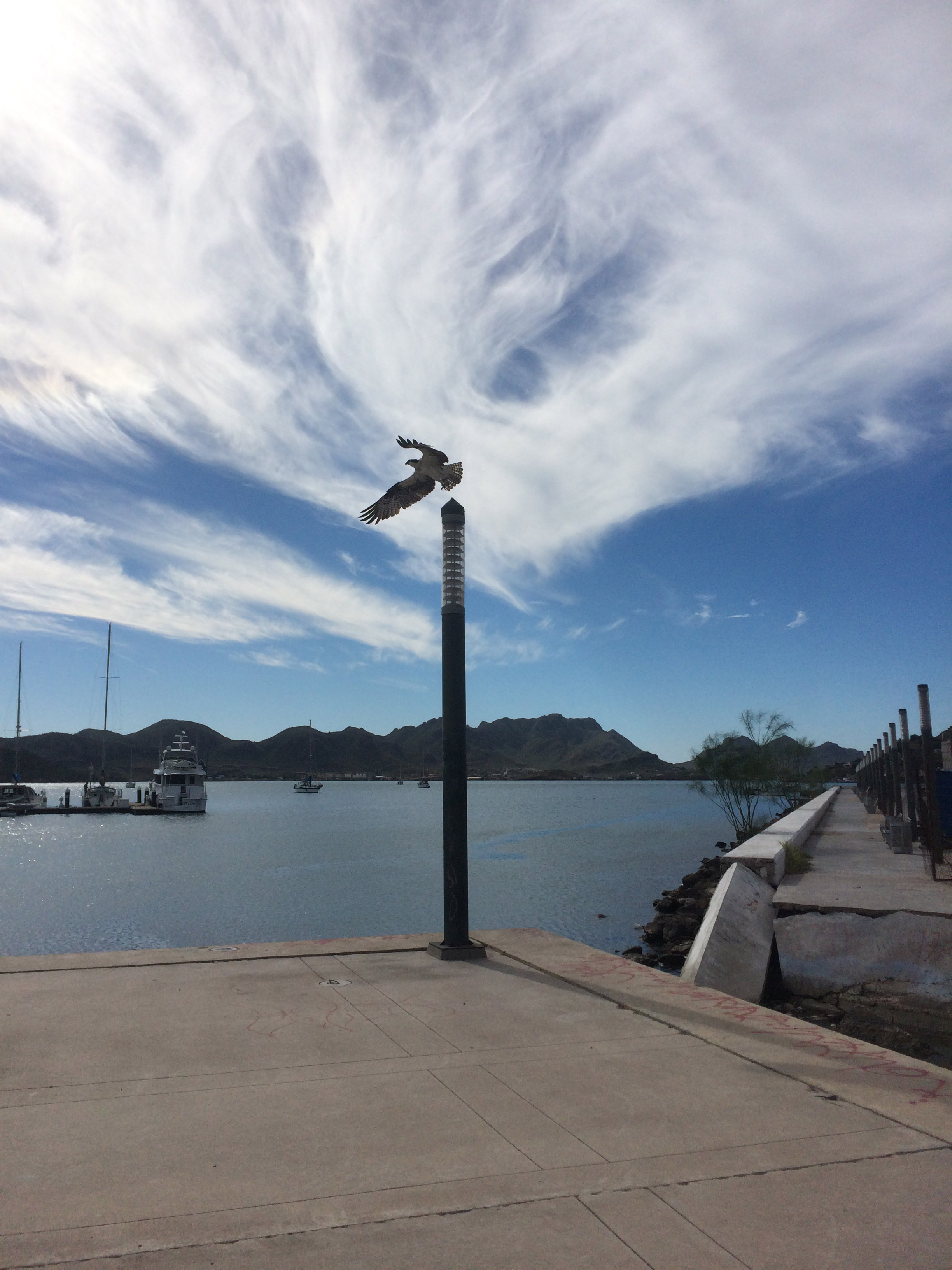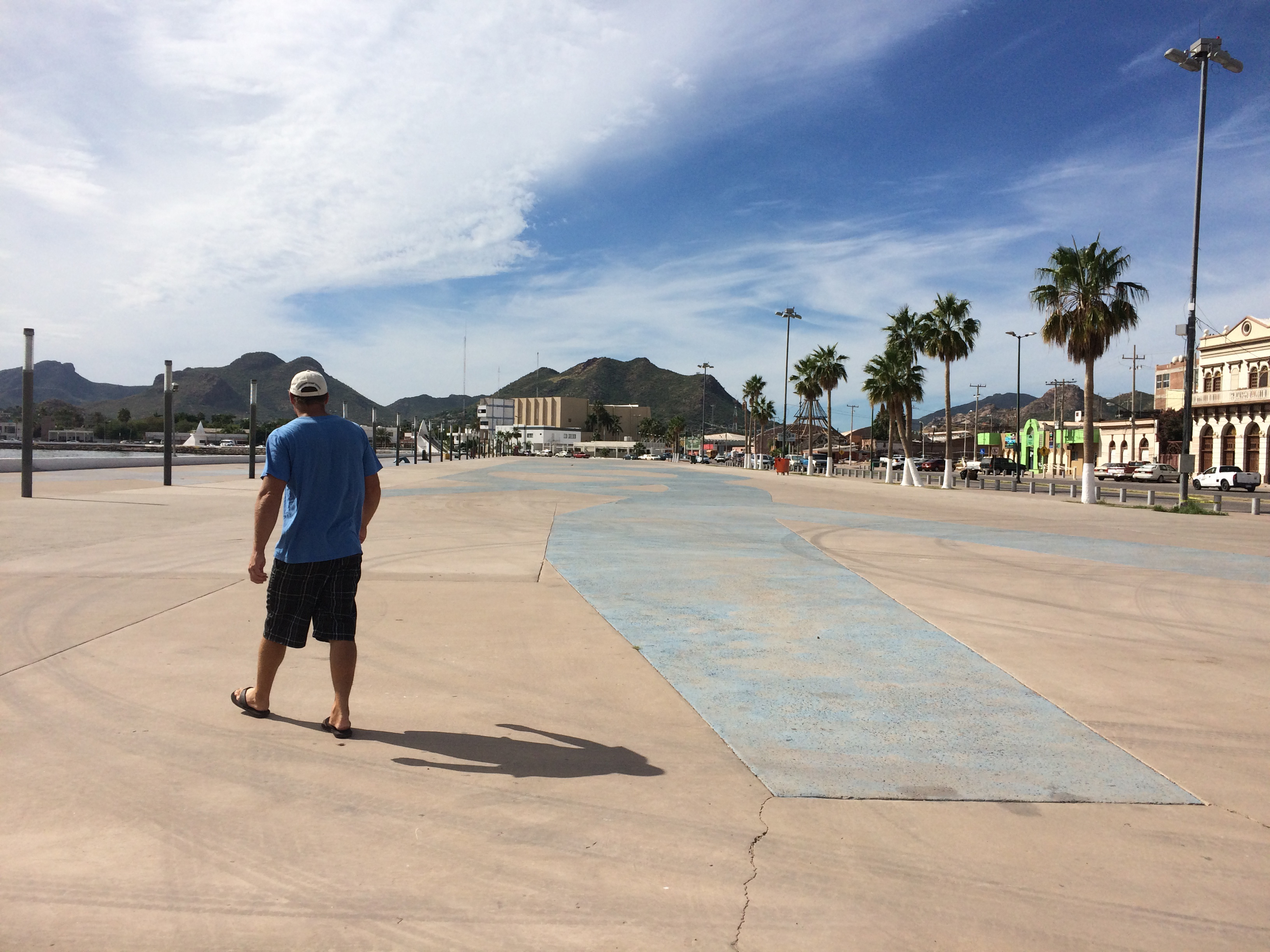 We listened carefully to the weather and checked all the online sources to find a good time to jump across. A big wind was coming and if we didn't leave by Saturday, we could be stuck in Guaymas for another week. Neither of us felt like we wanted to do that. While I really did enjoy the city and liked all the exploring we did, it was still a city and cities have a way of sucking money right off your person. It's just too easy to stop into the juice place for a drink, or the bakery for a treat or, grab some tacos for lunch or, or…and suddenly you've spent a bunch of extra money on top of what you were already out and about to accomplish, which usually involved spending money. We scrambled to get every last thing done and pulled away from the dock by late morning, waving goodbye to all our new friends – ready for our 22 hour journey.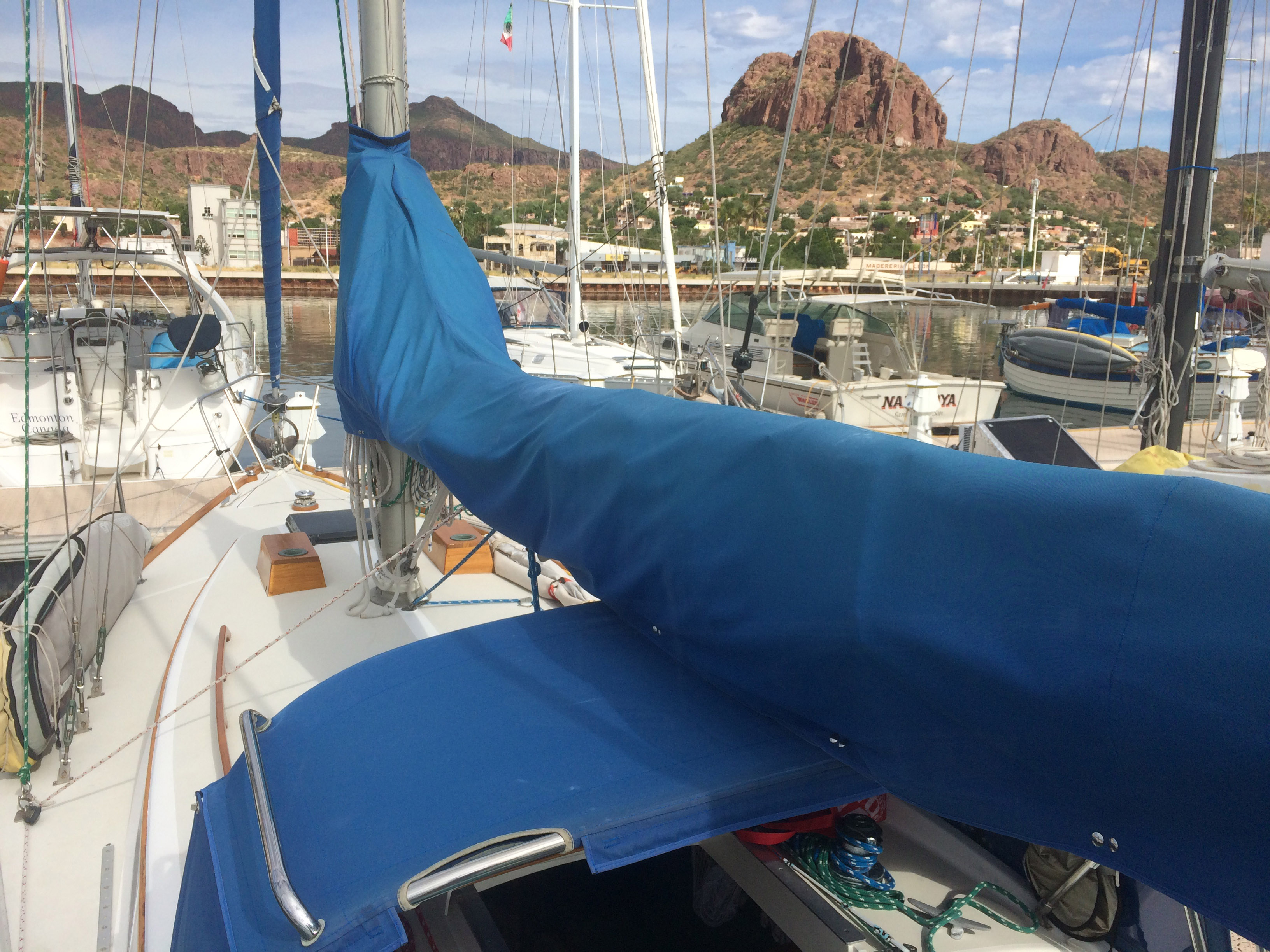 This trip replaces the trip from Santa Rosalia as "#2 Worst Passage Ever". As we were leaving the harbor area of Guaymas (and it's sort of like trying to leave Chula Vista to get to the ocean – it's a big harbor and took us about an hour just to get clear of it) -we had a little bit of rain and there was lightning on the horizon. Lightning is not something you really want to see when you're on the open sea with a 55 foot metal pole sticking up into the air. We could see a few storms and we contemplated turning back, but the storms appeared to be heading towards us, and heading back would could mean just prolonging our time in storms. So we decided to try to skirt around them – steering to the south where the skies were clear and avoiding being underneath the dark, black clouds spewing lightning. It was a little exciting at first, I felt like someone on those "Storm Chaser" weather channel shows… but it soon got serious. We were way to far to turn back, and as I said, turning back wouldn't have done us any good. We realized we might not get to San Juanico and would probably have to go someplace further south, and not get to be there. Jonny took a video at the beginning, before things got really crazy. I thought he was using the wind meter, not taking video, so sorry I wasn't hamming it up. I was a little busy anyway. But please do notice how the stainless solar arch, I so painstakingly polished, glints in the sun!
The wind picked up considerably as did the waves. We soon found ourselves in 8-10 foot seas with 30-40 knots of wind. Definitely a first for us and Summer (we've maybe seen 20 gusting to 25 while underway). The direction we wanted to go became irrelevant, survival was the only thing to focus on. We were headed much more southeast (we wanted to go southwest) in an attempt to stay at a good angle not to get rolled by waves and not to round up into the wind and not get hit by lightning. It's a boat's natural tendency to want to head into the wind and, left unattended a boat will do just that. I was fighting the wheel with all my might to keep the boat from rounding up, and then having to quickly turn back to keep from going too far downwind. I did this for six hours. Jonny and I briefly reviewed what to do should the boat get knocked down (meaning the mast is laying on top of the water – which I was fully expecting to experience) – it's quite simple: DO NOT LET GO OF THE BOAT (even if fully upside down, the boat will likely right itself). I was soon clipped in to help with this.
Our hull speed is around 6 knots- I saw the knotmeter register 8 and tried not to look at it anymore. The wind was so strong it was blowing sheets of water around and it looked like smoke everywhere. I refused to look behind me – Jonny's reactions to the waves were enough and I knew if I actually saw them I might be too terrified to function. He said some of the waves coming up on us were higher than the solar panels. I just focused on keeping us upright and reminding myself of facts, like, we have a 6,000 lb. keel and this wind speed and wave height are not likely to flip our boat, no matter how much it FEELS like it will happen. Remembering stories of people who've survived waves higher than their masts, etc. was also helpful. Jonny had to go forward to try to lower the sail, we were already reefed down but it was still too much sail. He fought for a long time to try and get the sail down, it was pinned to the stays and wouldn't budge. He got it down mostly and we went 5-6 knots with no sails for quite some time. In a surprising twist, Jonny started feeling dangerously seasick and I thought I was doing pretty well. He really wanted to take some Zofran – an anti-nausea pill (my sister had generously supplied us with a few earlier this year for just such an emergency). It was up to me to go down below to find them – which I knew was going to be the kiss of death (seasick- wise) for me. But down I went. I sustained a few bruises from being thrown around in the head, but I got the pills.
We knew it was going to be a long night and probably not OK for either of us to be incapacitated. I was dreading the dark, when you can't anticipate how to react until after whatever is going to happen, happens. We took a number of waves over the aft quarter and I was soaked from head to toe, and started getting chilly as the sun went down. Luckily the wind abated a bit and we were left with just very rolly seas. As I started shivering, I knew I'd better take a zofran too, although I was a bit worried about other side affects of sleepiness or who knows what with me (most things seem to have opposite side affects on me, so there was a chance I could be wired?). Things calmed to the point we could let Moses (our awesome CPT Autopilot) take over the steering and the wind switched, allowing us to head more towards San Juanico. I went down below to change. I did not come back up…while I never actually threw up, I came awfully close and spent at least an hour in the head hugging the toilet, 'just in case' (I realized after a small vurp, that barfing on the rolling and pitching settee, in the dark, would be a huge disaster) and was I unable to do anything useful for feeling so sick. I WAS able to wonder why the hell we do this?? I also got a huge headache and ringing in my ears, so, I'm not entirely convinced the zofran was a good thing for me, although it seemed to work fine for Jonny (maybe if I'd been barfing for days and couldn't stop, it would be a good thing for me?). Anyway, I felt awful and ended up burying my head under blankets down below, unable to move. Jonny managed to keep watch all night and things got considerably less wild after midnight, but it was a rolly ride the whole way and most unpleasant for me.
I've noticed (again) how sometimes sailing simplifies things (or at least crams it all into a short, intense period of time, so you can't help but notice) and you see lessons that can also be applied to more complicated parts of life: Sometimes you cannot go in the direction you want to go, sometimes your survival is all that matters, and when things calm down again, you may be able to continue on your path, or you may have to abandon your original plans and find a new path. Can any one relate to that?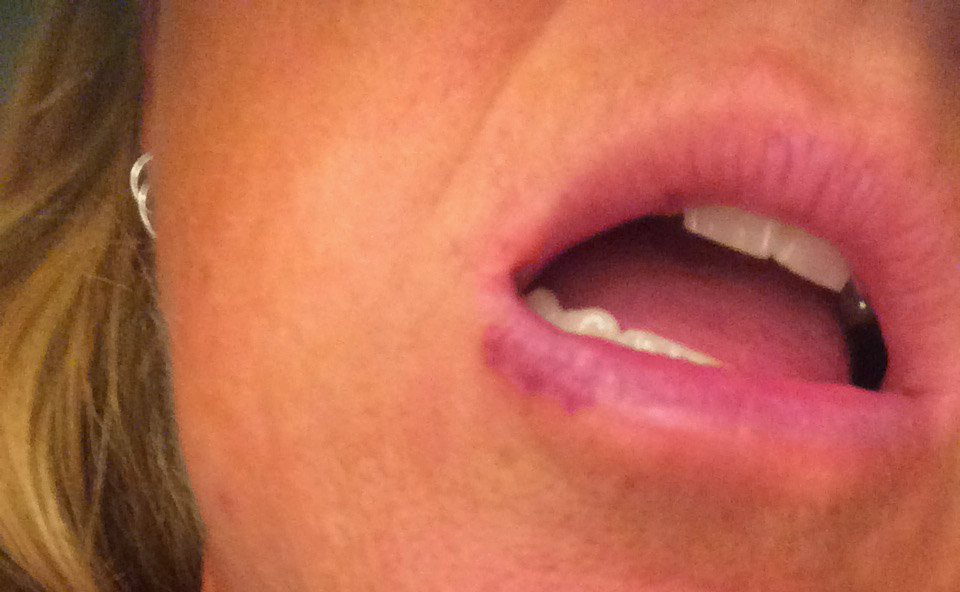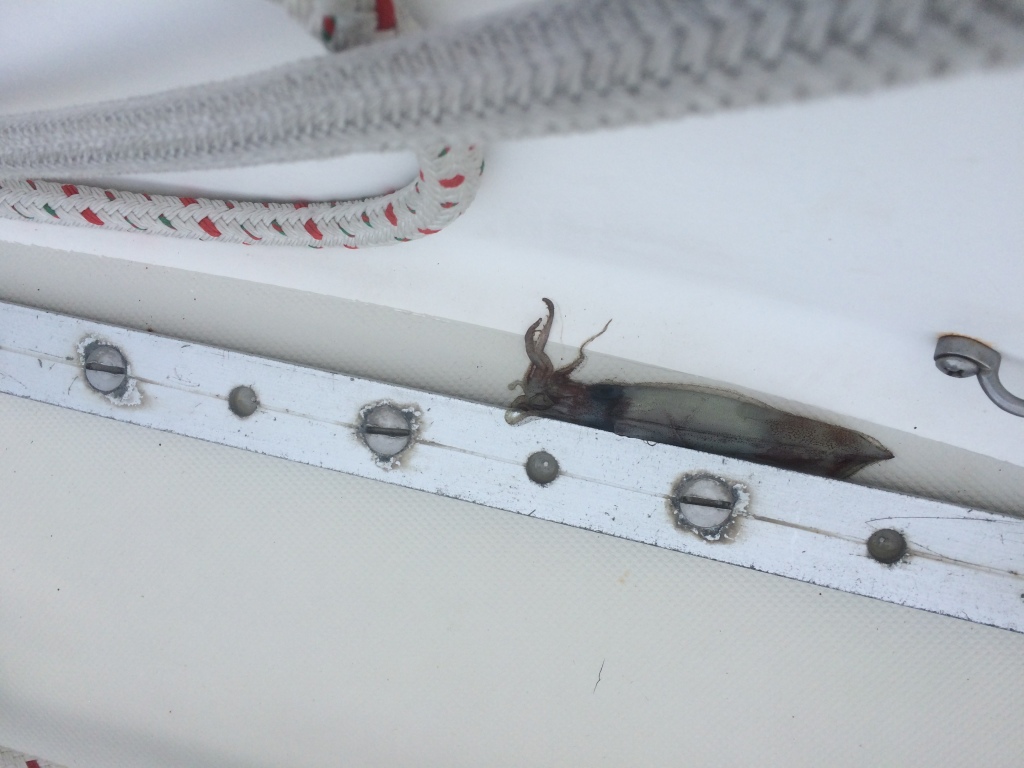 In the morning when I finally emerged, I could see land and familiar mountains near San Juanico. As lush, alive and exciting as mainland is, arriving in Baja always feels like coming 'home' to me for some reason. Jonny said the same thing as I was thinking it.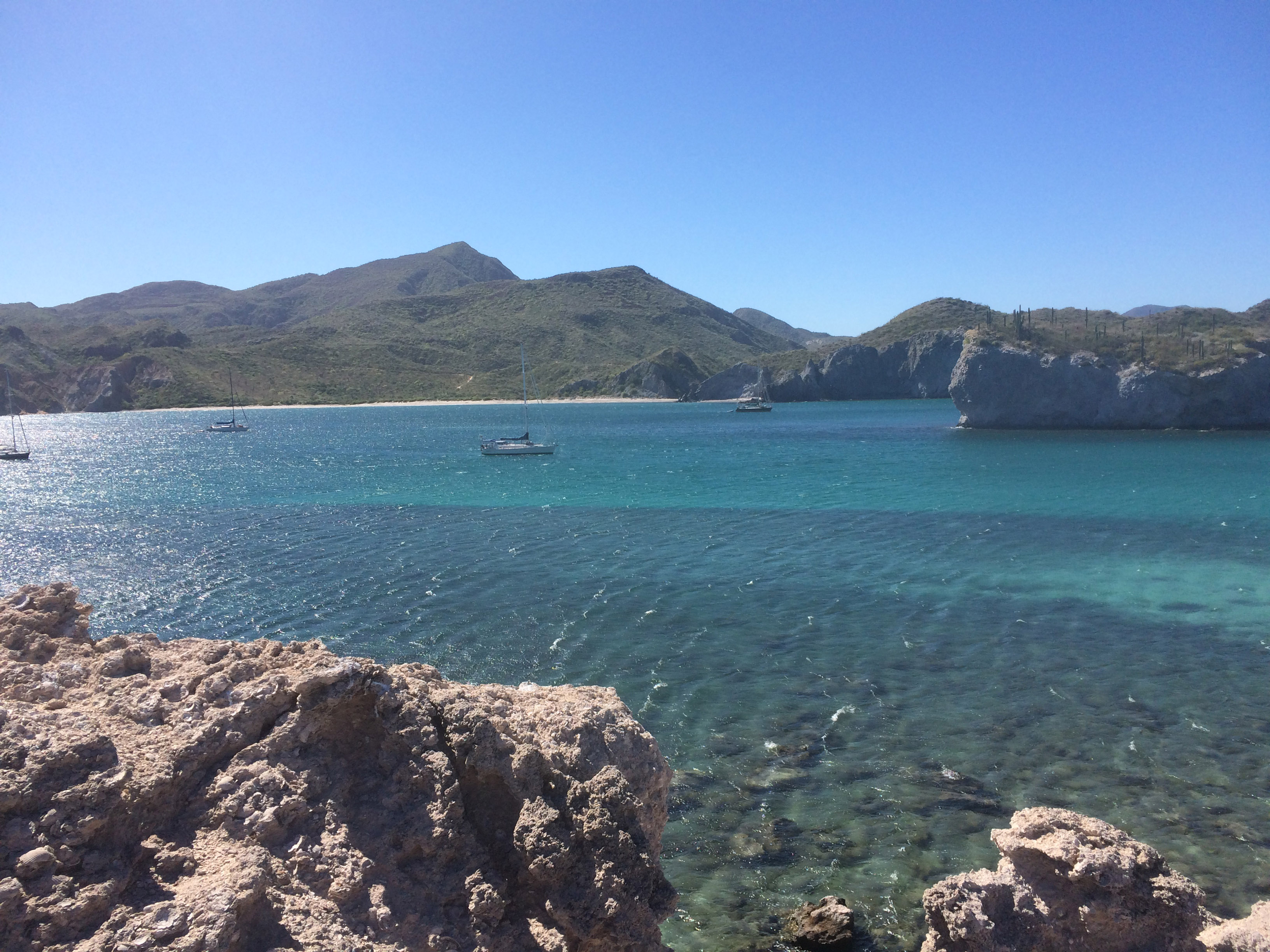 San Juanico had about 5 boats, 3 of whom we knew. It's always nice to get welcomed with people waving and someone blowing a conch. We found a spot among all the other boats, said hi to a few friends who came by, secured everything and ate some food and settled in for a nap. Jonny slept from 11:30 am till 6:00 pm, ate dinner and then we slept for 9 more hours. It was so calm and quiet and dark that first night. Lovely. Strong winds were predicted for the next few days so we had no idea how long we would stay or if we could even get off the boat much. But that was fine with me – we had plenty of food and lots of books. Our spot did get quite rolly the second night, so we moved out on the far side of the bay, where there was only one boat. We were a bit like pariahs, but we were OK with that. It took us two days to even get our dinghy put together and into the water. We had a bit of recovering to do! We missed a few of the fun times with everyone else there, but we were just spent and really needed some quiet time to recover from our very eventful and very social past few weeks.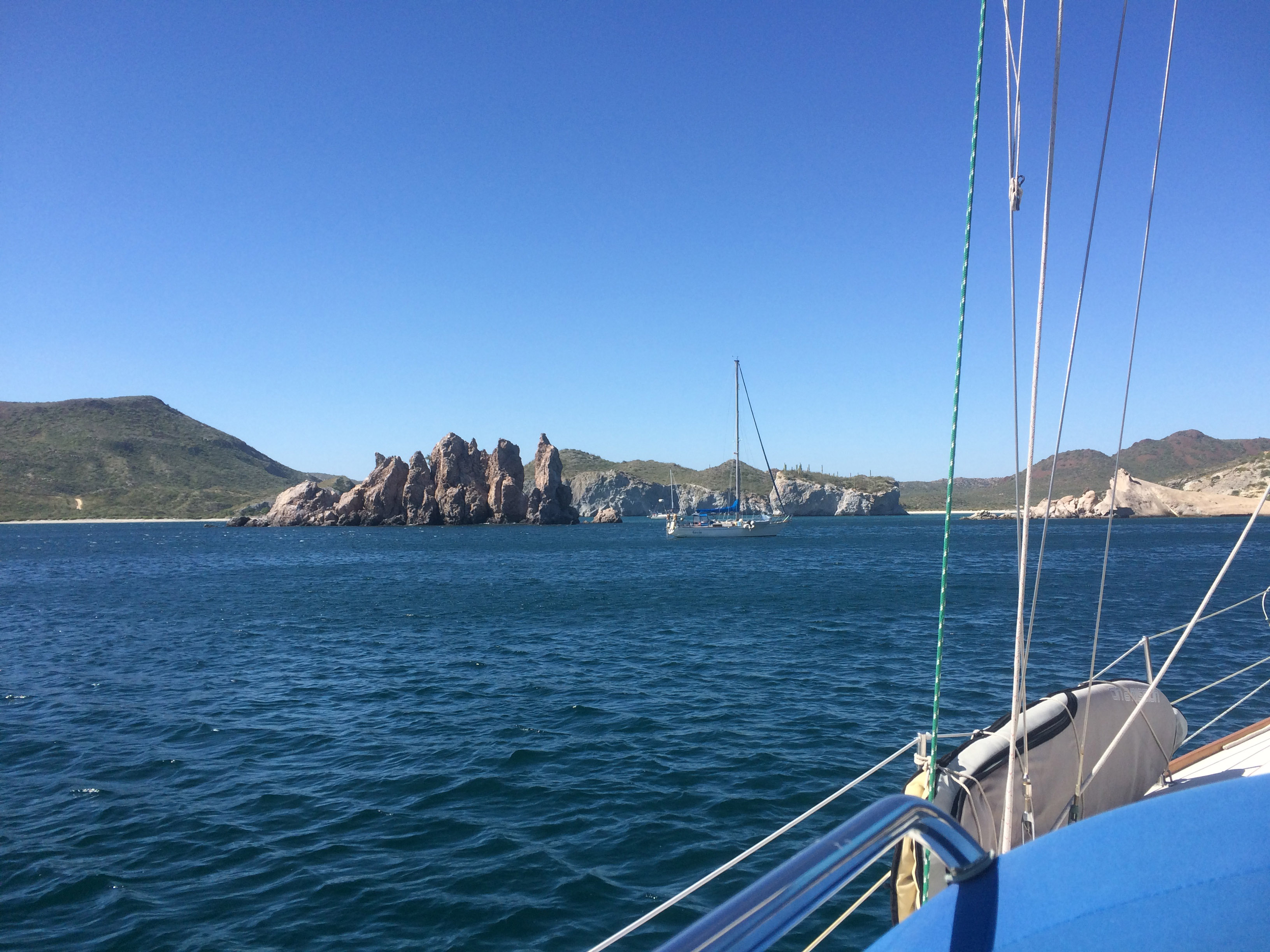 San Juanico is a huge bay. There are at least 5 beaches, each with a different look and feel – everything from all rocky to white sands. I was very glad to be away from the city and done with so many projects – my lungs started feeling clearer right away! The far northern beach is home to the cruiser's shrine tree. When we stopped through in July, we visited the shrine and vowed we'd come up with something really cool to leave there on the way back. We had all summer to work on it. And we didn't. We ended up leaving our mark after a bit of debate and effort, and if you want to see what it is, you'll just have to go to San Juanico and look for it.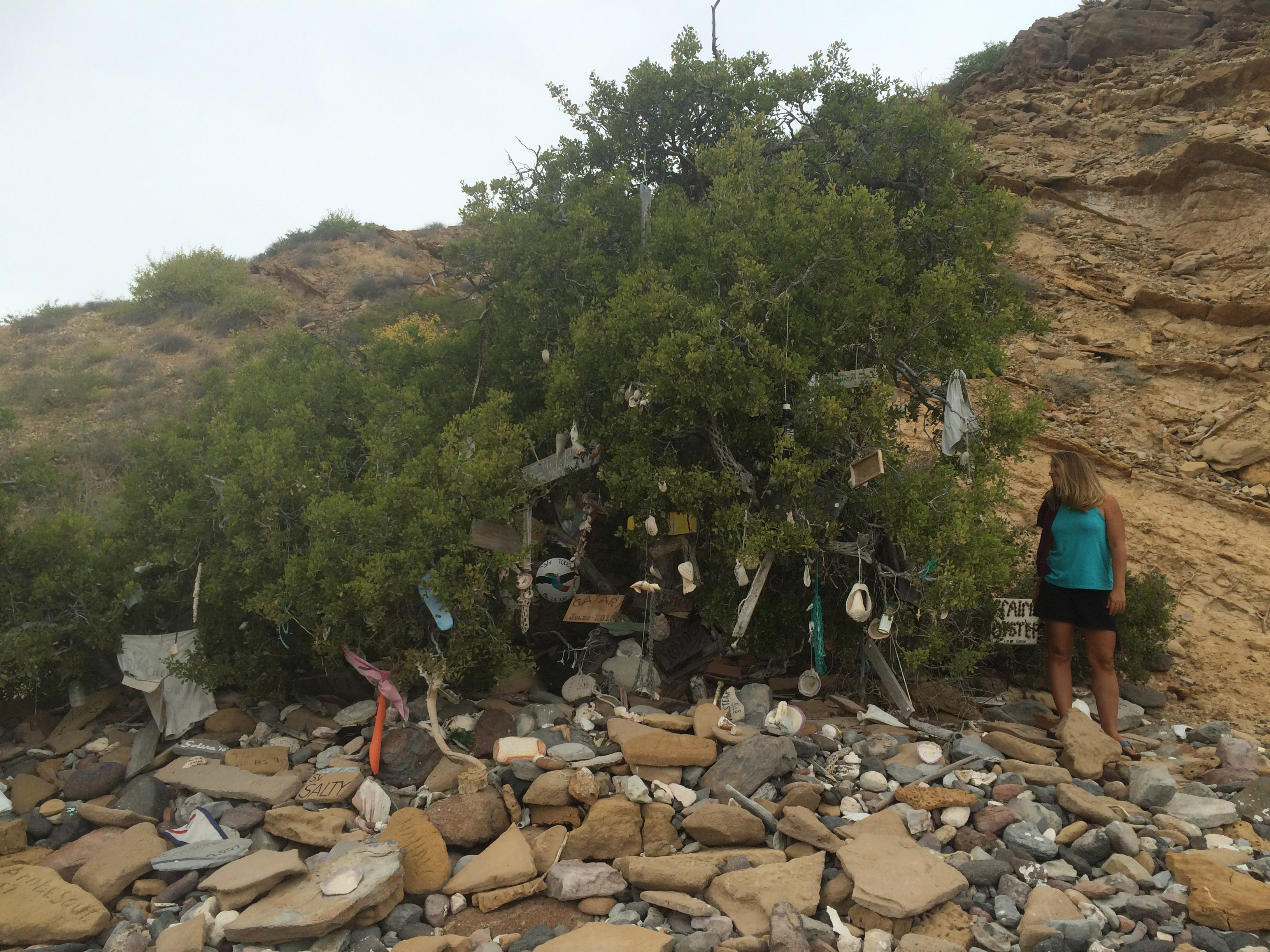 It was fun to spot some of our friends' creative offerings.
There was quite a lot of wind and it was not conducive to tooling around in the dinghy. We did a little snorkeling – but the water is considerably cooler now. Water temperature was 76 – not the 85 we've come to enjoy and bathing was a teeth-chattering prospect. Even wearing Jonny's neoprene rash guard, which fit me like a dress, I ended up quite numb! Combined with the howling wind, the cooler temps made washing off a teeth-chattering and unpleasant experience. It's not like we didn't know it was coming, but it still seems like the seasons changed so fast. The blankets come out at night and suddenly there are a lot more clothes around. I can even wear my hair down without wanting to hack it off for the heat on my neck.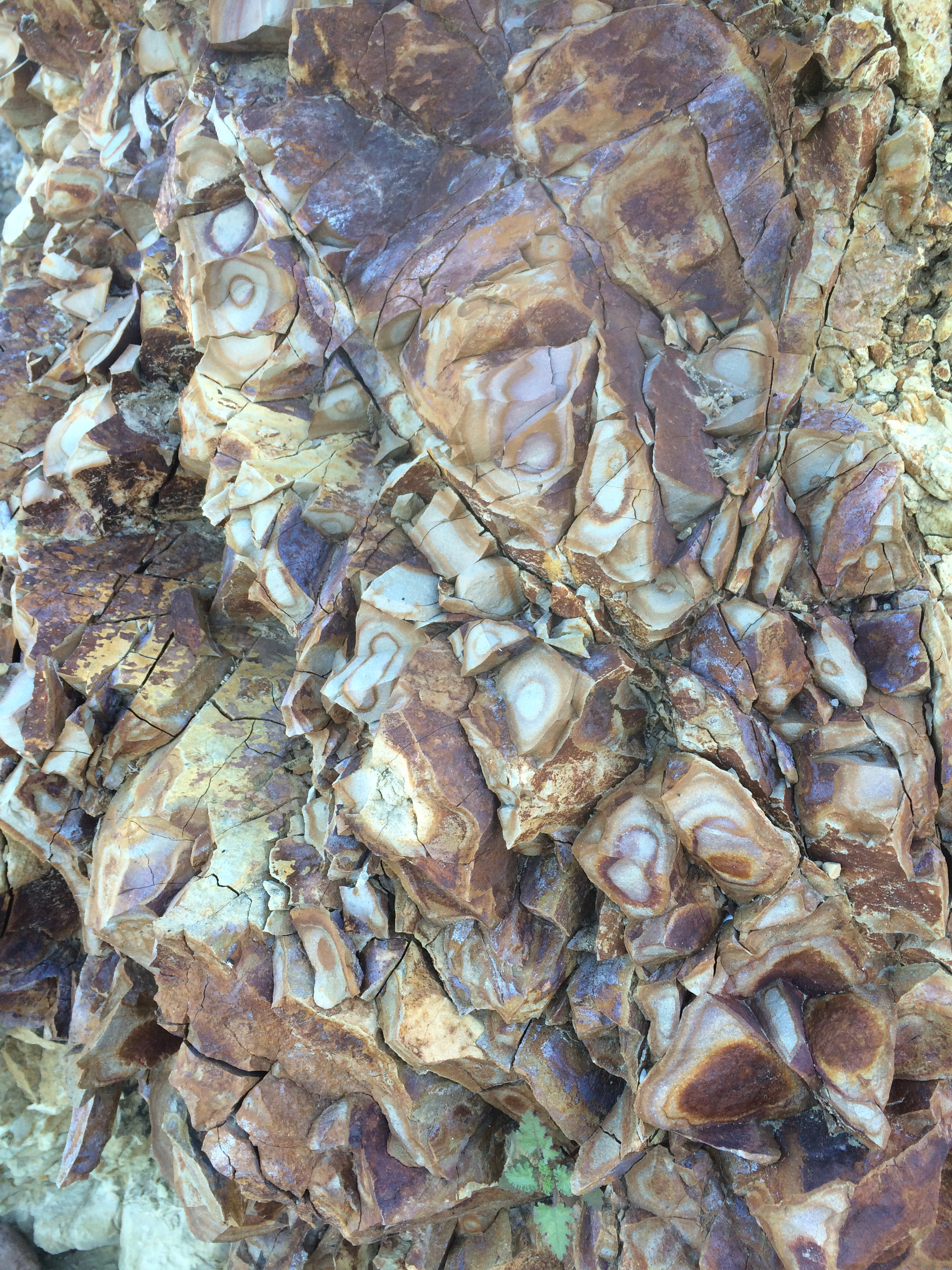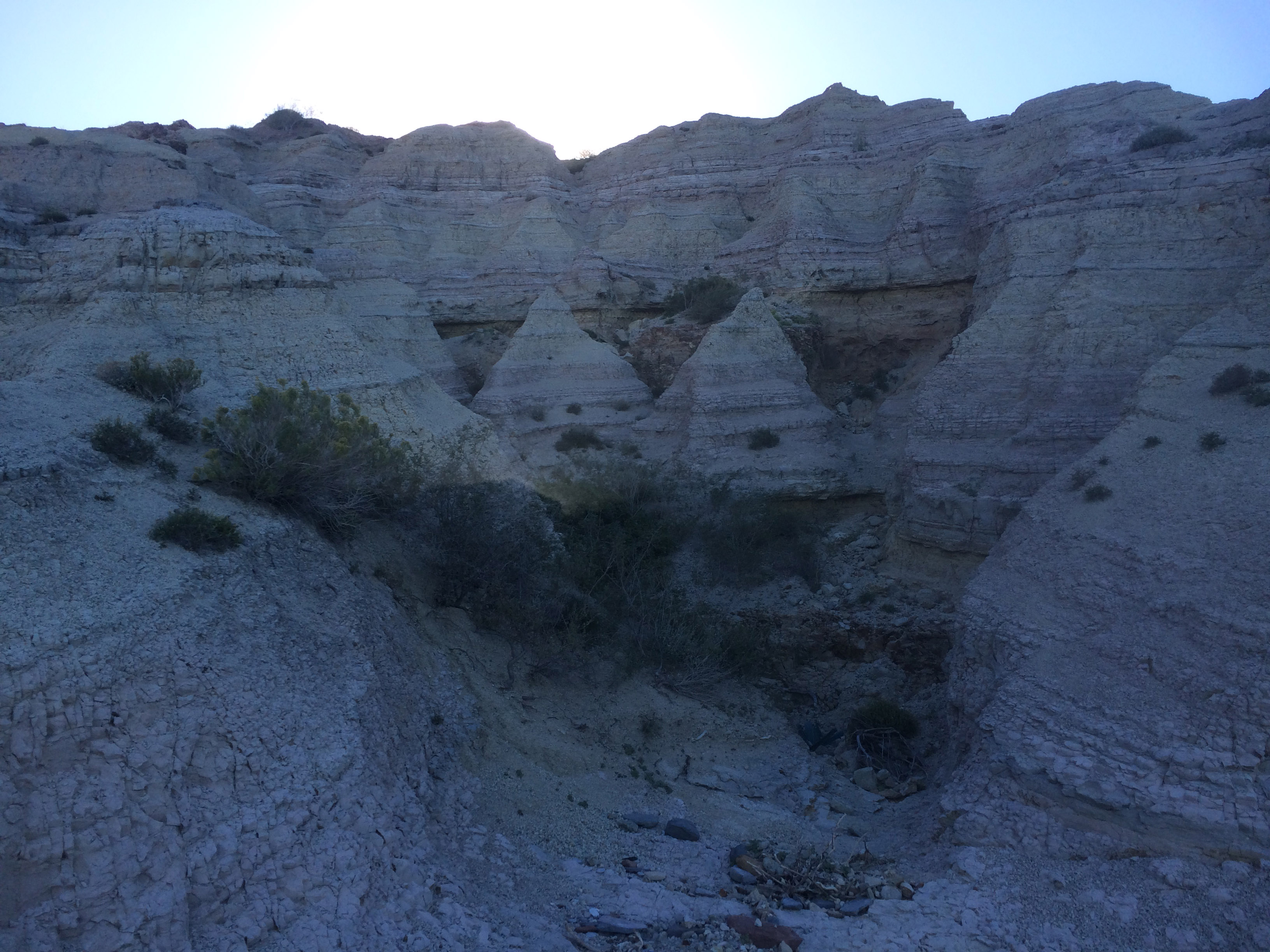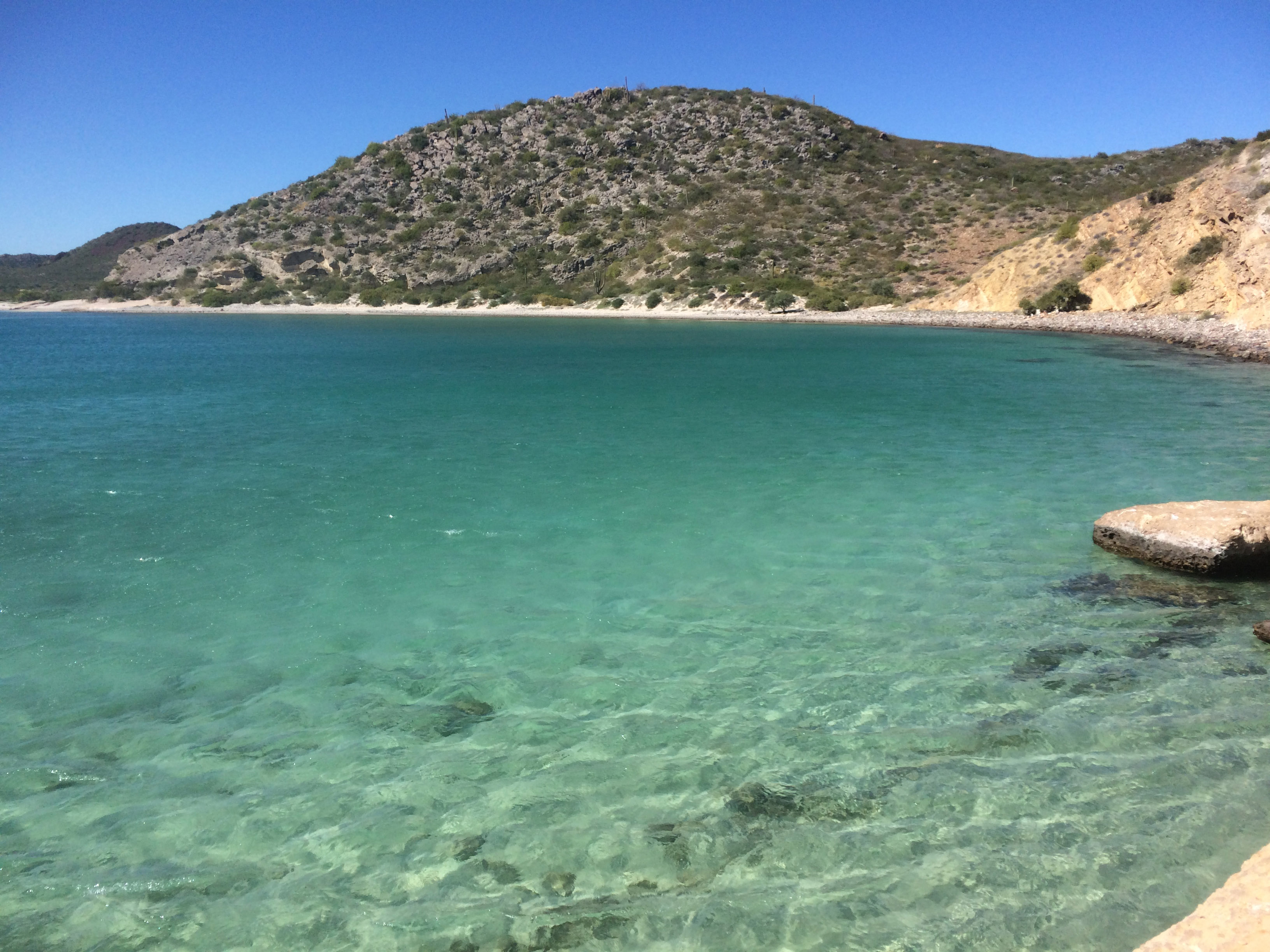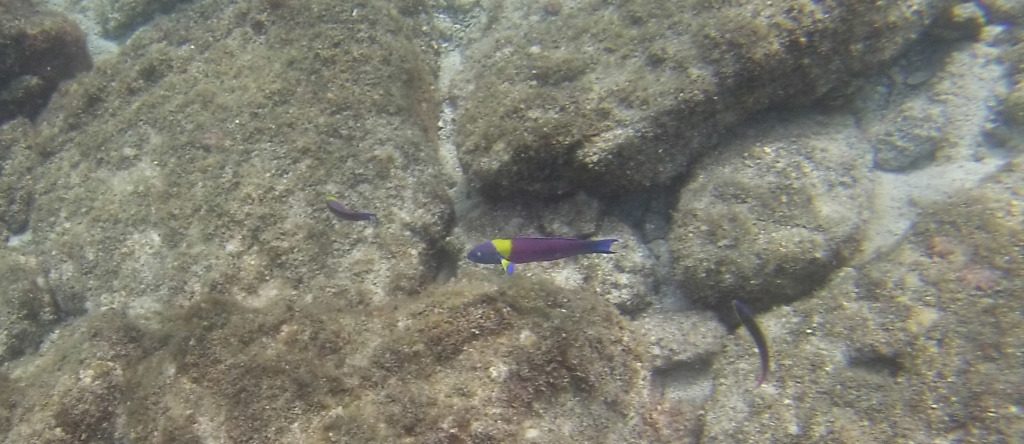 We did manage to get one quiet wind day and we dinghied down to the southern end of the bay to try to find the petroglyphs we heard about. From the water, the ravine where they were supposed to be looked like an easy walk. Unfortunately the strong winds had caused considerable wave action and landing on that beach did not look like a safe idea if we were interested in staying somewhat dry. We briefly wondered if we were getting soft… We went down one more beach and that one seemed a little more reasonable place to land.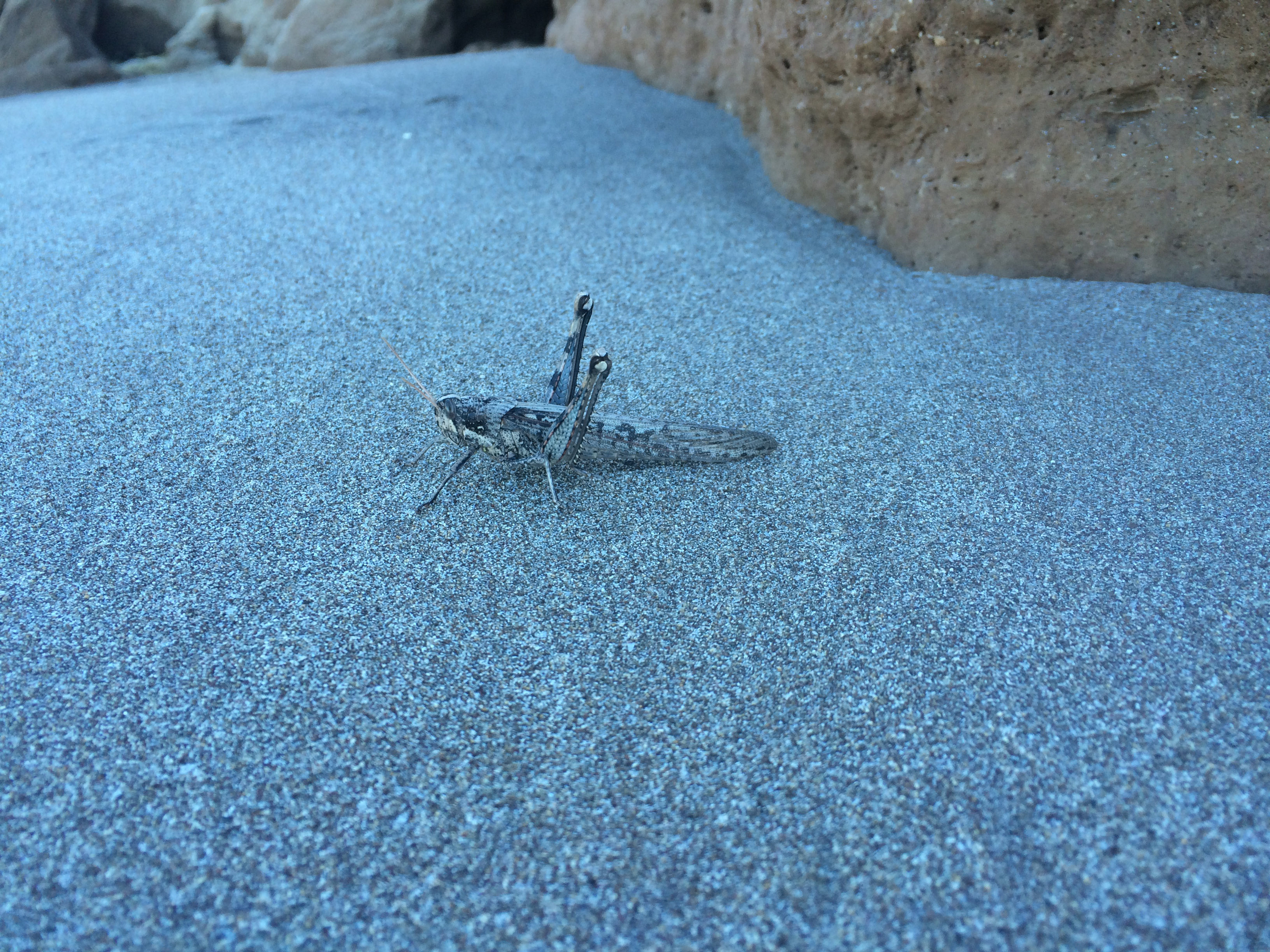 We had a bit of walk to the next beach over and then tried to figure out how to get up to the rocky area, which turned out to be much farther away than it originally appeared. There was a mostly dried up creek that seemed to be coming from where we wanted to go.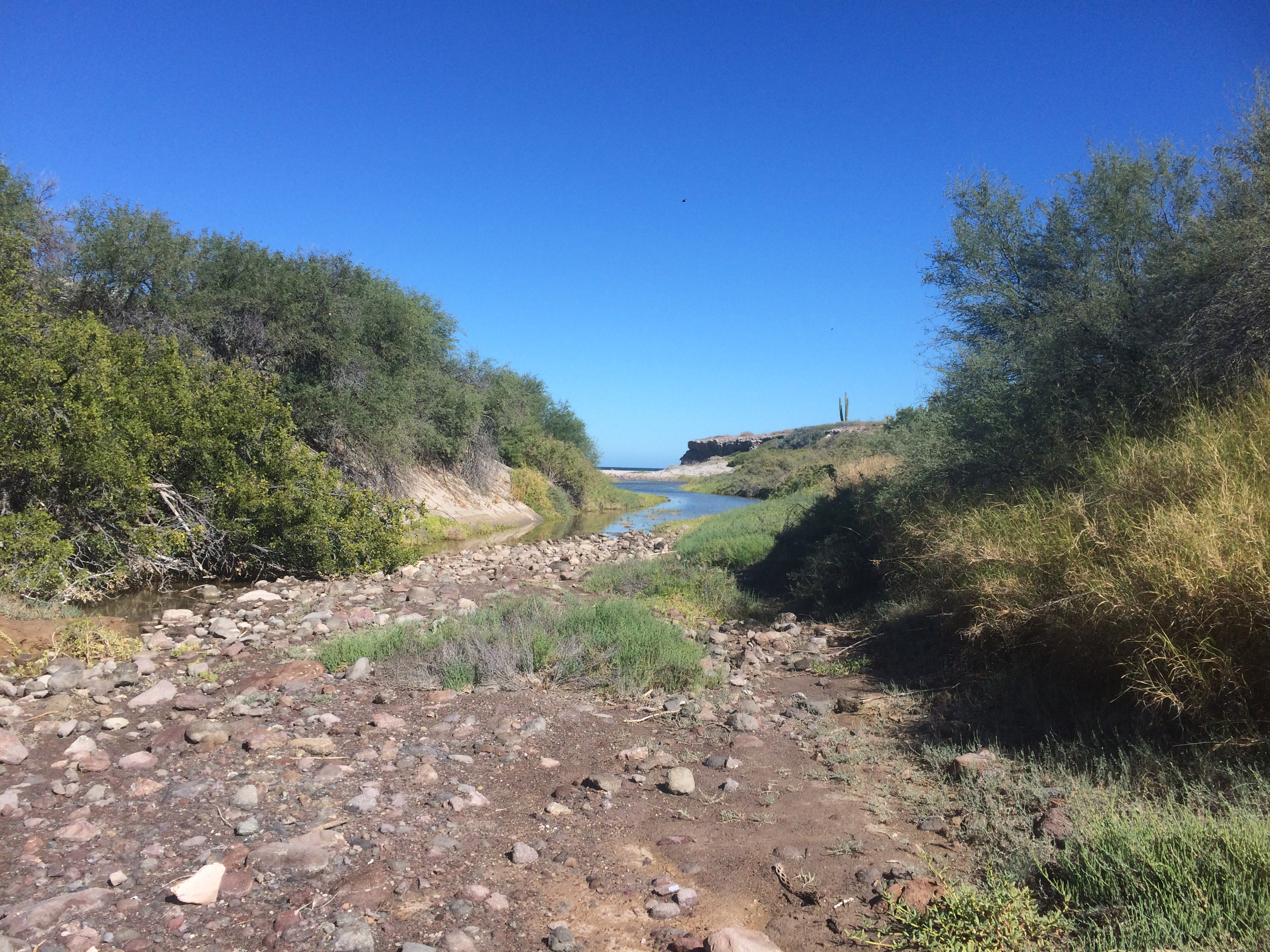 With some sand dune climbing, bush whacking and hiking up through the rocky dried creek bed, we eventually came to the lush, giant boulder amphitheater / cave-like area.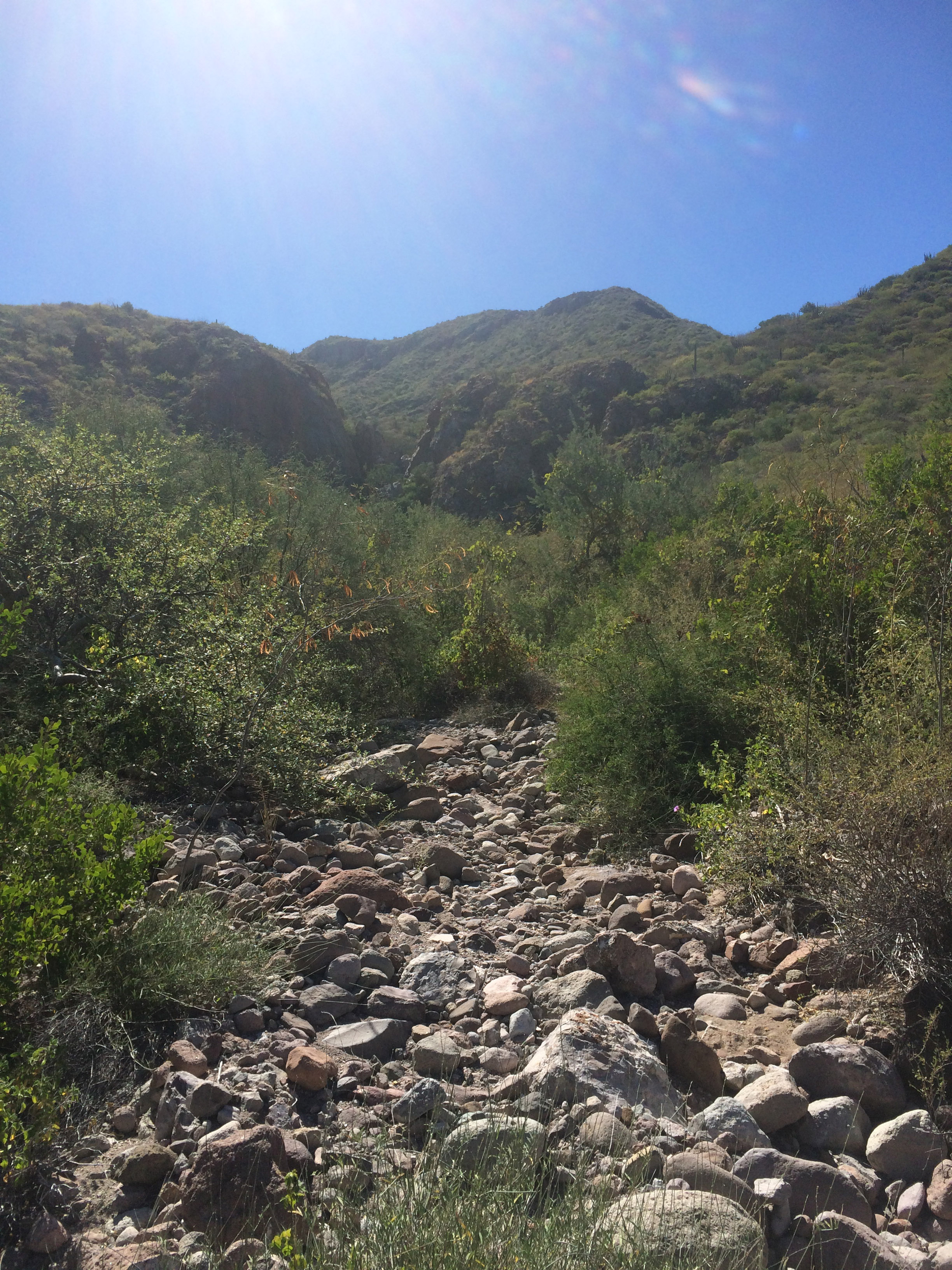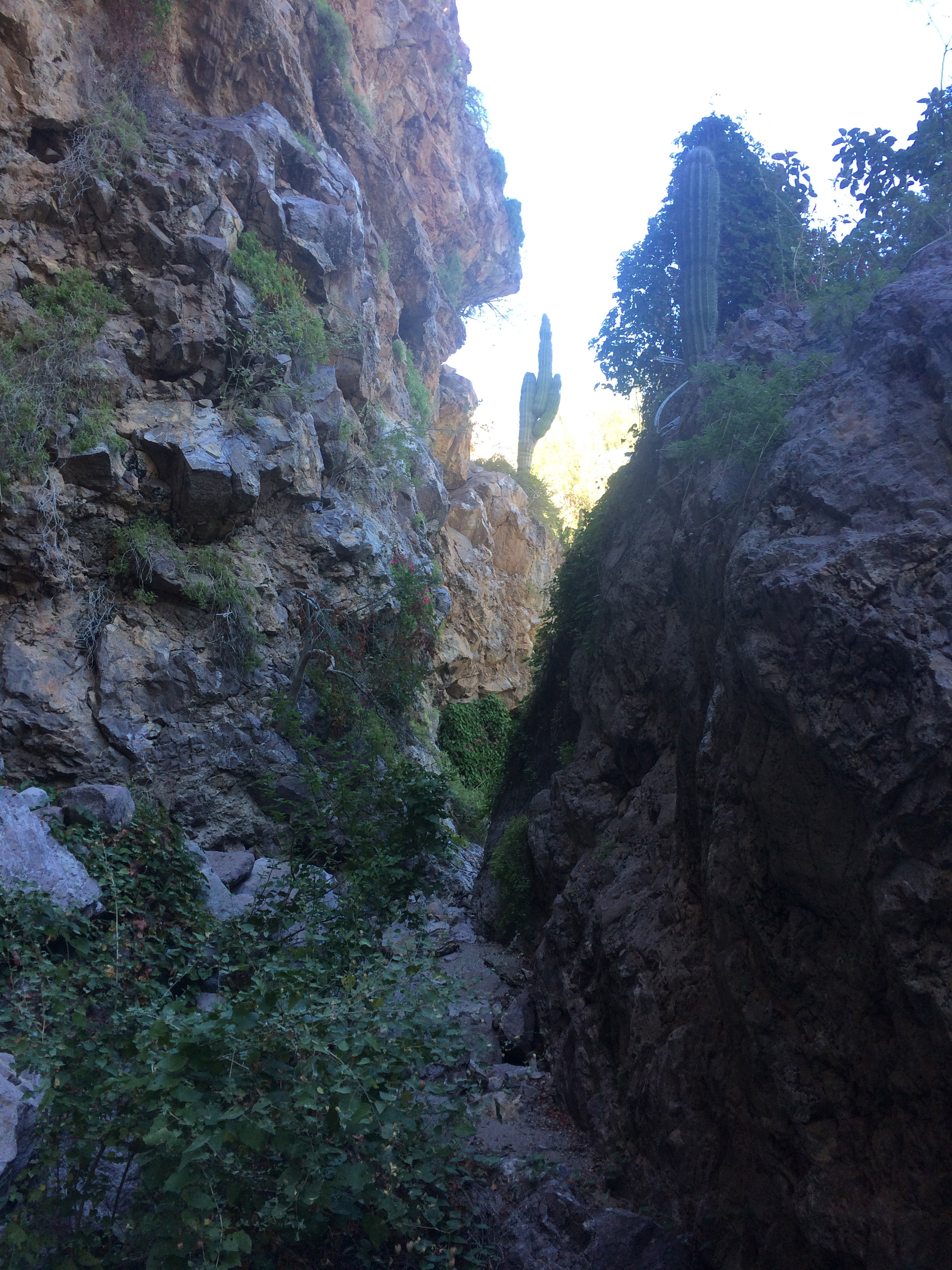 We had no idea where these petroglyphs were or where to find them.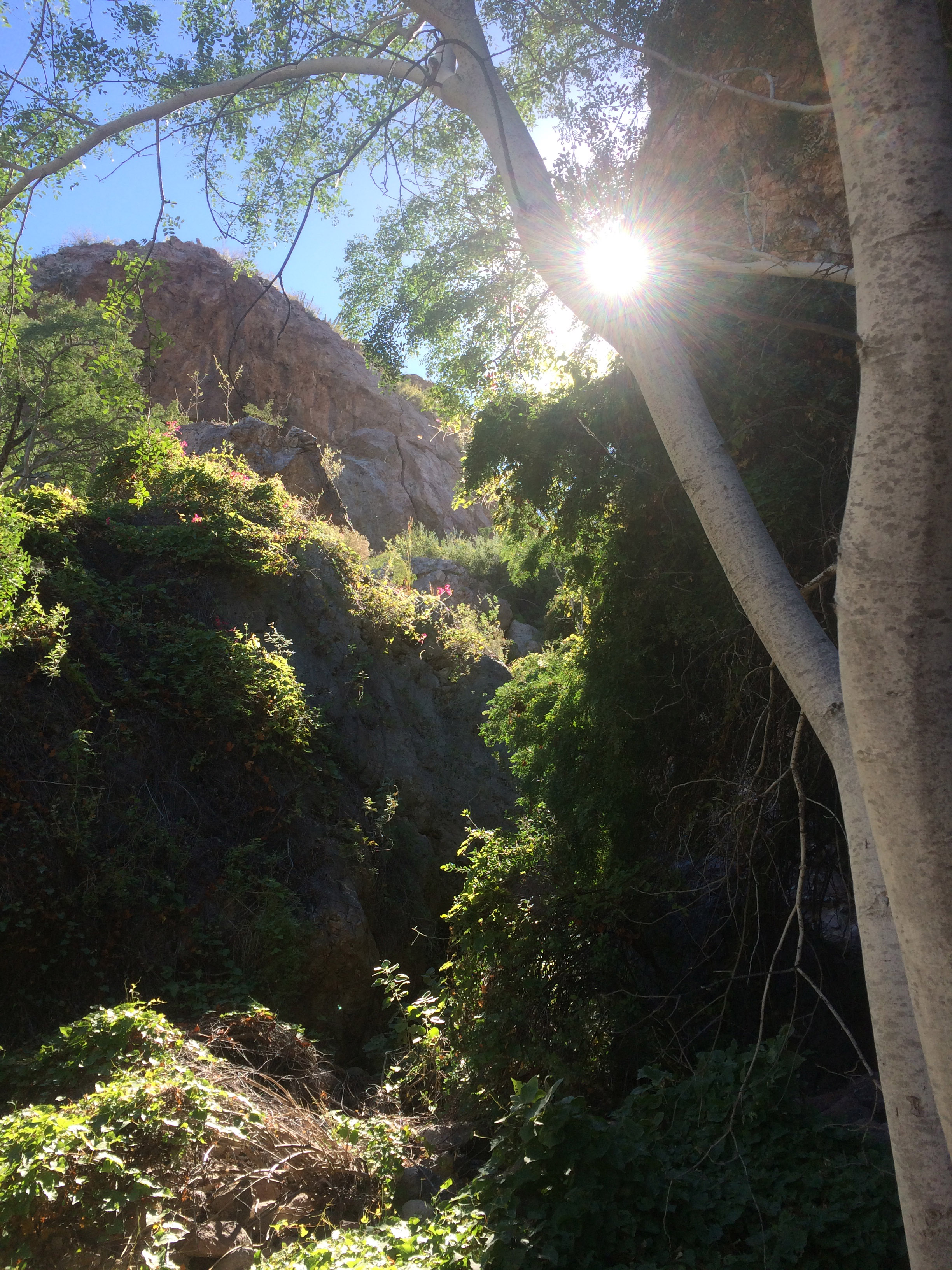 I sat down on a rock, looking up into the steep cliff and boulders ahead, thinking we should probably try to scale up into them and look for a cave or something. As I looked over to my right, I gasped – PETROGLYPHS!!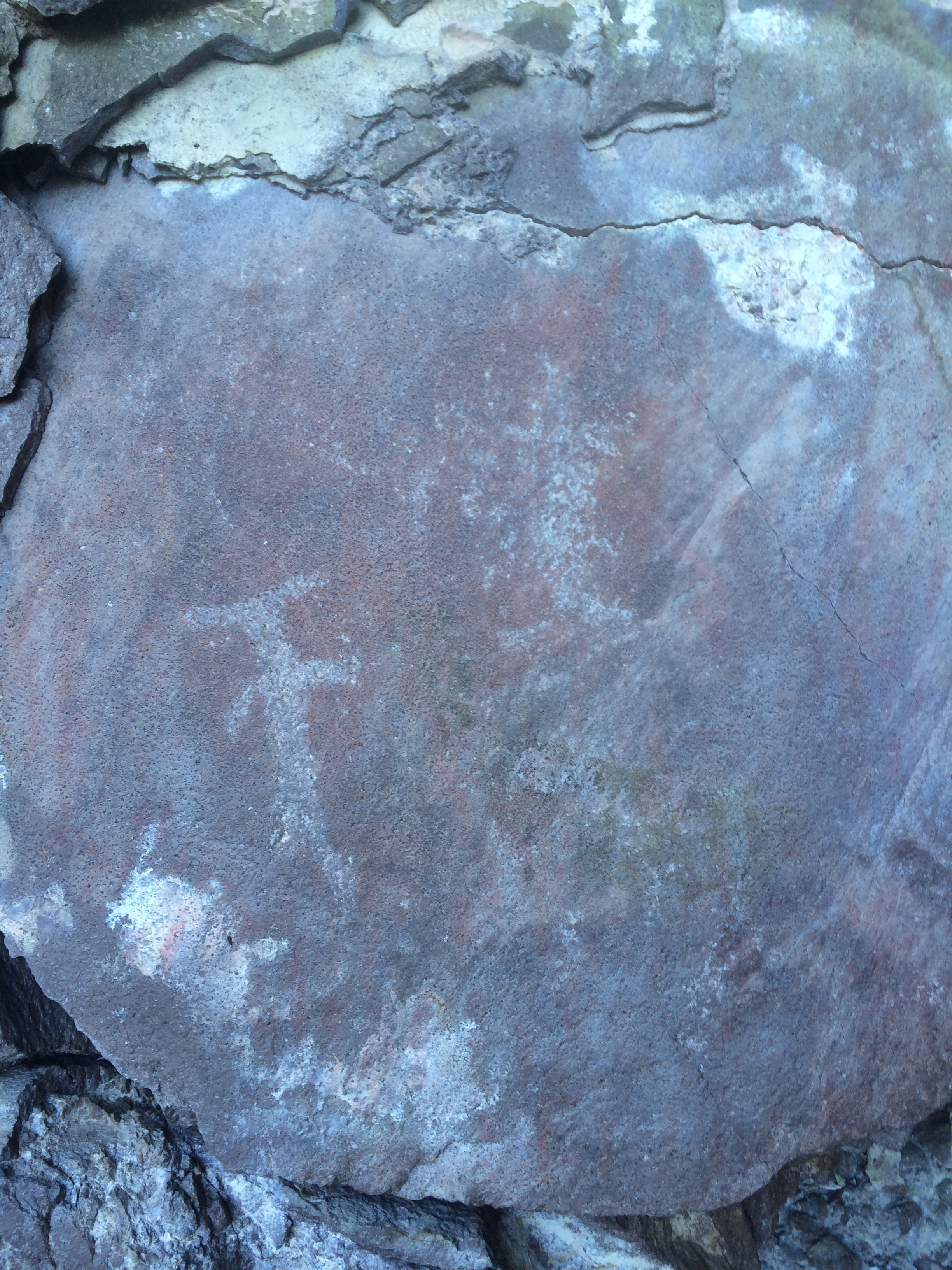 I was sitting right next to some! It turned out all the ones we found were very low to the ground. Clearly the area we were in had been filled in with rocks and sand from the water that rushes through there (or used to?) and it had once been deeper and more protected caves. We found a variety of faint images on the rocks in this area.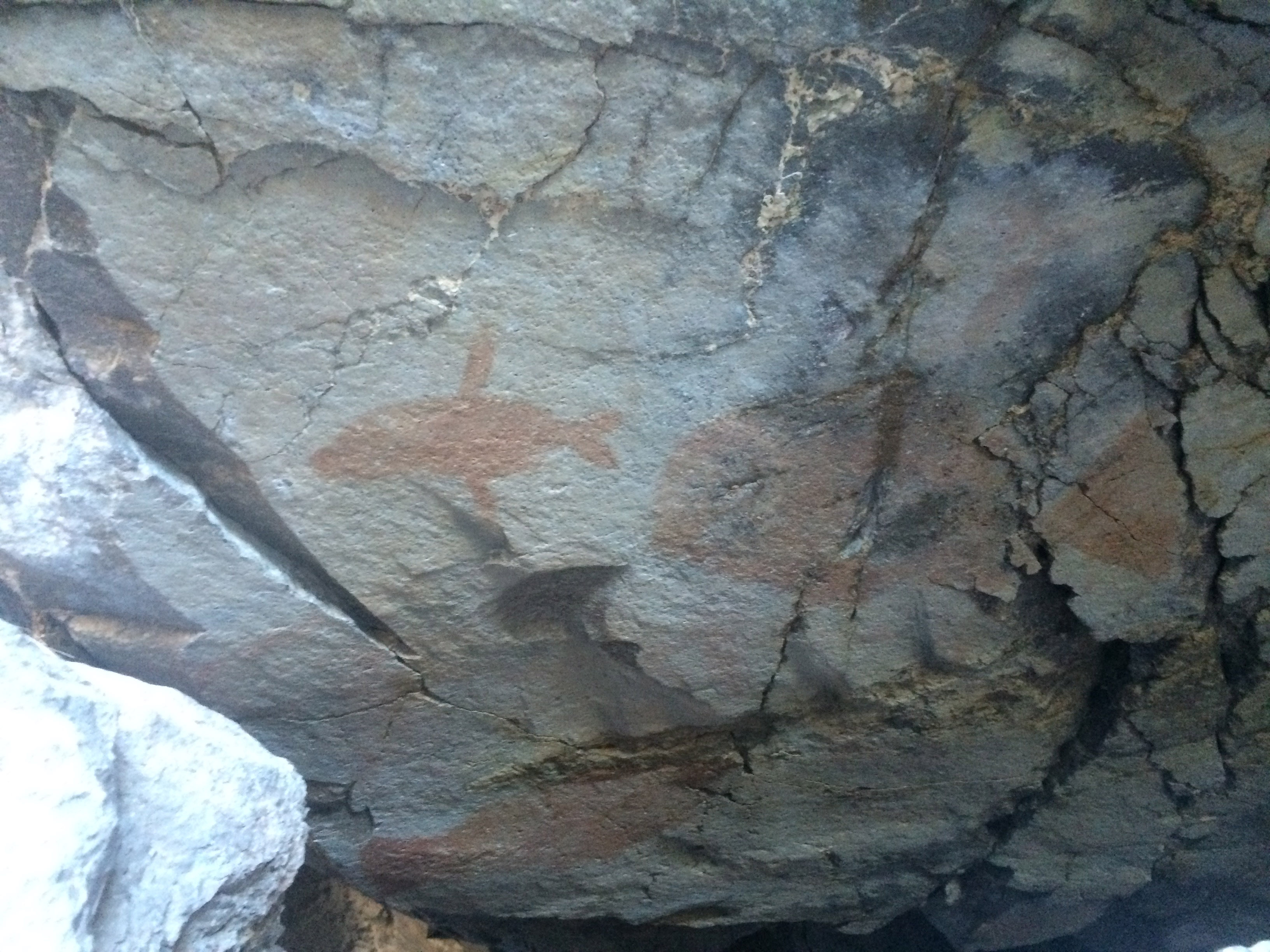 I have no idea who did the paintings or how old they really are. Some people speculate they are maybe not 'real' authentic cave paintings.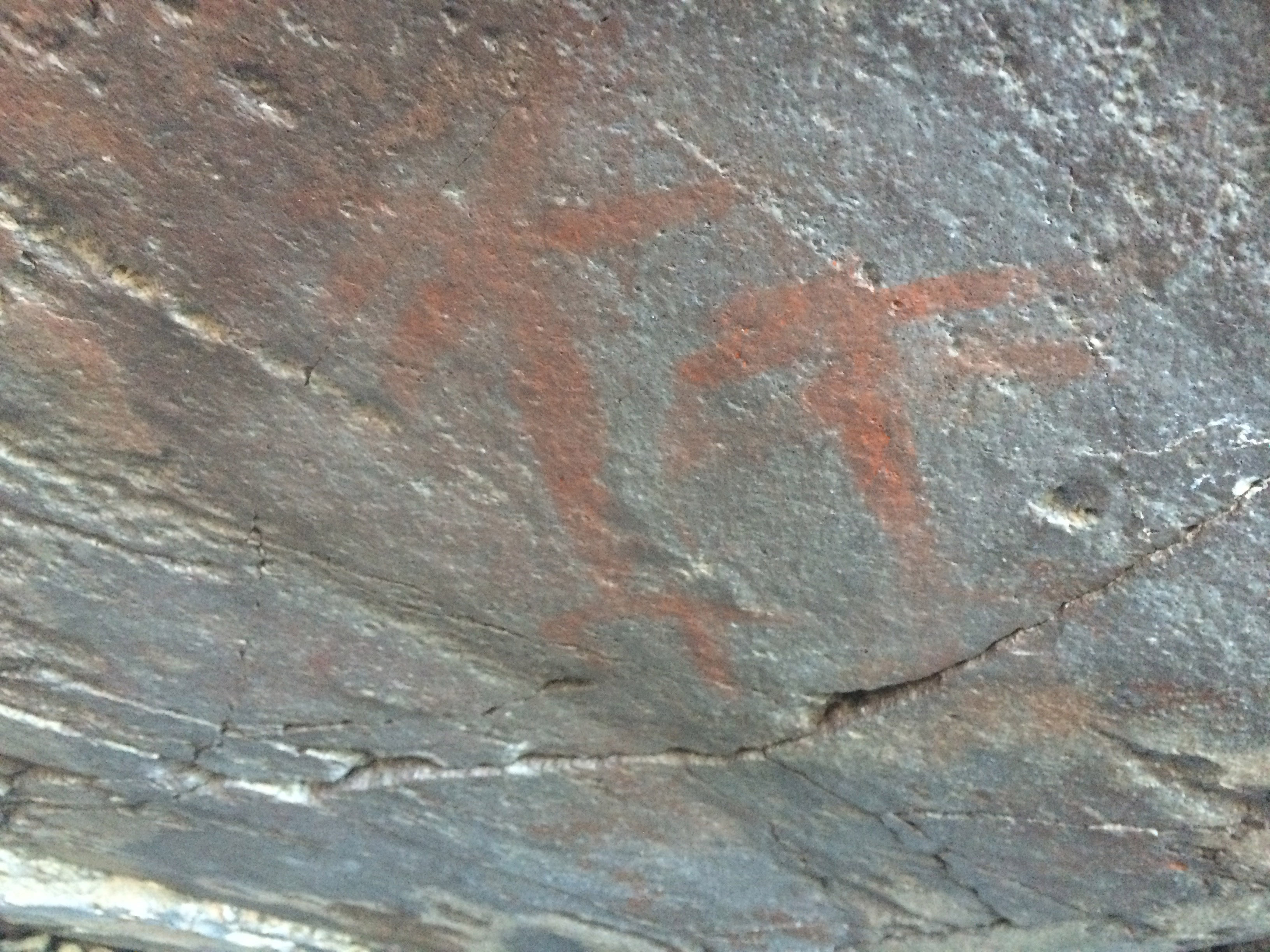 I have to wonder what the cut-off age is for something to be a breath-taking piece of history as opposed to just ho-hum graffiti. Someday will future generations be digging out and crawling into the ancient highway underpasses of what was once "America" and be fascinated by the gang symbols, curse words and bizarre alphabet the ancients used, and taking paint samples to discern just what material came out of our spray cans? For all we know, these petroglyphs are just the annoying, illegal work of ancient hoodlums. But at any rate, I find them fascinating and was very excited to see all of them.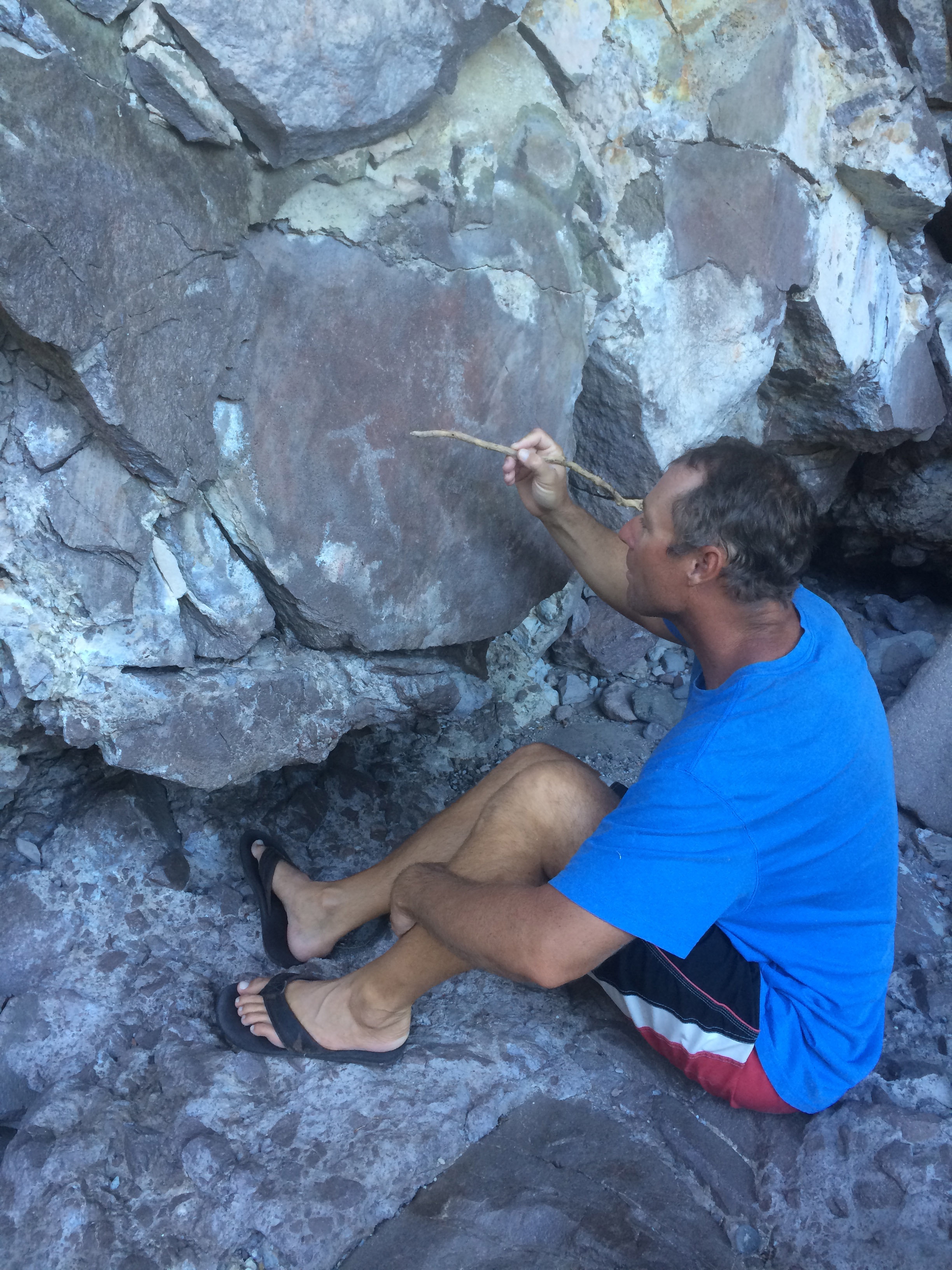 There appeared to be a break in the winds again, (we sat out the first opportunity to head south) and we finally decided we were ready to move on. We made the relatively short trip down to Isla Coronado – the same one we stayed at in late July (where I spent my birthday). When reviewing our log book, Jonny discovered that exactly one year ago that day marked our arrival in Ensenada, Mexico. We felt it was something to celebrate. I also feel like "What, only a year and we are already getting into re-runs?" Sorry.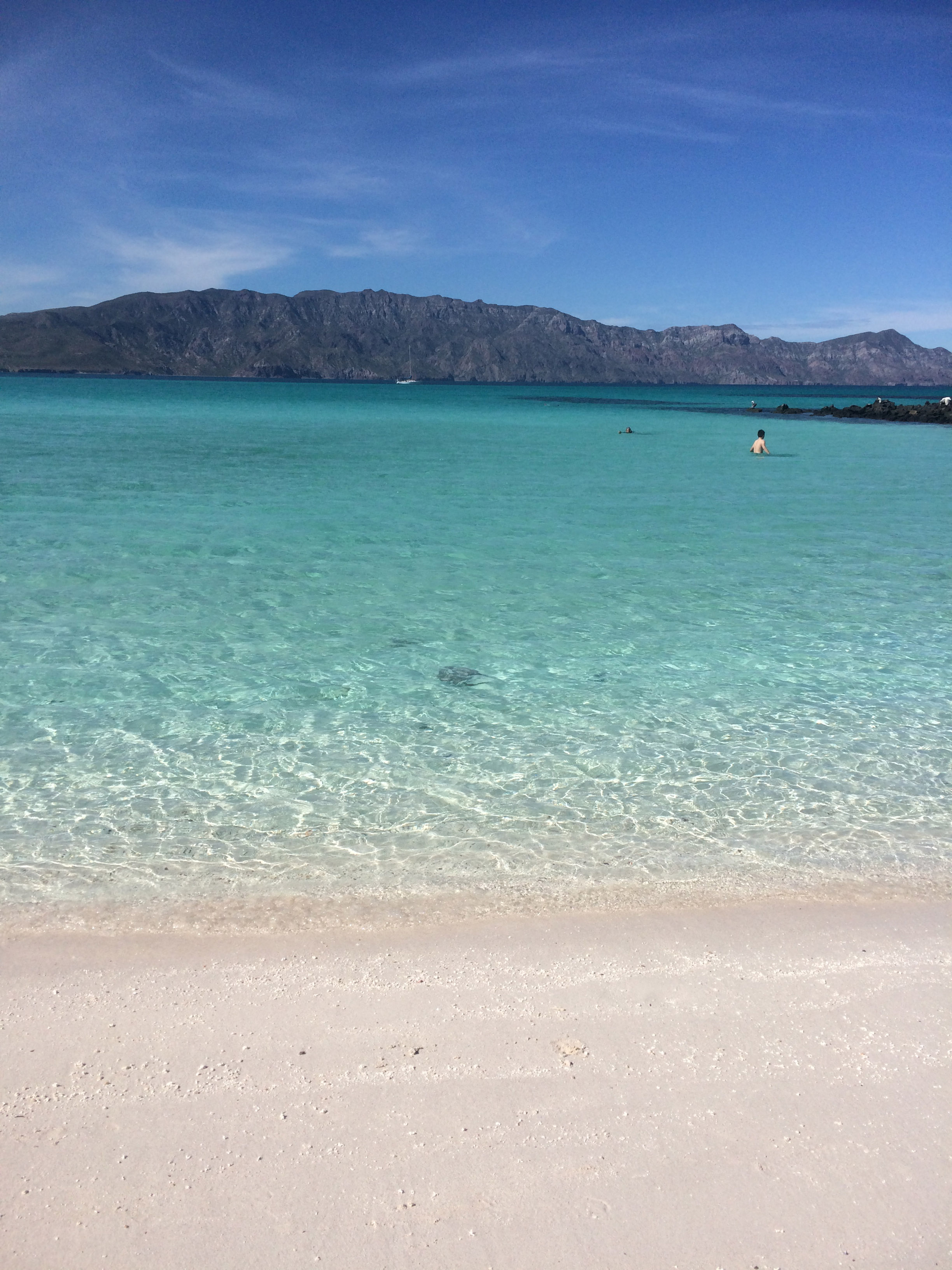 We had a few lovely days at Isla Coronado – finally back to the truly gorgeous waters that just make me want to melt into them. The fact that it is too cold to just jump in several times a day and meld with the water is a bit frustrating though! We were the only boat there for most of it (save for a day visit from the Safari Endeavor – a smallish adventure cruise ship). I believe some of our friends were on the other side of the island, which was the 'right' side to be on given the wind, but we decided to see how it was on the prettier side and it was just fine!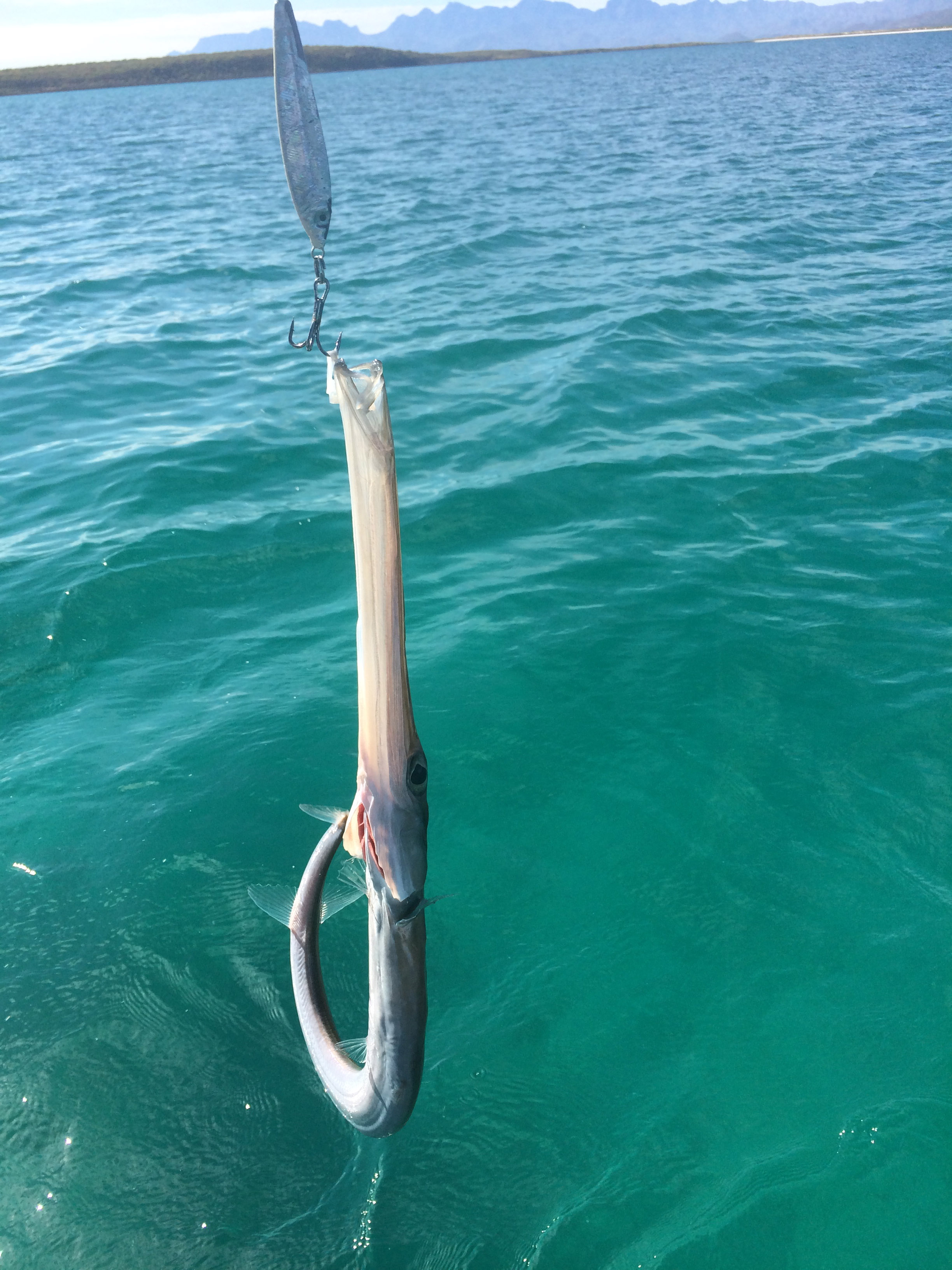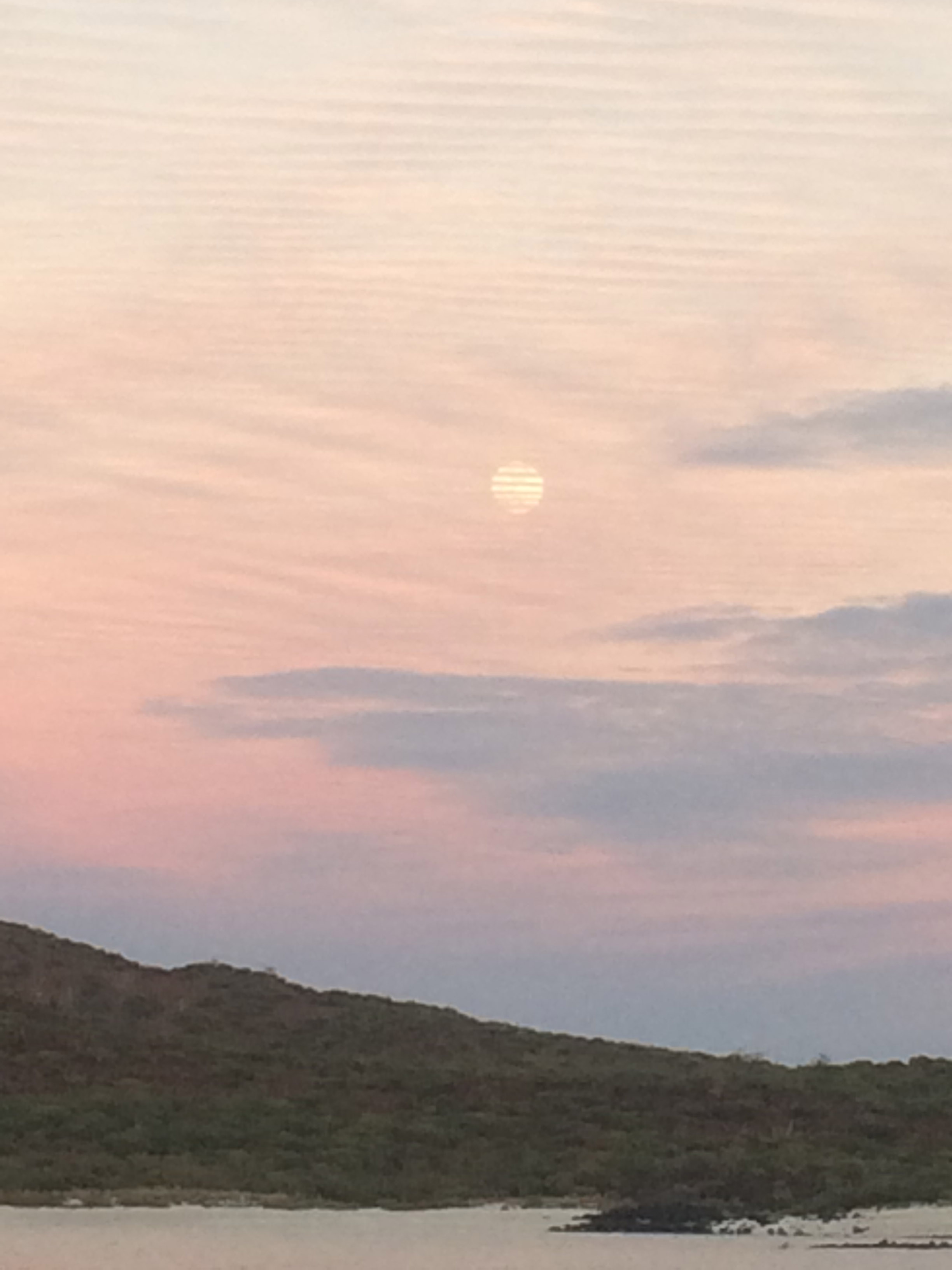 We were getting a bit low on food, as it had been about 2 weeks since leaving Guaymas. We planned to make a stop over in Loreto for supplies – as we did on the way up. Open roadstead anchorage, not comfortable for an overnighter – which is sad because I would love to be able to spend time in Loreto.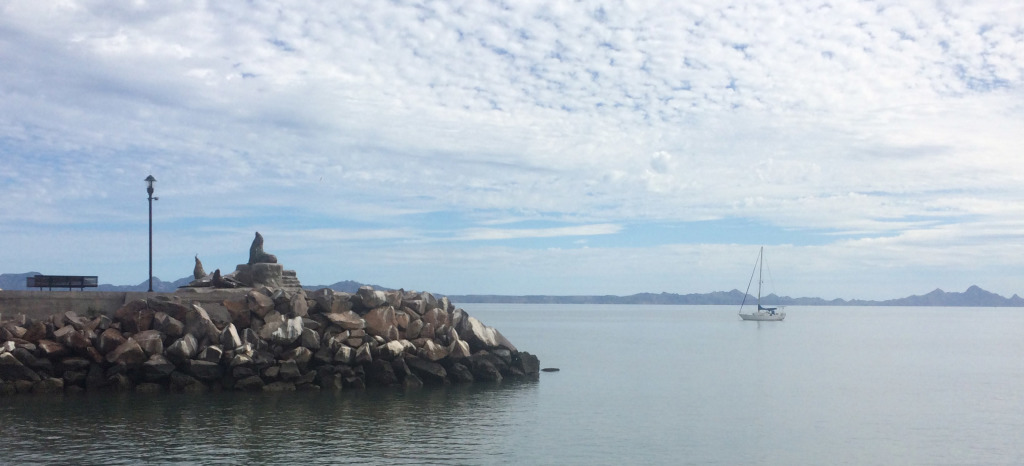 It's got such charm and good vibes, I always loved our stops there when we used to drive into Baja. We left super early to get there and get out before the winds picked up. It was just a 6 mile run and we motored the whole way in flat calm seas. I had NO idea what we were going to find in terms of supplies – I had a secret hope that I might actually find a turkey, seeing as it was the day before Thanksgiving. We didn't even have a plan for where we were going to go after Loreto. It was dependent on a number of things – such as winds, if we got a good enough load of stuff to pull off something Thanksgiving-ish, if we wanted to go hang with the crowds at Puerto Escondido, did we want to just go back to Isla Coronado to wait out the winds, how far south did we want to go, knowing there was no going back north? We were feeling particularly indecisive. So, we shopped first and figured the rest would come to us. We ran into Tom and Claire, whom we'd met in San Juanico – they were doing the same Loreto supply run as us and landed at the docks right when we did. They hadn't been there before so we gave them the five cent tour – here's the old church, the tourist row, here's where you buy the good vanilla, here are the various markets…. We showed them the ropes and eventually went off to do our own shopping.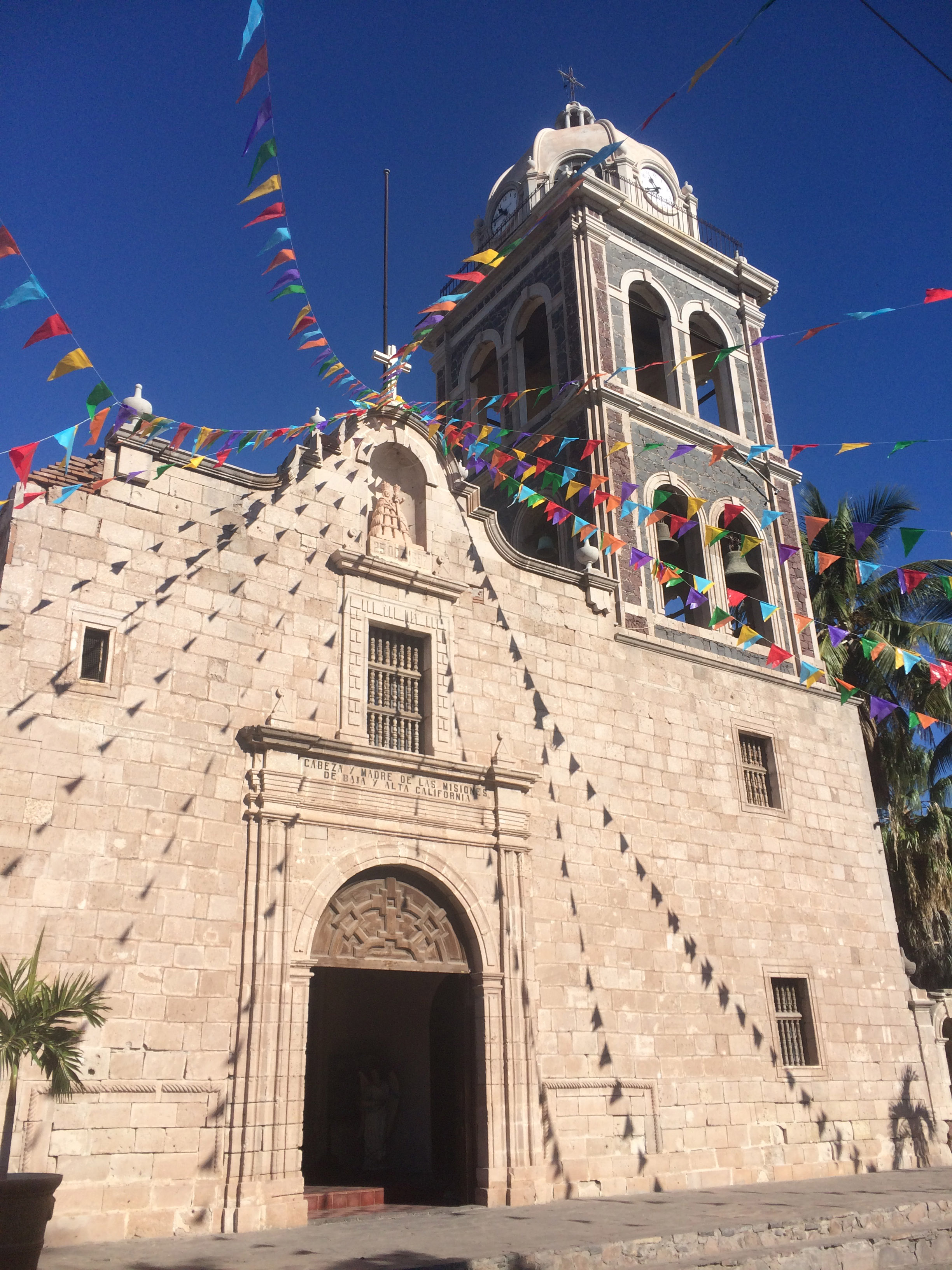 I was surprised to find some frozen turkeys at one of the markets. I had my 'wish list' of Thanksgiving supplies and somehow managed to get almost everything. THANKGIVING IS ON! I was bound and determined to cook a turkey feast in my little galley. I had the guy in the market searching the back for the smallest turkey he could find. Unfortunately 6.5 kilos was it. That's 14.3 pounds, people! Yikes! I had NO idea how or if I was going to be able to fit this thing in my oven. But I was too fired up to worry about that. I found fresh cranberries, and even some marjoram (key spice in the stuffing!). The only thing lacking was pumpkin. No pumpkins, fresh or canned to be had. In the last minute I grabbed a huge can of yams, thinking "sweet potato pie" that's close, right? So now we were fully laden with all manner of foods and the makings for Thanksgiving. I was very grateful to have my new cart to lug all this food around town. Not being weighted down with heavy bags meant my feet didn't get a pounding and my plantar fasciitis can continue to heal (heel?).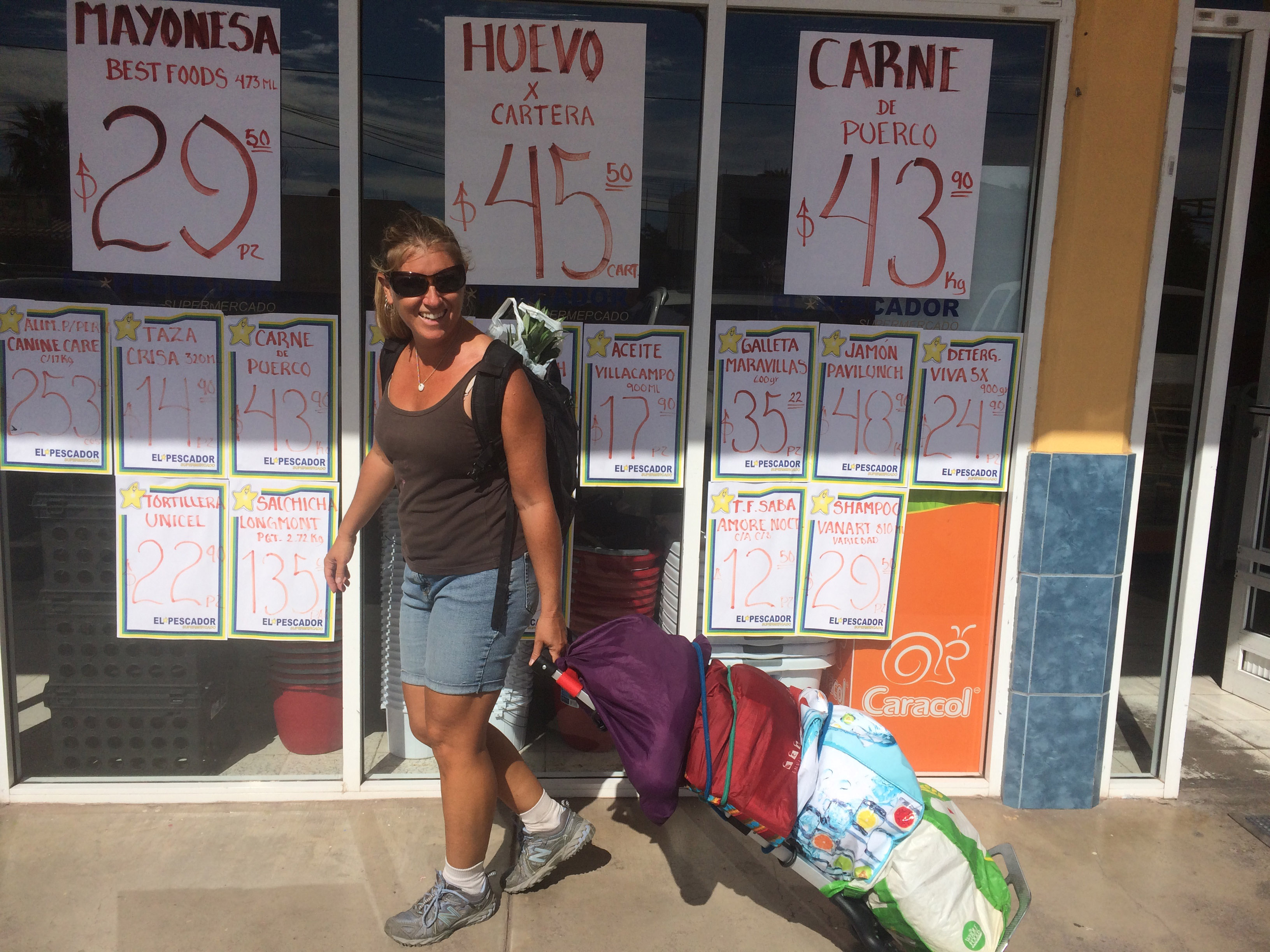 Now we just had to figure how WHERE we were going to perform this Thanksgiving miracle. We were hungry, so we lugged our considerable grocery load to a restaurant to get some lunch. Yes, it felt really weird to bring a load of food to a restaurant and then order more food… But eating and sitting seemed to be an important component to decision-making. We ended up meeting a really nice couple of ex-pats at the restaurant and chatting with them cut into our decision-making time. We were nearly finished eating and still no idea where we were going. For some reason neither of us was really feeling like going to Puerto Escondido. It's crowded and expensive and it's not that pretty and there's nothing really to do there (except try to get a ride to Loreto). We knew we needed to stop there to get water and fuel, so we didn't want to go south of there. That limited our options a bit. We also realized it was getting too late in the day to do our chores there and then go somewhere else. One of our favorite spots on the way up was Honeymoon Cove on Isla Danzante, which is just across the way from Puerto Escondido. It has three coves that can hold one boat each. We decided to try to go there and see if there was room for us.
We wanted to be near Escondido in the event that Hurricane Sandra (post-hurricane season!) took a turn for the worst, but we just couldn't bring ourselves to try to stay there. There are three areas (aside from the Fonatur marina) in there – one anchorage is wide open and you are charged nearly $10/day just to anchor there, the 'ellipse' anchorage (which, surprisingly is round) is fairly deep and also has in and out and daily fees, and 'the waiting room' is a deeper anchorage which is supposed to cost $1/day but no one really pays I guess. There are mooring balls there that are not owned or maintained and you can take one at your own risk if you can find one. Also, that whole place is kind of a 'scene' with people who've lived there for 20 years and all the politicky stuff that goes on in small communities where people don't have a lot else to do. We just weren't feeling it (listening to their morning net was quite enough, and very entertaining). So, Honeymoon it was! We would keep an eye on the weather and go from there, but it seemed we could stay put there for all of Thursday at any rate.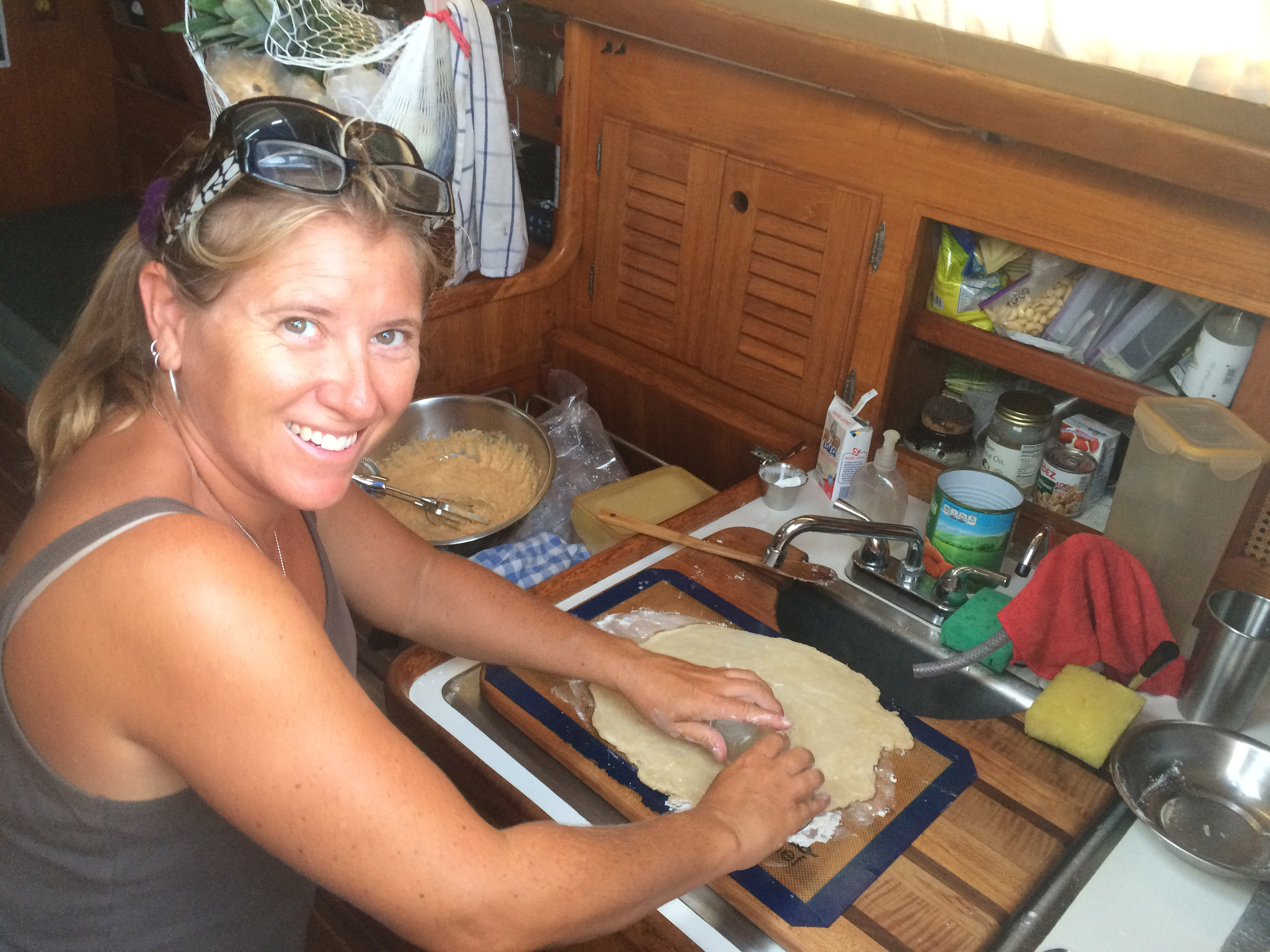 We got underway after stowing all our food. I began to think of all the work ahead of me for pulling off this meal. The turkey was thawing nicely in the cockpit and I finally couldn't take the suspense. I had to see if it would fit in the oven. With the oven rack resting on the floor of the oven, this bird fit just barely in my pan and slid into the oven with barely a finger's width of space at the top. I had NO idea if it would cook properly, or if the bottom would burn or what (the heat comes from flames under a metal covering at the floor of the oven) – but I was determined to give it a go. Yes, I could have cut up the turkey and cooked it in pieces, but, to be honest, the only things I truly care about are stuffing and gravy, and cooking stuffing inside a whole turkey is really the only way to get it tasting just how I like it. The giblets and neck are how you get the gravy, so even if the bird got messed up, I could have stuffing and gravy. Yeah, I'm a little crazy about this meal, as it's probably one of my all time favorite meals when I get to make it my way. I realized I'd better get started right away. So I made piecrust and attempted this sweet potato pie (I was skeptical it would come out) and then I made the cranberry sauce. I never liked cranberry sauce when I thought it was something cylindrical that you sliced, but sauce from fresh cranberries is quite a treat. With that done, my only task for Thursday was to make the stuffing, gravy and potatoes, stuff the bird and fit it in the oven. I decided something green was just too much to ask. I couldn't even begin to think of how impossible it might to be to store the leftovers.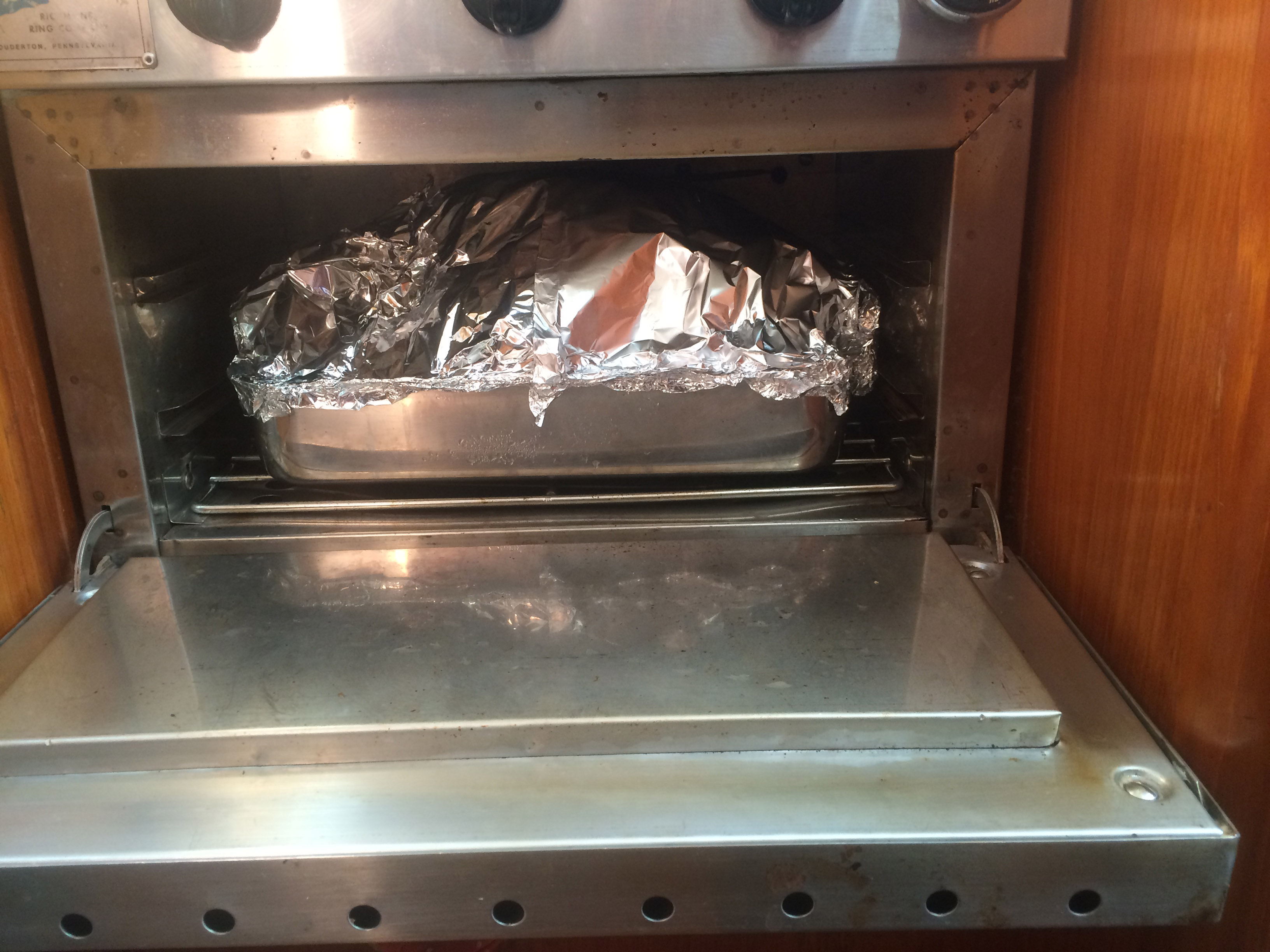 I discovered something new about my oven – it doesn't actually go below 350 degrees. The turkey cooked really fast! But miraculously it came out nearly perfect. The gravy was to die for and the stuffing was "ok" (I had to wing it with the spices and the ratio wasn't quite the "Bell's Stuffing Seasoning" I'd hoped for). But all in all it was a delicious Thanksgiving and I managed to fit all the leftovers in the fridge. Truly a Thanksgiving miracle. I try to always be thankful for what I have and the people in my life, so of course we spent some time reiterating what we are thankful for and climbing the hill to make some phone calls. But I'll admit it, it's really about the stuffing and gravy.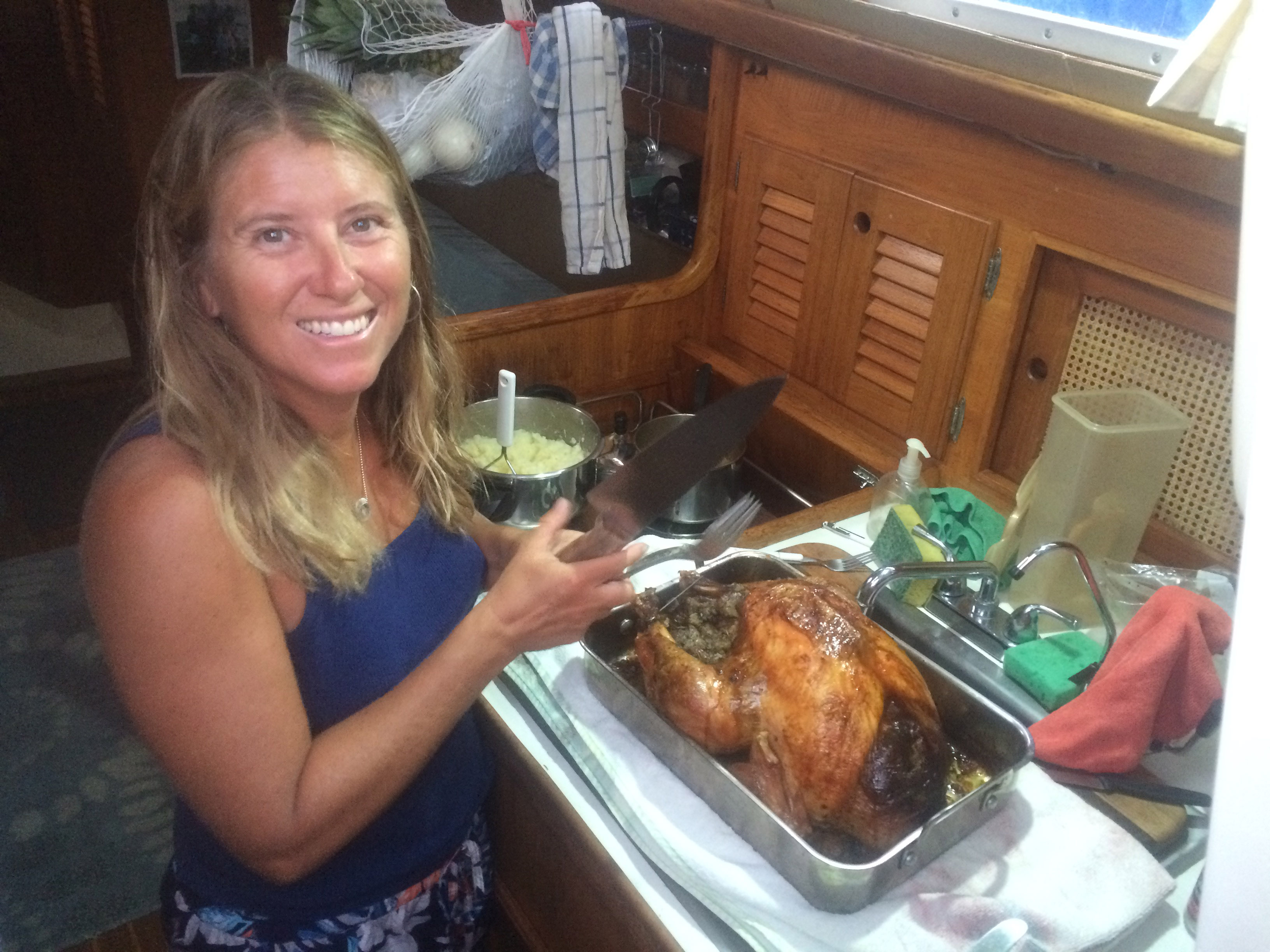 Hurricane Sandra ended up fizzling out and never causing Baja much trouble, so that was a relief. However, the wind was predicted to blow hard from the Northwest for quite some time – as it is wont to do this time of year. We figured being holed up at Honeymoon Cove wasn't the worst place to be. We had considered going to the southeast side of Isla Carmen, but we weren't sure what it would be like in this wind and figured it would be better to be close to Escondido just in case. We didn't have quite enough water to go for five days so we made a quick hop over to Puerto Escondido to get some water at the Fonatur marina and top off our gas and diesel tanks.   Last time we were there, they made a big deal of reading the water meter and charging us for the water we used, so I went to find a Fonatur guy and ask him about using the water. This guy had NO idea what I was talking about when I asked (in perfect Spanish, mind you) if I could get some water for our boat. He looked at me like I was speaking Martian or something. I asked in everyway I could and he finally said "uhhh aqua?" and pointed to the fuel dock, I pointed to our boat and asked if we could just use the water there. He shrugged. I confirmed it was OK to use the water and he said "si"…so I guess the water was free that day! We washed down Summer, filled up all our tanks, rinsed some rags and the unfortunate towel that the turkey pan was set on (and got covered in gravy). I even went and found the bathroom doors open, so I hopped in for a shower. Only cold water, but there was no wind in there, so it was a big bonus – I didn't come out with numb hands and chattering teeth. I went to check out the little tienda to see if there was anything we couldn't live without (and get a beer for Jonny). There were a couple shelves with fresh veggies, so I took the opportunity to grab a few more potatoes to go with our leftovers. When I went to check out it came to 95 pesos. That seemed awfully high so I asked how much the beer was – 35 pesos, about right…so…uh, that meant 4 potatoes cost 60 pesos??? Yep, she confirmed potatoes were 15 pesos EACH – that's nearly a dollar for one potato. I decided we didn't really need potatoes and I put them all back (I paid 11 pesos for 6 of the exact same potatoes at the grocery store!). That incident just added to the annoying-ness of Puerto Escondido. I ran into Marya who I'd met in San Juanico – she was trying to use the internet and was extremely annoyed that it was very slow (and she was paying to use it) –so I didn't try to chat long with her. There is supposed to be internet in Puerto Escondido, but everyone is always complaining about it not working. In general all the folks we meet on the docks are super friendly and it's a very social place, but still we just couldn't seem to find a reason to drop anchor anywhere in there. We got the fuel topped off and we were on our way. On the way out we were chased down by a dinghy – and Meagan, Jonah and Nia were in it! So great to see those guys – they were all out in the Waiting Room and tried to convince us to take a mooring ball out there. It would have been really fun to hang out with everyone (the one and only benefit of PE that I can see)…but the beauty and tranquility of Honeymoon Cove was just too big of a draw. I'm not a big fan of having to bathe in a crowded anchorage – aside from the lack of privacy, jumping overboard in the middle of a group of boats, when you know everyone is flushing their toilets overboard, just kind of grosses me out. In more remote areas where boats are farther apart, I believe that it's none of my business what someone sees through their binoculars.
We were soon back to our little cove, a little slice of heaven – it was a bit of a rough crossing and we took a number of waves over the bow – not a big deal, but jeeeez I'd JUST hosed her down! We were determined to set the anchor good and deep to weather the upcoming blow. We tried 4 times and couldn't get it to bite. We were both getting cranky and needed to eat lunch. After a huge plate of leftover thanksgiving goodness, we were ready to try again. Jonny dove in and checked the bottom and discovered it was all shale and rock there was no way the anchor would set in that. We had to move out to a bit deeper water just a little ways over and we were able to set it good in sand, about 30 feet deep –a bit deeper than normal, but we felt we would be secure and we were in a good position to get protection from the island in the big northwest blow.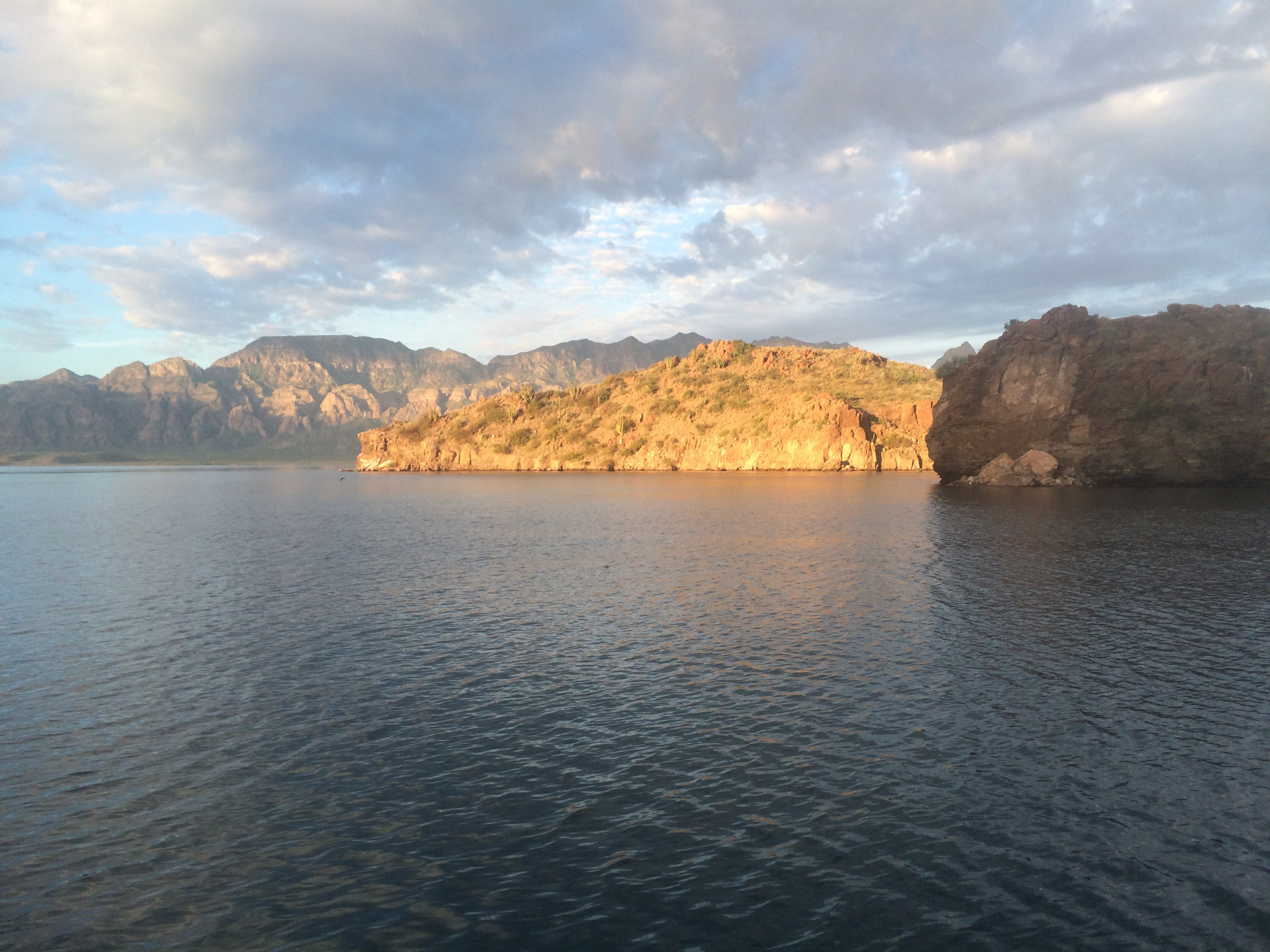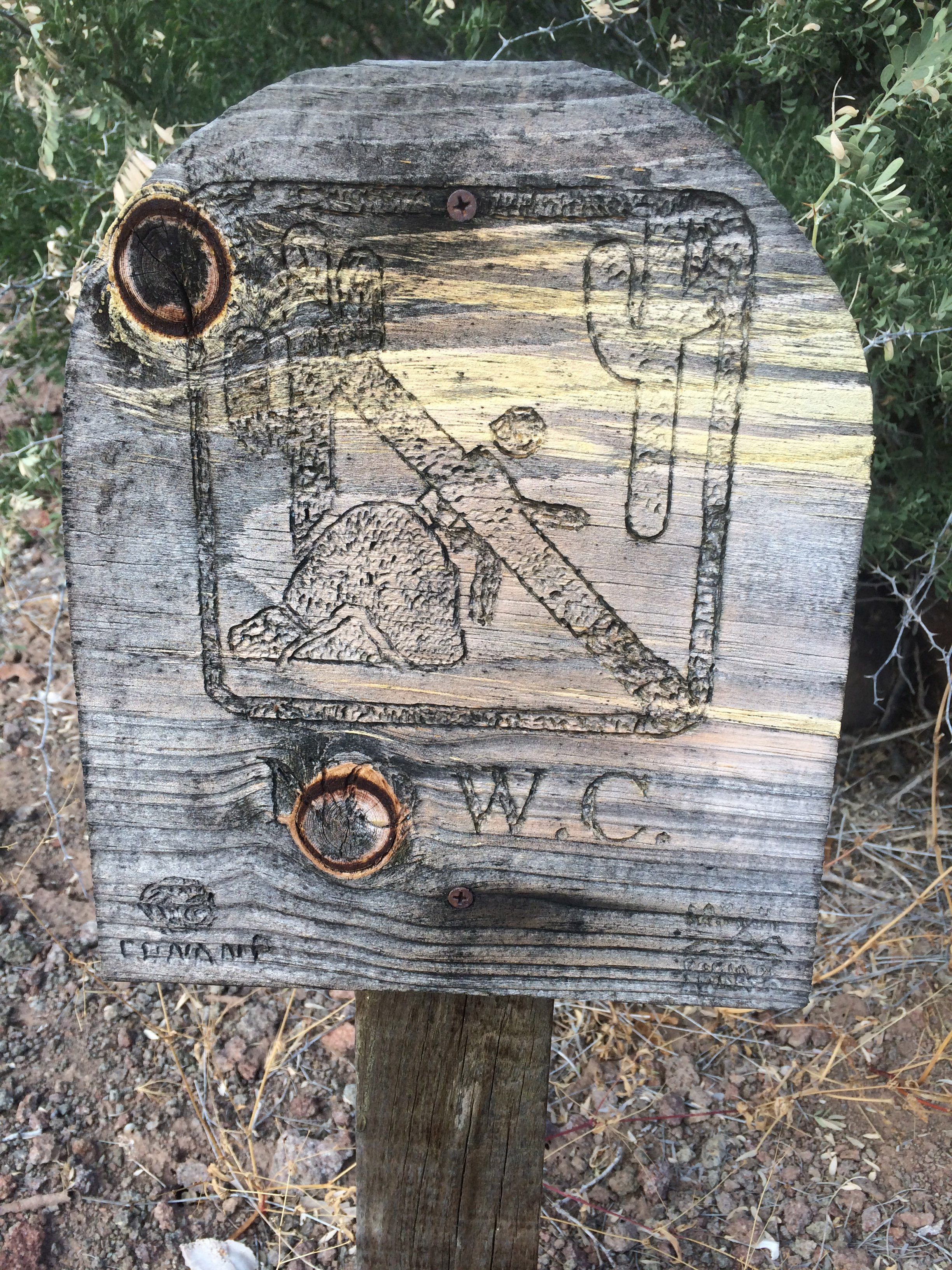 There was a tiny cove just to the left of us with a beautiful little beach and gorgeous aqua water.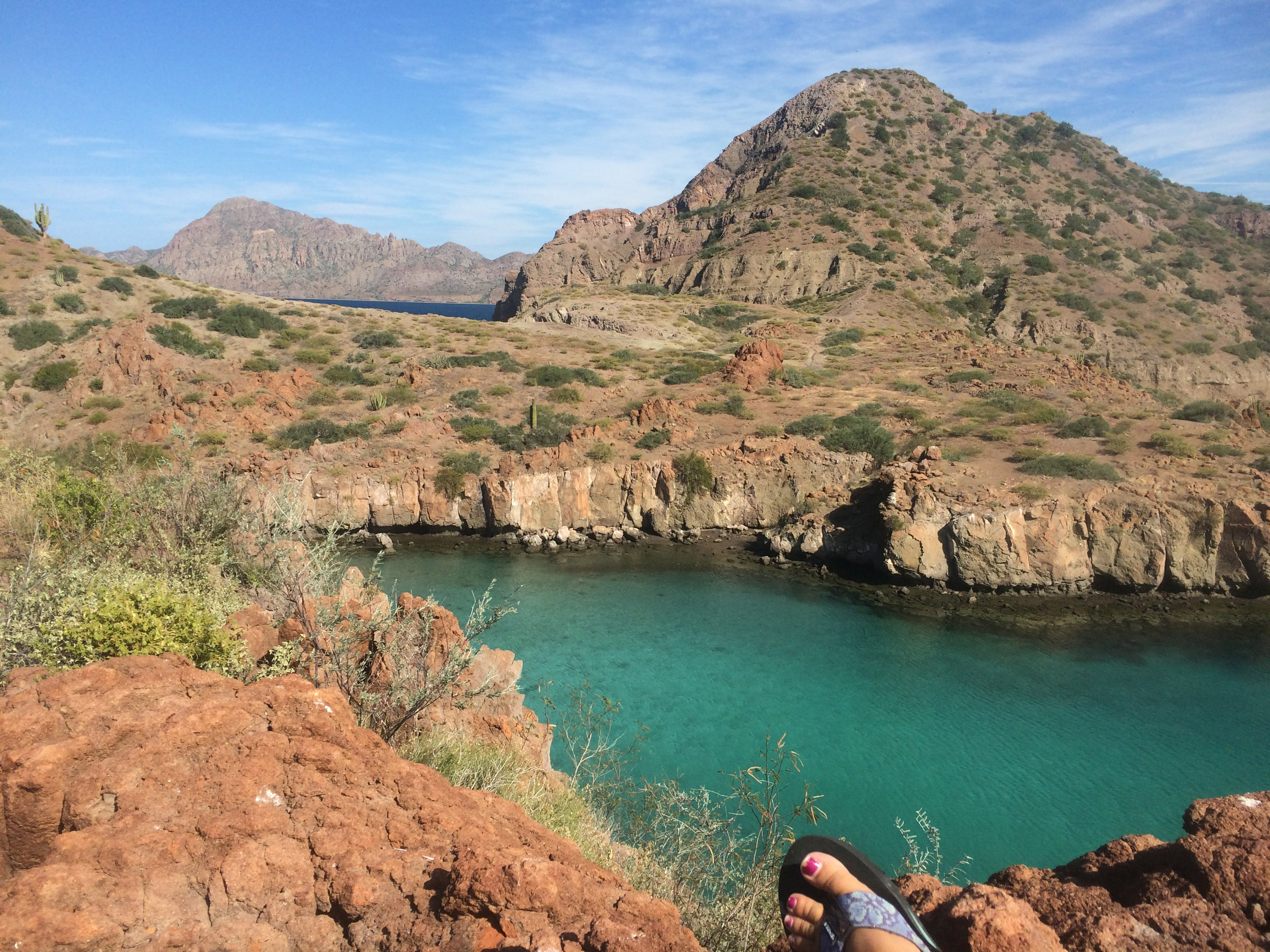 There are great hiking trails all over the island as well. We discovered that there is also excellent cell phone signal at the top of the hill!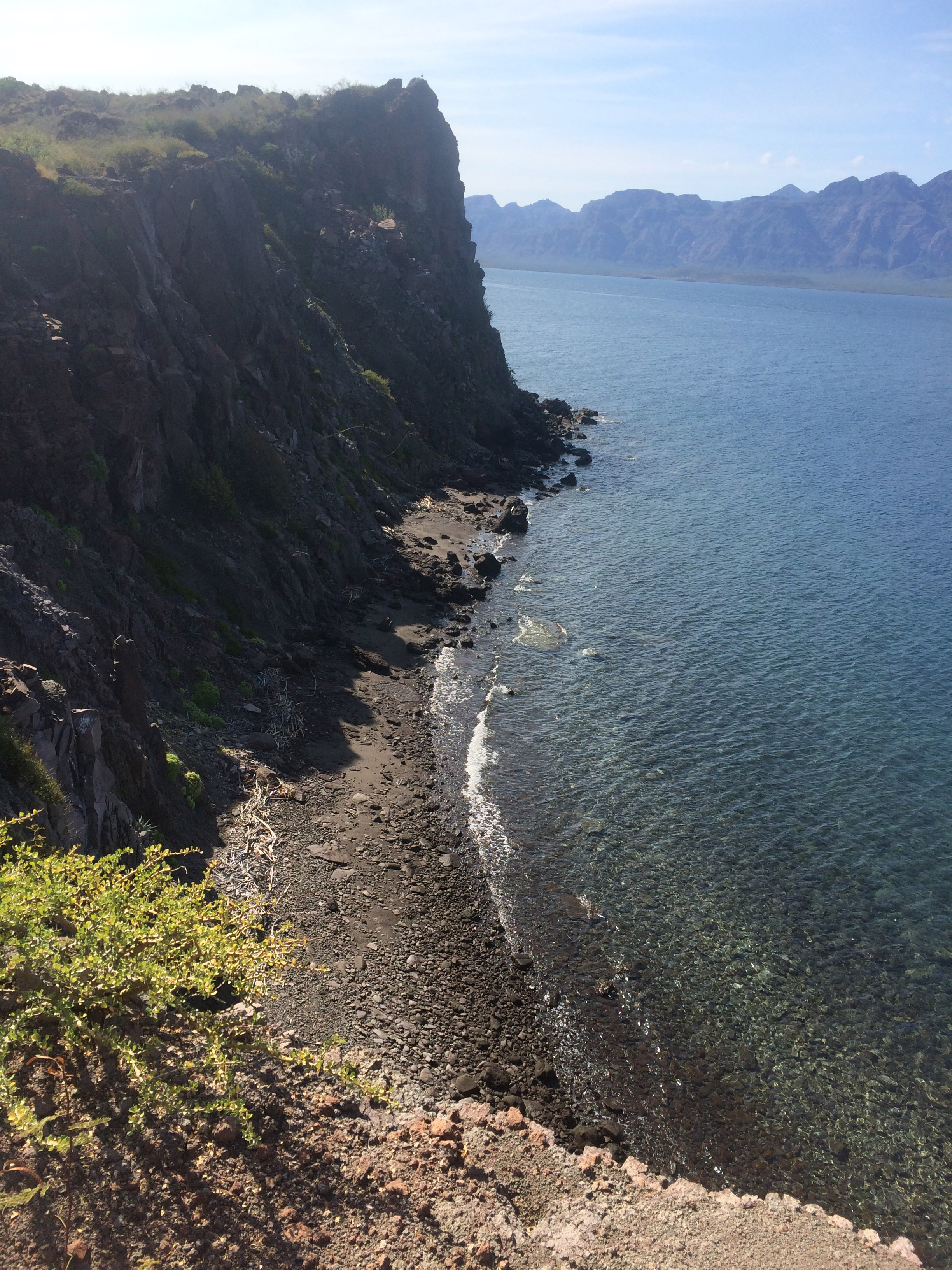 Tour boats often bring people into that cove for a swim or lunch break. When we came down from one of our hike we discovered a large white man sitting on our dinghy eating his tour group sandwich. My first thought was "Would you sit on the hood of a stranger's car and eat your lunch in a parking lot??". Seriously, what on earth do people think??? I know we often have local children playing on our dinghy and that doesn't surprise me in the least, but a grown man visiting a foreign country? It just seemed awfully rude to me. Jonny tapped him on the shoulder so we could launch and go back home and I guess he just said "uh… oh thanks for the time!". How weird!
We took advantage of a calm morning to dinghy down to the next couple coves and just have a look. They were just gorgeous! On the way back we stopped to say hi to Carola, anchored in the cove down from us (the most beautiful cove, too, it's where we first anchored in July – but they were there before us this time). Cliff and Maryanne have a beautiful Summer-sized boat and are down from the Bay Area (ish) for a couple more weeks. Cliff was worried about running out of reading material as we were stuck there waiting for the wind to abate – his laptop died and that's where all his kindle books were stored. I offered to share my book collection with him. They came over in the afternoon and Maryann brought a delicious chocolate cake (her latest experiment – it was made with beets – aah yes, an experimental, real-food baker after my own heart!). We had a great afternoon hanging out with them and before we knew it, the sun had gone down. We were left with the rest of the cake and the delicious ginger sauce topping. We got to visit again a couple days later when I returned the containers.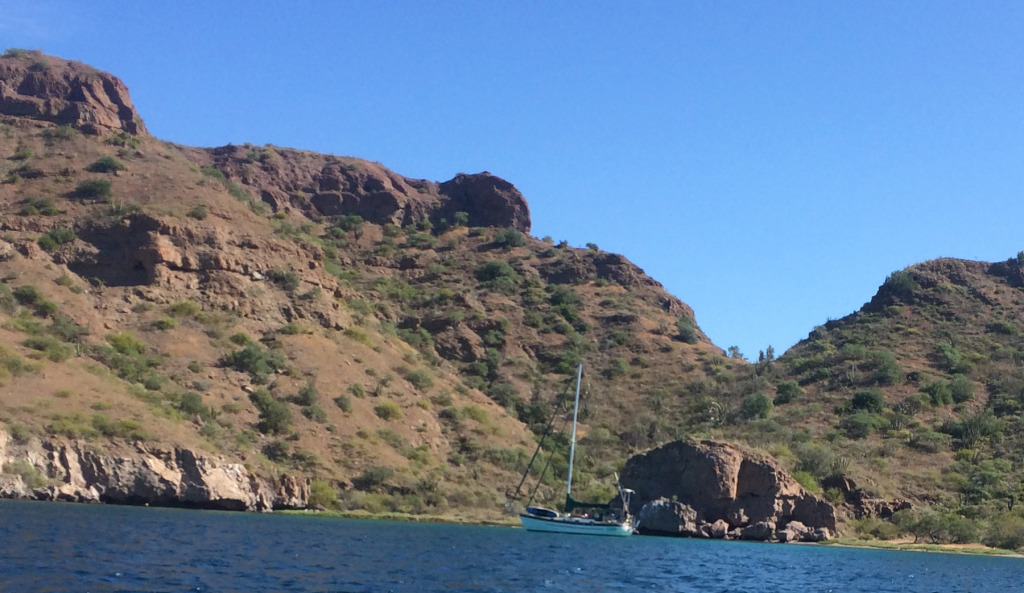 The winds haven't hit the highs predicted so far, but there are still a number of days to go in this event, so we shall see. A chilly, blustery day is a good day to stay in and do some writing. Luckily we had a bit of sun midday that allowed for a quick swim and personal care – which was a relief as we were both getting a little ripe. It was nice to warm up with a bowl of vegetable turkey soup afterwards, though.
We are not sure exactly how long we will be here, but when there's a chance we will make a break for our next jump south. It won't be long before we are in La Paz and not long after that making another crossing back to mainland—to warmer weather and warmer (however less clear) waters.
So there it is, – a whole year in Mexico! It feels like we accomplished something, although I'm still absorbing what that is, exactly. I think we are finally in a place to be able to take a breath and look up, now that we are a bit more accustomed to this life and all it entails. I know I've repeated it more than once, but it's very true that "wherever you go, there you are" or, more specific to the cruising life "you take your problems with you". We still have to tend to the work that any relationship requires, and this past year has certainly tested us in ways we couldn't imagine, as well as made it more difficult for us to focus on many of the problems we brought with us. We finally feel like we have the space, and perhaps the urgent need, to focus on some important personal things that got pushed aside while we were learning how to be cruisers. If you've been following along, you know this life is not all cocktails and sunsets (what life is?) but of course I leave out many of the ugliest parts, because, what fun would that be for you? (you'll have to watch reality TV if you want that sort of fix!).
It's nearly impossible to tell what the next year is going to bring as we are facing a number of pretty huge decisions. These days when people press us for our 'plans', I fumble around a bit and usually end up saying "The only thing we know that is going to happen for certain is that we are running out of money". We are exploring a number of ideas and opportunities in that realm (and are very open to suggestions and ideas!).   Neither of us knows where we will end up or exactly how we will get there, but with effort, cooperation and love, we hope to keep heading there together.